When you see a successful business, it is always important to understand that there would have been some crucial challenges. Every startup requires a subtle and strategic plan that defines the offerings, objectives, business approach, and fulfillment of foundational needs.
What are the fundamental needs of any startup?
Funds
Human Resources
Workspace & Infrastructure
Compliances
Someone who came up with an idea through their knowledge and skills may face significant issues to transform their idea into a real venture.
Does this sound cool and simple?
Well, things may differ in real-time as you may still be unaware of several unprecedented challenges.
One successful startup opens up plenty of opportunities for so many people. It is the reason why governments and business giants do not want to miss out on the chance to support a capable venture.
A large number of programs and initiatives are being launched to meet the demands of new business minds or inspire people to start up something of their own.
In this blog post, we shall help you pave your roadmap to a successful startup. You will understand the process, topical resources, and evolving trends of startup incubation.
What is a Business Plan Template?
A business plan is a strategy planned by the individual or startup to run their business. It consists of several important parameters that describe things like its basic information, the market it is targeting, its offerings, financial backings, and plans for functioning processes effectively.
To frame your business plan into a legible and legitimate document that you can present to the incubators, a business plan template is utilized. We can say that business plan templates outline what your business or idea is all about and what are its evaluations and capabilities.
A well-structured, comprehensive, and definitive plan helps a future business leader to ideate and consider result-oriented strategies that simplify the path and increase the possibility of success.
How Do We Create a Business Plan?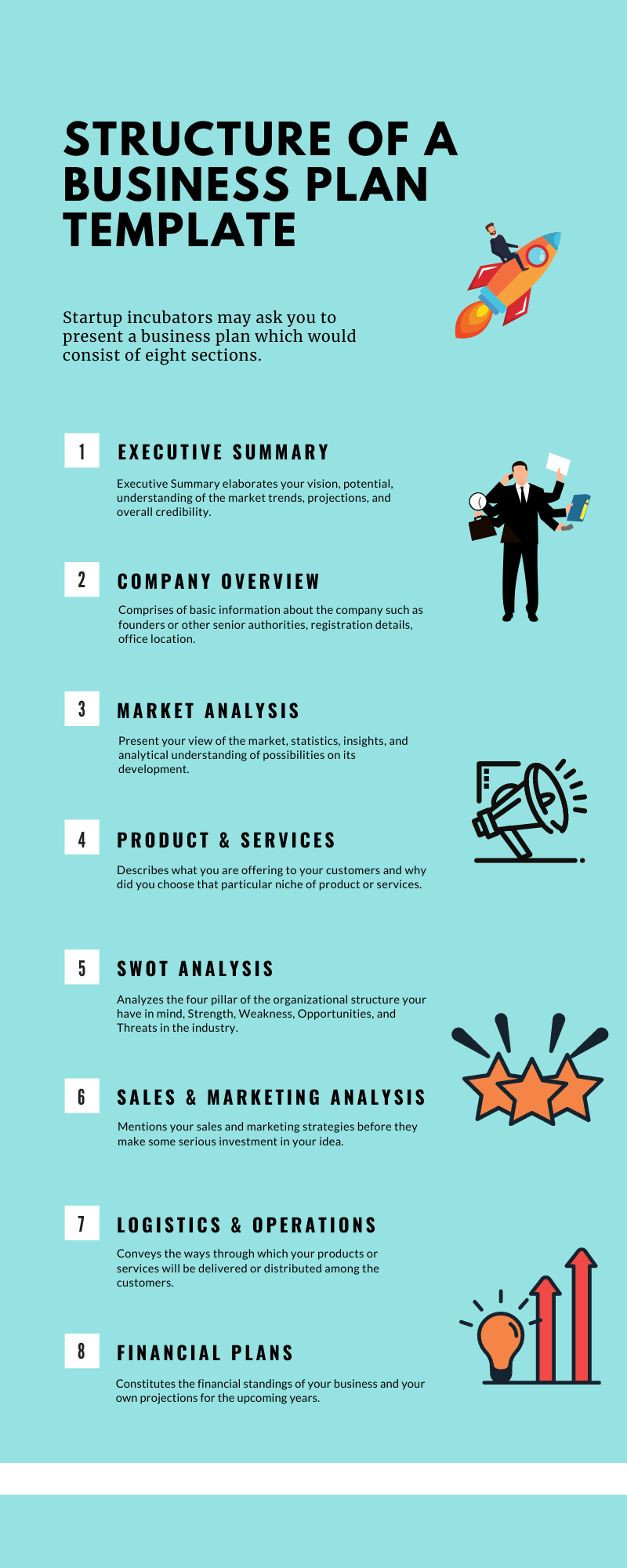 A business plan template may constitute the below-mentioned elements that can help the incubators to make a choice before they invest their resources in your idea;
Executive Summary
It consists of a simple and specific demonstration of the question, what are you all about? You can convey your idea of business with your role in leading an organization on your own. This section will help the incubators review the foundational capabilities of your business idea.
Company Overview
This section is to provide incubators some core information about the credentials of the organization such as its foundation, genesis of the idea, and industry-oriented statistics.
Market Analysis
Any incubator would want to know things that make your idea unique and more competitive. A smooth and precise market analysis helps to define the possible outcomes and scope of opportunities for the company.
Product & Services
In this section, you need to mention what you have to offer them. What are the features and USP of your offerings? It also should include some insights into your process to create, operate and deliver your products or services.
SWOT Analysis
SWOT analysis focuses on evaluating four key parameters that are Strength, Weakness, Opportunities, and Threats. These four helps to identify the potential, weak points, and capabilities of any business.
Sales & Marketing Analysis
From defining the nature of the targeted audience to adding constructive sales and marketing goals, you should consider elaborating your strategies completely and comprehensively.
Logistics & Operations
This section should comprise details on the ways through which you will distribute or deliver your products and services to the end customers.
Financial Plans
Starting from the market revenues, your projection to the updated balance sheet, you may weigh your business plan with these things. The financial factor is one of the most significant things that represent the performance and initial success story of your business idea.
When you outreach an incubator to help you build your business, they may ask you to review your business plan. Thus, it becomes significantly important to consider a template that showcases your business vision clearly and actionably.
Why Do Startups Fail?
A large number of people do not indulge themselves in starting up because of a lack of funds, intent, and ideas. However, despite having the right intent, enough funds, and good ideas, people fail in attaining the desired results or just do not get anything.
So, why do these startups fail?
Even after stepping into the business, you need to maintain things proactively multilaterally. And, it takes time, focus, and funds. Not every time you can invest from your pocket rather you have to use the potential of your venture to get the funds.
How do we all do this?
By streamlining your sales and marketing goals, onboarding skilled and passionate professionals, checking on the trends, and outreaching your audience to comprehend what they seek.
Of course, it is not as easy as reading it here. You need to implement subtle strategies that help you meet your goals.
From not giving your customers adequate attention, poor marketing, working on the USPs to lacking funds to back your business with enough funds, these are the things overlooking which a startup increases its chances of failure.
What is a Startup Incubator?
A startup incubator is an initiative led by governmental and non-governmental institutions to help aspiring business professionals set up their ventures. It includes programs that help people to carve their strategies on functioning the processes, seeking funds, guidance, workspace, partners, and training on anything that concerns their entrepreneurial career.
These programs are launched with collaboration between business institutions, companies, skill development authorities, and universities.
Unlike business incubators, the emphasis of startup incubators is not focused on any specific industry but covers a large scope of business as every industry works on some common and foundational parameters.
Businesses of all industry backgrounds require funds, strategic planning, connections, and so on.
It should be remembered that there are both for-profit and nonprofit incubators. For-profit incubators may seek some equity in your business in return for their guidance, business security, connections, and other resources.
What Does a Startup Incubator Do?
Startup incubators help small businesses to grow in many ways. They provide startups the platform to learn and evolve themselves in revenue-generating ventures by countering the conventional issues.
Let us discuss the specific things that a startup incubator does to enable aspiring businesses to achieve goals.
Guidance
Those involved in such initiatives are experienced, knowledgeable, and communicative professionals. They possess a specific interest in entrepreneurship and business management. They help small businesses and new entrepreneurs to be clearer and more innovative while working on their ideas.
Clearing Ways of Funding
Before a business makes its own capital, it might need to seed funding. The first stage funding requires the rightest presentation of your ideas. Startup incubators provide professionals the ways they can utilize to make things work for them. Investment is always the subject of risk so to convince someone that you are the person they can have faith in terms of making it worth for them.
Connect With Other Startups
Startup incubators have connections in the industry. There are many businesses that utilize a startup incubator to turn into successful ventures. We may say that things can be circular in availing of startup incubation services. Any aspiring venture may seek credible connections to onboard the right people with them.
Analytical Understanding
Sustainable economic development is an outcome of thorough monitoring of your business processes. For any startup, it is important to comprehend the scope of opportunities, failures, loopholes, and possibilities very well. This is where a startup incubator comes into the picture bringing all of that analytical information in one space.
Looking For Startup Incubation Services?
Contact Us
Branding
To create customer loyalty and sustain a business's identity, branding is utilized as a capable and interactive way. Startup incubators guide the new business minds to create a superior plan to brand their products and services.
Prototyping
Startup incubators guide on creating an appealing and complete-packaged product prototype. It ensures that the product development is well-designed and conforming to the varying needs of the customers.
MVP Development
MVP (Minimum Viable Product) is a strategy for product development where the service providers develop and deliver a product with the most essential or basic features. It is considered a dynamic and highly useful technique for those seeking the product developed in less time and costs.
There can be a lot more a startup incubator can help you with. The real-time scenario can demonstrate more clarity on the versatile requirements of a new and aspiring startup.
Advantages of Startup Incubator
By collaborating with startup incubators, small businesses earn so many crucial benefits that enhance their growth approach. The startups with multilateral requirements seek a centralized space that supports their interests and provides them with useful resources.
Mentorship & Consulting
One of the main advantages of startup incubation is that a person willing to startup gets intuitive guidance from those who have accomplished much in the job or are good at comprehending its fundamentals. A business asp
Decision Making
When things are clear, comprehensive, and consistent, it becomes better to startup and run an organization. Startup incubators play a crucial role in defining things for business aspirants in a way that makes fruitful and productive decisions.
Moral Support
The association always helps people with larger connections. They can consult within the contacts. They already have a community that can help them enhance the reach of their business.
Knowledge Management
The key asset of startup incubation is knowledge management which is used as a tool to extract, create, and share sophisticated information. Incubators streamline the knowledge-sharing system in serial order and compete better to lead.
Incubation is a multi-feature package of tools that enable startups and small businesses to pace in an impeccable way.
What Are the Best Ways to Hype Your Business With a Startup Incubator?
Startup incubation might seem like a wonderful opportunity to plan and implement your ideas to transform them into a real business. However, things might differ when you get into the field. There are many startup incubators and not all of them have been able to hype successful businesses.
People should consider startup incubators as a platform and utilize them to the best. Relying upon the incubator may also lead to disappointing results.
There are three important things that startups should consider while working with an incubator;
Remain Focused on Your Niche
When you join a startup incubator, you may come across businesses of different niches. You may face a conflict of ideas or thoughts which you can not afford when you are working dedicatedly on your plan. Thus, it becomes important to keep yourself focused on the goal that you made initially.
Learn Atmospheric Maintenance
The organization is all about coordination between people working towards a goal. The business objective has to be shared with no serious conflicts. A startup incubator can be utilized as a vital source of knowledge to learn the art of maintaining organizational structure.
Utilize Your Resources
Startup incubators provide you knowledge, support, connections, and funds at times. These resources need to leverage rightly rather than being careless about having too much in the initial phase of your startup. It is more about being proactive in fitting things into the right boxes.
The bitter truth is, many startups fail despite having a leading startup incubator. In such cases, incubators should not be blamed as all they do is – provide an additional source of assistance to the startups.
Conclusion
Having an incubator on board with you will always empower your resources to establish a well-organized and result-oriented startup. You can use what favors your business. As we discussed in the last section, it is also important to remain smart while you try to leverage the best of an incubator and do not over-rely on it.
Useful articles, updates, offers and guide boon from SparxIT Team
Categories
Let's discuss your project idea.
Featured In