Sparx advisers
Got a Startup Idea & Need it validated? Let us give you our honest opinion.
Book your FREE 30 minutes consultation with
If you have any type of query, contact our advisers, they are here to help you.
Call +91.1204.735.100 (Dial Extn. 2, 3)
Message our twitter or facebook accounts to contact an adviser for assistance or to arrange a call back. Do not disclose any personal identifiable information about third parties when posting public messages via twitter or facebook.
Who are the Sparx advisers?
We are a team of specialist employment advisers.
Our job is to help you with any query or concern you have relating to your pay, your contract, terms and conditions or any other aspect of your working life.
schedule a meeting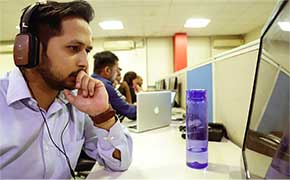 For specific questions, get in touch below
Clients' feedback are best to improve team skills, efficiency and morale. Share your feedback at [email protected]

If you are experiencing issues logging your account, you can get it resolved by dropping a mail at [email protected]
Enhance learning, understand work culture and secure a job by exploring the current job openings at our career section