"Good food is the foundation of genuine happiness." – Auguste Escoffier
Today, when the world is going mobile-dependent, the demand for on-demand delivery apps has surged significantly. The online food delivery market is not left untouched by the new market demands. With the growing usage of online food delivery apps, it is expected that the on-demand food delivery app development market will be filled with more opportunities.
Do you know the global online food delivery market size is expected to increase at an annual growth rate (CAGR) of 10.3% from 2023 to 2030? Whereas last year, this market size was recorded at $221.65 billion.
Several business giants in the on-demand food delivery market, like DoorDash, Uber Eats, and Postmates, provide a wider selection of restaurants, cafes, and a variety of food items.
The global food delivery app value is expected to multiply every next year. Check out the figures below by Research And Markets that show how the global food delivery app value is increasing yearly.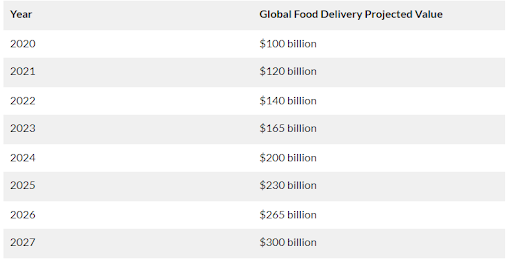 The entire world and several industries are falling under the pressure of COVID-19. The global pandemic and safety regulations made food delivery apps like UberEats more popular than ever before.
When the world and several industries were falling under the pressure of COVID-19, the pandemic and safety protocols boosted the popularity of food delivery apps like never before.
Are you planning to become a part of an industry that is all set to reach more than $400 billion in 2025? Do you have raw ideas for your food delivery startup that you want to convert into a successful app? Wait, before you reach any conclusion, figure out some vital aspects to validate your business idea into successful app development.
In this food delivery app development guide, you will find yourself immersed in the below facts and concepts:
Why is the market still open for new food delivery apps?
How do food delivery applications and their business model work?
Right business strategy to run your food delivery business successfully.
Key challenges that you have to deal with to survive in the competitive food delivery market.
Steps to develop a food delivery on-demand app (Research, development, and promotions)
Top features that make your app successful.
What are the key technical integrations?
Food delivery on-demand delivery apps are becoming widespread in recent years due to the customer's growing usability of online services. Studies found a sudden rise in food app downloads. Businesses can opt for food delivery app development services to expand their business.
Top Five Reasons Why Your Food Business Needs On-Demand Food Delivery App?
1. Cloud Kitchen
Businesses that are looking forward to set-up virtual restaurants or commissary kitchens can opt for food delivery applications. It helps food business entrepreneurs to connect with commercial kitchens to launch their own virtual restaurants.
Earlier traditional kitchens neglected the concept of a cloud kitchen. However, with the advent of online food delivery tech innovation, businesses are exclusively focusing on developing seamless food delivery service apps.
2. Increased Demand For Food Delivery
The COVID-19 pandemic in 2020 gave a boost to the demand for food delivery apps, increasing the need to build delivery apps more than ever. People rely on online services to get their day-to-day essentials. With the rise in the demand for online food delivery services, food business owners are required to cater to more audiences than ever.
If you are operating in the food industry, then this is the right time for food delivery application development for your restaurant to serve the growing market demands.
3. Food Delivery Apps Have the Potential to Flourish in the Future
Every passing year, the world of technology is coming up with new trends and innovations. As per the current market trends, the food market is expected to mature with an overall growth rate of close to 3.5% in the upcoming year. This is how you can witness the exponential growth of the online food delivery on-demand app market in the future. Hence, creating a robust app will help your food business to sustain itself in the future.
4. Enhance Transparency For Both Users and Vendors
The on-demand delivery apps have already gained huge growth and popularity. Technology penetration is contributing to boosting the food market. The food app provides enough transparency for both users and merchants.
5. Increase Customer Retention
Every business owner wishes to retain their customers for a long time. To increase customer retention rate, the first thing to do is create an on-demand delivery app. Businesses need to invest in delivery app development to drive more customers and build strong relationships with them.
Developing a food application will help you to connect with potential customers. Food business owners must invest in custom on-demand food delivery app development to reach a wider array of audiences needing online food delivery services.
Types of Food Delivery Business Models
1. Order Only Business Model
In this model, customers use the food delivery app to place their food orders from a particular restaurant. Once the order is accepted, the restaurant then prepares the meal and delivers it to the customer's doorstep. This model is suitable for your business if you have your own delivery riders.
Many well-known restaurant chains use this model, for instance, Domino's, McDonald's, Chick-fil-A, KFC, etc.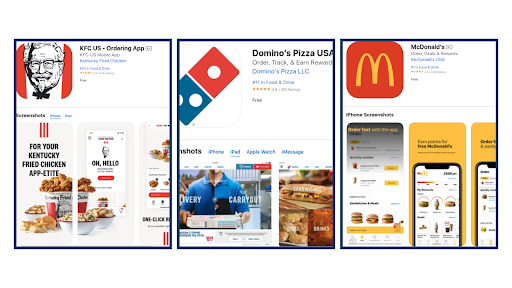 2. Order and Delivery Model (a Legacy Aggregator Model)
In addition to the order-only model, this model also offers delivery services. In this model, the aggregator apps provide restaurant options to the users to place orders and also provide delivery services to the restaurants.
The order and delivery support model is suitable for small-scale restaurants that don't have delivery riders. The app owner charges a commission fee for the delivery charges and offers real-time tracking as well. They can gain remarkable profit from the aggregator model.
Companies like Uber Eats, DoorDash, etc., follow this model.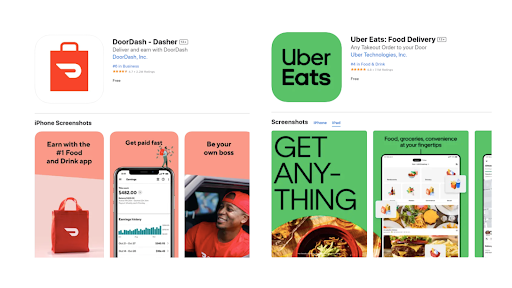 3. Cloud Kitchen Model
This model is for food business owners who do not offer dine-in to the customers. It provides business opportunities to restaurants that operate without a physical restaurant space or central kitchen. A cloud kitchen does not need to invest in real estate as it can serve its customers via food delivery apps. They can opt for delivery services or not as per their preference.
4. Meal Kit Delivery Model
The meal kit delivery model works on a subscription-based service. You can offer a week's menu as per the choice of your customers and deliver the ingredients accordingly. You can offer two options under this model: heat & eat, and cook & eat. If you live in a busy household where you can't spend much time cooking, this type of model is suitable for those customers.
What Are the Different Interfaces of a Food Delivery App?
Admin Panel
The app owner can keep track of the complete transaction that takes place on the app. From tracking customers' actions, payment transactions, editing menus, and promoting the latest offers to tracking drivers' activity, this panel allows the admin to manage everything.
Delivery Person Panel
This allows the delivery person to accept or reject delivery requests, find the shortest route, check the user's location, and update the delivery status on the app.
Restaurant Panel
This panel allows restaurant owners to manage tasks like order management, editing the food listings, prices, latest offers, updating product availability, and resolving the customer's queries related to products and restaurants.
Customer Panel
This enables customers to find the food menu, make secure payments, find the list of nearby restaurants, share feedback and reviews, and check the real-time location of the delivery agent.
Super Admin (In Multi-Vendor App)
In the case of multi-vendor food delivery app development, the super admin manages the complete network on the app. This includes access to plugins, adding a new listing, privacy settings, and managing the entire transaction that takes place on the application.
Which are the Must-Have Features of a Food Delivery App?
Customer App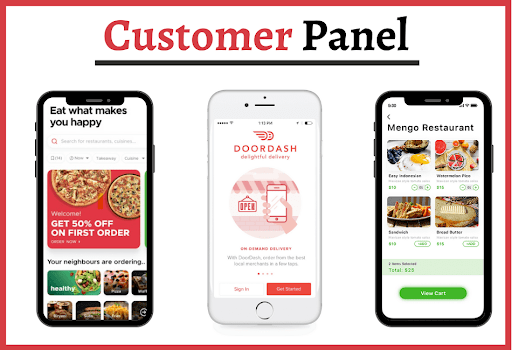 Sign-up & Profile Management
Sign-up is the first stage, where users will register themselves using their email Id, mobile no, or social login. Users are required to create their profile by inserting relevant details like phone no, name, email id, and address. Your app should offer an easy registration process hence offering registration via social network is also a great option.
Geo-location
This feature enables users to track the real-time location of the delivery person and also find the location of the restaurants.
Restaurant List
Users can view the list of top or nearby restaurants. Users can go through the restaurant's reviews and choose the one with maximum positive reviews to order their meal.
Delivery Address
This option allows the user to enter their address, or the app can identify the user's current location via a GPS tracking system. Users can save multiple addresses on their profiles.
Payment Mode
This is the most vital feature of a food delivery application where the user finds multiple payment options like Debit/Credit card, Cash On Delivery, and eWallets to streamline secure payment.
Food Cart
Sometimes, customers want to order a variety of meals that they cannot find in the same restaurant. This option allows users to add or remove items from the food cart before placing the final order and making payment.
Order Scheduling
This feature allows consumers to schedule the food order delivery time to avoid challenges like late delivery and unavailability.
Order History
This is a time-saving feature. When a user wants to repeat past orders, then he/she will not be required to go through the entire process. All they need to just click on the repeat order and get their order placed again.
Looking For Food Delivery App Development Services
Contact Us
Review & Rating
As the name implies, this feature allows users to share their reviews and rate the restaurants and the quality of the meal. This feature adds transparency for the users who are going to order dishes from particular restaurants. They can go through the reviews and ratings of the restaurants to know about the products and service quality.
Push Notifications
This functionality keeps the users updated about the latest offers, discounts, and coupons. Users will get notified on their mobile no. or email ID about the best offers.
Multiple filters
Based on some factors like location, review, price, rating, food type users can filter their search criteria and make their order process more convenient.
Restaurant App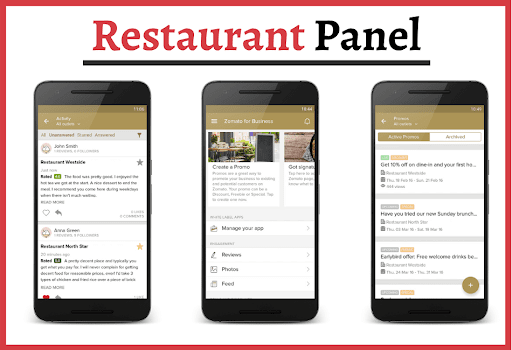 Managing Orders
This feature allows restaurants to update order status and inform users about it. Users will get updates like "restaurant has accepted your order" and "your food is being prepared," which will give them an approximate delivery time.
Accounts & Management
The restaurants registered with the admin app can manage financial transactions and accounts under this feature.
Dashboard
This feature manages new order updates, canceled orders, orders under preparation, completed orders, and the whole amount collected on each order. This helps restaurant owners to take further actions accordingly.
Restaurant Profile
This feature allows restaurant owners to edit their prices, discount rates, food listings, and current updates for the availability of the products.
Add Products
The store manager can edit the menu and food items to the restaurant using this app and get it updated on the app in real-time.
Accept or reject an order
Restaurant owners can accept or refuse orders.
Brand Management
If a restaurant brand is operating from different locations then this feature allows them to manage their store conveniently.
Special Offers/ Coupon Code Management
It allows food service providers to promote new deals, offers, and discounts, as well as enhance customer retention.
Track Payments
Restaurant owners can link their account details and view transaction statuses like successful payments or pending settlements.
Order Reports
Restaurants can get reports on the performance of their business to take further required actions.
Customer Support
This feature allows store owners to address product and restaurant-related issues.
Admin App
Registration & Profile Management
The admin panel includes a feature where details of customers, delivery agents, and restaurants have been recorded. Numerous restaurants can register by entering details like restaurant name, menu, location/address, and prices. After completing the registration, restaurants will be able to get order requests from customers.
One-click Dashboard
From a centralized dashboard system, the admin handles the complete back-end operations. Via this panel admin can manage inventory, keep track of orders received from consumers, and other activities.
Manage Customers
This feature allows admins to add or remove users. Admin can view the user's details like address and contact information.
Feedback Management
This feature allows the admin to view customers' reviews, feedback, and ratings.
Payment Management
This functionality enables the admin to manage all the app transactions, including payment or money refunds. Admin can track all the payment transactions and fix the commission rate with other business partners.
Driver Management
This feature allows the admin to track all details related to the driver, like trip details, contact no. availability, login time, real-time location, and total commission earned. The admin can add or remove drivers or alter information relevant to them.
Modify Elements of the App
From users and product-related information to the design of the app, this feature enables the admin to do everything.
Manage Restaurants
Under this feature, admin can add or remove restaurants from the app.
Reset Passwords
The app maintains a complete database that includes driver and customer-related information. This feature allows the admin to change the password as per the user's request.
Campaign Management
To gain users' attention, this feature facilitates businesses to strategize and run email, SMS, and social media marketing campaigns.
Plan Discounts & Promotions
This feature enables the admin to plan and run discount and promotional offers on the app.
Push Notifications
Under this feature, the admin gets notified of the emails, driver acceptance on the request, and order delivery.
Reporting and Analytics
By tracking real-time Analytics, the admin can gain actionable insights for effective business management.
Delivery Person App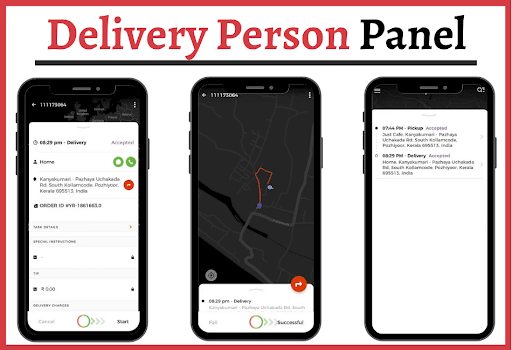 Registration
The delivery person needs to get registered on the app. Once the delivery agent completes the registration process and gets verified by the app, they can accept orders and start delivering.
Managing Orders
This feature allows the delivery agent to check order requests, reject or accept orders.
Call/Chat option
This feature enables delivery agents to view customers' contact no. and call them if they face any issues like finding the exact location.
Online support
The delivery agent can communicate with the app support team in case of any complexity.
Delivery History
This option allows the delivery person to keep track of their deliveries and payment records for each parcel.
Status Update
This allows the delivery person to update the delivery status.
General Tech Stack For Food Delivery App Development
Back-end
Server

DigitalOcean Cloud Services

Amazon Web Services

Linode

Vultr

Microsoft Azure

Programming language

Framework

Database

Web Server Software
Front-end
| | |
| --- | --- |
| Programming languages | |
| Markup Languages | |
| Framework | |
Other Services
Payment Gateway

Braintree

Stripe

PayPal

Square API

User location

Google Places API

Google Maps

CoreLocation Framework

Direction Finding

MapKit

Google Maps

Routific

Registrations

Facebook SDK

Gmail SDK

Auth0

Storage

AWS

Google Cloud Storage

Azure

Digital Ocean

Analytics

FireBase

Google Analytics

Push Notifications

Amazon SNS

Urban Airship

Firebase Cloud Messaging
How to Develop a Feature-Rich Food Delivery App in 2023?
Conduct Market Research
This is the most important phase before starting food app development. Conduct deep market research to know your target audience, go with competitor analysis, and find out the latest food industry trends. To take your app development in the right direction, grasp the strong market scenario and hottest online food delivery trends.
Explore Various Business Models
Food delivery apps operate on different models. For instance, you'll need to choose whether you will provide transport vehicles, external courier services, or let the food outlet deliver on its own.
Select App Features
Go over the features your food delivery service apps will provide to its users while considering the three vital elements in the equation: The client, the restaurant, and the courier. You may need to add APIs to create on-demand delivery apps for advanced functionality, depending on what the competition offers.
Looking For Food Delivery App Development Services
Contact Us
Choose A Tech Stack
What you select here will be based on the features and targeted audience. Other factors, such as time, budget, resource availability, and agents involved, will also influence your choices.
Begin Development
Experts recommend creating a prototype with basic features to gauge user response before launching a full-fledged application. The process includes UI/UX designing and coding, where developers build the features based on the decisions made in the earlier steps.
Test & Launch
The app undergoes several reviewing and testing phases to see whether it works smoothly. A Quality Assurance team is typically responsible for ensuring seamless, bug-free operations. Once the QA team approves, the app is ready for market launch.
Ways to Monetize Food Delivery App
Delivery Charges
The food delivery service providers generate income by delivering the required food item to a particular address. The cost for food delivery is calculated by distance and fixed price.
Revenue Sharing
Most home delivery apps coordinate with eateries on pre-defined commission rates for each order. The commission rate may differ with every order, or it can be fixed based on the order size.
Advertisement and Promotional Services
Apps for food delivery also generate income by promoting the restaurant's profile on the search listing. Restaurants can promote banners or advertise their products, special offers, discounts, and services on the app listing. It helps them to enhance their brand visibility and make them recognized by the wider audience.
Surge Pricing
This monetization strategy includes delivery charges at peak times like lunch or dinner. Various top food delivery brands surge prices from the customer during the festive season, lunch or dinner time when the demand gets high.
White Labelling
In this concept, the food delivery service providers source dishes from restaurants and sell them as their offerings. This option is the best fit if the restaurant has not gained enough attention or is not well known among consumers or for the services operating from home.
Top Five Food Delivery Apps Trending in the Market
Uber Eats
Uber Eats is a standalone use case for food delivery apps that operates in several countries like India, the United States, Mexico, Japan, and Brazil. It supports features like cashless delivery and expected delivery time. It allows users to place an order for their preferred food from local food chains or restaurants and get it delivered to users' doorsteps in the shortest possible time.
Grubhub
More than 30,000 restaurants are listed on this renowned food delivery application. No wonder Grubhub is one of the best apps for providing hassle-free food delivery services and satisfying their customer's cravings for delightful food. Grubhub has offices in London, Chicago, and New York. This app is available for Android and iOS.
Postmates
This versatile online food delivery application is available in more than ninety cities across the USA. With the most uncommon features like food valet, this use case for food delivery apps has created a unique identity. This app is not restricted to delivering food only, it also works for pick-up and delivery of groceries and drinks. This app is available for Android and iOS.
DoorDash
With a 56% market share, DoorDash has become the largest food delivery company in the United States. It allows users to discover local food chains and grocery stores. Over 3,00,000 local and national food brands across Australia, Canada, and the US are incorporated with this app.
Zomato
Zomato is a highly popular food delivery service app that operates in top cities across the world. Zomato serves nearly 25 nations that include India, Australia, and the USA. It is one of the fastest food delivery apps that brings all the modern app features. Zomato is supported by Android and iOS.
Top Reasons Why Food Businesses Should Invest in On-Demand Food Delivery App Development
Customer Convenience
Online media provides ease and comfort to users. Developing food apps help your customers to enjoy their favorite meal anytime. It ensures contactless and safe delivery. Food lovers can make secure online payments using their credit or debit cards or any other preferred mode of payment. The modern food app ensures all the modern features like a variety of food options, a list of nearby and top-rated restaurants, and choosing the preferred mode of payment that woo customers. Offering great user convenience is the key appeal to online food delivery app development.
Increased Access to a Wider Market
Businesses can revitalize their operations with scalable delivery apps. A proficient app facilitates businesses with wider market reachability and access to a large client base. Organizations can promote their products, services, discounts offered, menus, and any other premium plans in a better way. It is not possible for any restaurant or cafe to operate all the time, but their services can still be accessible to an extensive range of customers via a proficient app.
Increased Visibility (Exposure for food delivery startups and medium-sized businesses)
Irrespective of the nature of your business, an app for food delivery is the best way to gain maximum business exposure. A rich-quality app breaks the demographic barrier and helps businesses to get easily noticed. It helps them to enhance their online visibility and make their digital presence more strong.
Improved Food Delivery Process
Online food ordering is beneficial for both business owners and consumers. With advanced features like real-time tracking, order updates, route optimization, and delivery agents' contact details, the food delivery process gets more efficient. Customers can monitor their food delivery, and also the delivery agents can follow the shortest path to ensure less delivery time.
Managed Database
Developing a food app helps businesses to maintain a database that includes details of recurring consumers, repeated orders, and customers' preferences in terms of food menus and restaurants. Recording transaction history has simplified ordering favorite cuisine. It also enables feedback-sharing options where users can share their views on the taste and quality of the food, delivery time, delivery agent's behavior, and other reviews related to services and products. Customer's valuable feedback helps businesses to enhance the quality of products and services.
Increase Brand Recognition
Today, people across the globe rely on online mediums to get their requirements fulfilled. In such a scenario, a robust online presence plays a lead role in bringing food brands to the frontline and making them recognized by millions of internet users. Businesses need to understand that a remarkable online presence is all that is needed to succeed.
How Much Does Food Delivery App Development Cost?
The overall on-demand food delivery app development cost depends on several factors. Apart from the complexity of mobile app development, the price of app development is determined by the following key factors.
App Features & Functionality
Based on your business model, you can decide what features and functionalities you want to offer to the end users. Today, various industries are moving toward automation and offering comfort to their target audiences. Following the app development trend, the more advanced feature and functionalities you will add to your app, the higher the price will be.
Platform
The two popular platforms for developing a mobile app are Android and iOS. Based on your target audience, you can decide what development platform will be the right fit for your business. While comparing Android and iOS, Android will be less expensive. But if you want to target iOS owners, then you will be required to increase your budget.
Technologies
There are several technologies combined to form a complex application. Based on your business model and the platform of your app, you can choose the right technologies that help in meeting the desired specifications.
App Design
An interactive app design is all that you need to gain the user's attention. Adding 3D elements, engaging graphics, vibrant color schemes, and the presence of interactive design elements will influence the development cost.
App Development Team
If you are from a non-technical background, then it is recommended to hire a food delivery app developer to develop your dream app. You can hire an on-demand delivery app development company equipped with experienced app developers. Availing of professional app development services will help you to deal with technical challenges and get your project done on time.
You can hire the following industry experts to build a successful app for food delivery:
iOS developer
Android developer
Project Manager
Business Analyst
Front-end developer
Back-end developer
Testing engineer
UI/UX designer
SparxIT as Your Food Delivery App Development Company
To develop an app that works excellently for your food business, you can contact Sparx IT Solutions.
With a certified team of app development professionals, they provide award-winning food delivery app development services to global businesses. Their team has amazing technical expertise and knowledge of dealing with complex app development challenges. Get the perfect business solution that gives you a competitive edge and helps your business to grow faster.
Summing-up!
It's no secret that people always look after what brings them comfort and convenience.
The idea of on-demand food delivery is not new. Earlier, people used to place their orders via phone calls, and eateries ensured to deliver to the address they provided. With the rise of mobile phones' usability, internet accessibility has become easier. It becomes easy for people to browse the internet anytime, anywhere, as they don't need to sit in front of big desktop systems to browse the internet. Due to this, delivery service apps have revolutionized the online food delivery market. It also introduces new opportunities for businesses and provides a great source of income generation to food business owners.
While developing an online food delivery application, it is vital to understand which food delivery market niche you are planning to target, what challenges you need to address, and what will be your project plan to accomplish the goal. A successful food delivery app provides user-friendly features, and freedom of choice to end-users, contributes to the growth of the restaurant business, and simplifies the food pick-up and delivery process.
Useful articles, updates, offers and guide boon from SparxIT Team
Categories
Let's discuss your project idea.
Featured In