Are you planning to create an on-demand app for your business? Congrats, you are on a right track to take your business to the next level. While planning to enhance your brand recognition via mobile application, it's vital to know every factor involved in the mobile app development process. Investing in mobile app development is an expert move taken by organisations. Due to the growing demand of smartphone users the demand of Mobile App Development Services also increased.
Check out the graph to know the number of smartphone users worldwide. It will show you the number of users who rely on smartphones for their day to day lives.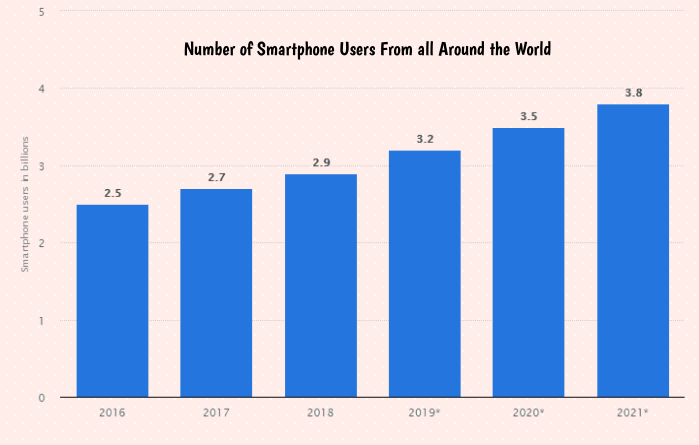 As per the graph mentioned above, the count is constantly increasing every next year. Billions are invested in developing a mobile application. It's a profitable deal for businesses but will never come cheap. But this is not the only thing to consider as there are numerous factors involved in determining the Mobile App Development Cost. Sparx IT Solutions will help you know the key cost influencing factors in app development.
Let's briefly discuss:
Essential Factors that Influence App Development Cost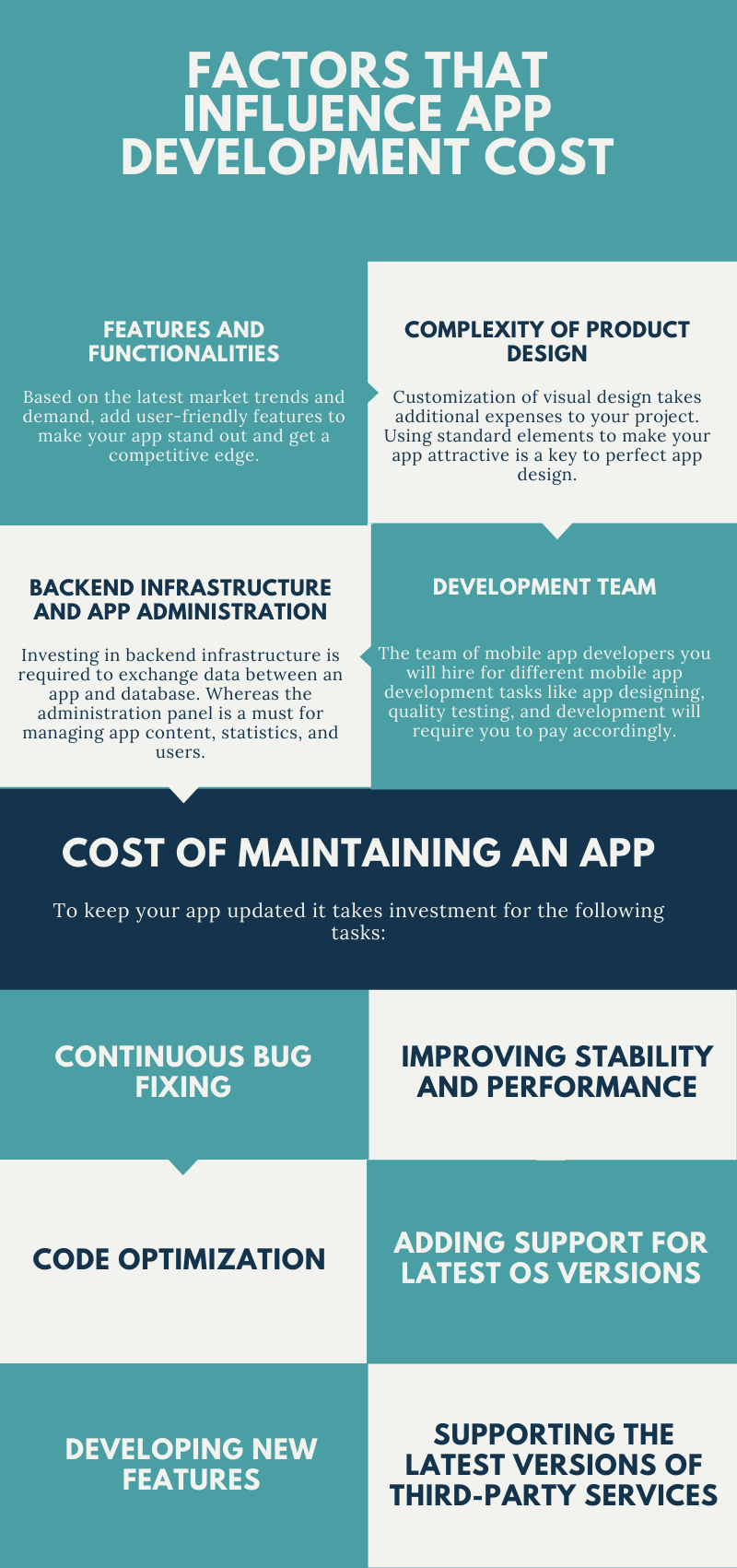 Purpose
It's great to create an app as your ultimate business solutions, but before you move ahead, be clear with the objective. Why do you want to develop an app? What is the reason behind developing an app? How can it benefit your business?
There are numerous applications available in the market for different industry domains. Apps based on innovative technology are serving a variety of purposes across the globe. From ordering food to healthcare consultation people are heavily dependent on mobile apps. There are a variety of apps accessible to address different necessities.
The apps classification of your business would indicate the cost it'll take to build.
Blockchain apps
Transportation rental apps
E-business and eCommerce apps
Social media apps
Wellness apps
Custom mobile App Functionalities
Food delivery apps
Hotel rooms rental apps
Educational based apps
Utility app
The categories mentioned above are a glimpse of some categories where mobile app is leading the market. No matter what your business niche is, the cost of mobile app development will vary according to your business domain. Based on your business niche the features and functionalities will be implemented in your app. Let's have a quick look on the variety of apps for different business niche:
Mobile app for online medical consultation
App like Shaadi.com
Educational App Development Services
Money transfer app like Paytm
Based on the products or services you are offering you can develop an app for your organisation. Also the features and the type of app will depend upon your business requirements.
Complexity of Features
Once you have decided to create a mobile app for your company, the next thing you need to consider is the required features and functionalities in the app. The complexity of developing an app is determined by the features we want to implement. It takes different methods to create apps with different features and functionalities. Hence the challenges and complexities are unpredictable. Based on the business requirements and complexities the mobile app developers estimate the total time to develop the final product. It directly affects the overall development cost.
Looking for Mobile App Development Services
Contact Us
Mobile apps with basic features and functionalities fit under a small budget. Here are the key points mentioned based on which mobile app developers charge for developing a mobile app.
An Intermediate app with more features & design of larger complexity on 1-2 platforms will take 6-9 months to develop.
A Basic version of a mobile app with the core feature set on 1 platform will take about 3-5 months to develop.
A substantial app with more complex app design, development, and support with compatibility on 2 platforms will take more than 9 months to build.
It is evident that the budget is totally dependent on the complexity to decide App Development Cost.
The app cost can be formulated as-
App Cost = Development Time ∗ hourly rate
Platform- iOS, Android or Both?
Based on your target audience it is must to choose a right mobile app development platform. When it comes to choosing the best app development platform, It is hard to decide between two renowned options – Android or iOS. To reach a wider audience and matching their preferences you need to choose the most suitable option. There are multiple options available to avail iOS App Development Services or Android app development services. You can choose the best one based on your business needs.
The reach of your target audience would play an essential part in selecting which platform would work best for you.
Here is a map showing preference from Android and iOS: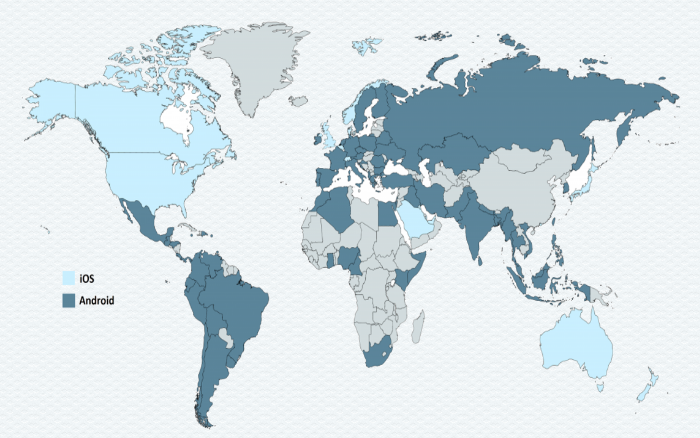 A per the above map you can see that the Android users are more than iOS users. It means developing an Android app is more beneficial to reach a wider audience. Both android and iOS meet different industry requirements, different devices and operating systems. No matter what option you choose, the Android App Development Cost and iOS App Development Cost will differ based on the unique features and functionalities they offer. iOS offers limited device support whereas Android supports a variety of devices which is the main reason behind the strong customer base of Android.
If you want your app to perform on both the devices then you don't need to choose between Android and iOS, go with Hybrid app development. You can hire Hybrid App Development Company to make your app compatible with both platforms. The development process of hybrid apps is different and takes time to develop. Developers test the app on multiple devices and develop accordingly.
Native or Hybrid Apps
This is another battle that needs to be settled. Choosing the right type of mobile app development defines the success rate of your business for the future. Choosing the one between Hybrid and Native app is a daunting task.
Native applications are built specifically for a particular platform. Google Play Store is an idol example for Native apps. This app is based on the Android platform. Whereas Hybrid apps are compatible with both the platforms. They are equipped with the features of Native and Web apps.
The platform you choose for your next business solution will affect the overall cost of Development. Compared to Hybrid apps, Native apps take much time to develop. But after the completion of the final product, it gives better performance than the hybrid. Hybrid apps offer faster development but their performance relies upon the user's browser.
Because Hybrid apps are cheaper as compared to Native and also offer compatibility with both the platforms. Hence, entrepreneurs prefer this for their business. If you also want to develop Hybrid mobile apps then you can choose React Native App Development Services. React Native is the most preferred platform to build ultimate hybrid applications.
Third-Party Integration
Most mobile applications integrate features from thorn-party resources. Integrating Advanced features using thorn-party integration impact on the development cost of the application. It requires a programming interface for the application unable to develop with independent components.
Security
Strong security is an all time concern for developing a business solution. These days, a variety of mobile apps are easily accessible on different app stores. Due to the ease of accessibility, there is also a maximum chance of hacking. Hackers target such apps that are easily available to access.
While enterprise mobile app development, security is the biggest concern. When you hire a Mobile App Developer, he/she will add vulnerability identification tools to keep you app safe from unwanted access.
Conclusion:
As per the above discussion, you can conclude that the mobile app development cost or On-demand App Development Cost depends upon several factors. It's hard to commit to the exact cost of developing an app in one go.
Every business has unique goals and objectives. It is never the same for all, neither for entrepreneurs nor for developers. Sparx IT Solution is a leading mobile app development company equipped with experienced mobile app developers serving global clients. With their great expertise they have potential to work for different industry domains and deliver the best business solutions. If you want a perfect mobile app to grow your profitability and revenue hire Sparx IT Solutions.