Congrats! Now that you have decided to create a mobile application for your business, you are already on the first step. Now if you are ready to give the face of your brand via a mobile app, it is best to know every factor that surrounds its process. Developing a mobile app could be a gigantic monetary investment for any organization. We have a graph to manifest you with numbers about the users that are using Smartphones in their daily lives.
Here is a graph of the number of smartphone users from all around the world: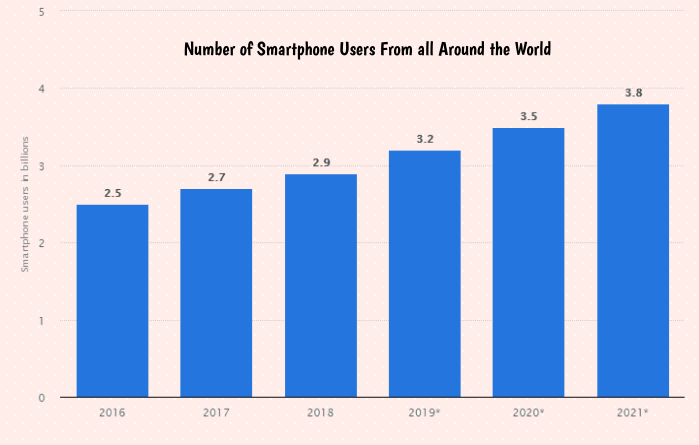 As we can see in the graph mentioned above, the bar is only predicted to rise more in the coming years. There was $92.1 billion spent on mobile applications. Therefore, we can see that it is a profitable business but will not come cheap. But that is not a necessary fact, as there are many factors that will determine the App Development Cost. But don't worry, this is exactly what Sparx IT solutions is here for.
Let's briefly discuss: 
Essential Factors that Influence App Development Cost
 Purpose
It's flabbergasting that you want to create an App, but why are you investing in it? What is the purpose of this project? There are different types of apps that we see in the market. Apps are serving a collection of purposes to society; from ordering food to getting our medicines delivered to our home, there is an app for most of your necessities. The apps classification of your business would indicate the cost it'll take to build.
Blockchain apps 

Transportation rental apps

E-business and eCommerce apps

Social media apps

Wellness apps

Custom mobile App Functionalities

Food delivery apps

Hotel rooms rental apps

Educational based apps

Utility apps
Looking for Mobile App Development Service
Contact Us
The above mentioned are a few of the categories that are booming in the market. Whatever niche your business is following, the budget will be determined according to that. Then there would be features that you want to include in your mobile app. These features could be push notifications, login, synchronization,  installment integration and more. The backend bolster and other requirements would determine an imprecise money spending plan. 
Complexity of Features
Once you have decided to build your mobile app for your business, the next thing you need to think about what features will be offered to the app users? The feature that you presume that is essential for the mobile app you are creating, the complexity would then determine how much time it'll take for the Mobile App Developer to build them. This factor is directly proportional to how much it will cost to create that app.
Simple features are expected to fit into small budget as well, as determined by the complexity they hold.  
We have broken down a few classifications on which developers will charge you for the app and time they'll contribute to its development: 
A Basic version of a mobile app with the core feature set on 1 platform will take about 3-5 months to develop. 

An Intermediate app with more features & design of larger complexity on 1-2 platforms will take 6-9 months to develop. 

A substantial app with more complex app design, development, and support with compatibility on 2 platforms will take more than 9 months to build. 
It is evident that the budget is totally dependant on the complexity to decide App Development Cost.
The app cost can be formulated as- 
AppCost = Development Time ∗ hourly rate
Platform- iOS, Android or Both
Choosing a platform is an essential factor that influenced the cost of app development. One of the crucial is deciding whether you want an iOS or Android-based apps. The reach of your target audience would play an essential part in selecting which platform would work best for you. 
Here is a map showing preference from Android and iOS: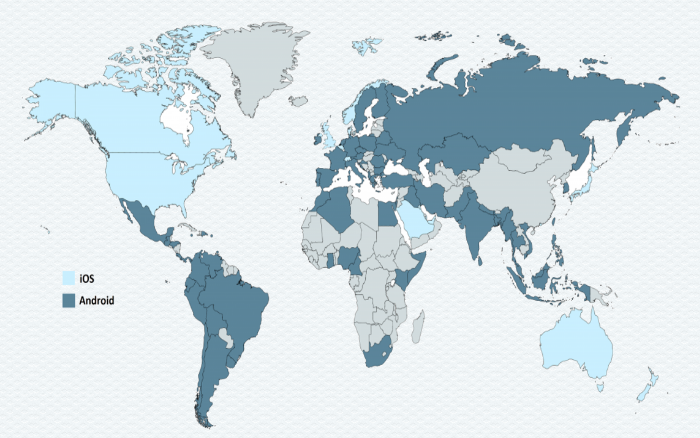 You can see that there are more users that prefer Android as compared to iOS. According to another research it was seen that Android has a user base of about 74.13 by Dec 2019. 
Both of these platforms serve different markets, a variety of devices, and OS versions, along with the technical implementation of each of them. You should know the advantages you'll get with both platforms as well as limitations. For instance, there are fewer devices that are compatible with iOS than on Android. This is the reason why it takes more time to make an Android App that works uniformly on all Android devices. This brings us to another factor to consider; groups of devices to target. You can aid help from our expert market analysts to perform a well-informed decision. 
If you don't want to make a choice and make your app compatible with both platforms, although they have different approaches in terms of design and engineering, the developer would test the app on different devices and developed accordingly. 
Native or Hybrid Apps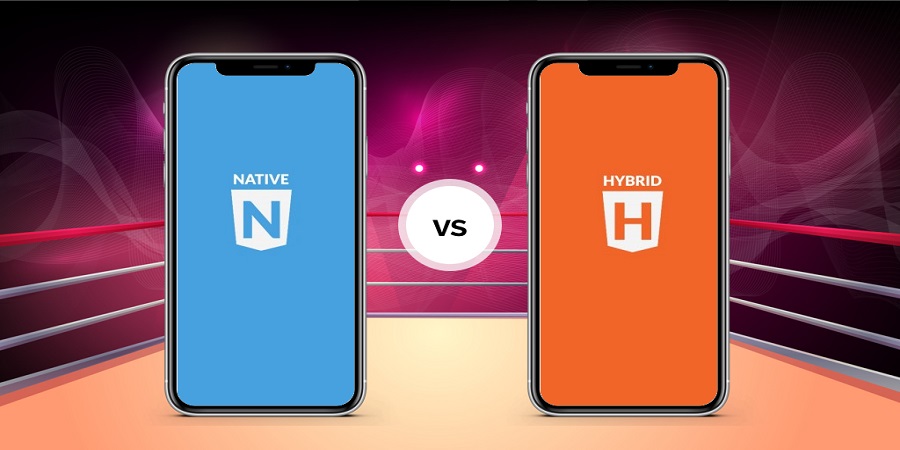 This is another consideration that would be essential to be made for the future of your mobile application. Choosing if you want a hybrid or native app should not be a daunting task for you. Making an app that has a cross-platform integration feature would be an advantage for those who don't. 
Native Apps are dedicatedly built for a particular platform. A big example of native apps is the Google play store. This app is explicitly developed for the Android platform; therefore, it is termed to be native to Android.
Hybrid Apps are apps that are relatively more common than native. They are serving the benefits of two platforms at once. They have integrated features of native and web apps.
Whichever you choose from these will affect the development cost of your app. Native apps demand more time to develop as compared to Hybrid, but once the job's done, they work speedily. Hybrid apps are fast developed, but their working speed would depend on the user's browser. 
Hybrid apps are cheaper as compared to Native apps concerning development costs. 
Third-Party Integration
Most Apps comprises of features that they integrate from other sources. If they use apps with features accessible on the operating system, then there would be a need to develop API and other safety efforts. This measure would lay its impact on the development cost of the app.
The programming interface is important for apps that are not working components independently. 
Security
Having a strong security base is a major concern for everyone. These days, mobile apps are easily available in multiple app stores, which makes it prone to get hacked. They get easy targets for hackers and therefore need paramount security. For example, when you hire a proficient Android app developer, they would include tools that can identify vulnerabilities and protect the app.
Security is a topic of concern in developing an enterprise app. To ensure the utmost assurance to the security, which would impact the overall cost of the mobile application.
There is critical information on enterprises, documents, and private information stored on a device, which requires security on priority. From financial transaction records to user location, there is a lot of sensitive data to get secured. There is no question to risk this, therefore taking measures for security tools possibly is probably the best option. 
Looking for Mobile App Development Service
Contact Us
Now, let's see what rates that developers take to build a mobile app, worldwide are: 
Here you can see that cost varies from the location of the developer. You can decide on which location is suitable for you with the cost corresponding to it. Although, these costs will vary from App Development Services you choose. The location would not be a problem because developers have different skill-set and working style. 
Now that we have discussed factors and basic cost that it takes for the developers to work on mobile app development, we can conclude that the final cost would be determined by the variables and features specific to your business. Every company has unique objectives, and we, as a leading Mobile App Development Company, understand that. We have worked with diverse industries and made sure that they attain exactly what App idea they have. If you are looking for a professional mobile app developer, Sparx IT Solutions is here to help you. Just call or email us and get a free consultation.