Mobile First Indexing! Isn't it the term which has been heard so many times in today's web development era? Absolutely correct. Basically, it is the modern trend where Google made a lot of efforts to push websites to achieve mobile-friendly content for users.
Finally, it's official now. As per new achievement/update, soon Google will give preference to the mobile-first websites and will be sending notifications to their webmasters. The update still in testing phase and will appear in action later. The rollout of mobile-first indexing is all about making web owners aware that their websites are enabled for mobile-first indexing. This simply means that if your website is responsive and supports mobile-friendly content, you may soon get this type of notification from Google itself.
Earlier, when mobile-first indexing news was unveiled, it seems that the project will take time to show its influence. But, now the Google's big news makes all of us amazed as it sounds like mobile-first indexing has already been in the trend. Google will throw indexing notifications to Google search console.
See the image for better insights: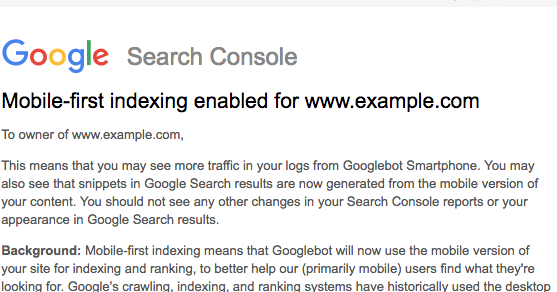 According To Google, How Mobile-first Indexing Works For A Variety Of Websites:
Previously, Google focused on desktop content versions to index website pages for the evaluation of user's queries. With this recent update, the criteria has completely transformed as now, Google decided to predominantly index the mobile version of the web content for better user visibility and ranking. However, it doesn't directly affect the ranking of a website but yes, it definitely improves the search result ratio for the page.
Google assigned this task to the Googlebot which indexes and crawls for mobile-first pages through smartphone agent. However, the news has just launched, so web owners may see this drastic transformation soon in their websites. Google will not stop here as it will continue to show the fervent URLs that seem most relevant to users' generated queries.
A dedicated team at Google reviewed a variety of websites and prepared a chart to describe the impact that websites get after mobile-first indexing.
Detailed chart to explore: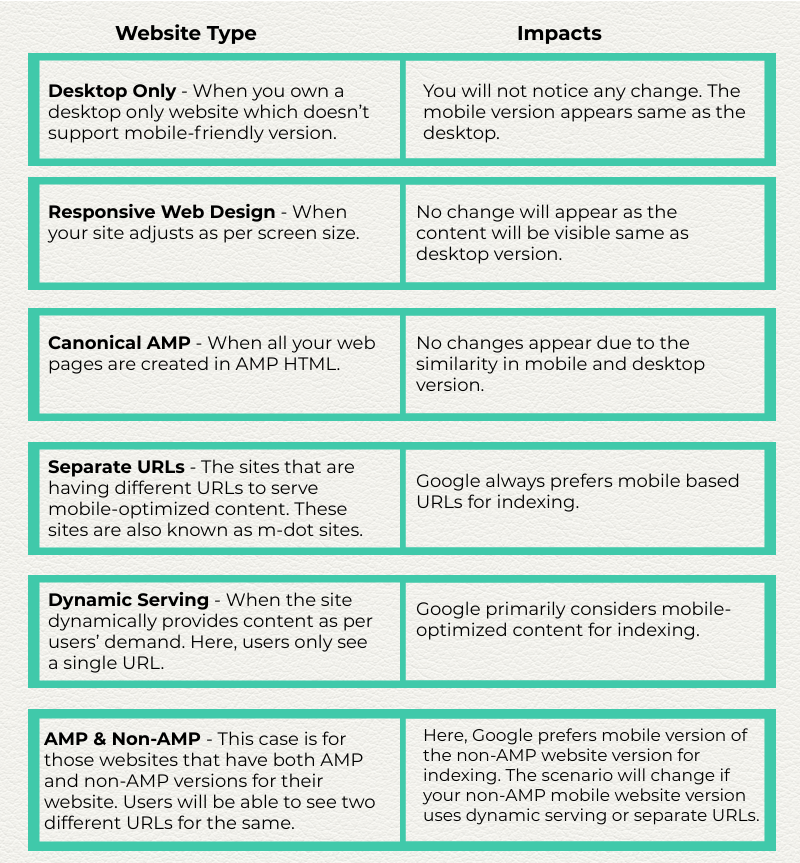 Let's us guide you how can you make your website optimized or prepared for mobile-first index:
♦ Get Insights From Google's Webmaster Blog Post
Besides Google, you may not have clear and exact details regarding any of its update. Thus go there and read the analysis regarding mobile-first index optimization. You will find two most important points:
First, if you have responsive or a dynamic serving website where the content & markups are uniform in appeal, there is no need to change anything for further optimization.
And, if your site configuration provides different appeal on different devices like desktops and mobiles. It is mandatory that you make some changes to your site.
♦ Go Responsive
Transforming the website into responsive one is the smart move you should make for the betterment for your business. Having a single URL which adapts to all the devices and associated screens, proves the best strategy for users, search engines and also for those who are optimizing the website for further improvements. Additionally, it directly supports mobile-first indexing.
♦ Put At Least Primary Website Content On Mobile Site
Don't worry if you are not having a responsive website. You can win the race of mobile-first optimization by placing the most important content for your website on mobile site. It will be appearing to your mobile site as your primary source of content. By not doing the same may bring negative impact as per Google's new update.
♦ Tabs & Accordion Menus Content Will Not Be Discounted
You must have heard that Google penalizes websites for spam content and copied information. Google also makes web owners aware about the hidden content they have behind the tabs and accordion menus. Now, with this impending update of mobile-first indexing, Google is back in the form and backtracking the websites to disclose their hidden content.
Ending Notes:
Mobile traffic can't be considered as the future wave. It's here only and going to stay for long. Google's update for mobile-first index signifies that Google will give preference to the mobile websites over desktops in the future. This change is being noticed on a large scale as business owners are rapidly transforming their websites into responsive ones.
So, if you are still running a desktop website, change your thought process and make astute move for making your web presence an exceptional experience for the users.
Useful articles, updates, offers and guide boon from SparxIT Team
Categories
Let's discuss your project idea.
Featured In