How effectively an organization manages customer support requests can make or break its reputation.
In the fast-paced digital world, a customer demands a swift response and a resolution that exceeds their expectations. Therefore, implementing the top help desk softwares and strategies is even more significant than ever.
Your competitors are already leveraging top help desk softwares, surpassing customer expectations. If you are unable to provide fast responses and required solutions, you can find yourself lagging behind the competition.
It is high time to invest in and leverage the power of cutting-edge help desk tools to thrive in today's customer-centric environment. This blog will explore the top popular ticketing systems you can implement to elevate your help desk to new heights.
What Is IT Help Desk System and Its Key Features?
A streamlined IT help desk system serves as the backbone for end-user support services to fulfill the dynamic needs of modern organizations. Let's unravel its key features offering invaluable benefits it brings to businesses.
IT Help Desk System Explained
IT help desk system is a software solution designed to provide solutions to end-user support requests. This software acts as a single point of contact (SPOC) for the IT support team to streamline managing and resolving user inquiries, incidents, and service requests.
Serving as a bridge between end-users and technical support personnel, it enables IT support teams to handle and track technical support requests.
Key Features of Help Desk Software
Here are some of the key features of a top IT help desk system you need to look for in your ticket help desk software.
1. Ticket Management
Facilitating a top ticketing system to document and track every unique ticket, guaranteeing every issue is solved. A robust ticket help desk software allows users to submit their support requests effortlessly. It enables you to categorize, prioritize, and resolve end-user problems.
2. Workflow Automation
Automating workflow filled with time-consuming error-prone, and expensive manual tasks will enhance the efficiency and versatility of your organization. Ticketing softwares automates repetitive tasks, such as ticket routing, escalation, and status updates.
3. Knowledge Base and Self-Service Portal
Ensure your IT help desk system is equipped with invaluable resources to help your users navigate through common problems, alleviating the need for constant assistance. These resources can be anything from articles, FAQs, and troubleshooting guides to how-to instructions.
4. Multi-Channel Support
The help desk best practices offer versatile support solutions across various communication channels, including email, phone, live chat, or web forms. It allows users to connect with the IT support team as per their preference.
5. Reporting and Analytics
If you seek a solution to gain profound insights, your IT help desk system should offer powerful reporting and analytics. You can get reports on ticket volume, response times, resolution rates, and customer satisfaction levels. It is helpful to identify bottlenecks, measure performance, and make data-driven decisions, enhancing support operations.
Top 5 Benefits of Help Desk Ticketing System
Implementing a top ticketing system can support your IT help desk team to manage their tasks more efficiently. Moreover, you can leverage many benefits, such as streamlined ticket management and tracking, efficient collaboration and communication, and data-driven decision-making.
Whether offering on-site or field dispatch services, ticketing help desk software is essential to enhance organizational performance and customer satisfaction.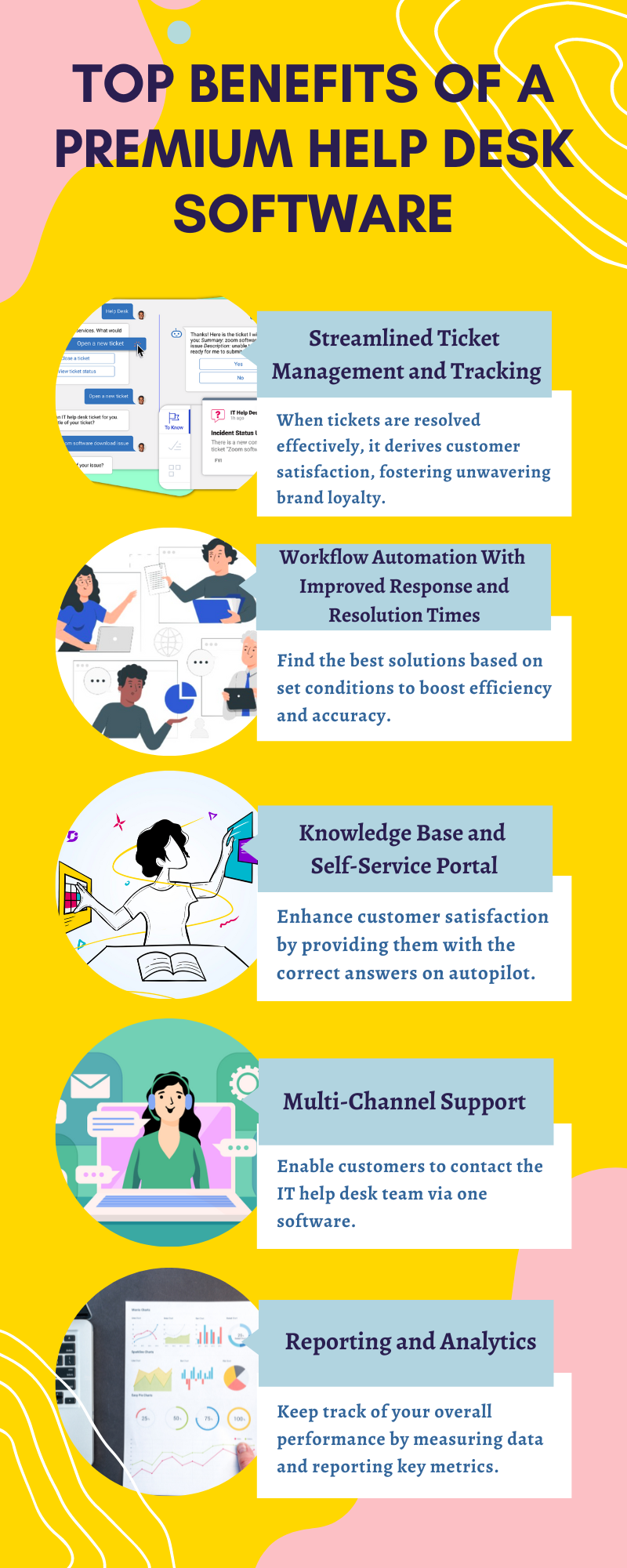 Also Read: Importance of End-User Service Management within ITSM
Top 10 Top Help Desk Ticket Software in 2023
1. Zendesk Support Suite
Zendesk is one of the top help desk softwares that offers a comprehensive support suite. It includes features like ticket management, automation, reporting, and multi-channel support. Also, it is an excellent ticketing software that supports all types of communication mediums, including Email, voice, SMS, and live chat.
2. Zoho Desk
Zoho Desk offers various features needed to maintain a functional and effective service desk management system, such as ticket management, Insights & Impact, Security, Customization, Automation, etc. Hence, this can be a reliable IT service management tool for your organization.
3. HubSpot Service Hub
HubSpot Service Hub is part of the HubSpot CRM platform and offers customer service tools. It includes ticketing, a knowledge base, live chat, and customer feedback features, all integrated seamlessly with other HubSpot products.
4. Salesforce Service Cloud
Salesforce Service Cloud is a robust ticket help desk software streamlining customer support operations. It is an excellent tool to efficiently manage and resolve customer inquiries, incidents, and requests for business customers. Additionally, it is a popular CRM for sales professionals.
5. HappyFox
HappyFox is an advanced cloud-based CRM offering top ticketing systems to various businesses, including education, travel, media and publishing, energy, retail, etc. Its user-friendly interface and customizable features allow IT help desk teams to manage and resolve customer issues and inquiries efficiently.
6. Hiver
Hiver is a robust customer support tool with features like email support, live chat, knowledge base, phone, WhatsApp support, etc. Its exceptional services help to transform IT service management services into a well-organized and customer-centric operation.
7. SysAid
If you are looking for the best automated ticketing software, SysAid – IT Service Automation Software is the best one to get. It offers various solutions like self-service portals, knowledge bases, and chatbots, empowering end-users to find solutions independently.
8. Jira Service Management
Jira Service Management is designed to streamline IT Help desk services with its intuitive ticketing system, incident management capabilities, and advanced automation features. The tool offers seamless collaboration among IT teams by organizing and prioritizing end-user requests in a single place. It makes it easier to handle and resolve IT issues efficiently.
9. Spiceworks Cloud Help Desk
If you are looking for free help desk software, you can check out Spiceworks Cloud Help Desk. As claimed on their website, this is a free tool offering features like team management, ticket collaboration, and multi-site support.
10. ManageEngine ServiceDesk Plus
This service management platform focuses on ITIL-based features, such as incident management, change management, asset management, etc. Therefore, this can be an excellent tool to implement for IT support transformation services.
Top 5 Tips to Improve Your Help Desk Performance
1. Properly Structure the Help Desk Ticket System
To streamline your support operations, it is essential to have a well-structured help desk ticket system. Implement a clear categorization system, prioritize tickets based on urgency, and ensure seamless ticket routing to the appropriate support agents.
Benefit: This will help improve response times, minimize confusion, and ensure efficient ticket resolution.
2. Outsource IT Help Desk Support Services
By outsourcing IT help desk support services, you can tap into the global talent expertise, experience, and resources. You can decide on the service provider as per your requirements, ensuring coverage of round-the-clock support.
Benefit: Outsourcing frees your internal team to focus on core business objectives and complex projects while maintaining high-quality customer service.
3. Better Management of Routine Tasks
With an online help desk system, you can automate routine tasks within your help desk operations. Such tools and technologies help to automate ticket routing and repetitive processes.
Benefit: You can minimize manual efforts, engaging your IT team in resolving complex issues and providing personalized support.
4. Monitoring and Measuring KPIs
The next important tip to improve the IT help desk is to measure key performance indicators
(KPIs) and regularly monitor the effectiveness of your help desk operations. These metrics include response time, resolution time, customer satisfaction ratings, and ticket backlog.
Benefit: It will provide you with exact data and identify areas for improvement to enhance overall performance.
5. Continuous Training and Skill Development
The last tip is to offer your IT support team opportunities for professional growth, technical skill enhancement, and customer service training. Hence, provide them with ongoing training and skill development programs.
Benefit: Investing in training programs can ensure your team has the latest knowledge and best practices to effectively handle diverse end-user support requests.
Concluding Words
We hope the diverse list of top ticketing software provided in this blog will keep you at the forefront of the competition. From properly structuring your help desk ticket system to automating manual tasks, these tools can provide unparalleled support to your IT team in managing end-user requests.
Moreover, you can outsource IT help desk support services to SparxIT. We will manage your support services to streamline business operations and deliver exceptional customer experiences.
Let us revolutionize your help desk services and unveil the strategies to keep you at the forefront of the competition.
Useful articles, updates, offers and guide boon from SparxIT Team
Categories
Let Us Implement the Best IT Help Desk Tools and Strategies
Featured In