Ever since the advent of the internet, the delivery of information has become more accessible to everyone having the resources. Accessibility is a core element playing a crucial role in the functioning of the internet. It has prompted a restructuring of digital resources through the years.
To comprehend what Web 3.0 can bring to the world, we first need to comprehend the limitations of Web 1.0 and Web 2.0.
One of the most significant changes among these stages of the internet has been of shifting users to the center of the process.
Web 3.0 is the future of the internet creating and distributing machine-readable data. The goal of this digital infrastructure will be to reduce large burdens of data on users and shift it comprehensively to the machines.
However, there is a lot more to know about this futuristic model of the internet which we shall cover in this blog post.
What is Web 3.0?
Organizations across the world are utilizing chatbots, automated email responders, and virtual assists. The conceptualization of Web 3.0 was initiated from such resources.
So, what exactly is Web 3.0?
Web 3.0 is the concept of decentralized internet where there will be no regulating authority. The concept of decentralization has been taken from Blockchain technology which includes a network of nodes participating in the creation, deletion, and modification of data.
Web 3.0 is far beyond the demonstration of Blockchain-led applications. It will present data in an entirely new framework which would be controlled by both users and website handlers in noone's autonomy.
Web 1 vs Web 2 vs Web 3

The first website, http://info.cern.ch, was launched on August 6, 1991. Since then, we have witnessed the ceaseless emergence of internet-oriented applications. However, the story has differed from what was made available initially to what exists today.
Web 1 or Web 1.0 was the first model of the internet where information was distributed through static pages. It acted as a content delivery network (CDN) allowing users to only view the data. Webmasters would create and handle pages using their understanding of the web scripts.
Web 2 or Web 2.0 transformed the internet by allowing users to read and write content. It expanded the scope of information across the digital space as it enabled people to not only use the internet but also contribute to it.
Podcasting, blogging and social networking sites like Facebook, Instagram, Twitter, and others are among the most popular instances of Web 2.0. Dynamic pages, advanced scripts, and frameworks led to this advancing evolution of the internet.
Web 3.0 is the next age of the internet where decentralization would be the core concept driving the creation and delivery of the content amongst the users. The fundamental goal of Web 3.0 is to transpire information-oriented client-server infrastructure. It will also eliminate the autonomy of regulating authorities and allow a distributed and decentralized distribution of information.
Benefits of Web 3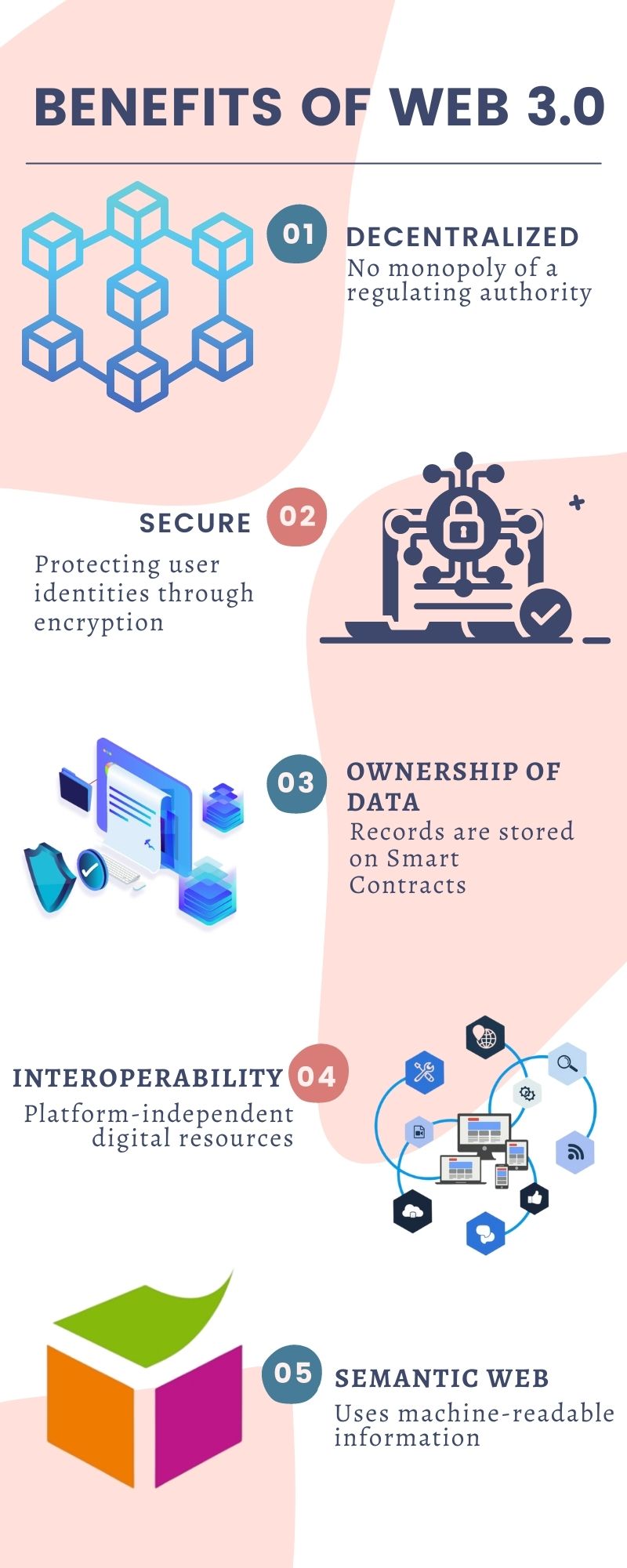 The advent of Web 3 or Web 3.0 tends to emphasize giving more control to the users. Among its primary objective is machine-readable content which is more precise and comprehensive.
There are many other crucial advantages of introducing Web 3 into the world of the internet as follows;
Decentralized
The most foundational component of the Web 3.0 infrastructure is decentralization. It indulges in the need for a digital infrastructure that prioritizes privacy and security over control. Web 3.0 places a decentralized technology like Blockchain in the form of frameworks like Ethereum, Hyperledger, Corda, etc., to record transactions. Since the decentralized structure is immutable, it becomes impossible to tamper with all sorts.
Secure
Since it is decentralized, distributed, and no one can control it directly, Web 3.0 becomes the most secure internet model. Individual user accounts can be encrypted privately so their identities can never be replicated.
Web 3.0 not only protects user data but also secures against malicious cyber threats and attacks.
Ownership of Data
Information is stored in a distributed ledger in Web 3.0. The ledger is a peer-to-peer network when participants in the network can only alter data through a mechanism called 'Consensus'. Web 3.0 focuses on the objectives of sovereignty and connectivity of data which makes ownership more transparent yet protected through decentralization protocols.
Interoperability
In Web 3.0, the users would bridge the gaps between hardware and software through an independent yet connected architecture. The information is distributed across a variety of devices and environments. To make the process compatible, flexible, and seamless, the developers require an extensive technology stack with advanced development capabilities.
With interoperability, Web 3.0 would also exhibit ubiquity for users to access different formats of data without being restricted by hardline software or hardware requirements.
Semantic Web
Web 3.0 is also termed as Semantic Web. It is the web of data where data resides in the center of the process. It utilizes linked data through semantic queries to present contextual topical information. The semantic web is an internet model indulging in trusted interaction among the peers in a Blockchain network.
What Does Web 3.0 Hold For Cryptocurrency Market?
The world is shifting towards a virtual world where users use virtual resources like cryptocurrency and digital currencies, virtual reality, augmented reality, metaverse, and non-fungible tokens. Besides being an upgraded phase of the internet, Web 3.0 also comprises the elements required to meet futuristic demands.
Decentralized finance applications are using cryptocurrencies as a privacy-focused financial asset. These applications show compatibility with cryptocurrencies as they manage data and transactions without interference from a centralized authority.
Examples
BitTorrent coin is a cryptocurrency used by the BitTorrent Token platform to provide network and storage access to the users.
Audius, a decentralized audio streaming platform, uses AUDIO tokens to enable governance, staking, and incentives.
Helium is a decentralized platform allowing IoT devices to set up low-powered communication across a large network of nodes.
The Future of Internet Featuring Metaverse and Web 3
Web 3.0 is the internet module that will use decentralized technologies to connect nodes of devices and users in a network. Its objective is to democratize the internet with the implementation of a distributed ledger.
Metaverse should not be confused with Web 3.0 as it is a completely different concept. Metaverse is a concept that comprises a virtual replica of real-world spaces and shall be accessed through the internet. Users can digitally experience the internet through the eyes of virtual reality.
Oculus is a subsidiary of Meta Incorporation, formally known as Facebook. The company is providing its standalone headset that can be used to experience the Metaverse.
Like Web 3.0, Metaverse is also the future of the internet. It seems that we may see both concepts complementing each other in creating a virtual, secure, interactive, and information-oriented digital space.
Top Web 3 Examples
Web 3.0 can turn around the landscapes of user-oriented applications in the upcoming times. It can transpire decentralized and independent execution of traditional and advancing operations using scalable and robust Web 3 apps.
Some of the primary applications of Web 3 are the followings;
Social Networks
Social networking is a large business domain with a large and extensive userbase. However. Some of the leading social networking platforms based on Web 2.0 have been found putting user data at risk. Moreover, these platforms have also shown their monopoly on information distribution with no standardized security protocols.
With these issues, Web 3.0 will allow technology leaders to create decentralized social networks. There are a few social networking platforms using Blockchain to provide secure, distributed, and rewarding digital infrastructure.
Exchange Services
Trading and exchanging assets in a decentralized environment is more secure and effective. Cryptocurrency exchange applications operate decentralized finance operations. Web 3.0 has empowered peer-to-peer exchange with its anti-monopoly nature.
Cryptocurrency exchange transactions will be easy-to-track, smooth-running, and cost-efficient.
Messaging
Decentralized messaging is an effective solution to cyber threats and personal chat leaks. In a decentralized messaging network, no one can track or hack individual user accounts. These applications indulge in high privacy standards.
Storage
Decentralized cloud storage restricts the utilization of user data for advertising or other commercial benefits of the service provider without hampering their revenue model. It provides a peer-to-peer communication facility that is fast, secure, and effective.
Insurance and Banking
The traditional banking system showcases flaws with its centralized structure such as lack of transparency and monopolistic protocols. Insurance and banking are both profit-based operations that diminish customers' interests with their biased or uncommon standards. In such a case, decentralized insurance and banking emerge as significantly transformative tools transforming traditional processes.
Streaming (Video and Music)
The streaming industry is developing and competitive. These platforms are used largely for entertainment, education, and advertising purposes. The monopoly of some platforms restricts users to express themselves in a certain way. The decentralized streaming platforms can provide users a democratic, secure, and effective medium to stream online. With the use of Smart Contracts, these platforms can easily address or eliminate issues of plagiarism or copyright.
Remote Job
Remote working is a trend these days. During the COVID-19, the number of people working from home has increased significantly. To enable a secure, subtle, and effective work environment, decentralized internet has emerged as a remote-compatible digital space.
Conclusion
Web 3.0 is about providing more control to the users based on their staking in the data. It will scale the relationship between the content creator and the server.
Increasing decentralization has made internet processes more flexible and accessible. The advent of Web 3 platforms will further democratization of the resources in user's behavior.
Useful articles, updates, offers and guide boon from SparxIT Team
Categories
Let's discuss your project idea.
Featured In