Earlier, healthcare systems depended on stacks of paper-records knotted in bureaucratic red tape. The journey to quality care was filled with obstacles, lost files, and communication gaps. But fast-forward to today, we find ourselves in an era where healthcare management software development has rewritten the narrative. It's a saga of digital transformation services, where innovation has unknotted the threads of healthcare administration, and patient care has taken center stage.
Whether you're a healthcare professional seeking ways to streamline patient care or an administrator aiming to optimize resource allocation, hospital software systems will usher in a new landscape of efficiency and precision.
You can develop hospital management software with the help of a renowned healthcare app development company to reap maximum advantages and overcome hurdles for a more efficient hospital information system (HIS). Before delving through the digital corridors of healthcare and discovering how hospital management system is transforming the industry, let's know what an HMS is and why it is required.
What is a Hospital Management System?
According to reports, healthcare providers spend 35% of their time capturing patient data. While paperwork is inevitable in a hospital, it can be automated to ease the stress on the employees and medical professionals. In addition to this, a hospital has hundreds of additional concurrent processes.
A hospital IT management system is a one-stop shop for controlling all hospital operations and data flow. It can be used to streamline and digitize tasks such as:
Maintenance of patient records
Monitoring and handling appointments
Keeping staff records
Billing and insurance claims
CRM for hospitals aids in enhancing patient satisfaction and hospital management system service quality. Additionally, it is used to reduce operating costs and improve the revenue cycle. In short, hospital management systems establish a seamless way to oversee the entire hospital and resolve operational challenges.
What are the Benefits of Hospital Management Systems?
Hospital management systems bring numerous benefits to healthcare institutions, from accelerated patient care to proficient administration.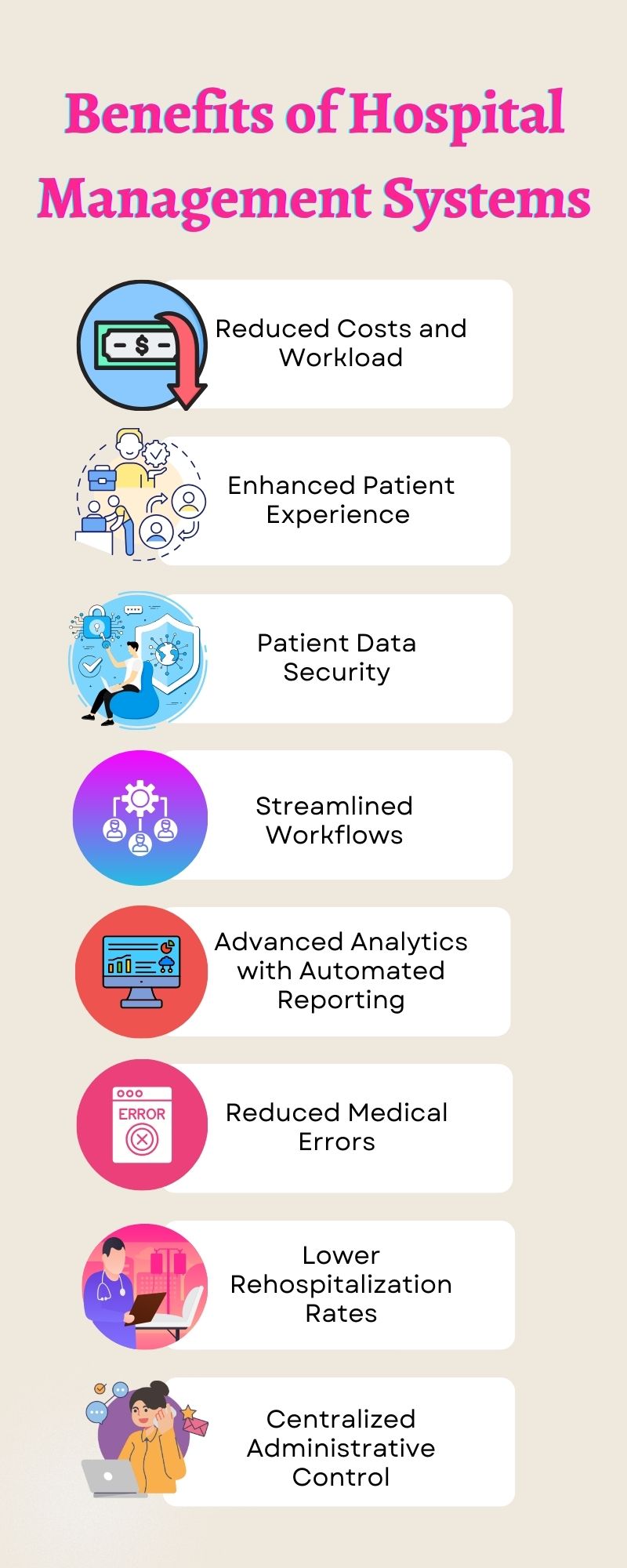 1. Reduced Costs and Workload
Hospital Management Systems optimize resource allocation, lowering expenses while easing administrative burdens.
2. Enhanced Patient Experience
Seamless digital processes lead to shorter wait times and personalized care, enhancing patient satisfaction.
3. Patient Data Security
Robust encryption and access controls ensure patient data remains confidential and compliant with healthcare regulations.
4. Streamlined Workflows
Efficient coordination among departments fosters quicker diagnoses, treatment, and improved patient outcomes.
5. Advanced Analytics with Automated Reporting
Hospital management software development offers data-driven insights, aiding informed decision-making and regulatory compliance with automated reporting.
6. Reduced Medical Errors
To reduce medical errors, implement electronic health records, standardize protocols, enhance staff training, encourage open communication, and employ technology like barcode scanning for medication administration.
7. Lower Rehospitalization Rates
Predictive analytics identify at-risk patients, reducing readmissions through proactive healthcare apps.
8. Centralized Administrative Control
Unified control over operations optimizes resource allocation, facilitates compliance, and improves overall healthcare management.
Types of Hospital Management Systems
Specialists employ hospital management software with various features to handle multiple facets of hospital operations. For instance, a Practice Management (PM) system is used by administrative staff to manage scheduling, billing, and other administrative chores. Still, an EMR system is primarily used by physicians to monitor patient medical information.
Discover the diverse categories and apps for hospital management, each tailored to specific healthcare needs and operational efficiency.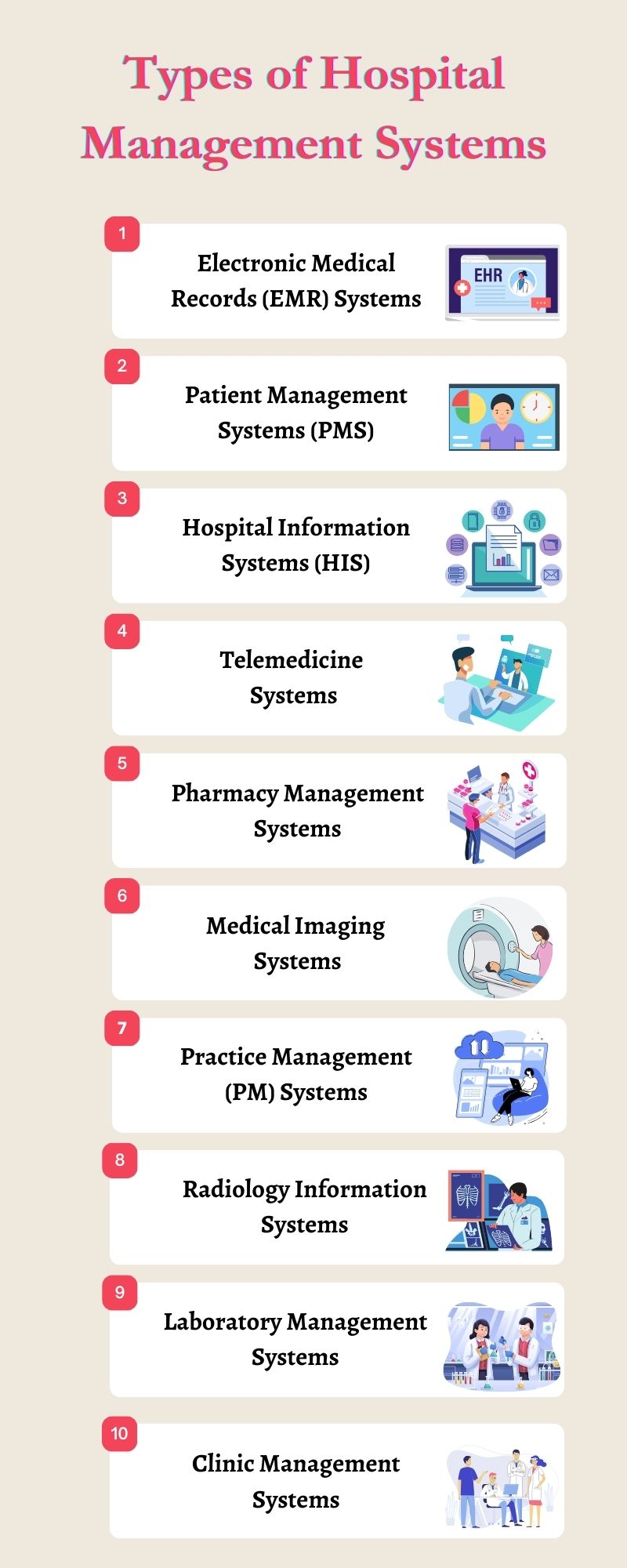 Electronic Medical Records (EMR) systems
It is crafted to handle patient medical records electronically.
Patient Management Systems (PMS)
Specialized systems were created to handle the patient flow, bed management, and other patient-centered activities.
Hospital Information Systems (HIS)
It combines EMR and PM features to offer a complete hospital administration solution.
It enables medical practitioners to consult with and treat patients remotely from their homes or other remote places.
Pharmacy Management Systems
Assists in managing pharmacy operations such as hospital inventory management system, prescription processing, and medication dispensing.
It is a system for storing, managing, and analyzing medical images, including X-rays, CT scans, and MRIs.
Practice Management (PM) systems
Developed to manage patient scheduling, billing, and other administrative operations.
Radiology Information Systems
Created to handle radiology operations like image acquisition, interpretation, and reporting.
Laboratory Management systems
It allows for automating laboratory tasks like sample tracking, managing test results, and quality control.
Clinic Management Systems
It facilitates operations and manages appointments, doctor's schedules, prescriptions, inventory, etc. This system enhances administrative efficiency through digital solutions.
Overall, the selection of a hospital management system relies on the particular requirements of the hospital, its size, and its budget. Hospitals can opt for a blockchain-based healthcare CRM system for a secure, immutable, transparent, and decentralized infrastructure that integrates and works together to manage diverse facets of their operations. An experienced blockchain development company will assist you in choosing a comprehensive HIS system that binds everything into one integrated platform.
What Types of Data Does the Hospital Management System Process?
Data handling and protection are crucial factors in hospital administration systems to guarantee patient and hospital data security, integrity, and availability. Hospital management systems handle and protect information using various methods, such as encryption, access control, backup, and recovery for all data kinds.
Below, we mentioned the fundamental data types and categories crucial to the hospital management systems process.
1. Patient data
A hospital database management system must be secure with sustainable tech to protect the patient's identity and health or treatment information.
2. Clinical data
It is a crucial source for studies on health and medicine. Clinical data is gathered during ongoing patient care or in a formal clinical trial program.
3. Laboratory data
In this, the results of laboratory tests are used to determine a patient's condition.
4. Inventory data
It includes a list of supplies the hospital visitor management system has on hand, stocks, and uses regularly.
5. Financial data
It incorporates a list of assets and liabilities, expenses, income, and cash flow, as well as records of all financial operations carried out by the hospital.
6. Administrative data
The hospital visitor management system records patient visits and outcomes data to document activities, including the EHR.
7. Legal data
The GDPR and HIPAA compliance ensure the privacy and security of personal information and protect all medical records about a patient.
Protecting patient data is required by stringent regulatory regulations, which carry harsh penalties for noncompliance. Leading hospital management solutions providers conduct regular security audits and risk assessments to find and fix system vulnerabilities.
Crucial Hospital Management System Modules
Let's now learn about the imperative hospital information system modules that drive efficient operations in medical records management solutions and optimizing healthcare administration.
Operational and Tactical Systems
An operational system is one of the general methods for categorizing medical data. Because of its integration, you may hierarchically convey information, with these systems dealing with various medical knowledge at every level.
Operational systems provide for dependable and quick data operation and identify problems in the system.
The hospital's financial management and supervision is the responsibility of the billing systems. The tracking of patient costing is made possible by tagging various outputs from healthcare management systems with relevant pricing.
The spending distribution from the previous year determines the most cost. A medical supply inventory software can control and manage payment and non-payment effectively.
Patient data is digitally stored through subject-based systems, known as Electronic Health Records (EHR) or Electronic Medical Records (EMR). Hospitals mainly use them to preserve and save a comprehensive digital history of each patient.
EHR and EMR assist in eliminating data duplication when compared to paper-based records since all the data is included in a single file that is updated over time. In clinics that use hospital management software, these components are typical.
Task-based systems are codes designed to improve the categorization of working tasks. An intelligent representation of this kind of system would automatically prioritize and distribute tasks among the staff based on the facility's conditions.
These modules focus on certain activities such as admissions, discharge, or transportation to the operation theater. A software development company can integrate an AI-enabled medical record management system to streamline all the tasks via automation.
All hospitals must use this HMS module, which provides patient information via reports and statistics.
Information is entered into the system and sent as a report to the Department of Health (DOH) both after the patient is discharged (retrospective data entry) and after receiving medical help (to provide details).
The administrative system is the foundation for the clinical approach, which comprises electronic patient records (EPRs) since administrative data links various clinical scenarios.
Features to Consider For Hospital Management Software Development
Several crucial components that improve operations must be incorporated in hospital management software development. Electronic medical records (EMR), patient management, inventory management, billing and payment processing, reporting, and analytics are a few of these.
1. Electronic Medical Records (EMR) Management
Electronic health record management software is a central repository for all vital patient data, including medical records, visit logs, immunization records, and prescription records.
As healthcare solutions developed, the foundational set expanded with new and improved features and functions.
However, given the global pandemic and rising digitization of the healthcare sector, the system will need streamlined, connected, secure, and high-performing EHR and EMR app development services.
2. Patient Scheduling System
Numerous scheduling options are included in a well-designed hospital patient management system to help doctors and patients communicate more efficiently. You can keep track of the appointment history thanks to the visits being recorded in the system.
Additionally, the same platform offers follow-ups, reminders, and alerts when lab results are received and suggests making an appointment if necessary.
3. Sophisticated Billing Mechanism
Medical app development services providers mostly overlook the patient's part in the payment process. Numerous healthcare system bottlenecks are removed, manual and administrative work is reduced, and the medical enterprise's credibility is increased through various practical and useful payment choices.
Insurance eligibility verification, which maintains track of whether the insurance has expired and what kind of services it covers, is another crucial role. The medical billing management system uses the RTE patient eligibility mechanism.
It makes it possible to instantly check a patient's insurance status digitally, effectively deciding whether the insurance company complies with the law. Moreover, an AI Development Services provider can build an AI-assisted chatbot to answer patient queries promptly, thereby saving valuable time.
4. Inventory Management
Pharmaceutical businesses have a strong relationship with any health provider. The ability to prescribe and request drugs is a characteristic that most doctors and people will look for.
In addition to ensuring treatment safety and adherence, it eliminates the laborious manual prescription process. The following features are generally incorporated into the hospital inventory management system:
Computerized physician order entry (CPOE)
Medication Tracking (eMAR)
E-Prescribing
When a patient receives multiple medications, a healthcare software solution would significantly contribute by identifying which components interfere with one another and automatically send warnings and suggestions. This solution also ensures compliance and discovering any issues when getting prescribed medications.
5. Laboratory Management
The capability to handle test results and patient data is one of the benefits of smart hospital management software. Collaboration with other lab systems enhances patient care by increasing data accuracy, workflow efficiency, and treatment management systems.
Monitoring samples, ensuring product quality, reporting, and other tasks can all be included in results management. The HMS system incorporates laboratory systems, gathers necessary data, arranges it in the design, and, if necessary, layers it with extra patient data.
6. Analytics and Reporting of Data
To better understand processes and identify performance gaps, healthcare app consulting services need hospital management systems to include intelligence reporting. In addition, making use of vast volumes of data enables them to provide more precise financial statistics.
Cloud-based hospital management systems use cognitive analytics to spot potential problems, including excessive spending and lack of data. It should also offer insights and ideas on enhancing the patient experience.
Tools such as the fastest form builder are helpful if there are requirements to automate gathering patient data for better data analysis.
How Can SparxIT Help You With Hospital Management System Development?
SparxIT, a renowned global solution provider, specializes in hospital management software development. We provide customized solutions to streamline your healthcare operations. Our expertise lies in digital transformation services, enabling healthcare businesses to transition seamlessly into the digital age.
With a strong focus on industry-specific needs, SparxIT leverages future-ready technologies and compliance standards such as HIPAA to ensure patient data is secure with efficient management. Our state-of-the-art software solutions empower healthcare facilities to enhance patient care, optimize resource allocation, and improve administrative workflows.
Partner with SparxIT for a comprehensive hospital management system that aligns with your institution's unique requirements and fosters operational excellence.
FAQs on Hospital Management System
Q: What technologies are used to build a hospital management system app?
A: Hospital management system mobile apps typically use technologies like React Native, Flutter, or native development (iOS – Swift, Android – Kotlin), along with backend technologies like Node.js or Ruby on Rails for data management.
Q: How long does it take to develop hospital information system software?
A: The development time for a hospital management software cost could be around 4 to 6 months, depending on the app's complexity and features.
Q: How much does it cost to create hospital management software?
A: The cost to develop the best hospital management software varies widely, from $50,000 to $500,000, depending on scope and customization.
Q: How does SparxIT ensure the security of patient data in hospital management app development?
A: SparxIT ensures security and privacy through encryption, access controls, compliance with healthcare data regulations (e.g., HIPAA), and regular security audits in hospital management application development.
Useful articles, updates, offers and guide boon from SparxIT Team
Categories
Want to build hospital management software?
Featured In