If you own a business having a physical address, then local SEO is the only way to get your brand noticed on the local SERPs. This is not important for gaining better results on search engines but also to ensure that your businesses come in search results when users browse for local companies.
What Exactly Local SEO Is?
Local SEO is practically a mantra to shop local, go local and deal locally. With this impressive line, you can imagine that local SEO keeps attaining the significance for small businesses.
You must be thinking that why local SEO is important and how it differs from organic SEO. Where local SEO helps small businesses promote their services online to local customers within a specific region. On the other hand, organic SEO provides search results for all links whether they are local or universal.
Today, small and big organizations are growing their businesses and attract more customers by outsourcing the best SEO services. Local SEO is only a small part of this big SEO world where companies can gain better search results by utilizing local SEO strategies. These days, people admire this technique as they are getting quick and relevant results for their local searches. It helps users search services & products in their specified regions exactly when they are looking for them.
This was the brief description about local SEO. Further, we will discuss the proven strategies used to enhance traffic for small businesses.
Do have a look at these:
♦ Conduct Research For Your Keywords
Being a business entrepreneur, you must be aware of your market competitors. This awareness helps you in finding out the keywords for your business. Before implementing any of the local SEO strategies, conduct a thorough research on keywords your competitors or similar businesses use to get noticed on search results. To start off, you can also take help of Google analytics to discover business-oriented keywords.
♦ Get Listed In Business Directories
One of the best and first steps to get improved local traffic is to get listed in all free directories available over the web. You cannot find any reason not to be listed in directories of Google My Business or Bing as this is the crucial step to proceed local SEO strategies. If you already set up a business, then it is most likely you will see many references for your business. You may find old or wrong information in the referenced links, hence it is the right time to list your services here to convey appropriate information to the customers.
♦ Website & Content Optimization
Website's user experience is everything to gain more clicks and views therefore, it is essential that you optimize your website in terms of looks and quality content. This is the most considerable thing you can do to grow your business in local areas. Today, content is everything and plays a significant role in optimizing a website for search engines. Creating unique and creative content can aid you to bring new customers to your site and provide better chances of getting positive SEO results.
♦ Create Consistent Business Citations (NAP)
Prior implementing local SEO tactics, you need to place accurate business citations like name, address and phone number – NAP. If the contact information of your business is not correct in business directories, your business may have less effective results. In fact, if you haven't updated your business NAP data, your brand will not get ranked in local search result pages. However, this is the small thing but if not updated timely or correctly may affect entire business's reputation.
♦ Manage Your Reviews
Online reviews are the mediums which let users give their opinion regarding any of the stuff over the web. There are many websites that are providing the platform to businesses for managing their company's reviews. Fake reviews get easily recognized by Google so, don't prefer this way to earn positive responses. Even, ask customers on the spot for the reviews when they strike to your service page. There are so many ways to ask users for reviews. You can choose the suitable one to reach your local customers.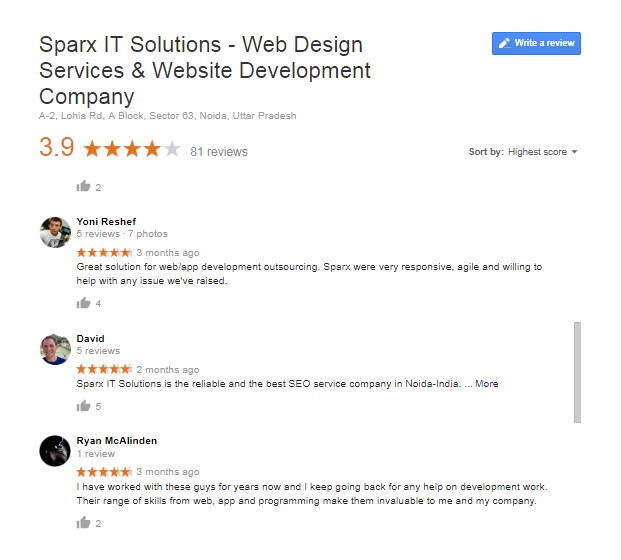 ♦ Fully Mobile Compatible
These days, mobile layouts are largely preferred than desktop designs. There are many reasons associated with switching your business website into mobile-ready layout. This step will help you turn the mobile searches into buyers which further will lead to better conversion rates. So, it is all the way fair to build a mobile-friendly website that is easily navigable on users smartphones.
♦ Social Profiles Optimization
To beat today's cut-throat competition, creating social media accounts is essential. It is true that Google+ is a social media network where you can manage personal & professional relationships. Apart from this, there are multiple social platforms to gain advantages with. It is simple to create a business page there on any social media platform and promote your brand from there on a regular basis. Believe us that this is a proven local SEO strategy which definitely works to advertise a business among people.
Sum Up:
Local SEO is not as such tough, but it needs to be implemented differently, basically from local customers' point of view. There is nothing that you should implement new tactics for local SEO, tactics will be same but the way you execute these may vary. As you can see, we have discussed various local SEO techniques in our blog, you can choose them to outreach your local customers.
Contact Sparx IT Solutions for Local SEO Services
Useful articles, updates, offers and guide boon from SparxIT Team
Categories
Let's discuss your project idea.
Featured In