OpenSea is the largest NFT marketplace worldwide to trade various crypto collectibles and non-fungible tokens (NFTs), such as Art, Music, Sports, Utility, etc. This world's first digital marketplace was founded in 2017 and quickly became the most popular platform to buy, sell, and discover exclusive digital collectibles.
Many investors, collectors, and enthusiasts use this peer-to-peer NFT marketplace to buy or sell virtual collectibles, game items, or any other digital goods. With over 1.2 million users and 80 million NFTs available on the platform, no wonder the OpenSea NFT marketplace is extremely popular.
Consequently, many business owners looking to develop an NFT marketplace take OpenSea as the reference to design. However, no platform is perfect, and your research is incomplete unless you review multiple NFT marketplace ideas. You can hire an NFT marketplace development company and integrate the best attributes into your platform after comparing them.
In this blog, we have listed the best NFT marketplaces in 2023 options that can work best for you as OpenSea NFT marketplace alternatives.
Top 5 NFT Marketplaces for Creators Other Than OpenSea
Rarible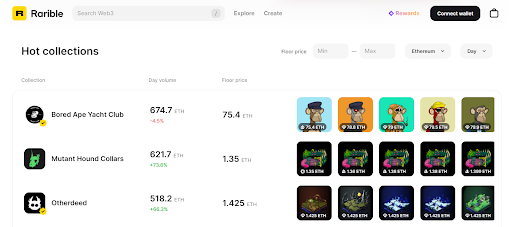 An OpenSea-like NFT marketplace is Rarible, which is a widely-known creator-centric platform. Created in 2020, Rarible is decentralized that distributes the power to its users and hence is owned by its community.
Therefore, the 'owners' of this NFT marketplace can create, sell, or collect digital items secured with Blockchain using the ERC-20 governed token RARI. This token authorizes the community owners to contribute to Rarible's development in various ways, such as:
Submit their vote on proposals to add new features.
Propose to change the trading cost.
Community moderators.
Curating artwork.
Top features to consider:
Aggregator NFT marketplace: Rarible can be integrated with another NFT marketplace, allowing you to view and manage your NFT's additional marketplaces using their native tokens.
SaaS/ Web-based marketplace.
Supports multiple wallets like MetaMask, WalletLink, Formatic wallets, etc.
Offer seamless user communication with direct messaging apps.
Also Read: Best NFT Marketplace Development Ideas
SuperRare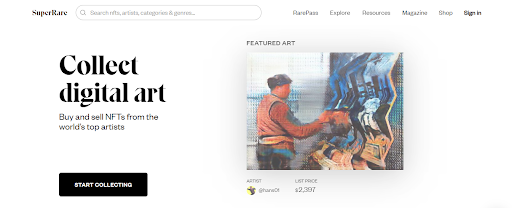 SuperRare is a robust NFT marketplace for people to buy and sell unique and authenticated digital artworks generated by esteemed artists. Based on Ethereum, this digital marketplace was founded in 2018 and is certified for forgery prevention and providing historical proof.
This digital marketplace curates the list of art-oriented original NFTs and rarely lists the digital gaming assets, domains, or music NFTs. Hence, it is a revolutionary platform for artists to earn crypto and trade their distinctive digital artworks. Also, art enthusiasts can directly make a purchase or ask for an offer by placing a bid.
Top features to consider:
Profile customization to showcase the art collection.
Ethereum-based digital marketplace
A decentralized platform allows the community to manage the platform
ERC-20-compliant RARE token
One-of-a-kind art NFTs.
Offer interactive Live Online platform training.
Also Read: Complete Guide on NFT Marketplace Development
Foundation Marketplace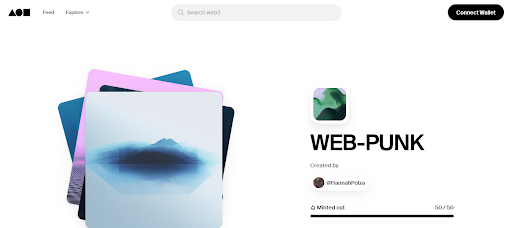 Foundation Marketplace is another community-built digital marketplace that thrives on the current evolution of the Internet, driven by decentralization. This blockchain-based digital marketplace was founded in 2020 and enabled creators, curators, and enthusiasts to trade NFTs.
Foundation Marketplace has a unique monetization model, where they charge 5% of the primary and secondary sales of the NFTs. With a transaction value of over $72.39k, this marketplace is witnessing impressive growth.
Top features to consider:
Live bidding on NFTs
Support Torus and Metamusk wallets.
Trade using ETH tokens on NFTs.
Provide complete ownership and control over your NFTs.
Nifty Gateway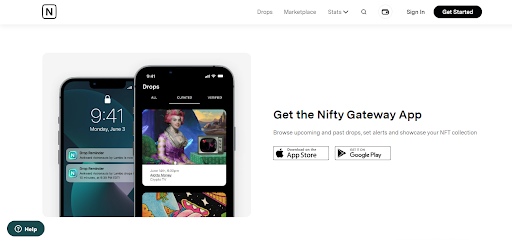 Nifty Gateway is a popular NFT marketplace used to trade unique-edition digital assets. The original digital items on this platform are known as Nifties. This makes buying, selling, and trading NFTs convenient for all by allowing transactions without any additional cost or gas fees.
Nifty Gateway offers a unique range of Curated Drops, selected by Nifty Gateway, and Verified Drops, not originally selected by Nifty Gateway but aligned with their legal smart contracts.
The monetization of this platform is also unique since it allows creators to have their share of a certain percentage of secondary market sales.
Top features to consider:
Integrating Gemini Credit Card to earn crypto back on gas fees.
Custodial wallet integration powered by Gemini
Allow purchasing of NFTs via fiat currency.
Multiple payment options- debit card, credit card, Gemini Balance, or prepaid ETH.
SolSea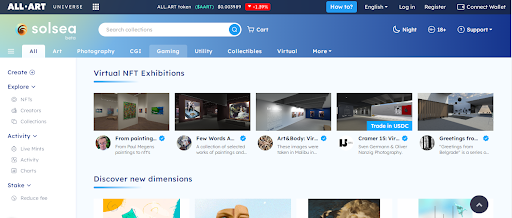 SolSea is an NFT marketplace on Solana, which is open to all and allows its users to create, collect, and sell NFTs. Solsea is gradually overcoming the issues on this platform, including bugs and fake NFTs, with the robust support of Solana.
Solsea NFT marketplace creatively curates the NFT list by Exceptional Creators, Virtual NFT Exhibitions, Featured and Latest NFTs, OG Solana Collections, etc.
Top features to consider:
Interactive and easy-to-use platform.
Live mints and real-time analytics.
Embed licenses when minting NFTs.
Supports Phantom, Solflare, and Sollet crypto wallets.
Low trading fees
Conclusion
We hope by now you understand that OpenSea is not the only NFT marketplace in the NFT world. You can find a plethora of alternatives in the market, having unique features catering to users' demands and venturing into the market.
There is always a digital marketplace for you despite your requirements, whether you want to create a digital asset, purchase rare NFTs, and more.
If you want to create your own NFT marketplace, you can hire NFT marketplace development services from us.
SparxIT will help you develop a secure, efficient, and revenue-generating NFT marketplace from scratch.
Useful articles, updates, offers and guide boon from SparxIT Team
Categories
Looking to Build NFT Marketplace
Featured In