Today, there's a lot to earn if you are running a manual commerce store. You must be retaining a good revenue from your physical store. But, have you ever thought of just doubling the profit amount with only switching your business online? It's true and a majority of physical storekeepers switched to it and fulfilling their dreams of having huge customer-base. Don't worry, you can also achieve all this only by having a well-architectured eCommerce shopping website.
If you're new to the online product selling realm, you may encounter many obstacles and challenges. The path may not be a clean road, you have to make it suitable for yourself. Do not worry! There are plenty of best e-commerce platforms that are serving greatly to all the online stores and let them run flawlessly over different browsers. So, are you ready to launch your online shopping store? You must have planned which e-commerce website builder you are going to utilize for the development of store creation. If no, proceed with our detailed comparison blog.
Essentially, we are listing two most powerful e-commerce platforms here:
Shopify & WooCommerce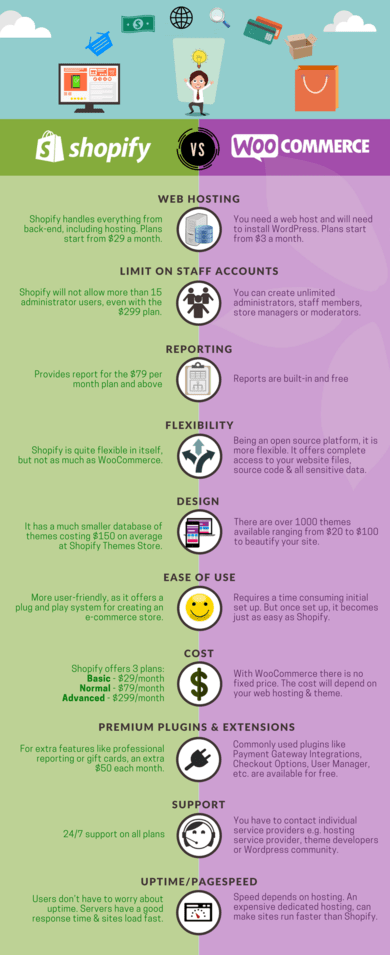 Starting with the statistics, Shopify powers approximately 6, 00, 000 websites whereas WooCommerce has accounted 39,100,979 under its name. The stats are gathered from the reliable and might be old. You can check the current ratio to know more about the popularity of Shopify & WooCommerce platforms.
It's not a good sign to get to the decision without knowing the internal facts and benefits of each best e-commerce website builder. Each platform possesses its own strength and powerful features that can possibly be fit into your eCommerce web development needs. There are still various questions that must be bothering your mind that what features will the selected platform provide, which one would be the cost-effective one what will lead the storefront towards cut-throat competition?
Let's start the comparison with describing both Shopify & WooCommerce –

Shopify:
It's an online e-commerce tool which assists developers/users to build shopping store without any requirement of code development and modifications.
The tool is easy to use so, if you want to operate it on your own you can use it without any hassles. For in-depth development, you can take the assistance of e-commerce web development experts.
With this platform, you are free to develop a multifarious shopping platform where you can sell almost everything.
Category-wise product listing is also there, therefore, you can also list products in different groups like digital, physical, electronics, etc.
So, if you're a newcomer and want a simple website to expedite your e-commerce store, Shopify is certainly a wise decision to opt for.
WooCommerce: 
To explain WooCommerce, it's vital to know about WordPress. WordPress is the world's most reliable CMS which is making n number of websites powerful with a variety of features.
WooCommerce is an open-source E-commerce plugin by WordPress which is built to accomplish shopping portal development projects professionally.
It comes with a host of eCommerce features that can be easily integrated to a WordPress based website.
The plugin is free and it is built to be cooperative with many other plugins that support a WordPress website in terms of functionality.
You will get a variety of plugin gateway options for your E-commerce store. In short, whatever you want in your storefront is available here with the WooCommerce plugin.
Features Comparison – Shopify And WooCommerce
| | |
| --- | --- |
| Shopify | WooCommerce |
| Shopify is a well-structured eCommerce platform. | WooCommerce is a WordPress eCommerce plugin and is free to avail. |
| A wide number of themes are available from Shopify to build an amazing store. | Different types of payment gateways (like: BACS, Paypal and Cash on Delivery) can be built with this powerful plugin. |
| Provides user-friendly responsive e-commerce designs. | Tax rate settings option is also there which helps users in calculating local tax rates and tax classes. |
| Allows webmasters to use their own domain name instead of the custom ones. | Checking inventory levels, incoming sales and generic store performance has become easier with ultimate WooCommerce plugin features. |
| Design customization facility can also be accessed by users if needed. | Provides store the potential to cross-promote the brand and upsell products. |
| Social media integration is the best thing you can achieve with it. | Product variation can be integrated in categories. |
Price Comparison- Shopify And WooCommerce
Shopify is very clear in terms of pricing. It charges nominally for different types of e-commerce development. On the other hand, WooCommerce has some confusions in its price structures. Although, it's free to use, it always comes with other expenses. It comes under WordPress which requires a proper hosting, domain name, extensions and SSL certificate to flawlessly run an e-store. All these factors increase development cost and leave users in dilemma.
Usage Comparison – Shopify And WooCommerce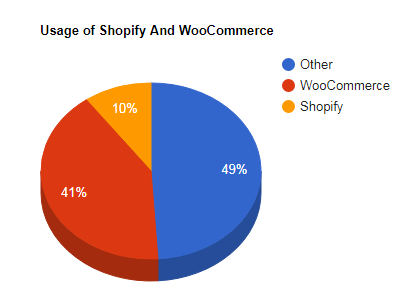 Shopify is a subscription-based eCommerce online tool. You only need to browse Shopify.com and the tool installation options will be right there in front of you. Click to the sign-up button and follow the steps through basic setup wizard. It's extremely easy to use and assists users to create highly-navigational and functional e-stores.
Working with WooCommerce is also not a big deal as it provides easy steps to proceed with e-commerce web development. It's a free WordPress plugin so, there are chances that you might handle a few aspects before starting development with WooCommerce.
Support Comparison – Shopify And WooCommerce
Shopify is well-renowned for its on-time support system. Custom advisers are available 24/7 so that users can raise their queries and get quick replies then and there. Advisers answer the queries through live chat or they may respond through the email.
WooCommerce, on the other hand, is also a powerful plugin which provides excellent support to the users. Anyone can get the support or resolve their issues by going through the forums and WordPress plugin community. There are answers for almost every questions related to plugins and their usage.
Ending Note:
Hope the comparison makes sense and helped you in finding the right e-commerce platform for your dream store development. The blog covered different aspects that users generally search before finding the suitable software or platform. Anyone can consider this blog if they want an easy path to choose the best e-commerce platform.
Useful articles, updates, offers and guide boon from SparxIT Team
Categories
Let's discuss your project idea.
Featured In