Failure is an inevitable part of the journey of success. There is nothing wrong with anticipating a failure before it strikes you in the middle of the crowd. Wearable technology is the newest evolution in the digital sphere and we are excused to commit mistakes!
So, do not stress yourself if by the end of this blog you figure out the blunders in your soon to be launched wearable app. Also, this blog can be used as a set of standards to avoid being in dire situations like these during wearable app development.
Before coming to the moot point, let's understand the industry you are planning to get into. It is much bigger and well-established than you have witnessed around yourself. The global number of connected wearable devices is expected to cross the mark of 1.1 million in 2022, according to Statista research. Check the region-wise numbers in the graph below.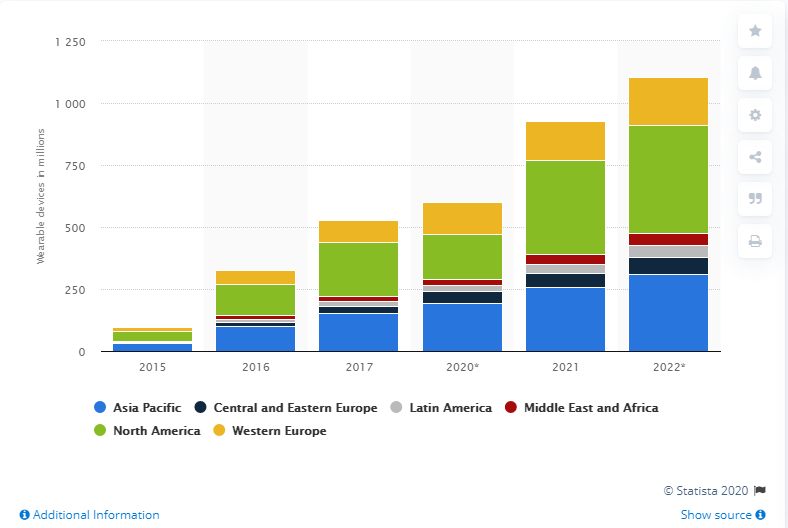 Undoubtedly, the market of wearable devices is in the phase where it is flourishing at a fast pace. Being in this phase, constant research brings regular innovation in these devices. Hence, it will not be an understatement to say that wearable technology has a dynamic market that demands entrepreneurs who look beyond the present acceptances from the users.
The devices which are prevailing in the market today might lose buyers in the next few years. The greatest portion of buyers of wearable devices is the younger population age between 25 to 34. And there is nothing which sustains in popularity within this young generation for a long time.
We already have smartwatches, ear-worn devices, head-mounted VR devices, smart clothing, and data collection wearable devices. Professionals are ardently working on bringing new wearable devices to provide better utility to their adopters.
Wearable apps are an indispensable part of these devices and they are the ones that make them functional. As this technology is amid the transition phase, there are no hard and fast rules of wearable app development.
Mainly due to this fact, many developers face hindrance in their development which is not found during regular mobile app development. So, let's get an idea about the problems they face. Later in this blog, we will also discuss how these challenges lead to mistakes.
Challenges in Wearable App Development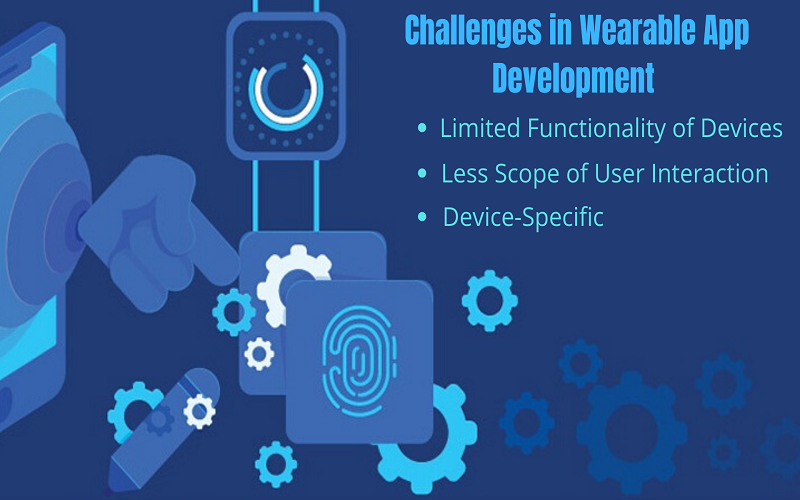 Limited Functionality of Devices:
Unlike smartphones, wearable devices have smaller and weaker hardware. The single wearable app has to work according to the limited functionality available in the device. Therefore, there is little scope of experiment with your wearable apps. It's like you need to explore the limited horizon to its maximum potential.
Less Scope of User Interaction:
Mobile app development involves plenty of attributes with which the user interactivity can be impacted. A better UX/UI design, navigation, and loading speed can enhance user interaction. Wearable apps do not have similar potential. In fact, there is little to zero scope for user interactivity. It is as simple as accepting inputs and displaying outputs.
Device-Specific
Wearable apps are native to the device they are created for and are incapable of getting connected with any other device. They use the API of the device they are specifically created for. Moreover, they cannot be used even in the same kind of devices. For example, the smartwatches of different companies require separate wearable apps.
How do These Challenges Lead to Mistakes in Wearable App Development?
The probability of committing mistakes when there are multiple hindrances in a path is considerably high. While developing a wearable app, we tend to perform certain tasks in a way that leads to mistakes and sometimes blunders too.
These mistakes often become the reason for the wearable app failure. Hence if you have a ready to launch the wearable app then check this list of mistakes. We hope you have not committed them but even if you have then here is a chance to correct them.
These mistakes can also help entrepreneurs who are at the planning stage to reconsider their plan. So, without wasting much time, let us come straight to the point. Check the list of some common mistakes that occur during wearable app development.
5 Mistakes You Must Avoid in Wearable App Development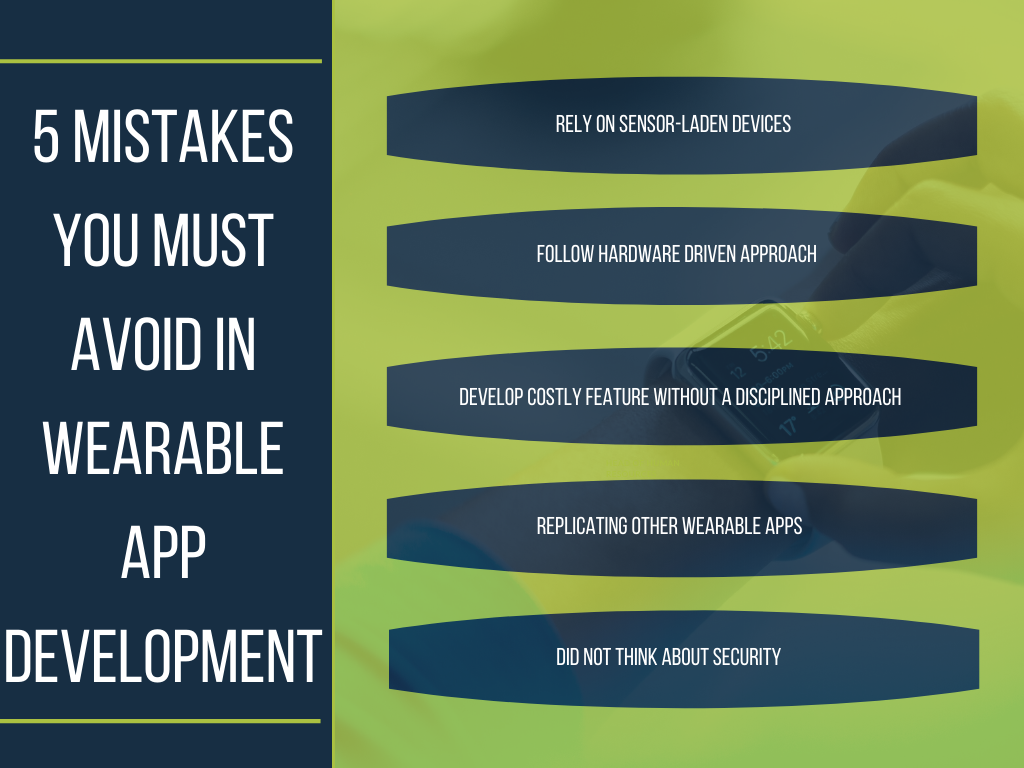 Rely on sensor-laden Devices
The market is filled with wearable devices that sense, connect, and report. These are often referred to as dumb sensing devices that have no intelligence of their own. They just act as remote sensors and have no capability to process the data.
As innovation and consumer demands are raging, we cannot rely on these devices. Very soon, the wearable market will be introduced with the devices that possess the potential to act as a complete computing system.
Hence, if you are thinking to launch a wearable app then make sure it has the power to go beyond sensing and connecting functions. It should be scalable enough to operate with the changed requirements and functions.
Follow Hardware Driven Approach
It is the most common mistake committed by entrepreneurs. We depend on devices to create our wearable app and never rule out the possibility of that particular device going obsolete. This kills the creativity of your wearable app development company.
We need to provide room for explorations, experiments, and discoveries. Creating the infrastructure and architect of your wearable app around hardware will lead to dependency. Prediction of the future is really a tough task and quite impossible, so we cannot say that a device will work in the next few years or not.
As much as software is evolving, the hardware of wearable devices is also dynamic in nature. Hence, never rely on a device rather learn and evolve on your own. This is the only way to add something new to the industry of wearable technology.
Develop Costly Feature Without a Disciplined Approach
When you do not commit the above mistakes, there are chances you brainstorm and decide to add a complex and expensive feature. The biggest mistake while doing this is focusing on design functionality and having zero focus on market study.
A feature may allure users at first glance but later it might seem to be impractical for their wearable device. This happens quite often when we experiment in an industry where consumers are expecting innovation but confused with their needs.
If you want to avoid this mistake, then conduct a thorough competitors' and prospective consumers' analysis. Make sure your costly feature is not a short-term attraction for the device users.
Replicating Other Wearable Apps
If you are investing in the dynamic wearable technology and imitating the apps of others then you are wasting your resources. Replicating the others in the market will not provide an edge over competitors.
You will be left unnoticed forever. Innovation is crucial in wearable apps to provide something extra in your device. There is no need to stuff your wearable apps with features. Instead, make more out of less.
Work on a few features which are unique and completely new to the industry. Imitating the related mobile app will not give any benefit to your business. User experience and product efficiency in the wearable industry depends on new-added features.
Did Not Think About Security
This mistake happened because most of us perceive wearable technology as a leisure investment for the users. Unfortunately, it stores data that is to be protected and more crucial than personal identity data.
Most of the wearable app devices are related to lifestyle and healthcare. This comes under sensitive data and requires high-end security. Therefore, you need to follow all the regulations and get compliance with related laws.
Apart from the data leak, wearable apps also have a tendency to addict people. This might result in causing injuries with an addicted life. Hence the data collection and representation of your wearable app must be conducted in a responsible way and avoid provoking instant reactions from users.
Conclusion:
So, have you been there, done that? Do not worry, we are all prone to make mistakes. If you think that these are the mistakes you have already made during your wearable app development then accept and review immediately. It is better to fail in silence than letting the world know about your faults.
Learn from these common mistakes and set them as your benchmarks. We need to work in this industry with an approach that leads to innovation, discovery, and sustainability because the needs of wearable device users are still unclear.
Hence, working on finding these needs can help in creating unique and successful solutions that survive in the market for a long time. Is it too much for an entrepreneur to do alone? Probably, yes. You can partner with a mobile app development company to create an unconventional and profitable wearable app.
Useful articles, updates, offers and guide boon from SparxIT Team
Categories
Let's discuss your project idea.
Featured In