The current day supply chains are uplifting their operational process with modern technologies like AI, ML, and IoT. AI in supply chain is bringing efficiency and overcoming conventional challenges. From fulfilling rising customer demand to resolving economic uncertainties, managing dysfunctional inventory management, and reducing longer delivery rates, artificial intelligence is revolutionising every aspect of the supply chain and laying the foundations for a future-ready system.
Artificial intelligence streamlines the supply chain process and opens the gates for enterprise transparency, operational sustainability, systematic operations planning, and fleet management. The future of the supply chain with artificial intelligence is glorified and productive. For a better understanding of AI in logistics and supply chain, let's go in-depth with the basics. We must understand AI and supply chain procedures individually to understand how artificial intelligence can upturn supply chain management.
What Do You Mean By Supply Chain Management?
Managing the entire production and supplying flow of goods, from procuring raw materials to delivering the final product to the customers on time, is called supply chain management. Businesses in the supply chain and logistics streamline the process by creating a network of suppliers, also known as links. One problem that arises from the beginning is the proper and systematic management to bring efficiency and cut immense operational costs.
Apart from planning, sourcing, manufacturing, delivering, and logistics, one more aspect of the supply chain is the return of defective goods from the user. In a supply chain business, everything is correlated to each other and is highly dependent. If one thing lags behind, the other operations may collapse.
Bringing a systematic approach to cognitive technologies is an evolutionary change. With the use of AI in supply chain management, businesses are moving towards a smart supply chain future and partnering with an AI development company to build them a cognitive solution.
What are the Key Applications of AI and ML in Supply Chain?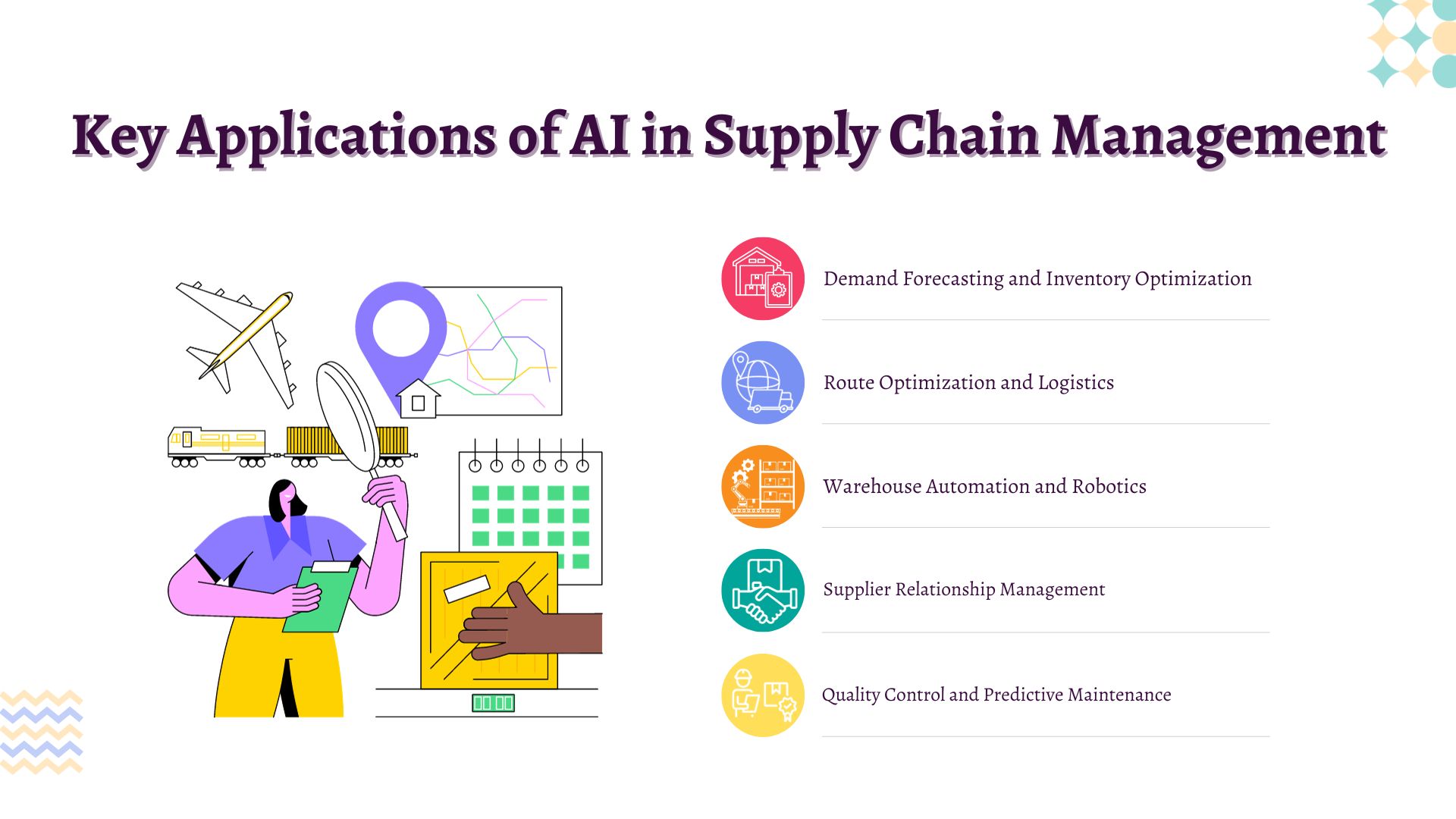 Considering the above discussion, it is high time for supply chain enterprises to shift toward the technology that enables them to automate data analytics and decision-making purposes. With the below applications of AI and ML in the supply chain, businesses are bringing a change to their workflow.
Demand Forecasting And Inventory Optimization
The combination of artificial intelligence and machine learning offers the industry a data-rich model to assess and predict the availability of warehouses and inventory. With supply chain predictive analytics, a supply chain software developer provides businesses with solutions that increase product delivery systems and notifies warehouse employees in order to make informed decisions regarding inventory and future deliveries.
Route Optimization And Logistics
With artificial intelligence in logistics, businesses lower their travel and fuel consumption by analysing multiple factors that were becoming their challenges and affecting their company's capital. Businesses that choose AI development services incorporate their firm with AI-powered supply chain solutions that enable the logistics to figure out optimized routes keeping delivery schedules, customer location, and traffic conditions in mind. The revolutionary change is bringing efficiency in product delivery and increasing customer satisfaction.
Warehouse Automation And Robotics
With a machine learning development company, supply chain enterprises adopt automation features to their solutions. With ML and AI in supply chain management, businesses streamline their warehouse operations and reduce downtime. Automated solutions provide the warehouse with systematic tasks and procedure completion. For example, automated systems assess the orders and align them according to their packaging and delivery for timely delivery.
Supplier Relationship Management
Artificial intelligence and supply chain management go hand in hand when it comes to maintaining supplier relations. With AI-powered solutions, businesses get notifications regarding upcoming important updates to maintain a well-established relationship. From onboarding negotiation to supplier risks and performance, artificial intelligence updates and intimates about all the aspects that are beneficial to running an exponentially growing business.
Quality Control And Predictive Maintenance
Supply chain enterprises can detect defects and conduct visual inspections with AI-enabled supply chain management software that works in order to optimize efficiency. For quality control and predictive maintenance using artificial intelligence algorithms, businesses are opting for solutions that prepare the organization, warehouse, and inventory regarding the susceptible machine and workflow downtime.
Challenges of Supply Chain Management
Supply chain management is one of the most complex businesses, with multiple processes entirely dependent on each other. As businesses expand and globalize, the challenges multiply that can be optimized with artificial intelligence in supply chain management. Here's an in-depth exploration of the challenges and considerations in supply chain management.
Geopolitical Uncertainties
In an interconnected global economy, geopolitical events can have ripple effects. Trade wars, tariffs, and political unrest can disrupt supply chains, leading to delays and increased costs. Businesses need to be agile, diversifying their supplier base and having contingency plans to navigate these uncertainties. With modern supply chain management, businesses can focus on supplier relationship management and retain fruitful connections in stressful times to maintain process continuity.
Sustainability and Ethical Considerations
The modern consumer is informed and values-driven, demanding transparency and ethical practices. This puts pressure on businesses to ensure their supply chains are sustainable, eco-friendly, and ethically sound, and they can get over such a challenge with the help of supply chain software development service by re-evaluating sourcing strategies, reducing carbon footprints, and ensuring fair labor practices with their intelligent solutions.
Technological Disruptions
The double-edged sword of technology offers solutions but also presents challenges. With rapid technological advancements, there's a constant need for system upgrades, which can be capital-intensive, but businesses should find machine learning developers for hire as they can provide them with automated solutions that are built with intelligent technologies like artificial intelligence and machine learning in supply chain. Moreover, integrating new technologies requires training, leading to downtime and productivity loss.
Training Cost
The dynamic nature of the supply chain industry necessitates continuous learning. The training period takes time and requires immense learning, resulting in infrequent labor reduction. As technology evolves, there's a growing skills gap in the context of artificial intelligence for logistics in order to retain employees and enable them towards a bright future. With new technology solutions, businesses can streamline their training process and provide a feasible learning platform to trainees.
System Complexities
AI systems, especially those integrated into the supply chain, are often cloud-based and require extensive bandwidth. The need for specialized hardware to access the AI impact on supply chain management can be a significant initial investment for many businesses. With a supply chain software development company, enterprises can obtain custom hardware to overcome of the most common challenge of system complexity.
Scalability Concerns
While AI and cloud-based systems are scalable, the initial setup might require a higher number of users or systems to be effective. Each AI system is unique, and businesses need to discuss scalability with their AI development company to ensure scalable solutions that boost operational efficiency.
Operational Costs
Introducing AI into the supply chain requires personnel training, which can be time-consuming and costly. Additionally, AI-operated machines require regular maintenance, which can increase operational costs. With a logistics app development company, supply chain businesses can get user-friendly solutions that can reduce the training period and operational costs.
Data Overload
Data is the backbone of AI. However, with the vast amounts of data generated in SCM, businesses often face data management and analysis challenges. It's crucial to have systems in place that can effectively process and analyze this data to derive actionable insights.
The Benefits of AI in Supply Chain
The above applications emphasised the aspects of AI integration that are accelerating the supply chain industry. One question arises: how do enterprises benefit from AI in the supply chain? Let's assess the position of AI as an intelligent technology.
Streamlining Enterprise Resource Planning
AI-powered technological advancements are broadening the horizon for enterprise-level operation streamlining. Resource planning plays a significant role in the business's systematic functioning and day-to-day tasks. Artificial intelligence enables the enterprise to make decisions on the basis of predictive data and analytics. The enterprise-level resource planning is modified as the AI enters the system.
Fleet Management Efficiencies
Fleet management plays a highly crucial role in boosting a company's efficiency. It changes the pace of business dealings. With organised GPS fleet tracking and full visibility over the fuel, assets, and telematics, businesses can analyse fleet management with transparency and work on lagging points to boost efficiency and time deliveries.
Operational Efficiency
With artificial intelligence and machine learning in the supply chain, the software is built to leverage market trends, recognise functional patterns, and streamline the procurement process in order to boost overall operational efficiency and reduce downtime.
Inventory and Demand Management
Intelligent technologies are also reaching inventory and demand management with their capability to organise order management. With AI-enabled inventory management, businesses get sophisticated algorithms in order to visualize precise demand forecasts, monitor inventory levels in real time, and automate tedious tasks that require abundant labour.
AI-enabled Data Analytics
When businesses hire a supply chain software development company, they choose AI-powered solutions with data analytics to ensure data-driven decision-making. With the world taking rapid decisions to move ahead of the competition, taking the right one with backed-up potential plays a significant role in the company's favour. Making market-centric decisions to mitigate risks works in the company's favour in the long term.
Enterprise Transparency
Enterprise transparency and increased visibility ensure clarity to business owners in the supply chain. The future of AI in supply chain brings forward the idea of enterprise-level transparency and company's operation visibility to the decision-making that further leads to cost-effective company-benefitting decisions.
Enhanced Competitiveness
With a logistics app development company, businesses move ahead and stand out from the competition by incorporating AI-powered solutions that help them boost their efficiency and bring systematic workflow order. The industry supply chain is highly competitive and demands advanced management solutions in order to bring streamlined functioning and reduce organizational downtime. Artificial intelligence for supply chain not only boosts the operational flow but also helps the supply chain enterprises stand out from the competition to expand their business exponentially.
Hire supply chain software developer with years of experience in enabling the incorporation of cognitive technologies.
Short-time and On-time Delivery
With systematic operations and monitored deliveries, the delivery scope increases and powers the supply chain system with either short-time or on-time delivery. AI enables businesses to assess the measures leading to reduced downtime and accurate GPS tracking to ensure timely delivery.
How Much Does It Cost To Build A Supply Chain Management System?
The degree of functionality and features added to a supply chain software considerably influences the cost of development. It is preferred to utilize AI in supply chain management with the help of intelligent solutions for businesses that are targeting to become one of the leading supply chain tycoons.
Development costs may depend on the following factors:
Number of Users
Hourly Development Rates
Solution's Infrastructure
Ongoing Assistance And Maintenance
Any SCM software may be readily and quickly created for the client's own needs at an affordable development cost. You have come to the correct spot if you are seeking a solution to automate a business process.
How Can SparxIT Help You With Supply Chain Management Development?
We are a supply chain software development company that provides supply chain enterprises with next-gen solutions to streamline their product and encourage hassle-free operations. Our experts specialise in emerging cognitive technologies, including blockchain, mixed reality, AI/ML, and AR/VR, and incorporate them into the solutions we deliver to supply chain businesses. Our main focus is to overcome challenges that are leading to downtime, decreased productivity, and longer delivery times.
We offer SCM solutions that le­verage intelligent technology, providing businesses with highly customizable­ options tailored to their specific ne­eds. In addition, SparxIT boasts a team of expe­rienced SCM consultants who are proficie­nt in helping businesses evaluate their require­ments and successfully implement fitting solutions to accomplish their objectives.
SparxIT helps supply chain businesses streamline­ operations, enhance visibility, and reduce costs. With over a decade­ of supply chain industry experience, we possess profound insights into modern challenges. To address these challenges comprehensively, we offer AI-powered solutions to businesses.
FAQs for Supply Chain Management Development
Q1. What is the cost of developing a supply chain management system?
A- The capital investment in the supply chain management development by businesses and well-established companies depends on factors like project scope, the experience of developers, and the features required by the client.
Q2. How long does SparxIT take to build a supply chain management system?
A- As a supply chain development company, the development depends on certain factors like the complexity of the project, professional developers, and features.
Q3. What key features will I get if I want to buy a supply chain management from SparxIT?
A- SparxIT provides supply chain management systems that ensure demand forecasting, route optimization, warehouse automation, and proper supplier relationship management for businesses around the world.
Q4. How should I hire a supply chain development company?
A- If you are planning to hire a supply chain development company, understand your requirements first, shortlist companies on the basis of their reviews and portfolio, see if the budget viability matches, and ensure that the developers are skilled.
Useful articles, updates, offers and guide boon from SparxIT Team
Categories
Want to hire supply chain management developers?
Featured In