In this modern time, people are so engrossed in their busy lives that they need help to complete their everyday tasks. This is the reason why on-demand services are flourishing throughout the world. By using on-demand mobile apps, a user can easily get on-demand services. The on-demand apps work as a connecting point between customers and different businesses. These apps come equipped with multiple features and allow customers to get a number of services. TaskRabbit is a popular online platform that allows users to hire people for varied tasks like cleaning, packing, moving, furniture assembly, general handyman, and more. TaskRabbit is an online marketplace where small agencies and freelance providers can find various household jobs in their vicinity.
"Global On-demand Home Services is expected to grow at 18.91% CAGR and will reach (US) $1,133.40 billion by 2026."
A closer view of TaskRabbit
It's a two-sided marketplace for those who need help and those who want to provide help. It serves as a bridge between 'Task posters' (people who need some help) and 'Taskers' (people with the required skills and time to accomplish certain tasks). It is a one-stop solution for various routine tasks that people with more money than time can easily get completed by specialized people. As a leading online marketplace, TaskRabbit is quite handy for people who are too busy in their daily lives. For these people, the app works like a magic wand that they can use to obtain desired services at their fingertips. In essence, the app matches freelance workers to local demands. 
Here are the features that an online marketplace app like TaskRabbit should have
For admins, there should be features like admin dashboard, reports & analytics, user management, service provider management, changes of fees & prices, etc. An app like  TaskRabbit offers numerous features that are used by end-users to book desired services and access other functions. Some of these features are mentioned below. 
Marketplace
The marketplace is an essential feature that an on-demand app like TaskRabbit should possess. There should be a list of services in the opening screen in your app where users can select desired services. The list should include services that you are offering to your customers. Once a user taps on a category, he/she should land on a detailed category page where broader service options are provided. 
Booking
This is the feature that should be available to both service providers and the end-users. 
For end-users: The feature should enable them to book a service for instantly or schedule it for a later time. Also, the feature should allow a user to reschedule a service in case he/she is not available.   
For service providers: They should be able to view booking they receive and should have the option to accept/reject it. 
Booking history
By using this feature, the end-users will be able to view details on previous service bookings along with details on payments, service providers, etc. It will provide two benefits – first, they can check their previous bookings and second they can find a service provider that they took service from previously. 
Push notifications
Push notifications are an important part of any mobile application to ensure user engagement. These notifications are useful for service providers to get booking status. Also, they help winning back the customers who aren't interacting with the app for a while. 
In-app chat system
Sending and receiving messages is as useful as making and receiving calls. Hence, integrating a chatting system into an on-demand service app is useful for providing a way to send/receive messages to the end-users besides calling functionality. 
Tracking service
The app should have a tracking feature that would allow an end-user to know how far a tasker is from the destination and where he/she has reached. It will give an idea to end-users about when to make necessary preparations. 
In-app payment
Although the end-users can make payments for the services they receive from their homes, in-app payment makes it more convenient and peace of mind. Providing an option to pay from the app securely gives another reason for user engagement. 
Invoicing 
When a service is finished, the app should offer an invoice providing information on service charges. The app should have a separate section under a category like Orders where they can see the service and invoices as well as send them over SMS or email.  
Help and support section
There should be an open communication line between the service providers and customers. There should be a clear help or contact section in the menu to let the end-users easily find options for getting immediate help and support. Also, the app should provide FAQs where every type of user can find answers to their queries with minimum help. 
Reviews and ratings
Ratings & reviews that service providers obtain from their customers are very useful for them and essential for the booking process. More positive reviews and ratings will add more customers to its existing customer base. The app should have an option to leave reviews and ratings for service providers. 
Types of TaskRabbit products
Most people are familiar with customer products from TaskRabbit where the users can find Taskers to complete their work. Moreover, there are a few codebases and products that improve the core experience. 
Website – It offers core hiring and taskers' onboarding experience as well as used for marketing the business.   
Client App (iOS) – It is designed to provide core hiring experience to clients on iOS devices. 
Client App (Android) – It is created for Android devices and works the same as a client app for iOS devices. 
Tasker App (iOS) – It is a separate app that is built for the taskers or service providers to get hired, find work, chat with clients, report hours worked, etc.   
Tasker App (Android) – Like Tasker App for iOS it is a separate app that is designed for Android users and utilized by Taskers to find work and do other activities.
Admin Web – It is the admin site that is used by the members internal to TaskRabbit. It allows the TaskRabbit team members to manage both Taskers and Clients as well as perform various administrative operations. 
Platform/API – These are the APIs that are utilized by all client apps as well as the website. 
Looking for Your Own Online Marketplace App
Contact Us
How does the TaskRabbit app work?
Using TaskRabbit is easy and customers or clients can obtain desired services within a few taps. It requires four steps to hire taskers on the app which are as follows:
Step 1: Sign-in & choose task category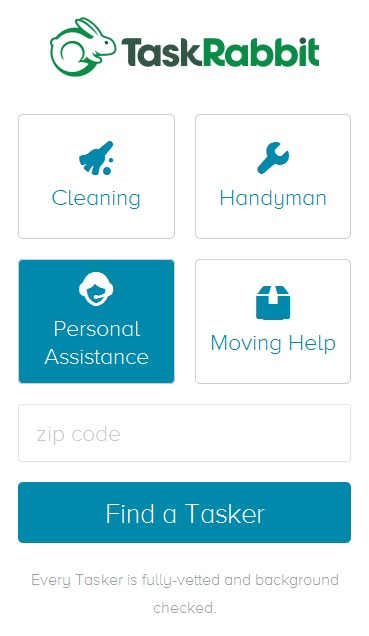 First of all, open TaskRabbit on your smartphone and then sign in to the app, if not already signed in. In case you are using the app for the first time, go through the signup process to start using the app. As you sign in, you will see the home screen with several categories displayed there. Tap the desired task category option or tap the search bar instead to look for the desired task category if it's not listed on the screen.  
Step 2: Post a task with a description of it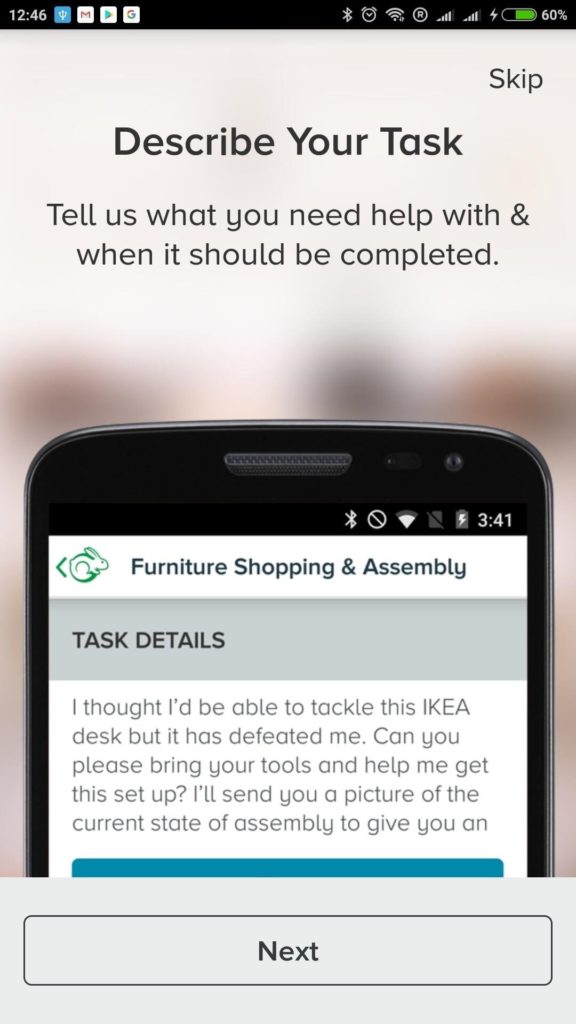 As you open the app, the first step is to post your requirements and the description for the task you want your tasker to complete. Apart from this, you will also mention the date and time for the work, task size, address, and other details. After filling all these details you can post the requirement. The app will match it with some of the professionals who can do your work and show the results to you.  
Step 3: Get a professional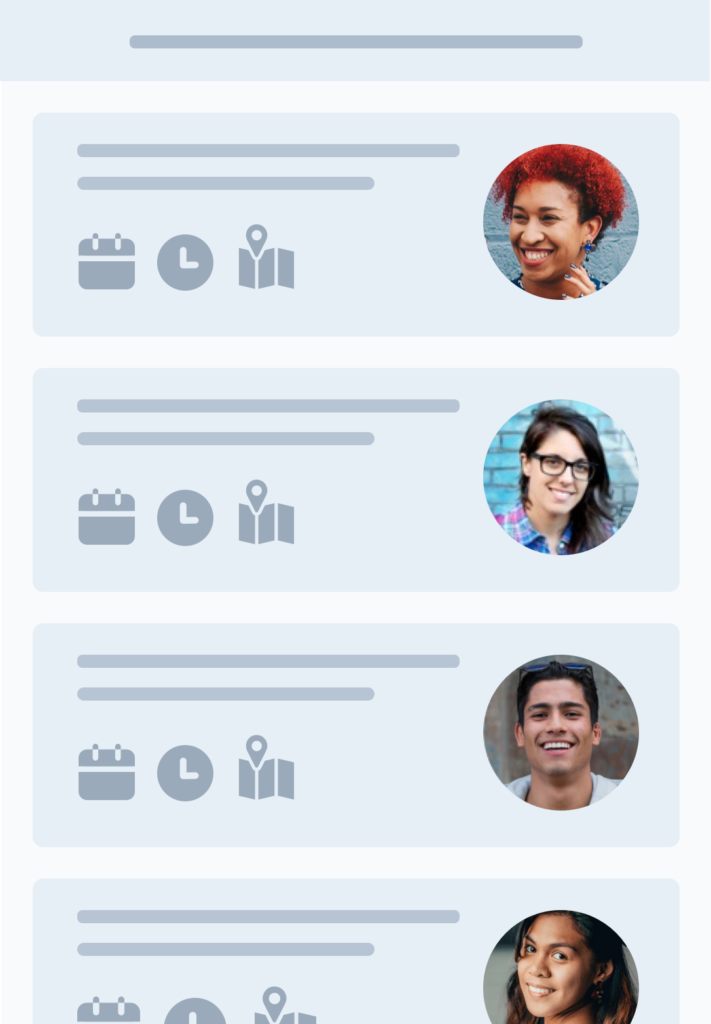 Once you post your requirements on TaskRabbit, it will be matched with the required professionals. After tapping the "See Taskers and Prices" you will see the list of professionals from nearby locations with prices and other information. From the list of taskers that is displayed on the phone's screen, choose a tasker which you think is pocket-friendly. You can simply click on the image of a tasker to find more details like reviews, hourly rates, and more to ensure that the tasker is a perfect fit for your task.    
Step 4: Select and chat with tasker
After choosing the desired tasker, apply any promo code if applicable, then tap on "Confirm and chat with tasker" button. You will be connected to the desired tasker through chat where you can talk to the tasker and discuss your work. You can also discuss other details such as pricing and timing.
Customers can choose a tasker based on the ratings and reviews, price, and other factors that are a perfect fit for them. A tasker can cancel or accept a job depending on his/her availability and convenience. When the job is completed by the tasker, the customer can process the payment from inside the app. After completion of the job, the customer will get an invoice that shows the total expenses incurred. 
User segments of TaskRabbit
Being a two-sided marketplace, TaskRabbit offers two separate interfaces for customers and taskers. The following are the two user segments of the app. 
TaskPosters
The interface for customers allows people who need help in their daily work to find qualified and professional people who are willing to do the required work. Customers who seek to get some work done are called TaskPosters. These TaskPosters want to outsource their work and they post a job on the app. Once the desired job is completed they will pay for the service received. 
TaskDoers
People who do the designated tasks are called TaskDoers or taskers. These are the people who are underemployed, unemployed or want to make extra money. They can sign up on TaskRabbit to become a tasker. After clearing the background check, quiz, and an interview, one becomes a tasker. After this, works are assigned automatically which they can accept or reject as per their availability and convenience.  
How to become a tasker?
To become a tasker a person needs to apply online. 

The person can sign up with his/her LinkedIn or Facebook account and complete the application. 

When the TaskRabbit team receives a person's application, they thoroughly check the applicant's background. 

The applicant specifies his/her interest and skills then he/she is accepted into the app's database.   
An overview of the business model of TaskRabbit
When it comes to providing household services, TaskRabbit is one of the major players that hold a huge share of the field. Like every ordinary business, there is a certain business model that TaskRabbit adheres to. It is growing rapidly and has included many new services since its inception. It's also been successful in making its reach to international locations like London. 
The immense growth of TaskRabbit has inspired many entrepreneurs and businesses around the world. The customer demand for skilled labour to accomplish everyday tasks is growing year by year, TaskRabbit is in increasing in terms of resources to fill the demand and supply gap. 
With the passage of time, the company has changed its business model. Earlier, customers used to make a request that got confirmed the same day but the task was completed in the near future. With an aim to provide instant gratification to customers, TaskRabbit made improvements in its business model and now it caters to real-time tasks.
How does an app like TaskRabbit make a profit?
Being a mediating platform that connects task posters (people need help in some work) and taskers (people who have time and skills to complete varied jobs), it should earn some profit to keep the platform alive. On-demand mobile apps like TaskRabbit earn this profit from only a few sources that are mentioned below. 
Service charge
Getting a commission from the deals that are performed on the platform is the most common way to earn revenue. TaskRabbit charges a 15% service fee which is included in the hourly rate set by a Tasker. When a tasker completes a job, 15% of the total amount paid by a customer for the completed work is taken by TaskRabbit.   
Peak pricing 
By increasing the cost of services that have higher demands is also a method to earn the profit for your on-demand services. This method is more beneficial during festivals.  
What is the tech stack for a TaskRabbit-like app? 
There are numerous technologies and tools that help create a robust online marketplace app like TaskRabbit. By using these technologies, one can build an app that is scalable. Following is the list of technologies & tools needed to build an app like TaskRabbit.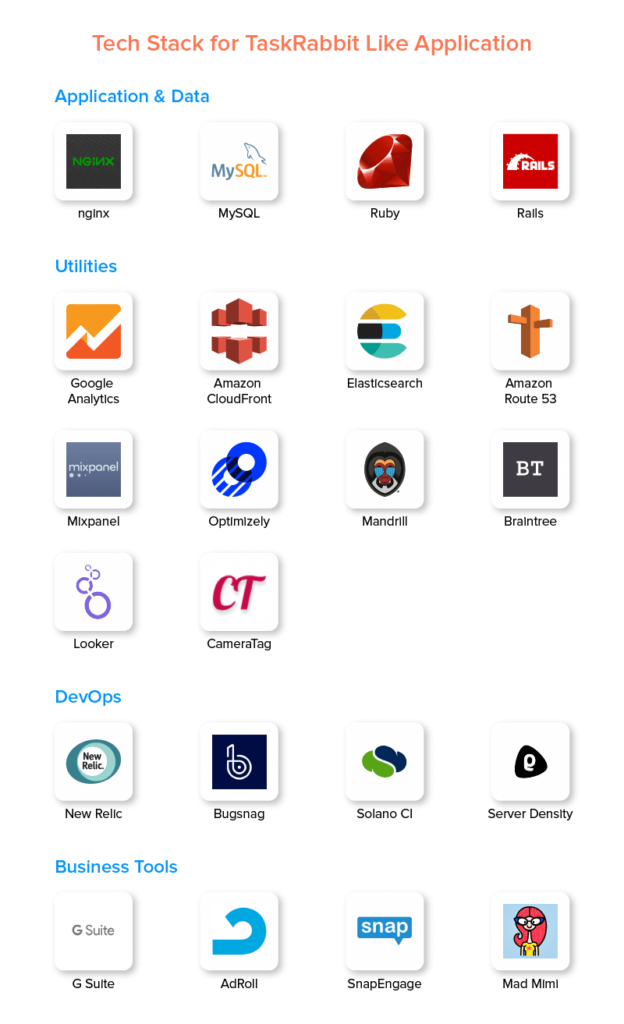 For Data & Application
Utilities 
Amazon CloudFront

Google Analytics

Amazon Route 53

Optimizely

Looker

Mandrill

Elasticsearch

Braintree

CameraTag

Mixpanel
DevOps
Bugsnag

Server Density

New Relic

Solano CI
Business Tools
AdRoll

G Suite

Mad Mimi

SnapEngage
Looking for Your Own Online Marketplace App
Contact Us
How much it costs to develop an app like TaskRabbit?
The cost of developing an online marketplace app like TaskRabbit depends on various factors, but the app design and the choice of the platform are the most evident ones. If you use the technologies, tools, and features that we described in this blog to develop the app, the cost of the app will be between USD 30,000 to USD 40, 000. But you must note one thing that this cost may increase or decrease depending on the platform choice and the design needs. 
The cost of developing an app like TaskRabbit for native platforms like Android or iOS will be higher than creating on a cross-platform framework like Flutter or React Native. From the app design's front, it is the type and number of design elements that increase or decrease the cost of app development. Another factor that helps to determine the cost of developing the app is team composition.
Final note
People are preferring to use on-demand apps for their daily chores for two reasons – busy lifestyle and excessive use of mobile phones. Whether a person needs help or doesn't have time to complete their household jobs like cleaning, furniture assembly, moving, organizing a closet, or general handyman work, they can hire a tasker to accomplish his/her tasks with TaskRabbit. It is a great place to find a perfect person who can do your household chores because TaskRabbit has taskers that are vetted and background checked. If you want to develop your own app like TaskRabbit, choose Sparx IT Solutions, we'll create an excellent app for your business. We are a topmost app development company and build unrivaled native and cross-platform mobile apps. Having 10+ years of experience in the industry, we are recognized as the most reliable app development company and create state-of-the-art mobile apps. We have provided unmatched mobile solutions to thousands of clients across the globe. 
Useful articles, updates, offers and guide boon from SparxIT Team
Categories
Let's discuss your project idea.
Featured In