I discussed with one of my friends about his experience of working with a freelance app developer. He said it is a unique experience to work with an individual who is self-motivated and not associated with an organization. He also shared some disappointing factors like miscommunication, mismanagement of the project, and poor quality check.
He was satisfied with the amount he was paying. Complete product designing costs were cheaper as compared to what agencies charge for the same. He asked me what if he hires an app development agency? Will it be more beneficial to avoid such disappointments? After knowing about his experience a thought crossed my mind, anything that came into existence has both pros and cons. So the choice should always be based on which one of the two options will offer more advantages. This thought forced me to study about freelancers and app development companies. Based on my research, I am sharing an article to let you understand what criteria should be followed by an entrepreneur before hiring an app development service provider.
With the huge increase in the number of cell phone users, business owners cannot afford to ignore the mobile app platform. The count of 6.1 billion mobile phone users can exceed in the coming years. Giant companies like Facebook and Amazon got huge success in less time due to the business app development. Whether you are an owner of a well-established business or planning to set-up a start-up, a mobile app can help you in many ways. For user friendly and revenue-generating mobile apps you can avail mobile app development services. Either you can proceed with a firm or a freelance developer.
Here are some important points to consider before hiring an app development agency or freelancer.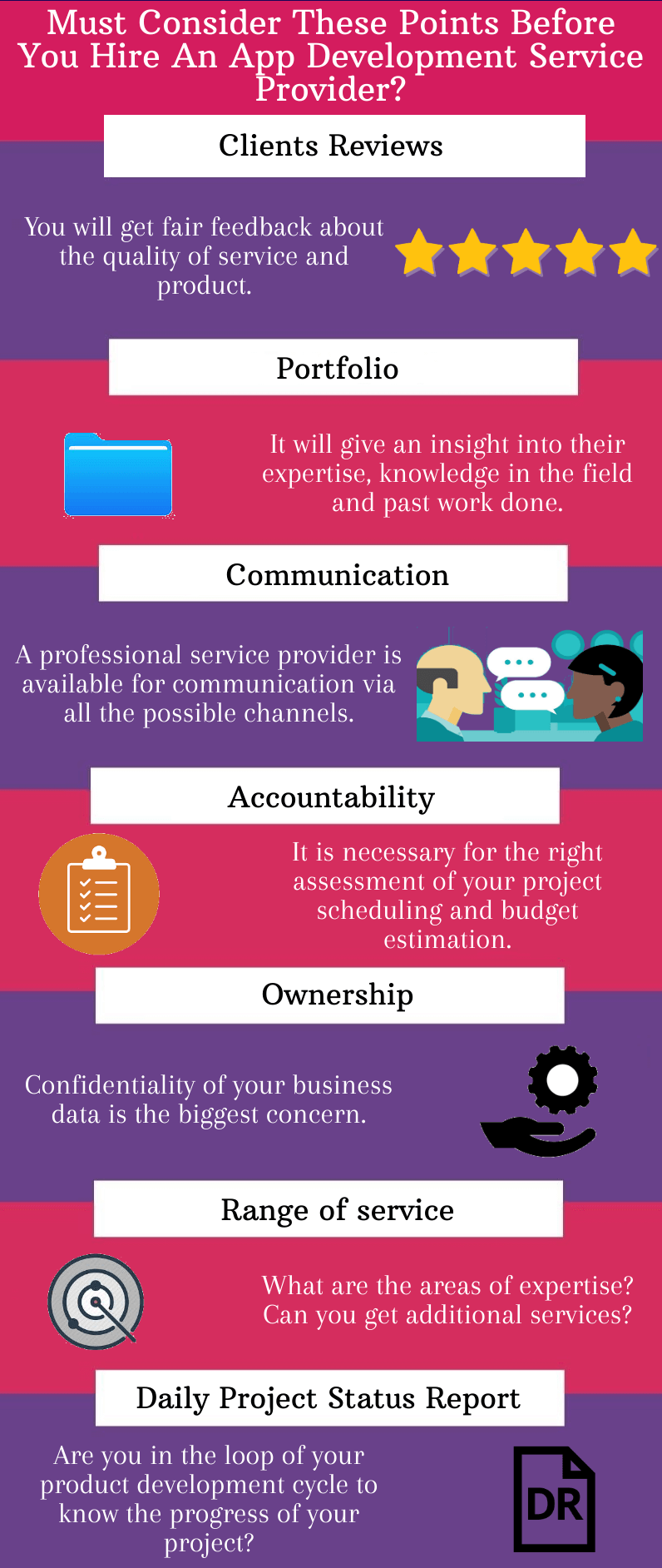 Portfolio
This is the first thing before hiring any service provider. It will give an insight into their expertise and knowledge in the field. Check the links of their apps on the app store which they previously created. Going through a portfolio will help you to know about the technology they use for web design and development. You will come to know what standard practice they follow for creating scalable and efficient mobile apps.
Client's reviews
There are different open discussion platforms available, like SuperbCompanies, Clutch, GoodFirms and SelectedFirms. You can check the genuine review from the clients. You will get honest feedback about the services and product quality. Based on their feedback, you can expect the quality of service and whether the vendor is worth hiring.
Taking the opinion of real clients who have already used the services is the most reliable. The client's opinion matters to know that the vendor can deliver what you expect, their problem-solving nature, and how seriously they will take your business goal. On the SparxIT DesignRush profile, you will get detailed client reviews that will help you decide whether we are the right service provider for your business.
Communication
Make sure you are getting a daily update of your project status report. A professional service provider is available for communication via all the possible channels. He believes in uninterrupted communication with his client. There must be a dedicated project manager available to take your call as per your requirement. Miscommunication may lead to a lack of ideas or information sharing. It creates a mess during a whole production cycle. Your project handler should take the responsibility of interacting with you as per your need.
Accountability
Accountability refers to an open discussion with your development partner. He just ensures honest and goal-driven assessment of your project scheduling and budget. He/she will provide a clear picture of the project workflow and time duration to complete.
Ownership
NDA is the biggest concern for any entrepreneur. Make sure the details of your business you are sharing with your partner firm or an individual do not leak out. Data confidentiality should be a priority for your business partner.
Range of service
Hiring an entire agency can offer you all the services from front end development to back end development. Any additional services like marketing or brand promotion of your product can also be available in one place. While hiring a freelancer can avail you with a single service. It is a unicorn to find an individual with excellence in all the technologies and platforms. You cannot expect a freelancer to cover all the areas of expertise over different technologies and platforms.
Daily Project Report
Are you in a loop or development cycle? It is important for an entrepreneur to know the updates of his project. A professional developer will always report you about the progress of the project. You must be aware of what activities are accomplished in your project and what tasks are about to complete. Check about how many milestones they have achieved. Ask the project manager about the tasks are going in right direct.
If you are confused to know which will be the better option for your business then below are some factors which differentiate app development company and freelancer.
Factors that differentiate Mobile App Development Company and Freelancer from each other:
Availability of Resource
The key pro of hiring a company is that you will get experts in different technologies in one place. Receiving service from a mobile application development company will benefit you with advanced tools, certificates & licenses, and software which are important in the art of creating simply flexible mobile apps. Apart from technical tools, you will get different professionals who have command over the latest technologies. A freelancer has restricted resources. They usually prefer free tools instead of advanced paid tools. An individual developer also holds an experience on a single platform or technology, it is hard to say that one person can benefit you with the knowledge of different technical platforms.
Legal Issues
Doing business is delicate in terms of keeping it free from fraud and risk of failure. Hiring a reputable firm eliminates the chances of being fooled. A legal business entity offers reliability. They act and work according to the agreement they signed with you. Due to the lack of an authentic website or any platform where you can get a true review on a global level, it is hard to find a trustable freelancer. Online reviews and updates of any service provider helps to know its authenticity.
Versatility
A company can provide you a wide range of services from business consultation to project plan, from creative ideas to understand your targeted audience. Freelancers who are a jack of all trades cannot avail of your services in these areas. If you want to take these services from a freelancer then again you need to contact another freelancer who has expertise in business ethics.
Looking for Mobile App Development Services?
Contact Us
Reliability – Long term relationship
The Mobile app development company mainly emphasizes its client's requirements. They cannot afford to disappoint their single client as it may question their service quality. An unsatisfied client may hurt their brand name and value. This is a long term partnership trust factor. You can trust an agency in order to have a long term business agreement with a firm. Whereas a freelancer is a company himself. They don't own a website or a strong online presence like agencies. They are also focused on their clients but in terms of market value and brand reputation, they are less reliable as compared to an app development companies.
Budget-Friendly
Hiring an entire firm for mobile app development services can be expensive as compared to hiring a freelancer. Obviously, hiring a freelancer is cheaper than hiring a company. A company can offer you a different mode of payment. You will not be required to pay the estimated figure in one go. You can pay according to the completion of modules and different project segments. Working with an individual can definitely cost you less, but cannot offer you a flexible mode of payment.
What can we conclude from the above discussion?
Both the collaboration models can be a good choice. It's just that hiring a team has more exposure and a lot more to offer his clients. Hiring a mobile app development company gives you the confidence of having fewer technical issues and proper project management. Hiring a freelancer for mobile app development services can benefit small businesses with minimum requirements.
As per my personal experience, I would suggest you choose a custom mobile application development company. It does not mean that hiring a freelancer will not get you your expected product. How, hiring an agency opens a lot of options for you, like iOS or Android. Which one is better? Hiring a company can take away your confusion with the best possible suggestions. You don't need to look elsewhere for any additional services.
Suppose your high performing app is delivered to you and now you want to keep it on top of the app store by increasing its online visibility. Now how to make it possible? After all, having a mobile app or a website is not enough until and unless it is not getting huge customer reach. ASO (App Store Optimization) is the best way to have a strong appearance in an online app store. Working with a firm can also serve you with these services as they have a professional team of marketing as well. You don't need to rush and look for some other service provider to get it done.
It takes strong analysis before choosing a trustable one to shake hands. Think twice and choose wisely, after all, it's not only about your business, it's about your dreams.
Useful articles, updates, offers and guide boon from SparxIT Team
Categories
Let's discuss your project idea.
Featured In