If you are not connecting with your target users over mobile devices then you don't exist. The mobile device is becoming the most preferred window for users to look through, for the products and services they want. From checking the time to ordering food, booking tour packages to shop, consultation with doctors to beauty care, users prefer to do everything via mobile phones. In such scenarios, the absence of a mobile application will question the existence of your business.
Now, when you have an idea about what importance a mobile app holds, the next concern is not about how you will get an app. The biggest concern is to find the right "mobile app development framework". Yes, there are sufficient options available to confuse you for deciding which framework is most appropriate for mobile app development. However, for the real success of your mobile application, you need to make smart and intelligent decisions to choose the right framework, technologies, and database.


If I will tell you the names of the top ten frameworks for mobile app development then probably you might be thinking about which one to select. So let us discuss each one in detail so that you will easily find the best one as per your requirements:
Below is the hit list of top ten mobile app development frameworks for a rewarding mobile app: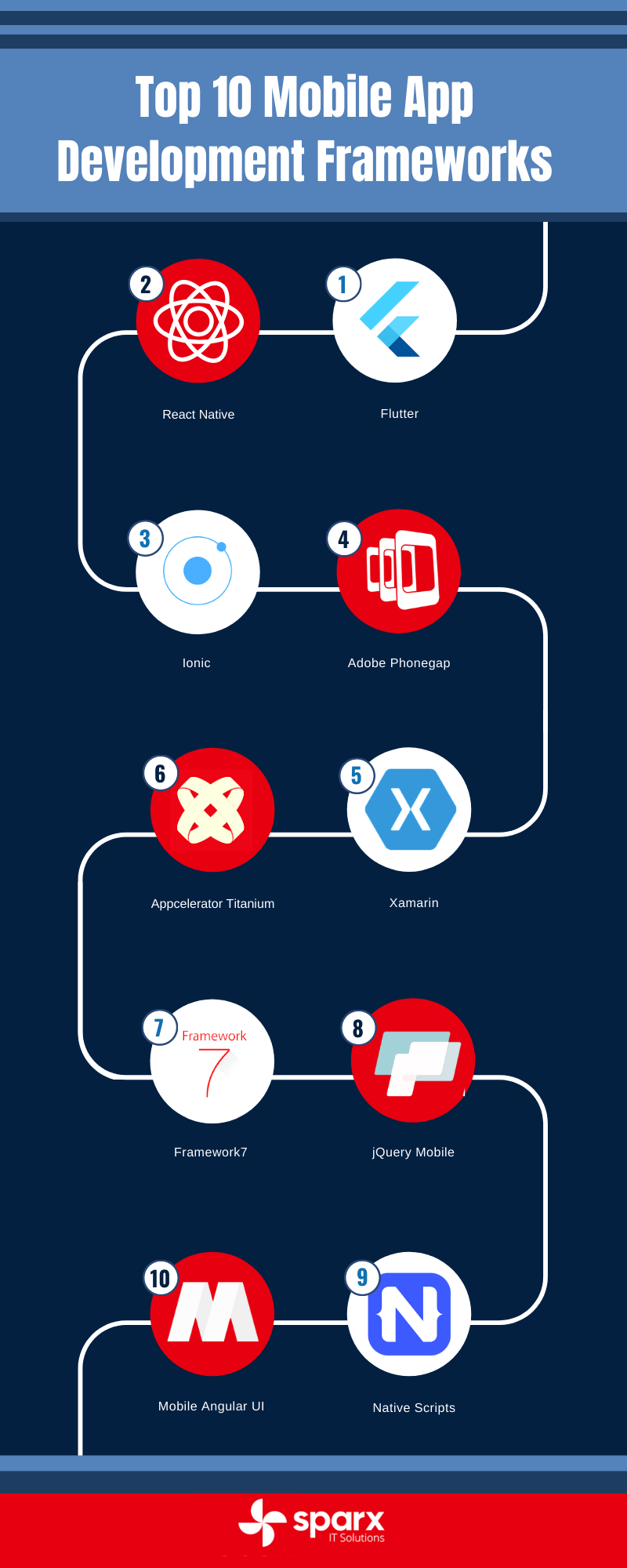 Flutter
This popular open-source, cross-platform mobile application development framework was introduced by Google. This is the most suitable framework for the development of hybrid mobile apps. The ultimate visuals developed on this framework are based on a 2D rendering engine called Skia. The unique thing about the visuals is that they are close to Cupertino and material design style. 
React Native
It is a well-known cross-platform framework launched by social media king Facebook. With the immense feature offerings, it has become the prior choice of mobile app developers. React Native is an open-source framework supporting IDEs along with other tools for mobile app development. This optimal JavaScript framework potentially creates native apps for both iOS and Android platforms.
Ionic
With the huge clientele, it is one of the widely used mobile app development frameworks without any cost. Yes, you read it right. Ionic is free of cost client-side framework. It supports building native-based applications by combining Javascript, CSS3, and HTML altogether. You can assume Ionic as the best asset for developing progressive web apps. It functions well with PhoneGap, and SDK like Angular.

Adobe PhoneGap
If there is any alteration in the mobile app development it can be witnessed by PhoneGap. This another cross-platform app development framework helps developers to create hybrid mobile apps in HTML5, CSS, and JavaScript. This remarkable framework should be your top preference. Avoiding any hardware restrictions these frameworks offer rich-quality performance.
Xamarin
Software giant Microsoft gave birth to this ultimate mobile app platform. Xamarine allows us to develop robust applications for Windows, iOS, and Android. It offers the benefit of code reusability that prevent developers from writing codes again and again. It allows code sharing using Windows and Mac OS platforms.
Framework 7
Framework 7 is an open-source HTML framework for building desktop, mobile or web apps. It can also be used as a prototyping tool in case of your requirements. Its latest version is based on ionic3 
JQuery Mobile
With the single code version, this HTML5 based framework can run on all the devices. Both websites and mobile applications can be built on this framework with the extensive support of operating systems like Mac, Windows, Firefox, Blackberry, Kindle, and many more. The JQuery Mobile is surging high demands for faster app development.
Appcelerator Titanium
It helps developers to create a native mobile application for Windows, iOS, and Android using a single JavaScript codebase. It offers a ready to use UI component, creating custom APIs to utilize within your application without any integration error.
Native Scripts
I know I made it a second last point of discussion but, it has been ranked top among all the hybrid mobile app development frameworks. Yes, Native Reacts provides advanced support for developing creative mobile apps with excellent user experience.
Mobile Angular UI
Combining the implementation of the Angular and Bootstrap framework it optimizes the mobile app development process. Using HTML4 allows developers to build a unique mobile app with a seamless user experience.
The subject of finding the right framework for mobile app development is obviously the most talked. We also discussed the top ten versatile frameworks for mobile apps. Now when you are aware of top futuristic frameworks, why not invest little more time to discuss factors to consider while choosing the right platform.
Below are some points which will help you to finalize the most suitable mobile app development frameworks based on your preferences: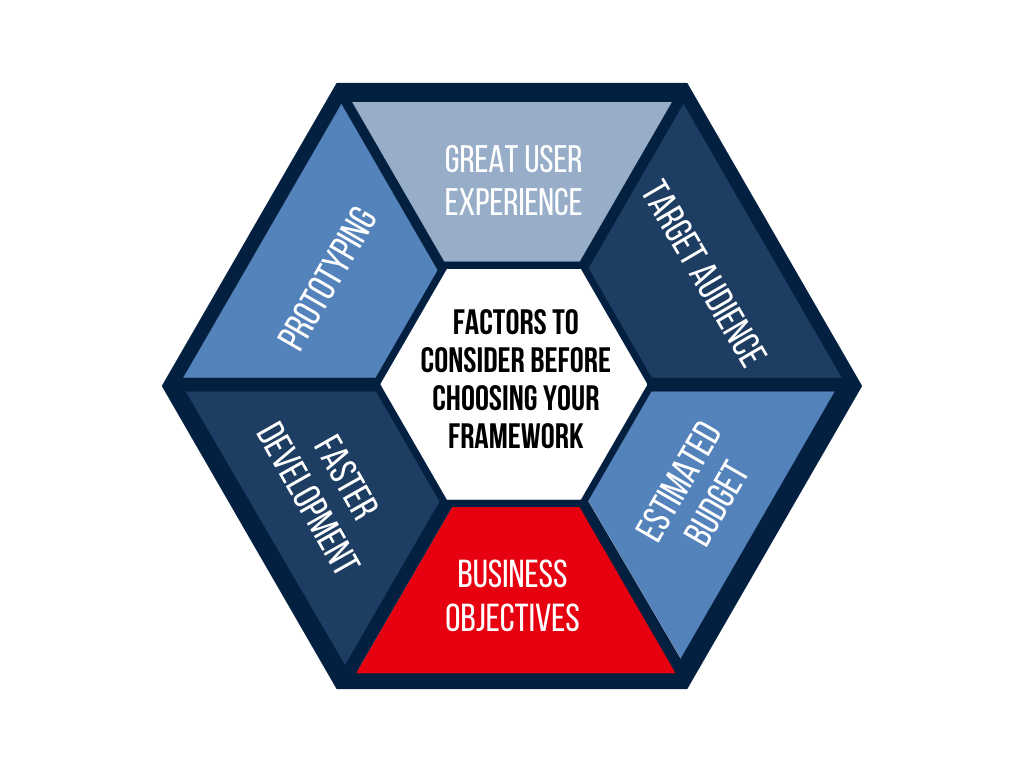 Clear Business Objective
To choose the best option among all, first, you need to have a clear understanding of your business objective. Whether you need an iOS or Android applies within the scope of your business and what business exposure yo want to gain from that app.
Development Time
A very common phrase we both are aware of is that "time is money". If you are required to wait for extra time to get your desired product then ultimately then you are paying extra. Choose a platform that supports faster development before or under the estimated time to avoid delays.
User Experience
In the end, the end-user is the final judge who will use it and evaluate your app's ranking. Yes, great user experience is the path to success of your application. Make sure you use a framework that gives the ultimate user experience.
Faster Prototyping
The faster development will help you to achieve your business goals faster without any hassle. This may lead to increased sales and conversion rates along with better productivity.
Target Audience
Suppose you are targeting the Asian market then surely you should opt Android but with the same functionality if you are targeting European or North American market then preference will be iOS. Know your target audience and keep growing.
Monetize App's Potential
Business owners focus on generating high ROI from a different platform. It is an important segment of research and understanding which platform can get you more revenue based on the consumer's preference and usability in the market.
Your Budget
Obviously, you must have a limited budget to invest. The time and money both vary as per the platform you choose. Like iOS took 2x less time to develop an app as compared to Android. You can choose the framework accordingly based on your budget.
Let Your Dream App Created By Industry's Experts!
Once you make a final decision in regards to choosing the best mobile app development framework. Now, you need to understand who will be the one who can turn your mobile app development ideas into reality. I don't want you to roam around in search of the best mobile app development service provider and get tired without reaching the right destination.
You can directly visit Sparx IT Solutions. Yes, we don't claim to be the best, we don't say that we are the only expert choice. But, all we can say is we work for our clients only to serve their needs in their hands, shaping exactly what they want. We are the followers of standard practice, latest trends, and advanced technologies that bring you a unique solution. Definitely, You can go elsewhere to get a mobile app as there is no lack of a mobile app development company.
But the solutions we offer, the product we deliver, our promising quality and time of delivery we offer you cannot find elsewhere. This is what separates us from our competitors and makes us unbeatable in the digital era. Well, words can never be enough to understand our credibility and authentication. To know more about our services and products call us right away. We work around the clock to assist you in every complex phase of your business. Our only aim is to take out our clients from business complexities, generating high revenue, and fulfill their expectations
Wrap-up With a Conclusion
So, with this, we reached an end. I hope you are not bored and got the key points simply. Well, one thing still remains unsaid is that as much as choosing the most appropriate mobile app development framework is concerned, the decision will mainly depend upon your requirements. Yes, each and every framework we discussed above and some other which are out of this article hold something unique. It's just that which suits best for your project. Nor every framework is meant to work for your project neither do your requirements match up with each one. 
Once you find the frameworks matching with your specification, then no discussion is left. Here you are good to go and get your dream app developed on the most appropriate framework that best fits for your needs.

Useful articles, updates, offers and guide boon from SparxIT Team
Categories
Let's discuss your project idea.
Featured In