Digital growth moves around the modern consumer's journey! In today's era, where people look through the digital medium for the required products and services, the mobile app has become an inevitable resource. From booking movie tickets, cabs, flights, to find a dating partner, meditation, and food ordering, mobile is leading every industry. DO you think in such a highly digitized scenario you can avoid mobile app development? Maybe yes, or maybe no! Behind every successful business, there is an expert move taken by entrepreneurs, and developing a mobile app is the key to success for startups.
For your next business plan, avail mobile app development services for a productive business solution. Let's take an example of E-Commerce App Development Like Amazon. A mobile app like Amazon is serving millions of people to get their needs fulfilled on their doorstep. Also, Telemedicine App Development is also doing extremely well in the medical industry. There are numerous apps you will find that are serving different user's demands. If you want to get detailed information then read the online on-demand App Development Guide. You will come to know that how the demand reputed Mobile App Development Company is growing for innovative app development.
In this guide, we will discuss the top mobile app development ideas that help the startup to stand in the industry. Remember, behind every innovation, there is a unique idea!. Before you invest in the mobile app, find out some details like what is the best idea to create an app and how much will mobile App Development Cost.
7 Mobile App Ideas For A Successful Startup 2021: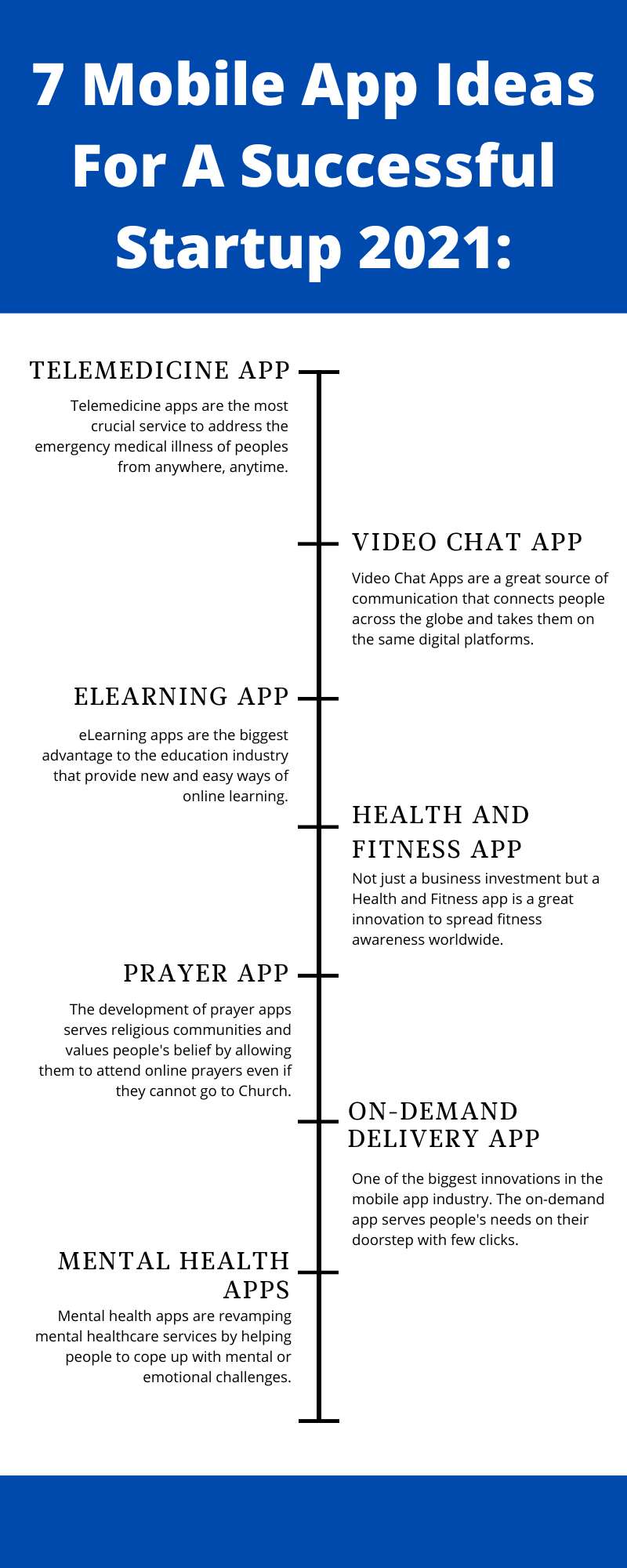 The mobile application has dominated the market with great success. Businesses of all sizes are getting an advanced mobile app to lure maximum consumers via mobile devices. In this guide, we have wrapped-up some amazing mobile app development ideas that give your business a competitive edge. So let us move ahead and find out the most suitable app development ideas for your business. Here is a list of mobile app ideas that you should think about. This list is created after understanding the current facts and market trends.
Telemedicine App – Support the Community
Overview: Telemedicine has emerged as the most crucial service across the globe. Amid the emergency situation in the healthcare industry, telemedicine is the foremost hope. The World Health Organization counted it as one of the prioritized areas to strengthen healthcare services.
Why? The healthcare industry is looking forward to more investors in telemedicine services. Getting a telemedicine app developed will not only open doors for revenues but also help you improve the shattered global healthcare system.
How? There are various telemedicine apps performing brilliantly well in the industry. It is a safe medium to avail of healthcare services at fingertips.
There is an influx of patients on these apps. Telemedicine app development like doctor-on-demand will allow you to share their burden. It is time to stand by your community. No one except a zealous aspiring entrepreneur with a good heart can do this!
What Features Should Your Telemedicine App Must-Have?
Registration: It is important to make your users fill the form with basic medical details.
Patients' Profile: This will include the history of the treatment availed by a patient.
Doctors' Profile: The education, experience, and expertise details will be available here.
Appointment and Calendar: This helps in managing the schedule of a patient's treatments and consultations.
In-App Calls: This improves the consultation process and helps in record keeping.
Geolocation: In case of emergencies, it is important to have the feature to track the location of patients.
Payment Integration: Safe and reliable payment gateways should be used.
Push Notifications: It is a crucial feature to keep your users updated about upcoming appointments and medications.
Ratings and reviews: The patient should be given this option to rate and review the consultation of a doctor.
Read More: How to Create a Telemedicine App like Doctor-On-Demand?
Video Chat App – Help People to Connect Socially
Overview: In today's busy schedule video chat apps help people to stay connected. Not only for personal use, but organizations are also taking advantage of video chat apps like Zoom or Google Meet to schedule meetings or video conferences with their clients. It helps organizations to have a valuable work-related discussion even if concerned persons are not sitting next to each other.
Why? In recent times people across the globe were advised to follow physical distancing which is not equal to social distancing! Hence, to bring people closer socially, we need more video chat apps. This satisfies the demands of all age groups and entities.
How? The competition is fierce in this category of mobile apps. You need to provide some custom features to make your mobile app competitive. Get a Video Chat App Development Like Houseparty to explore the avenues of earning easy profits.
What Features Should Your Video Chat App Must-Have?
Social Media/Google API integration: A basic step for registration that allows the users to get in touch with their connections/friends on social media.
Video Calls: There is no meaning in launching a video chat app with this feature
Group Calls: Every other video chat app has a group calling option, so it is vital to include this.
Chats: Network does not support a seamless video calling option always. Group chats help people to communicate over text.
User online status: You can have this feature with an option to hide the status.
Animations and Filters: AR technology integration will allow you to engage your users better.
End-to-End Encryption: These calls are used for personal as well as professional purposes. Both of them demand high security of data. Hence, this feature is crucial for users these days.
Push Notifications: Let users get updates about changes, messages, or missed calls.
Geolocation: This helps in sharing location with friends.
Customer Support: Provide support to your users with customer support chat or call options.
Read More: How to Create a Video Chat App Like Houseparty?
eLearning App – New Found Pillars of Education
Overview: eLearning apps have reduced the burden of teachers and professors and also provide an easy source of learning to students. eLearning apps have become a great support to the education industry.
Why? Learners have shifted their focus to online learning platforms due to high efficiency eLearning apps have seen a sudden surge in downloading rates in recent years. Strengthening the education system is as important as strengthening the healthcare industry.
How? There are plenty of eLearning platforms like Coursera that have been helping students and teachers to stay connected with the online learning process. As a result, this is bringing profits and appreciation towards these apps which makes the idea to get eLearning app development a smart choice.
What Features Should Your eLearning App Must-Have?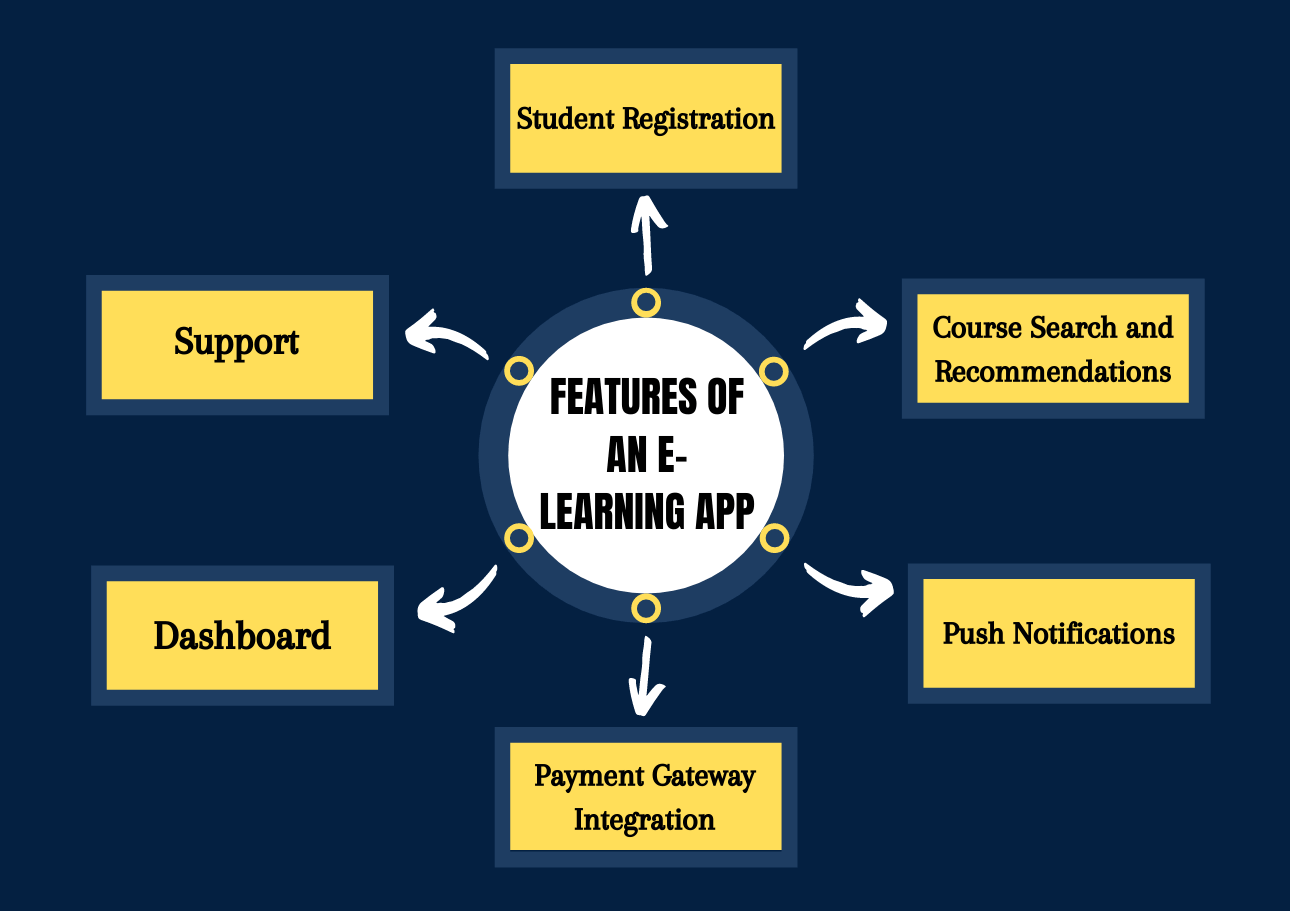 Student Registration: The first feature will be to get your learners registered with their basic details.
Course Search and Recommendations: Provide easy and smooth navigation for the various courses.
Dashboard: This will help learners find out their progress, assessment details, and courses purchased.
Push Notifications: Use this feature to update users about new changes, upcoming tests, or course additions.
Payment Gateway Integration: Fees payment is an important way of earning profits. Provide users with safe payment options.
Support: There are times when things don't go well. This feature will allow users to gain support from your admin.
Read More: How To Create An eLearning Platform Like Coursera?
Health and Fitness App – Let People Assess Health
Overview: The change in lifestyle is becoming hard for most of us to adapt. The lack of physical activities is making it worse. This has left us with no option except looking up to an app that can help us in staying fit.
Why? Fitness apps have seen a growth of 47% in downloads rate. The netizens who never used these apps have started including them in their smartphones. Therefore, launching a fitness app clearly indicates the smartness of a mind. You know where to explore what!
How? The MVP features of these apps are pretty simple and end up with low mobile app development costs. You can choose your niche and become a pioneer amongst the plethora of newbies.
What Features Should Your Health and Fitness App Must-Have?
Registration: Make sure to take information regarding body weight, height, illness, or other health-related things.
Home Workout Videos: This allows people to practice safe workouts at home without any guidance.
Calorie Count: You can provide this calculator to allow users to easily track their calories in-take.
Health Experts Advice: Allow users to get in touch with proficient health experts who can help them in keeping healthy.
In-app chat and calls: Health experts can easily connect with users over chat and call with this feature.
Support: Let your users communicate their experience to the support team.
Payment Gateways: The premium plans can be bought with easy and safe payment options in your app.
Prayer App – Crisis Calls for Stronger Faith
Overview: Online prayer platforms are the greatest innovation to value people's belief in god. The development of prayer apps helped so many people, especially aged citizens who are not able to go to temples or church. It offers them to attend prayer online without attending religious gatherings.
Why? The Church app development or prayer platform development has become a popular option for religious communities.
How? To launch an online prayer platform, you do not have to be a church owner or trustee. You can be anyone who wants people to connect over a platform. In addition, these apps can also be used for raising help for people in dire need.
What Features Should Your Prayer App Must-Have?
Registration: It is important to get your user registered to develop a long-term relationship with them.
Live Video Streaming: This allows users to attend religious meetings while maintaining physical distancing.
Push Notification: Keep people connected and engaged by notifying them about everything
Social Media Integrations: Allow people to connect their profiles with social media. It will improve your reach.
Donation: This allows you to generate funds for the community
Read More: How To Create an Online Prayer Platform?
Mental Health Apps- Witnessing a Never-Ending Demand
Overview: Millions of people lost their jobs; thousands of people are suffering in silence. Every recession brings a topic of suicide with it. Although suicide is an extreme step, there are plenty of other mental health challenges that every person is facing during the lockdown.
Why? To provide immediate help to the people who require assistance for mental health issues, we need to revamp mental healthcare services. Mental health app development has become popular since these apps have started drawing a wave of new users.
How? For these apps, it is advised to get in touch with mental health practitioners who can add value to your solutions. If you are unable to do so, then go for mental health app ideas wherein professionals are not required. For example, meditation apps with pre-downloaded videos.
What Features Should Your Mental-Health App Must-Have?
Registration: Understand the state of your users and their core focus areas regarding mental health in the registration form.
Self-Help Content: These can be articles, books, videos, infographics to help people in coping up with their emotions.
Mediation Videos: This helps users to achieve different goals for decreasing anxiety and gaining patience. You can include videos from various sources.
Self-Assessment Quiz: This will help users in judging their state of mind. It will get easier for them to find the relevant content.
Professional Guidance: In case, the user will have the need for expert consultation then your app must have this feature too.
Emergency Call: There are emergency situations like suicidal thoughts, panic attacks, and other mental issues. This call will allow your admin to deliver instant help to the users.
In-app Call/Chat: This can be used to consult with experts. This will ensure their safety as you can record these chats and calls.
Payment: For professional consultation or other plans, payment can be made with safe and secure payment gateways.
Reviews: Allow users to share their experience with your app or expert through chat, call, or rating.
On-Demand Delivery App – Deliver the Essentials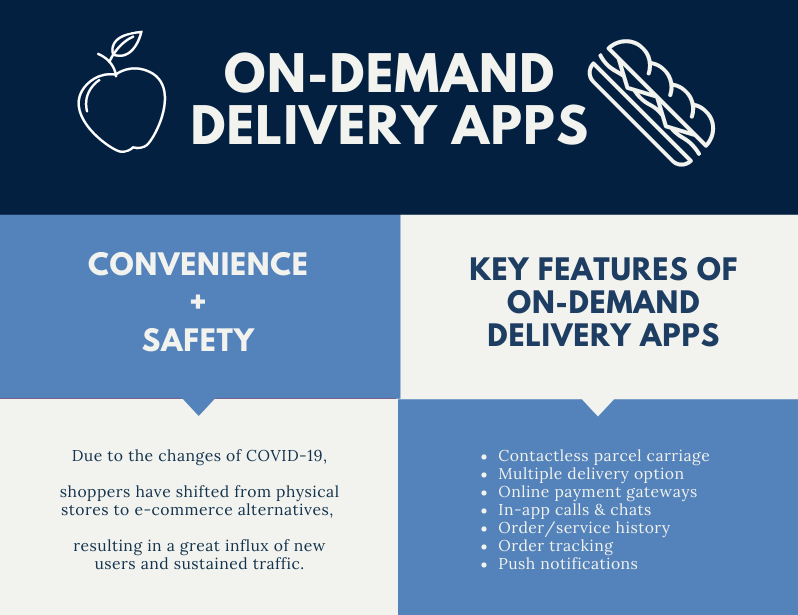 Overview: Entrepreneurs have shifted the physical store shoppers to eCommerce sites. As a consequence, On-demand delivery apps have seen an influx of users. eCommerce website traffic has increased tremendously with the increased demand for online services.
Why? People are seeking a medium that can allow them to stay indoors and get their service on doorsteps. Due to this, on-demand app development has become the need of the hour. It offers people the comfort of ordering from their homes and getting their essentials on the door.
How? In order to flourish your on-demand mobile app ideas like grocery delivery app, home services app, food-delivery app, etc., it is crucial to provide convenience to users. Features like secure payment options, contactless delivery, and instant service have become the point of attraction for customers.
What Features Should Your On-demand App Must-Have?
Contactless Parcel Carriage: This is the main attraction of on-demand apps. You will have to ensure this to ensure the safety of delivery personnel and customers.
Multiple Delivery options: With this feature, users can choose the most suitable one according to their preference. This ensures their safety.
Online Payment Gateways: Make sure to include the safest modes of payment options.
In-app Calls or Chat: This will ensure the safety of your customers. Real-time contact can be initiated in case of need.
Order/Service history: The customers should be provided with a summary of their last orders.
Order tracking: This helps in tracking the progress of the delivery of any order on a real-time basis.
Push notifications: You can use this feature to notify your users about their orders, cancellations, and deliveries.
Read More: How to Create an On-Demand App?
Thinking About "Where to Start"? Go for an Unconventional Digital Solution for your Business App Ideas
As you can see the variety of mobile app ideas, there are some more ideas available like Real Estate Mobile App Development and Social Media App Development. You can choose the one according to your preference.
Facing the dilemma of choosing the right idea for your business is quite obvious. Standing out among the crowd is the only way to make a difference. However, investing in mobile app ideas is not the main point. The argument has to be about the ways to outshine.
We, at Sparx IT Solutions, are offering special attention to such dreamy and zealous entrepreneurs. Being in this industry for the past 13 years as an acclaimed Mobile App Development Company, we have understood that the industry can only grow when we appreciate and encourage new entrants. We are experience Android App Development Company and also provide remarkable iOS App Development Services across the globe.
With the holistic approach and immense hope, we are ready to help you out with the ideation and conceptualization of your mobile app. Let us ideate, innovate, and create an unconventional mobile app together!