"The best way to have a good idea is to have a lot of ideas."
These words by the famous American Chemist Linus Pauling say a lot about the essence of ideas.
So, before we move further into discussing some transformative app ideas for your business, we should first understand the purpose of the discussion.
Having an appealing mobile app idea can help you get answers to some crucial questions such as;
What inspires your app idea?
What would your dream app look like?
How do we ensure the validity of an app idea?
In order to help you find your app inspiration, we have comprised some of the main insights of mobile app ideas in this blog post.
This blog post discusses the complete know-how of getting to your app vision through a streamlined roadmap.
How to Find App Ideas?
As per the Statistics given by Statista, the number of annual mobile app downloads is expected to increase from 247 billion in 2020 to around 299 billion in 2023.
Such a staggering rise in the user base in three years is an indication of how fast-paced the mobile app market has become.
If you have an app idea, you cannot miss out a moment to consult a mobile app development company and realize it into a functional plan.
It is not about finding a large-scale idea but an idea that focuses on a problem. A solution-oriented app idea will always find a unique way of standing out among the contenders.
Here are six tips to find innovative and lucrative app ideas for your startup or established business.
Know More About Your Customers
The targeted audience is the term through which we refer to those whom we want to pay for our products or services. However, a loyal customer can provide you with far more than a few bucks. You get credibility, positive reviews, and ultimately a market recognition that sustains.
To leverage all of these perks, you should understand the needs by analyzing customer behavior through several tools.
You can begin by having a value-oriented discussion with the customers that focuses on their interests and convenience corresponding to a particular application.
Create a Goal-Oriented Business Roadmap
A mobile app idea should not only be attractive but also presentable and deployable. A parameterized and comprehensive business roadmap collects all pieces and creates the foundation of your app vision. It further helps business enthusiasts to find the best practices and resourceful technology tools to incubate new app ideas.
With clarity of organizational goals, resources, and functionalities, you can extract resultative app ideas.
Your Mobile App Idea Needs Us. Discuss Your Plan Now.
Never Overlook The Essence of Marketing
Marketing is the art of experimenting, understanding customer behavior, collecting insights, and making critical changes in how you interact with your customers to showcase your offerings. A decisive marketing strategy can create multilateral impacts on your business.
Business leaders can utilize marketing to analyze current processes and identity app ideas that help you enhance the customer experience delivered through your mobile application.
Perform a Thorough Industry-Research
The global business landscape is transforming. To create an app that sustains for long, you need to understand and implement the latest industry trends and evolving expectations of the customers. Your ideas need to be updated as per the market.
Moreover, it is also important to realize that not every industry trend would concern your interests. So, you need to be smart enough to understand the trends to overlook the ones to consider.
Comprehensive industry research would also help you find the best mobile app developers for your project.
Do Not Hesitate to Get Inspiration From Competitors
Despite all business-related battles, you can take inspiration from your competitors. It can be both a positive and negative characteristic.
The goal of a focused competitor analysis is to get answers to the following questions;
What did help your competitor to succeed in a case?
What did lead your competitor to fail in a case?
What better can you deliver than your competitor?
Answers can help you fabricate the foundation of your unique app idea.
Top Mobile App Ideas For Startups in 2023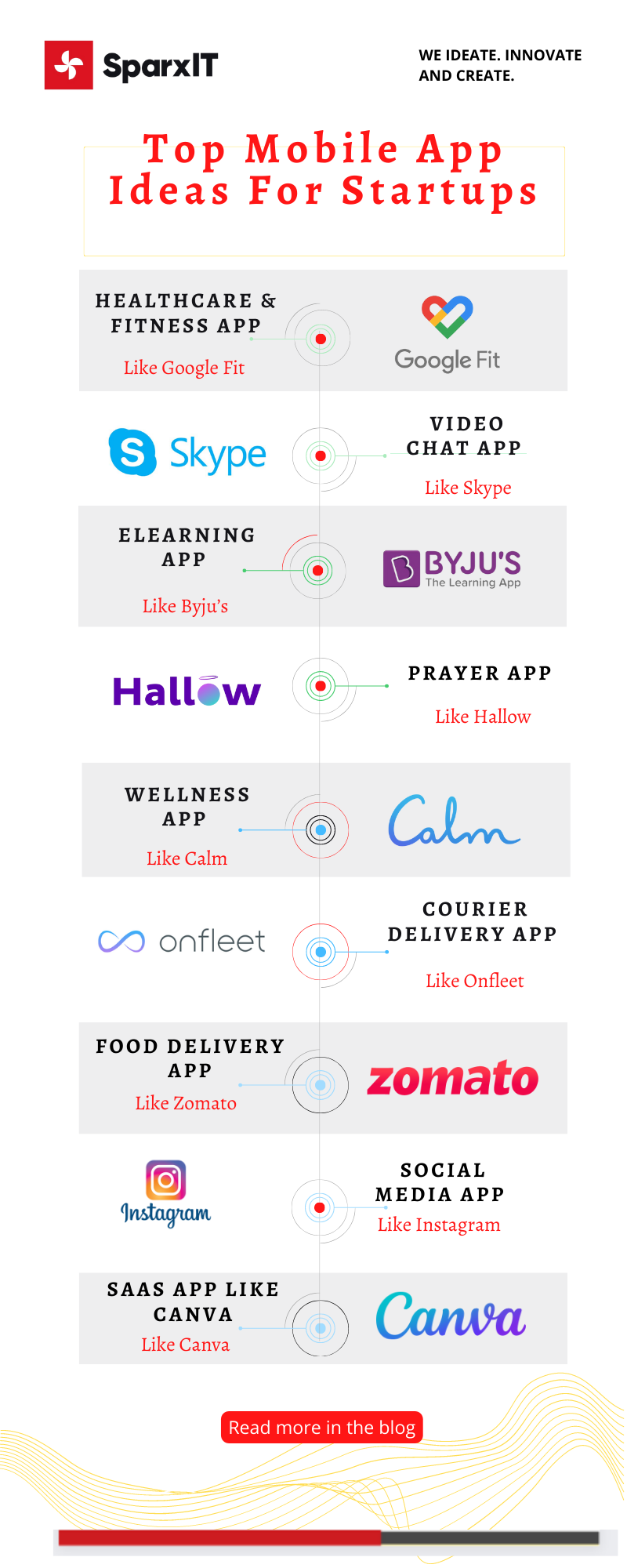 The global mobile application market size is expected to glow at a CAGR of 13.4% from 2022 to 2030, suggests Grand View Research.
With such dynamic insights, the app development does not seem to pause which brings an opportunity for startups to come up with new mobile app ventures.
Here we are listing some mobile app ideas for startups in 2023 with respective app examples with a popular app example.
Healthcare & Fitness App Like Google Fit
The fitness app market size was estimated at US$ 13.78 billion in 2020 which is expected to grow at a CAGR of 24.3% from 2021 to 2030 and reach US$ 120.37 billion by 2030, as per the data presented by Allied Market Research.
The global healthcare mobile app market size was recorded at $38.2 billion in 2021, shows Grand View Research.
The primary objective of creating new healthcare app ideas is to make caregiving services accessible at the users' fingertips.
The business owners can explore mobile app ideas for healthcare as the followings;
Online appointment
Delivery of medicines
Tracking fitness
Self-diagnosing
Organizing training sessions, and more.
Top Features to Consider
EHR/EMR integration
Digitally-generated prescriptions
HIPAA compliance
Registration and login
Doctor profile lookup
Appointment scheduling
A healthcare app development company can not only help you build healthcare but also validate if you are going in the right direction with thoughts.
Video Chat App Like Houseparty and Skype
The video chat app market has grown immensely during the pandemic. Video chatting apps like Skype, Zoom, Houseparty, Google Duo, etc., have inspired business leaders to bring new chat app ideas to the table. We have seen a significant surge in the video chatting apps' user base.
As per Statista, the widely-used video chat platform is Skype with over 12.23% users, followed by 7.25% of Indian users.
To create a video chat app like Houseparty, you can start by listing out the primary features that your app should comprise.
So, what are these features?
Top Features to Consider
Customizable Dashboard
Marketing Campaigns
User Authentication
Video Conferencing
Animations and Filters
Geolocation
Push Notifications
End-to-End Encryption
eLearning App Like Byju's
The global eLearning market is projected to value at $325 billion by the end of 2025. Popular mobile applications like Byju's and edX have grown significantly in terms of user base and revenues in the last few years. The need for personalized learning resources during the COVID-19 pandemic is a primary reason for the expansion of the eLearning app market.
Business leaders across the world are exploring innovative app ideas for students to create a user-centric, feature-based, and secure digital learning infrastructure through eLearning applications.
Top Features to Consider
Self-paced learning
Cloud storage
AI support bots
In-app chat
Push notifications
Customization
To create an eLearning app like Byju's, you need to utilize an interactive content delivery system. The application can use advanced AR/VR features to create appealing and technology-oriented course content.
Prayer App Like Hallow
Hallow is a catholic prayer application with more than 1.5 million downloads. The mobile application owners have raised US$52 million in funding.
The trend of apps like Hallow and PrayerMate is reaching new heights across the globe.
People following Christianity, Hinduism, Islam, Sikhism, Buddhism, or other religions have used prayer apps more than ever in the post-pandemic era.
The prayer app market holds a golden opportunity for app creators to turn their prayer app development idea into an interactive and fully-fledged mobile application.
Top Features to Consider
Prayer reminders
Prayer goals
Streaks
Personalized content
Group sessions
Integrated media streaming
Wellness App Like Calm
The wellness app market has witnessed a boost in 2020 during the early spread of the Coronavirus in the months of March and April. As per Market Research Future, the health-related apps' global market value is projected to grow at a CAGR of 27.8% from 2020 to 2030, reaching approximately 156.82 Billion in 2030.
You may have a variety of healthcare and wellness app ideas such as;
Online meditation
Wellness course application
meal nutrition and planning
Fitness and productivity
Meditation
Wellbeing
Wellness eCommerce
Sleep cycle
Women wellness apps such as pregnancy apps
A wellness app development company can help you discover new wellness app ideas that focus on growth and results.
Before you get into making the big plans, here are some of the core features you must not miss out on including in your wellness app idea.
Top Features to Consider
Food analysis
Sleep tracker
Hardware compatibility when connected to wearables
Journals
Analytics
Live classes
On-Demand Courier Delivery App Like Onfleet
Courier delivery has always been an impeccable app idea to work upon. There are already several courier applications. Each one of these has multiple similarities and USPs.
The industrial collaboration between the transportation and warehousing sectors has been an important reason behind the success of courier delivery applications.
You can consider offering a well-connecting logistics infrastructure by integrating dispatching companies, drivers, shippers, and receivers in your on-demand courier delivery app.
Want to know more logistics app development ideas? Read our blog, Complete Guide to Logistics App Development.
Top-Features to Consider
Geolocation
In-app messaging
Push notifications
Payment
Reviews and ratings
User dashboards
On-Demand Food Delivery App Like Uber Eats and Zomato
The food delivery app market is projected to witness an annual growth rate of 13.68% from 2022 to 2027, expecting to reach a US$1.45tn market value by 2027.
The market share of DoorDash, Uber Eats, Grubhub, Postmates, and others are classified as 59%, 24%, 14%, 3%, and 1%, respectively.
46% of the respondents in a survey conducted by USFoods confessed to using the food delivery apps to look for their food ideas whereas 54% said that they had a restaurant in mind before they opened the app.
Top-Features to Consider
Push notifications
Order details
Rewards and discounts
Loyalty programs
GPS tracking
Versatile payment options
Search filters
Integrate social media
User profiles
In-app messaging
Reviews and ratings
Social Media App Like Instagram
Social media app ideas have transformed the ways we would communicate with our friends and families. Through the years, we have witnessed the emergence of social media apps like Instagram, Twitter, Facebook, WhatsApp, and more.
In an age, we have a new social media trend every day, the time is to think over new social media app ideas and leverage the wide scope of opportunity this vibrant industry exhibits.
Top-Features to Consider
Dynamic UI
Appealing UX
Secure login
Social networking
Media sharing
In-app chat features, i.e., direct messaging, audio, and video calling
Notifications
User privacy and security
Digital Wallet App Like PayPal
Digital wallet applications have transformed the process structure of financial transactions. It has smoothened the user interface with personalized and user-oriented features.
Top-Features to Consider
Social login
User privacy options such as two-step verification
Add authorized bank account
Check account balance
Easy remittance of payments
Multi-currency support
Multi-lingual
Push notifications
Real-time analytics
User management
Tutor Booking App Like TutorMe
The tutoring app market is projected to grow a CAGR of 12.34% during 2023-2027, reaching $97.66 billion during this period.
The demands for online tutoring apps have increased in the last two years and seem to continue developing at the same pace in the years to come.
Top-Features to Consider
Direct & social media login
Search options
Reviews and ratings
In-app chat
Profile setup
Change in timings
Listing & management
Reports & earnings
Student manager
Urban Parking App Like RingGo
Finding parking in a busy urban area is a common issue that most commuters face on a daily basis. Business enthusiasts have found many parking app ideas that have led to the development of some high-class, user-friendly, and secure parking apps.
There are parking apps that exploit user-generated geolocation data to track parking locations. A few applications allow the users to rent their spaces for parking using these applications.
Top-Features to Consider
Geolocation tracking
Search options
Booking
Price comparison
Diverse payment options
Video Editing App Like Magisto
The video editing app development market is becoming a significant example of pragmatic content marketing.
74% of the respondents in Wyzowl Video Marketing Survey 2020 said that they were convinced to purchase or install a product after watching a video.
The story of Magisto, one of the most popular video editing apps, inspires many who seek to develop a video editing app. The video editing expanded its user base from 10 million to 40 million merely within the year of its first version release.
Top-Features to Consider
Re-sequencing
Social sharing
Cut-aways
Trimming
Color adjustment
Music integration
eCommerce App Like Amazon
eCommerce apps like Amazon have set the industry standards as high as now we look to the company as a revolutionary technology leader. The Amazon eCommerce app comes with a rich UI/UX that appeals effectively to the audience and engages in sustainable interaction.
As the eCommerce app market reaches new heights, it is time to utilize this massive shift in the dynamics of the market and earn significant breakthroughs.
New eCommerce app ideas can adapt technological advancements and marketing strategies to deliver what conforms to the evolving demands of the end-users.
Top-Features to Consider
Easy product listings
Media uploads
Price management
Product catalogs
Reports and analytics
SaaS App Like Canva
The SaaS industry has been booming lately and is expected to reach $591.8 billion in 2023. Due to being a public cloud service, many individuals and businesses are embracing SaaS applications to perform their tasks.
One such widely-used application that you can build is a SaaS platform like Canva, which fulfills its end-users requirement of editing images and creating various other visual content like infographics, videos, presentations, etc.
Top-Features to Consider
Customized themes and templates
Content planner
Interactive video editing features
GIF to video converter
PDF editor
Image filters
Also read: How Much Does It Cost to Develop a SaaS Product?
Blockchain App Ideas For Businesses in 2023
The world is gradually shifting towards the next generation of the internet- Web 3.0. Web 3.0 focuses on the utilization of machine-readable metadata and decentralized technologies.
Blockchain is the main technology underlying the Web 3.0 processes. Thus, it becomes significantly important to explore dynamic Blockchain-based business app ideas that help business leaders to create futuristic, sustainable, and technologically empowered mobile applications.
Here are some of the popular Blockchain app ideas that every aspiring business leader can consider.
Cryptocurrency Trading App
Cryptocurrency trading is becoming a popular sport among cryptocurrency enthusiasts, traders, investors, and everyone who finds this industry domain attractive in a manner. Cryptocurrency trading apps like Coinbase have gained immense popularity for their unique presence and dynamics in this market.
If you have faith in the growing cryptocurrency market, you can bid your call for creating an interactive and feature-packed cryptocurrency trading app.
NFT Marketplace
Another technology market trend is the NFTs. You can tokenize your collectibles and assets into unique cryptographic tokens. NFT marketplaces are the applications used to list and trade NFTs.
Creating an NFT marketplace like OpenSea or SuperRare can be critical yet exciting for NFT enthusiasts.
An NFT marketplace development company can help you analyze your NFT marketplace idea at its core.
DeFi App
Decentralized finance (DeFi) focuses on the implementation of decentralized technologies in financial operations.
DeFi apps act as the medium to execute financial transactions such as lending, borrowing, trading cryptocurrencies or fiat currencies on the foundation of a Blockchain-base infrastructure.
You can consult a DeFi development company to help plan your roadmap to creating a DeFi app like Uniswap or any other competitor.
How to Validate Your Mobile App Ideas?
As per the data collected by CB Insights, some of the primary reasons why a startup would fail included;
Overlooking market needs (35%)
Erroneous business model (19%)
Imperfect pricing and cost estimation (15%)
And, poor product development (8%).
So, how do you test your mobile app ideas to escape such downfalls?
Here are some tips;
Avail Discovery Services
By availing of app discovery services, business leaders can effectively validate their app idea. The process begins with documentation of your app vision, ideation, market analysis, functional scope document (FSD), wireframing, and finalizing the technical infrastructure.
Go For MVP
MVPs are sometimes misunderstood as prototypes. There are several differences between MVP and Prototype to comprehend.
Creating an MVP of your app vision can help you comprehend the real-time feedback of the market without putting large investments at risk.
Minimum viable product (MVP) consists of the core features of a product. You can develop in a smaller budget and time as compared to a fully-fledged version of the application.
You can consult an MVP development company to help you create an MVP for your mobile app idea.
Create a Detailed Budget Plan
A comprehensive estimation of app development costs should cover all important process elements. The best approach to creating a sophisticated budget plan is to list the complete requirements and consult a mobile app development company to help you with their experience in deriving the most precise cost estimation.
Conclusion
Every mobile app idea needs proper execution. Once you have finalized your app idea, the next step in this direction is to validate and structure the complete product development roadmap.
As we mentioned, flexibility in budget hinders any process-related conflicts and ensures a smooth development and deployment.
We have tried to cover everything needed to incubate revenue-generating and result-oriented app ideas.
You can hire mobile app developers from SparxIT, and we will align our efforts with your vision. Our team conducts the proper research to define the app development requirements and works closely with clients to successfully shape their app idea into reality.
For any additional queries, please reach out to us through the comment box.
Useful articles, updates, offers and guide boon from SparxIT Team
Categories
Submit Your App idea
Featured In