The trend of online search has been quite high and has fueled the real estate market recently. Do you know that every 9 in 10 individuals use real estate mobile applications to buy, sell, and find properties online?
With the evolution of digitalization, the business of real estate has become more and more prominent.
Of course! To establish your real estate business online you must have a mobile app along with the website. In this blog, let us find out why mobile app development for realtors is a crucial part of their business.
Why Does a Real Estate Business Need a Mobile App?
Long gone are those days when people hired agents to get their dream homes. With a handy digital tool in hand, now people prefer user-friendly and portable real estate mobile apps to get a suitable property.
According to the report shared by the National Association of Realtors, more than 44% of users checked real estate apps in 2019 and experts claim that this number will significantly increase in the year 2020.

The Realtor Magazine also shared the rough idea where 80% of young millennials, 81% older and 78% of generation X homebuyers got to find their properties on the smartphone in 2019. Moreover, 90% of users who are aged between( 53-71), baby boomers believe in having virtual home tours as the best features of the real estate apps.
Nowadays sellers, realtors, and homebuyers are making the best use of mobile applications to navigate through the real estate market.
However, you must consider the vast environment and ensure that your mobile app should have some unique features that can help your brand to stand ahead from the competitors.
Best Strategies of Real Estate Mobile App Development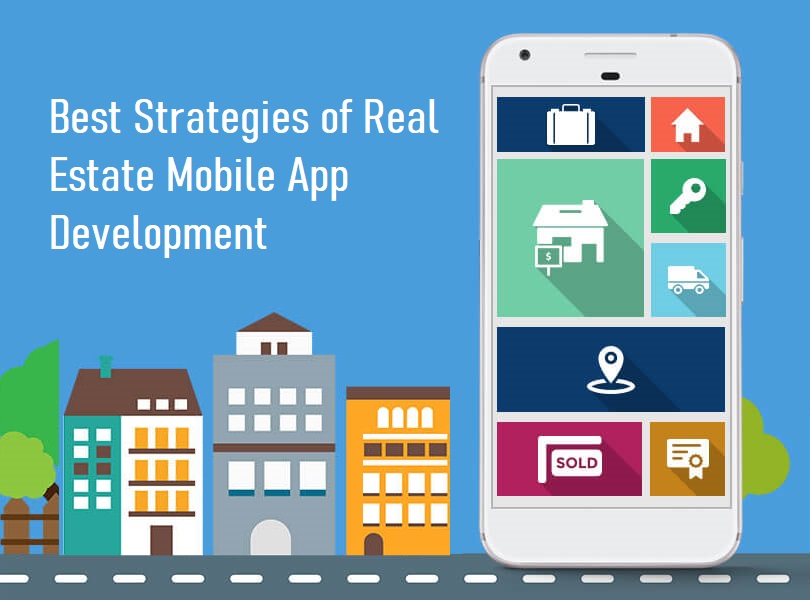 The business model will affect the strategy of your mobile app. You must develop a platform for real estate wherein the real independent brokers and estate agents can put up their properties for rent or sale for tenants or buyers who are seeking for the properties.
You can monetize your mobile app by implementing premium models and subscriptions. For example, provide free service for basic functionalities, if the users are looking for any extra features go for paid versions. The second way to monetize your mobile app is through advertisements.
Features of the Realtor Mobile App Development
The primary goal to develop a real estate mobile app is to gain the attention of the users and make the process of selling and buying much smoother and convenient. The features of this platform support the three user roles: administrators, buyers, and agents.
Looking for Realtor Mobile App Development Services
Contact Us
Below, in this blog, we have highlighted some essential, important and trendy features that you can incorporate in your real estate mobile app:-
User Onboarding of the real estate mobile app (Log in/ Signup)
It is one of the basic features of the real estate app. Your main aim must be to develop a simple mobile app. You can do this in three ways, such as:-
1. Social media authorization
2. Authorization through email.
3. Verification via phone
You can choose any one of the above methods. This will allow your users to sign up in your application. But, if you combine all the above-mentioned options, then it can be an added benefit for your business.
By doing this, you will give the flexibility and convenience for your users, and make the process of sign-up much simpler and easier.
Profiles of the users (seller, agents, and users)
You must develop a mobile app where the users can create their profiles and do different types of activities in the mobile app.
Make sure you create different profiles for different or various sets of users. For instance, the options displayed in the agent's profile should be different from the buyer's profile.
The buyer should have access to the home listing and save the favorites, display the detailed individual listing, inquiry section, etc. Whereas an agent should have his own lists of interested buyers, advertisement options, views on the posting, etc.
The other common factors such as messaging and maps should be accessible for all the users.
Database and listing of the real estate mobile app
The listing is another basic feature of the real estate mobile app. You must display the list of the available properties listing all the fundamental details.
The users who are looking to sell or rent their properties must conveniently add their listing. For this, you must have a big database since the listing of the property will keep on increasing. There would be more users, which means more listing in the near future.
Therefore, make sure that the servers or databases are flexible enough to handle and support the scale-up operations. You must understand, a robust and strong database is highly imperative for any real estate mobile app.
Have you ever thought about the cumbersome phase of navigating the properties online? You guessed it correct- "Finding the right and best property."
To simplify the process of property searching, you must provide an advanced search option for your users. Try to add filters and categories so that the users can locate the properties easily and according to their own requirements.
The profile must have vital information about the property which includes the photograph, videos, description, details about the pricing, value proposition, information about the landmark and the neighborhood, etc.
You must keep in mind that more than 85% of the users buy a home based on the videos and photographs.
Shortlisting and favorites
Your mobile app must allow the users to shortlist their properties and mark it as favorites. This feature will help them to make decisions and make the process much easier.
Have you ever checked your competitor's mobile app? If yes, then you would have noticed this feature: "Maps". You can display the location, data, and statistics that are related to the property. You can also display the information based on the location such as nearby school, infrastructure, hospitals, crime rates, risk of natural disasters, average income, etc.
You can also fetch information from the government records and highlight them on your map.
To succeed in the long run you must include this feature. It allows your brand to stay and retain in the mind of the customer. It will also help to effectively promote your services further.
With the help of push notifications, you can reach your prospects every now and then. You can also notify your user about the price change or addition of new property.
Cost calculator of property
The cost calculator is another important addition to real estate mobile applications. Hire a mobile application development company, reliable partners who would provide you with genuine and relevant solutions. They will customize this feature that will help your users to have an idea about the cost of the property.
Ensure that the cost calculator of the property is fully detailed. It will allow your users to estimate the final cost based on the vivid factors such as taxes, range of the payments, interest and amount of loans, schedule of the loan repayment, etc.
This feature may seem like an ok-go-feature, but it is actually a beneficial feature for both the agents and buyers.
Suppose a buyer plans to schedule a meeting or appointment with the seller or agent. The user can check the available schedule or slots directly and make an appointment right from the mobile app. This calendar will send the notifications to both the parties (seller/agent and buyer/tenant) at the scheduled time.
Direct messaging or calls
Providing in-depth information about the property to the users is just one part. You can give access to your users to navigate through the next stage by adding direct messaging or call features.
There are numerous way that you can help to connect the agents with buyers:-
1. Options of callback
2. Direct call for the users
3. Booking a consultation.
4. Online chat
Suppose a user is interested in purchasing a specific property, then he/she can contact the owner/ dealer to get full details.
Looking for Realtor App Development Services
Contact Us
Analytics, one of the significant features of mobile app development for real estate.
If you are planning to develop a real estate app where the users can add the features regarding the property such as selling, purchasing, or renting the property. Or if you are planning to create an exclusive mobile application, You must figure out how your end-users are interacting with your applications.
The analytic will provide you with valuable insight such as how to perform your app and what all you must do to improve the performance of the mobile app.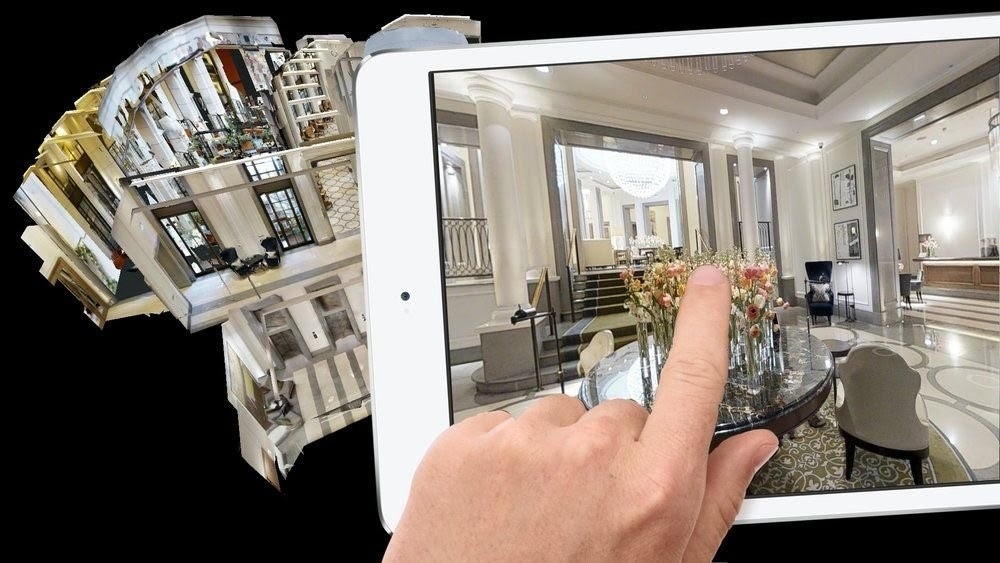 A 3D or a virtual tour walkthrough is an incredible feature to get the attention of the users and to give them a real-time experience of the commercial space/home which they are planning to purchase or take temporary possession(rent). According to recent research, 70% of the users believe in having a 3D virtual home tour. This feature can help you to attain maximum potential users.
Different Kinds of Mobile App Development for Realtors
Residential Real Estate App
Residential property is the most popular real estate where individuals invest. It includes any properties that are used for residential purposes, such as:-
1. Single-family homes
2. Townhomes
3. Duplex
4. Triplex
5. Fourplex
6. Condominiums
7. Co-operative(co-op)
8. Studio apartments.
9. Individual mobile homes.
Nowadays, people prefer a location based on the following divisions, which are:-
1. Comfort homes
Comfort homes are the blend of well-designed inner space with comfortable large outer surroundings. It has gated communities that encompass the wider open space, green habitats, and lawns.
2. Kid-centric homes
This feature provides a nurturing and safe place for children that allows them to grow up as a well-balanced and confident individual. If you enclose something like this in your real-estate mobile app, then it would be an added benefit for your real-estate business. Usually, parents look for spaces that are safe for their kids in terms of security, amenities, after-school activity area, etc.
3. Senior living
Senior living houses are designed in a manner to provide a wholesome retirement lifestyle for senior citizens. They would look for a vibrant community of peers, active-lifestyle, new hobbies, age-appropriate amenities, etc.
Reliable Commercial Real Estate App
It is primarily used for commercial use. It includes:-
1. Space for office
2. Lodging & Hotel
3. Mini- storage or self-storage
4. Retail spaces (shopping malls, single retail space, strip malls, etc.)
5. Healthcare (doctor's office, pharmacy, clinics, hospitals, etc.)
6. Special purpose(church, temple, carwash, etc.)
7. Industrial (manufacturing building, warehouses, etc.)
Vacant land encloses ranches or farmland. It is generally referred to as raw land, this category includes natural resources such as air, water, mineral rights, etc.
Cost of the Real Estate Mobile App Development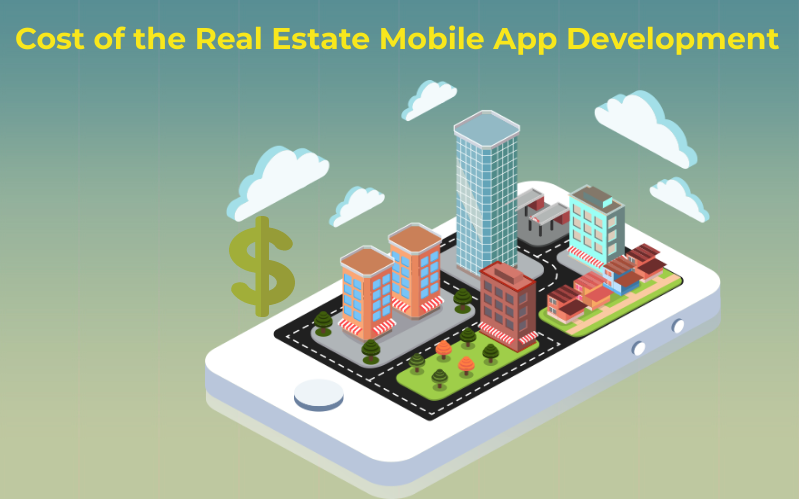 It is very important for you as an investor to do business analysis. It will help you to evaluate and give you an idea about your app. Before developing a mobile app, understand the market situation, check your competitors, and seek advice from the market leaders. The next important factor is the "design of the real estate mobile application". It is important to develop an attractive and engaging user-interface and also make your mobile app more comfortable.
4 Features that Determine the Cost of Realtor App Development:-
1. Platforms (iOS, Android, etc.)
2. Technologies
3. Feature set
4. App development cost, based on the engagement model (hourly, weekly, monthly) of the agency you have hired.
Most successful Real Estate App of 2020
Founded back in the year 2006 (technically 2005), Zillow is the most popular real estate mobile app in the US today. Nine out of ten homes in the US have been checked on the Zillow app. There are millions of rental listings and for-sale that are available on Zillow.
Moreover, this app has a feature of home cost calculator that gives the current value of the real estate and offers you with the past sale costs.
Zillow got to split their service into various app products, which includes:-
1. Zillow Rental Manager: An app for the landlords, where they can easily list their property. It also provides an opportunity for the landlords to verify an applicant upfront, perform the rough checks of credit cards and criminal records.
2. Real Estate and Rentals: The feature for the tenants, wherein they can find their dream homes(apartment). The parameters in the app help one to choose their apartment based on the various filters such as price range, amenities, hospitals, number of schools, hospitals, and even the GEO-location services.
3. Zestimate: It is an online service that provides an estimation of any property, based on the available information publicly such as comparing prices of the property in the neighborhood, etc.
Zillow got to burst out and have changed the mindset of the people instantly. The drastic explosion made the sphere of rental business a sigh relief for the tenants and hopeless landlords.
How can you establish your business and earn as Zillow had?
The scheme of revenue-generating purely depends upon the works and advertisement. You can hire property management agencies for paid advertisements. You also provide free subscription plans or premium plans for the real estate agents. Make a thorough market research and establish your brand in the market.
There are four things that you must consider to establish your business and earn like Zillow:-
1. Scalability
The scalability will help you to expand the project as your business grows. It means that you can implement new features and increase the growth of the user base.
2. Reliability
The reliability of the mobile app defines the parts of the mobile app that is interacting with other parts of the mobile app. If your real estate app cannot handle the bulkheads, then it will be unreliable and unstable. This may lead to crashes, customer dissatisfaction, bugs at the best and serious breaches of security at the worst.
3. Maintainability
As your real estate business changes and grows, you may need to change the interface and add new features as per the current trends and your business designs.
4. Code testability and reusability
Code reusability is another important element that will help to save time and avoid any re-works. The core principle that can help you to make your codes reusable is the "separation of concerns".
The separation of concerns means different ideas for different codes. For example, you uploaded an image in one place and do not want to change its functionality, then you need not worry about the other parts of your mobile app. These features will make it possible for you to take a piece of code from one end and use it somewhere else.
Tech-stack of the Realtor App Development 
You can hire a real estate mobile app development company to develop user-friendly mobile apps with unique and high-quality solutions. These developers look for cut-edge technologies that can help you to meet all your demands. Some of the latest technologies of a mobile app are listed below:-
Native Mobile App Development for Real Estate
Since it is known for its heavy inclination on security, responsiveness, and performance, native applications have proven to be a vital asset to be more productive online. Let us start with the best tech-stack that is in limelight currently:-
For Android mobile apps:-
To develop Android mobile apps, Java and Kotlin are in high demand. The most preferred toolset of the Android app is Android Studio.
#1. Java
Whenever one talks about Android app development, the first name that crosses one's mind is Java. This programming language that is object-oriented comes with a huge bunch of advanced tools and libraries. Thus, it makes it very easy to develop top-quality mobile apps. Here are the top reasons why you should opt for Java to develop Android apps:-
1.Highly secure.
2.Scalable and portable.
3.Automatic management of memory.
4.The capability of multi-threading.
5.The fast process to build an Android app.
#2. Kotlin
Kotlin got its worldwide experience in the year 2011. It is esteemed as a solution that incorporates power and simplicity. It is supported by JetBrains with numerous third-party contributors. With OOP language, Kotlin is an exceptional choice that supports lambdas and high-order functions. In short, we can say that it is an exceptional choice for all functional programming.
Currently, Kotlin has emerged as a go-to-options that enables projects of mixed-languages. Here, are top benefits of using Kotlin:-
1. Language is safe and concise.
2. Supports the full interoperability of Java.
3. Multi-platform
4. It helps to reduce errors and bugs in the code.
For iOS mobile apps:-
Swift and Objective C are two language rules for iOS app development. The highly sought tools recently for iOS app development are JetBrain's AppCode and Apple's Xcode.
#1. Objective C
It is based on the C language. It is known as HLL (High-Level Language) which is predominantly used to develop iOS applications. This superset language is mostly preferred by many app development agencies to write the applications for Mac, Apple, iPad, and iPhone. The most notable reason to select pick this language is underlined below:-
1. Massive support for the community.
2. Compatible with C++.
3. Thoroughly tested and highly approved programming language.
4. Expressive syntax of messages.
5. Numerous third-party libraries.
#2. Swift
It is widely used to develop top-performing OS X and iOS apps. This technology is becoming one of the top-rated technologies to develop iOS apps.
Top reasons to choose Swift as the tech stack for your real estate iOS apps:-
1. Feature-rich and modern programming language.
2. Better performance.
3. Operates faster.
4. Easy maintenance and code readability.
5. Lesser and safe prone to errors.
6. Support for multi-device.
7. Dynamic library.
Hybrid Mobile App Development for Realtors
Hybrid apps are developed to speed up the development of the web and attain the UX of native mobile apps. These mobile apps are developed by using web technologies such as CSS, HTML, and JavaScript. It is hosted inside a native mobile app that can utilize the WebView of the mobile platform.
The most frequently and commonly used frameworks for the development process are Apache Cordova and Adobe PhoneGap, Ionic, and Sencha Touch 2.
Looking for Mobile App Development Services
Contact Us
#1. Apache Cordova and Adobe PhoneGap
Apache Cordova and Adobe PhoneGap is a framework that is web-based. It is basically used to develop cross-platform apps using HTML. It can be used to develop mobile apps that are native to iOS, Windows, and Android using the combination of web tech. It can help you to develop an app by implementing all the properties of a local asset of the gadget.
#2. Sencha Touch 2

One of the most ideal frameworks that use the features of various technologies such as HTML, JavaScript, and ExtJS. This framework is ideal to develop dynamic applications that work well on Android, iOS, etc. If you are looking to roll out a complex hybrid app with an interactive UI, then you must choose Sencha Touch 2.
#3. Ionic

It is based on the Angular framework. It allows the real estate mobile app development company to develop versatile and powerful apps that boast a unified feel and look. You just have to design an app once, and then deploy across iOS, Windows, and Android devices. The key advantage of using Ionic are:-
1. Supports robust and rich development.
2. Rapid development.
3. Usually developed in CSS, JS, and HTML. These all are highly familiar languages.
4. Compatible AngularJS
5. Numerous options of ready-made plugins.
Cross-Platform Mobile App Development for Real Estate
The intermediate language like JavaScript is used for cross-platform development which is not native to the operating system of the device. It opens an opportunity to share common codes across various targeted platforms. Thus, it saves a lot of time, costs, and efforts on the development.
#1. React Native
Developed by Facebook, React Native is one of the most popular frameworks for developing amazing mobile apps. It is much easier to develop a top-class user interface and give seamless user-experience. It can all together contribute to drive the profits and boost the brand value. The top-perks of having a react native mobile apps are:-
1. Compatibility with cross-platform.
2. Compatibility of third-party plugins.
3. Cost-effective development.
4. Quick development process.
5. Highly responsive UI.
6. Best development environment.
#2. Xamarin

It is rated as one of the top-rated technological stacks that are used to develop apps related to native cross-platforms. The mobile app developers have to write code in languages such as .Net Framework and C.
Once the codes are in place, it can be easily compiled with the native Android UI or iOS UI. below, we have mentioned the top advantages that whirl around the development of Xamarin apps:-
1. It allows you to use MVVVM or MVC design patterns.
2. Productive and high-performing codes.
3. Test the apps automatically.
4. Few bugs.
5. Supports iOS, Windows, and Android platforms.
6. Huge community support.
Final Note
Are you ready to develop the next real estate app like "Zillow" and contribute to a breakthrough in the realtor mobile app development? Want to develop an app for the sake of a better future where individuals can rent or purchase the property without any hustle? Are you planning to expand your real estate business digitally? Contact Sparx IT Solutions, a trusted real estate mobile app development company that helps the business transform into significant brands.
We are rated as a top digital solutions provider with industrial experience in developing high-performance apps for real estate business. Our team of highly skilled mobile app developers will help you to turn your ideas into a real digital reality.
Useful articles, updates, offers and guide boon from SparxIT Team
Categories
Let's discuss your project idea.
Featured In