Do you have a low budget?
Do you seek short-term support on your Software development project as your team lacks a particular skill set?
Businesses with a large and unprecedented scope of requirements are typically confronted with these questions. And one common answer to these questions is offshore hiring.
If you plan to avail of offshore Software development services, you may require clarity on some fundamentals of hiring an offshore service provider.
Considering the same, we have prepared this comprehensive guide on hiring an offshore Software development company.
Here is what we are going to cover in this blog post.
Offshore Hiring vs Outsourcing
Before we explain the fundamental differences between offshore hiring and outsourcing, let us start by declaring that using both of these terms interoperably is incorrect.
Offshore hiring and outsourcing are solutions designed to address two relatable yet different problems.
Both of the terms focus on expanding the talent pool.
Outsourcing focuses on handing over projects to a third-party organization with a larger and more versatile workforce.
On the other hand, the offshore hiring model focuses on onboarding talent from overseas to work on the in-house, internal, or other project requirements.
Why Should You Hire an Offshore Software Development Company?
By hiring an offshore Software development company, clients can address crucial issues in their traditional hiring model. Not only can the service providers eliminate the blockers in a smooth hiring model, but they also can help you ensure fast, cost-efficient, and hassle-free solution delivery.
Reduced Liabilities
Businesses invest loads of time and money in meeting short-term project goals by onboarding offshore professionals. When the project ends, those resources remain idle and still cost the business.
Offshore hiring is an effective solution to such situations, as businesses would only hire talent with a dedicated skill for a dedicated period of time. Their responsibilities can also be material-based, where their occupation with the organization ends after completing the project.
Cost Efficiency
Most startups fail because of a lack of funds to hire the talent they need to turn their ideas into reality.
Offshore hiring allows business leaders to seek overseas developers and other offshore professionals at reduced costs as compared to their native regions.
You only invest your funds in completing the work, rather than in any training or HR expenses.
Since offshore talent would work remotely, there is no need to arrange or set up any infrastructure for them.
Flexibility
Flexibility is a primary concern for various service providers building enterprise-oriented solutions. From adapting new technologies to making foundational changes in the product structure, you can always count on offshore professionals as they have a dedicated proficiency in a particular skill set.
What Services Should You Expect From an Offshore Software Development Company?
Team Outsourcing
Team outsourcing services focus on allowing businesses to outsource a fully-fledged team of professionals that may include developers, designers, and business experts.
Staff Augmentation
As the name suggests, IT staff augmentation services allow businesses to fill in the lack of resources in their existing staff.
Virtual CTO
Virtual CTO services allow clients to onboard an offshore technology officer who would oversee the technological processes within the development projects.
Cost Optimization
To create a smart budget plan, clients can eliminate or optimize cost weighting factors with cost optimization services.
What Are The Different Engagement Models in Offshore Software Development Company?
There can be multiple ways through which clients can interact with a team of offshore developers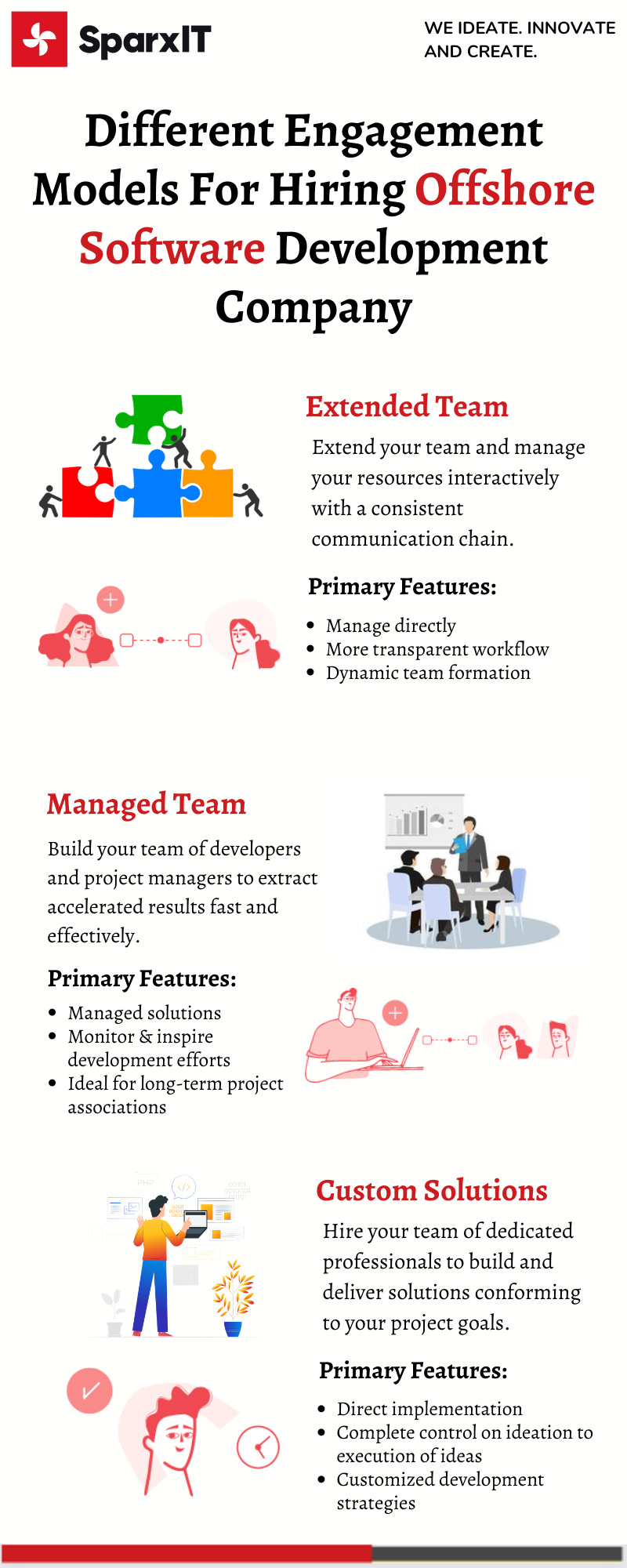 Extended Team
This engagement model is simply an extension of the existing team. The business professionals working on certain projects would eventually realize the need for a particular skill set. Then they can reach out to an offshore development company to help fulfill their project requirements.
Managed Team
Managed team engagement model focuses on setting up a team of professionals with a project or account manager who would also oversee the workflow and manage the execution of tasks.
Custom Solutions
Clients with large-scale requirements can opt for custom solutions where the offshore developer company would help them with a team of professionals who can be deployed per the project's customized goals. The clients can manage and monitor the progress of the project at their end, with direct implementation of their ideas and instructions.
How Much Does It Cost to Hire an Offshore Software Development Company?
Clients in any region of the world can avail of offshore development services from another region.
However, the cost of hiring offshore developers remains a significant factor that drives the decision of every potential business leader.
Before you approach any offshore development firm, you want to ensure that you make a cost-effective deal.
In this second, we are discussing the offshore Software development costs for various regions.
Asia-Pacific (India, Pakistan, Australia, Bangladesh, Japan, New Zealand, etc.)
The Asia Pacific Software market was worth $11,989 in 2020 and is growing at a CAGR of 14.8% to meet a market projection of $48,034.00 million by 2030.
Most parts of the Asia Pacific comprise developing countries and are considered to charge relatively lower than in other parts of the world.
As per our research on the offshore development market in Asia-Pacific, the hourly cost of hiring offshore developers may fall anywhere between $15 and $30.
Eastern Europe (Russia, Ukraine, Poland, Hungary, etc.)
With a vast base of Software developers, Eastern Europe represents a significant part of the global offshore Software development market.
You can hire offshore talent from any of the Eastern European countries for between $25 and $40 on an hourly basis.
Western Europe (UK, Austria, Belgium, France, Germany, etc.)
Western Europe is an economically developed region and has high-scale access to technological resources.
If you are planning to hire and build your team of offshore developers, you may pay anywhere between $50 to $100 on an hourly basis.
North America (US, Canada, Mexico, etc.)
The Northern American region is home to the world's biggest Software leaders. You may find offshore developers having an extensive skill set.
Hiring an offshore developer may cost anywhere between $50 and $80 on an hourly basis in North America.
Factors to Consider to Hire an Offshore Software Development Company
Industry Experience
One primary parameter before you consider hiring an offshore Software development company is their experience in the market. It allows you to understand their establishment and sustainability as an offshore developers services provider.
Process of Hiring
So one may ask, why does the process matter now?
The process of hiring determines the speed of implementation, solution delivery, and cost.
You must identify which project management methodology and how long it would take for the service providers to turn a raw project idea into a successful product.
Project Management and Communication Tools
An offshore development company's project management and communication tools would demonstrate its technological capabilities.
Some popular project management and communication tool examples include Trello, Bitrix, Slack, Asana, and others.
Work Portfolio
While exploring the experience of the service, it becomes important to have a thorough sight of what they have worked upon in recent years.
To check portfolios, you can visit the service provider's official websites, market research, and business listing websites.
You may also get to explore comprehensive reviews posted by the service providers.
Compatibility
Compatibility is an underrated and overlooked parameter while hiring an offshore development company. However, it is significant to identify if the service provider is ready to take up unprecedented and new challenges, retakes, urgent discussions, responsive to your calls, and even work in flexible timings.
Cost-Effectiveness
Indulging in cost-effective completion of dedicated projects is one of the primary reasons why businesses would consider offshore services.
So, you can list out the top service providers and run through research to create a comparative analysis chart to help you identify a cost-efficient service provider to handle your Software development project.
How Can We Help You?
With more than 15 years of working on offshore project requirements, we at SparxIT have gained impeccable and extensive product development and management expertise.
Our clientele includes scaling startups and SMBs to Fortune 500 companies that have benefitted from our offshore developer services.
You can consult our experts here if you plan to hire offshore developers for your next project.
Conclusion
For any business idea, consistent implementation of plans is a priority.
You do not want unnecessary delays in development and deliveries to hamper your business goals.
The goal of this blog post was to bring answers to your questions on offshore development services.
However, here are some important frequently asked questions we often receive from our clients which can help further.
Frequently Asked Questions
How Much Does It Cost to Hire Offshore Developers For Mobile App Development Project?
The cost of hiring offshore mobile app developers may depend upon app complexity, and it would be best to share your requirements with an offshore app development company to help you with a specific estimation.
How Much Does It Cost to Hire Offshore Developers For Web App Development Project?
From hosting, designing, and development, there is a lot that drives the cost of hiring offshore web app developers for your project. It is recommended to consult business experts to guide you with a specific cost estimation for your offshore web app development project.
How Long Would It Take to Hire Offshore Developers For Mobile App Development Project?
If you have any project timelines for your app development project, you can discuss them with the offshore service provider. It is not a good practice to specify the duration of every mobile app development project without considering the basic project requirements.
How Long Would It Take to Hire Offshore Developers For Web App Development Project?
It is considered the best practice to consult an offshore web app development company to consider your project requirement and create a project plan that includes the timelines.
Useful articles, updates, offers and guide boon from SparxIT Team
Categories
Let's discuss your project idea.
Featured In