There is fierce competition among video editing apps like Magisto. The reason is obviously the high demand for these tools by laypersons as well as marketers. According to Insivia statistics, the consumption of mobile video surges by 100% every year.
That's a huge increase! But, it's quite lucrative for entrepreneurs who have enough resources to provide a video editing mobile app with the desired features to the users. The growing market asks for better as even today, we do not have video editing apps as engaging or additive as photo-editing mobile apps.
There are many video editing apps like Magisto, Viva Video, iMovie, etc but the users are not satisfied with the features that they have to offer. Let's discuss the journey of a relatively well-accepted and used video editing app – Magisto.
Background of Video Editing App – Magisto
Magisto is a video editing mobile app that has a special focus on AI-enabled features. It was targeted to offer a fast, simple, and intuitive video editing experience to people. Their web and mobile app were aimed at attracting individuals as well as businesses.
Magisto was acquired by Vimeo in 2019. This app was founded by a computer scientist, Dr. Oren Boiman, and Dr. Alex Rav-Acha. It was aimed at making video editing accessible to a larger consumer market.
Though it was launched in 2009 but was made available for public use in 2011. Magisto was awarded as the winner of the 2012 CEO mobile app showdown. As of March 2013. The company has 5 million users and in Sept 2013, the app downloads reached 10 million. In the list of "Best Apps of 2013", it was added by Google.
Since then there has been no looking back for Magisto. But the journey was not as easy as it seems. It has survived amid the stiff competition from world-class video editing apps like Viva Video, iMovie, Splice, etc.
Where there is a demand, there is a competition that you cannot avoid. What you can prepare for is to make a difference. You need to launch a video editing app that wins over their features and glues the users to the app. Here are some queries which will definitely come to your mind while preparing a Video editing mobile app solution. Read answers to these queries below.
What is the business model of Magisto?
Have you heard about the freemium business model? Under this business model, companies provide minimum services at free of cost and then charge money for additional services. Free + premium makes freemium.
Magisto offers users the tools to create basic videos without charging anything. But for advanced services, there are several subscription plans for personal and professional users. Some of these premium services are longer videos, HD videos, premium themes, etc.
This allows for advanced customization and better artificial intelligence integration with video editing. Users avail of these premium services to create high-quality and precision videos for their personal or professional use.
How to monetize your video editing app?
The way Magisto monetized their app, similarly, you can also earn money. There are multiple ways of earning profits from an app. Here are a few popular ways which you can explore for the monetization of your video-editing app:
In-app advertisements:
Under this option of monetizing your app, you can charge companies/individuals to serve advertisements within your app. With high-end data tracking of users' behavior, in-apps ads allow people to target exact customers. It is one of the most popular forms of mobile marketing. With this monetization method, you can open your app for marketers to use.
Freemium:
Magisto is dependent on this business model for their earnings. It is an amazing monetizing option for apps that are providing services to people. It allows them to monetize a part of their services which enhances the portion they offered for free. It is like giving bait before starting to receive the profits.
What Features Your MVP of Video Editing Apps Must-Have?
When the idea to Create Video Editing App Like Magisto first strikes your mind, you may not have the required investment. Even if you do have then also you need to make your app ready as a minimum viable product. This costs less which means you will have to bear the lesser risk. And after reviewing the response of the audience, you can add the features that they demand.
Features of the User Panel
Signup: A registration of new users is essential before you allow them access to your app. It not only improves security but also opens up the door for long-term marketing through emails. You can also consider integrating APIs.
Selection of images/videos: This feature will allow users to select a set of images and videos that they want to include in the video they are editing.
Make a video: Here is the main attraction of your app. Allow them to create videos with pre-recording videos or pictures. This is where the real role of your app comes from.
Multiple themes & editing styles: This enhances the things that your user tried while creating the video. This will add customization and creativity to their videos.
Upload Custom music: The background music should be allowed to be added in any video. This feature will also allow users to add voice over to their video.
Share: If you are making any video then won't you wish to share it? Naturally, users would want to keep it in their gallery. This option is a must. It can also help you earn. Think, think.
Subscription: You users can subscribe to your premium services like removing the watermark from the video or HD export.
Settings: Every app has this feature where users can set their priorities according to their comfort.
Features of Admin Panel
Login: It is the preliminary step toward entering your admin panel.
Dashboard: This will showcase all the connected users and subscriptions.
Manage Users: In this feature, you can manage the users of your app effectively.
Manage themes & editing styles: Take access from the app developers to add new or manage existing themes.
Manage subscription: This feature is used to manage subscriptions of your users and payments.
Looking for Video-editing App Development?
Contact Us
What features your final video editing app must-have?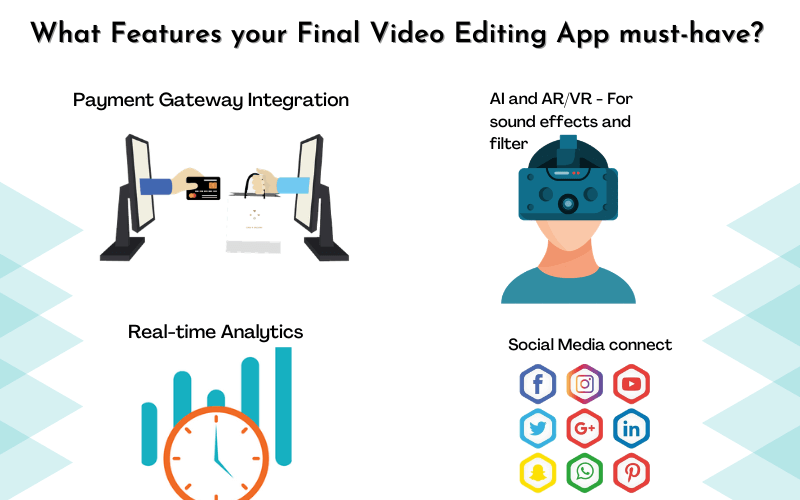 Probably, you will receive a good investment based on your MVP but even if you do not then also you must go for these features. The features mentioned-below are on the basis of popular competitive attributes of the app that have become the market leaders.
Payment Gateway Integration:
If you plan to monetize your app then it would be quite illogical to ignore the payment feature. Although subscription will take time, so it is recommended to keep it separate from the MVP features. Another reason for this being an advanced feature is its vulnerability quotient. It opens doors to make your app a spotlight for hackers. Hence, it needs to integrate with trusted payment gateways. Only an experienced mobile app development can integrate this feature with utter care and responsibility.
AI and AR/VR – For sound effects and filter
This improves the interactivity of your app. The users can use these immersive reality features of sound effects and filters to make their videos more engaging. Creating a photo editing mobile app or video editing mobile app without these contemporary technologies is not a smart decision. It makes your app more competitive and somehow addictive.
Real-time Analytics
In order to track your users and their subscriptions, you need analytics access. This will allow you to check the users' behavior. It is like the feedback on your every feature. It is the only way to judge how the users are responding to your app. This involves technologies like machine learning and deep learning. With the integration of these technologies, you can make your app users trackable through real-time analytics.
Social Media connect
This is the enhancement of the sharing feature of your MVP. The integration of the API of different social media channels will allow your users to share what they made with your app with friends and family. In an era where life is all about social networking, you cannot risk keeping your users away from these channels. It might backfire on your app usage. Hence, connect social media channels with your app and make it shareable with a vast audience.
How Much will the Development of a Video Editor Mobile App Cost?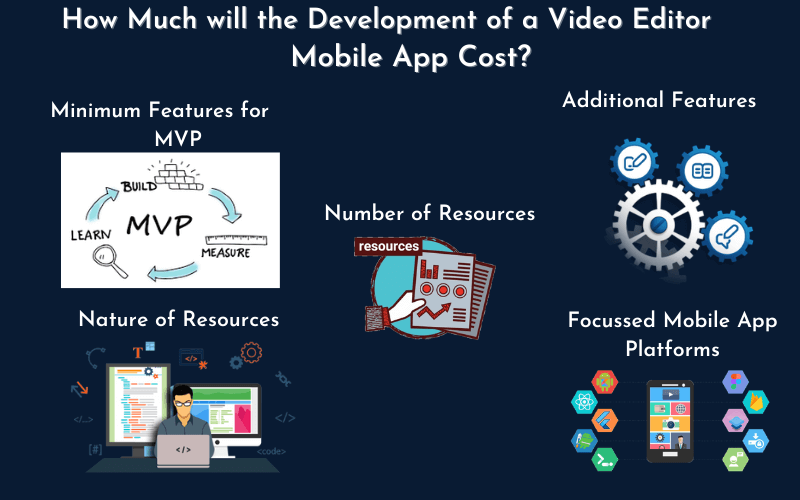 The video editor app development cost cannot be determined by just hearing your idea to create an app like Magisto. You will have to determine various factors according to your project needs and business goals. Here are a few factors that influence this mobile app development cost:
Minimum Features for MVP:
The minimum viable product features were included in a separate section in this blog. As we said, MVP is the base on which you attract users and then add relevant features to make it more attractive for investors. The features of this initial app are the mandatory cost which cannot be avoided at any cost. These features are meant to be included in your app if you really wish to enter the video editing app's market. After all, it is not feasible to make a video editing app with the goal of a video feature only!
Additional Features
These are the features that you include after getting an investment. This means these features add a lot to the overall mobile app development cost. These features bring you towards a competitive edge in the market. It allows your app to compete with the top class apps. Only these additional features like integration of contemporary technologies like AR/VR, AI, blockchain, etc. will make your app advanced enough to withstand the fierce competition.
Number of Resources:
The cost of your app development is directly proportional to the number of resources that you deploy. It is important to choose every resource wisely. The mobile app development companies have varied hiring models. You can choose your team according to your needs and preferences. It is a weapon to cut down the cost like a smart entrepreneur.
Nature of Resources:
The cost will heavily depend on the kind of resource you hire. If you hire offshore developers then you will definitely be charged less. These resources are relatively cheaper in comparison to in-house resources. You are liable to pay them only for the time they are being used. Moreover, it eliminates the training cost and infrastructural cost. Hence, the cost of your video editor app development will be greatly reduced if you choose offshore developers over in-house developers.
Focussed Mobile App Platforms:
You must be wondering that either iOS app development would cost more or the Android app development. But that is not the case. Actually, this factor affects the cost because of the app store fees. The iOS app store will cost you more as it has to be renewed every year. Android asks for a one-time payment for a lifetime. This makes the overall cost for an Android app lesser than the iOS apps.
Sure about creating a Video Editing App Like Magisto? Let's Help You
Read further only if you are sure about creating a video editing app as we will be talking about what all you need to expect from a partner you rely on. As far as Sparx IT Solutions is concerned, we are dedicated towards one motto: "ideate, innovate and create".
We might not be able to agree with you on creating a clone app. But we believe in making something better out of what the market already has. Because this is what ultimately makes an app as well a business unique.
If you have the same approach towards this app idea then we can work together. We are helping businesses with an app with advanced features that ranks on app stores. This is why our clients adore our work. Here are some factors on which we never compromise while delivering our app development services:
Strict NDA
We sign a strict NDA with our clients. This is to ensure that none of their business information will be leaked from our end. Everything discussed, shared, and used during the app development project will be kept confidential. And our every team member abides by this agreement with complete knowledge and sincerity.
Security:
The news of the data breach of mobile apps is not something that is uncommon to know. We are careful about never letting any of our clients go through this kind of situation. For this, we follow stringent security norms. We have a checklist that is followed while creating every app. Furthermore, our apps are well-tested for security after development. This allows us to launch an unattackable app in the app store.
Agility:
We follow agility to ensure that our clients never face any kind of inconvenience at the final stage of development. Our agile work process allows us to stay in touch with our clients 24×7 by regularly updating them with updates. The flexibility under this contemporary development approach helps in welcoming feedback from our clients. Our team brainstorms on every feedback and implements changes if required.
Experience and Expertise
We have been in this industry for the past 13 years. This experience has given us a lot. From skill enhancement to confidence, our years of hard work have made us capable of achieving a new level of excellence with every project. We have skilled resources who are proficient in working on all modern programming technologies and approaches. We implement the latest technological trends in your mobile app. This empowers us to give our clients a competitive edge in their respective industries.
Hiring Models:
You can partner with us on different hiring models according to your choice. First, we can agree to a fixed cost. We will deliver your mobile app within that cost with the help of the resources of our choice. Under dedicated hiring, you can hire mobile app developers from us on an hourly, weekly, monthly, or yearly. The choice of developers as well as their working hours will depend on your demand. Under time and material, we will charge you for the time and resources our team invested in your project.
Contact Us
Hire mobile app developers from us today if you are ready to try this idea. We can work together on the MVP as well as the advanced features for creating a video editing app. Sparx IT Solutions, as a progressive mobile app development company, is addicted to enhancing a regular app idea with something innovative and unique.
As far as this idea is concerned, we aim at making a video editing app that is as addictive as the photo-sharing apps prevailing in the market. That our idea, what's yours? Let's connect if we are on the same page!
Useful articles, updates, offers and guide boon from SparxIT Team
Categories
Let's discuss your project idea.
Featured In