"I might pump, but I do not dump." These were the words of American Business tycoon Elon Musk speaking about his holdings of Bitcoin, the world's first and most popular cryptocurrency. He said that he owns significant holdings in cryptocurrencies and would like to see Bitcoin succeed.
Cryptocurrency apps may still be in the early stages of rising in the global business landscape but have momentum. Cryptocurrency trading has opened more business opportunities for cryptocurrency app developers, miners, and traders.
If you are a business leader or enthusiast, you would want to understand the scope and relevance of cryptocurrency exchange apps to your plans and the modern-age market.
In this blog post, we shall walk you through the market trends, the process of cryptocurrency exchange app development, and more.
How Does a Cryptocurrency Exchange Application Work?
Cryptocurrencies are digital assets used for financial transactions. Cryptocurrency trading has become a popular trend among modern-age internet users. Even a person having the minimum knowledge about cryptocurrencies can trade tokens and earn.
Users are provided with public and private keys respectively for receiving cryptocurrencies and approving the ones being sent from their wallets. These keys are the passwords generated by your cryptocurrency wallet.
So, how does the process of trading work in cryptocurrency exchange apps?
The very first as a cryptocurrency trading app user you would need to do is creating a brokerage account. The trading apps you hear about these days, such as Coinbase, Gemini, WazirX, and others, are brokers acting as the intermediaries to provide users with a platform to transact cryptos.
To create an account, you are asked to provide some information related to your personal identification including your name, email, phone number, identification numbers, etc. You can relate this process to the registration process with a stockbroker.
In the next step, you need to add fund-related information such as bank account details or integrating debit cards, etc.
Now that the platform has you as their registered user, this is where the real trading process begins. You are now asked to choose a crypto coin you want to invest in. A large number of trading app users are more likely to invest in already-established, popular, and predictable cryptocurrencies such as Bitcoin and Ethereum. However, it does not decline the fact that even some altcoins (alternate cryptocurrencies to Bitcoin) have exhibited a significant rise in their market.
Like the stock market, investing in cryptos can also be a risk-prone process. Those who are beginners can talk to cryptocurrency experts or attend a workshop on understanding the what and why of trading in cryptos.
Those with experience in cryptocurrency trading might understand the technical analysis of the market through concepts like Elliott Wave Theory.
Notably, Elliot Wave Theory is a technical analysis theory of the market developed by American accountant Ralph Nelson Elliott. The theory indicates the similarity of trends in the market after a particular time frame. Prices heading in the right direction are identified as trends, while vice versa is identified as corrections.
You can store your funds to access cryptocurrencies for active trading. To hold purchased cryptos for the long term or mid-term, you might need a software or hardware wallet. The hardware wallet or cold storage acts like USB cables or flash drives to store large amounts of cryptocurrencies safely.
Trends of Cryptocurrency Exchange App Market
The evolution of cryptocurrency is touching new heights with its transformative use cases in varied industries, i.e. finance, retail, entertainment, etc. From gaming to eCommerce, cryptocurrency has become a popular digital asset among users of different age groups and interests.
The fact that every technological or business process succeeds when it someway relates or becomes a part of the applications used by a common man. And that is how the cryptocurrency market has evolved.
A few years ago, most of us would think of cryptocurrency as a techies' game, but today it has emerged as an alternate investment for investors not so familiar with what Blockchain is.
As per MarketsAndMarkets, the cryptocurrency market is projected to grow at a CAGR of 7.1% and value at USD 2.2 billion. The report suggests that such a mesmerizing transition in the market can be due to the favorable atmosphere for the rising implementation of cryptocurrency in the global business landscape.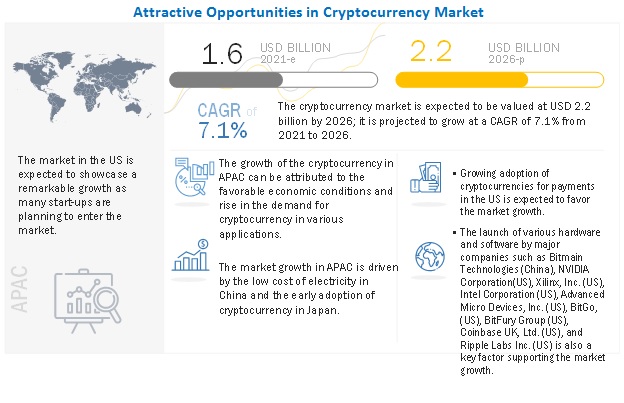 The current capital of the crypto exchange app market stands at USD 1.878 trillion as of September 28, 2021, as shown in the screenshot below.

Source: TradingView
You can see the interactive graph to check cryptocurrency market capitalization and value.
Considering the statistics presented by Statista, the United States is the country with the highest Bitcoin (BTC) trading volume.
Now, let us have a quick look over some of the most popular and successful Cryptocurrency trading platforms based on the global cryptocurrency exchange as of September 14, 2021.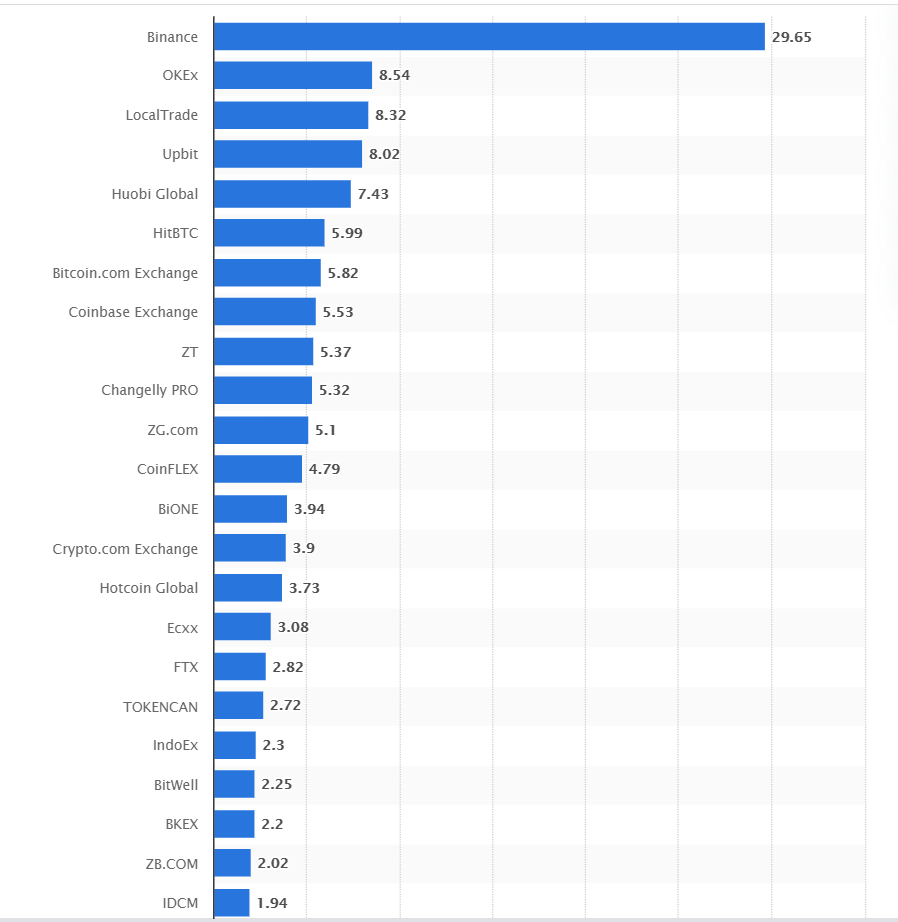 Source: Statista
How Does Cryptocurrency Exchange App Generate Revenue?
Cryptocurrency exchange apps are used for executing financial transactions. The market is attracting a large base of users who want to trade crypto coins.
But, how do you earn by creating a cryptocurrency trading app like Coinbase, Binance, Gemini, and others?
Let us understand how to make a crypto app a source of revenue.
Advertising
In-app advertising is the most common monetization model used by cryptocurrency trading app developers. Those trying to understand how to make their own cryptocurrency exchange app a revenue-generating asset can provide third-party partners the facility to share their banners, video ads, text ads, or other types of ads on the application.
Freemium Model
It is a premier modernization model to create a user base by establishing a strong brand identity. By introducing your product with a set of free features, you provide your audience a significant chance to see what you have to offer. Also, you can add premium features that would earn revenues for your application.
Application Subscription
You may find this monetization model having particular similarities to those of the freemium model. However, when it comes to providing subscription packages with some premium features, those features will be the USP of the product and make your cryptocurrency app stand out from other contenders in the market.
Affiliate Marketing
You can also launch affiliate marketing programs where you will provide a link to the product or service page of the advertisers. One may be confused about the type of products or services they can affiliate, but there can be several options depending upon your application's goals as well. If you are only focused on providing trading services, you can provide affiliate links to those advertisers who provide cryptocurrency courses.
Transaction Costs
Asking traders for a certain fee for initiating transactions is another option for earning revenues through cryptocurrency apps.
Selling Marketing Data
Since yours is a user-oriented application where you are earning from users transacting, learning, and accessing different resources using the product, you can always get plenty of data. We are NOT talking about selling customers' personal data but about sharing data indicating customer behavior with marketing automation or other such companies to use it for account-based marketing or advertisement purposes.
Must-Have Features in Your Cryptocurrency Exchange App
The utilization of cryptocurrency trading apps in the global business landscape has led to the foundation of the technological revolution.
Implementation of the right features and smooth execution can play a crucial role in making your product customers' favorite.
So, which are these features?
Easy Sell & Purchase
A cryptocurrency trading app acts as a marketplace where users sell and purchase crypto coins. So, when it comes to developing a sell and purchase UI, cryptocurrency app developers would need to ensure that it meets the end-user needs.
Currency Exchange
If your application indulges in the fast swapping of cryptocurrencies, you become a strong contender as a crypto trading app with a rich user experience. Moreover, you can launch exciting deals and offers for cryptocurrency exchange which can add value to your offerings.
Notifications
To engage in direct interaction with the app users, you can send them new updates or notifications on different things, including standings of cryptocurrencies they invested in, new offers, and features.
User Authentication
As mentioned earlier in this blog post, cryptocurrency investments are not less sensitive than those in the stock market. So, it becomes indispensable to engage in maximum security and identification standards when it comes to creating user accounts on cryptocurrency exchange apps.
History
You can provide users a centralized space in your application where they can review their deposit history, earnings, investments, and activity log. You can consider the time frame for a better understanding of the records.
Apart from the features mentioned in this section, there can be several other features as well, which include;
Third-party APIs integration
Payment integration
ICO campaigns
Server configurations
Smart contracts
User management
Payment management
News
The addition of more features will make your application more personalized, increasing the user-friendliness of the product.
Top 5 Cryptocurrency Exchange Apps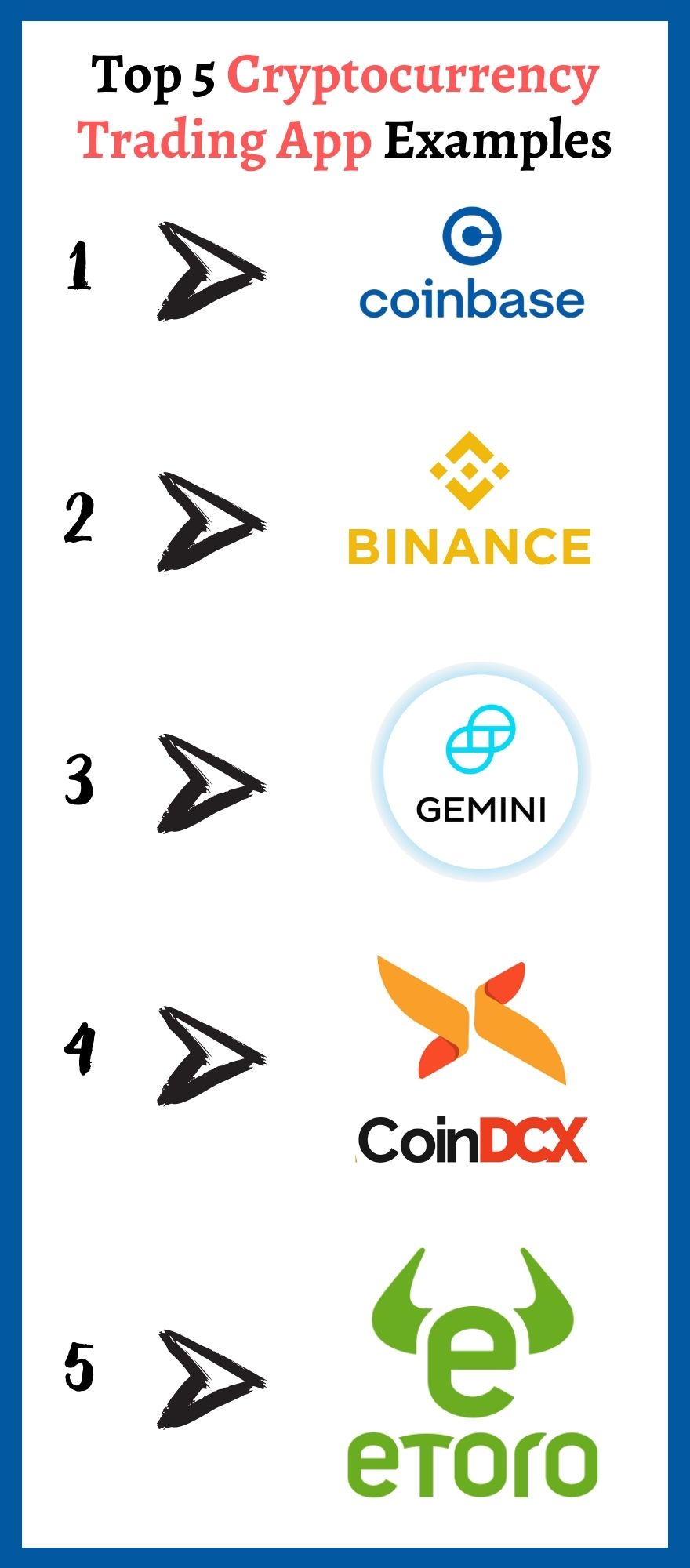 To create a competitive, feature-packaged, and personalized application, you can consider a few examples of successful cryptocurrency trading apps.
Coinbase
Launched in June 2012, Coinbase is a US-based cryptocurrency exchange platform with a userbase of about 68 million verified users. The Coinbase app provides users the facility to buy, store and trade cryptocurrencies such as Bitcoin, Bitcoin Cash, Ethereum, Ethereum Classic, and Litecoin. Users can exchange cryptocurrencies with USD Coin, a digital yet more stable coin that is easy to trade.
Binance
Set up in 2017, Binance is another popular cryptocurrency exchange platform with a $3.88 billion average daily trading volume in 2020 (up by 36% in 2019). The application has emerged as a high trading product. The company has created two more cryptocurrencies, i.e. Binance Coin (BNB) launched in June 2017, and Binance Smart Chain launched in September 2020.
eToro
Established in 2007, eToro is an Israel-based cryptocurrency trading platform co-founded by Yoni Assia and Ronen Assia. The company has grown ten times since 2012, with 23.2 million registered users at the end of the second quarter of 2021. The company's revenue in 2020 was 60.5 crores USD. The platform supports copy trading where users can copy or emulate the trading strategies of most successful clients, which of course, does not guarantee any gains or losses for them.
Gemini
Gemini is a cryptocurrency trading app launched by Cameron and Tyler Winklevoss in 2015. In a short span of time, the app has become a close competitor of Coinbase. Some of the primary features of this product are its beginner-friendly, secure, and personalized interface. Along with Bitcoin and Ether, the app supports trading of more than 40 other cryptocurrencies. The app has a range of security features restraining any serious security or privacy lapses. Gemini has the largest userbase of 13.6M users as a crypto trading app.
CoinDCX
Established in 2018, CoinDCX is an Indian mobile app with advanced cryptocurrency features. The app charges a minimal amount of exchange transactions. Quick check-in and a simplified payment interface are among its primary features.
Which Technologies Can be Used For Cryptocurrency Exchange App Development?
For creating a native app
Android
| | |
| --- | --- |
| Tool | Android Studio (Latest version) |
| Programming Language | Kotlin |
| Web Service | REST APIs |
| Web Service Format | JSON |
| Backend Database | MySQL |
| Local Database | SQLite, Android Room |
| Design | Material Design |
iOS
| | |
| --- | --- |
| Tool | Xcode (Latest version) |
| Programming Language | Swift (Latest version) |
| Web Service | AFNetworking, Swifty JSON, Alamofire |
| Web Service Format | JSON |
| Backend Database | MySQL |
| Design | MVC, MVVM |
For creating a cross-platform app
| | |
| --- | --- |
| Tool | React Native, Flutter, Xamarin |
| Database | MongoDB, MySQL, AWS, Firebase |
Steps to Develop an App For Cryptocurrency Exchange
To help you understand how to build a cryptocurrency exchange app, let us explore the step one needs to follow.
Identify the End-Goals and Requirements
Before you invest a good amount of time and money in building a cryptocurrency, it is important to know what your project's ultimate objectives will be. What new would it offer? Which conventional problem would it resolve? The process is accomplished by analyzing the risks and ultimate goals of creating the product.
Set up a Consensus Mechanism
The foundational technology that runs a cryptocurrency trading app is Blockchain. The concept of consensus is to make a mutual agreement the essential component of executing transactions, storing, updating, or erasing data.
You can choose any of the below-mentioned algorithms for the cryptocurrency consensus mechanism;
Proof of Work: depends upon submission and completion of work.
Proof of Stake: depends upon amounts of tokens for virtual currency.
Proof of Capacity: depends upon memory space shared across participating nodes in a Blockchain network.
Select a Development Platform
A Blockchain development company can provide you with several options for creating a cryptocurrency exchange app using various platforms, i.e. Ethereum, BigChainDB, Hyper-ledger Fabric, and Quorum. But, you can consider your project requirements and choose the best-suited platform for your project.
You can consider the below-mentioned parameters to choose a cryptocurrency app development platform for your app;
License model
Popularity of platform
Updates and scalability
Network type (public, private, or offline)
Ease of use
Choose a Development Model
Thereafter, you will need to choose a capable development model to create Blockchain solutions. It should be noticed that a cryptocurrency trading app is a Blockchain-based solution, so you can choose unlimited, allowed, private, public, or hybrid blockchain models for setting up a trading app.
Integrating Blockchain App
You can consult a Cryptocurrency exchange app development company to help you with integrating a Blockchain application into your product for the smooth execution of all transactions.
UI & Console Design
The face of your application is your product's UI design. You can utilize advanced server technologies to create the front end of your app. You can consider app design the window that allows users to look into the complete functionalities of your cryptocurrency trading app.
API Development
As mentioned earlier, a cryptocurrency exchange application is also a kind of marketplace where you may need a strong backend for initiating and managing transactions such as cryptocurrency exchange, smart contracts, and storing currencies in a digital wallet. You may integrate prebuilt APIs or create custom APIs to back your application's needs for strong APIs.
Testing & Launch
Once your product or MVP is completely developed, you can test it to the customers' requirements. The process of testing is crucial and needs to be overseen thoroughly.
A fully tested product can bring the moment to a successful launch.
Cryptocurrency Exchange App Development Cost
Hiring a cryptocurrency exchange development company can help you create a comprehensive budget plan for your app idea.
The cost to create a cryptocurrency exchange app is shown in the table below.
Profession's Designation

Count

Work Duration (Months)

Hourly Rate (US)

Hourly Rate (India)

Back-End Developer

1

6

$65/h

$35/h

Android Developer

1

6

$65/h

$35/h

iOS Developer

1

6

$70/h

$40/h

Frontend Web Developer

1

6

$55/h

$35/h

Graphic Designer

1

4

$40/h

$20/h

QA Tester

2

6

$35/h

$15/h

Project Manager

1

6

$55/h

$25/h

Total Estimate

$403 200

$196 800
The cost of creating a cryptocurrency exchange app may vary considering the complexity of projects, duration, and the number of team members deployed on the project.
How Can We Help?
We, at Sparx IT Solutions, hold a vast experience of more than a decade developing, testing, and maintaining Fintech, Blockchain, and digital payment applications. With an extensive technology stack, we have been able to build a range of Blockchain solutions benefiting customers across the globe.
We have utilized the evolving offerings of Blockchain technology in terms of development frameworks, the inclusion of new cryptocurrencies, and the advent of advanced security standards.
Over to You
As we conclude, we hope that now you have a clear understanding of the roadmap to creating a customer-oriented and revenue-generating cryptocurrency exchange application. You can talk to our team of Blockchain experts to discuss your idea, and ask your queries on cryptocurrencies and Blockchain.
Useful articles, updates, offers and guide boon from SparxIT Team
Categories
Let's discuss your project idea.
Featured In