In the ever-increasing topography of online commerce, the burning question in every entrepreneur's mind is: "What is the cost to build an eCommerce website?" If you have ever ventured into this digital journey, you probably know the obstacles all too well. The past has been manifested by frustration with unpredictable costs, lengthened development cycles, and unexpected hurdles. It often felt like navigating a labyrinth without a map.
However, here's the good news: the digital ecosystem has matured, and so has eCommerce website development. With advancements in technology, future-ready solutions, and streamlined processes, we could easily comprehend the eCommerce online store development cost. This blog will help you uncover the crucial factors that have plagued online retailers and provide you with the eCommerce website development costs that empower your online business.
Types of eCommerce Business Models
The initial step in beginning your online business is knowing the various eCommerce business models. Generally, eCommerce businesses come into four different categories. Let's see!
1. Business-to-business (B2B)
In the business-to-business eCommerce model, businesses sell products to other companies. An example of a B2B business is a software company such as Salesforce, HubSpot, etc.
2. Business-to-consumer (B2C)
In the business-to-consumer eCommerce model, businesses sell products online or through a mobile device directly to consumers. These are the companies that you and I visit online daily to buy things such as clothing, books, makeup, etc.
Popular B2C eCommerce companies include industry leaders such as Amazon, Alibaba, and eBay. A B2C company can also have a brick-and-mortar store H&M.
3. Consumer-to-consumer (C2C)
A C2C business model is when one consumer builds and sells a product to another consumer. The consumer may utilize a platform such as eBay, Amazon, or Etsy to sell various products to another consumer.
4. Consumer-to-business (C2B)
In the C2B eCommerce model, consumer, individual, or startups sells their products or services to diverse businesses. A great example of a consumer-to-business is a social media influence with a large audience.
Factors To Consider While Assessing eCommerce Website Development Cost
When evaluating the cost of ecommerce website development, numerous aspects must be taken into account by you. These factors will directly influence the ecommerce development cost. Here are some major points to consider:
1. eCommerce Website Features and Functionalities
The more features and functionality you wish to add to your eCommerce website, the higher the online store development cost. Features such as advanced search, user reviews, product customization, and inventory management need more development time and resources.
2. Design and User Experience
An interactive and user-friendly eCommerce web design is critical for alluring and retaining customers. Custom website designs and intuitive UX elements might increase the cost to make a website with pre-made templates.
3. Choice of Platform
Selecting a platform significantly influences the cost for ecommerce website development. There are a few open-source platforms (e.g., WooCommerce) with no initial licensing fees and others (e.g., Shopify) that require monthly subscription costs and transaction fees.
4. Mobile Responsiveness
You must ensure your eCommerce website functions well on different devices and screen sizes. Developing a responsive online store may increase ecommerce website design costs. However, it is necessary to reach a wider audience.
5. Content Management System
Selecting an ideal CMS for handling your website content can impact the overall cost to develop eCommerce website. Customizing a CMS to fulfill your particular requirements needs more resources.
6. Integration With Third Party System
If you want to integrate third-party systems, like shipping carriers, payment gateways, or CRM tools, it can add ecommerce website development costs because it requires extra development efforts.
7. Product Database Size
The website's complexity impacts the number of products and categories you wish to provide. A more extensive product database may need more backend resources and affect the overall eCommerce website cost.
8. SEO and Digital Marketing
You can improve your website's visibility by investing in SEO-friendly features and marketing tools. These components may need additional development and can influence ecommerce store development costs.
9. Security and Compliance
If your eCommerce website deals with sensitive customer information, you must use a reliable eCommerce website development company to build robust online stores. They will comply with all data protection guidelines and also perform regular audits.
10. Maintenance and Support
Once you launch your eCommerce website, ongoing maintenance and support becomes crucial. Businesses must allocate a budget for frequent updates, bug fixes, and customer support so their website runs seamlessly.
Here's the table showing the cost of building an online store based on various factors: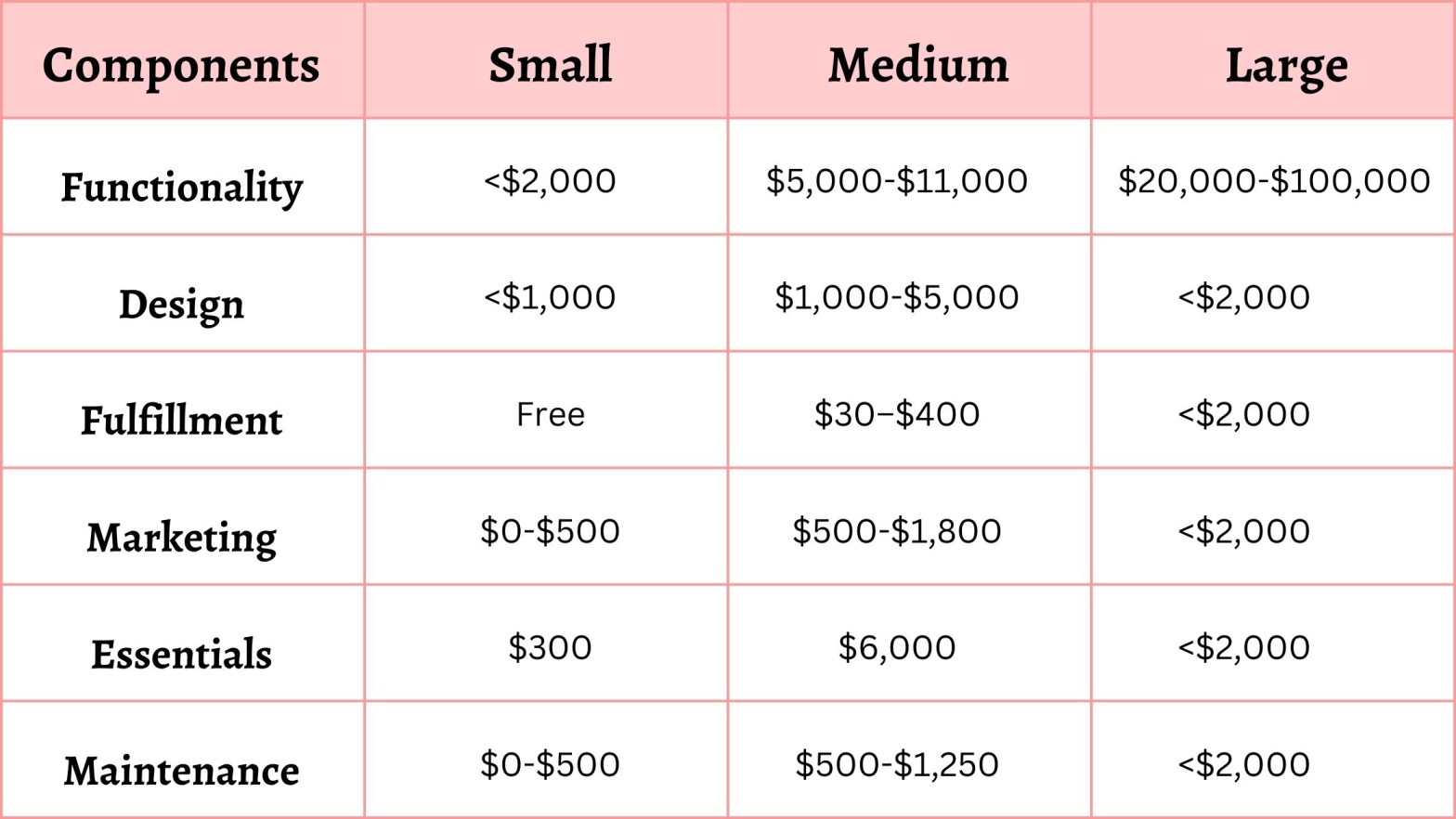 The table above explains how the ecommerce store development cost differs from one case to another.
How Much Does It Cost to Build an eCommerce Website?
A general eCommerce website cost ranges between $1,500 and $30,000. To know the accurate amount you will need to Hire Web Developers, you should consider numerous factors, which are mentioned below:
1. eCommerce Website Development Cost Determined by Type of Web-builder
The cost of developing an eCommerce website relies on if you are making the website from scratch utilizing web builders such as Spotify, WooCommerce, etc.
Here's a table showcasing the cost:
| | |
| --- | --- |
| Web Builder | Cost |
| Custom | $21,500 |
| WooCommerce | $7,800 |
| Shopify | $8,000 |
| Wix | $7,500 |
However, custom websites can be more expensive than others; they provide several advantages for people needing a scalable, reliable, branded platform. Businesses will require a custom platform to integrate their e-commerce app with their website.
2. Cost of eCommerce Website Determined by Complexity
The smaller and simpler an app is, the less time is required to build it. Basic applications are less complex since they need fewer features, functions, and user roles. Therefore, they will need less time.
Here's a table indicating cost-effective ecommerce development costs stack up per complexity.
Complexity
Characteristics
Cost

Simple

Built with only the core features

Basic UI design

Low scalability for high bandwidth

Example: ClubKonnect

$10,000

Mid-level

More complex than simple websites

Customized UI

More external API integrations

Reviews and rating options 

Example: Zenni

$16,500

Advanced

Multiple Functionalities

Responsive and User-Friendly UI

High scalability and bandwidth 

Robust payment security

Real-time data analysis and tracking

Example: Amazon

$28,000
3. eCommerce Website Costs Determined by Team Type
The type of team impacts the cost of building an eCommerce website by an important factor. The table below shows the ecommerce website development cost according to complexity:
| | |
| --- | --- |
| Type of Team | Cost |
| The local development company (USA) | $180,000 |
| Freelancer (USA) | $140,000 |
| Outsource (India) | $40,000 |
4. Cost of eCommerce Website Development Determined by Developer's Location
Due to the uneven living standards and earning potential from country to country, the cost of hiring website developers varies.
Here's a table showing the cost of outsourcing eCommerce website development per region: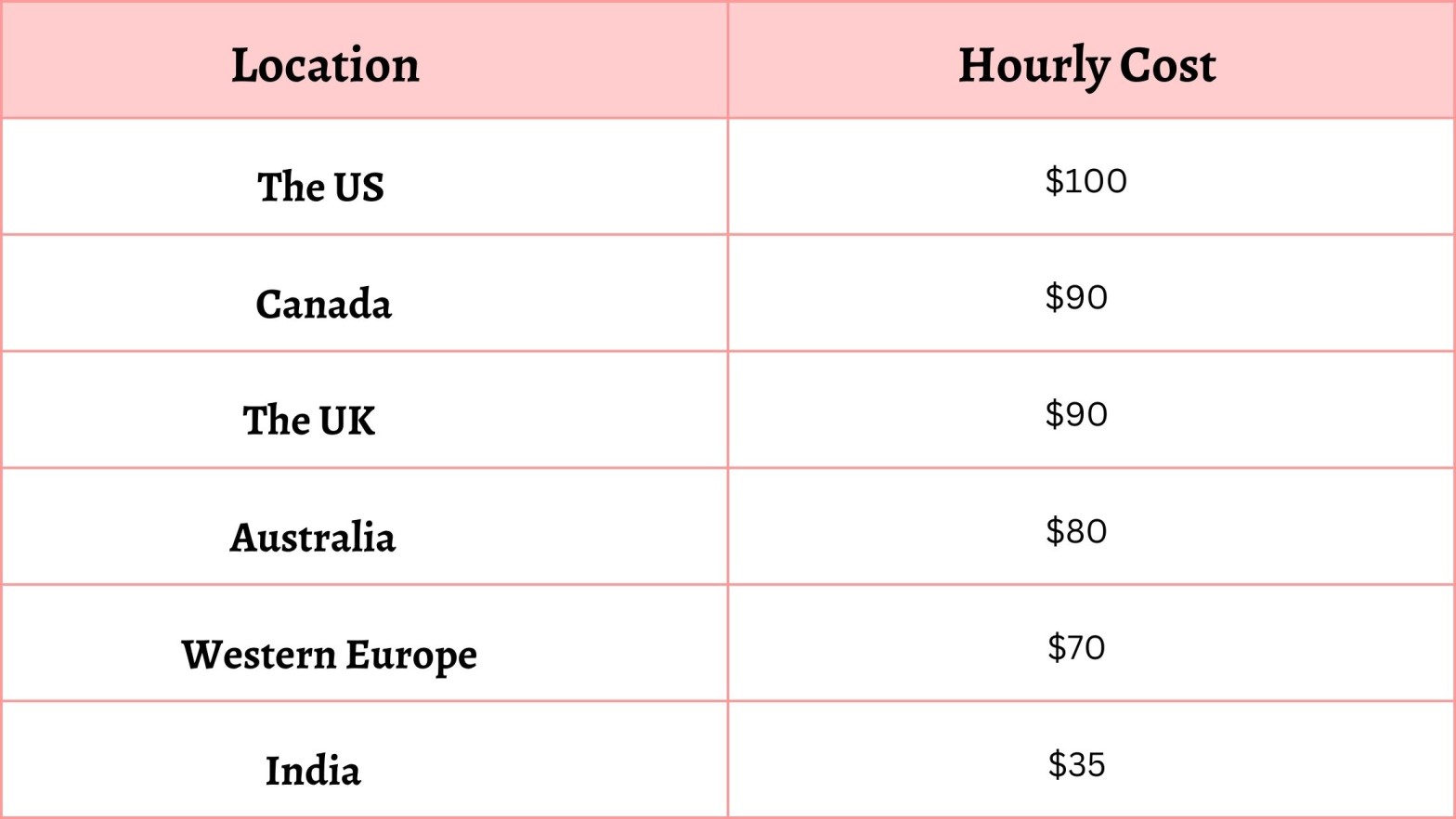 Approximate Cost of Building a Replica of Popular eCommerce Website
It's imperative to see the examples of some popular online stores To provide you with a rough estimate of creating an eCommerce website. Remember that these are just approximate costs based on diverse factors that entail:
eCommerce store size
eCommerce website features
Functionalities of the eCommerce website
Popularity of the store
Security of the website
| | | |
| --- | --- | --- |
| Popular eCommerce Websites | Approximate Cost of Website Development | Development Timeframe |
| Amazon | $45,000 to $150,000 | 11–15 months |
| AliExpress | $40,000 to $95,000 | 6–8 months |
| Alibaba | $50,000 to $110,000 | 12–16 months |
| Ebay | $50,000 to $100,000 | 5–7 months |
| Newegg | $28,000 to $85,000 | 4–6 months |
| Walmart | $50,000 to $120,000 | 10–14 months |
How Can SparxIT Help Create Your eCommerce Website?
Developing or augmenting your eCommerce store can become a challenging task. Therefore, you need an experienced and future-ready eCommerce development company to shoulder this responsibility. And when it comes to eCommerce store development, SparxIT covers all the bases with integrity to provide you with business agility.
Be it building a custom eCommerce site, working on a SaaS platform such as Shopify, or making an eCommerce store on Magento, SpraxIT has the expertise. We utilize agile development methodology and sprint planning for the seamless delivery of projects. During these developmental phases, you regularly remain updated with weekly demos. We are your one-stop solution for all your digital transformation needs.
Here are some absolute methods SparxIT can help in your next eCommerce development project:
eCommerce Discovery and Consulting
Custom eCommerce Store Design
CMS Development
Third-party Integrations
Custom Shopping-cart Development
Dedicated ERP System
Thus, contact us with your eCommerce website development requirements.
Useful articles, updates, offers and guide boon from SparxIT Team
Categories
Want to know the eCommerce Development Cost?
Featured In