The past year has brought unprecedented challenges to the education industry, but it has also highlighted the resilience and adaptability of our students, teachers, and institutions.
As we navigate the ongoing impacts of COVID-19, the importance of education has never been clearer. It is the cornerstone of our society and the key to unlocking endless possibilities for personal and societal growth.
From online classrooms and virtual field trips to socially-distanced in-person instruction and hybrid models, we are constantly finding new and innovative ways to ensure no one is left behind.
Are you a business owner who is having trouble coming up with an innovative idea for your startup?
Have you thought of a strategy to develop an education app but are unsure how to proceed?
You should read this EdTech development guide to create educational mobile applications if any of these queries are on your mind.
You can learn how to build an education app to help your business succeed.
What is EdTech?
Educational technology refers to EdTech in short. It is the use of tools for the procedure of learning. These tools can incorporate multiple types of content to provide text and written messages. It can be in the form of images, video conferencing, animations, audio recordings, visual recordings, computer-based learning, over the internet, and with educational software.
EdTech contains numerous fields of the educational approach. Its primary principles comprise the making of combined learning environments in which teachers from all over the globe help to teach, present, and educate students or working professionals.
How Has Online Education Transformed During Covid-19 With EdTech Platforms?
After lockdowns, schools and universities globally had to change to e-learning setup. Digital technologies had to be implemented into education, learning, and assignment methods. The COVID-19 pandemic came as a rescuer for the EdTech platform. It enhanced the methodology and brought a considerable transition to e-learning.
The number of educational application downloads soared globally in the first quarter of 2020. For example,470 million and 466 million educational apps were downloaded respectively in the App Store and Google Play. Some of the most downloaded applications were Google Classroom and YouTube Kids.
The main reason for this dramatic increase was the impact of the COVID-19 pandemic, that has transformed from the old school teaching approach. It indicates that people are slowly starting to adopt learning with applications.
Why Is It a Brilliant Idea For Education App Development Right Now?
There are several reasons why education app development is a brilliant idea right now:
1. Increased demand for online education:
With the COVID-19 pandemic, there has been a significant shift toward online education. This has created a demand for edtech software that can facilitate remote learning and provide students with a convenient way to access course material and communicate with their teachers.
2. Improved accessibility:
Education apps can make learning more accessible for students with disabilities, as they can be designed to include features such as text-to-speech and adjustable font sizes.
3. Convenience:
Edtech apps allow students to learn at their own pace and on their own schedule, which can be particularly helpful for those who have busy schedules or prefer to learn in their own time.
4. Personalization:
Edtech software development can be designed to provide personalized learning experiences, adapting content and teaching methods to each student's individual needs and preferences.
5. Cost-effectiveness:
eLearning app development solutions can be a cost-effective alternative to traditional forms of education, as they often require fewer resources and can be accessed from anywhere with an internet connection.
Also Read: Mobile App Development Trends For 2023
EdTech Market Overview
Research by Statista indicates that the online education market will grow to $243 billion by the end of 2022.
Another report suggests that education product development will grow by $289 billion in 2024.
Research and Markets data provider forecasted that the global EdTech market would be around $398 billion by the end of 2026.
With all these investments coming in, the noteworthy part is that the money will be spent on AI-based learning tools, for example, virtual reality, whereas mobile learning tools will account for 15.9% of the investment.
That resulted in the education app development services recognizing this market need and are filling the void by embarking on EdTech app development for the education industry.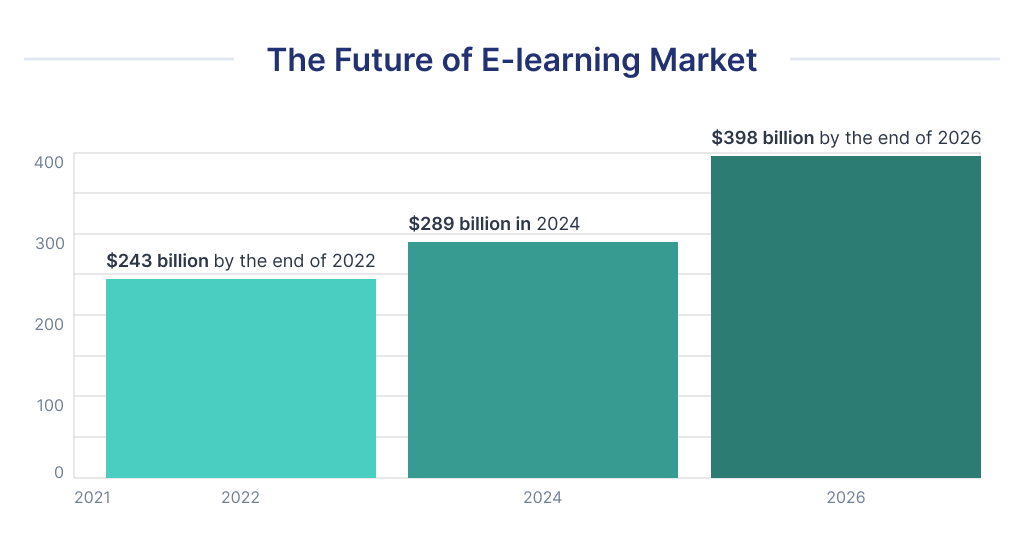 Types of EdTech Applications
1. Corporate Training Apps
Corporate training apps are a type of educational app used to train and educate employees. These apps can be used to deliver training materials, assess employee progress, and track the completion of training programs.
These apps can help improve employee retention and productivity by ensuring employees have the knowledge and skills to succeed in their roles.
Example: EdApp
2. Induction and Orientation Apps
Induction and orientation apps are digital tools that help companies onboard new employees by providing them with information about the company, its culture, and its policies.
These edtech apps can be an effective way for companies to ensure that new employees have the information they need to succeed in their roles.
Example: Connecteam
3. Employee Engagement Apps
Employee engagement apps help companies foster a positive work culture and increase employee satisfaction and productivity.
These apps may include features such as communication tools, task management and collaboration tools, and employee recognition and rewards programs.
Example: Officevibe
4. Skill Boosting Apps
Another popular education app is the Skill-boosting app. It helps individuals improve their knowledge and skills in a specific area or subject. These apps may include interactive learning modules, quizzes, and other learning materials.
Skill-boosting apps can be used to learn new personal or professional development skills and help individuals stay updated with the latest industry trends and technologies.
Example: Elevate
5. Tuition Apps
Tuition apps are digital tools that connect students with tutors for one-on-one or group tutoring sessions. These edTech apps can be used by students of all ages and help individuals improve their knowledge and skills in a specific subject or prepare for exams.
Example: Wyzant
6. On-demand eLearning Apps
On-demand eLearning apps can be used for personal or professional development and may cover various topics and subjects. These apps can be an effective way for individuals to learn at their own pace and on their own schedule and can be a convenient and cost-effective alternative to traditional forms of education.
Example: Duolingo
7. eLearning Apps for Disabled
eLearning apps for disabled individuals are digital tools that are designed to make learning more accessible for people with disabilities. These apps may include features such as text-to-speech, adjustable font sizes, and other assistive technologies to help individuals with vision, hearing, or mobility impairments access educational content.
Example: MentalUP
8. Personalized Learning App
A personalized learning app is a mix of educational programs, learning experiences, instructional methods, and procedures planned to handle individual students' specific learning needs. You can use graphics, improved UI, and development procedures to create impressive apps for learners.
9. Learning Experience Platform (LXP)
Learning Experience Platform provides self-paced eLearning services for businesses where the platform will analyze learners' past performance, reports, and behavior. These applications make learning modules comply with individual needs with the help of artificial intelligence.
10. Learning Management System (LMS)
These apps provide content delivery and management system to corporate trainers and learners with a rich environment for executing hassle-free and result-oriented training. Enterprises can efficiently compile groups of learners using advanced automation tools.
Also Read: Mobile App Ideas For Your Business in 2023
Most Popular EdTech Apps Examples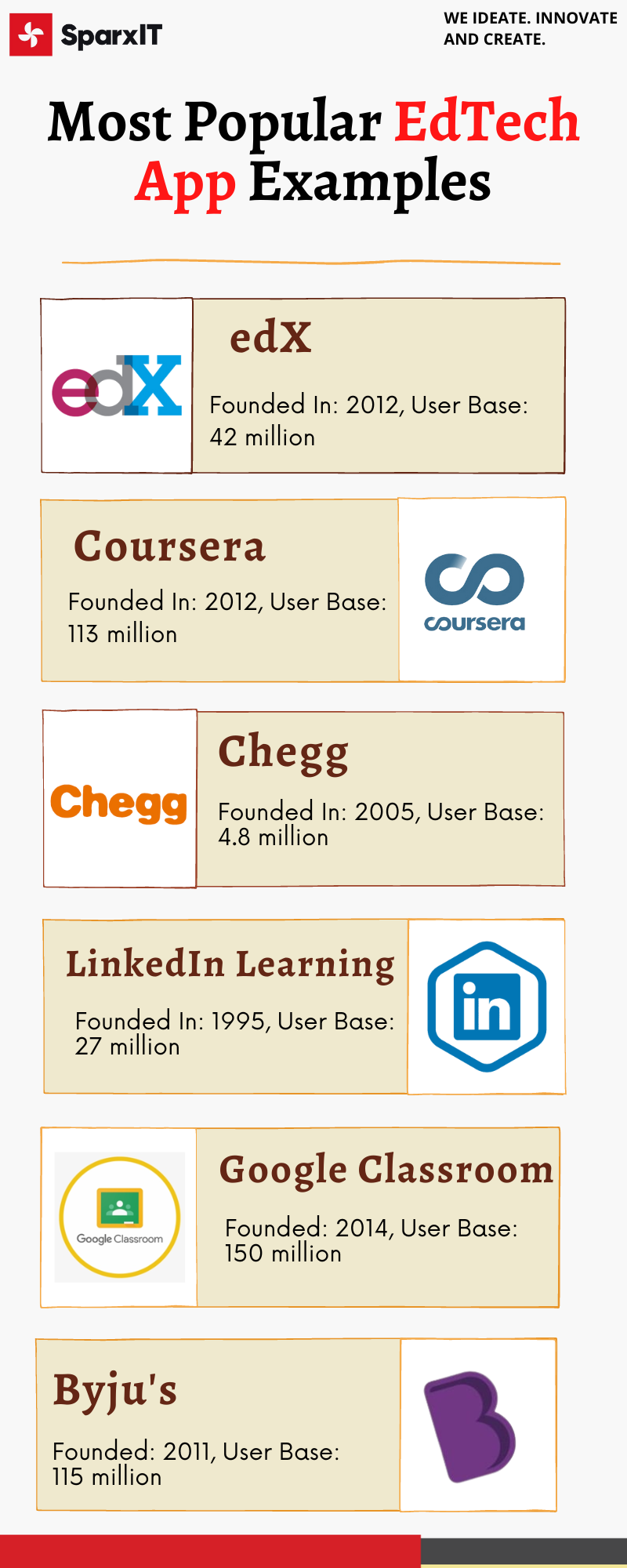 1. edX
App Category: EdTech Portal
Established in 2012, edX is a nonprofit and online learning platform founded by Harvard University. Students can avail courses on the edX platform for free, however, they will need to pay charges to access exams and verified certification.
2. Coursera
App Category: Marketplace
Coursera is an online eLearning platform that provides learners access to self-paced and on-demand courses on various subjects and even degrees. It was founded by Andrew Ng and Daphne Koller in 2012. Coursera does not develop educational content. Instead, the company collaborates with universities and other institutions to deliver online platforms that learners pay to access.
You can quickly go through this guide and create an app like Coursera for your EdTech startup.
3. Chegg
App Category: Online Assignment Portal
The company was founded in 2005; Chegg is an American EdTech company located in California. It delivers online tutoring, textbooks, physical textbook rentals, subject matter expert, and other student services.
4. LinkedIn Learning
App Category: Self-Paced Learning Portal
Previously known as Lynda.com was incorporated in 1995. LinkedIn Learning is an eLearning online platform that provides on-demand courses and video-based content. The platform divided mainly into three categories technology, business, and creative.
There are many subcategories available in every category.
5. Google Classroom
App Category: Virtual Classroom
Released in 2014, Google Classroom is a free integrated eLearning platform designed by Google for educational organizations. It integrates various google services for education, like Google Docs, Google Sheets, Gmail, and Google Calendar, into a coherent platform to simplify communication between students and educators. The primary purpose of Google Classroom is to create, distribute and grade assignments.
6. Byju's
App Category: AR-Based eLearning Portal
Established in 2011 by Byju Raveendran and Divya Gokulnath is an Indian EdTech educational company based in Bangalore. It provides engaging and compelling eLearning solutions globally. If you are an education-based startup or EdTech company looking to create an app like Byju's, you must read a comprehensive app development guide.
Must-Have Features in an Education App
Choosing the best educational applications for students with the best features can be difficult because the market is overrun with them. Therefore, we looked into it and determined some of the most crucial elements an edtech app should have. As features become more complex, development costs increase.
The core capabilities of a top education app often include the following:
Basic Features
Sign up and Log in
Easy-to-use interface
Lecture scheduling
Assignments
Video conferencing
Audio streaming
Document sharing
Push Notifications
Classroom forum
Integrated leaderboards
Advanced features
Progress tracking dashboard
Interactive graphics
Performance tracker
Chat support
Online and offline mode
Multilingual support
Payment System
AI personalization
Gamification
Data Analytics
Let's look at some essential education apps for kid's features in detail.
1. Communication
Fostering proper communication will help learners learn quickly. It will depend on the type of your EdTech application. You can implement communication attributes in your EdTech app. Here are some standard communication features that you can embed in your EdTech app.
Audio and Video Conferencing
Most online learning platforms authorize students to have video conferencing with their tutors. It will give them a sense of authenticity and visual connection with the teachers. You must also ensure the implementation of an audio-only feature along with video conferencing.
Instant messaging gives learners the ability to ask questions immediately. Moreover, it saves enormous time and makes teachers more available to their students.
The objective of a whiteboard is to picture thoughts and write down concepts for both students and teachers. Online whiteboards can be used for similar goals as a real whiteboard, without the constraints of a real whiteboard.
Your EdTech App idea Needs our Expertise. Consult us here.
Forums allow students to interact with other students. It serves as a platform where discussion among the learners and teachers takes place on a bigger scale.
2. Assignments
Tutors should have the capacity to allocate learners to work and evaluate that work from within your EdTech app. You can implement a few features in your EdTech platform for students to perform different activities, such as the followings:
Teachers will assign tasks to students and keep track of assignments themselves. You can add a to-do list for each student using a task management system.
Progress tracking is a must-have feature for everyone, including students, educators, and mentors. It is vital to know the progress of students from time to time.
There has to be a file-sharing feature in your EdTech app. It will help teachers to upload assignments in different file formats, i.e., PDF, MP4, .DOCX, JPEG, or any others. Moreover, students can also easily share essential project files, images, and course-related documents.
Accessible Grading Reports
Students and parents will probably want to keep a record of grades. Your application will require adaptable and accessible data storage options.
3. Mock Test
Mock test features help teachers to evaluate a student's performance. You can add numerous mock test papers to gauge their knowledge and go paperless.
4. Group Mode for Working in Collaboration
Your EdTech application should have a feature that supports group work. For instance, students working in a group from a single device should add different answers to a particular question.
An essential feature is an auto-save mode. It is effective when an assignment is shared between many students. Besides, you should log in with multiple profiles in the app simultaneously.
5. Intuitive UI/UX features
An EdTech portal should deliver complete user information with intuitive UI/UX design. It can only be achieved if the app is user-friendly and designed impressively. The students and educators should quickly check their attendance, assignments, quizzes, recorded sessions, schedules, manage class timings effortlessly and upload and edit user databases, etc. You can hire UI/UX designer from a reliable app development firm.
6. AI and AR in EdTech Apps
Artificial intelligence and augmented reality help learning, entertainment, and education simultaneously. Students get bored during the online learning process. Therefore, AI and AR can be beneficial. For example, students might point their camera at a flower which will show details on its formation process.
7. Easy Search
The easy search option will allow students to effortlessly search for projects, essential documents, courses, and files. It will permit learners to search for any query related to their curriculum.
8. Privacy and Security
Privacy and security are the most critical features of an EdTech application. The app must comprise robust security to build trust and loyalty. It contains users' data and addresses, individual details, bank details, credit/debit card details, etc.
9. Gamification
It's a way of making the application engaging. Apps are gamified, for example, levels reached, points earned, leaderboard, badges, performance charts, scoreboards, dynamic analytics dashboards, etc.
10. Self-Pace Mode
Many learners count heavily on online tutoring platforms to upskill themselves and succeed in their careers in this fast-paced world. You can record and upload live sessions for such individuals in your EdTech app and make the course available. Self-pace mode helps learners access the sessions, notes, lectures when they get time.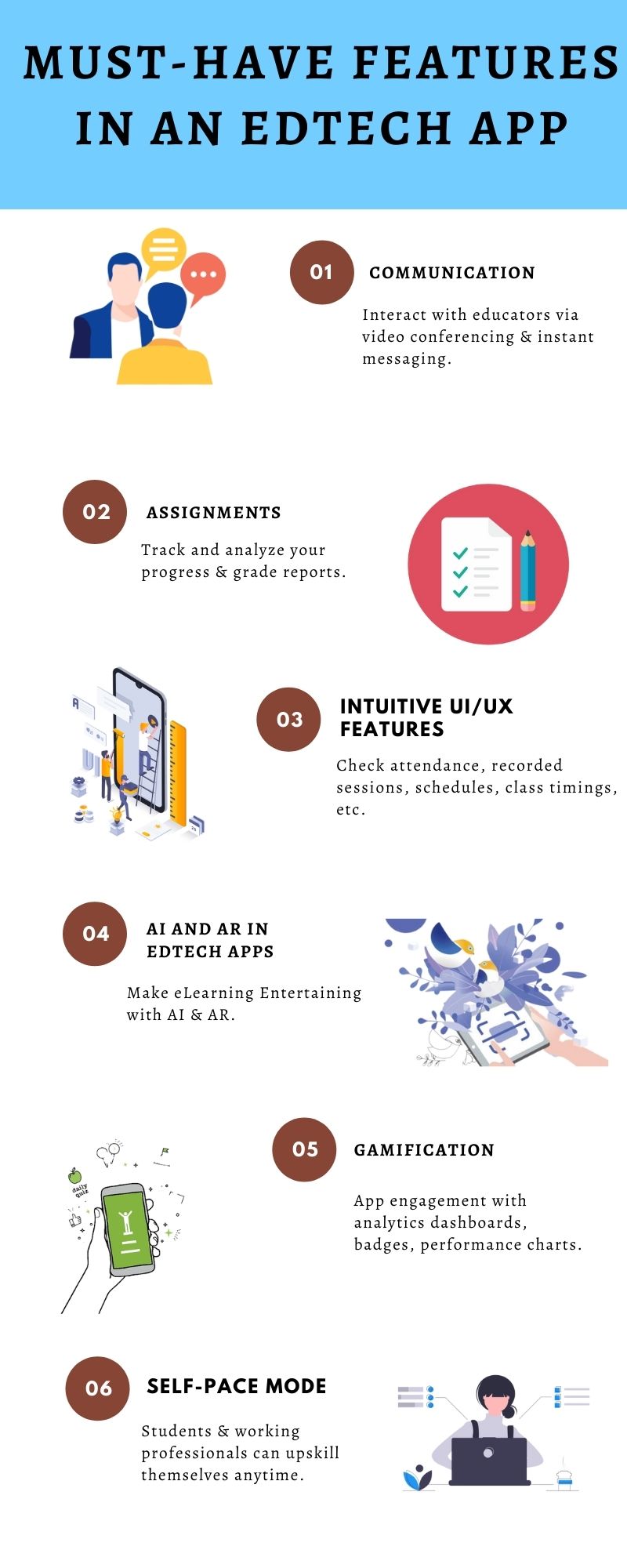 Also Read: Cost To Create Your App
Steps To Create an Education App
1. Identify Target Audience and the Issues to Solve
Before going ahead, ask this question who is your target audience, and who is likely to buy your product? If you have an idea to make educational applications for kids, remember that your users are children; however, parents or guardians will purchase your product. And, if you build an EdTech app development service for schools, customers are usually government establishments while the users are students and teachers.
The other point you need to consider is what issues your app solves for your clients? A good eLearning course resolves issues the customers encounter with other apps or may face in the upcoming times. A responsive feature-packed application would make it more comfortable for students to operate on any device.
2. Do Comprehensive Market Research
To create an EdTech application that stands out from the crowd and fulfills your customers' requirements, you have to do comprehensive market research.
Research Your Competitors
Analyze your peer competitors and market leaders of similar EdTech products. For which organizations does your target audience go? What are the selling techniques they are adopting or know about their offers?
Analyze What Your Competitors are Doing Correctly
You must do a complete R&D about them and ask a few questions like what's the USP of their courses? However, while doing an in-depth analysis, identify what is lacking in their EdTech products. Not only will this data enable you to stay practical, but also provide those missing pieces in your eLearning modules.
3. Identify Position In EdTech Sector
EdTech market is vast and has cut-throat competition. Therefore, you have to identify your position in the market. To be a leader in the eLearning business, you have to think outside the box and make a product that differentiates it from other products and appeals to the customers in a similar niche.
Check If Your Industry is Scalable-
Are people interested in your EdTech service to make it scalable as well as profitable?
Select a Clear Business Model-
Complex products often fade out because users can not associate with them. You need to be sure what type of product you will sell. Whom are you going to sell, individuals or business enterprises, teachers, or schools? Will it be only content-based or technology-based?
Create Company Profile-
It will make the company recognizable, assist in conveying the essence of your business, and attract new customers.
4. Decide How to Create Your EdTech App
There are mainly three methods to create an EdTech application-
There are many ready-made app builder software available in the market. They may appear a very affordable choice as you can build an educational app without coding. Nonetheless, these solutions come with significant disadvantages that include the incapacity to create something extraordinary, security problems, maintenance issues, lagging, low-performance speeds, and much more.
To gain a competitive advantage in the market as an EdTech company, you will require an entire team of professionals such as
Project Manager to define your requirements.
Android and iOS developers to build customer-centric and lightweight apps
UX/UI designers create intuitive, responsive, and user-friendly apps.
You will need Testers and QA developers to provide a flawless app experience.
Creating an in-house team and finding these experts can take long, and also you need to spend massive investment in the recruitment phase itself. Apart from that, you have to pay office rent to purchase various things like hardware and software, but still, there is no assurance that your in-house team will operate according to your business plans.
Hire an Experienced EdTech App Development Company-
When you finally decide to take the help of EdTech development services, past performance and clientele matter the most. You must check organization portfolios, ratings, and user reviews. A professional Mobile app development company will have transparent policies, cost estimations, an easy delivery management process, project deadlines, and after-sales customer support.
Technology Stack Required To Develop Education App
If the wrong tech stack is picked, it will be challenging to develop robust and useful edtech software with enticing features, grow it, or modify it. Due to this, the app development may take longer than expected and include a number of flaws. As a result, we advise using the following technologies:
The best choice for front-end web development is React. It is speedier, easier to reuse, and more configurable when compared to other frequently used technologies. A single codebase may be used to create cross-platform apps thanks to React and React Native.
Due to their speed-to-flexibility ratio, the ideal back-end technologies are Node.js and NodeJS architecture. They are good decisions for the MVP stage, especially if you want to put growth first and not put too much pressure on your team when implementing.
Priorities must be established before the project can begin for any educational software. PostgreSQL is one such database that places a priority on data security. Pick a database option that most closely matches the objectives of your project.
The one-year incentive from AWS for new apps helps a lot of businesses. AWS performs better when handling multiple projects concurrently.
Types of EdTech Business Models
1. Free Trials
To establish in the EdTech business market and compete with your peers, you can first provide users with free app trials and give a more advanced plan as your app gain more audience. It is an alluring model for startups as it permits you to build trust in your brand and gradually evolve as a niche leader.
2. Paid Subscription
When the trial period ends, users either stop using your application, uninstall it or buy an upgraded plan. Most users will stay as your faithful customers if you give helpful service. It suggests that users will only pay if they are benefitted from the app and eventually subscribe. However, you must charge a small one-time payment for your primary plan and then increase the price subsequently.
3. EdTech Marketplace
EdTech Marketplace is a platform and an effective business model where developers can earn money by providing educational content and taking a percentage of their earnings. That is why the EdTech marketplace is famous, but it needs proper knowledge.
The EdTech platform provides many third-party courses from enterprises and individuals that deliver a wide range of monetized studying materials.
You can find various courses related to academic, technical, and ethical hacking courses, communication, entrepreneurship, management, personality development course, and other professional skills.
4. Institutional Model
It is a conventional business model which follows a top-down approach. The business concept is relatively easy. You have to just pitch your course modules to universities, colleges, schools, private institutions, and course designers.
However, the institutional model has a more significant impact on big enterprises than individuals. Nonetheless, this model might need a large workforce doing the groundwork and visiting every institution and organization to scale.
5. Organization/B2B Sales
Organization or B2B sales is also a top-down process that operates if you work in B2B and organization management niches. If you are going for this model, you will have to pitch or sell your product to decision-makers within big organizations.
It usually has a fixed period and comes with a renewal package at the end of the year. You will get two-sided benefits with this approach. Firstly, you will get projects for earning initial revenue, and secondly, long-term partnerships to deliver high-quality content.
How Can Businesses Earn From an EdTech Platform?
There are different ways EdTech platforms can monetize and earn, for example-
Pay-out
After the course gets over, the admin of the EdTech platform charges a special Pay-out for that course. The Pay-out is the most famous revenue model.
Ads & Promotions
Everything will be accessible in the trial version, however, you can display ads, pop-ups and promote specific products to those who take courses. You can also monetize by showing banners as well.
Cancellation Fees
When any student or even professional cancels the courses before completing the course, you can levy a specific amount as a cancellation fee. You can also have a tutor-based strategy, where you can give some amount of cancellation fee to the tutor.
In-app Purchases
In-app purchases are the most fruitful way to make money in eLearning platforms. You can sell added features and courses.
Personalized Learning Experience
Being an EdTech app development company, you can offer a personalized learning experience to learners by analyzing their behavior. These fantastic personalized learning tools help teachers put each student first by providing focused and goal-driven learning. Moreover, you can charge extra for providing a customized learning experience.
How Much Does it Cost To Create an Education App?
There are several factors that can impact the cost of developing an educational app. Some of these factors include:
Type of app: The cost of developing an edtech app can vary depending on its type. For example, a simple quiz or flashcard app may be less expensive to develop than a full-featured virtual classroom app.
Platforms: Education app development may also vary depending on the platforms it needs to be compatible with. For example, developing an app for both iOS and Android may be more expensive than developing an app for just one platform.
Functionality: The more complex the functionality of an educational app, the more expensive it is likely to be. This can include features such as interactive elements, real-time communication, and personalized learning.
Design: The design of an education app for startups can also impact its cost. A more visually appealing and user-friendly app may require more design resources, which can drive up the cost.
Development team: The size and expertise of the development team can also impact the cost. A larger team with more specialized skills may be more expensive than a smaller team with more generalist skills.
Location: The development team's location can also affect an educational app's cost. Development teams in countries with a higher cost of living may charge more for their services than teams in countries with a lower cost of living.
The education app development costs may range from $25,000 and $150,000.
| | |
| --- | --- |
| Location | Approximate Cost (Per Hour Basis) |
| United States (USA) | $30-$150 |
| United Kingdom | $40-$150 |
| Eastern Europe | $25-$100 |
| Western Europe | $40-$120 |
| India | $20-$50 |
| Australia & New Zealand | $35-$150 |
It's important to keep in mind that these are just some of the factors that can impact the cost of developing an educational app, and the actual cost will depend on the specific requirements and needs of the project.
Also Read: Guide To Tutor Booking App Development
Partner With SparxIT for Reliable Education App Development Services
Do you want to revolutionize how students or employees learn and grow? An educational app may be the answer!
Our team of expert app developers has a track record of creating engaging and effective educational apps for various clients. From interactive lessons and quizzes to personalized learning plans, we can help you bring your vision to life.
Don't just take our word for it – see for yourself by scheduling a free consultation with us today.
We'll work with you to understand your specific needs and goals and provide a customized solution that fits your budget and timeline.
Don't let this opportunity pass you by Contact us now to learn more and get started on your educational app project.
Final Thoughts
As the world is still struggling and fighting with the COVID-19 pandemic, online education is more appropriate than ever. The EdTech industry is skyrocketing, and the competition is fierce. However, there is a lot of work to do in the EdTech industry. It has ample opportunities for beginners, startups, and enterprises with new ideas. If you have a bright idea of improving and simplifying the eLearning process, it is time to make your educational application and present it to the world.
New EdTech applications encounter many challenges, so schedule the launch accordingly. Identify your niche, conduct thorough market research, choose a monetization model, outline your positioning, and hire an experienced app development company to create innovative, intuitive, and feature-packed EdTech applications.
Frequently Asked Questions
What is an education app?
An education app is a mobile application designed to help users learn new information or skills, assist students in studying for exams, provide language learning resources, or offer courses on various subjects.
What are the benefits of developing an edtech app?
There are several benefits to developing an education app:
Increased accessibility
Customization
Engagement
Convenience
How much does it cost to develop an education app?
The cost of developing an education app can vary greatly depending on its complexity, the number of features, the platform it will be created for (e.g., iOS, Android), and the app's design. The education app development costs may range from $25,000 and $150,000.
How long does it take to build an edtech app?
It can take anywhere from 3 to 5 months to develop a feature-packed edtech app, depending on the complexity of the app and the resources available for development.
How can I monetize an education app?
There are several ways to monetize an education app, including:
Offering paid courses or subscription-based access to content.
Advertising to users within the app
Offering in-app purchases, such as additional study materials or virtual rewards
Useful articles, updates, offers and guide boon from SparxIT Team
Categories
Let's Discuss Your Education App Idea
Featured In