The COVID crisis has brought international trade to a standstill and mired the global economy. Amid these challenging times, there are two industries that have opened brighter avenues for business than ever before.
These industries are online healthcare services and eLearning platform services. People are looking forward to these services while they are indoors. It seems that the eLearning market will grow beyond the expectations of the research that was conducted before the ongoing corona outbreak.
As per the Statista's official findings, the eLearning global market is forecasted to cross the value of 243 billion U.S. dollars by 2022. It makes this market a lucrative prospect for entrepreneurs. And you are just not wrong if you are planning to establish an eLearning platform like Coursera.
The acclaimed and popular eLearning marketplace, Coursera reached from 0 revenue to $100+ million in revenue. And this journey is remarkable and inspirational for all the entrepreneurs who are about to try themselves in the eLearning industry.
When you build an educational app like Coursera, it is not a child's play. It requires rigorous and continual efforts into planning and execution unless your idea turns into a full-fledged launched marketplace and reaches the right learners.
Here are the questions that come in the mind of every entrepreneur when they start thinking of an eLearning website like Coursera:
What is the background of Coursera?
On which business model Coursera works?
What are the features of eLearning platforms like Coursera?
What are the technologies used in Coursera app development?
How to attract the learners of Coursera?
Who can help in the development of an eLearning website like Coursera?
This guide is an attempt to resolve all the queries of such entrepreneurs. Hence, if you are sailing in the same boat then your search has come to end. Find the answers to all these questions below and learn how to build an elearning platform like Coursera.
What is the background of Coursera?
Before making a business your role model, it is crucial to dig in their history and check if something is similar to you or not. This organization was established in 2012 by two computer science professors at Stanford University.
The Coursera founders' inspiration lies in the online Stanford courses. Their university was among one of the top-notch universities to offer course content on the Coursera platform. Since then there has been no looking back for this eLearning marketplace.
Soon they started offering specializations in content and expanded their learners from individuals to corporations and governments. The content flow and education models have been growing without a single halt. This is a remarkable journey of another Startup reaching heights with their hard work and expertise.
On which business model Coursera works?
Starting with a platform where institutes can offer their courses, Coursera monetized its complete website gradually over a period of the past seven years. In 2012 it started with a few schools and universities and today, the brand has started collaborating with education partners, governments, and corporates.
Looking For Mobile App Development Services
Contact Us
The earlier motive of free and open access to all the learners was eliminated during the monetization of the complete platform. Now, users must pay fees before interacting and engaging with any kind of content on the platform. Let's explore the different features through which Coursera managed to monetize its platform:
Signature Track: Although this feature was launched in 2013, it became valid for all the courses on Coursera in 2015. Under this, users can take free lectures available on Coursera but after completion, they have to pay if they need certificates.
Specializations: Under this feature, students are required to pay monthly subscription fees to get expertise in a particular subject. There is a bundle of courses available for specialization in Coursera.
Degrees: The degrees are also offered on Coursera for 14 programs that are owned by the top universities. Students enroll in the degree programs by paying fees which is another medium for Coursera to earn money.
What are the features of eLearning platforms like Coursera?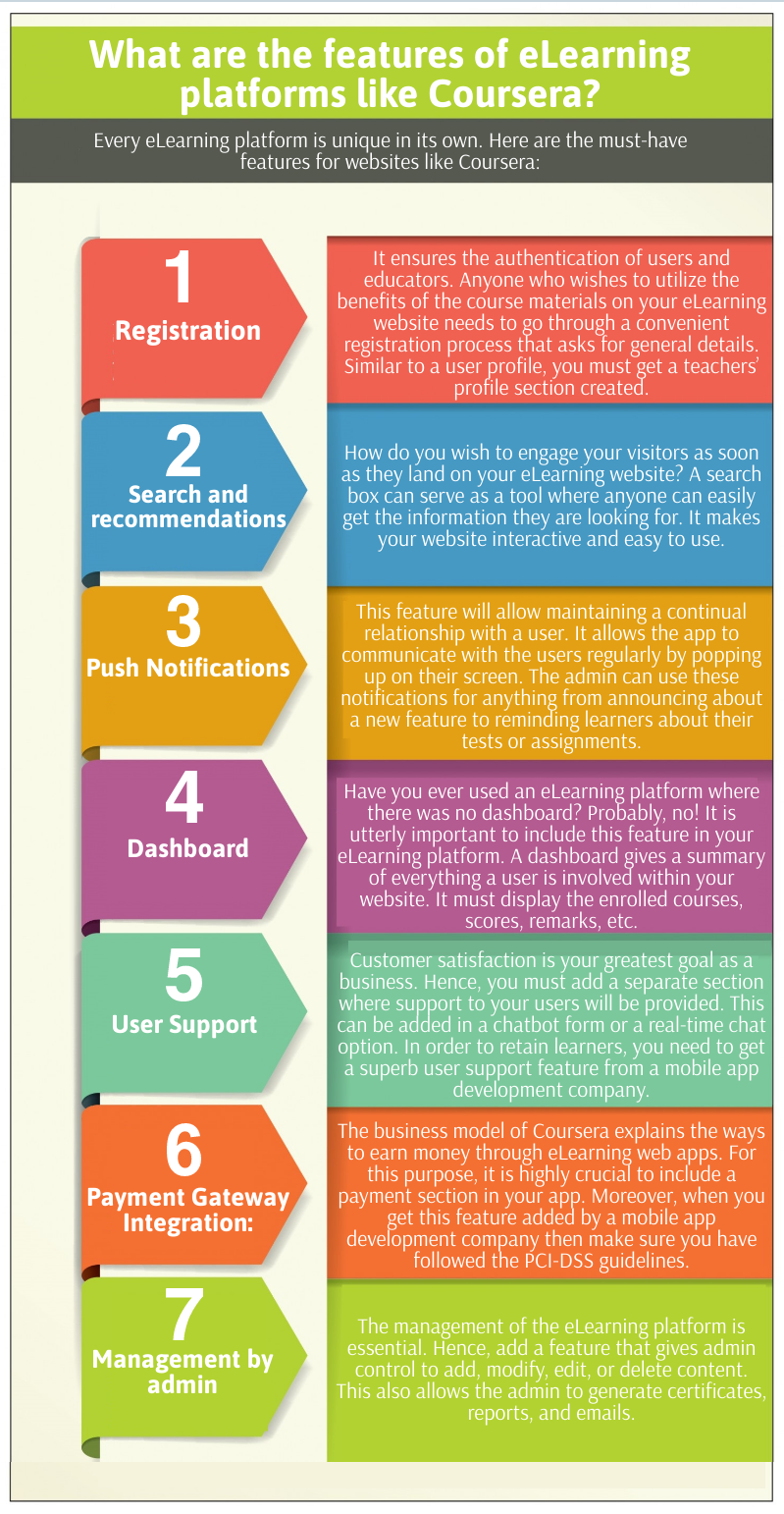 Every eLearning platform is unique in its own. Your motive as an entrepreneur should be to include all the features that top-notch eLearning websites have already included. Moreover, if your aim is to outshine the market leaders, then think about features that are out-of-the-box with the help of an app development company. Here are the must-have features for websites like Coursera:
Registration
It ensures the authentication of users and educators. Anyone who wishes to utilize the benefits of the course materials on your eLearning website needs to go through a convenient registration process that asks for general details. Similar to a user profile, you must get a teachers' profile section created.
Search and recommendations
How do you wish to engage your visitors as soon as they land on your eLearning website? A search box can serve as a tool where anyone can easily get the information they are looking for. It makes your website interactive and easy to use.
Apart from this, your eLearning application development must include the recommendations feature also. Under this feature, users will get recommendations for courses on the basis of their research.
Push Notifications
This feature will allow maintaining a continual relationship with a user. It allows the app to communicate with the users regularly by popping up on their screen. The admin can use these notifications for anything from announcing about a new feature to reminding learners about their tests or assignments.
Dashboard
Have you ever used an eLearning platform where there was no dashboard? Probably, no! It is utterly important to include this feature in your eLearning platform. A dashboard gives a summary of everything a user is involved within your website. It must display the enrolled courses, scores, remarks, etc.
User Support
Customer satisfaction is your greatest goal as a business. Hence, you must add a separate section where support to your users will be provided. This can be added in a chatbot form, or a real-time chat option or email queries features. In order to retain learners, you need to get a superb user support feature from a mobile app development company.
Payment Gateway Integration:
The business model of Coursera explains the ways to earn money through eLearning web apps. For this purpose, it is highly crucial to include a payment section in your app. Moreover, when you get this feature added by a mobile app development company then make sure you have followed the PCI-DSS guidelines and attained license. This feature is crucial to safeguard the confidential data of your users and save everyone from monetary theft.
Management by admin
The management of the eLearning platform is essential. Hence, add a feature that gives admin control to add, modify, edit, or delete content. This also allows the admin to generate certificates, reports, and emails.
What are the technologies used in Coursera app development?
The tech stack for the eLearning platform depends on various factors which include your budget, features, deadline, etc. An efficient app development company will provide a detailed tech-stack requirement for your eLearning web development. Before deciding a tech-stack, let's check the tech-stack used for Coursera website development:
Language: Javascript, Scala, Python
Storage: Amazon S3
Search: Amazon cloud search
Web server: Ngnix
Database: Amazon Relational Database Service
It is recommended to choose your own tech-stack and not go blindly with Coursera's tech stack details. Such things can be better discussed in the consultation phase with your partner mobile app development company.
How to attract the learners of sites like Coursera?
We know that you want to bring all the learners involved with other eLearning sites to your website. But the brutal truth here is, it's the toughest job to attract the users of competitors. If you wish to outshine the top eLearning platforms your app must have the following 5 characteristics:
Optimum UX/UI design:
Did you know 88% of users never return to a site after a bad experience? The design of your eLearning platform holds the utmost importance in gluing the audience. Hence, It is vital to strategize the complete UX/UI design with the professionals of an acclaimed web design company.
It needs to be a perfect blend of simplicity and high performance. The seamless scrolling, easy navigation, and fast loading are a few outcomes of optimum UX design. Make sure your website offers all of these efficiencies to its users.
Data Security:
Can any website work well without keeping the data secure? It takes 3 days for an app to fail. The viral news about the inefficiency of a platform to safeguard the personal data of users can kill the app abruptly and forever without a single warning.
This makes it essential for any entrepreneur to check the PCI-DSS compliance on their own. Make sure you are licensed to integrate payment gateways. Moreover, the app store rules and all the other industry guidelines should be followed stringently while eLearning application development.
Scalability:
The platform you are getting developed by an app development company should be able to scale up with the future requirements. When you hire app developer, ask about their efficiency on this front. A proficient professional will be able to develop a scalable eLearning platform that will be able to accommodate the increased workload as well as traffic.
Support and Maintenance:
No matter how perfect you get something like Coursera app development from your developers, it will face issues in the future. It is not because of any shortcoming in the development phase. This is how everything works; eLearning platforms do need regular support and maintenance to ensure their smooth and steady functionality.
Generally, all the companies providing Coursera mobile app development offer constant support and maintenance after the delivery of the project.
Constant Research and development:
Nothing in the world works without regular updates. From the business model of Coursera, you must have understood one thing that they introduced new features every now and then. The monetization work was executed smoothly over the years.
Do you think this would have been possible without a research and development team? It is recommended to introduce new features and ways for making your app more useful for the end-users. Hence constant research and development are necessary to evolve your eLearning platform.
Who can help to create e-Learning app like Coursera?
A mobile app development company that has the experience to create eLearning websites and apps can be the best partner to create an eLearning platform like Coursera. Its experienced and expert developers can visualize your idea and change it into reality. Before finalizing an app development company, make sure to check them on these 5 parameters:
Demonstrated history of creating eLearning websites or apps
Provide end-to-end services; from consultation to deployment
The developers are apprised of the latest technologies and features for eLearning website development
Give an option of different hiring models like hourly, monthly, fixed cost basis. This helps in planning your budget for the project wisely
Works on the agile process and ready to work collaboratively with you throughout the development process
Apart from the above parameters, ensure that the developers of an app development company you choose to hire are passionate about your project. An enthusiastic approach to making it the most successful eLearning platform of all time can make a huge difference. Therefore, aim to choose the best partners instead of service providers.
Useful articles, updates, offers and guide boon from SparxIT Team
Categories
Let's discuss your project idea.
Featured In