The market for eLearning was valued at $399.3 billion in 2022 and is predicted to reach a market size of $1 Trillion by 2032, expanding at a CAGR of 14% during the forecast period (2022-2032). The numbers clearly depict the state of the online eLearning market today and attest to this sector's great potential for business owners. This statistic is more than just a number; it's a beacon presenting the enormous possibilities in online learning platforms for entrepreneurs looking for mobile app development options.
One such platform is Coursera, a massive open online course (MOOC) that generated $293.5 million in 2020, a 59% year-on-year increase in income. Although building an eLearning platform like Coursera may seem difficult, the procedure is actually rather simple. eLearning application development is about shaping education and having a significant influence.
What is the Background of Coursera?
Before making a business your role model, it is crucial to dig into its history and check if something is similar to you or not. This organization was established in 2012 by two computer science professors at Stanford University.
The Coursera founders' inspiration lies in the online Stanford courses. Their university was among the top-notch universities offering course content on the Coursera platform. Since then, there has been no looking back for this eLearning platform.
Soon they started offering specializations in content and expanded their learners from individuals to corporations and governments. The content flow and education models have been growing without a single halt. This is a remarkable journey of another Startup reaching heights with their hard work and expertise.
Which Business Model Does the Online Learning Platform Coursera Work?
Starting with a platform where institutes can offer their courses, Coursera monetized its complete website gradually over a period of the past ten years. In 2012, it started with a few schools and universities, and today, the brand has started collaborating with education partners, governments, and corporates.
The earlier motive of free and open access to all the learners was eliminated while monetizing the complete platform. Now, users must pay fees before interacting and engaging with any kind of content on the platform. Let's explore the different features through which Coursera managed to monetize its platform:
Although this feature was launched in 2013, it became valid for all the courses on Coursera in 2015. Under this, users can take free lectures available on Coursera, but after completion, they must pay if they need certificates.
Under this feature, students are required to pay monthly subscription fees to get expertise in a particular subject. There is a bundle of courses available for specialization in Coursera.
The degrees are also offered on Coursera for 14 programs that the top universities own. Students enroll in the degree programs by paying fees which is another medium for Coursera to earn money.
Must-Have Features to Include in eLearning Platforms Like Coursera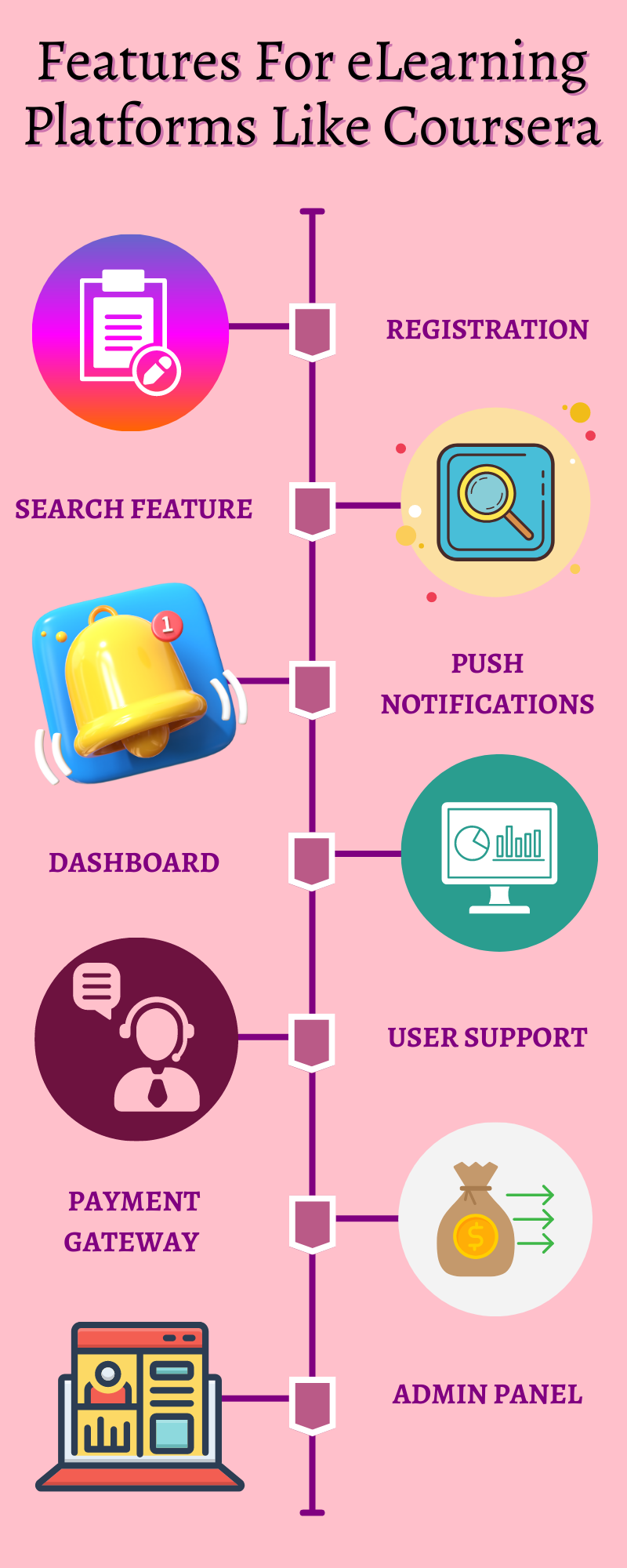 Digital learning platforms are unique on their own. Your motive as an entrepreneur should be to include all the features that top-notch online learning software has already included. Moreover, if you aim to outshine the market leaders, think about out-of-the-box features with the help of an eLearning app development company. Here are the must-have features for apps like Coursera:
1. Registration
It ensures the authentication of users and educators. Anyone who wishes to utilize the benefits of the course materials on your eLearning portal must go through a convenient registration process that asks for general details. Like a user profile, you must create a teachers' profile section.
2. Search and Recommendations
How do you wish to engage your visitors when they land on your eLearning website? A search box can serve as a tool where anyone can easily get the information they are looking for. It makes your website interactive and easy to use.
Apart from this, your educational app development services provider must also include the recommendations feature. Under this feature, users will get recommendations for courses on the basis of their research.
3. Push Notifications
This feature allows for maintaining a continual relationship with a user. It allows the app to communicate with the users regularly by popping up on their screens. The admin can use these notifications for anything from announcing a new feature to reminding learners about their tests or assignments.
4. Dashboard
Have you ever used an eLearning platform where there was no dashboard? Probably, no! It is utterly important to include this feature in your online eLearning platform. A dashboard gives a summary of everything a user is involved with your website. It must display the enrolled courses, scores, remarks, etc.
5. User Support
Customer satisfaction is your greatest goal as a business. Hence, you must add a separate section where support for your users will be provided. This can be added in a chatbot form, a real-time chat option, or email query features. In order to retain learners, you need to get a superb user support feature from a mobile app development company.
6. Payment Gateway Integration
Coursera's business model explains how to earn money through eLearning web apps. For this purpose, including a payment section in your app is crucial. Moreover, when you get this feature added by an eLearning portal development company, ensure you have followed the PCI-DSS guidelines and attained a license. This feature is crucial to safeguard the confidential data of your users and save everyone from monetary theft.
7. Management By Admin
The management of the eLearning platform is essential. Hence, add a feature that gives admin control to add, modify, edit, or delete content. This also allows the admin to generate certificates, reports, and emails.
Tech Stack Required To Build Coursera Like Application
The tech stack for the eLearning platform depends on various factors, including your budget, features, deadline, etc. An efficient app development company will provide a detailed tech-stack requirement for your eLearning web development. Before deciding on a tech stack, let's check the tech-stack used for Coursera website development:
| | |
| --- | --- |
| Language | Javascript, Scala, Python |
| Storage | Amazon S3 |
| Search | Amazon cloud search |
| Web server | Ngnix |
| Database | Amazon Relational Database Service |
Choosing your own tech stack is recommended, and not going blindly with Coursera's tech stack details. Such things can be better discussed with your partner mobile app development company in the consultation phase.
How To Increase User Engagement To Sites Like Coursera?
Bringing all the learners involved with other eLearning sites to your website is necessary to stay competitive in the education landscape. But the brutal truth here is it's the toughest job to attract the users of competitors. If you wish to outshine the top edtech platforms, your app must have the following 5 characteristics:
1. Optimum UX/UI Design
Did you know 88% of users never return to a site after a bad experience? The design of your education platform holds the utmost importance in gluing the audience. Hence, It is vital to strategize the complete UX/UI design with the professionals of an acclaimed web design company.
It needs to be a perfect blend of simplicity and high performance. The seamless scrolling, easy navigation, and fast loading are a few outcomes of optimum UX design. Make sure your website offers all of these efficiencies to its users.
2. Data Security
Can any website work well without keeping the data secure? It takes 3 days for an app to fail. The viral news about a platform's inefficiency in safeguarding users' personal data can kill the app abruptly. So, it's necessary to add advanced security protocols and encryption.
This makes it essential for any entrepreneur to check PCI-DSS compliance on their own. Make sure you are licensed to integrate payment gateways. Moreover, the app store rules and all the other industry guidelines should be followed stringently while eLearning application development.
3. Scalability
The platform you are getting developed by an app development services provider should be able to scale up with future requirements. When you hire app developer, ask about their efficiency on this front. A proficient professional will be able to develop a scalable eLearning platform that will accommodate the increased workload and traffic.
4. Support and Maintenance
No matter how perfect you get something like Coursera app development from your developers, it will face issues in the future. It is not because of any shortcomings in the development phase. This is how everything works; eLearning platforms need regular support and maintenance to ensure smooth and steady functionality.
Generally, all the companies providing Coursera mobile app development offer constant support and maintenance after the delivery of the project.
5. Constant Research And Development
Nothing in the world works without regular updates. From the business model of Coursera, you must have understood one thing they introduced new features occasionally. The monetization work was executed smoothly over the years.
Would this have been possible without a research and development team? Introducing new features and ways to make your app more useful for the end-users is recommended. Hence, constant research and development are necessary to evolve your eLearning platform.
How To Create An App Like Coursera: Step-By-Step Process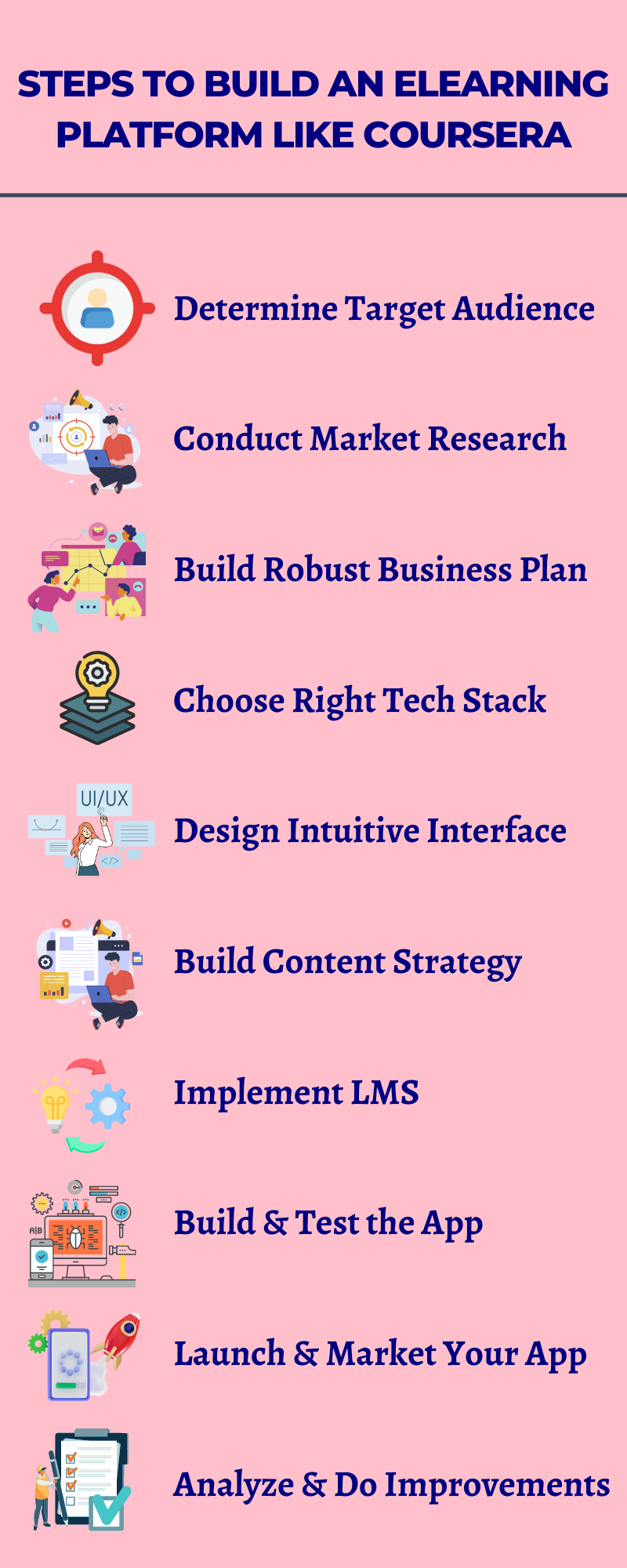 It takes rigorous planning, development, and execution to create an app like Coursera. Here is a step-by-step procedure to assist you in creating a successful eLearning platform:
Step 1: Determine Your Specific Niche and Target Audience
Choose a particular topic or market for your e-learning platform. Knowing your target audience lets you modify the features and content appropriately to match their demands.
Step 2: Conduct Comprehensive Market Research
Research on your rivals to learn about trends, user preferences, and any possible holes in the learning platforms for students. To improve your app's differentiating features, note their successes and failures.
Step 3: Build a Robust Business Plan
Make a thorough business plan that details the goals, revenue model, marketing approach, and budget for your apps like Coursera. It will act as your road map for the Coursera app development process.
Step 4: Choose the Right Tech Stack
Determine the tech stack that suits your online learning software needs, including the programming language, database, and framework. Consider scalability and future enhancements.
Step 5: Design a User-Friendly Interface
Create a user interface (UI) that is easy to use and visually appealing to provide a smooth user experience. Spend money on responsive design to accommodate users using different devices.
Step 6: Content Strategy and Acquisition
Plan your content strategy, which may involve producing original content or purchasing courses from educational institutions and subject-matter experts. Make sure the course offerings are broad to draw in a larger audience.
Step 7: Implement Learning Management System (LMS)
Integrate a powerful learning management system (LMS) to oversee course material, monitor student progress, and offer interactive learning tools like quizzes and assignments.
Step 8: Build and Test the App Like Coursera
Build an elearning app using the selected tech stack and extensively test it for performance, bugs, and usability. Think about beta testing with a limited audience to gather feedback for improvements.
Step 9: Launch and Market Your Coursera Clone App
Launch the Coursera alternative on app stores after it is ready, then use targeted marketing to promote it. Use social media, content marketing, and alliances with educational thought leaders.
Step 10: Analyze and Do Iterative Improvements
Monitor user reviews and Coursera mobile app development performance to make data-driven decisions for ongoing improvement. Analyze user involvement and behavior to improve the educational experience.
Keep in mind that building an elearning marketplace is a dynamic process. Stay adaptable and be versatile since the eLearning environment changes all the time. You can develop an app that changes lives via learning if you put effort, ingenuity, and a love for education into it.
Also Read: How to Create an eLearning App like Byju's?
How Much Does It Cost To Build An eLearning Platform Like Coursera?
Depending on elements like platform complexity, functionality, content generation, technology stack, and development team fees, the cost to build An elearning platform similar to Coursera might vary significantly. Elearning app development cost for an entry-level with necessary functionality range from $40,000 to $100,000. However, more sophisticated apps cost $100,000 to $300,000 due to their added functions and large content libraries.
Content acquisition, security protocols, mobile app development, hosting, and ongoing marketing and support are significant factors affecting Coursera platform costs. A thorough investigation and collaboration with experienced mobile app developers and sector specialists are necessary to get a precise online platform for learning costs.
Given the growing need for online education and the possibility of a sizable user base, an effective and user-friendly eLearning platform may provide significant returns on investment.
How Do Applications Like Coursera Earn Money?
Websites like Coursera frequently use different revenue methods to make money. Here are some typical ways that Coursera-like websites make money:
1. Course fees
Users must pay to access courses, specializations, or guided projects on Coursera. Depending on the intricacy and length of the content, these costs may change
2. Subscription Plans
Coursera is one of several online learning platforms that provide subscription-based models. Users can access courses, specializations, and other premium content with a monthly or yearly membership plan.
3. Certification Fees
Coursera presents certificates once students complete its courses, often for a fee. These certificates can improve a learner's portfolio or resume, making them more appealing to employers.
4. Enterprise Solutions
E-learning platforms like Coursera frequently offer specialized solutions and choices for content licensing to enterprises and organizations. Employee upskilling and training programs are also included, and business partnerships are used to generate income. You can also read a comprehensive education app development guide for better understanding of maximizing edtech app profitability.
5. Upselling and Cross-selling
Platforms may advertise higher-tier courses or packages to users after they have finished or expressed interest in particular courses, enticing them to make additional purchases.
6. Programs for Partners
Coursera works with universities and other educational organizations to offer courses on the platform, and these partners receive a portion of the revenue.
7. Advertising
Some eLearning platforms may show users relevant advertisements to monetize through ad partnerships.
Applications like Coursera can maintain their operations, increase the number of courses they provide, and continue to give top-notch educational materials to students worldwide by utilizing these money streams.
Accelerate Your Coursera-Like App Development Idea With SparxIT's Expertise
An edtech development company with experience creating eLearning websites and apps can be the best partner to create an eLearning platform like Coursera. Its experienced and expert developers can visualize and change your idea into reality. Before finalizing an app development service, make sure to check on these 5 parameters:
Demonstrated history of creating eLearning websites or apps
Provide end-to-end services, from consultation to deployment
The developers are apprised of the latest technologies and features for eLearning website development
Give an option of different hiring models like hourly, monthly, and fixed cost basis. This helps in planning your budget for the project wisely
Works on the agile process and is ready to work collaboratively with you throughout development.
Apart from the above parameters, ensure that the eLearning app developers you choose to hire are passionate about your project. An enthusiastic approach to making it the most successful eLearning platform of all time can make a huge difference. Therefore, aim to select the best partners instead of service providers.
Frequently Asked Questions
Q- 1 How much does Coursera-like app development cost?
A- The cost of developing Coursera-like software can vary immensely based on factors like the platform's scope, design complexity, tech stack, and other features. It is crucial to get precise app development costs from an on-demand eLearning app development company based on your specific requirements.
Q- 2 How does SparxIT ensure the security of user data and content?
A- Security is of the highest importance to SparxIT. To protect user data and maintain the accuracy of the content posted on the education platform, we use industry-standard security methods such as data encryption, two-factor authentication, secure user authentication protocols, etc.
Q- 3 What are the most effective marketing strategies to promote my education app?
A- High-quality content, SEO optimization, email marketing, and a strong social media presence are essential for efficiently promoting your educational app. The exposure of your platform may be improved by connecting with your target audience through webinars, podcasts, and influencer partnerships.
Q- 4 How long does it take to build an e-learning app?
A- The complexity of the features, the size of the development team, and the accessibility of the material all affect the eLearning app development timeline. Designing, creating, and launching a fully functional and feature-rich eLearning platform takes five months to a year.
Q- 5 Can SparxIT integrate third-party tools or APIs for enhanced functionality?
A- Yes, SparxIT is prepared to integrate third-party tools and APIs to improve the usability and functionality of your eLearning platform. Your app can gain value by seamlessly integrating other services, like payment gateways, analytics, and communication tools.
Q- 6 What are the compliance requirements for building sites like Coursera?
A- Building Coursera-like platforms requires adherence to copyright rules when using third-party content, GDPR and COPPA compliance, and user privacy and consent procedures. It is crucial to consult legal and compliance specialists to fulfill these standards.
Useful articles, updates, offers and guide boon from SparxIT Team
Categories
Want to build an eLearning platform?
Featured In