Mobile apps transform the whole world, the way people shop for their required services and products has completely changed now. All due to the mobile app innovation—and that's a great opportunity for entrepreneurs. By 2021, you can expect the number of smartphone users to grow to 3.8 billion, that leads to the high demand of professional mobile app developers and Mobile App Support and Maintenance services providers.
When it comes to mobile apps, clean code writing grabs all the attention. However, tech-experts and programmers know that behind the curtain of mobile app development, there's tremendous effort and innovation. A dedication that involves publishing your app successfully in Google Play or Apple App Store, and marketing it exceptionally.
But, is your mobile app development project completed by launching it in the market? No, it doesn't! A robust app needs maintenance, which is little bit equal to maintaining our electronic equipment. It is necessary to monitor the performance and make sure that the end-users are getting timely updates of your applications.
As per reports, the count of obsolete apps removed by Google from the Google Play store was nearly 700,000 in 2019. Reports show that the launch of new mobile apps is on constant growth. the obsolete apps removed are equally a concern. But what can be the reason for the removal of apps with such a huge count? That is improper maintenance of the app. So let us put light on the importance of mobile app maintenance.
Importance of updating and maintaining a mobile application
Smart business owners look for long-term maintenance to prevent the app from becoming outdated. Here are the key benefits of updating the mobile app:
1. Release timely updates and reduce uninstalls
It's prudent to know the user's pulse and offers features and functionalities that reach the level of their expectations. Draw some time and have a look in this: in 2017, over 20% of millennial smartphone users uninstalled applications only because of the improper logo appearance on the mobile device.
It means that users are not ready to compromise with any small things whether its features, functionality, look, or feel. If something doesn't fit their expectations, they won't think twice and delete your app. So, the bottom line is that you need to be continually monitoring user expectations and preferences—and release updates of your app as pert market demands.
Looking for Mobile App Maintenance And Support Services
Contact Us
Even the app stores ask to follow standard guidelines, and if your application is not following the required guidelines then your listing may get rejected. If you find a downfall in your app ranking, then the platforms may choose to go on a cleanup drive and clean-up your application from the app store. It is necessary to update your app with the latest features and APIs.
2. Delivering Better User Experiences
There is no shortcut key for the growth and success of your mobile application. You need to provide better user experiences (UX).
An impressive user experience helps you:
Improve user retention
Increase customer loyalty
Develop long-term relationships with users
Get better feedback and positive reviews
Increased traffic
More chances of conversions
Wow! With such benefits, it's worth to invest as much as possible efforts to make your app more interactive that delivers a unique user experience:
3. Increased ROI in the Long Run
When you timely update your application, you will get huge benefits in the financial aspects, such as maximizing ROI. It also brings you new ways to cost-cutting and gains new users at the same time. How can regular maintenance help? It's quite simple! When you work for occasional bug fixing, you can optimize the costs of fixing bugs over a more extended period.
4. Curtailing Downtimes and Revenue Losses
Any downtime could lead to substantial revenue losses. Famous brands like Amazon Web Services, Bank of America Online Banking, Blackberry, have suffered significant revenue losses due to downtime. Timely updates will save you from sudden downfall in revenue growth and customer usage.
5. Securing Your Mobile App from Cyber Attacks
The growth of mobile apps is also increasing the quest of cybersecurity. A professional app developers follow standard practice to make an app fully secure that keeps it away from any data theft.
When data hackers are constantly searching for innovative approaches and finding new ways to steal your confidential and financial information—you can continuously look into app maintenance and update apps with the latest security protocols.
Just imagine you're watching your favourite movie, and the most interesting scene is about to come, but, all of sudden the screen turns out into black space. Obviously, anyone would dislike such types of incidents. Specially when you have invested a particular amount to watch your show, then you would rather expect an uninterrupted and great picture quality or want your money back for any miss happening in between your movie show. An proficient mobile application is quite similar to that movie experience—users look for a seamless and hassle free experience.
It is imperative to maintain a mobile application to avoid bad user experiences and any additional cost that you need to invest in future if you don't update the app in a timely manner. If you're not investing in the mobile app maintenance, then it could be the biggest breakdown in your revenue growth and also leads to zero installation of your app.
With so many benefits, as business owners, you'd want to estimate the budget for the app maintenance costs. Now let's look at the different types of mobile app maintenance.
Types of Mobile App Maintenance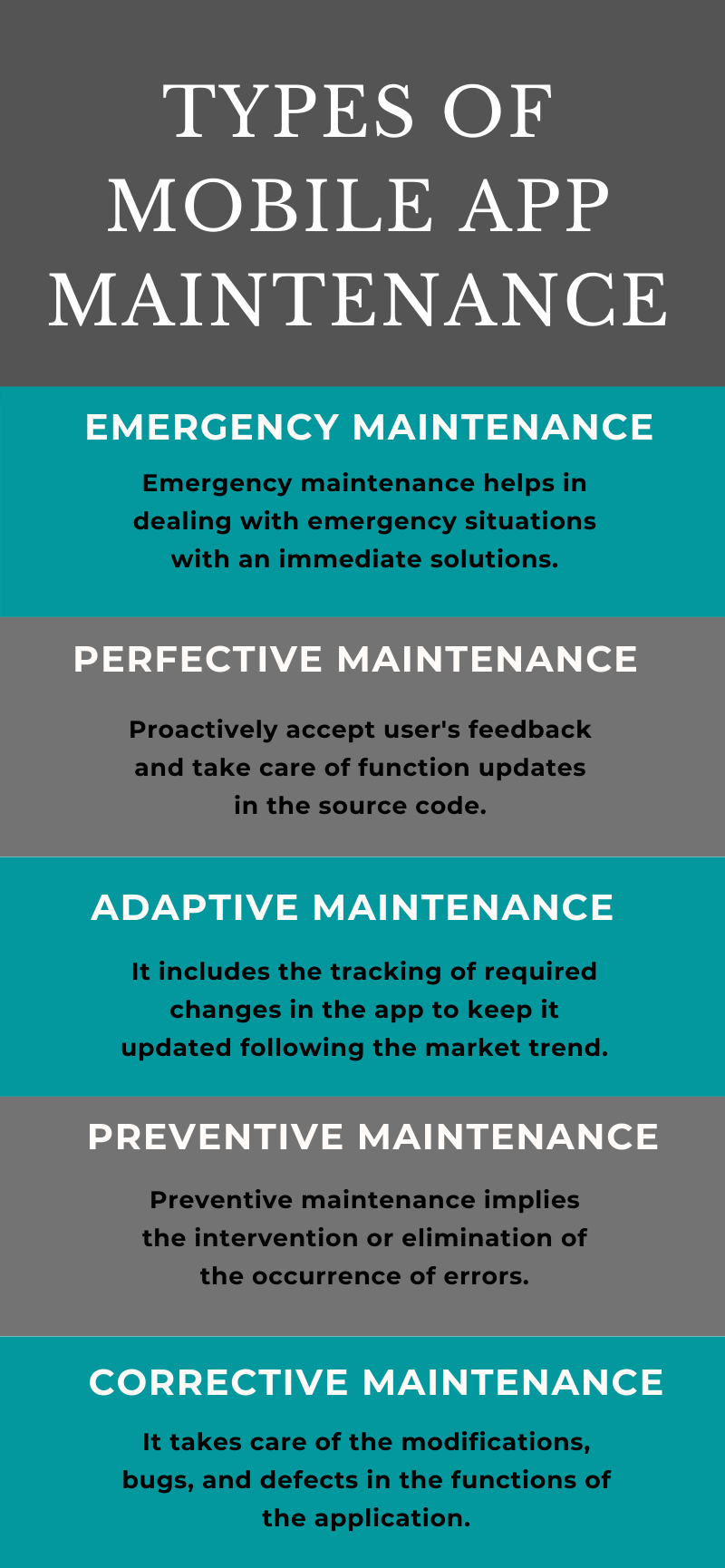 Mobile app maintenance type and cost
Emergency Maintenance:
There could be an unexpected or emergency situation that reveals the nature of the problems—the issues or errors would be sudden, unpredictable, and unexpected. To deal with such mishappenings, you need to provide an immediate solution to the end user to avoid any hassle and give seamless experience.
Perfective Maintenance:
With latest mobile app features and functionalities, you will witness the changing users requirements and needs. It would make sense to proactively accept user's feedback and take proper care of function updates in the source code, offering a perfect user experience.
Adaptive Maintenance:
Adaptive maintenance includes the tracking of required changes in the application to keep it updated as per the trend. You may need to make adjustments in a working environment like a hardware, operating system or software environment that could leave an impact on the operation of the application.
Preventive Maintenance:
Preventive maintenance implies the intervention or elimination of the occurrence of errors. The focus is on reducing the complexity of the application and improving the maintainability factor through code restructuring, code optimization, and documentation updating.
Corrective Maintenance:
With corrective maintenance, you can take care of the modifications, bugs, and defects in the functions of the application. The maintenance also includes errors related to application logic, design and coding.
As app entrepreneurs, you'd need to think and make a plan about different types of mobile app maintenance. And if you're looking at a ballpark figure, then you'd need to look at numerous factors while making an estimation for app maintenance.
Mobile app maintenance is one of the critical phases of the entire mobile app development lifecycle. That is why entrepreneurs are recommended to set an estimation for mobile app maintenance. But the main question is how much will it cost to maintain an app?
Let's discuss!
How Much Does App Maintenance Cost?
After publishing your app on the Google Play and Apple App Store—you may want to monetize the Daily Active Users (DAU) of your app. Monetizing DAU will help you to know about the number of installations and users engaged with your mobile app. You can also look for the Monthly Active Users (MAU) to know the monthly data and statistics. The general thumb rule is to have both DAU and MAU give excellent performance for the success of your app.
The maintenance begins right after the completion of the mobile app development life cycle and publishing it on the App store. The app maintenance generally requires additional cost, and the app maintenance costs can be significantly higher during the first year, which is up to 50% of the total development cost, and decrease to 15-25% for each year after that. It includes the type of operating system, mobile App backend development and mobile app development cost. If your app is based on iOS or Android then its maintenance cost will vary accordingly. For timely update and maintenance you can hire an Android app development company or iOS app development company for the type of mobile app you own.
A ballpark average that an owner of a mobile application will be required to invest around $250 and $500 on a monthly basis. This investment on the initial level will make the app perform well.
You can estimate 20% of the investment you make during the initial phases of mobile app development when calculating the cost of maintaining software. For example, if your initial development cost is $200,000, you can make an approximate estimation to spend about $40,000 per year to manage your app.
Support and Maintenance Cost Calculator!
Let's see some influencing factors during the app maintenance stage:
Expense Head
Servers
Push Notifications
Payment Gateways
Emergency Maintenance (Depends on the nature of Emergency)
Here are some more points to consider when taking the cost of app maintenance into account:
1. Hosting
The cost of server setup for developing a mobile application and cost of app hosting take great participation is app maintenance cost. You need to focus on the type of server you need for your application and estimate the relevant app hosting cost.
Based on the data type you can choose the server resource. You need to find out whether the app data is static or text-bases, or you are dealing with data transactions in the form of audio and video. You will require more memory, server CPU, and disk space for huge amounts of data, which will contribute to increased cost of maintenance. An app hosting server can range in price anywhere based on your choice. It majorly depends on certain factors like content, the number of active users, and projected growth.
2. Analytics
Mobile app crashes, bugs and other glitches need to be analyzed and monitored on a regular basis—it requires tools like Google Analytics to have real time data insights. You can actively check out your users' expectations and behaviour so that you can make quick decisions and deliver the relevant content. You will find various free tools, but some advanced tools help you to find real time data. The monitoring and decision-making also involve a cost in time, and you must choose a tool that matches your business model.
3. Bug Fixing and Updates
Regular updates can help quickly fix the bugs and issues in the app and enhance the user experience. There are numerous apps available with their recent updates that make it more usable. The cost of the updates varies and depends on numerous factors.
4. Third-Party
While developing your app, you may pay for a license. So any additional feature that you implement in your app with the help of an outsider takes extra investment. You'd need to consider calculating such third-party costs.
5. Customer Support
If users have any issues, then it would be a good approach that they can voice their concerns and have immediate assistance to solve their issues. You may consider some sort of investment in customer support that will add more value to your app and deliver a user-friendly experience.
The more feature-filled your application is—you need to invest accordingly. The cost for the mobile app maintenance depends upon some core factors like features, functionalities, look, and feel of the app.
If you want to grab maximum user's attention then it is strongly recommended to follow strict industry guidelines to meet the market demands.
What are the standard practices for App Maintenance?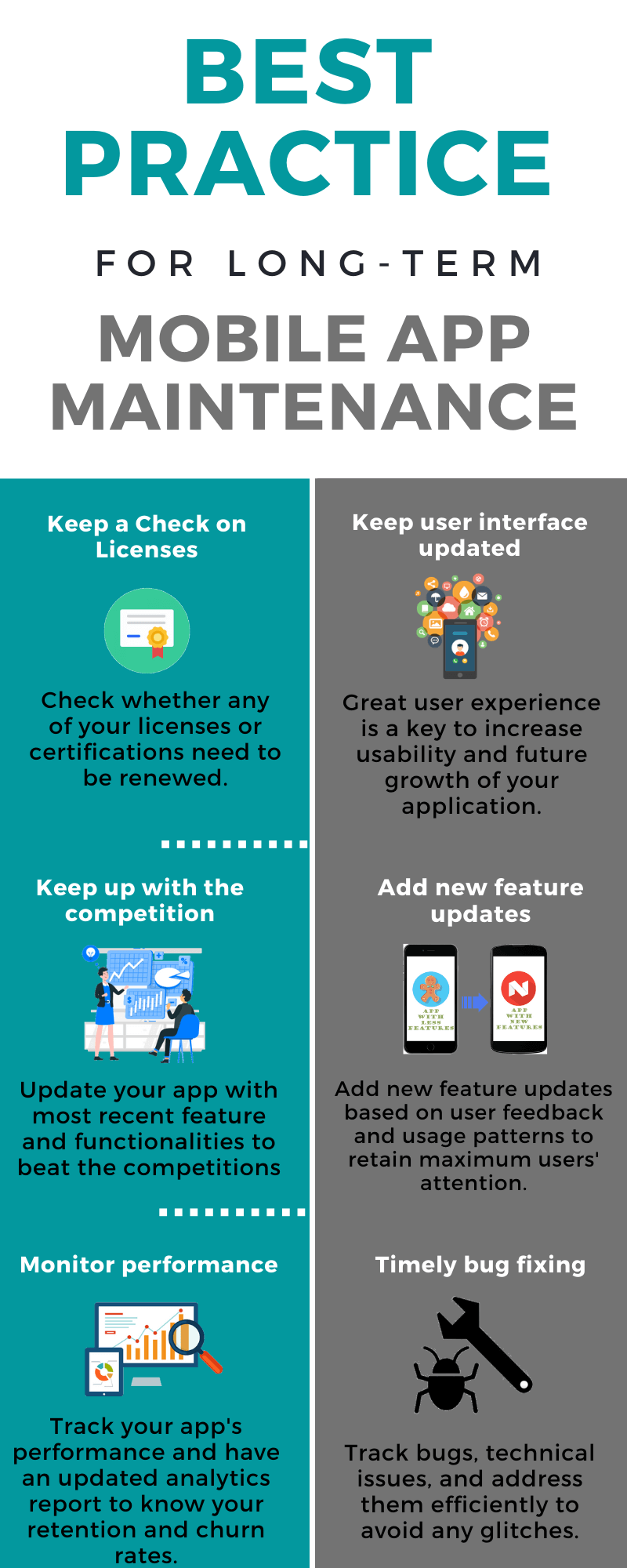 To deliver uninterrupted and seamless user experience it is imperative to follow the standard approach for your mobile app maintenance:
1. Adding New Feature Updates
Constant monitoring and check out the improvement areas is a great approach to implement new features in your app as per latest market demands.
2. Keeping User Interface (UI) Updated
As per the latest market trends and user demand you need to update your app with a unique user interface. Updating the user interface is not an option for you but it's significant for the success of your application.
3. Monitoring Performance
Performance is the key! You should constantly monitor the performance of your app and remove any responsiveness issues or bugs if they occur. Issues like slow loading speed and less responsiveness may degrade your app's performance that leads for less customer usage, conversion rates, and user engagements.
4. Scheduling System Maintenance
When you schedule regular system maintenance, it is an ultimate approach to avoid missing out on issues or bugs. You can inform users beforehand about having the system down for maintenance and update your app with the latest features and functionalities.
Final Thought:
It is confirmed that mobile app maintenance is not a task of one time effort. In such a competitive era where everyone is coming up with something new everyday, you need to keep focus on the latest market demands and update your app accordingly. Once you launch your app it requires a lot of attention and should be kept under guidance.
Thus, the business app should be monitored frequently by an enthusiastic and dedicated team of mobile app development professionals. For time monetization you can avail Mobile App Support and Maintenance services from renowned and experienced Mobile App Support And Maintenance Company. A reputed Mobile App Development Company can help you to update your app as per your business model and requirements.
Useful articles, updates, offers and guide boon from SparxIT Team
Categories
Let's discuss your project idea.
Featured In