The COVID-19 crisis of 2020 has become a game-changer for the entire healthcare mobile app development industry. Contrary to the challenges faced by healthcare workers, healthcare apps are witnessing a steady surge in traffic.
This is after the World Health Organization recommended "medical distancing". We can maintain it by minimizing physical contact between healthcare providers and patients. This made eHealth services go viral.
Telemedicine with video-conferencing tools is essential in this hour of need. According to Google trends, the "telemedicine" search term has seen an incredible rise during the corona outbreak. Check the graph given below for the same.
Even before the COVID19 crisis, the online healthcare industry was growing at a fast pace. In fact, out of the total Google searches in a day, 7% were health-related. People look up to online sources for their diagnosis and/or treatment.
This allures many businesses to take their health business online. But the reality is not as glittery as it seems. It is not because of the competition but the security and safety threats. When it comes to diagnosis, 66% of health symptom checkers indicate wrong.
This questions the reliability and authenticity of healthcare mobile apps. This is why it is crucial to get healthcare apps developed with the latest technologies, features, and legal regulations. Let's check how to get a healthcare app developed that works for your business as well as the internet users.
In this healthcare app development blog, you will get answers to these six questions: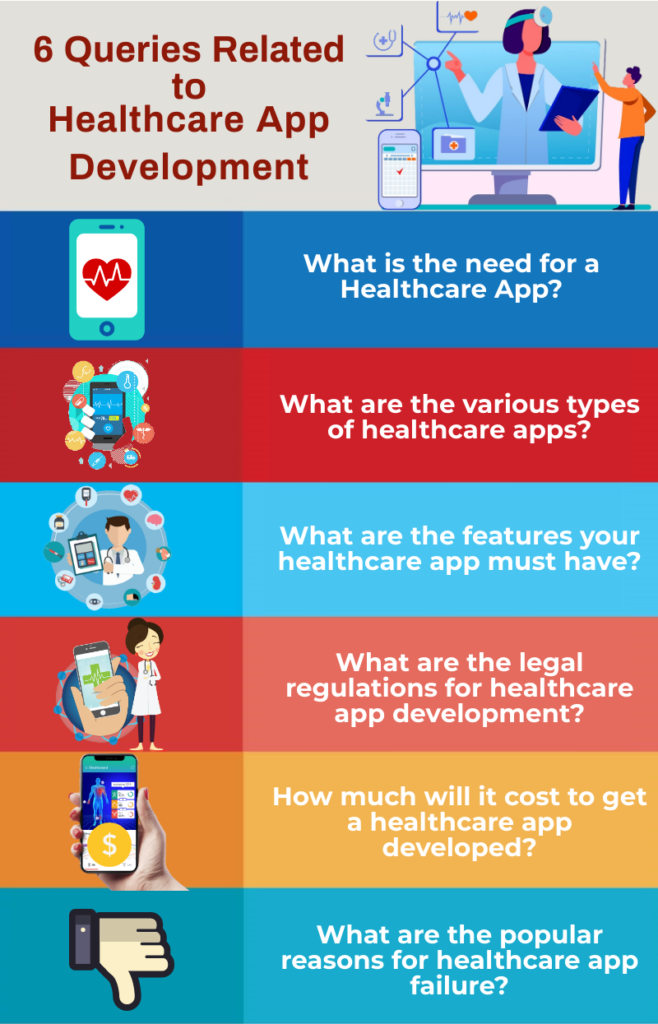 Q1. What is the need for a Healthcare App?
Are your offline healthcare services doing well? If yes, then you must be in a dilemma about getting a healthcare mobile app developed. To clear your confusion, read about these benefits of healthcare mobile apps that can help both your business and people: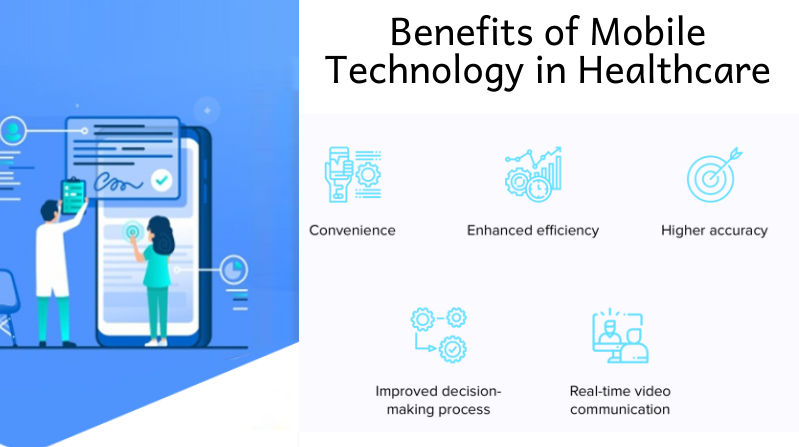 Improved Decision Making:
In certain cases, it is tough to diagnose a patient due to a lack of medical history. Healthcare apps diminish this issue as a large amount of data can be stored in their databases. The physicians can check the complete record of every patient anytime. This not only makes the process quick but also results in improved and prompt healthcare services.
Save Time:
It's linked to the above point. The handy medical, as well as medication history, allows quick diagnosis and treatments. Apart from this, online healthcare services save the time which patients have to invest when they visit a clinic or hospital.
Increase Productivity:
Healthcare app eliminates the need for healthcare providers to carry documents. They use portable devices like smartphones, laptops, tablets, etc. As a result, this improves efficiency.
24X7 Access:
Offline healthcare services have limitations in terms of staff availability. A doctor cannot be available around-the-clock physically in a clinic or hospital. But telemedicine improves the availability of healthcare providers. Moreover, there are no boundaries, so no matter how far a patient is, he/she can avail of the services at their place. Hence, by taking healthcare app development services you can provide all-time remote facilities.
Q.2 What are the various types of Healthcare Apps?
Healthcare apps are classified into different kinds based on their applications. Here are some of the top types of healthcare app among which you can select the most appropriate one:
Medication Tracking Apps:
Service providers of these apps need to integrate features like push notifications. These apps track the times or periods of medications. In contemporary times, this idea has expanded to tracking menstrual cycles as well. The primary function of such healthcare apps is to remind users about important times and routines.
Looking for Healthcare Mobile App Developer?
Contact Us
Emergency Healthcare Apps:
The apps that are used in emergency situations when the patient is not in a condition to take action. The UX/UI of such apps needs to be highly convenient. A single tap must connect them to hospital emergency desks or doctors. Such healthcare apps are meant to save lives in critical times.
Lifestyle Healthcare Apps:
These apps help in maintaining a healthy lifestyle. They have accelerometers that track the number of steps or miles a person has walked, jogged, or ran. Such healthcare app development has become popular in the recent past. Every other person installs these apps to keep track of their activity. Some of these apps also have advanced features that can calculate sleep hours, blood pressure, and calories burnt.
Electronic Health Records Apps:
These apps act as ledgers for the healthcare industry. Sensitive data of a plethora of users is stored, maintained, and modified in this app. From here, doctors, as well as patients, get access to all the information. The healthcare app development of these apps is crucial as a single loophole can lead to data theft or breach. These apps are also known as EMR – electronic medical records or EHR – electronic health records.
Q.3 What are the Features that Healthcare Mobile App Development Company Must Add to Your App?
This is the most important thing to consider while availing healthcare app development services. The usability of the healthcare app will increase depending upon the features you choose to integrate. Moreover, not all healthcare mobile app development companies will have the ability to add all the features. Read some of the top features which you can consider to integrate with your healthcare app:
Geolocation:
API of Google Maps or any other map service is quite necessary for healthcare app development. This will let patients find clinics or hospitals or healthcare providers very conveniently. Moreover, in emergency situations, these geolocation features can allow you to locate a patient easily.
Push Notifications:
This is the era of push notifications not only for healthcare apps but for the mobile apps of every vertical. Anything that happens in the app should be informed through push notifications to the users on their device. Apart from this, it can also help in sending reminders to patients about their medicines or checkup schedule.
Immediate Chat:
This allows patients to chat with healthcare providers around the clock. They both can communicate instantly through the common medium, that is, your healthcare app. A real-time chat feature gives you an edge over other apps that lack this attribute. It reduces the overall time in treatment and provides improved user experience.
Payment Gateway Integration:
This is one of the must-have features in your healthcare app. Moreover, to add payment gateways you will have to choose a reliable and well-known healthcare app development company. Make sure that the payment gateway in your app is secured with PCI-DSS. We will discuss this in detail under question 4.
Chatbots:
Customer services are essential in every domain. It is the golden rule of every business that you need to provide prompt customer services to survive. But you cannot hire humans to be present all the time for customer interaction. For this, there is a feature with human intelligence to chat; it is called chatbots. The bot that chats. They use machine learning algorithms to provide intelligent answers to human texts. This eliminates the need for doctors' availability all the time.
Social Media Integration:
This is not a very important feature for your healthcare app development. You can choose to integrate your app with social media accounts to need information. But generally, healthcare apps require more information. The inclusion of this feature depends on the type of app you are choosing.
Reviews and Ratings
Customer feedback works as a quality analysis. You can find your loopholes and work upon them. Apart from that, when multiple healthcare providers are linked to your app, feedback on them can help you find the best and worst performers. This also works pretty well for online medicine delivery apps. There are plenty of things on which constant feedback from customers helps a lot.
Q.4 What are the Legal Regulations for Healthcare App Development?
Health-related content is one of the most sensitive data on the internet. Below is a picture that shows how many people rely on this source. Any wrong information can be highly dangerous for consumers. This is why different regions of the world have various legal or advisory guidelines. These rules should be followed while getting healthcare app development services: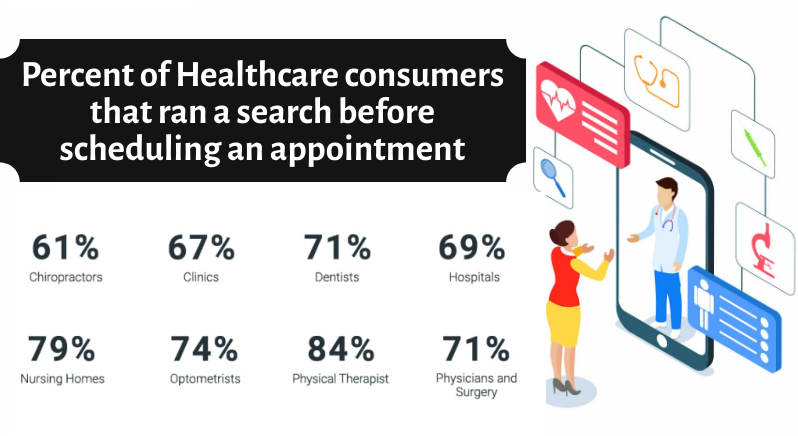 Region-wise Legal rules:
There are legal rules which vary from region to region. Your healthcare app development must comply with these rules. Hence, you need to pay keen attention to these legal regulation requirements:
EU: General Data Protection Regulation- GDPR- It is EU law regulation for data privacy and protection. If the EU is the region for your healthcare app distribution then your mobile app must be GDPR compliant.
USA: Health Insurance Portability and Accountability Act- HIPAA- It is applicable for healthcare apps that are targeting the USA market. HIPAA compliance is mandatory to keep a check on the flow of healthcare information.
Canada: Personal Information Protection and Electronic Documents Act – It is an act of the Canada Parliament that controls how the private sector will collect, control, and share personal information. It includes every sector including healthcare.
UK: Data Protection Act 1998 – It gives general data protection regulations and every healthcare app that targets the UK market must adhere to it.
PCI-DSS regulations:
Your healthcare app must meet these regulations if it is integrated with a payment gateway feature. These regulations are related to payment security. Your healthcare app development will include a step to get the license from the official PCI-DSS organization. This assures complete safety of sensitive data shared by customers and increases the reliability of your app.
Publication guidelines:
We should submit and publish a healthcare app in an app store after reading the specific guidelines of that store. There is a separate section of Health and Health Research in the iOS app store. For android application, you can check the Privacy, security, and deception section of Google play.
Here the rules are simpler than Apple guidelines. But, no matter what kind of app you are developing, the company that you hire must be well-versed with guidelines of all the platforms and app stores.
Q.5 What is the Cost of Healthcare Mobile App Development?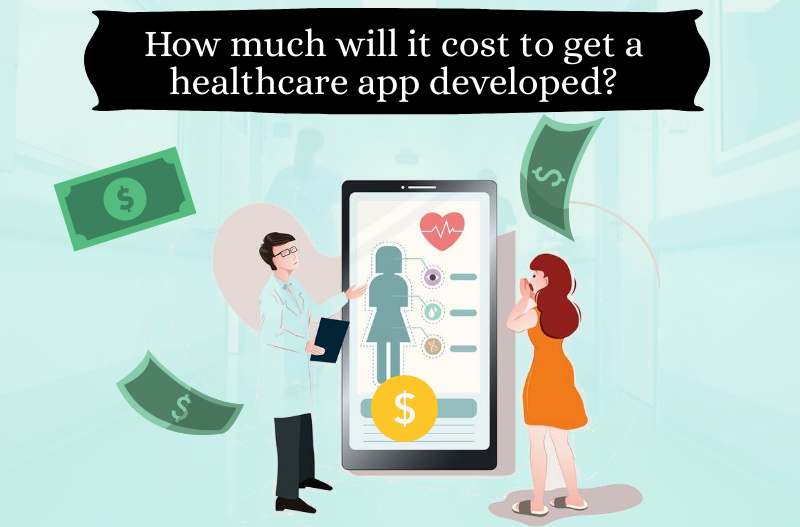 What are the factors the cost of a house depends on? Probably the amenities it offers, like, modular kitchen, security locks, power back-up, and so on. Right? So, what could be the possible factors the cost of your healthcare app will depend on? Any guesses? Let's read the following points to get a clear idea:
Type of Healthcare Apps:
Depending on the type of healthcare app you are going to get developed, the features and technologies are decided. After this, the cost of development will be finalized. Some apps that are complex are expensive to get developed and some apps are cheaper due to their simplicity. Hence, it is an important factor that determines the overall cost of the telemedicine app development project.
Tech Stack:
You must be wondering how tech stack affects the cost of a healthcare app. For your information, not all technologies are open-source. Moreover, the charges of developers also vary depending on the tech-stack they will be working on.
Hence, the healthcare app development company will quote the price based on the tech-stack that you will choose. Paid programming languages like .Net may increase the cost of an app. Whereas, open-source technologies like python, PHP, Java, etc. will reduce it. You can discuss these details during the consultation phase only.
Hiring Model:
This is one of the crucial factors on which the cost of healthcare app development services will depend. First of all, look for a healthcare app development company that has flexible engagement models for dedicated hiring.
These models can be on an hourly, monthly, part-time, or fixed cost basis. When you have the choice to choose among these models, you can save costs. Depending on your budget and project demands, you should select one of them. A wrong choice of model can add to the cost of app development services.
Feature Integration
In the answer to question 3, the necessary features your healthcare app can have been described. What is your take on this, will the integration of all the features cost the same as an app in which there are limited features? This is where the example of house cost suits perfectly.
Features play a major role in determining the cost of development services. The more features, the more complicated will be the development process. Of course, the mobile development company will charge according to the services they provided. This again needs to be discussed in detail prior to the actual start of the development process.
Q.6 What are the Popular Reasons for Healthcare App Failure?
Did you know 77% of daily active users stop using an app within three days of its launch? This is the harsh reality of the mobile apps' market. There are several possible reasons behind such drastic fails of more than half of the apps. Below are some reasons which might lead to failure of your healthcare app:
Lack of Appeal in UX/UI Design
Anything that glues a user to your app is immensely important to your healthcare mobile app development services. The frontend design of the healthcare app has a major role to play here. Apart from this, the seamless scrolling and fast loading speed are also factors that improve the user experience of your app.
Know that anything less than impeccable does not work for the UX/UI design of an application. You will have to hire companies that have demonstrated a history of creating successful healthcare apps.
Wrong Hiring of Healthcare Mobile App Development Company
The healthcare development company that you choose plays an important role in your app's success. You need a reliable, efficient, and experienced healthcare app development company.
To save yourself from making a wrong choice, read this blog to- Choose the Best Mobile App Developer for health. Hiring a company with work experience in healthcare app development is not enough. In fact, you need to hire mobile app developers who are passionate to work in this domain and possess extensive experience.
Legal and Privacy Rules not Followed
The crucial rules and regulations that need to adhere to healthcare app development are explained in the answer to question 4. By following these rules and regulations, you can assure that your healthcare app does not fail due to this reason.
Even if a single regulation is neglected, it may lead you on the grounds of being fraudulent. The users will tag your healthcare app as an unsafe, unreliable, and inefficient app. One loophole can fade away all your hard work. Hence, be diligent while taking all licenses and adhere to all the rules and guidelines.
Lack of Rigorous Testing
This is the primary reason behind the failure of most of the mobile apps. Make sure to hire a healthcare mobile app development company that has testing as one of its primary services. Your app needs to be checked while it is under development at multiple levels.
The stringent testing process diminishes the chances of bugs and errors in healthcare apps after the launch. Though testing will ensure smooth functionality and high performance of the app once it gets introduced to the users.
Useful articles, updates, offers and guide boon from SparxIT Team
Categories
Let's discuss your project idea.
Featured In