Telemedicine apps represent a groundbreaking opportunity to revolutionize how patients access medical care. By leveraging the power of mobile technology, these apps allow patients to schedule appointments, receive consultations, obtain prescriptions, and even pay for services quickly and conveniently.
Telemedicine applications provide a much-needed solution in a world where traditional healthcare services are often slow, expensive, and inaccessible.
So whether you're a startup looking to break into the healthcare industry or an established player, telemedicine app development is a trend you want to take advantage.
In this guide, we'll explore telehealth app development and discover how it's making quality healthcare service more accessible to everyone.
Why is Telemedicine App Development a Game-Changer for Startups?
The telemedicine industry is experiencing a significant surge, making it a lucrative opportunity for startups. Market trends point towards a promising telemedicine future driven by two crucial components.
Firstly, the COVID-19 pandemic has significantly impacted the healthcare industry, exponentially increasing telemedicine users.
The number of telemedicine users, including patients and medical experts, has surged 100 times.
According to Statista, 60 to 75 percent of US adults want to use a telemedicine app in their daily lives.
Secondly, the telemedicine market has seen a growth in venture investments.
By 2026, the telemedicine market value may increase to a whopping $175.5 billion.
Recent research also indicates that 83% of healthcare companies plan to invest in telehealth.
84% believe it can help them expand their reach and cover more areas.
These statistics are clear indicators of a growing telemedicine application development market.
With an increasing number of telemedicine users and the vast investment potential, the future of telemedicine looks bright.
What Are The Benefits of Creating Telemedicine Applications?
There are many benefits to developing healthcare apps for telemedicine. Some benefits are as below:
Benefits For Patients
1. Speedy Solutions
Telehealth apps provide quick solutions, especially for minor health problems like flu or fever. With just a few clicks, patients can connect with a doctor and receive the proper medication within minutes, saving them time and effort.
2. Convenience
The primary goal of telehealth application development is to make healthcare more accessible to patients. Patients do not have to waste energy traveling to the doctor's office while sick. Instead, they can call their doctor and get the proper medication without leaving their homes.
3. Access to Professionals
It is not entirely possible for hospitals in small towns or nearby areas to have all kinds of professionals available. However, using apps for healthcare, patients can consult with any specialist they need, regardless of their location.
4. Better Satisfaction Levels
Patients can have healthier conversations with doctors, leading to better satisfaction. Telemedicine app development company offers 24/7 services, allowing patients to ask questions and clear their doubts at any time of the day. This feature is beneficial for patients who require constant medical attention and support.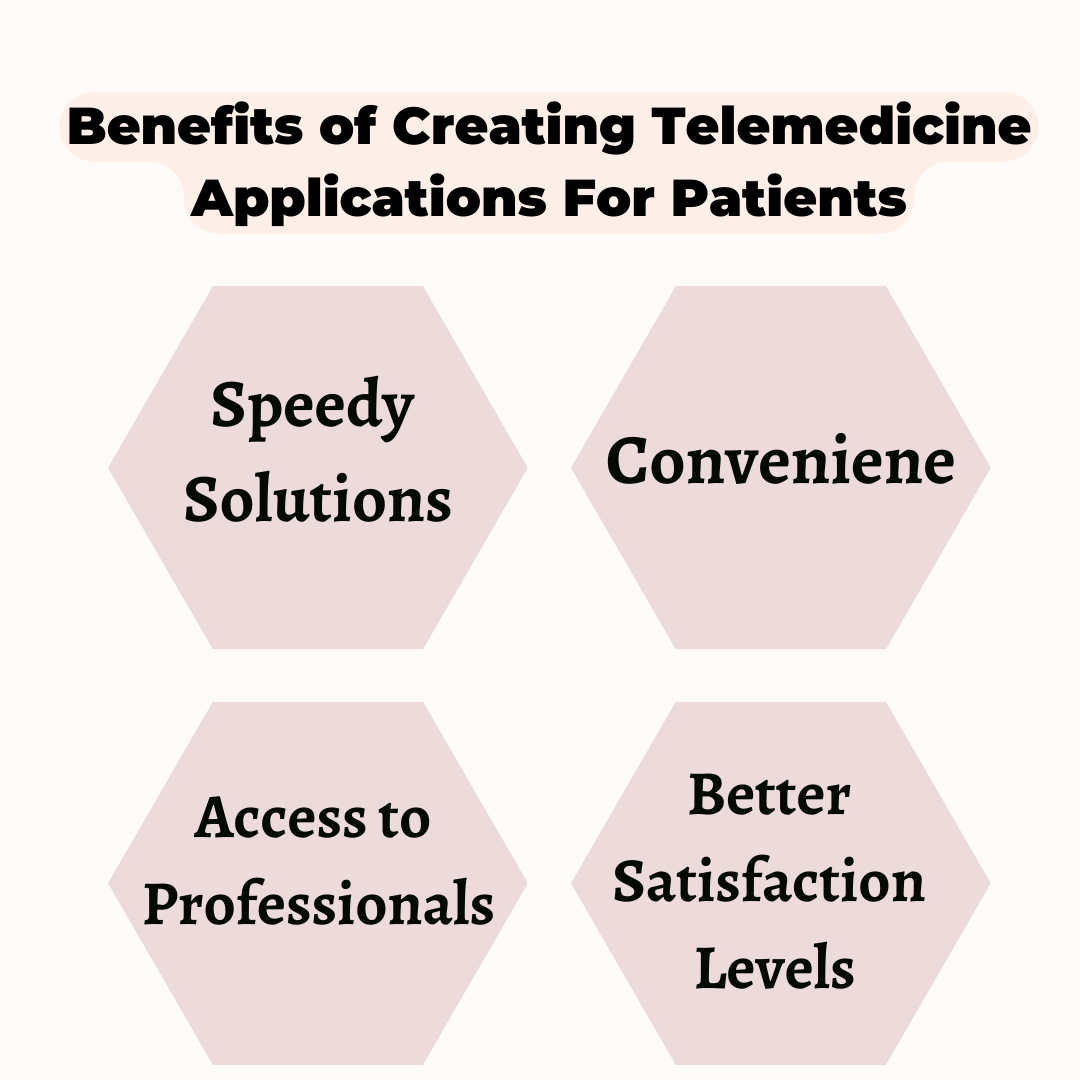 Benefits For Doctors
1. Effective Monitoring System
Telehealth apps keep a detailed record of a patient's medical history, ensuring no critical information is missed. It can be easily accessed by doctors whenever required.
2. Broader Patient Reach
It is not always possible for medical experts to be available everywhere. However, with the help of telemedicine apps, doctors can reach out to patients in remote areas and provide medical assistance.
3. Enhanced Efficiency
Doctors can make better-informed decisions with a record of every little detail of the patient available at their fingertips. It helps improve the overall quality of healthcare services provided to patients.
4. Saves Time
Doctors no longer need to spend valuable time on basic, past-related queries as the process in the app is automated. This feature allows doctors to focus on more critical aspects of their practice, such as patient care and treatment.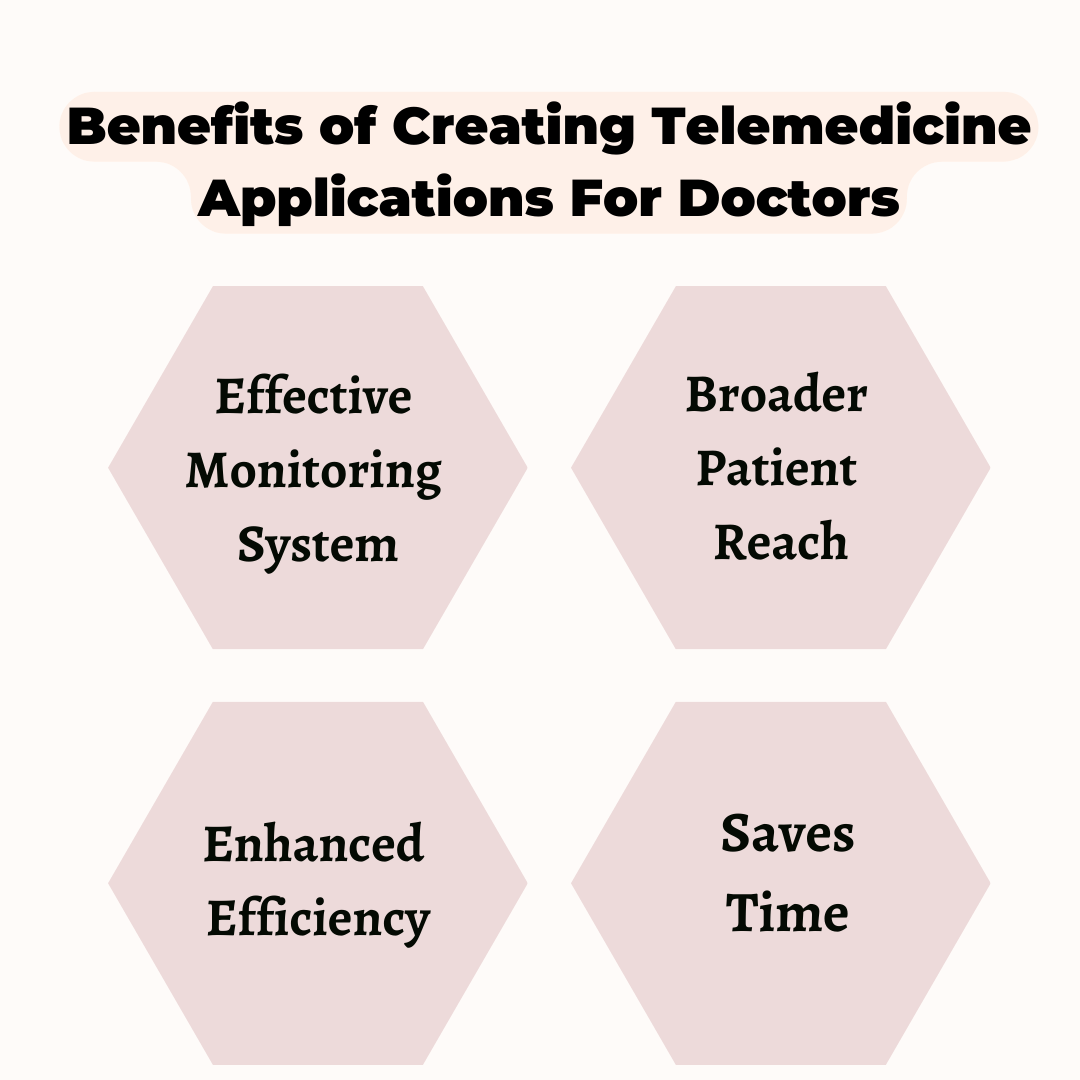 Also Read | A Comprehensive Guide on Healthcare App Development
How Much Does It Cost To Develop a Telemedicine App?
The telemedicine app development cost ranges from $75,000 to $250,000.
The cost is influenced by various elements, including the application's type, complexity, team composition, technical proficiency, and location.
In this telemedicine app development guide, we'll evaluate three pricing options.
Costs of Telemedicine App Development by Type of Application
Telemedicine applications can be divided into three categories.
| | |
| --- | --- |
| Telemedicine app Type | Average cost |
| Store-and-forward | $35,000 |
| Remote monitoring | $50,000 |
| Real-time interactive | $70,000 |
Cost of Developing a Telemedicine App by Team
| | |
| --- | --- |
| Type | Average cost |
| Freelancers | $35,000 |
| Outsourcing app development agency | $70,000 |
| In-house team | $165,000 |
| Local app development company | $240,000 |
Telemedicine App Development Cost by Team Location
We examine the most appropriate location for startups for offshore app development.
| | |
| --- | --- |
| Location | Average cost |
| United States  | $270,000 |
| United Kingdom | $175,000 |
| Western Europe | $150,000 |
| Eastern Europe | $70,000 |
| Australia | $150,000 |
| South Asia | $40,000 |
Additionally, the cost of app marketing will be two to three times that of starting telemedicine app.
Also Read | Complete Guide to Healthcare App Development Cost
Revenue Streams for Your Telemedicine App: Monetization Models
Various models are needed to develop a telemedicine app to make money from its usage.
Freemium Model
Using a freemium model, the business provides some essential services without charge. With a premium membership, users can access the app's additional features. The more users are interested in the free version, the more they will eventually switch to paying subscriptions.
Subscription Model
An app with a subscription business model will generate income regularly, such as monthly payments. Customers must pay under this monetization strategy whether they utilize the app.
Fees
The most common and successful revenue source for wellness app development is fees. A cost will be deducted each time a transaction is completed through the app.
Franchise Model
Franchising your healthcare telemedicine software can be lucrative but requires careful planning, due diligence, and the right partners. It allows others to operate under your brand and business model, tapping into new markets, increasing revenue streams, and expanding your customer base.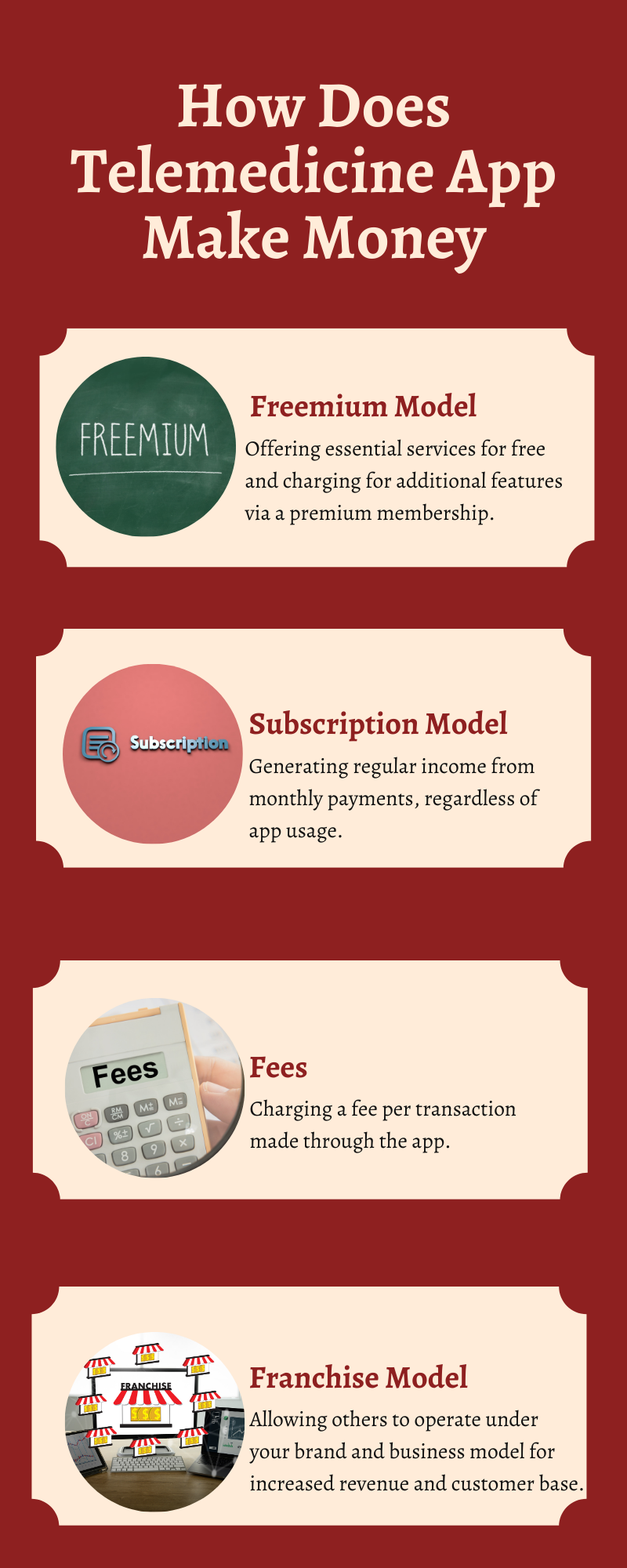 How to Develop a Telemedicine App? The Step-by-Step Process
Phase 1: Discovery
The discovery process is vital to delivering the best telemedicine app development solution. The first step is to gather and examine all the necessary project-related data.
It guides how to create necessary features in line with market and user expectations for a telemedicine application.
It is put into practice through concept validation. Based on various observations, it determines the project's difficulties, complexity, and compatibility.
During this phase, you will receive the following development necessities for a telehealth app:
All the necessary requirements are needed for telehealth app development.
The project's scope, the required tech stack, the project's architecture, and the application's features.
Telemedicine app developers will create a working prototype.
It will showcase a simple design for the app you aim for.
The discovery phase assists in eradicating the uncertainty of the project.
Phase 2: UI/UX Design
Many entrepreneurs have an app idea and immediately want to develop their software. However, they fail because the UI/UX design doesn't meet user expectations.
Avoid attempting to impress potential consumers. Instead, make the telemedicine software as simple and user-friendly as possible so that users can use it effortlessly.
Phase 3: Development of an MVP
To shorten the time to market for your telemedicine app development, consider developing an MVP with only the most basic functionality instead of launching an expensive, feature-rich telemedicine platform.
We recommend starting with an MVP because it will assist you in both piquing people's attention and shielding your company from potential losses. MVP development costs can vary according to your project's requirements.
Phase 4: Quality Assurance Testing
You must ensure your product operates faultlessly and without delays. The QA team runs unit tests on various devices following the developer team's peer code reviews.
Despite this, the proper setup for QA requires routine testing following each sprint and creating a strategy for final testing that considers everything you've tested thus far.
Before release, stress testing is essential to determine whether your telemedicine app can handle a surge in new users.
Phase 5: Deploy and Maintenance
After rigorous testing, the telehealth software is deployed onto the app store. You must also provide regular updates and maintenance to keep up with the latest trends.
Key Features to Include in Telemedicine App Development
You must create a list of features for telemedicine software development and choose the appropriate tools.
Telemedicine App Features For Patients
1. Registration
The sign-in feature comes first and foremost. Patients can log in using their email addresses or through facilities provided by third parties, such as Facebook Login and Google Sign-In. However, personal accounts must be protected, so use SMS or email for two-step authentication.
2. Profile Management
A user must create a profile after registering. The user's EHR is the most significant piece of profile information. It contains basic personal details like name, gender, and age. HIPAA standards generally forbid unauthorized third parties from accessing the EHR, ensuring a robust data protection system.
3. Customer Dashboard
This feature will present patient data through charts, graphs, and status bars.
4. Video Conferencing
So that the doctor can inspect adequately, the video should be provided in the finest quality feasible. Loud and clear audio is also necessary.
5. Text Messaging
Users can text doctors when they don't need to make video calls. The ability to attach images and files is a tremendous improvement over text chat.
6. Calendar
Patients may keep track of and manage doctor visits using the in-app calendar. Users who need to reschedule the appointment can do so directly in the calendar while they wait for the doctor's approval. As a result, users will see the selected dates and receive notifications from Google Calendar.
7. Payment Gateways
It is an essential component of the mobile app development process. Regarding payment gateways, the most often used telemedicine app development in New York is PayPal, Braintree, and Stripe. Hire mobile app developers if you intend to create a unique payment system.
8. Rating System
Patients can find reliable doctor with rating systems, reviews, and grades. After their session, patients can rate the doctor and leave a brief note. Customers may also receive grades. The doctor can give the patient a score if an appointment is made but fail to show up.
9. Notifications
They'll update users on your app's updates and remind them of their appointments. Firebase Cloud Messaging software lets you notify users' devices from your server.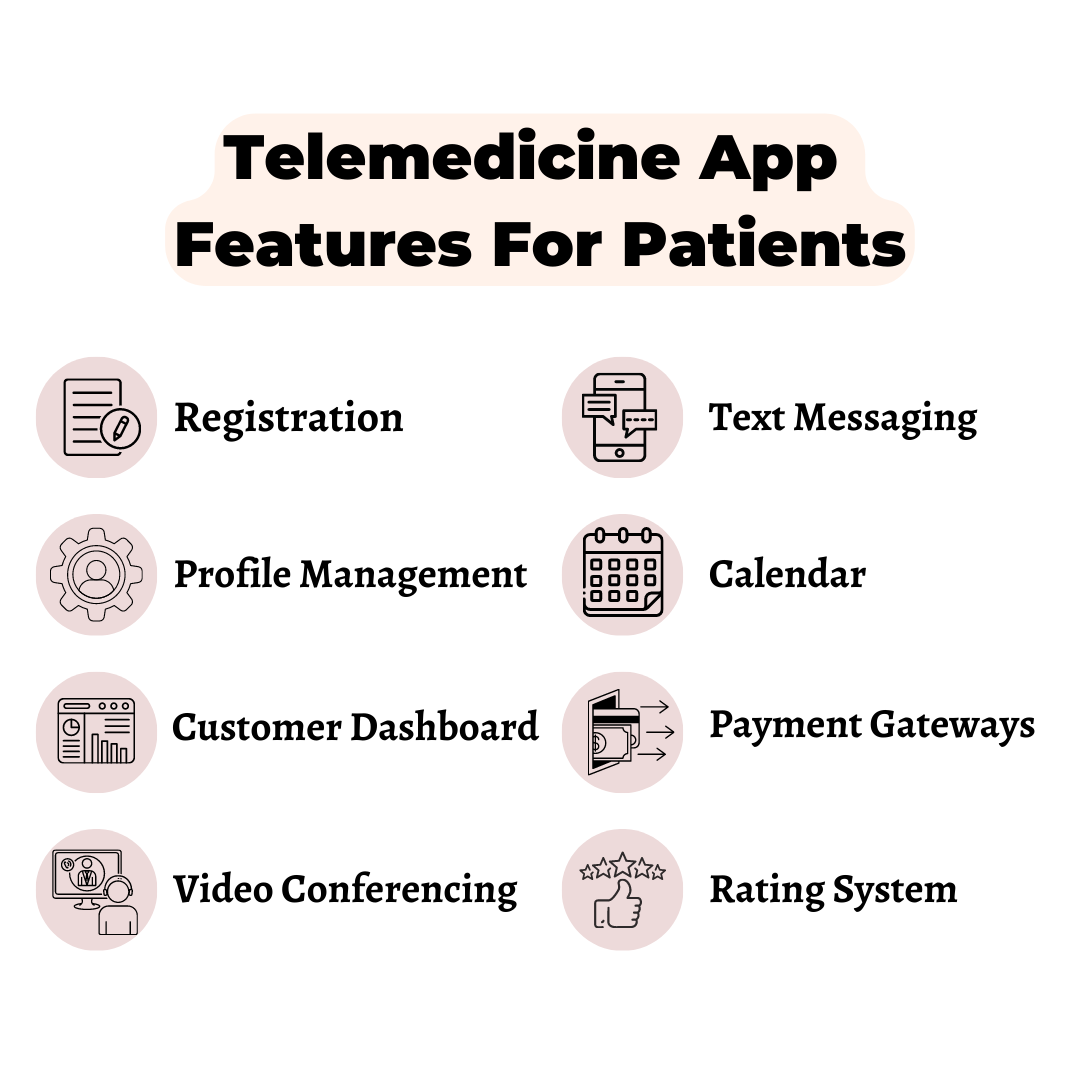 Telemedicine App Features For Doctors
1. Doctor's Profile
In this section, doctors must list their specializations, medical training, experience, and other information.
2. Calendar Management
It assists doctors in placing appointments in their schedules. If a patient needs to reschedule the meeting, they must contact the doctor and await a response.
3. Viewing Electronic Health Records
Medical professionals should have access to the EHRs of their patients. Delivering accurate, up-to-date, and complete information about patients' medical history.
4. Communication
Telehealth app development needs two-sided communication between patient and docto. Patients should be able to text doctors to inquire about the treatment procedure and health conditions.
Also Read | Wellness App Development Guide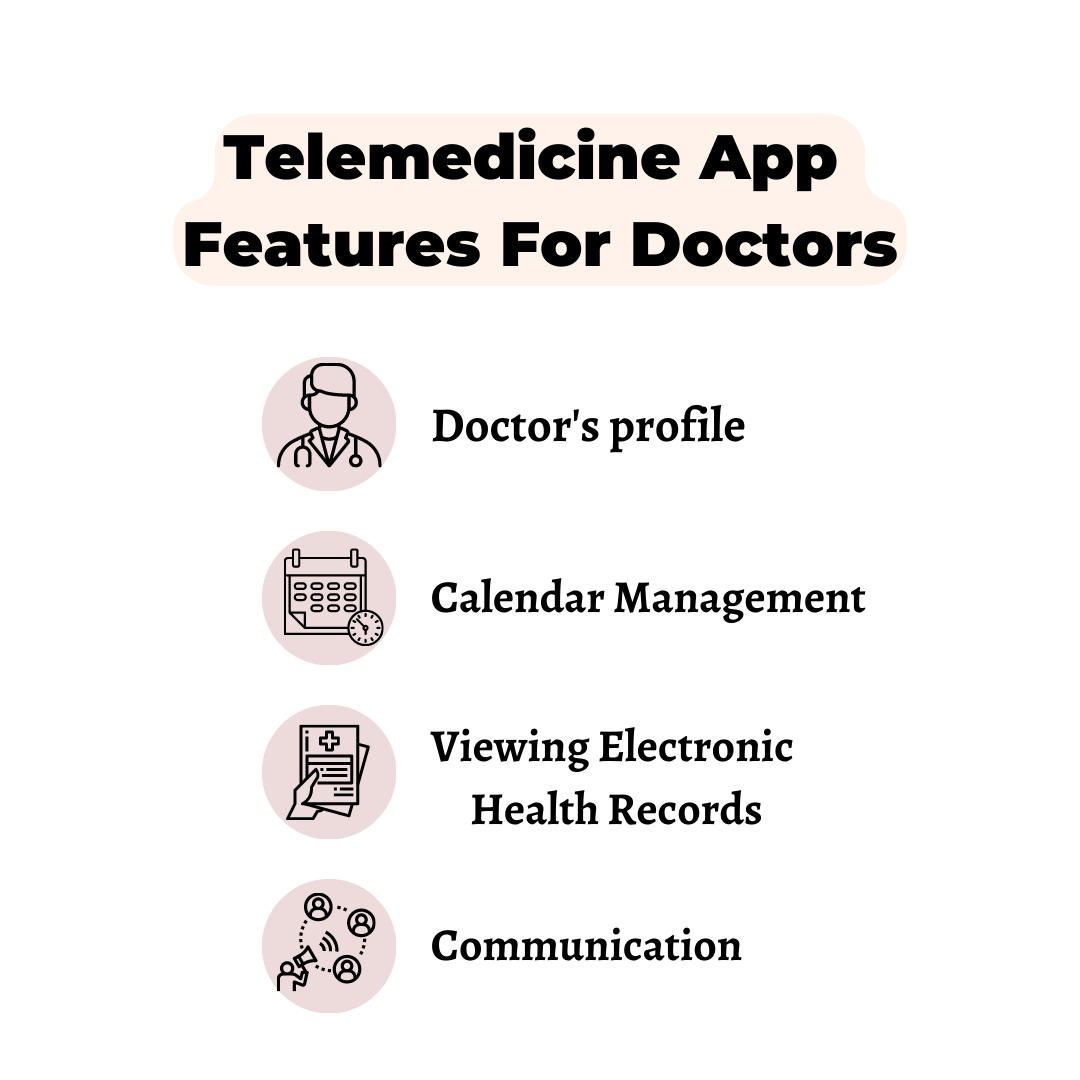 The doctor needs to be able to make appointment arrangements on their own if a patient wants a planned physical examination.
Choosing the Right Tech Stack for Custom Telehealth App Development
Several programming languages, frameworks, third-party tools, and cloud storage are used during telemedicine app development.
Here are the tools that can be used for telemedicine app development projects:
Programming languages

Kotlin, Java (Android)

Swift (iOS)

Back-end development

Programming language: Node.js

Videoconferencing: RTMP, Twilio, WebRTC

Chat: Twilio, Socket.io

Database: MySQL

APIs and frameworks: Stripe, EC2, S3

Tools

Search and Filters: Elastic search

Mailing: Elastic Emails

Geolocation: Google Maps Platform

Notifications: Firebase Cloud Messaging

Payments

PayPal,  Stripe

Cloud Environment

Google Cloud or AWS
NOTE: The provided tech stack is an approximation and has been based on the aforementioned features for doctors and patients.
Challenges in Telemedicine Application Development
Even though telemedicine app development has many benefits for users and businesses, there are some challenges that you should be prepared to face.
Regulatory Compliance
Telemedicine applications should adhere to numerous regulatory and medical requirements since they interact with patients' medical records. These rules are intended to safeguard sensitive data from cybersecurity threats and improve the flow of healthcare information.
For security and to benefit users, telehealth apps must adhere to the following list of standards (country-specific):
HIPAA regulations (United States)
Complying with PIPEDA (Canada)
Data Protection Directive 1995/46/EC and the e-Privacy Directive 2002/58/EC/ IEC 62304 (Europe)
In addition, there are different laws and rules that you must follow:
General Data Protection Regulation (GDPR)
State-specific legislation for telemedicine
Security
Numerous telehealth technology tools, protocols, and algorithms protect patient data. AES 128 Bit and SHA 256 are two of the most popular security standards for telemedicine app development. You must consult a telehealth app development company for robust and secure app.
Video Quality
Unreliable videos can result in misdiagnosis and inefficient therapy. But an invalid code or bandwidth problems could also cause poor video quality. Hire telemedicine app developers with experience in both streaming and creating videoconferencing-based healthcare apps.
Limitations for Doctors
Remote medicine is unable to deliver the same outcomes as traditional care. Doctors can visually examine the patient and can even write prescriptions for them. But remote medicine is powerless to help with severe health issues. Only hospitals can provide X-rays and ultrasounds.
Popular Examples of Telemedicine Software Solutions
1. Doctor on Demand
With the help of the US-based telemedicine doctor on-demand app, users can connect with various medical specialists. Patients can use their phones or tablets to arrange a video meeting. The upfront pricing, video calls, Healthkit and Google Fit, and push notifications are the most noteworthy features of the doctor on-demand app.
2. Teladoc
Another telemedicine app that is exclusively available in the US is Teladoc. It was established in 2002 and is today the biggest telehealth service provider. Teladoc customers can add family members to their accounts in addition to text and video chats. Users may then plan visits for each family member with only one payment.
3. MDLive
The app focuses on dermatological, behavioral, and medical problems. It connects patients, insurers, and medical and pediatric specialists domestically and internationally. The ePrescribe integration, video calls, mobile payments, health records, and instant messaging are the most noticeable features of this app.
Launching Your Telehealth Applications: Best Practices for a Successful Release
Once the desired telemedicine app development solution has been found for your project's requirements, the launch process is started.
The lean startup methodology is the most excellent strategy for ensuring the success of your application. It seeks to take a build, measure, and learn strategy.
It offers helpful ideas on efficiently designing the next features for your telehealth app.
Your application is improved and more effective when you use the following strategy:
User feedback is gathered once the MVP has been released on the market.
Analyze the input provided and improve the features that have received poor reviews.
Remember that the app has gained traction in the market. Thus, consumers will require suitable tools for quick A/B testing.
With the help of telemedicine app development services, you can get new features within a month, so your users do not shift to another app.
SparxIT Your Technology Partner for Building Innovative Telemedicine App
At SparxIT, we prioritize providing the highest caliber products to healthcare startups. We are a leading mobile app development company skilled at developing telemedicine solutions that are HIPAA compliant.
We are aware of the challenges and are skilled at successfully overcoming them.
Let's look at the team members we assemble to create the telemedicine app from scratch. We employ business analysts, UX/UI designers, backend developers, frontend developers, mobile app developers, quality assurance testers, and project managers for app development projects.
Here's how we go about it:
We identify the intended audience, uncover pertinent problems, and provide a practical solution.
What problems are we going to solve?
Why would users choose to utilize our application over the options available today?
How can we improve on what is already in the market?
With begin with an in-depth market analysis of the above questions.
We then carry on working with design researchers. It aids in the development of user journeys and consumer personas. SparxIT developers build a set of market and customer-driven requirements before we develop an MVP.
Contact us today to discuss your healthcare app idea. Let's build something great together!
Frequently Asked Questions
What is a Telemedicine App?
A telemedicine app is a software application that enables patients to access medical consultations and healthcare services remotely using their mobile devices or computers.
What is the cost of developing a telehealth app?
The cost of developing a telehealth app can vary based on several factors, such as the complexity of the application, its features, and the development team's location. However, the average cost ranges from $75,000 to $250,000.
How long does it take to develop a telemedicine mobile app?
The time required for telemedicine mobile app development can also vary based on the app's complexity and features. Generally, developing a fully functional telemedicine app can take anywhere from six months to a year.
Are your healthcare apps HIPAA compliant?
Yes, our healthcare apps are HIPAA-compliant. We understand the importance of privacy and security in the healthcare industry and ensure our apps meet all the necessary regulations and standards.
Useful articles, updates, offers and guide boon from SparxIT Team
Categories
Want to Develop a Secure Telemedicine App?
Featured In