Healthcare is one of the most common services delivered through mobile applications. With the increasing demand for accessible and efficient healthcare services, healthcare apps have become vital tools for patients and healthcare providers.
With a staggering growth of 18.2%, the mHealth app development services market is set to value at $243.57 billion by the end of 2030.
A large mobile device user base is leading an exponential rise in the demands for seamless healthcare solutions.
Global patient engagement solutions space may be worth $32 billion by 2028.
The primary objective of app development for healthcare is to build a fast, effective, and sophisticated information delivery infrastructure with reduced process costs and throughput.
You may comprehend a variety of parameters affecting the cost to build a healthcare app that meets your business goals.
This blog will provide a comprehensive overview of the factors that impact healthcare app development costs. It will help you understand the cost of developing a healthcare mobile app and make informed decisions about your project.
Before we move further, you should explore the fundamentals of the process through our comprehensive healthcare app development guide.
Healthcare Market Overview
Are you aware of the massive growth in the digital healthcare industry? The latest survey predicts it will hit an incredible 660 billion USD by 2025!
That's a lot of money, and it's no wonder why more and more businesses and investors have been pumping in over 21 billion dollars into digital healthcare projects in the past two years.
And the growth isn't just in market size; healthcare apps' usage has also skyrocketed.
The COVID-19 pandemic has played a major role in this, with healthcare app downloads increasing by a whopping 60% globally.
If you're still not convinced of mobile health app development popularity, just look at the numbers.
According to Statista, over 52,565 healthcare apps were available on the Google Play Store in Q1 2022, while the Apple App Store had 51,370 healthcare and medical apps.
With such huge demand and investment, it's no wonder that companies and healthcare professionals are putting their money into developing cutting-edge healthcare mobile applications.
Healthcare App Development Cost For Different Product Types
1. Medical networking
This type of healthcare app indulges in peer-to-peer communication between healthcare professionals. They can use the platform to enable faster data utilization in real-time processes with an extensive module of technology resources.
Features
Forum
News
Journals
Guidelines
Social networking
Case studies
It may cost anywhere between $30,000 to $60,000 to build a medical networking app.
2. Billing
Medical billing apps allow users to initiate, collect, and manage payments for their bills. These applications would also allow you to maintain virtual receipts for smooth and simplified transactions.
Features
Custom bill generation
Automated billing
Discount adjustment
Audit support
Credit billings
The cost of creating a healthcare billing app may stand between $40,000 to $90,000.
3. Telemedicine
A telemedicine app enables its users to avail healthcare services through remote infrastructure. The core mechanism of these applications utilizes an amalgamation of online and offline interaction between the participating peers in the network.
From delivering medicines to giving medical consultations to the patients, telemedicine apps are playing a crucial role in establishing digital resources in the traditional healthcare architecture.
Features
Patient registration
Dedicated dashboards for patients
Appointment scheduler
Video consultation availability
EHR
Geolocation
Payment gateway
To build an interactive app, the telemedicine app development cost may range between $50,000 to $200,000.
Also Read | How to Develop a Telemedicine App
4. ePrescription (eRx)
Digital prescription creation can transform the healthcare industry with its sophisticated and feature-rich app architecture. Using these applications, healthcare institutions can directly share the prescriptions for patients to pharmacies.
Features
Integrated drug database
Extensive information viewability
Patient-specific reports
Customized interfaces
The cost of creating an eRx app may fall between $40,000 to $80,000.
5. Fitness app
Fitness apps allow users to manage their day-to-day activities. It enables users to guide, monitor and analyze fitness data easily.
Features
Activity tracker
Selfcare and mindfulness options
Personalized training
Multioption logins
Direct messaging
Notifications
Fitness app development cost may range between $60,000 to $300,000.
Also Read | Complete Guide to Fitness App Development
6. Wellness app
Wellness apps focus on maintaining and optimizing the wellness and fitness data. This type of healthcare apps focuses on the below-mentioned facilities:
Wellbeing
Meditation
Fitness & productivity
Nutrition planning
The cost of developing a fully-fledged wellness app may estimate between $60,000 to $160,000.
If you are planning to build an MVP of your wellness app idea, you may require to invest $20,000 to $40,000.
Also Read | How To Create Your Wellness App
7. Health monitoring
You can track your health through wearable apps. These applications present the data collected through the wearable device sensors. You can analyze your health across a series of metrics.
Features
Notifications, alerts, and updates
Geolocation
Easy navigation
Interactive interface
Data security and privacy
The cost of creating a health monitoring app for wearable devices may estimate around $50,000 to $100,000.
8. Nutrition planner
Nutrition planning is one prime component in modern healthcare apps. This feature primarily utilizes data entered by the users and helps them implement it timely by receiving regular alerts.
These applications would also allow users to connect their smart wearables.
Features
Diet planner

Alerts and notifications

Wearable device integration

Reports and analytics

User dashboard
The cost of creating a nutrition planner may fall between $30,000 to $60,000.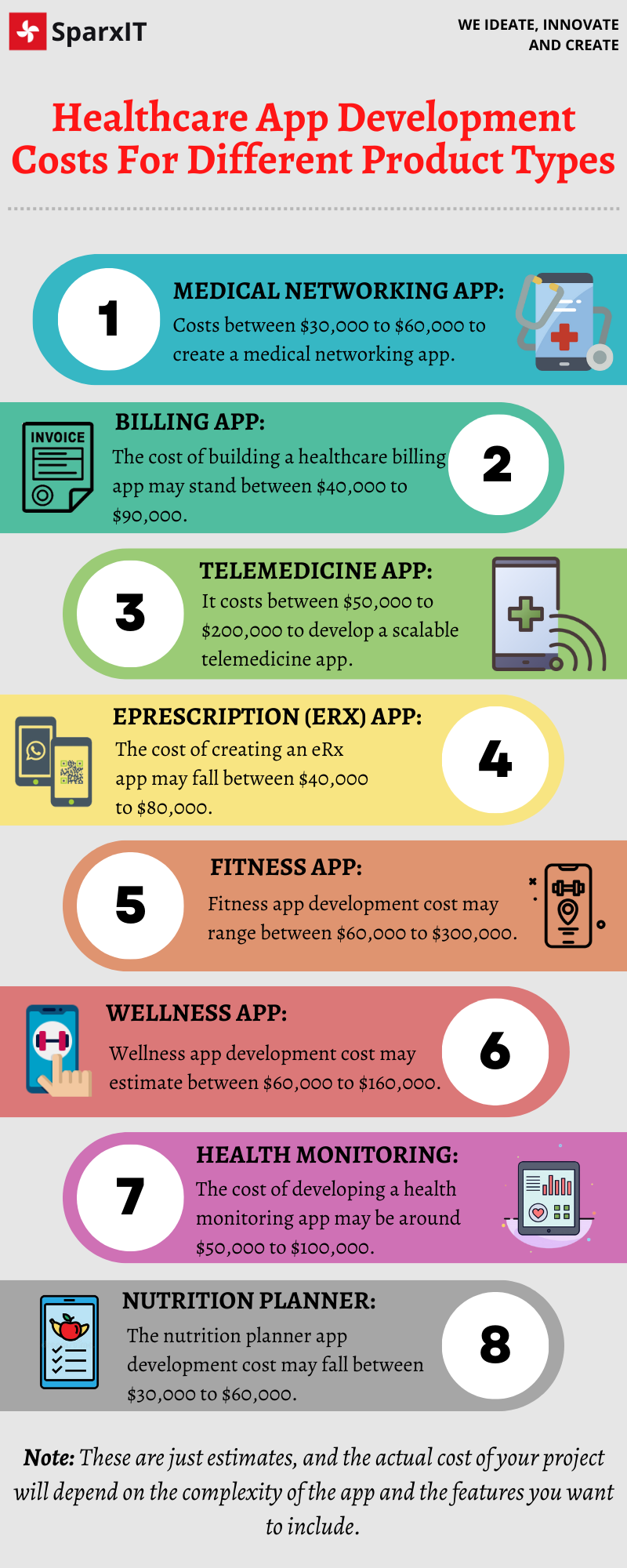 Cost to Develop a Healthcare App Based On Features
If you are planning to make your healthcare app a hit and reach out to a large and extensive audience, you want to add the best features to your product.
Let us explore the features that can help you create a competitive and secure healthcare app.
1. Scheduler
One of the significant healthcare app features is a scheduler. An integrated scheduler can help you manage different activities within the application. From scheduling appointments to delivering synced alerts and notifications to the users, schedulers can perform a variety of time-oriented tasks through a healthcare app.
It may cost you from $500 to $700 to design and integrate a scheduler for a healthcare app.
2. Notifications & Reminders
If you want to develop a healthcare app, then incorporating notifications and reminders are among the core functionalities required within a healthcare app. You can consider integrating notifications and reminders with maximum personalization and preciseness.
It may cost between $800 to $1,500 to incorporate effective notifications and reminders in your healthcare.
3. Multi-Option Login
A healthcare app developer can incorporate a multi-option login interface, allowing login through social media or manually entering user details.
The cost of creating and deploying a multi-option login to your healthcare app may range from $4,000 to $10,000.
4. Dashboard
Interactive dashboard can help users to get swift access to everything they wish to avail through your healthcare app. You can comprehend necessary information regarding your medication and treatment through these dashboards and leverage it for your objectives.
It may cost between $10,000 to $15,000 to design and develop interactive user dashboards.
5. In-App Chat
Another important feature that every healthcare app owner wishes to keep in their product is of in-app chats. App users can use in-app chats to leverage a fast and smooth delivery of solutions.
You may need to invest anywhere between $5,000 to $10,000 to integrate in-app chat feature into your healthcare app.
6. Geolocation
Your healthcare app requires geolocation access to provide a wide variety of location-based functionalities. Healthcare mobile app developers utilize advanced APIs to incorporate geolocation capabilities and tender more lucrative user experience.
It may cost between $7,000 to $15,000 to incorporate geolocation features into your healthcare app.
7. Forum
By deploying a forum to your healthcare app, you can incorporate better interaction capabilities to your product. Users can post their queries and product administrators can answer back.
Integrating a forum into your healthcare app may cost around $5,000 to $10,000.
8. Reviews & Ratings
Users can post reviews and ratings on your app, so it helps other app users to consider those genuine remarks to make a call on availing your app services.
Integrating reviews and rating options into your healthcare app may cost between $3,000 to $7,000.
9. Payment Gateway
Smooth monetization of services is important for any business. Payment gateway plays a crucial role in ensuring lucrative accomplishment of transactions.
You can be charged between $3000 to $7000 to integrate multiple payment gateways to your product.
10. Privacy and Security
Privacy of user data and secure transactions make any healthcare sustain a competitive, risk-prone, and fast-evolving market. By implementing the latest privacy and security standards and protocols to your healthcare app, you can enrich both privacy and security in your product.
It may cost from $5,000 to $20,000 to incorporate transformative privacy and security features to your app.
Advanced Features
Gamified interface will simplify the user experience and ensure a smooth delivery of services through healthcare applications. Gamification in healthcare applications can help in establishing better personalization by incorporating lightweight design elements.
Online consultation applications use this feature to reduce the deadlock or abandonment rate. You can keep your waiting room interactive as per the dedicated needs of the clients.
Interoperability is an indispensable feature that enhances customer experiences with a smooth addition of new functionalities.
Top Healthcare App Examples to Consider For Your Project With Cost Estimation
HealthTap is a telehealth application allowing customers to allow users to get consultation on their health-related queries from experts. The maximum turn around time of the application is 24 hours. With credibility and preciseness, HealthTap has attained wide recognition as a user-friendly healthcare app.
It may cost between $100,000 to $500,000 to build a healthcare app like HealthTap.
Talkspace is an online therapy application with a million strong user bases. The application uses its interactive user interface to deliver mental wellness services to a large audience. Users can schedule their therapies and care with an integrated calendar on the application.
The cost to build a healthcare app like Talkspace may range from $100,000 to $300,000.
Teladoc is a telehealth application providing virtual healthcare and consultation services. The application provides mental health support, chronic condition management, specialty care, and more.
Teledoc has a large community of patients and care providers all across the globe.
You can create an app like Teladoc by investing from $300,000 to $700,000 in product design and development.
Headspace is a wellness app providing a variety of wellness services including guided meditation, stress management, mindfulness, sleep management, etc. The app features a comprehensive and compatible user interface that helps users to interact better with different application components.
It may cost from $200,000 to $500,000 to create a wellness app like Headspace.
You can use Calm to explore different activities to manage your sleep and stress through meditation, stories, music, and more.
The application has a simplistic user interface that allow users to connect proactively with the customers.
You may need to invest between $300,000 to $600,000 to build an app like Calm.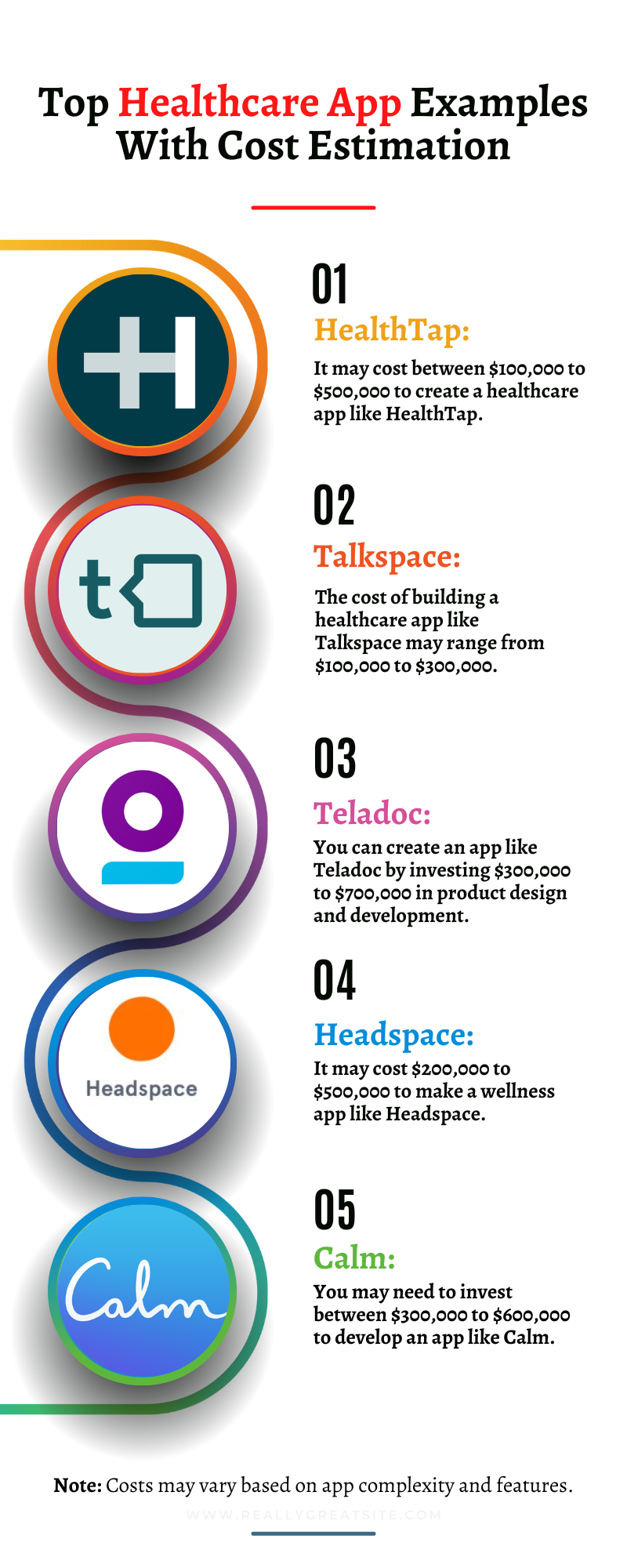 Complete Structure of Healthcare App Development Cost
The first part of the healthcare app development price breakup is the cost of building the prototype. A prototype reflects the final product. You can visualize your healthcare app by accumulating ideas and turning them into clickable prototypes with the help of an app development company.
You may have to invest from $5,000 to $8,000 to create a healthcare app prototype.
Team strength is a significant factor that majorly drives the cost of developing the fully-fledged healthcare app.
However, the number of professionals required to work on your app idea will also rely upon the application complexity.
You can multiply the number of professionals to the rates and estimate the cost to avail resources.
Every app owner wants to keep their healthcare app feature-rich. You can incorporate basic and advanced features to your application as per the business goals.
You can segregate the app into two categories based on their complexity of implementation; basic and advanced.
Furthermore, you may need to invest more to adapt advanced features.
You may utilize a diversified technology stack to create an interactive user interface and strong backend for your healthcare app.
You may save some bucks by creating a cross-platform app rather than creating native apps dedicated for iOS and Android platforms.
APIs play a crucial role in enriching the overall functionalities of your healthcare app. You can build APIs from scratch or integrate external APIs and introduce dynamically extended functionalities.
How to Calculate the Cost to Create a Healthcare App?
So, now that you understand the core features of your healthcare app with respective costs and the components that drive the cost estimation, it is time that we calculate the cost of your healthcare app.
1. Platform Type
If you have a low budget and less time to build your healthcare app, you can consider hybrid app development techniques. These applications are built using frameworks that utilize web technologies for development with a native shell.
However, these applications cannot be as efficient and scalable as native applications developed separately for iOS and Android platforms.
To build a hybrid healthcare app, you may need to invest up to $600,000.
For creating a native app, you may need to invest up to $400,000.
2. App Design
Keep in mind that app design can significantly impact the patient mobile app cost. Whether you want to build a simple or complex app, it requires both time and the expertise of talented mobile app designers.
But here's some good news, a minimalist design approach can actually save you money compared to a more intricate design.
3. App Maintenance & Support Services
You must also be aware of the potential extra costs that come with developing a healthcare android app development.
Beyond the initial development, the final price will include post-launch services such as submitting the app, ongoing maintenance, support, and upgrades.
4. Compliance and Regulations
Developing a healthcare app comes with a set of regulatory and compliance requirements. These compliances must be met to ensure the safety and privacy of patient data.
Here are some of the key considerations:
HIPAA Compliance: The Health Insurance Portability and Accountability Act (HIPAA) sets standards for protecting the privacy and security of sensitive health information.
Data Security: Ensuring the protection of sensitive patient data through secure storage, transmission, and disposal is critical. This includes implementing measures such as encryption and secure socket layer (SSL) certificates.
Patient Data Privacy: Healthcare apps must comply with privacy laws and regulations, such as the General Data Protection Regulation (GDPR) and the California Consumer Privacy Act (CCPA).
Clinical Validity: The app must provide accurate and reliable health information that adheres to current clinical standards and guidelines.
FDA Approval: If the app is classified as a medical device, it may be subject to approval and regulation by the US Food and Drug Administration (FDA).
Accessibility: Healthcare apps must be accessible to individuals with disabilities, per the Americans with Disabilities Act (ADA).
It's important to consider these compliance and regulatory requirements during the cost to develop an app to avoid potential legal and financial repercussions.
(If you are being charged as per hourly rates)
The final estimation of the healthcare app development cost for your project will also rely upon the duration of the project. 
The duration of the process may be calculated in terms of development hours for different regions.
Region
Hourly Costs
North America
(the USA, Canada, etc.)


$20-$150

Europe
(UK, France, Italy, etc.)

$25-$100

Gulf Countries
(UAE, Saudi Arabia, etc.)

$30-$120

Asia
(India, Russia, Japan, China, etc.)

$20-$50

Australia & New Zealand


$35-$150
Formula for Calculating Healthcare App Development Cost
Final Cost = Invested Development Hours x Hourly Rates
Also Read | How Much Does It Cost to Develop a Mobile App?
Conclusion
And that's a wrap! We hope you enjoyed this journey of exploring the factors that impact the medical app development cost. From the design phase to post-launch services, it's important to consider every aspect to understand the final price tag comprehensively. 
But here's the exciting part, investing in a healthcare app can bring immense benefits to patients and healthcare providers. 
So, don't let the cost deter you from creating a game-changing solution that can revolutionize the healthcare industry. 
It is recommended to consult a healthcare app development company to validate your vision and identify specific cost estimations for your project.
Frequently Asked Questions
How much does it cost to make a healthcare app?
The cost of developing a healthcare app can vary greatly depending on the app's complexity, the technology used, the design and user experience, and the post-launch services required. On average, a basic healthcare app can cost between $50,000 to $100,000, while a more complex app can cost upwards of $300,000 or more.
Are there any hidden costs associated with developing a healthcare app?
Yes, there are hidden costs associated with developing a healthcare app, such as post-launch services like maintenance, support, and version upgrades, which must be considered in the overall budget.
How can I keep the cost of developing a healthcare app under control?
To control the cost of developing a healthcare app, it's important to carefully plan its scope, design, and technology and choose a reliable and experienced mobile app development company.
How can I ensure that my healthcare app complies with regulatory and compliance requirements?
To ensure that your healthcare app complies with regulatory and compliance requirements, it's critical to consult with experts in the field and select a dedicated service provider with experience in developing healthcare apps.
What is the role of HIPAA compliance in healthcare app development?
HIPAA compliance is an important consideration in healthcare app development as it sets standards for protecting the privacy and security of sensitive health information.
Useful articles, updates, offers and guide boon from SparxIT Team
Categories
Want to know the healthcare app development cost?
Featured In