With the rapid growth of the IT industry, the demand for new and multi-talented software engineers is booming in the market. This has led to the categorization of developers into various types on the basis of their skill sets. Out of these types, a full stack development company hires professional web developers and coding enthusiasts for an end to end solutions to accelerate the web development cycle.
When we talk about developers, the category of Full-stack developers is among the most popular ones. They are the professionals who dabble in different skills such as front-end development and back-end development. Having skills in multiple fields, full-stack developers can be put to work on a variety of projects.
Unlike full-stack engineers, specialized developers like backend developers, frontend developers, MEAN Stack developers, etc., hold expertise only in one field. But when it comes to choosing between full-stack vs specialized developers, which one of them is a better choice? Let's figure it out in this blog.
Full Stack Developers VS Specialized Developers Under Various Parameters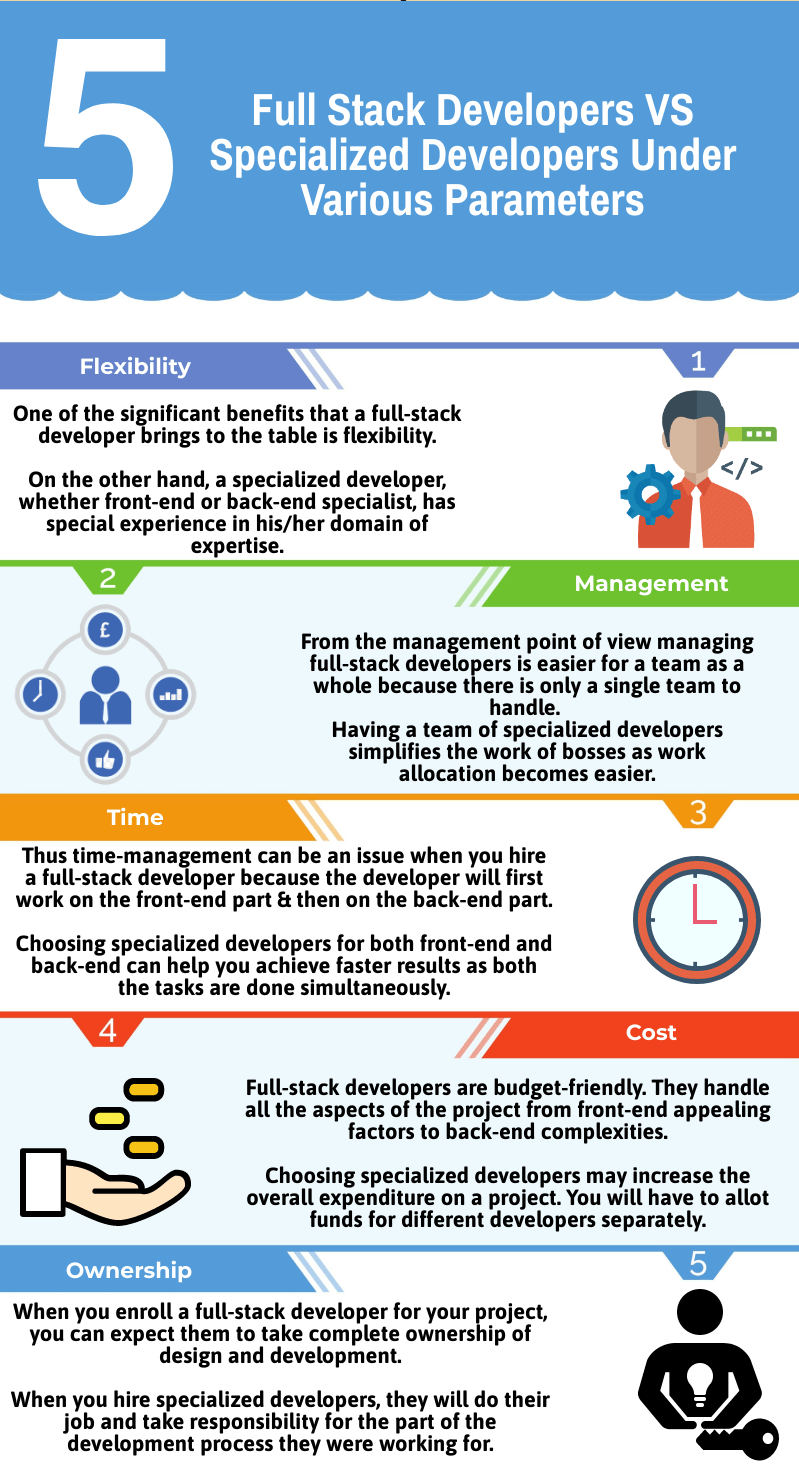 Flexibility
One of the significant benefits that a full-stack developer brings to the table is flexibility. While a front-end developer has expertise in front-end technologies and a back-end developer is adept at back-end technologies, a full-stack developer holds both the skills under his/her belt. So, you cannot expect back-end work from a front-end developer and vice versa. A full-stack coding expert can work on either side whenever you require it.
On the other hand, a specialized developer, whether front-end or back-end specialist, has special experience in his/her domain of expertise. It means they have in-depth knowledge as they are trained and specialized in one particular skill or technology domain. Specialized services can be beneficial for high investment projects with a higher level of complexity such as PHP development, React js development, Java development, etc whereas, you can hire full-stack developers in case of limited budget and less complex projects.
Management
From the management point of view managing full-stack developers is easier for a team as a whole because there is only a single team to handle. You don't need to bother about handling two or more different people like front-end developers and back-end developers. You just need to deal with one team that works on your project. By doing so, you also avoid blaming that occur between teams as only a single team is there to take all the responsibility.
Having a team of specialized developers simplifies the work of bosses as work allocation becomes easier. When you know the specialty of a particular developer, you easily know whom to assign the task. You can manage all developers in a team by assigning the work based on their skills and expertise. Since every developer holds in-depth knowledge of a particular field like a front-end developer, you can get the best quality work from your team. Being well-versed in a single technology, specialized developers are likely to provide high-quality output than full-stack developers. Whether you hire web developer or hire a mobile app developer his/her specialized skills to help in providing the best quality services. Also, the total work can be split into small tasks and allocated to team members.
Time
A full-stack developer is like the Jack of all trades, so when you hire dedicated full stack developer working on both front-end and back-end development, the whole development process will take a lot of time than hiring two specialized developers for both front-end and back-end development each. Thus time-management can be an issue when you hire a full-stack developer because the developer will first work on the front-end part and then on the back-end part. You can deploy more than one full-stack developer for both front-end and back-end to expedite the development process.
Looking for A Full-stack Or Specialised Developer
Contact Us
Choosing specialized developers for both front-end and back-end can help you achieve faster results as both the tasks are done simultaneously. But due to their mastery on a single task, specialized developers are highly dependent on other team members. For instance, there might be a case, when one developer cannot proceed until another developer finishes his/her part of the job.
Cost
Full-stack developers are budget-friendly. They handle all the aspects of the project from front-end appealing factors to back-end complexities. With an interest in expanding their horizon constantly, full-stack developers successfully manage to perform the roles of different developers. In a nutshell, you can hire one developer to handle the job of two developers which reduces the cost to half.
Choosing specialized developers may increase the overall expenditure on a project. You will have to allot funds for different developers separately. The cost of a back-end developer and front-end developer separately will add to the overall budget expenditure. Therefore, if you want to get a budget-friendly project completion then hiring a full-stack developer will be the correct choice.
Ownership
When you enroll a full-stack developer for your project, you can expect them to take complete ownership of design and development. With experience in diverse technologies and a broad perspective, a full-stack developer possesses the capability to take the onus of providing high-performing, functional, and successful websites or applications. This will ensure complete peace of mind for you throughout the development process.
When you hire specialized developers, they will do their job and take responsibility for the part of the development process they were working for. This adds to your responsibility bucket as you will have to take the initiative of tying the different parts of the website or app development process together. If you will fail to accomplish this then you might face a failure where you will have no one to question except you.
Let's Sum Up
Whether you choose a full-stack or a specialized developer depends on varied factors. If you deal with a broad range of software for business operations, then choosing a full-stack developer can be the preferred choice to meet all the technology needs. On the other hand, when your business is focused on one core part essential for business operations like back-end or database management or front-end, then specialized developers will be the top choice as they offer the highest level of specialized skills.
Useful articles, updates, offers and guide boon from SparxIT Team
Categories
Let's discuss your project idea.
Featured In