The Internet of Things (IoT) has created much hype since its invention. And, smart home automation is one of the perfect examples that have improved our daily lives. With one voice command, you can switch off the lights of your entire house. For instance, if you own a Google home and got smart lights installed, then you can command
"OK Google, turn off the bedroom lights" and it will respond out louder "OK, turning off lights". Isn't it great!
Due to its ability to simplify daily living, it has received great acceptance from people all over the world. And, mobile app development companies have launched multiple smart apps that will enhance our daily lives.
Let's have a look at IoT-based home automation stats that depicts its growing usage in the coming years.
As per the Statista, the global market size for smart home automation is expected to hit 40.9 billion U.S. dollars by 2020.
By 2022, the total spending on smart home automation devices will reach 80 billion U.S. dollars.
This clearly shows that the smart home automation market is expanding and has a bright future. Now, let's delve deeper to know how IoT has transformed the smart home automation scenario.
What is IoT?

IoT refers to the technology where billions of physical devices worldwide will be connected to the internet, collecting and sharing information without the need for human interaction. It is possible to convert any physical object to an IoT device if you connect it with the internet.
Some of the popular IoT equipped devices are Apple Watches, Fitbits, Google Home, just to name a few. Any device can be connected to the IoT provided it is leveraged with sensors and internet connectivity.
What is smart home automation?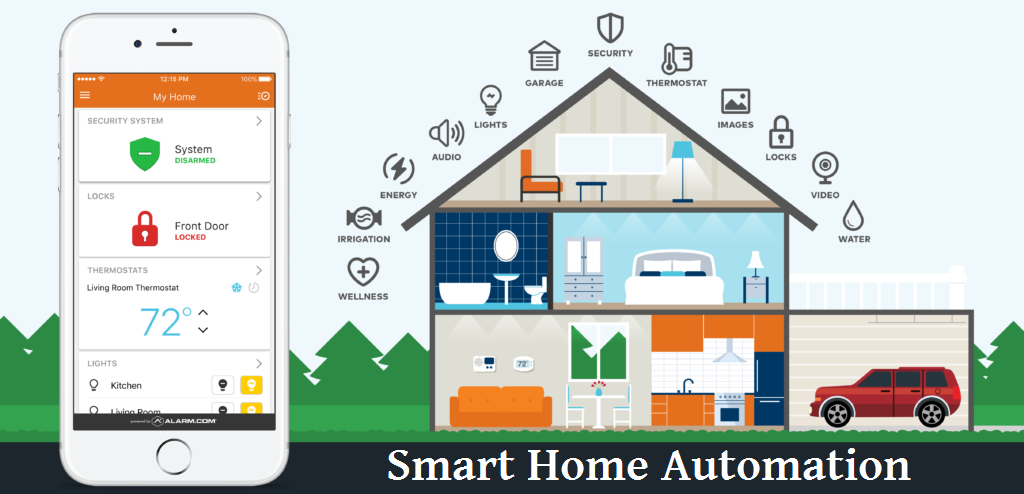 Many people think that smart home automation is only limited to automating home-based tasks. But, it is much more than that. Having this system can aid in taking full control of the home appliances, lighting and entertainment system, room climate, and home security with the help of internet connection.
Applications of Smart Home Automation
Today, people are so much addicted to technology and IoT enabled apps can completely revive the way people live. When it comes to applications of home automation, then there are many like:
Controlled smart home appliances
Smart locks and switches
Voice-based home assistant
Benefits of Smart Home Automation Using IoT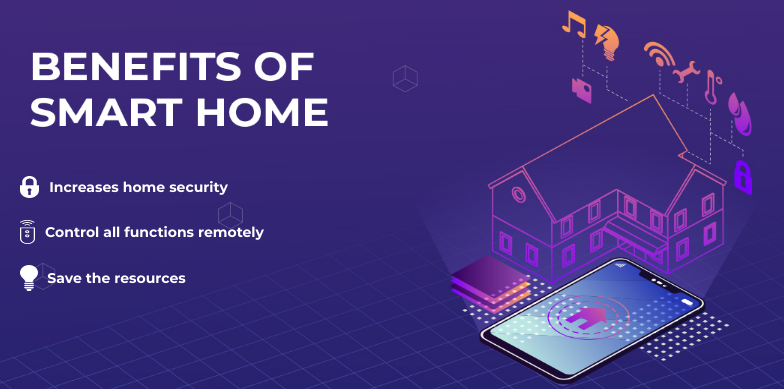 Let's discuss the significant benefits of smart home automation using IoT:
Increases home security
Now, people have started taking smart home automation technology seriously when it is about increasing the security of their homes. When a house will be equipped with IoT-based security systems, then the owner will get notified about the person who is entering the house without having access. This system will send alerts to the owners by using an internet connection if someone tries to trespass your place.
Control all functions remotely
Convenience is the major reason that makes the smart home a perfection to go with. Be it managing the temperature of your place or adjustments of switches, you can control all using a smartphone. With home automation, you can turn the light on and off before leaving the room. IoT enabled home automation is useful in keeping all your IoT devices integrated so it can efficiently exchange data and communicate with each other.
Save the resources
By deploying IoT home automation, one can easily save a lot on electricity bills. The system is designed in such a way that if you instruct one device to shut down then other connected devices will shut down the process as well. Even if you forgot switching off the lights or water supply, you can do it with the help of smart mobile apps. Through this, you can save an enormous amount of energy and bills.
What the future holds for IoT?
We are in the early stage of another technological revolution, thanks to IoT. It has been integrated into a plethora of products that we use today which has made our lives easier. The emerging of smart cities and homes is clear proof of how fast people is adapting to this advanced technology.
Here are a few predictions that are done by experts from various fields. Let's have a look at them:
By 2020, the global market of IoT technology will reach around $ 7.1 trillion.
IoT will bring a significant impact on businesses just like the introduction of the internet has done. More and more companies will adopt IoT for boosting the productivity and efficiency of their businesses.
Overall, it has a bright future in the tech world. If you are planning to get an IoT enabled app developed, then you should hire proficient mobile app developers specializing in this forte.
Final Words
In the coming years, it is evident that the majority of people will switch from traditional to smart homes. A lot of app development companies which are developing smart and advanced solutions to convert traditional homes into smart homes. They are pushing the limit and rendering efficient services throughout.
In this entire process, IoT has a major contribution. Its popularity is increasing day by day and people have started adopting it just for the sake of a hassle-free lifestyle.
If you haven't adopted this technology yet, then you are missing out on some big business opportunities that can scale your brand. Sparx IT Solutions is a renowned IoT app development company that can make a smart app for your business at a nominal price. Contact us today!
Useful articles, updates, offers and guide boon from SparxIT Team
Categories
Let's discuss your project idea.
Featured In