If you are planning to build a website, you must have tons of questions in your mind, including which content management system (CMS) to choose. When you look at the digital world, you find dozens of CMSs that boast high-end functionality and features. WordPress, Drupal, and Joomla are among the best content management systems that are widely used for creating top-notch websites. It is a tough job to select a single platform among these three options as all have their own merits and demerits.
While WordPress development services are cheaper, both Drupal and Joomla offer to create the most advanced and complex websites. There are several differences between these three CMSs that set them apart. We have compared all of these CMSs below to help you to find the right CMS.
Comparing WordPress, Drupal, and Joomla
Several aspects differentiate these platforms from each other. For example, every platform has a different policy on what should be included in its core, how to handle security, how to deal with templates and modules, etc. All of these differences have an impact on the users when choosing a particular CMS for building their websites. So, whether you select Drupal or Joomla or WordPress development company, it depends on which platform suits your business requirements.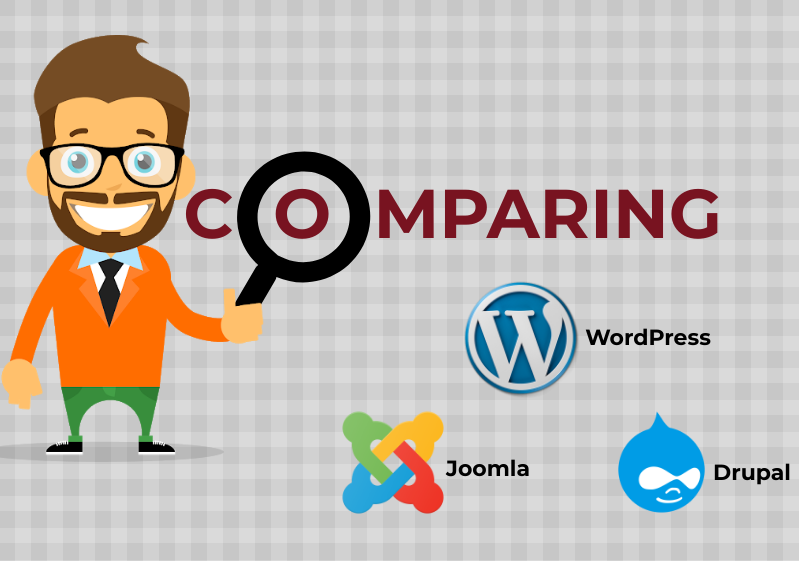 Ease of use
When it comes to choosing a content management system for building a website, ease of use is an important consideration. Most of the people who decide to create their sites are not web developers or designers, and they are ordinary users who have little or no knowledge of creating a website. Let's see how comfortable each platform is when considering ease of use:
Easy installation & setup make WordPress easier
WordPress is famous for the five-minute install method that enables users to install it quickly. Also, many hosting providers offer one-click installation for WordPress websites. It makes starting a WordPress blog or website reasonably easy for new users and that too in minutes, not in hours. Further, the post-installation experience with WordPress is also far better from Drupal, and it offers a clean-cut and tidy dashboard from where every aspect of the website can be controlled and handled.
Joomla has a similar installation but not too friendly.
Joomla has similar installation steps, but it doesn't seem as quick as WordPress. Many shared hosting providers are offering a one-click installation method for Joomla. The user experience with Joomla post-installation is not as appealing as with WordPress because the control panel it provides is not that straightforward. Also, there are too many options to customize your site, so your custom Joomla development can take more effort.
Looking for Website Development Services
Contact Us
Installing and setting up Drupal can be challenging.
Drupal has a similar installation process as Joomla and WordPress. It also offers distributions that enable them to create specific websites using configurations and modules it provides. However, you will need to seek Drupal development services to develop a more robust and customized website.

Support options
The availability of quick support and assistance is vital for both beginners and experienced users. There may be some hurdles that can be overcome through immediate support and help. Let's check what support options each CMS provides:
The community support is extensive for WordPress
There is broad and strong community support for this CMS, so finding help is easier. You can find plenty of resources and options for help on Stack Exchange, official support forums, codex, handbooks, docs, and more. You can easily find tons of tutorials on the internet in the form of videos, articles, blogs, e-books, and more. All of these resources also make WordPress website development more straightforward.
Detailed resources are available for Joomla.
There is detailed documentation for Joomla, available on the official website that serves as a valuable resource. Users can also join groups, mailing lists, and forums for interactive support. Besides considerable community support, you can also find paid training, third-party learning resources, and agencies that can provide help. Unlike WordPress, it is challenging to find affordable expert support for Joomla. Also, you will need to obtain Joomla development services to create a custom website for your business.
Drupal also provides community support and resources.
There is an active community of Drupal fans and users. Just like WordPress and Joomla, you can find enough community support for Drupal in the form of IRC chatrooms, support forum, documentation, user groups, and mailing lists. Getting help for Drupal is also very expensive, like Joomla, as compared to WordPress. You can also obtain support from your Drupal web development company after the creation of your website.
Security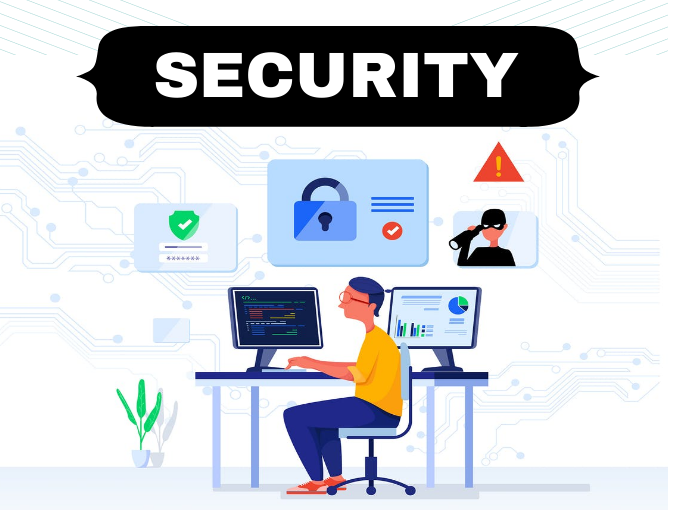 Security is pivotal when choosing a CMS as any vulnerability in your site can put it at risk of hacking or malware attacks. Let's review how each platform ensures security:
WordPress offers plenty of security options
Since WordPress is a leading content management system, therefore, it is a big target of hackers. However, it is built on a very secure code and responds to any vulnerability quickly. Further, it has an auto-update mechanism that allows it to update automatically when a new security patch is available. You can secure your site further using two-factor authentication, automated backups, and other best practices.
Looking for Website Development Services
Contact Us
Website security can be enhanced with custom Joomla web development.
There is some similarity between WordPress and Joomla when it comes to security. It responds to any vulnerability and quickly fills the security gaps. However, website updates and maintenance are not automated, and it is in the hands of users. Extensions are available to back up a website. The security of a Joomla site can be strengthened by following the best practices similar to WP.
Drupal is very secure and also less prone to hacking attacks.
Drupal works with a serious approach to security. The Drupal team provides information on vulnerabilities on the official site when they are discovered and fixed. It is believed that Drupal is more secure because you won't easily find news of the Drupal website getting hacked. But this might be because it is not as popular as Joomla and WordPress.
Add-ons and Themes
All of the three CMSs offer various themes, plugin/extensions/modules that you can use to customize and extend the existing functionality and appearance of your site. While themes enhance the appearance of your website, the plugins or modules or extensions are useful to add more features to your site. What options are available for customizability with each CMS:
WordPress offers abundant themes & plugins to customize websites
There are tons of theme options that are available for WordPress users. When you create a WordPress website, it comes with pre-installed themes that you can also customize as per your preferences. There is an 'add new theme' button that you can click anytime and install a free or paid theme to give a new appearance to your site. Apart from the official WordPress repository, there are lots of third-party vendors who provide quality themes that you can use on your website. You can also hire a WordPress web development company to create a custom theme.
Joomla offers different website templates and extensions.
Similar to WordPress, there are different website templates and extensions that Joomla users can use to extend the appearance and features of their websites. The extensions can be used for anything, from managing emails to turning the site into an eCommerce store. However, these templates and extensions are not available in abundant as with WordPress. Your Joomla development company can help find and integrate the best extensions on your site. There is not an option to install templates or extensions from the administration area of Joomla. Users have to search for templates manually, and then, using links, they have to install the templates.
Finding the right website theme or module can be challenging with Drupal.
There is the same problem with Drupal about the availability of themes and plugins as Joomla. Users are forced to leave their websites then search for the desired themes or modules. The installation procedure for themes and plugins is also complicated with Drupal. In most cases, people need to look for Drupal web development services to create a custom website.
The availability of themes or templates and extensions or modules is limited for both Joomla and Drupal as compared to WordPress.
Multilingual & Localization Support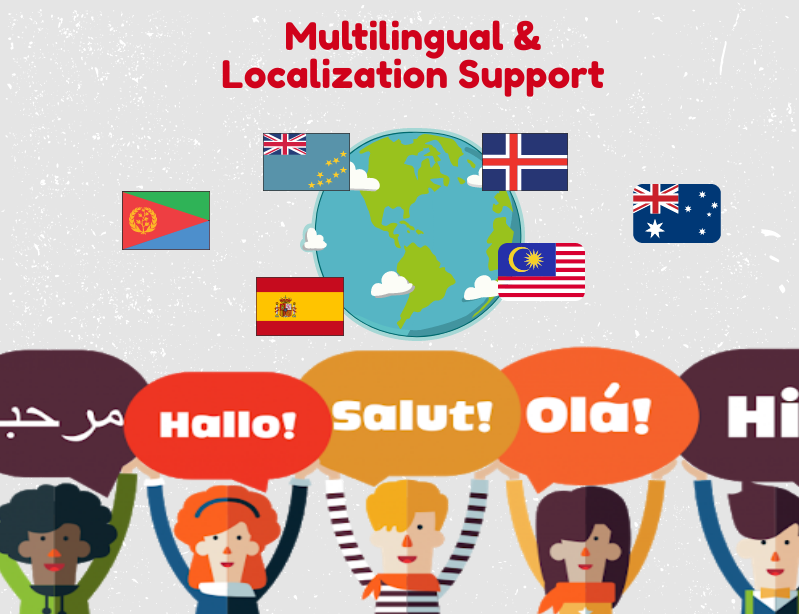 A large number of websites created every day are multilingual or non-English websites. Hence, it is likely that many beginners who want to create their website might be looking for a CMS that supports different locales and languages. How each of these CMSs provides multilingual support:
Multilingual functionality is possible with plugins in WordPress
It is an excellent platform to create multilingual websites. However, it doesn't offer a multilingual option out-of-the-box, but you can utilize different plugins to achieve this functionality. Popular themes and plugins are also available with multilingual support.
Joomla offers a straightforward method for creating multilingual sites.
Joomla offers out-of-the-box support for multiple languages, and users don't even need to install additional extensions. What you need is to simply choose a language of your choice from the language manager and start building a multilingual site by adding it as your content language. You can also choose to add the translation for the admin interface. Whether you hire Joomla developer or do it yourself, creating a multilingual website is more comfortable.
Creating multilingual websites with Drupal is easy.
Drupal also comes with multilingual support and allows creating multilingual or non-English websites. You can get this functionality by enabling locale and content translation modules. Now you will be able to add site and admin interface languages from the configuration section of Drupal.
Wrapping up
WordPress, Joomla, and Drupal are all fabulous content management systems, and they offer tons of benefits to their users. However, Drupal and Joomla offer more in-built features than WordPress. But when it comes to massive community support, ease of use, themes, and plugins, then WordPress beat both Drupal and Joomla.
While WordPress is recommended for non-developers and layman users, Drupal and Joomla are excellent choices for creating advanced and complex websites. However, your choice for a particular CMS will depend on cost, time, project complexity, and other project requirements.
If you want to hire WordPress developer or Drupal developer or Joomla developer, Sparx IT Solutions is the right destination. We are a leading web and app development company and deliver cutting-edge solutions to clients. Our developers can build top-notch websites harnessing the power of popular CMS in the market.
Let's discuss your project Contact US!
Useful articles, updates, offers and guide boon from SparxIT Team
Categories
Let's discuss your project idea.
Featured In