If a successful eCommerce development platform had a face, it would probably look like Magento! It sounds like an analogical statement, right?
Have you ever planned to convert your existing business to E-Commerce? How much do you know about choosing the best eCommerce platform? Or maybe you are thinking of some other platform being unsatisfied with the limited features of the previously used one. It is true to say that choosing the best platform with the growing popularity and variety of eCommerce Web Development platforms has become a challenging task.
Out of all the eCommerce development platforms available in the market, Magento has grabbed massive attention. Why are Magento eCommerce development services gaining immense popularity? Why are businesses choosing it over other eCommerce platforms?
Here are the latest stats that show the massive popularity and usage of Magento worldwide:
Approximately 250,000 Magento stores live on the internet.
It powers 1.2% of the internet as a whole. (Source: Hosting Tribunal)
Reportedly Magento is downloaded nearly 5,000 times daily. (Source: Hosting Tribunal)
Approximately 11,000 of the total Magento stores run on Magento 2. (Source: Hosting Tribunal)
Magento is used for 12% of all online retail stores. (Source: Hosting Tribunal)
As of June 2021, Magento has a 1.1% market share of all the other popular content management systems (Source: w3techs).
The majority of Magento users are in the United States. The approximate Magento users in the USA are 74,296. (Source: Builtwith.com)
The country with the second-highest number of Magento-based eCommerce websites is the United Kingdom. Around 15,909 websites are live in the UK, which is based only on Magento. (Source: Builtwith.com)
Germany is in the third position, which is utilizing the power of Magento. (Source: Builtwith.com)
Adobe Completes Acquisition of Magento for $1.68B!
Adobe acquired the leading eCommerce platform Magento for $1.68 billion. Adobe is a well-known brand for delivering excellent digital solutions across the globe. It bought Magento and integrated it with Adobe experience cloud. The combination created a single platform that serves the needs of both B2B and B2C consumers on a global scale. Magento brings together order management, predictive intelligence, and digital commerce into a single commerce platform enabling a personalized shopping experience across various industries.
According to Brad Rencher, Vice President and General Manager of Adobe, the company is the leading business giant in marketing, analytics, content creation, and advertising, enabling the unique real-time experience throughout the customer's journey. He stated that Adobe and Magento are on the same page and share the same vision to strengthen the digital experiences and to meet the future goals for enhanced digital services.
For businesses, it is vital not to rush for generalized features but to look for a platform with unique offerings. In this highly competitive world, entrepreneurs must think out of the box. This is the reason why Magento development services are grabbing massive attention and popularity on a global scale. Acclaimed brands like Nike, Lenovo, Ford, Vizio, Ford, Samsung, Olympus, and many others utilize the power of Magento.
Why Should Businesses Switch to Magento E-commerce Platform?
Various reasons show that Magento is the ultimate choice for eCommerce development. It is the most recommended eCommerce development platform to build creative business solutions. If we talk about Magento PWA for eCommerce businesses, it is the fastest and engaging resource to enhance online business growth. Here are some critical reasons listed that show why businesses should switch to e-commerce platforms:
Cost-effective
Simplified eCommerce website development process
A remarkable set of features
Robust and secure Payment gateway
* End-to-End application testing
* Performance Testing
* Compatibility Testing
* Automation Testing
* Integration Testing
* Payment Gateway Analysis
* Regression Testing
* ERP Integration
* CRM Integration
* Inventory Management
* Transaction Log Management
* Update inventory through push Notifications
* Order Management
* Multiple-store support
* Recovering Abandoned Carts
Benefits of Custom Ecommerce Development
Mobile-Friendly E-Commerce Website
You can develop a highly responsive website that can potentially perform on smartphones, tablets, and various mobile devices. Today, the majority of people are browsing the internet with mobile devices. In such a scenario, developing a website that delivers excellent performance on a mobile platform becomes necessary.
Also, Magento-based websites enable easy management and follow the latest market trends. Nowadays, content management systems are eliminating the need to write complex codes. Website owners can easily manage and deliver quality content on different mobile screen resolutions.
Rank Higher on Search Engine Results
What are the benefits of putting a lot of effort into developing an e-store if users can't find it on the web? Here comes the concept of SEO-friendly eCommerce development platforms. Magento offers SEO-friendly features. Magento websites are easy to customize as per SEO protocol hence rank higher in search engines rankings. Also, you can apply various website optimization techniques to your Magento-based e-Commerce website.
Have a Unique Appearance
There are already thousands of eCommerce websites available. Do you want to get added to the list or stand out from the crowd? Being unique is the way to success. Developing a customized website can help your brand connect with audiences and create a separate entity in the market.
Magento provides a wide variety of customization options that allow web developers to develop a user-centric website. You can hire Magento developers to build an interactive and engaging eCommerce website that covers all the aspects of a successful website.
Enhanced Capacity
It becomes easy to develop a website that can handle the bulk of transactions at a time. In recent years and changed market scenarios, e-commerce businesses have witnessed vast transactions. This result is maximized revenues and profit.
Simplify the User Experience
A website that offers easy navigation, relevant content delivery, and easy transactions grabs maximum user's attention. Magento offers user-friendly features and a wide range of options to enhance user experience.
Implementation of the Latest Technology
Implementation of outdated or old technologies is not an intelligent approach. By updating to the latest technology, your site can avail of superior performance, functions, and features.
Benefit from Expertise
Don't take the burden of managing your eCommerce store on your own. Numerous organizations are holding great expertise in managing the eCommerce website. They can help you to manage your online store and make the required changes according to your needs.
Improves Customer Relationship
Integration of customer relationship management software with the eCommerce site will gather information, buying preferences, and other data regarding each customer. In this manner, suitable products and services can be offered, which will positively affect the sales conversion.
Foolproof Security
Ensure that your business is not being affected by illegal attempts of cyberattacks. It is imperative to determine whether the security system of your eCommerce site is adequate and continuously addresses security braves or not.
Why Choose Magento as a Platform for E-Commerce Website Development?
I am not favoring Magento above others, but it comes down to commendable structure, features, navigation, user-friendliness, and expert community support behind the premium eCommerce website development, making it the most superior choice. Multiple reasons convince business giants to choose Magento as a platform to develop innovative e-commerce solutions.
Lets us elaborate on the top 10 reasons why having a Magento e-commerce store is the need of the hour: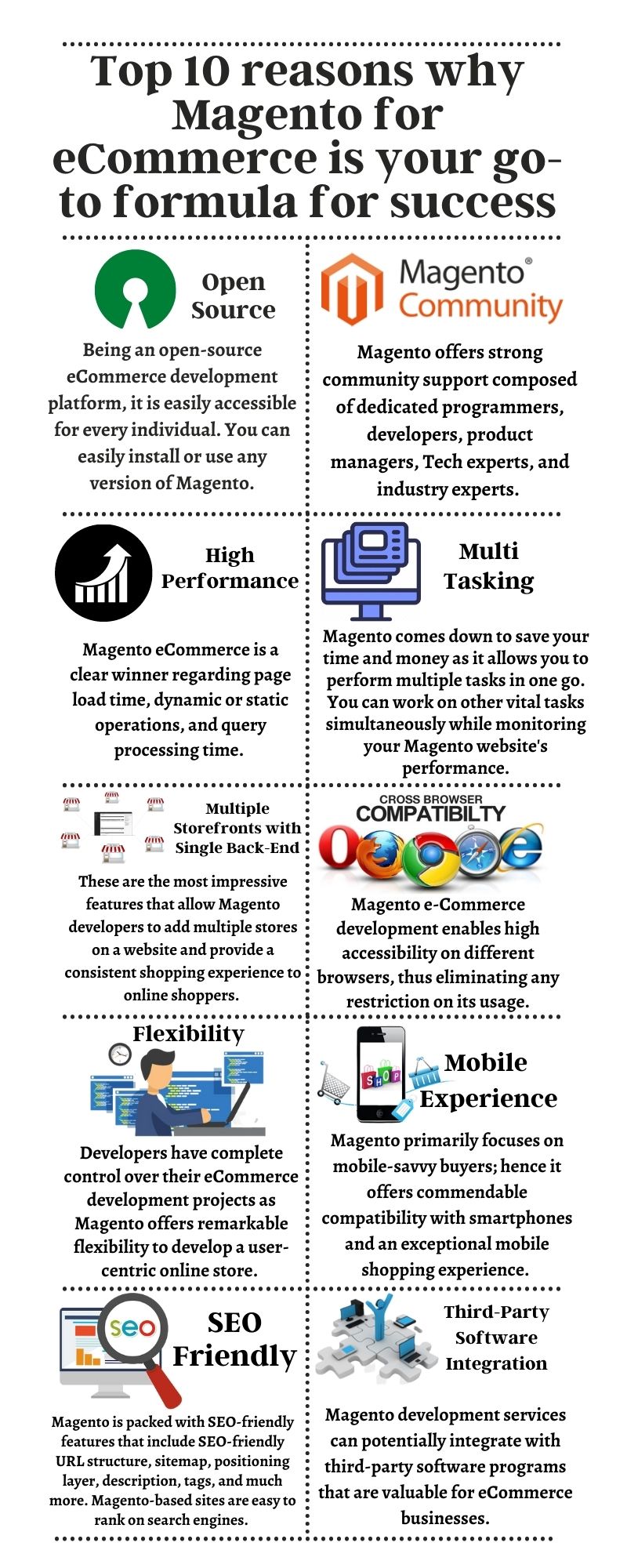 Open-Source
The primary reason big brands rely on Magento to develop the ultimate online store is its open source. That simply means anyone can access the features of Magento as it is easily accessible for every individual. Magento offers an entirely free-of-cost community edition. Users can promptly install the required version of the Magento community edition. Those who have prior knowledge and experience working on the Magento platform can use additional features and functionality to make the online store more prolific. Magento developers can access a wide range of models and libraries at the Magento marketplace.
Magento Community
Magento offers strong community support that makes it one of the most superior choices for eCommerce projects. The Magento community is packed with industry experts like developers, programmers, project managers, CEOs, product managers, etc. Developers can get the help of expert Magento professionals whenever required.
The Magento community ensures that everyone is on the same track. It keeps the developers away from any misguidances and or following the wrong eCommerce development strategy. Kudos to the dedicated Magento community that always provide proper guidelines and contribute to fixing any issues.
High Performance
Magento is the clear winner when it comes to fast page loading speed, quick query processing, and dynamic or static operations. It ensures optimum performance without using a lot of server resources. Magento is paired with innovative technologies like FPC, Memcached, Varnish, optimized database operation to cater to different project requirements and users' needs.
Multitasking
Magento favors multitasking as it cares for time and money. One of the best features offered by Magento is that it lets you focus on other tasks while monitoring the Magento website's performance. The CMS allows developers to manage various item and website transactions from a single admin panel. It eliminates the complexities of handling the bulk of transactions and keeps the business process smooth.
Flexibility
Developers can enjoy total control over their eCommerce development projects. Notably, Magento developers have the flexibility to customize the web store's back-end, develop unique front-end as per the different devices' access. Magento allows giving the control over processing and interface capabilities of eCommerce solutions.
Mobile Experience
Magento aims to cater to the needs of mobile-savvy buyers. Today, the majority of people are accessing online services using their smartphones. Magento ensures excellent compatibility with different smartphones. The underlined platforms su[ports HTML5 to give a personalized shopping experience on mobile devices. It can adjust the size of the content like image and video according to different mobile screen resolutions. It offers an excellent level of customization to match the users' expectations.
Ease of Integration
Magento allows quick third-party integration, including database application, secure payments gateways, shipping, transportation, order tracking, etc. Moreover, it also provides built-in Google tools like Google check-out, Google Base, and Google Analytics that helps in easy monitoring of the e-stores performance. Also, the versatile eCommerce platform offers easy integration with the most preferred CMS across the globe, WordPress.
SEO-Friendly
Simply put, Magento is SEO-friendly. The platform is packed with SEO-friendly features like SEO-friendly URL structure, tags, sitemaps, description, positioning layer, etc. It simply means that Magento-based websites are easy to rank on search engines. It adds value to your eCommerce website and makes it considerably on the digital platform. Online shoppers can easily find your website as it ranks high in search engines.
Looking for Magento eCommerce Development
Contact Us
Multiple Storefronts with Single Back-End
This is the most fantastic feature of Magento. E-commerce developers can add multiple stores on the website and manage it effectively from a single admin panel. It offers a consistent shopping experience to online buyers. It also saves a lot of time for website owners as it streamlines the multiple store's transactions for a single panel.
Cross-Browser Compatibility
Magento can offer great accessibility on different browsers. Its cross-browser compatibility feature eliminates any restriction of the store's usage. It can potentially perform on other browsers.
How to Build a Robust And Scalable eCommerce Website With Magento Open-Source?
Magento may seem terrifying initially, but here we have broken down the entire installation process into nine easy steps. This guide will cover all the steps required to develop and launch your Magento eCommerce website.
Let's begin!
Step 1: Review Magento's Server Requirements
Like other website development platforms, Magento has some sort of requirements that you will want to list before you initiate shopping for a hosting provider once you gather all the requirements that you can ensure that your website runs properly.
To use the benefits of Magento, ensure that you have the following:
Operating System
Web Servers like Apache or Nginx
Memory
Database like MySQL version 5.6 and 5.7
PHP: Magento recommends using PHP 7.3
Security: Secure Sockets Layer (SSL) certificates
Step 2: Choose a Web Host and Domain Name
In this setup, you will have to create a list of web hosting services and system requirements. You will find many vendors offering tools and types of equipment to run Magento. Pick the one that ensures excellent support and security for the platform that you are using.
Below are some famous hosts that provide one-click installation processes for Magento:
Bluehost
Hostinger
DreamHost
Step 3: Download and Install Magento Open Source
Once you have bought a plan from web hosting service providers, take the next step to set up your account. You can begin the process by installing the Magento open sources headline over the product page and click on the get started button. Moving ahead, you will see many options to begin the installation process by adjusting your configuration setting.
Step 4: Configure Your Administration Settings
Before you execute the installation process:
Customize your credentials. You will be prompted to adjust your username and password before completing the installation process.
Move ahead and specify the services where you want your Magento installation to be live.
Once you finish your administration setting, hit the click button to complete the installation process.
After completing the installation process, a confirmation message will be sent to you.
Step 5: Choose and Install a Theme for Your Store
Select the theme that you want to add to your online store. The type of theme you will choose will determine your store's look. In the future, if you're going to change the themes, then you can adjust them as per your needs and branding purpose. All you need to do is receive your access keys and download and install themes. Magento also gives a theme customization option. Go to content and then configuration to modify the setting.
Step 6: Explore Extensions For Added Functionality
Magento offers a broad range of extensions to add more value to your website. You can enhance your website's functionality by adding extensions to your site. Depending upon your website's objective and goals, you can filter and add an extension to it.
Below are some categories that you can consider while adding extensions.
Security
Marketing
Analytics Tracking
Payment Gateways
Shipping
Step 7: Modify Your Store Settings
Before you start uploading products to your online store, this is the last thing you will have to deal with. Personalize your website setting. To personalize your website, there are multiple factors that you should consider but here highlighting some vital aspects:
The email address to be used for transaction notifications
Customer account settings
Whether the price scope should be [global] or [website]
Location, timezone, and currency settings
Shipping and payment options
Step 8: Set Up Your Product Pages
Adding products to your Magento eCommerce store takes a few steps. Once you click on the add products button, you will see a variety of options like:
A standard physical product.
A collection of products that can be purchased altogether or individually
A group of products that cannot be purchased separately
Online courses, services, or other 'products' that don't require downloading or shipping.
Simple products that come in multiple variations.
Digital products or services like e-guides
The type of products you will select from the available option will reflect the template you will use to design the corresponding page.
Step 9: Select Your Payment and Shipping Options
Shipping and payment are two significant options that influence the shopper's decision whether he will complete the transaction or not. Fortunately, Magento offers excellent features for both options. From easy shipment to smooth and secure payments transactions, it convinces visitors to cover on your website.
Final Thought!
Indeed, a quarter of all the eCommerce websites across the globe are built on the Magento platform, which is not surprising. The ease and flexibility provided by Magento are hard to find elsewhere. The unique selling point of Magento is that it fits different kinds of business requirements.
Day by day, the count of online shoppers is increasing. This pushed businesses to invest in online store development. No wonder Magento is the preferred choice for online companies establishing an effective e-Commerce store. Are you planning to invest in Magento eCommerce website development? Hire Sparx IT Solutions, which is a renowned Magento web development company. The company not only helps in developing Magento eCommerce solutions from scratch but it also assists businesses that want to migrate to Magento 2 from Magento 1.
It provides end-to-end eCommerce development services to a variety of project requirements. The company is equipped with professional Magento developers who are dedicated to developing futuristic business solutions. You can connect with them to convert your business idea into reality. You will get professional assistance in developing your feature-packed Magento eCommerce solutions in less time.
Useful articles, updates, offers and guide boon from SparxIT Team
Categories
Let's discuss your project idea.
Featured In