By surpassing all internet trends, eCommerce apps have been a crucial revenue-generating element for startups and leading business giants. These applications have helped organizations rise above the rest and create a futuristic sell and purchase experience for millions of customers across the world.
eCommerce applications are the largest medium holding commercial transactions through electronic media. Enterprises of all sizes are using these applications to deliver products and services across the globe.
Now the question is, how do you make your own eCommerce application?
What is the right way to do so?
The best way to begin developing an eCommerce app is to first get answers to all the foundational queries.
In this blog post, I shall discuss the complete know-how of developing eCommerce applications.
How Can an eCommerce App Be Your Path to Success in Business?
21st-century customers prefer hassle-free shopping without going anywhere. It is the reason why Amazon that started as an eCommerce company is now among the world's largest business institutions. 
An eCommerce app is a lot more than just a mobile application simplifying a process through enterprise mobility resources. It covers a large scope of service domains with different opportunities. 
From selling food materials like eggs, dairy products, groceries, and beverages to running an online fashion marketplace, you can have plenty of ways to utilize the power of eCommerce apps to boost your growth as a business administrator.
eCommerce applications have been dramatically helpful when it comes to streamlining the supply chain management goals of any business. It has led companies to embark on maximum utilization of their resources and increase their ROIs.
Satisfied customers are the backbone of a successful business. eCommerce apps have been crucial in conforming to the versatile needs of the customers in terms of a simplified shopping experience.
If you are planning to create an eCommerce app for your business, you need to analyze the psychology of what your customers expect.
Moreover, there are many other reasons why it is a must for every business to have an eCommerce app to grow fast.
What Do Reports & Statistics Have to Say on eCommerce Apps?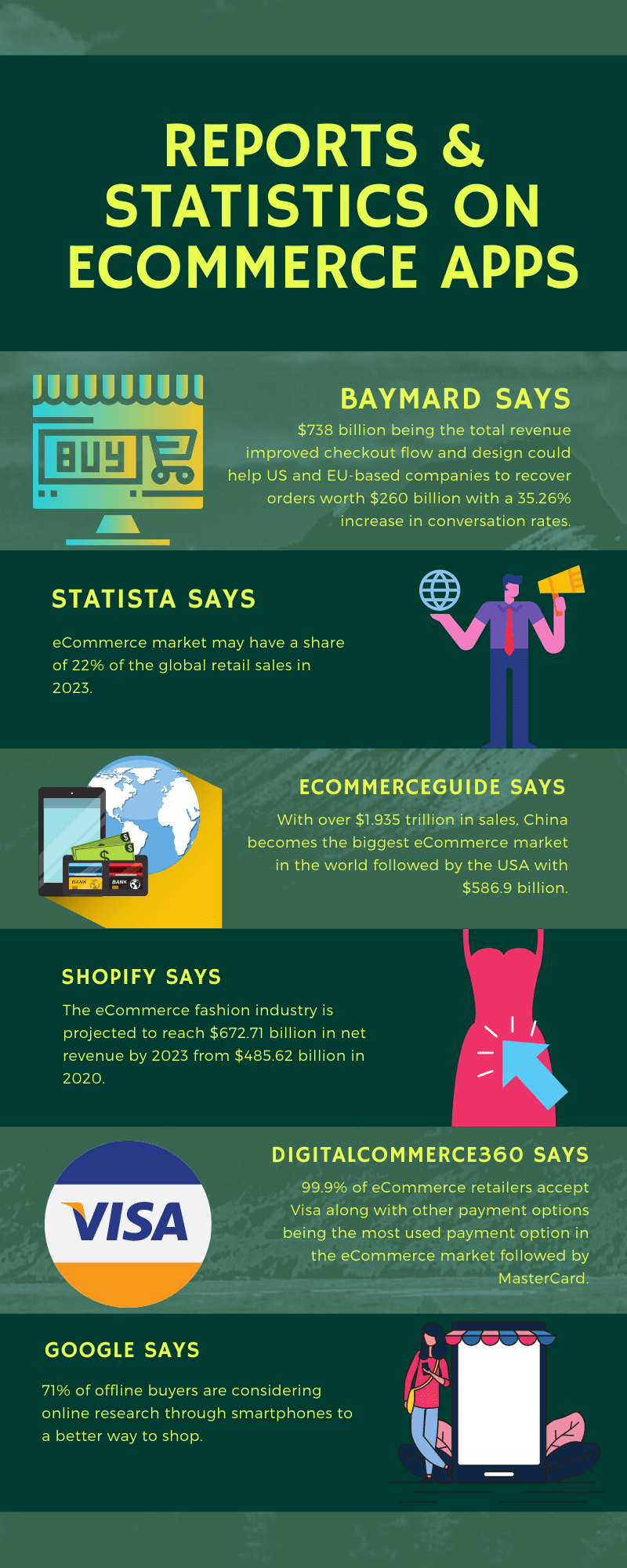 Despite several challenges that existed in the global market during the pandemic, the eCommerce app market has boomed exponentially.
There are reports that indicate the significant rise of the eCommerce market in recent years.
I am sharing a few reports and statistics to help you comprehend the insights on the expansion of the eCommerce industry.
Improved checkout flow and design could help US and EU-based companies to recover orders worth $260 billion with a 35.26% increase in conversation rates where $738 billion is the total revenue.
(Source: Baymard)
eCommerce market may have a share of 22% of the global retail sales in 2023.
(Source: Statista)
Over $1.935 trillion in sales make China the biggest eCommerce market in the world followed by the USA with $586.9 billion in sales.
(Source: eCommerceGuide)
99.9% of eCommerce retailers accept Visa along with other payment options. It becomes the most used payment option in the eCommerce market followed by MasterCard with 99.0% of retailers.
(Source: digitalcommerce360)
The eCommerce fashion industry is projected to reach $672.71 billion in net revenue by 2023 from $485.62 billion in 2020.
(Source: Shopify)
71% of offline buyers are considering online research through smartphones to find a better way to shop.
(Source: Think with Google)
The insights included here indicate the booming growth of the eCommerce app market and its topical components. These sets of data recorded by different websites and institutions may provide you the reasons because of which you may want to develop an eCommerce app of your own.
What Are the Types of eCommerce Apps You Can Develop?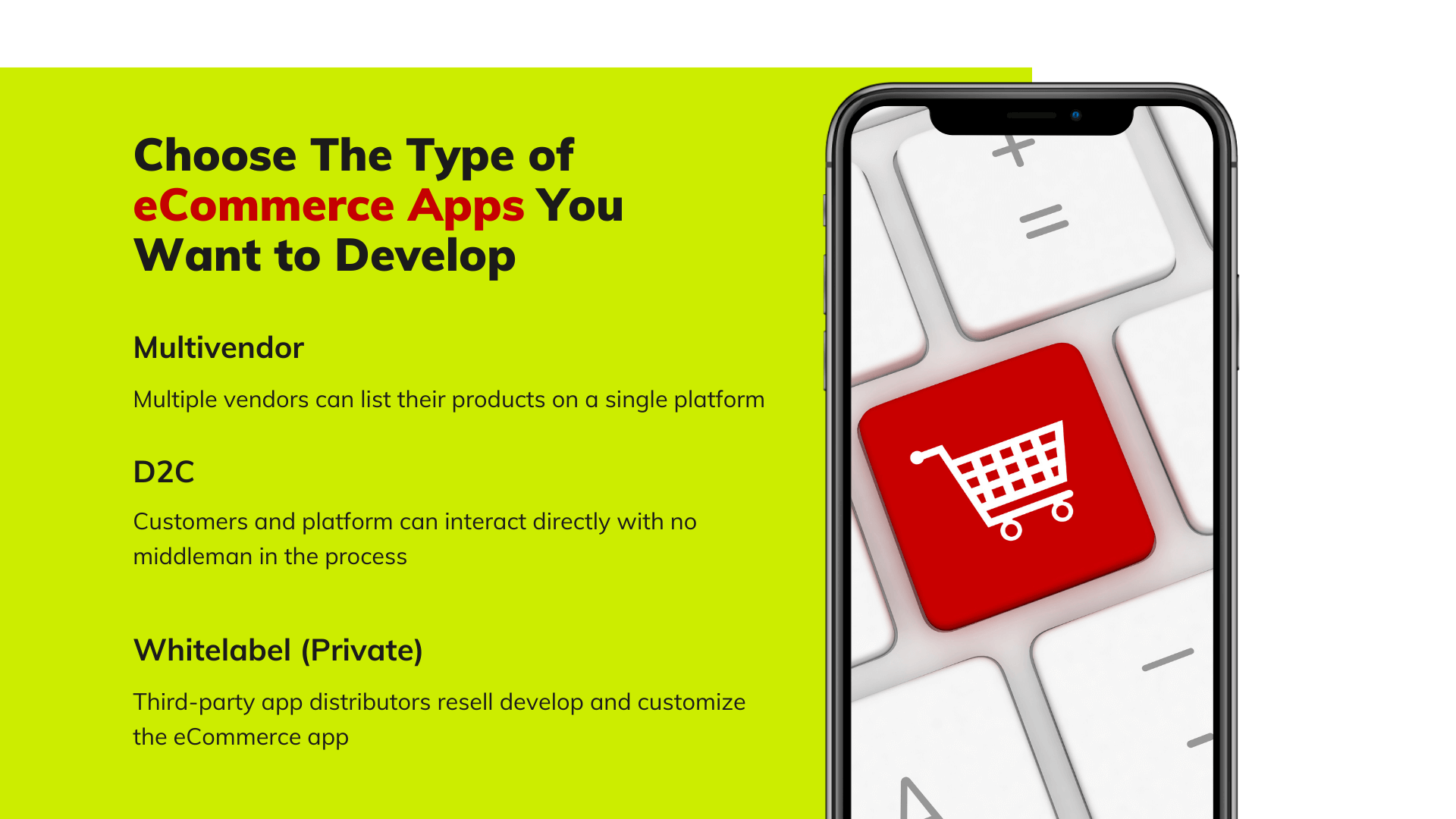 Since eCommerce app development is a large umbrella of possibilities in the eCommerce market, businesses can think over their versatile requirements to choose the type of application they want to build. The eCommerce apps have been segregated on the basis of the business models organizations follow.
There are three major types of eCommerce app you can consider developing;
Multivendor
It is the most popular type of eCommerce apps where businesses can use the platform to list themselves as vendors. The same platform is used to sell and purchase items from multiple ends. A multi vendor eCommerce app allows vendors to list and manage their products. It provides a secure and established environment for operating parallel data transactions efficiently.
D2C
Using D2C or direct-to-customer eCommerce apps, businesses can offer their products and services directly to the end-users. It eliminates the need for a middleman or third-party retailer and the customers and service providers can interact with each other without any additional hindrances. A large number of customers prefer purchasing their favorite products from the brands' eCommerce applications.
Whitelabel (Private)
Whitelabel or private eCommerce application allows businesses to escape expensive and time-consuming development processes to create customized eCommerce platforms for themselves. These apps are resold by the eCommerce app distributor with their templates and adoption of some custom features and attributes required by clients.
Discussed types of eCommerce applications have dedicated advantages for different needs of the users. Customers may prefer to buy from a D2C store but there are chances that they may also go for multi-vendor platforms like Amazon to view and purchase a versatile range of products.
What Are the Key Factors to Consider For Developing An eCommerce App?
The path to creating successful eCommerce apps relies upon a few crucial factors that any aspiring business may need to consider before they do some real-time work in this direction. It starts from understanding the foundational needs of an eCommerce app and moving onto other structural components required to create and run a fully-fledged eCommerce platform.
Let's have a look at the defining factors for eCommerce development;
Know Your Customers
For any business, customers are key drivers of growth. Thus, it is necessary to identify who your customers are, what they expect from your application, and the challenges they face in traditional options. The first step in this direction is to comprehend their real-time challenges and create your application following a problem-solving approach.
The more you know about your customers and their interests, the more personalized eCommerce application you create. Personalization of user requirements helps you meet the exact demands of your customers and become their favorite eCommerce platform.
Identify Your Strength
To plan to develop your eCommerce development, you need to be clear of your needs and expectations. Right from the beginning, you need to showcase the best of your offerings and strength to the customers. Your strength in a particular process part needs recognition of customers. It can be your master key to gain credibility right from the moment it matters.
More than having any kind of privileges or strengths in business, it is more about utilizing and sustaining them smartly.
Create Marketing Strategy
A defining marketing strategy has a larger role to play in your eCommerce application. It enables you to showcase your products and services to the audience strategically. There are plenty of tools and methodologies that can be utilized to execute eCommerce sales efficiently.
Monetization and offers are crucial for engaging in more users. It provides your eCommerce application users the way to keep using the platform for a long period.
Use Social Media For Brand Awareness
Social media provides your eCommerce application an additional tool to enhance brand identity. Your eCommerce business can avail a large exposure to the social media audience that might be interested in using your products or services.
Content is the prime feature of any successful business that existed on social media. Social media accounts can be integrated with your eCommerce app which you can use to create direct campaigns, engaging content, and outreaching more customers through the application. It increases your eCommerce application's capabilities in terms of interacting with more users and converting them into loyal customers.
Such strategies can be significantly useful for someone seeking growth from their newly created eCommerce applications.
Aligning Different Processes
The real-time functioning of an eCommerce app involves different subelements. It includes several factors that interact with end customers, partners, vendors, support staff, and many other people who play a part in the functioning of a fully-fledged eCommerce app.
To keep sales and marketing operations aligned with the needs of different terminals of the eCommerce applications, it is important you make the platform flexible and compatible with the versatile scope of requirements.
What Platforms Can Be Used for Developing eCommerce Apps?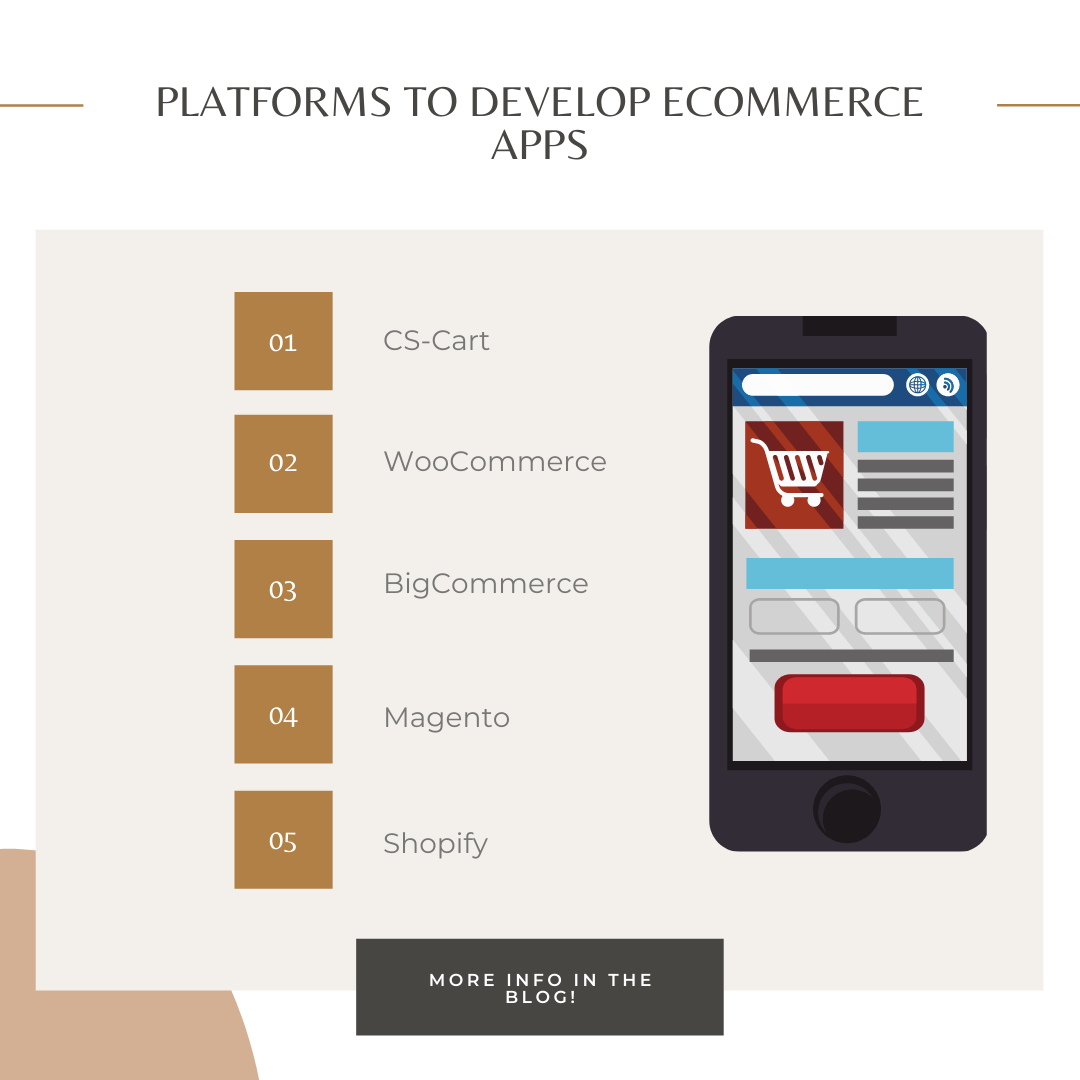 There are dedicated eCommerce app development platforms that are being used to create rich-featured, robust, and secure applications. The market is booming with these platforms. A large number of developers are using packaged tools to develop eCommerce apps with advanced APIs to enable lightweight integration and development of payment, cart, dashboards, and product listing.
CS-Cart
It is an independent and open eCommerce building software application. It allows businesses to create dynamic eCommerce interfaces with dedicated carts and administration tools. It provides users an easy and ready-to-use eCommerce marketplace from centralized development packages.
WooCommerce 
It is a WordPress-backed, free, and open-source development platform with plenty of themes and extensions designed and developed dedicatedly for eCommerce applications. With 39 million plugin downloads, it is among the most popular eCommerce platforms in the market.
BigCommerce 
It is a SaaS-based eCommerce platform used to create hosted eCommerce solutions. Businesses can set up an online eCommerce store to list, sell and manage products on the cloud. It provides businesses the facility to run their eCommerce stores on dedicated servers. It indulges in a high-scale, individualized, and managed encryption of data resources. BigCommerce is considered an ideal choice for streamlining the tasks of marketing and business operations through the platform.
Magento 
Magento is among the most sought choice for creating large-scale eCommerce applications. It has APIs for an ideal eCommerce application that runs across servers, databases, and environments. Having a classy user experience to define business intelligence solutions, Magento becomes a go-to choice for every business seeking to provide its customers with a 360-degree eCommerce platform.
Shopify 
Shopify is a one-stop station for the complete development needs of businesses willing to develop versatile eCommerce products. It has dedicated tools, APIs, templates, themes, environment, and packages to allow developers to create packaged and runnable eCommerce applications. From product management, tracking of billings, creating invoices to developing information in real-time, Shopify is a simple yet multilateral and advanced eCommerce development platform. Businesses can ask developers to create eCommerce apps and make an additional source of income by listing them on the Shopify store.
PrestaShop
It is a PHP-based eCommerce platform that is open source and supports the MySQL database system. Powering thousands of eCommerce stores online, it is among the most-used eCommerce platforms in the global market. It has dedicated add-ons stores allowing users to purchase custom addons and themes to power the UI/UX of the eCommerce applications. Its add-on modules enable the merchants to leverage enhanced eCommerce app capabilities with better administration and development.
How Do You Start Developing an eCommerce App?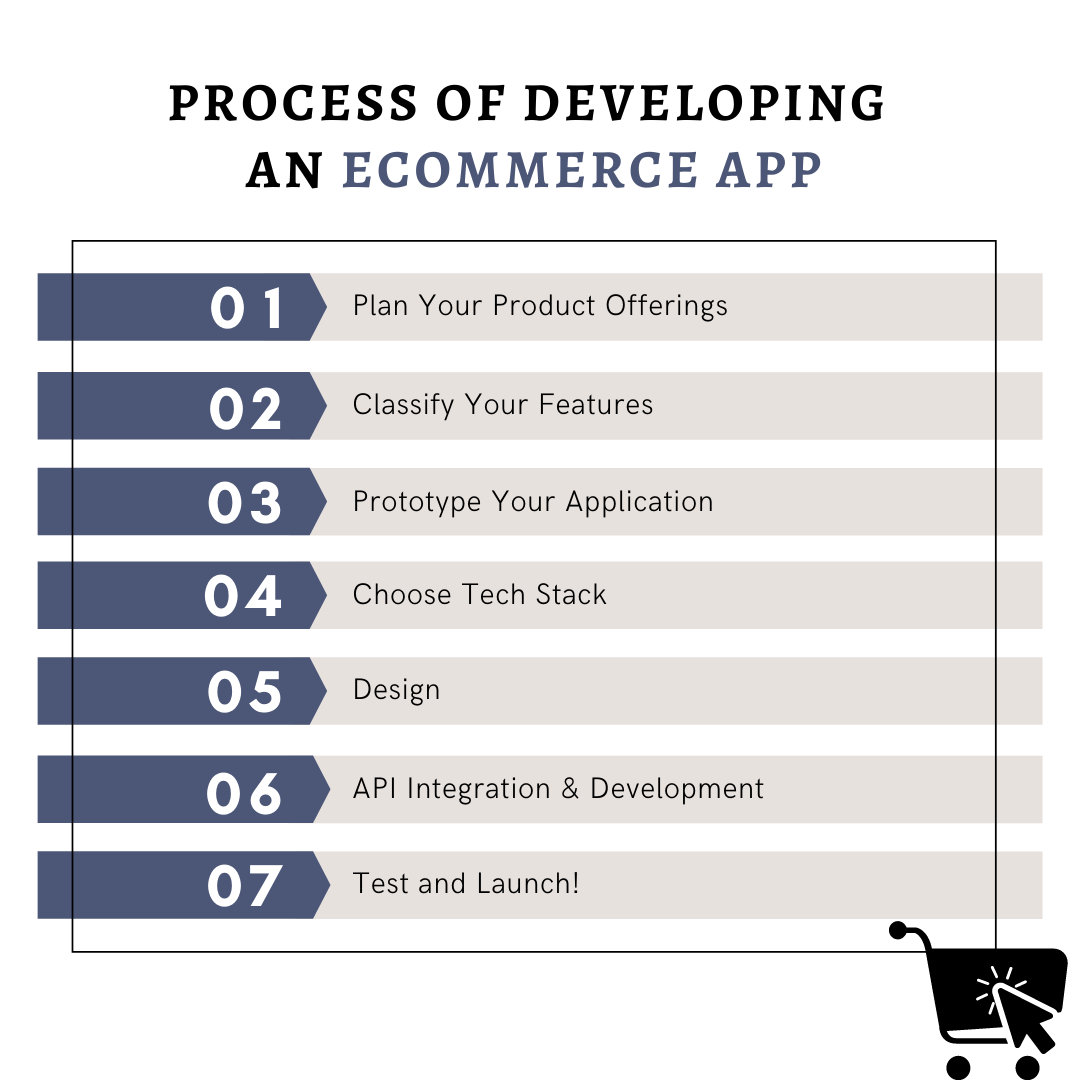 To create a successful eCommerce application, it is significant to consider the maximum utilization of all technological and non-technological resources. It is a procedural task that can be accomplished by segregating in chunks. The ultimate goal is to create a platform that is competitive in all ways.
There are common and fundamental steps any business would need to consider for developing an eCommerce application. Let's have a look;
Plan Your Product Offerings
Before you get into dealing with the jargon of development, it is considered the best to define what you wish to offer. You may require a multi-vendor platform where multiple vendors may offer a wide range of products. However, when it is about developing an eCommerce platform emphasizing a single niche, it requires analytical research of elements that creates competitive advantages over other niches.
Classify Your Features
Your eCommerce application might have some basic and advanced features. The best approach to plan or include these features is to categorize them by their complexity, advancement, user-friendliness, and popularity. It will help the developers prioritize features and developments as per their significance. It helps eCommerce app development companies to think over other available options and possibilities that can be adapted to the platform they work on.
Prototype Your Application
Once the requirements are finalized, it is time to visualize them through a prototype. It provides clients with a high-fidelity pictorial representation of the application that has to be developed. It helps the designers and developers to carve a work plan and strategy to transform it into reality. There are tools like Proto.io, Figma, Mockflow, InVision, Adobe XD, etc., that help developers to create engaging, precise, and connected eCommerce app prototypes.
Choose Tech Stack
There are dedicated Android development and iOS dev platforms that can be used by the companies to carve their ideas into runnable eCommerce applications. Even if you are willing to develop a mobile application on the same eCommerce application, you just have to use technologies to develop the backend and frontend. The fundamental process for eCommerce mobile app development is the same as any other mobile application. However, the process indeed requires tools to support versatile needs. The dedicated platforms discussed in the earlier section of this blog post play a crucial role.
Design
An appealing design is the face of your eCommerce application. A good design is not only about putting in the right combination of colors, fonts, and other elements making it look well but is about creating a simplistic yet rich user experience. An eCommerce application will have plenty of tabs, buttons, lists, and data fields and to manage properly is what the job is all about. eCommerce apps having easy navigation throughout the platform stand out from their contenders easily once given a chance by their visitors.
Developers and designers need to consider the eCommerce development trends to make their products more efficient, contending, and buyable.
API Integration & Development
An eCommerce application is a combination of several mini-apps in itself. It has product listing features that provide users the facility to store their products and related data on the platform. There is a digital wallet available on the platform that allows the users to add money and use it for faster transactions. With so many parallel processes running, the job of developers might be more complex than ever. However, there are APIs that support the development needs of the application and integrate required features more efficiently. There are payment APIs, Cart APIs, Product APIs, and many more to help developers meet the needs of the applications.
Test
To ensure the flawless and smooth functioning of the application, QA analysts create test cases and run the application over them. The objective of such an approach is to ensure the sustainability of factors like quality, rich functionality, usability, and appearance. To make the application ready-to-launch, testing is a defining process that has a vital role to play in providing an effective and efficient eCommerce application.
Launch
After being tested on the grounds of quality, the application can be launched through different mediums such as email newsletters, third-party distribution platforms or social media. 
What Are the Top Features to Include in Your eCommerce App?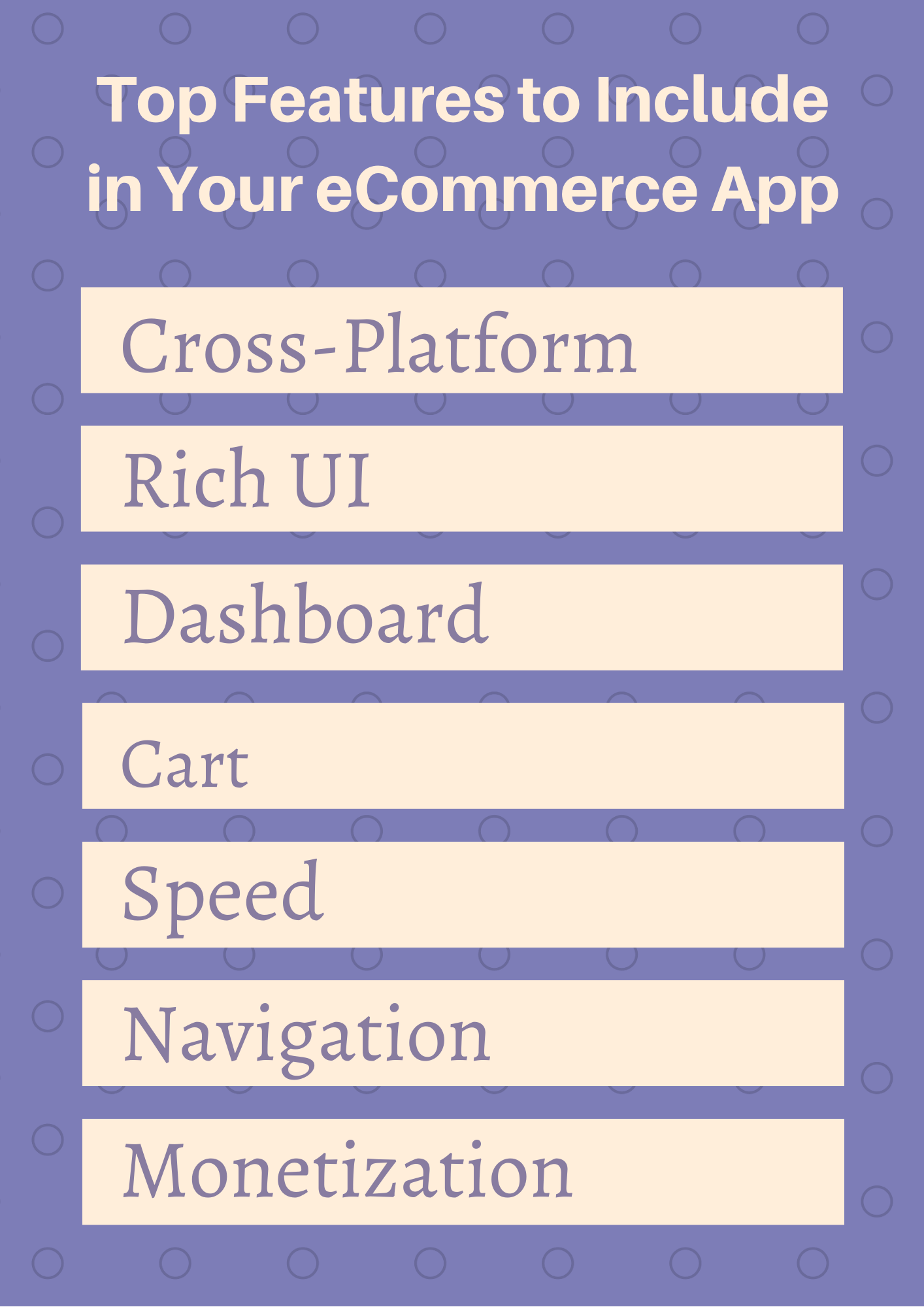 There are already thousands of applications in the market serving customers globally. The only way to sustain your app in the market for long is to package it with advanced and user-friendly features. So, which are the features that will pave your way to success? Let's readout;
Cross-Platform Availability
In order to obtain a large audience, you have to keep your application available to a larger scope. The first step to begin in the direction is by making your app available on all major platforms including iOS, Android, and web. Such an approach will bring you more exposure to your eCommerce application which ultimately converts into real customers.
Rich UI
The first thing any user would see on your application is UI. What if your first impression is not good enough? Perhaps, believing in luck will not provide you the second chance to showcase what you have for your customers. Thus, the best approach is to keep it engaging, minimalist and navigatory right from the beginning.
Dashboard
Users like simplicity and features in one place. Information and lightweight dashboard is the finest example that can be given for the instance. An ideal eCommerce application can have dedicated dashboards for users, partners, and administrators. This dashboard will allow the users to access the complete information they need for performing topical tasks on your eCommerce application.
Cart
Having a cart is common yet crucial in an eCommerce application. You facilitate the users by allowing them to save the products in the cart before they check out. It is a feature that provides your users an easy to keep record of products they were interested in but could not purchase right at the moment. Not having a cart on your eCommerce application can affect your image and usability in particular.
Speed
Despite having many rich functionalities on your eCommerce app, it is recommended to keep it lightweight and fast. No one wants to use a slow eCommerce application. It is significant to sustain factors like speed and efficiency.
Navigation
eCommerce applications need to be easy-to-use and complex navigation is what you need to avoid in order to keep it smart. There can be buttons, pop-ups, tabs, and dropdown menus to help your eCommerce app users access everything relatable fast and easy.
Monetization
Monetization helps you create a connection with your customers by giving them the reason to keep using your application. It is the tool that makes your application gaining a competitive advantage over others in the market.
How Much Does It Cost to Create an eCommerce App?
There is no one-word answer to this query as it is not possible to tell you the development costs of your dream application. There are plenty of factors that need to be considered in order to estimate the final cost for developing an eCommerce application. 
From prototyping your application to integrating basic or advanced features therein, costs can vary significantly. Even development models and the geographical location of the service providers count. You may get to know the estimate when you discuss your budget and requirements with an eCommerce web development company.
Top 5 eCommerce Apps You Can Idolize to Create Your Own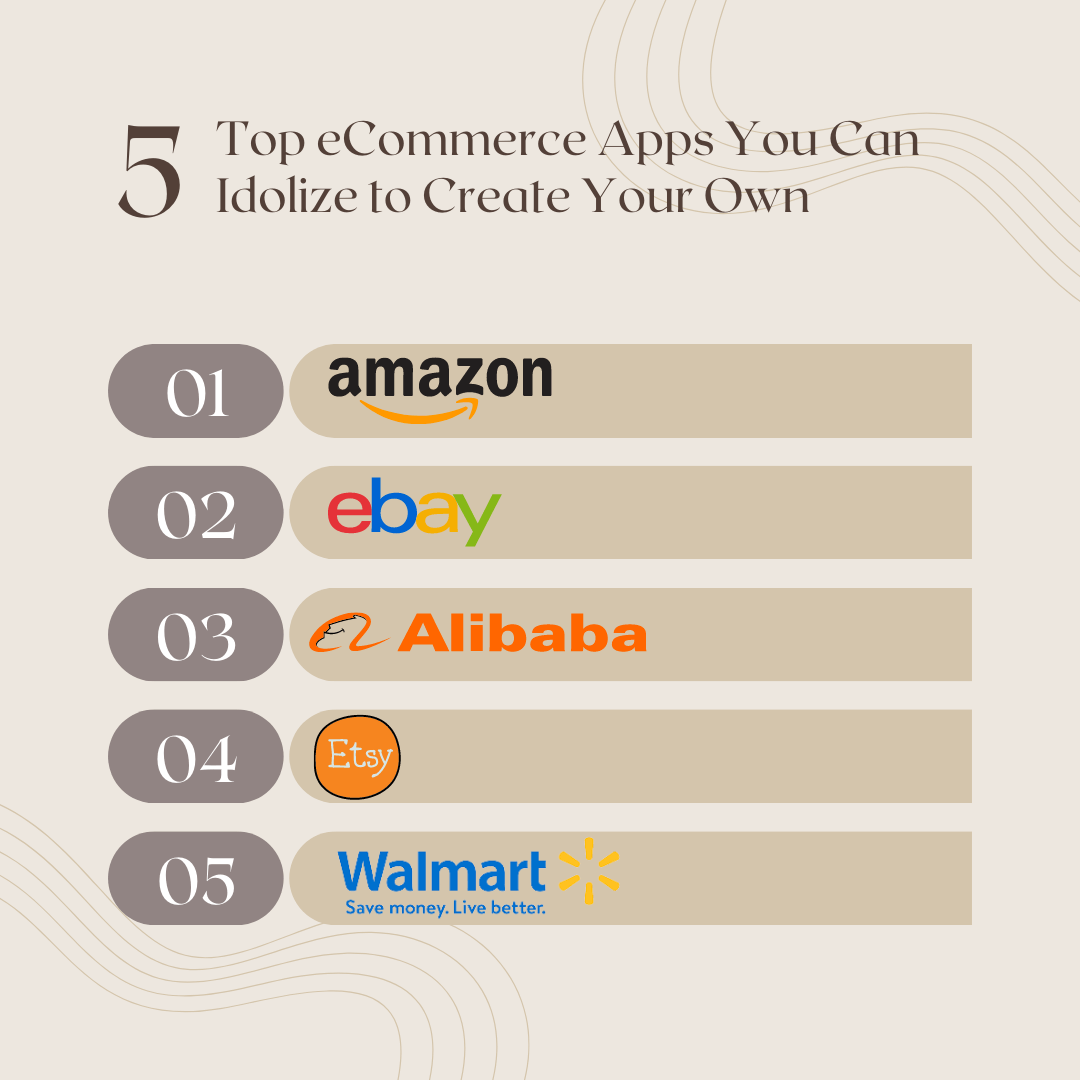 To start planning your own eCommerce application, you can take inspiration from some of the most popular names in the market. You can match your niche or requirements to the application and carve the roadmap accordingly.
Amazon
Amazon is the world's largest eCommerce network with 150 million users worldwide. There are 12 million products listed on the platform. Along with eCommerce, Amazon has also emerged as a Software technology leader in recent years.
Notable Features
Scheduling the delivery 

Amazon GiftCard 

Fast Ordering Through Digital Dash Buttons
For a better understanding of its feature, you can read our step-by-step guide to create a successful eCommerce app like Amazon.
eBay
eBay is the first of its kind eCommerce platform in the market. The platform has more than 182 million users worldwide. It provides a centralized space for vendors and buyers to sell and purchase different types of goods.
Notable Features
Advanced search options 

Add favorites 

Cost-friendly
Etsy
Etsy is a US-based eCommerce platform providing users the facility to sell and purchase handicrafts and other ready products. There are more than 60 million products listed on Etsy.
Notable Features
Shop creation 

Unique listing 

Global shipping
eBay and Etsy have some similarities in their business models. You can read our guide to create an eCommerce marketplace like eBay and Etsy with a better understanding.
Alibaba
Alibaba is a well-known, multinational eCommerce platform based in China. It provides B2B, C2C and B2B products on its platforms. There is an international shipping facility available on the platform which makes it a global brand.
Notable Features
Versatile business models 

Integrated sell ecosystem 

Credible credit model
Walmart
Walmart is a global eCommerce and retail services provider company headquartered in the USA. The company has more than 2.2 million employees working for them globally. Along with the USA, they also run their operations in countries like India, China, Japan, Chile, Mexico, Canada, United Kingdom, etc.
Notable Features
Omnichannel 

One-stop shopping 

Frequent deals and offers
Entrepreneurs can also read our exclusive entrepreneurial guide for eCommerce development.
Over to You
I have tried to cover everything you might need to know for developing an eCommerce application. There are a large number of opportunities in the eCommerce market today. To utilize the advantages of having an eCommerce app, you need to plan well. My objective with this blog was to provide you with a complete understanding of all necessary fundamentals of the process that concern anyone seeking to develop an eCommerce app.
Useful articles, updates, offers and guide boon from SparxIT Team
Categories
Let's discuss your project idea.
Featured In