E-Commerce stores are rapidly changing traditional marketplaces. Hence, it is difficult to remain viable in a fiercely competitive field.
That's where a business entrepreneur from Dubai named "Jad Toubayly" developed a ground-breaking concept that completely changed the E-Commerce sector. He launched the "Idealz" app in 2016, which offers the most rewarding purchasing experience.
This app idea has captured the spotlight with its unique concept and lucrative strategy, which we will explain further. Its success has inspired other entrepreneurs to build an ECommerce app like Idealz.
Business owners wishing to enter the E-Commerce ecosystem must take the help of a mobile app development company to use the potential E-Commerce app offers for their business.
The cost of creating an E-Commerce app like Idealz depends on various factors. Our blog will focus on these cost-driving factors of E-Commerce platform development.
Market Overview of E-Commerce Application Development
Digital shopping trends quickly change and reshape traditional marketplaces.
If you are still trying to figure out how investing in E-Commerce app development services will be profitable, then it would help if you looked at this E-Commerce statistics.
The revenue of E-Commerce apps is forecasted to show an annual growth rate (CAGR 2023-2027) of 13.91%, resulting in a projected market volume of US$118.80bn by 2027.
The above stats showcase that online E-Commerce stores are becoming a trend among entrepreneurs.
Every business enthusiast expects their mobile app ideas to be implemented at an affordable price.
How is Idealz Different from Other E-Commerce Platforms?
With numerous online stores available, what made Idealz stand out?
Idealz's concept is every time a user shops from its online store, they will be eligible for the opportunity to win a luxurious price from ongoing promotions and campaigns.
Also, users will get a participation ticket after purchasing from their online store. And the entire process is followed by adhering to proper norms and regulations set by the government.
Hence, Idealz is currently reshaping the E-Commerce landscape in Dubai, which is also getting global attention.
We are sure, after learning this unique idea; you must be excited to create an app like Idealz.
But before starting the development process, it's crucial to understand essential features and factors affecting the cost of E-Commerce application development.
Let's have a look at these features.
Must-Have Features for a Robust E-Commerce App like Idealz
Listed below are the essential features to have in your E-Commerce app to make it unique.
For a smoother user experience, allow users to log in with email, phone number, or social media credentials.
Ensure your E-Commerce store has different product categories for every user.
Secure Payment Integration
Your online store should offer secure payment via SSL encryption, authorized access, tokenization, etc. for smoother transactions.
Integrating your app with social media will make it easy for users to share products and promotions on their profiles.
Live broadcast of draws for campaigns to make your application more engaging and interactive.
Fare calculator offers users an estimation of the product cost and the expected Vat charges.
With this feature, consumers can win luxury gifts by earning lucky draw tickets with every purchase.
It allows users to redeem rewards and donate their loyalty points to anyone.
Multi-language and Multi-currency support
By using it, you can allow users to shop and pay quickly with multiple payment options and in various currencies.
Also, with the multi-language support, you can allow users to use the app in their language.
It's one of the essential features to have in your app. You can update users about your latest product arrivals, deals, and discounts.
As well as you can provide other information, such as order confirmation, ticket winners, and more.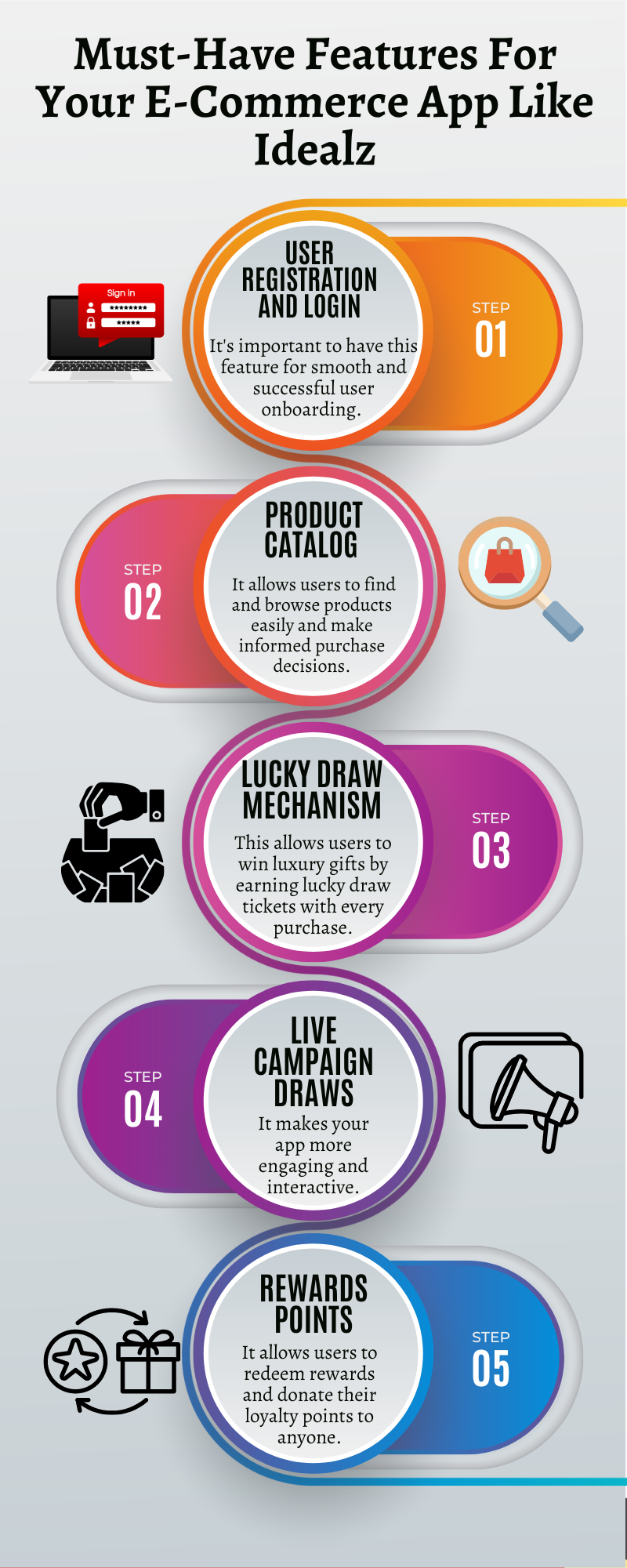 Cost-Driving Factors of an E-Commerce App like Idealz
The cost of creating an E-Commerce store like Idealz depends on various factors. Here, we will look closely at those factors.
1. Platforms
One of the significant factors affecting the overall cost of developing an app like Idealz is selecting a suitable platform.
Idealz is available for different devices like desktops, smartphones, and tablets.
But the two most popular platforms for E-Commerce apps are iOS and Android. You will decide between the two platforms depending on your target audience and budget.
a. Android
Compared to iOS, creating an Android app will cost you less. Android has a larger market share and a large variety of screen sizes.
b. iOS
Usually, it costs more to make an iOS app than an Android one. In-app purchases and subscriptions are more likely to be paid for by iOS users, which might help you monetize your app.
2. UI/UX Design
The design of your online E-Commerce store also influences your project's development cost and time. As UI is the first point of interaction for users, you should create engaging and immersive UI.
Adding more UI elements and layouts to your design will take more development time and cost. Hence, leading to a higher development cost.
Below, we have explained how keeping your design simple or custom can impact the entire development cost.
a. Basic and Simple Design
Standard UI components and layouts will be present in a basic design, which is typically less expensive.
Basic design includes minimalistic layout, fast loading speed, clear and concise navigation, etc.
b. Custom Design
If you want a customized design, it will require more time and effort from developers. Ultimately, it will impact the entire development cost.
Custom design includes branding features, custom functionality, accessibility, etc.
3. Features and Functionalities
The number of features and functionalities you add to your app will also influence the overall app development cost.
Below are some basic and advanced features to add to your E-Commerce platform.
a. Basic Features
User Profile Creation
Push-Up Notifications
Product filtering
b. Advanced Features
Personalized Product Recommendations
Multi-Language Support
Product Customization
One-Click Checkout
4. Development Team Size
Developing an online E-Commerce store is a complex and challenging task that involves choosing technologies, deciding on tools & technologies, etc.
So ensure you hire mobile app developers that provide you with helpful insights to select the technologies.
Also, the more developers you hire, the higher will be the development cost.
5. Tools and Technologies Used
The back-end and front-end technologies you select impact the development of custom E-Commerce software.
6. Programming languages
Android – Java, Kotlin
iOS – Swift
Google Analytics
Stripe, PayPal
MySQL, MongoDB
It's essential to work with the top mobile developers who use the latest technologies to provide you with an engaging and seamless E-Commerce store.
7. Location of Development Team
The location of your developers is also a significant factor to consider while estimating the cost of your app like Idealz.
| | |
| --- | --- |
| Location | Approximate Cost (Per Hour Basis) |
| United States (USA) | $60-$150 |
| United Kingdom | $50-$150 |
| Western Europe | $40-$120 |
| India | $20-$50 |
| Australia & New Zealand | $40-$150 |
8. Third-Party Integrations
Integrating third-party APIs require additional resources, such as development time and customization to fit the project's needs. Hence, it can impact the overall cost of E-Commerce application development.
Some important APIs to include in your E-Commerce project are
Payment gateways.
Accounting and bookkeeping.
Social media.
Live chat and chatbots.
9. Maintenance and Update Cost
Your app requires complete continuous support and maintenance post-deployment to work smoothly. Several costs may be involved in fixing bugs, implementing security measures, and adding new features or enhancements.
For a long-term functional and competitive app, you should plan a budget for support and maintenance costs.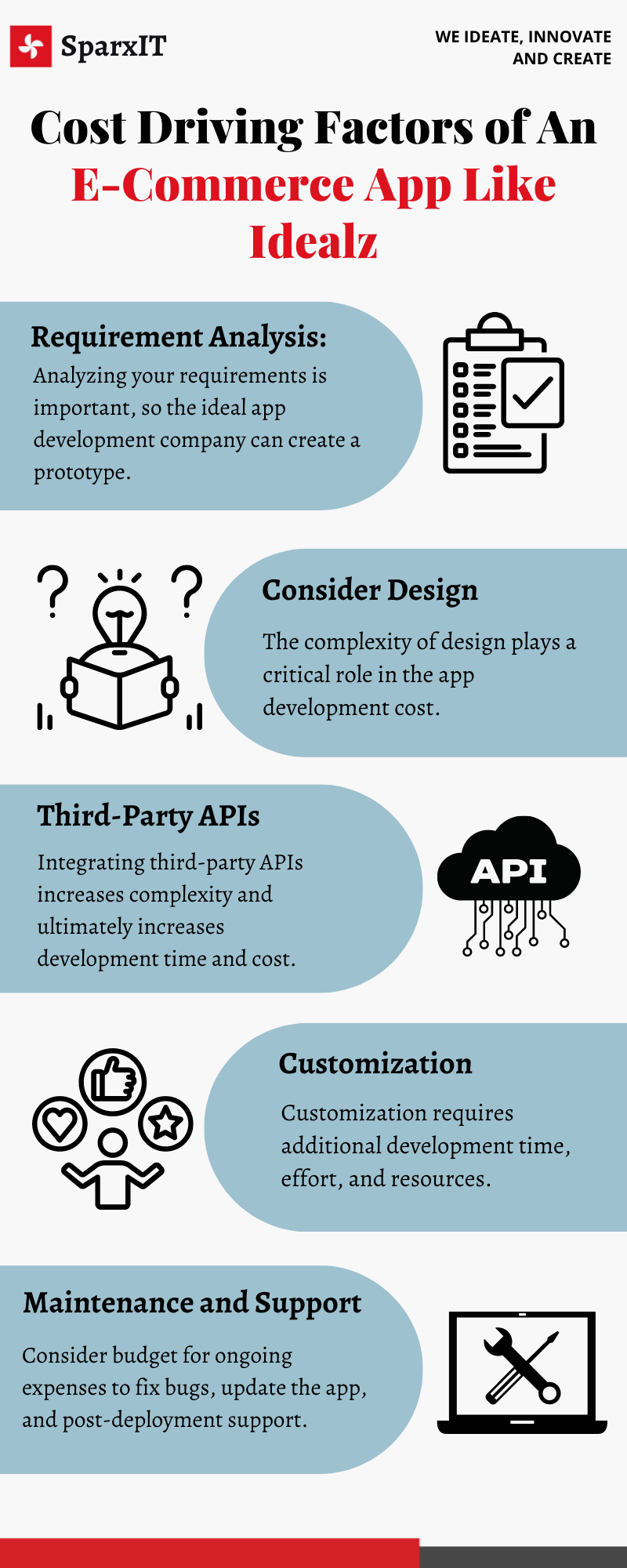 Cost Estimation Based on Development Stages
The cost estimation of an E-Commerce platform can be based on the stages involved, including planning, UI design, development, testing, and deployment.
Each step requires different resources and efforts that impact the overall cost. Understanding the scope and complexity of the project can help in accurately estimating the cost of each stage and the project as a whole.
How Much Does it Cost To Develop an E-Commerce App Like Idealz?
The cost of E-Commerce application development is flexible, as it depends on various factors like resources, location, features, complexity, etc.
Estimating the exact price is difficult, but it varies between $30,000 to $1,50,000.
Also, the right app development agency will help you build a robust and secure E-Commerce solution to boost your business growth.
Why Choose SparxIT As Your App Development Partner?
Don't let the cost of E-Commerce app development hold you back from creating the next big thing in online E-Commerce. With our easy-to-use tool, you can input your desired features and platform to make your E-Commerce store.
We are an experienced E-Commerce app development company with technical expertise and resources. Our team will help you build a user-friendly, secure, and scalable E-Commerce app like Idealz that can attract and retain customers.
So what are you waiting for?
Get in touch with us today and schedule a free call.
FAQs
Why creating an E-Commerce app like Idealz is a good idea?
Unique features like lucky draws, rewards, luxury gifts, and the exponential popularity of Idealz app is a significant reason to create an E-Commerce app.
What are the primary features of your E-Commerce software?
Your app can have the following primary features:
User Login.
Product categories.
Payment gateways.
Push Notifications.
Social Login.
Can I build an E-Commerce app like Idealz for different platforms?
Absolutely, we are an expert app development company. Our developers are equipped in creating engaging and interactive E-Commerce solutions for various platforms like Android, iOS, etc.
Which technology will be best for your E-Commerce app?
Selecting the technology is an integral part of app development. You can discuss your preferences and priorities with the group of mobile app developers you would hire. They can then consider your requirements and provide helpful insights.
Useful articles, updates, offers and guide boon from SparxIT Team
Categories
Want to create a unique E-Commerce app like Idealz?
Featured In