It's hard to know whether artificial intelligence is making machines smarter or humans! It has been rooted in our everyday activities. The role of artificial intelligence in mobile app development is much more than the mere inclusion of this trending technology.
AI has crossed that experimental stage in this industry. The artificial intelligence (AI) enterprise market worldwide is estimated to reach USD 22889.32 million by 2024. The dependence of businesses on this booming technology is quite evident with its extensive use.
From customer service to eLearning, artificial intelligence along with its subsets; machine learning, and deep learning is rocking the business world. Let's check the top benefits of using artificial intelligence in mobile apps before unveiling the best ways of its deployment.
5 Advantages of Using AI in Mobile App Development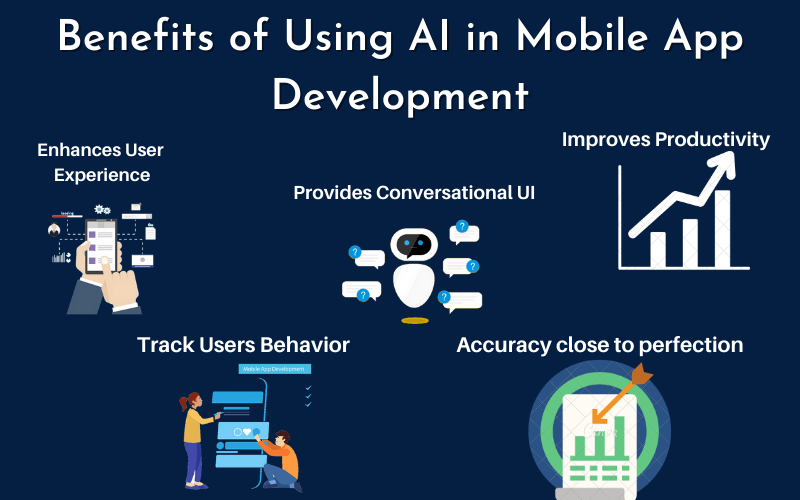 If you are planning to invest a single extra penny in something then you must have a clear idea of what it can do for you. These are certain benefits that AI technology can give to your business. Read about them and analyze if you need these positives or not.
Enhance User Experience
When you collaborate with the two different contemporary technologies; artificial intelligence and augmented reality, smart user experiences are created. This makes the daily monotonous tasks of customers easy and interesting. You must have used apps that allow you to capture any image to know about that place or thing. Google lens is a perfect example of the perfect blend of AI and AR.
Improves Productivity
Looking for AI-enabled Mobile App Development?
Contact Us
Automated reasoning is an attribute of artificial intelligence that increases the productivity of mobile apps incredibly. Now, you must be wondering, what exactly is automated reasoning? Have you ever used Google maps? It finds the shortest distance for you to travel anywhere. This reasoning of applications by using machine learning algorithms is making the world of users convenient.
Conversational UI
Have you ever talked to the chat support of an app? Those automated replies are engineered by the AI developers. Chatbots along with text and speech recognition abilities of AI bring better communication attributes to your app. It allows your app to communicate with your users as a human. You can avail of artificial intelligence development services to enhance the UX/UI of your mobile app.
Track Users' Behavior
You must have seen how eCommerce apps start showing your relevant products after a little search by your end. This is how these technologies track users' behaviors. Natural language processing is mixed with machine learning to assess customers' actions. This allows businesses to show apt suggestions for everything, from content consumption to shopping.
Accuracy
Artificial intelligence and its subsets offer accuracy to the level of perfection. Anywhere you implement this technology, the chances to find errors is quite negligent. We say AI makes machines artificial humans that provide speedy, accurate, and reliable solutions.
5 Use Cases of AI in Mobile App Development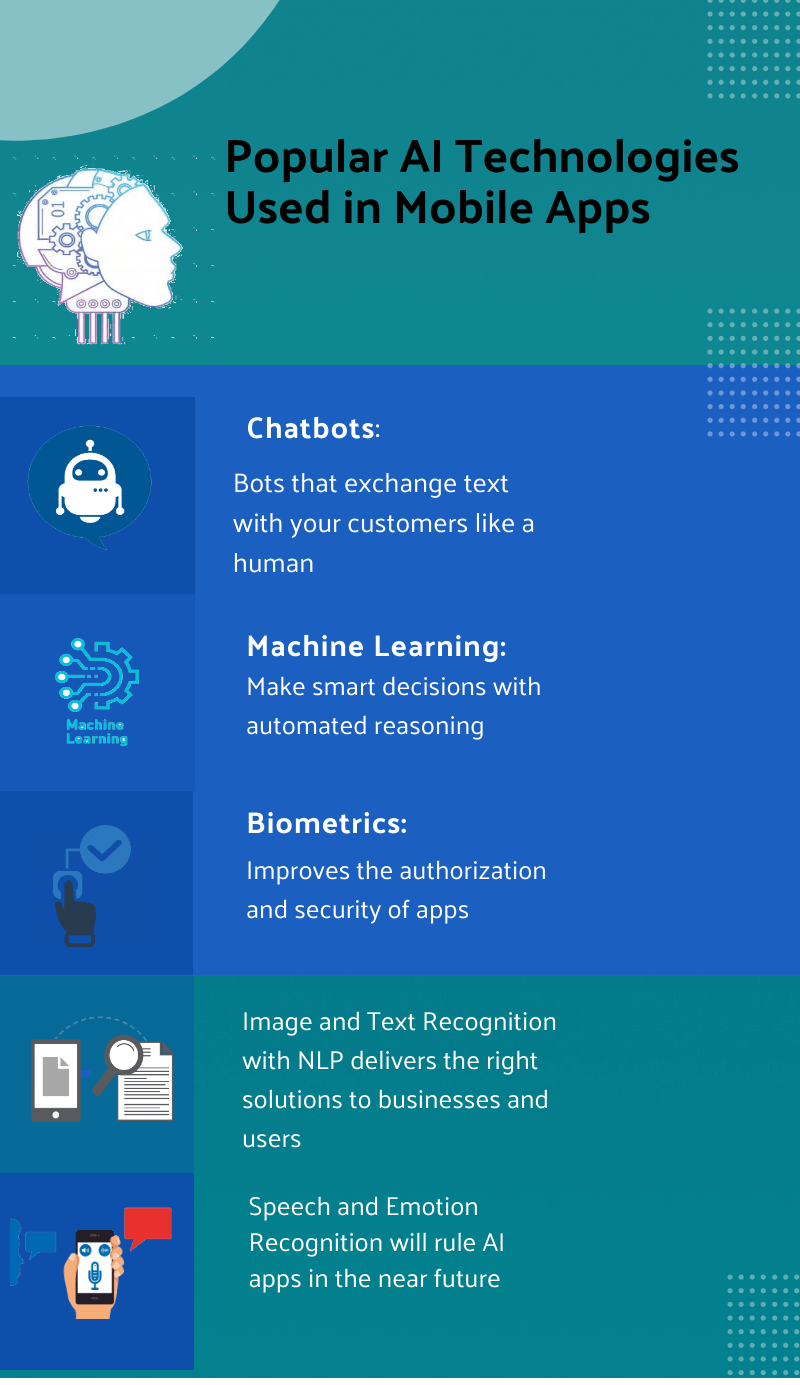 If you are sure about implementing this technology, discovering the right scope of the area is important. Check these popular areas where AI technologies are used. You can integrate one or more AI technologies with your mobile app.
Chatbots
Human-like replies at 100 times more speed – that's what chatbot in a nutshell. It improves customer service. Do you know 37% of people admit that they use a chatbot for quick response in an emergency? It has revived and revamped the traditional meaning of 24 hours services. Your bots are literally available all the time for human-like chats. This was not possible before the onset of AI-powered chatbot technology.
Biometrics
From face recognition to fingerprint authorization, AI's biometrics technology is rocking almost all industries. It is capable of identifying the physical features of any human. From marketing and research to security, biometrics has become a part and parcel of our lives. Be it any industry, users expect their apps to be secure but the financial and banking sector will always have a mandatory need for biometrics technology.
Machine Learning
From identifying the user behavior patterns to automatic reasoning for finding the shortest routes for taxi-booking apps, machine learning is the essence of modern-day apps. No matter if you are looking forward to an eCommerce development or an on-demand mobile app development, integrating ML with your apps is crucial. This technology makes forecasting possible and that is its greatest power. You must connect with a machine learning development company to leverage this technology for your growth.
Image and Text Recognition
Detecting any object, digital image or a video is possible with the image recognition technology of AI. This technology is widely used in the healthcare industry for diagnosing diseases. Apart from that, businesses are using image recognition to identify their clients with images and ensure authorized access.
Text recognition on the other hand is not a widely implemented technology. It finds its major application in the security industry. It is another name for the natural language processing that allows the search engines to fetch users with relevant search results. Your customers are able to find the right content for which they are looking for.
Speech and Emotion Recognition
The voice assistants are not a thing that needs to be explained. These Google Assistant, Alexa, and others of their kind detect human speech. The program decodes the speed into what the system can understand. With voice technology booming, speech recognition technology has seen an active application in app development.
Emotion recognition can be termed as an advanced technology for image and voice recognition. With the help of these technologies, mobile apps are able to sense the emotions in a human facial expression or speech signals. This technology is not vividly today used but has an extremely marvellous potential to rule the tech world in the near future.
Is it the Right Time to Integrate AI with Your Mobile App?
We would not say 'obviously, yes' just because the industry is booming and people are expecting every other human activity to be automated with artificial intelligence. As an entrepreneur, it is only you who will be able to judge whether integrating AI will be beneficial for your business.
It also depends on the budget. So, even if you are mesmerized by the incredible benefits of artificial intelligence and its related technology, think well before investing. We, at Sparx IT Solutions, a mobile app development company offering AI Development services for the past 13 years.
You can share your ideas or confusion with us. Our experts can be great partners while finalizing the right AI technology for your mobile app. Never under-appreciate your capacity to become a pioneer by using advanced AI technologies. Let's explore what can be best done with your mobile app idea and budget. Book your consultation- here!
Useful articles, updates, offers and guide boon from SparxIT Team
Categories
Let's discuss your project idea.
Featured In