A Brief Introduction
When you Google "eCommerce development", you will be served with a few Google Ads as top results that evidently speaks about the demand of eCommerce in the market. With the increasing ability to access the internet, millions of people have started depending upon eCommerce stores for the purchase of services and products.
This brings forth a lucrative market for businesses. Entrepreneurs can explore it limitlessly and probably this is the reason behind a steady increase in eCommerce website development. Offline store owners are choosing to explore and reap the benefits of this flourishing industry.
There is a sea of eCommerce Development Company, filled with competition which is rising dramatically. If you wish to win this race, then make sure to stay fully informed with every aspect of eCommerce. That is exactly what we are here for.
In this Entrepreneurial guide, we will tell you everything you need to know about eCommerce Development. We hope that this Entrepreneurial guide will help to find all the answers you seek about the eCommerce Website Development.
What exactly is eCommerce?
It could be seen as a simple method of expanding business on the internet without having to own a physical store of your business. Although it encompasses a broad variety of data, practices and technological tools for both buyers and sellers.
Talking about eCommerce doesn't only covers online shopping, but it includes auctions, payment gateways, online ticketing, and internet banking, as well. Fascinating, isn't it? We all have been using eCommerce for a long time now but there are many more advancements that have come since its inception. Therefore, if you are planning to invest in eCommerce website development, then it might be a very profitable idea.
We have the following graph depicting the global sales of retail eCommerce from 2014 and its expected growth till the year 2023: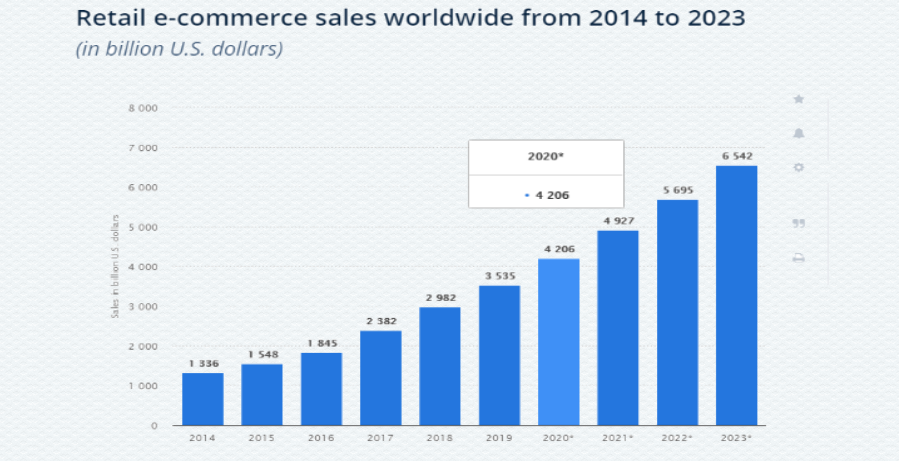 Impressive, right? According to Statista, revenue annual growth rate (CAGR 2020-2024) is 7.6%. If it stays at this pace then by 2024 it will be on the market volume of US$3,004,191m. These numbers should be enough to certainly investing the eCommerce industry.
While taking full advantage of authentic online marketing and eCommerce, many business owners run both eCommerce stores and/ or a platform to administer both markets and activities to supervise logistics. The online store is expected to climb by 78% in 2020.
With the increasing improvement in the expanse of the eCommerce industry, it has expanded its wings towards the grounds of payment options, quicker shipping, more advanced UI, automatic order processing and more. These elements make a great impact on a customer's experience.
The Purpose
What are the requirements of the eCommerce website development?
To be a surfer of the eCommerce marketplace eCommerce web development, it would be required to decide on which type of vendor marketplace you wish to become. You can be a single vendor or multi-vendor.
Single Vendor
This marketplace represents a website that promotes a single vendor or seller to the customer. Only the buyer and the sellers are the participants of this process, i.e. the buyer and the seller. Single vendor marketplace is known as Stand-Alone Website.
The product list identified by the seller. The website has full transparency and it offers to create and maintain a good client- seller relationship and makes the administrative work easier. The supplementary cost of placed orders would be directly proportional to the suppliers.
Another positive element of using a singular vendor marketplace is that in order to integrate new products to your website, all that would be required is to include them in the pre-existing system. With single suppliers, the work will get done faster as compared to a multi-vendor. There is a possibility that you would be able to business small, regular deliveries and therefore, the inventory control would be easier to manage.
Any brand's official website would be considered as a single vendor marketplace for that particular eCommerce web design company. For instance, a clothing brand- ZARA, is considered a profound name in the industry and has a good clientele base. Every loyal customer of the brand would come directly to the official website to buy it's products, because of the familiarity and trust they have upon the customers.
Multi-Vendors
A multi-vendors store is an online store that has a collection of sellers who are doing business from a single place. Customers will be able to choose to buy from different sellers or brand for a single product. This is what happens in the multi-vendor marketplace. There are three foundation bricks of multi-vendors:
The vendors are considered to be registered on the Admin's website so that they can sell their products or services.
There is going to be a lot of transactions that transpire between customer and seller. Usually, in a multi-vendor system, there are multiple sellers, who sell their product on a single marketplace owned by an admin. Buyers browsing in this marketplace for any product they seek, from a verified seller. This will help to raise traffic on your site while benefiting the customers to be selective for what they want, from a massive collection of products available in one place.
The enterprises should be kept in mind that dealing with a large group of suppliers would always be lucrative. Multiple sourcing will be beneficial since it is not completely dependent upon a single provider. If due to any circumstance, a project goes awry, the vendors are easily replaced and save you from finding another vendor for the project.
The most known example of a multi-vendor is Amazon. We have presented a bar graph that depicts the visitor market share of the most popular online marketplaces fourth quarter of 2018, surveyed in the USA: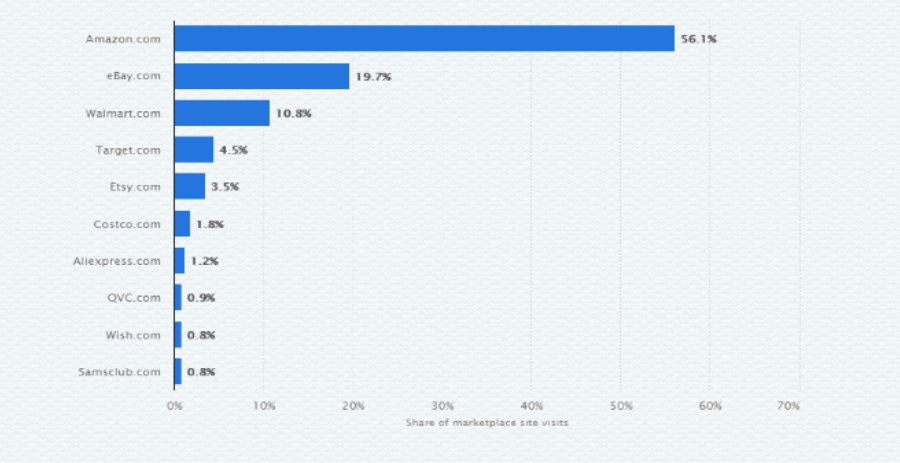 This survey is based on the share of visits in which amazon accounted for 56.1% traffic.
Every project with a multi-vendor is not dependent on a total package and could be instantly deployed one after another. As soon as the facet or project is done, it can be directly launched. Having one or more suppliers will help you expand the reach and availability of your company.
The process of delivery according to the demand of the target customers could be managed. The inventory could be adjusted with multiple suppliers. The numbers of that order could be adjusted among them.
Finding the right USP
Unique Selling Point (USP) is what makes you stand out from the crowd and defines your identity to the masses. USP is what makes you different from the competitors. This is what offers an opportunity to make your brand get ahead of the competition. A unique USP would tell if the sellers are different and grab the attention of potential customers.
Every brand requires discovering its own USP but at when? In the eCommerce business, there are a multitude of similar businesses from which you have to shine through and make your presence loud.
The USP represents you, therefore it is essential that you have a clear USP before launching your eCommerce website. It is always suggested to take aid from eCommerce web design services. The final USP should reflect your company's objectives and goals.
Looking for eCommerce Development Services
Contact Us
How to identify the perfect USP? 
Assertive- this is about creating your stance against those who are already in the market. This is not only about how competing for your product is but about the brand identity it holds.

For your customers- The USP is more about your customers and just "unique" won't cover it. It should make an impact on your customers.

Not just a slogan- it is important to understand that your slogan or tagline is one of the forms of a USP. There could be many other ways to embody your business ideas in a creative way. Your USP should be able to talk and walk like your business is supposed to.
Types of an eCommerce Website
There are 4 major models of eCommerce. We are going to briefly discuss each one of them below:
Business to Business (B2B)
B2B eCommerce website revolves around sales made between businesses. This could be selling services or manufactured goods to other businesses. For instance, a manufacturer, and a wholesaler or retailer.
In this type of eCommerce website, there are only businesses that have entities with each other.
Business to Customer (B2C)
This market consists of retailers in customer business. These retailers have their own eCommerce website or sell their products on a marketplace. A simple example of this; when you buy cosmetic products from an online retailer, it is business to customer transactions.
Customer to Business (C2B)
This one is an exact opposite of the B2C model we just discussed In this eCommerce website, a customer will be able to sell their product or services to a business or organization. Common examples of this model could be freelancers and professional programmers, content curators, eCommerce website developer and service providers.
Customer to Customer (C2C)
As obvious as the name suggests, this eCommerce website development spins around customers and customers only. This is the earliest form of the eCommerce model. A very popular example of this mode of an eCommerce website is eBay, Olx, and seen on Amazon as well.
How to Set a Budget?
eCommerce is a gigantic ocean of business that is nearly impossible to get defined. It is not possible to have any identities to explain the concept rather than "eCommerce" itself. Then how do we point out the budget to declare it's the value of our eCommerce website development services.
Since every eCommerce business entirely depends upon its owners. eCommerce is a flexible business that can be built on any given budget. Even if you are a small business owner then you can have a small budget or have a massive one. You can filter elements in order to maintain their budget. They can pay attention to money-saving resources such as content marketing. You can have a custom website or use pre-made templates. Such a decision will lay an integral impact on your budget.
Your budget could rely on what you have to work with and how you want to administer capital for the project. You can ask an eCommerce web development company to set a precise budget for you. Your budget would be made in accordance with the specific requirements for your eCommerce website. You can always alter these elements in compliance with your budget.
To give you a vague idea about the budget, any eCommerce development may cost you from $1,000 to $1,000,000. Although this varies from the nature of your product, complexity, design, number, and integration of 3rd party services. Therefore, there is no way to put a number in planning strategy.
Choosing the Right Platform for your eCommerce Website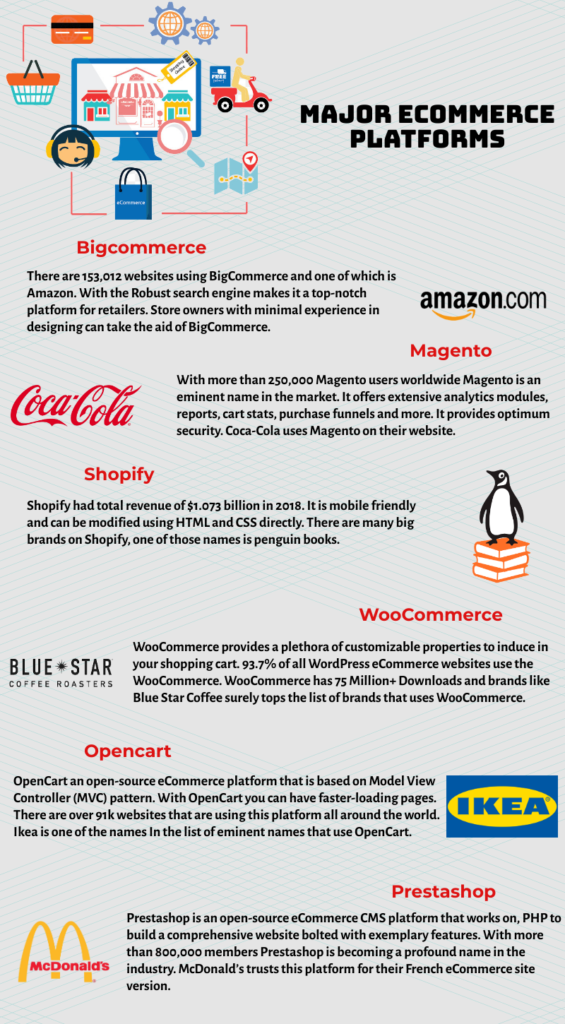 Types of Platforms to Choose From eCommerce web development services
There are three types of eCommerce platforms:
Self-hosted eCommerce
Hosted eCommerce
WordPress eCommerce
BigCommerce
Just as the name suggests, BigCommerce is made for the eCommerce marketplace. BigCommerce welcomes both enterprises and start-ups traders. The features it includes are shipping options, advanced security, payment, customer loyalty, along with an array of built-in integration with eminent eCommerce apps. It will also allow retailers to sell on other platforms as well. These platforms include big names, such as Amazon, eBay, Facebook, and more. You can get away from the complicated back-end difficulties while choosing BigCommerce. This is one popular name in the Self-hosted eCommerce platform.
Drupal
This is an open-source framework that allows you to create online stores and applications. Drupal is a renowned name in the industry because of the extensive flexibility that it offers to the users. It is adaptable while offering a massive collection of modules, which enables an opportunity for the users to improve their website.
Magento
This is an advanced eCommerce platform that offers exemplary features for your online business. It provides readers to take advantage of the customization feature that it offers. It is a CMS system that is a self-hosted eCommerce platform. This offers the customer independence to make functionalities according to your preferences. To the customer's advantage, it is free for all and built on open-source technology. It delivers search engine optimization, powerful marketing, and other management tools for catalog (which is an essential feature for creating an eCommerce website).
Shopify
Another renowned name of the eCommerce platform with integrated features that allow users to sell products online, on social media platforms as well in person. Customized websites are also available with an easy interface. Therefore, if you are new to the market and industry, you can boost your business and work upon making strategies to grow your business. That's not it! Social selling facilities are available through Shopify, via Facebook or Pinterest. This is a hosted eCommerce platform.
WooCommerce
WooCommerce is an open-source eCommerce platform for WordPress users. Some of the features include shipping options, reporting, and mobile-friendly functionalities. Even though it is built for WordPress, it also connects with other platforms.
It is a WordPress eCommerce platform that is open-source, which indicates that it is available for free to its users. It has integrated features that include shipping options, mobile-friendly features, and reporting, that offers a better user experience. If you think that because of its existence on WordPress, there are limited options, then you are wrong. There is connectivity available to other platforms as well via WooCommerce.
Prestashop
Prestashop is a renowned eCommerce shopping cart self-hosting CMS, available for its users for free. It has a multilingual feature, with 65 international, which makes it popular around the globe. It was founded in Paris, France in 2007 to offer optimum eCommerce solutions to start-ups and small enterprises majorly. It is a reliable open-source CMS to its audience. It was built by using PHP and MySQL data management for Web 2.0. It supports prominent payment gateways like Google Checkout and Paypal. It is an easy CMS to understand and works efficiently. It provides a customization feature in the admin panel to attain an eCommerce website that reflects your business.
Opencart
Opencart is another open-source eCommerce platform that is preferred by newbies in the industries. It is easy to use and provides exemplary results to its users. It offers enhanced speed to any eCommerce website even containing a plethora of products. OpenCart is a light-weighted eCommerce solution that uses AJAX technology. This would bring you a website that takes less loading time and thus enables better customer experience. OpenCart is based on the Model View Controller (MVC) pattern which makes it a relatively easier to develop platform. It also has a multi-store feature that avails customer groups and makes it local for different countries. OpenCart is built on vQmod and Ocmod. With the help of these, you'll be able to edit files in CMS. You can enable an unlimited number of products and information pages with the help of OpenCart during your eCommerce website. In addition, OpenCart offers an extensive set of reports and metrics. These reports are customizable, in accordance with the requirements of your business. You can filter the data your website collects and make necessary adjustments. This would help you make future marketing strategies.
Custom (Node + Angular)
Node and Angular JS and Node JS both are open-source platforms. AngularJS is used for the creation of web applications at the front end. It is maintained by the Google developers and is considered a highly reliable platform. NodeJS is a cross-platform framework that runs JavaScript applications in mediums other than the browsers. A combination of both will offer compatibility on OS, Linux, Windows and others like Internet Explorer, Safari, Firefox, Chrome, Opera, etc. Custom made solutions will provide the best of both worlds, which would deliver remarkable results to the eCommerce website development.
Let's talk tech-stack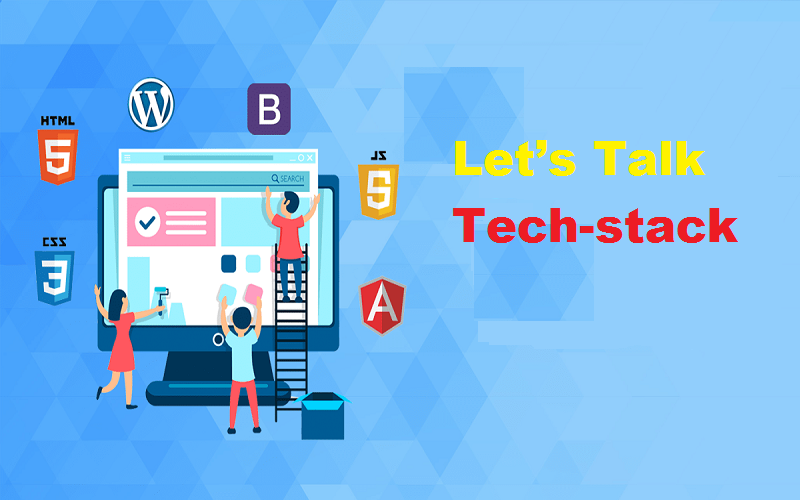 HTML
HTML is a primary language all developers mastered in the initial days of their career. HTML hasn't changed much and is running on its ancestral roots. Why? Maybe because its role is crystal clear. Therefore, it is more than just a programming language. HTML holds and structures the content on your website.
JavaScript
Creating the backbone of your website would be done by HTML and then the content should be prepared to get enhanced. This is one of the most essential factors of any eCommerce business, content, as we all know it should be evidently highlighting the company's business. To help in this JavaScript could be one of the best options for any eCommerce website development. It would provide you with an enhanced user experience for browser-based applications. An eCommerce web developer would be able to create an exemplary website for your business.
AngularJS
Planning for a dynamic website? AngularJS is the way to go. It is important that your website is content rather static and this is one of the most crucial fights that developers have to do. There are continuous introductions of the updated framework and APIs. These support developers to create a rich and interesting showcase. AngularJS is a structural framework and it helps developers build an alluring eCommerce website.
ReactJS
It is built and utilized by Facebook that enables the front-end developers to create a dynamic user experience efficiently. It has a fast and flexible JavaScript library, which helps create a smart and faster loading of the content leveraging JS on the eCommerce webpage. This will additionally provide a seamless user experience.
Wrap up
Now that you have had a comprehensive education about an eCommerce website design, you must be asking yourself if you want to start an eCommerce business. And the answer should most probably be yes!
With the plethora of advantages and opportunities, how can one let it go? All you need to do is plan prior to the beginning of the initial phase of your eCommerce website development. Once you get all settled with a fresh website or a revamped version of your previous website,you can take the aid of a professional eCommerce development services to make an evident entry in the business. There should not be any second thoughts rolling over your mind, since there are many lucrative opportunities waiting at the doors of the eCommerce industry for you.
Call-to-Action
If you are looking for a proficient eCommerce website development company, then stop your search as Sparx IT Solutions can serve you well. We have a team of eminent experts who can revamp your exciting eCommerce website or build a new, tailor-made one for your business. Call us today, and get a free consultation.
Useful articles, updates, offers and guide boon from SparxIT Team
Categories
Let's discuss your project idea.
Featured In