With the proliferation of the internet in every part of the world, online activities have surged to new heights. Online purchase has also considerably increased in recent years, encouraging many other businesses to go online.
If you want to create an eCommerce website, you should develop it with the latest trends and features in the market. The year 2022 is around the corner, and the eCommerce development trends that will rule this year have started to roll out.
So, let's take a plunge into the latest trends of eCommerce development.
Significance of eCommerce in Businesses
In the past few years, the eCommerce industry has made remarkable growth around the world. Indeed, retail eCommerce sales amounted to (US$) 4.28 trillion worldwide in 2020, which is projected to reach (US$)5.4 trillion in 2022. This stat tells the story of the success of the eCommerce industry worldwide. This enticing growth in the sector is luring many sellers into setting up their e-stores.
With online shopping being the new normal for people buying almost anything from the comfort of their homes, eCommerce has become a great source of income for businesses. Hence, eCommerce development services are in full swing around the world.
eCommerce is getting attention around the world as it provides ample benefits to business, such as:
It helps to expand your business with a low budget.
You can take your business to the global market with eCommerce.
You can get various marketing solutions through eCommerce.
You will be able to deal with your customer 24X7.
Your customers can get a more convenient and personalized shopping experience.
It helps you to improve your business based on customer feedback.
It provides an accessible transaction medium.
Top eCommerce Development Trends for 2022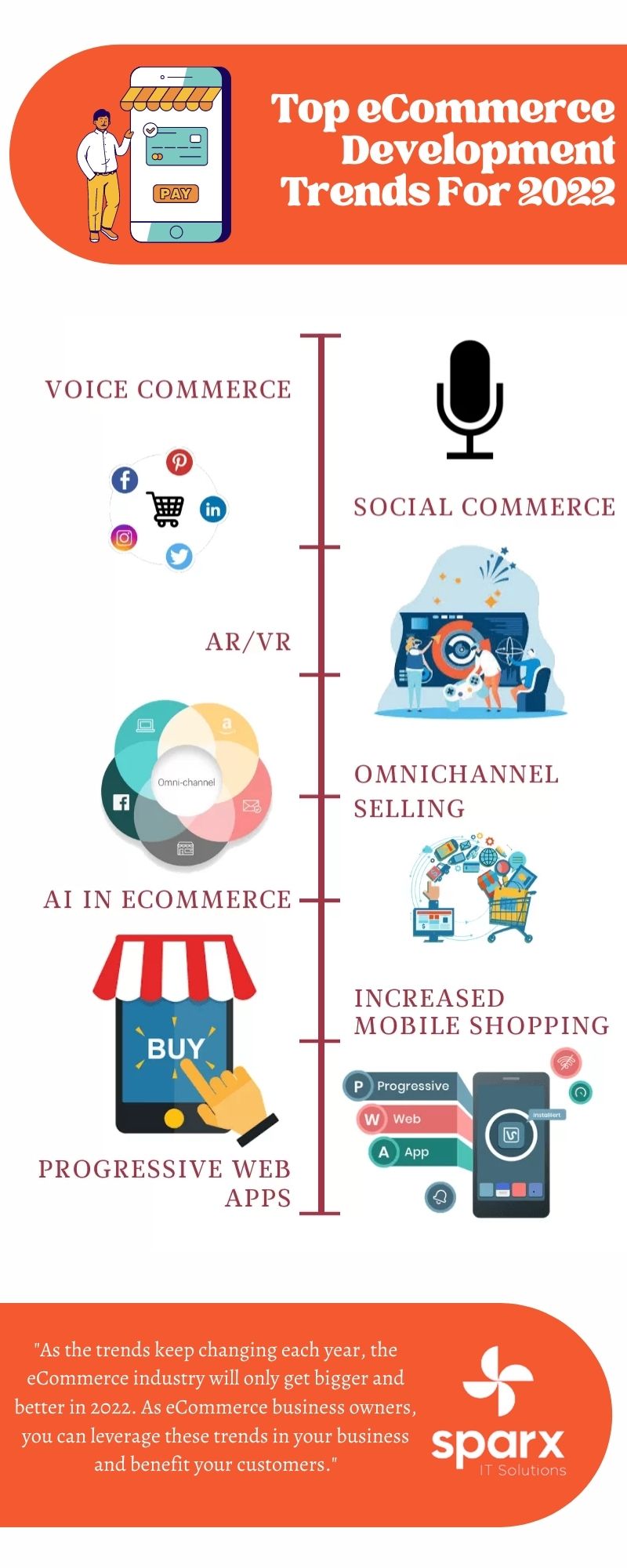 Voice Commerce
Smart speakers are increasing in popularity, advancing voice commerce around the world. With this new trend of online shopping in 2022, smart speakers will be your ticket to online shopping soon. So when you decide to create an online store, you can consider incorporating voice commerce in your eCommerce website development strategy to get greater ROI.
Here are some ways to prepare your eCommerce site for voice search:
Optimize content to appear in voice queries.
Ensure a simple flow to buy your products through voice search.
Add new skills to Google Assistants and Amazon Alexa.
Provide voice-based navigation on your app or website.
Social Commerce
A key eCommerce trend that you cannot miss out on!
Nowadays, shoppers have integrated engaging activities on social media platforms, allowing them to grab the best deals. With the increasing intensity of online ads on social media platforms, people can conveniently be aware of the products and follow respective links to buy their desired products.
Social commerce will remain one of the hottest eCommerce market trends that will immensely impact the eCommerce web development industry. Hence, social media integration is a prudent step towards the development of successful eCommerce websites.
AR/VR
Today, most people are acquainted with AR (Augmented Reality) and VR (Virtual Reality) technologies worldwide. The evolution of both technologies has revolutionized many industries, and AR/VR technology is also a boon for the eCommerce industry. One downside of online shopping that people often raise is the inability to view products clearly. AR and VR technologies are working as bridges to remove these hurdles in online shopping.
With AR technology, shoppers can visualize products in the real world, enabling them to understand whether a product meets their demands. On the other hand, virtual reality connects the real world to the virtual world, providing a practical experience of the product.
Online stores can offer an in-store experience and provide necessary details to help customers make the right decisions. The application of AR/VR tech is an excellent trend for eCommerce that will rule 2022 likewise.
Omnichannel Selling
Omnichannel selling is becoming essential for online businesses, as these days, shopping is not bound to a particular channel. Nowadays, people can buy products on Amazon, eBay, Facebook, and many other online platforms. Hence, opting for multichannel selling has become the new norm in the eCommerce industry. It would be best if you also considered incorporating this key trend in your eCommerce development strategy.
Below are some ways to enhance the omnichannel experience:
Optimize the site for mobile devices and try investing in a PWA if you have a budget.
Offer personalized customer experience.
Utilize tools like SAP Commerce Cloud to offer a personalized experience.
If you are considering B2B eCommerce development, then you should keep the omnichannel aspect in mind.
AI in eCommerce
AI (Artificial Intelligence) is well-known in the eCommerce industry for smart product recommendations. Moreover, this technology has taken the pace in a few years with the evolution of better algorithms. It was not only a prevailing eCommerce development trend last year, but it will rise as one of the significant eCommerce development trends in coming years as well.
With the help of this technology, eCommerce websites can make more intelligent product recommendations and enhance the customer experience. AI will assist eCommerce businesses to analyze trends, sales channels, and buyer behavior to ascertain the best time, price, and place to list their products. Consequently, it will boost the sales and marketing efforts of businesses.
Optimization in Mobile Shopping
With the rising confidence in online shopping, customers are now feeling comfortable shopping online via mobile devices. The number of mobile device users has increased sharply in the past few years, which has led to a mobile dominant world. Today, no business can ignore mobile optimization when it comes to eCommerce web development.
Creating mobile-optimized websites has been one of the hottest trends lately, and the same will also continue in 2022. Creating an eCommerce website that offers a pleasing experience on desktops and mobiles has become essential to stay competitive and derive hefty revenues.
PWA
One of the popular trends in the eCommerce industry is the use of PWA or Progressive Web Apps. Online businesses are always searching for techniques to improve their sales and enhance the customer experience in their online stores. A progressive web app is the best way to meet both of these ends.
A PWA is a website that has the form of a mobile application. Instead of developing and launching high-cost native mobile apps, eCommerce businesses can implement PWAs to provide an enhanced mobile experience. If you consider Magento development services or PrestaShop development services, then investing in the PWA development service can bring several benefits for your businesses.
Chatbot
Developing Chatbots for web and mobile apps is a mandatory trend these days, and it is necessary to establish a streamlined conversation between users and the application. Customer service is an essential element to enhance customer engagement and operational efficiency. And chatbots powered by AI technology are the suitable solution for the same.
Chatbots assist in providing a personalized online shopping experience to the users. They remain active 24×7 to resolve any of the challenges that occur during online shopping.
Gamification in eCommerce
Gamification is a great way to enhance the customer experience. At the same time, they make the shopping experience more entertaining, improve sales rate, brand awareness, and customer loyalty. The reward points, eVouchers, discounts, etc., sound too tempting to your online shopper. These gamification elements encourage the customers to explore your e-Commerce app more. They leverage the people's natural tendency for learning, competition, achievement, status, and socializing and frame them into gameplay.
Currently, the gamification trend sells as a USP of the app. Thus, an innovative gamification campaign can be a great marketing strategy as well.
eWallet
eWallet is not just a trend anymore, rather a necessity. An eWallet is a type of electronic card linked with your app that allows a user to send and receive money. Incorporating eWallets in your is essential for the transactions made through your eCommerce app. Not only is it suitable for making transactions while purchasing, but it also makes a return, exchange, rewards points, all these types of credit easy.
How Can We Help You?
As the trends keep changing each year, the eCommerce industry will only get bigger and better in 2022. As eCommerce business owners, you can leverage these trends in your business and benefit your customers.
A reliable and well-defined performing eCommerce infrastructure can help you build a strong foundation in terms of business. Hiring eCommerce development services can help you incorporate better functioning trends. Sparx IT Solutions is a state-of-the-art eCommerce solution provider in the market. You can embrace our eCommerce services that can meet your new consumer preferences efficiently.
Wrapping up
You should always strive to implement the latest eCommerce development trends on your website to be fully updated. You can follow the above-mentioned top eCommerce development trends for 2022 to develop a robust website with excellent functionalities.
Online shopping is reaching new heights as more buyers feel comfortable with ordering online. You can choose the best eCommerce development company to build a cutting-edge online store for your business and start selling online. By choosing to sell online, you can take your business to new heights and harness the potential of eCommerce websites to maximize your revenue from the retail industry.
Useful articles, updates, offers and guide boon from Sparx IT Team
Categories
Fill this form to get started
Featured In