You must have read about the lucrative mobile apps' success stories of startups. They succeeded in attracting a good portion of 4.68 billion mobile users towards their mobile app. The avenues of this flourishing mobile app development industry are open to all but not all entrepreneurs are able to reap them.
The stories and facts seem glittery but not for all. No matter how large is the number of successful businesses, the journey of some businesses has been really harsh. It's been found out through research that within three days of launching, an average mobile app loses 77% of daily active users.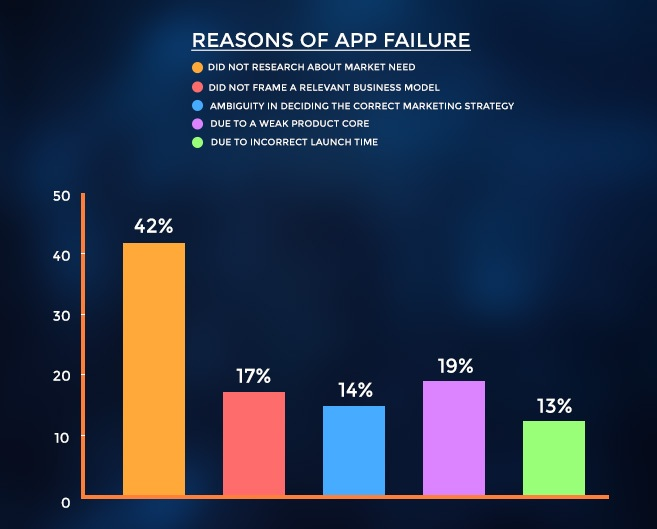 Being a smart entrepreneur, you will have to discover the loopholes which can lead to the app's failure. Mind you, the most common one is choosing the wrong mobile application development company. How are you going to avoid this issue?
By 2023, there will be 27,7 million software developers all over the globe. And, of course, every fish in the pool cannot be the right choice for you. It is essential to dig deep into your own requirements before hiring an appropriate development company.
If you have landed here, you must be struggling to choose the best mobile application development companies. For your help, here is a comprehensive guide to choosing the top mobile app development company.
In this guide, you will find answers to the queries that often pass through the mind of an entrepreneur while making this decision.
How to choose a mobile app development company? – 7 Sub-Queries:
These queries are resolved with the detailed explanation below. Read these answers before making the final call.
1. How to judge if the best app development companies will satisfy my needs or not?
Every business has its own needs when it comes to availing services. You will have to judge a company on the basis of your needs. Check if a company that you choose can provide the following things to satisfy your needs: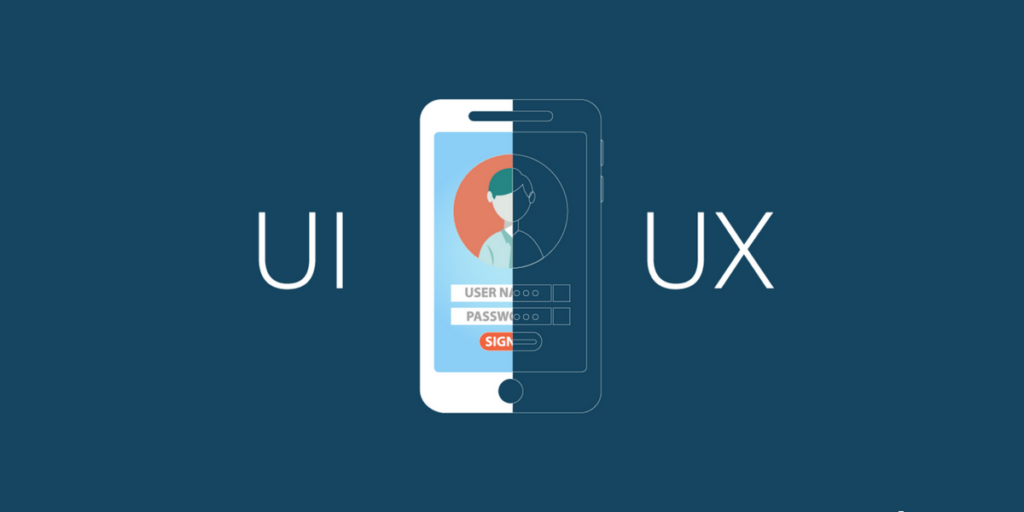 Custom development
Do you know it is expected that by 2021, the mobile app downloads will reach 352.9 billion? It seems a huge number but also depicts a tough competition. Because it's not only you who is aiming at this target audience.
The first rule of any business is to offer something unique to its customers. A cliche mobile app idea or design or function is no longer entertained in the contemporary times of well-aware customers. This is why it has been mentioned above that you will have to dig deep into your requirements.
Looking for Mobile App Development Company
Contact Us
Creating an app according to the clients' requirements is not the capability of every app development company. Choose someone who has prior experience in delivering the customized mobile app to their clientele.
UI/UX design:
Anything that appeals to users' will definitely work. Selling an app is more like stimulating the users' minds. The app development company that you choose must have a team of designers which is an expert in creating enticing designs. they should be able to explain to you a comprehensive guide to mobile app design.
A poor UI/UX design leads to dissatisfaction among users which results in abandoning the app. The skillful and diligent mobile app developers have capabilities to create an application that offers seamless user experience and appealing design.
Web-based design
In the world where innovations are leading the software technology sector, the boundaries between mobile and web apps are getting blurred. The proficient team of a web app development company possesses the skills to create web-based designs.
This means that your app will be user-based and allows them to view the app on the desktop. Such applications have plenty of benefits for users like fast loading speed and less consumption of memory.
Mobile App Porting
There can be different reasons and benefits of getting app porting services. Sometimes, we need to port or migrate our apps from one OS to another. You might choose to expand your business and customer reach by making your app available on various devices and operating systems.
If you have similar needs then look for a web app development company that has experienced professionals who can migrate or port your mobile app. This can increase your reachability and improve the existing features of your application.
Mobile App testing
Any software product launch without thorough testing is like shooting arrows in the dark. It is vital to select an app development company that believes in conducting a rigorous testing process to make your mobile app bug-free.
This ensures prevention from technical glitches after the launch of your mobile app. When an app is tested by experienced quality checkers, it removes all the potential risks of app failure once it gets deployed in the play store.
Mobile App consultation
Remember, you are not an expert in the technical aspects of mobile app development services. Even if you know what you need to succeed in the market, you will never know what you need to make your application's backend robust and everlasting.
You need a web app development company that can bridge the gap between your idea and reality. A proficient team will understand your needs thoroughly and execute the idea with its technical expertise and experience.
2. What are the qualities of the best mobile app development companies?
Getting all the services is not where your needs end. To shine the brightest in the app store, you will require certain things that go beyond the regular things offered in the market. Hence, search for these perks in the services of your next company: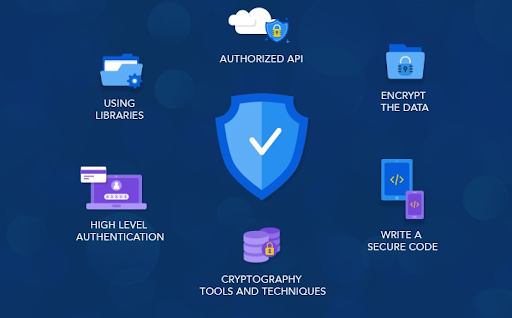 Quality
If the app development company you choose will understand your idea and needs then it will be able to deliver quality. The perfection lies in expertise, experience, and understanding of a team. Make sure they follow stringent quality check operations. This is the only way to expect high-quality services.
Agility
Agile methodology for development is different from the traditional approaches where the client used to wait until the project is completed and delivered in their hands. The agile approach is about a collaborative effort between the client, end-user, and cross-functional teams of an app development company.
This will allow you to participate in their services on a constant basis. Moreover, the developers will deliver the project on time with ease. They will be there to understand your views at every stage of development which improves the quality of execution.
Confidentiality
In the app development guide, this is one of the most crucial points. Being a business owner, the most important thing for you is to safeguard your ideas. You are working to stand-out among the competitors, so you cannot allow any kind of leak of your confidential data.
This is the reason that you need to check this parameter with immense care. The company you are working with must commit that your idea will be kept safe and secure by each and every member working on it.
Latest Technologies/features
Like every sector, the development of mobile app also keeps on evolving. The trends of this industry changes at a fast pace. Therefore, make sure that the android app development company you are selecting possess technical know-how and potential to follow these trends.
They must be aware of the latest technologies prevailing in the market. When it comes to app development services then they must be integrated with the latest features like GPS, beacon, IoT, and wearable devices.
Different types of mobile apps
A feasible way of checking the potential of a company is going through the types of mobile apps they have developed or are ready to develop. Each type of mobile app possesses the potential to attract a large audience and competition is almost equal in every app store. According to the study of Statista, there were 2.57 million apps in Android Store and 1.84 million apps in the Apple store which are developed by the iOS app development company. Given below is a graphical depiction of their findings.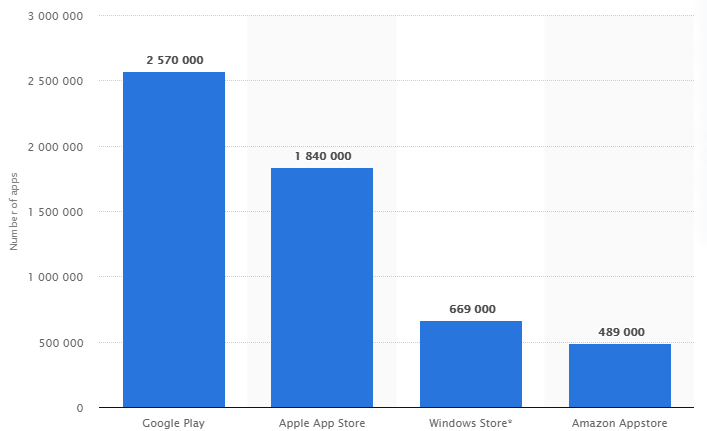 Hence, if you want to flourish in any of these app stores then you will require experts as your partners. The company which you will select must have iOS app development, android app development, cross-platform app development, progressive web app development company, and hybrid app development in their list of services.
3. How to check the background of the top mobile app company?
Will you hire a full-time employee without getting a thorough background check of his/her career? If the answer is no, then why are you willing to hire mobile app developers without a background check. Let's read about the steps to be followed for this background check:
Review case studies
This rule is not confined to the app development guide, in fact, it is the best way to check the potential of any business. A review of the portfolio can help you find if the developers' team of web app development company has worked on your business niche or not.
It is the most efficient way to check the abilities and experience of developers. Their work will speak volumes about their expertise and knowledge. When you will go through the portfolio of various companies, it will help you find the most suitable developers for your project.
Reputation: What do their clients say?
You do not have plenty of money to waste. Hence, you cannot take the risk of hiring inexperienced or inefficient developers. Client testimonials are easy to find and give fruitful insight into the real capacities of the team.
The first-hand reviews hold immense importance for a business person like you. You can also check Google Play and iTunes to check the potential of developers and what people have to say about their work.
Scrutinize their website
You are asking them to represent your business via a mobile app. How are they representing themselves? It says a lot about their approach and professionalism. Apart from that, you can check client testimonials and portfolios as well as the blog of the company's website. Generally, app development companies mention details about the services they are offering, you can have a great idea about the essential details from their website.
4. How will I check the efficiency of developers before hiring them?
Are they specialized in your niche?
There are some mobile app categories that are downloaded more than others. For example, gaming is the most downloaded category of mobile apps whereas education and productivity are the least downloaded categories of apps.
When you will explore the market, you will come across app development companies that have worked a lot in the popular categories. There are very few of these companies that have experience in less-popular niches. Before finalizing any one company, make sure they either have experience in your niche or in a variety of niches.
Will they provide an out-of-the-box solution?
This is related to the creativity of a human and there is no way to measure that. So, how are you going to judge their ability to think out-of-the-box? A simple and well-tried way is to check their portfolio. If you find anything extraordinary or unique in their portfolio then probably they practice an out-of-the-box approach for development of mobile apps.
Are they qualified with relevant experience?
As it is mentioned at the start of this blog, there are 27.7 million developers in the world. Each of them cannot be the perfect choice for your mobile app project. To check their relevancy and qualification, you can ask if the hybrid app development company will allow their client to hire developers after reviewing their resumes? It is recommended to hire developers after primary scrutiny of their profiles and personal interview.
5. What are the Pro-tips for "How to choose the best mobile app development company"?
The tips mentioned below are not recommended in any other app development guide. These are the common parameters which are never mentioned in any other guide: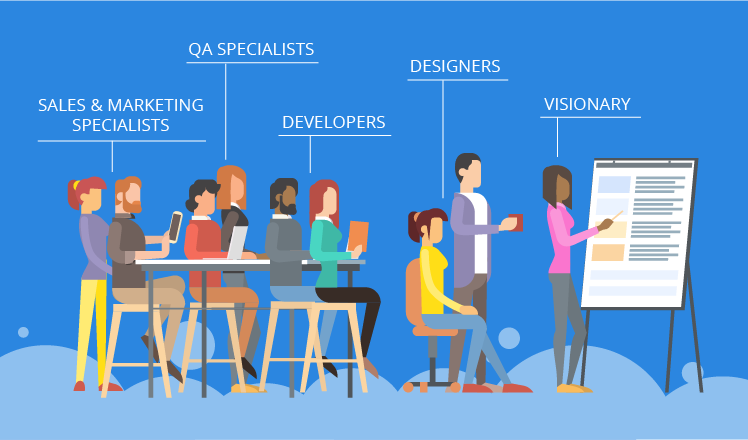 Size of the company
This is not only a part of the app development guide but also every other guide that requires selection. The size of any company does not speak primarily about its potential or proficiency. But a team of at least 100+ developers can ensure that they have a team where you can find people with experience in your niche. It always conveys the establishment, reliability, and reputation of a web app development company.
Communication Skills
When we say communication skills it does not mean that they must have the presentation skills as well. You just need to expect that the mobile app developers you are planning to hire can understand what you say and are able to express their views to you.
It is a basic requirement for smooth and efficient communication throughout the development process of mobile apps. Real-time communication ensures seamless execution of app development services.
Passion for your project
Nothing works well without enthusiasm and passion. If the developers that you are hiring are forced to work on your project, it will impact the outcome adversely. This is something that most of the businesses miss during their selection process of a suitable hybrid app development company. It is crucial to know about the willingness of developers more than their potential to develop a mobile app.
6. What question should I ask them?
This is one of the most crucial steps of choosing a company for development project. Never rely on your own research from third-party resources. Before finalizing an eCommerce app development company, make sure to have all your doubts cleared. Ask them these questions to know more about them from their own team: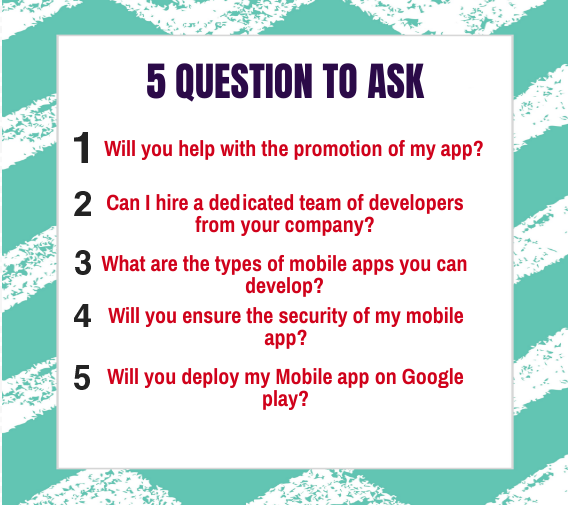 Will you help with the promotion of my app?
Ideal answer: Yes, we follow a promotional plan on a global level for your app once it gets launched. It will be a result-oriented app marketing service.
Can I hire a dedicated team of developers from your company?
Ideal Answer: Yes, you can hire dedicated mobile app developers of your choice. They will work on your mobile app project exclusively.
What are the types of mobile apps you can develop?
Ideal Answer: We are providing the following types of app development services:

iOS app development services: iOS app is a native app that will help you to establish your brand on Apple's ecosystem.
Android app development services: Android app is also a native app that works well for startups and beginners in entrepreneurship.
Cross-platform app development services: An app that runs on different operating systems, unlike native apps.  It expands the reach of your mobile app.
Progressive Web app development services: These apps provide native-like experience but work on web browsers also. Hence they do not use device memory. PWAs offer offline functionality, push notifications, etc.
Hybrid app development services: A more economical option in comparison to native apps. They look like them but offer features like fast loading pages, offline functionality, responsive designs.
Will you ensure the security of my mobile app?
Ideal Answer: While offering app development services, we have a primary focus on security. We ensure the same with robust encryption. Our developers are experienced enough to understand the security risk attached to any app development service.
Will you deploy my Mobile app on Google play?
Ideal Answer: Yes, we provide end-to-end development services which include the deployment of the app. We ensure complete submission with the listing descriptions.
7. How to make the final call?
After reading answers to the queries mentioned above, you must have understood that the development of mobile apps is not confined to coding. It is a combined effort of a team that involves communicating, understanding, and testing the mobile app diligently.
It is more about appealing users with amazing usability and design and less about executing the development in less time or cost. In the contemporary competitive mobile app market, you require an app that can represent your products and services in an innovative way.
Therefore, you must consider the overall package associated with any app development company before hiring them. From consultation to deployment, the team must have the courage to go beyond the ordinary app development parameters and offer an out-of-the-box solution.
Useful articles, updates, offers and guide boon from SparxIT Team
Categories
Let's discuss your project idea.
Featured In