The eCommerce website development process is no easy task. Being a business owner, you have to have a clear idea about what you are expecting and what it may result for your organization. With clarity of thought, you can extract the most precise estimation of resources that need to be invested in your project.
Before you hire an eCommerce development company, it becomes important to understand the process and its resultative impacts on your business.
Developing an eCommerce store is more complex as compared to a normal website. From design and usability to functionality, it should meet varied expectations of you, the business administrator, and the end customers.
The road to a successful eCommerce store for your business can question your capabilities and vision at many stages. Despite having an appealing design and strong development, you may need to fit your store right in the market or you may become disappointed by a steadily slow start.
In this blog post, we shall discuss the unprecedented challenges of the eCommerce development process.
How to Get Started With eCommerce Development
The journey in eCommerce web development services will always start with the inception of an idea. The idea should focus on the complete needs of its consumers. It should focus on the needs of the store owners and vendors.
Since eCommerce processes run over the cloud, it becomes important to meet the technological demands of the applications.
Here we are enlisting some of the most crucial things aspiring business owners should remember before they kickstart their eCommerce development journey.
A Good Design Is a Doorway to High Customer Conversion
Design plays a key role in driving your website visitors to call-to-action buttons. It should look unique in a way. The visitors expect your website design to tell what you are all about. You should consider the concept of minimalism while choosing what should or should not be there on your website. It will help you to identify and remove the redundant page elements and present what is primary.
Choosing Domain Name Is Crucial
"Why so much hype about the domain name?", someone asked. Because it is your first identity. We know businesses include their domain types e.g. .com, .org. .net, etc. Though it is not necessary or the best strategy to keep your domain type in your business name, it can be good for recalling where people can find you on the web but it is always optional. You need to be creative and aware of your deliverables to the depth so you can give your eCommerce website a domain name that defines you.
Get the Best eCommerce Platform Package Onboard
By choosing a capable and feature-packaged eCommerce platform, you can get a versatile set of tools and utilities that you can add to your eCommerce website. There are both self-hosted and open-source eCommerce development platforms. You can compare their offerings as per your requirements.
If you are impressed by largescale popularity and success of WordPress, you can use its eCommerce plugin, WooCommerce.
If you are someone who understands the technicalities of eCommerce web development, Magento can be a choice for you.
Many websites integrate WordPress blogs into their Magento eCommerce store. They also integrate the product catalog into the cart for a flexible process infrastructure on the website.
Shopify is a self-hosted eCommerce platform that provides consumers a prebuilt application architecture.
Work on Your Sales Funnel
Another crucial factor that you need to focus on while creating an eCommerce website is to keep your sales funnel smooth, customer-oriented, and simple. The sales funnel demonstrates your customers' journey on your website. It is among the most crucial components of any business website. You can co-ordinate with eCommerce web developers so they keep your website's user experience right up to the needs of an eCommerce consumer.
Use Data to Create Growth Through Your Business
To make precise and result-oriented decisions, you can either rely on your own consciousness and knowledge or data. Sometimes you may need all of that. There are analytics tools available to interpret the behavior of your website visitors. To tackle the challenges in business timely and efficiently, you can use eCommerce analytics tools to get your requirements and objectives aligned. These tools will help you recognize your strengths and weaknesses in handling the eCommerce website.
Never Compromise With Customer-Experience
If you want to be your customers' favorite, you should understand their needs and present your features in the most comprehensible way. From page appearance, navigation to query forms and call-to-action buttons, everything has to be strategized, managed, and implemented compatibly. You should have a system that responds proactively to your customers' queries or feedback. You need to draw a line between using service automation and handling things manually.
Most Common Pitfalls of eCommerce Development & Their Resolutions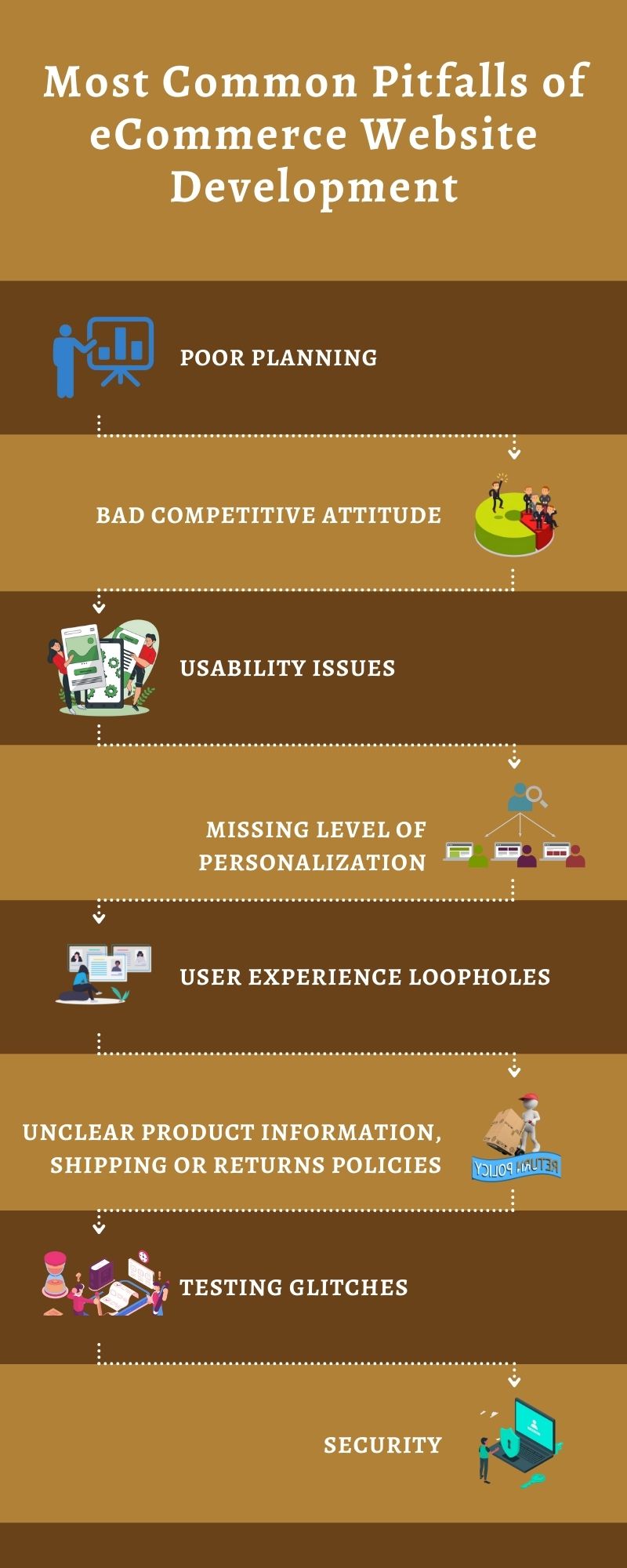 The eCommerce website market is becoming more competitive every day. If you are an aspiring business enthusiast and thinking of launching an online store or a multivendor eCommerce platform, it is important to take strategic calls before you invest in something.
There are many who are developing or have developed eCommerce websites but most of them have not been able to achieve what they expected. The positive side of the story is that eCommerce websites always have a higher ROI than any other industry domain. You invest less and get more in return if you do the job smartly.
Before you fail, you must know the pitfalls you need to take care of. This section will cover it for you.
Poor planning often leads to a rushed launch that didn't anticipate all of the website's requirements. When we say that you should have a good plan, we mean that you should be aware of the fact that your website is the lone weapon you can use and work on to grow in such a competitive market. You need to consider the financial, business-wise, and strategy-based challenges you may face.
Lack of Competitive Attitude
You do not need to be a part of the rat race to get ahead but you should be aware of the development in the market. If your competitors are doing better, your targeted audience has a better option than you. You have to be smart enough to outline the things that you like or do not like about your competitors' approach towards customers. All it takes is a few moments of research, parameterized analysis, and a decisive attitude.
If your site is difficult to navigate or too flashy, people will get frustrated and bounce. You need to make your platform user-friendly. It should be easy to use. You should not make your website visitors put a lot of effort to access some sort of information. In order to restrain any usability issues, you can create a user story that would visualize the users' journey.
Missing Level of Personalization
A website that doesn't resonate with your audience will not be successful. You can use data and personalization to meet the varying demands of eCommerce customers. The industry is evolving and you can stand out from your competitors if you personalize your application to the expectations of the customers. From adding loyalty features to add marketing-oriented tools that help you approach customers better, you may keep on evolving yourself and attain the advantages of personalization.
User Experience Loopholes
Mobile responsiveness has become a crucial element in eCommerce website development. A large number of an audience reaching your website will be using mobile devices and you cannot afford to provide them a bad experience. If your website is taking longer than usual or your competitors, you may be giving your customers the chance to look for alternatives while you struggle to load your page completely.
The addition of feature-packaged search options is another important element that many eCommerce customers see when they access their favorite products. Advertisements on your website might be good to monetize your website's existence but you have to be smart so your customers do not become bored and irritated.
Looking for eCommerce Development Services
Contact Us
We discussed the essence of sales funnels on a website. You can work on your website's approach for outreaching customers with new offers but you need to be careful about the place and timing.
Unclear Product Information, Shipping or Returns Policies
People like to know what their options are before they decide to purchase something. If people cannot find out the information they seek or you want to present about your products, it will be a loss for the business owners. The goal should be to provide information in a suitable, compatible, and comprehensible way. You need to state your policies related to shipping, returns, refunds, or offers clearly. You can post FAQs or launch an open community forum.
You can't just launch your website and hope for the best. There are tools available to test things like site speed and usability. Testing helps you to check if you are website is ready to use. Testing is the necessity of every product of which performance is to be judged by the real customers. The audience of eCommerce platforms is large and versatile. It has to be done structurally. You cannot miss out on any major or minor inputs or remarks given by the testing or quality analysis professionals.
A lack of security measures can result in hackers and other malicious actors compromising and stealing customer data or engaging in identity theft. When you purchase a domain for your website, you should not think twice to get an SSL certificate for it. You can keep strong password validations, two-step authentication, and social logins to avoid malicious access to the website.
Security is a vital component in the process of eCommerce website development and needs to be taken care of very attentively. You can keep on searching for new security protocols and features to enhance the level of security on your platform which would also make your website more credible.
Final Words
If you can counter the mentioned pitfalls timely, you will have a sustainable and secure eCommerce platform bringing growth and success to your ways. It is all about adopting an advantageous approach for product development.
Sparx IT Solutions is an eCommerce web development company. We design, develop, test, and maintain eCommerce platforms.
Let us have a look at the table giving a quick overview of our offerings in eCommerce website development.
eCommerce Website Consulting
Creating a business growth plan
Deciding important project components including technology stack
Defining migration and integration strategies
Visualization of requirements through wireframing and prototyping
Free technical consulting
eCommerce Website Development
Product design
Custom UI/UX
Data migration
Integration of third-party applications
Product launch, training, and support
Our portfolio is full of eCommerce projects that we have helped to evolve through the years with an aim to create positive business outcomes in terms of revenues and customer retention.
Useful articles, updates, offers and guide boon from SparxIT Team
Categories
Let's discuss your project idea.
Featured In