In the recent years, the boom in parking application development is visible across the world. The count of cars in metro cities keeps growing, while parking in big cities is still unchanged. Due to this, people face nightmare to find a free parking area. The situation seems worse when one is late for the office or in a hurry to attend a meeting. Here, they require a smart parking system to support them.
Considering the high demand of car parking app development services, android app development company initiated favorable steps to develop the best apps. Sparx IT Solutions finds a top place among them. We make it possible for our clients to own the best car parking system app. Being a car parking app development company, we include all the desired features of client into the app.
Sparx team believes in overcoming robust problem before reaching directly to a solution. Therefore, we explore the potent issues based on the car parking app. Our team works on the possible problem that may occur in users' mind. Here they go:
Shortage of parking areas is the biggest headache in the big cities. A good parking app solution is a real ease in such situation.
Yes, road signs help people drive towards the parking area. But, the time they reach there, the parking is full. So, get a good parking system app that guides towards only those road signs where parking has space.
Different parking lots have different rules. And, without an app, you will not be able to track them until you visit to the specific parking area.
Custom Parking App Development Comes With Different Ideas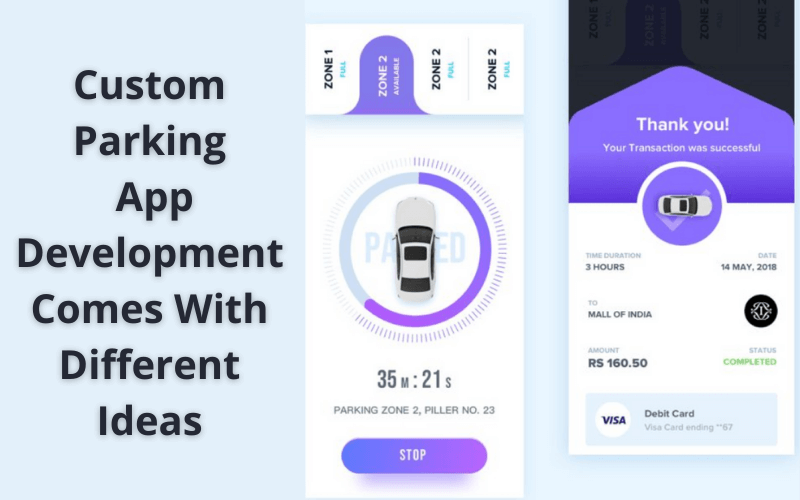 Every business owner wishes to meet the needs of their target audience. Similarly cab businesses wish for Cab Booking App Development to offer easy and safe travelling. This made the increased demand for Taxi Mobile App Development Company to convert Mobile App idea into reality.
A business owner opts for an app based on the users' demand regarding the parking spot. In turn, the app performs each step including search, booking, payment, etc. There are thousands of mobile apps available in the market. If you want to compete with others then hire Mobile App Development Company that follows agile Mobile App Development Process for rapid app development.
If you hire a professional app development company then you will also get a quote that will help you to know the Mobile App Development Cost. You will be able to identify whether the product you wish fits under your budget or not.
Despite the availability of dozens of applications, three kinds of apps are popular in the market.
These apps work as the navigation device by showcasing all possible parking lot addresses. They provide route, count of free parking areas along with their working hours.
Navigation Plus Booking Based
Such kind of parking apps are not confined to navigation purpose. These remove the hassle of running towards a paying machine. They combine navigation and booking in advance.
Complete Booking Criteria
These are hard to implement but if implemented generate great revenues. This app type thinks beyond navigation, booking, pricing, etc. They allow the user to register and choose a suitable place, time and leave the order. This app provides information to the staff and someone comes to pick the car. It is up to the business person the kind of features he wants to add in the app. Here are some of the most useful features of a parking app:
Keeping all these probable issues in mind, we try to fix them by implementing the following features in our custom car parking iOS app development services.
Looking for Mobile App Development Services
Contact Us
1. Easy Searching and Reservations
With a custom parking app, it turns simple to find and reserve the desired parking area. The user does not need to roam longer. He finds a perfect spot and goes there straight to park the car.
2. Parking Mobile App with GPS Tracker
Everyone knows the importance to use a parking app with GPS facility. An app based on GPS enables them to search the parking area and reach there to park their car. Inclusion of GPS guides users with routes and directions. Thus, it becomes easier to find and reach at the parking area.
3. Street Parking Alerts
This is something like GPS feature. It guides users by showcasing a live map of the existing street parking near them. Street signs also guide regarding metered parking, no parking, etc. Each sign is simple to understand.
4. Check and Compare Pricing
One no more requires paying too much for the parking. A good parking app facilitates them to see the price charts and compare it with other parking spots. This way, they can park their car at the most economical price at the nearest destination.
5. Book on daily, weekly or monthly basis
Today's smart parking system allows the users to book parking spot for daily, weekly or even monthly basis. They can book the similar area for required time. After this, the user does not need to reserve the parking each time.
6. Simple and Quick Payments
It is quick to pay via an app available on your phone itself. With direct payment, users can enjoy the sense of security. One is not bound to pay through app, it keeps the users free to make payment by cash also.
7. Multilingual
These days, this is no longer hard to get multilingual feature in a perfect parking app. It takes only a tap to switch the desired language in an app.
Final Gist
Hence, parking app development services are quite vast. One can expect as many custom features as he aspires. The prime factor that matters, is the exact requirements of the users. Hence, entrepreneurs are moving towards On-demand app development to meet their customers' needs. If you have questions in your mind, you can talk to one of our experts today.
Useful articles, updates, offers and guide boon from SparxIT Team
Categories
Let's discuss your project idea.
Featured In