With the rapid growth of mobile apps, many daily tasks have become dependent on smartphones. Whether there is a need to book a cab, a hotel room, or a table in any restaurant, there is an app for every possible requirement. Among all these applications, taxi booking apps are becoming more popular because of increased user demand.
The popularity of taxi booking app development is rising to cater to the ongoing demand. Some taxi booking apps have emerged as leading business giants in the global market. For instance, taxi booking apps like Uber expanded to multiple domains, including technology and food delivery. If someone argues the margin for growth with these apps, the one-word answer is 'massive.'
Consequently, many business owners hire app developers skilled in understanding the target user demand in specific industries to provide tailored solutions.
This blog post will walk you through the elements you need to know before developing your taxi booking application.
Taxi Booking App Development: Market Overview
If you plan to create a taxi booking app, you must know the possibilities. Being aware of market insights can help your business succeed.
After the COVID-19 pandemic's downfall, many industries are emerging stronger than ever, including tourism, logistics, hospitality, and more. Hence, investing in cab booking app development is more imperative than before.
We are starting this blog with some statistics indicating the drift in the taxi booking app market through the years. These statistics are focused on the growth in revenue and the user base of taxi booking apps.
Let us have a look:
With a CAGR of 19.87%, the global ride-sharing market is expected to grow from $61.3 billion in 2018 to $218 billion in 2025. (MarketsAndMarkets)
The ride-sharing market is projected to grow by more than 115% from 2020 to a global market value of $185 billion in 2026. (Statista)
The key players in the ride-booking app industry are DiDi, Uber, and Lyft.
Uber produced $31.8 billion in revenue in 2022, $14 billion from ride-hailing, and $10.9 billion from mobility. It showcased an approximately 82% increase in revenue from the previous year. (BusinessofApps)
Overall, the global taxi market is expected to reach US$ 284.84 Billion by 2027, showcasing a CAGR of 5.27% from 2021 to 2027. (ResearchAndMarkets)
Who Needs to Create a Taxi Booking App?
With the arrival of enterprise mobility to this ever-growing business domain, taxi services have become more powerful than ever before. A top-rated app development company will analyze your business before dwelling on the taxi app development process.
Here are some of the businesses that can leverage taxi app development services:
Taxi Service Providers
This is the top business category that can leverage taxi booking app development services. A taxi booking app can help your business offer better services. Moreover, you can gain better brand recognition, improve customer experiences, and generate more revenue with these apps.
With high demand in this business, creating a taxi booking app will let your business stay competitive in the future.
Transport and Logistics Services
Taxi app development services can also provide various benefits to transport & logistics services for transporting goods, requiring a fleet of vehicles. You can build a taxi app to offer better transportation and logistics services.
For instance, Uber, BlaBlaCar, FlixBus.
Also Read: Complete Guide to Logistics App Development
Tourism and Hospitality
With technology advancing, industries must focus on delivering more innovative and customized solutions to meet user demand. For instance, tourism and hospitality companies can create taxi booking apps to assist travelers & guests in booking rides to and from airports, hotels, tourist attractions, and other destinations.
Healthcare Providers
In the healthcare industry, taxi app development can be valuable for patients and medical staff to visit hospitals, clinics, doctors' appointments, etc. You can customize an app with features and integrations to cater to specific customer requirements.
Startup: A Business Enthusiast
Are you a startup or an individual with a promising ride-booking app development idea that you want to develop? You can contact a travel app development company to transform that mobile app development idea into a reality.
A customer-focused app development company will help you save money by validating that idea with a strategic MVP development.
Top 5 Reasons Why Taxi Booking App Development is Crucial for Businesses
If you are a business enthusiast and plan to build your taxi booking app so you can be a part of it, you must know why it is recommended to have such an app developed.
There are five primary factors or reasons that can make aspiring businesses choose to develop a taxi booking app.
Here are these factors:
Scope
Taxi booking apps have provided drivers and commuters with a more open, transparent, rich-featured, and credible medium to drive and commute. The popularity of these apps is quite evident, and you may find every contender in the market doing a satisfactory job attaining more customers, revenues, or overall growth.
Technological Advantage
If we talk about the fundamentals of the technological structure of a taxi booking app, they might be similar to one another. Thus, if you plan to develop a taxi booking app, you might not need to do wonders in technology.
You must follow the basic application plan that any taxi booking app can implement. It is the reason why developing a taxi booking app may be budget-friendly. A strategic plan is crucial in leveraging the technological advantages of building such apps.
Direct Benefits
While running a taxi booking application, rides are the only medium to earn revenue. The more your drivers use the app to drive the customers, the more your revenues increase.
The app's taxi drivers drive the commuters and the company's business. They get the technological response and support from the application and use it to make their earnings. There are direct benefits for the drivers as they can rely upon the application to get more earnings. Customers can earn cashback and even regular rides at affordable prices.
Easy Operations
A taxi booking app is a technological resource for digitizing commutation. The core objective of the cab booking app development was to simplify the operations, which they have accomplished to a large extent.
The overall process structure of the taxi booking apps is automated and exhibits simplistic control of resources over various operations. Different responsible resources are at each end, and the tasks are process-oriented rather than reliant on mutual peers. Hence, anyone with a mobile app development idea related to enterprise mobility can operate more efficiently on a taxi booking app than in any other niche.
Growth & Recognition
If you adopt the right marketing strategies, your taxi booking app can fly high with growth. Commuters are always looking for alternatives with reduced fares or more facilities. If you comprehend their needs right, you can earn their faith and boost yourself as a thriving business institution.
Uber is a leader in this market, but there are other applications many customers would rely upon. If the fares on Uber seem higher, the users might also try different options, which means you would surely get the chance to prove yourself to the customers even if your competition is with one of the world's largest business giants.
Implementation of a strategy that can resolve customer issues will lead your business to success. The same goes for a taxi application as well.
Cab Booking App Design: Taxi Booking App Business Model
A taxi booking app like Uber consists of three segments: drivers, riders, and owners. Let's break down these elements in detail to understand the taxi booking app model.
User Flow of Passenger
The end-user or customer of the cab booking app uses this app to travel to and from their desired location. Users can register to the app, select their pick-up location & destination, and get the ride details. They also get the details of the estimated arrival time and total fare.
User Flow of Driver
Taxi booking apps offer several solutions to drivers, such as reducing the waiting time on the road and wasting gas in search of riders.
Drivers get ride requests from the nearby area, and once they accept the request, they can track the pick-up location and rider's contact details. They are also authorized to rate the rider based on their experience.
User Flow of Vendor
If you have a business where you own various cabs and work with drivers, manually managing all of this can get hectic. Developing a taxi booking app can help you handle your business efficiently. You can keep track of your cabs and drivers' location, the condition of cars, total revenue earned, and more.
How to Make a Taxi Booking App: Must-Have Features For a Taxi Booking App
We have already discussed why developing a taxi booking app can be the key to growing your business. Once you have made a choice or understood your reason to step ahead in this direction, it is time to decide how you will make it.
Taxi App Development Features for Passengers
The features and elements of the customer panel are integrated, considering the needs and expectations of the customers. It will include a registration & login page for entering into the application, ride-booking UI, booking history, payment portal, and driver reviews and ratings.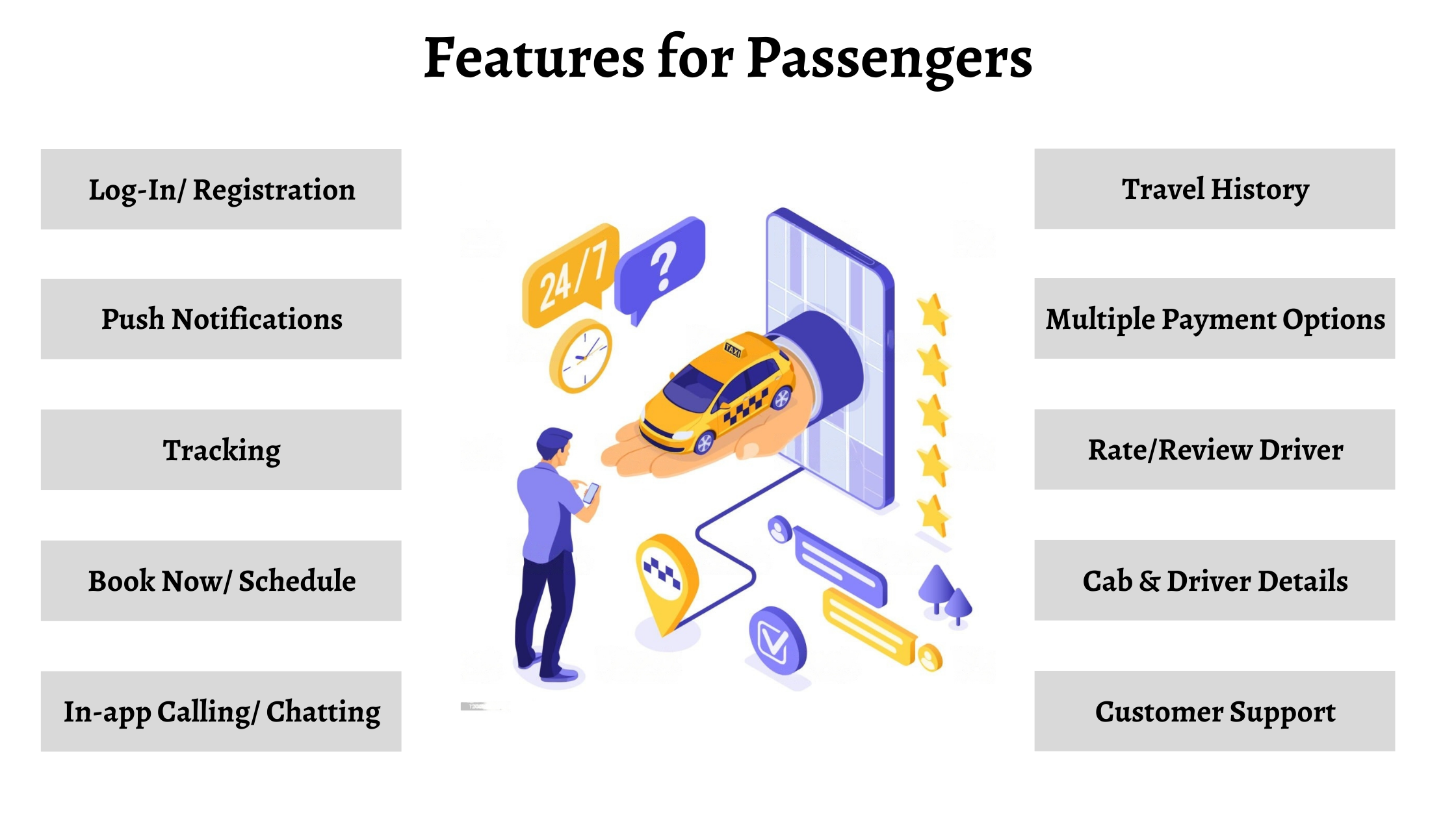 Let us see the features you must consider for the end-users if you are ready to develop your taxi booking application. The main headline of this section will always be about the features you can not miss out on.
So, here are the features you must offer your passengers.
Log-In/ Registration
Push Notifications
Tracking
Book Now/ Schedule
In-app Calling/ Chatting
Travel History
Multiple Payment Options
Rate/Review Driver
Cab & Driver Details
Customer Support
Taxi Booking Application Features for Drivers
The driver panel in the application will focus on the operations of a taxi driver using the application. It will include login and registration pages where they can fill in their details to log into the application. Also, integrate a homepage with a map in the background.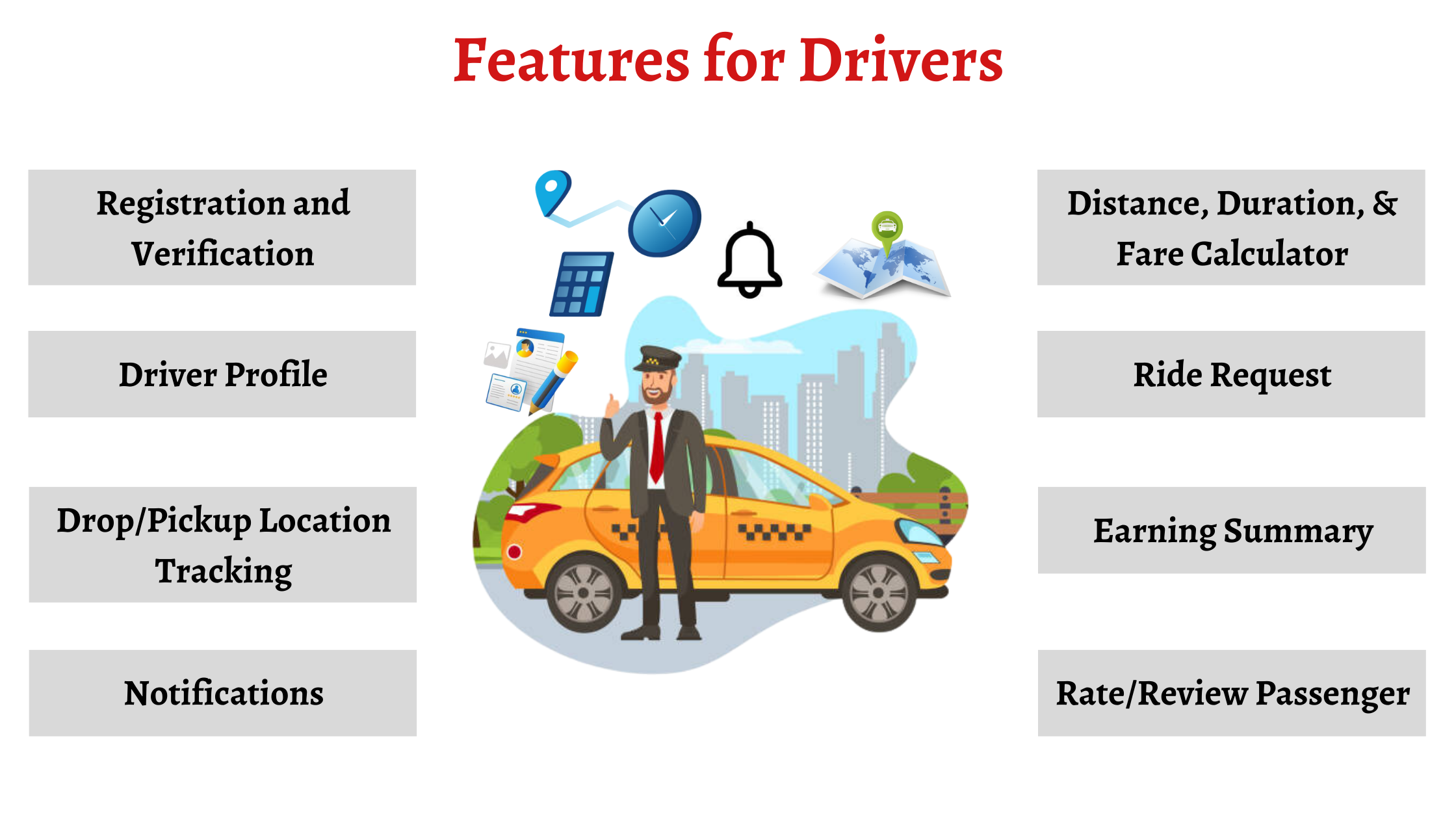 Whenever there is a ride request from the customer, a popup shows up to which they can respond by confirming or denying the ride. After completing the ride, the driver can confirm payment has been processed by the customer. Moreover, many other features exist in the driver panel, i.e., ride management and payment collection wallet.
Features play a crucial role in the success of any mobile application. Taxi booking app development is 20% about the process and 80% about the features.
You can integrate these features in your taxi booking apps for your drivers.
Registration and Verification
Driver Profile
Drop/Pick-up Location Tracking
Notifications
Distance, Duration, & Fare Calculator
Ride Request
Earning Summary
Rate/Review Passenger
Ride Booking App Features for the Admin
Any taxi booking app development can combine the admin and driver panels per their requirements. However, when developed separately, the main objective of the taxi booking app is to streamline business operations.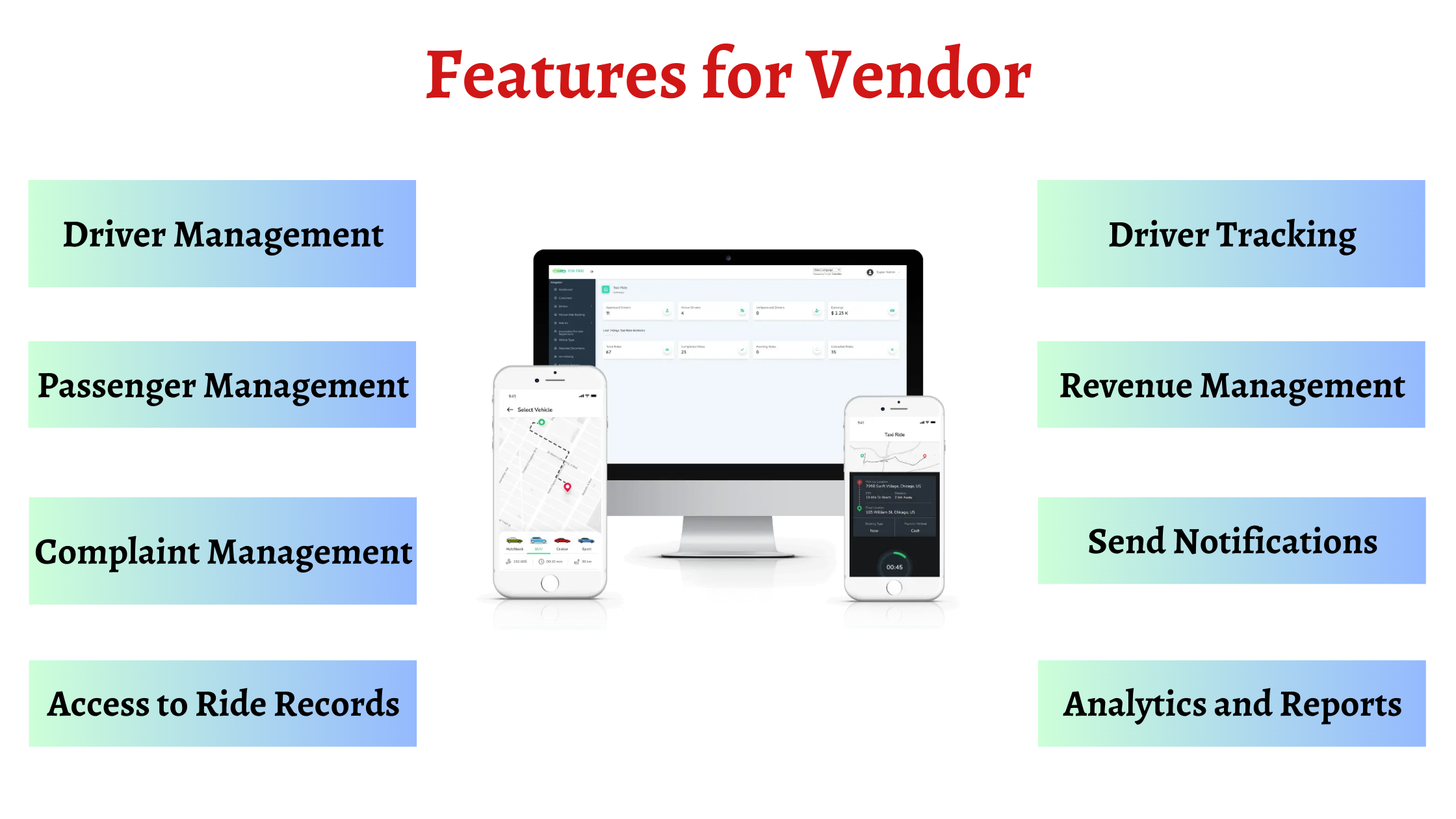 You can integrate a CRM into the admin panel for administering most of the information in a smooth and fast pace of delivery.
Every taxi booking app might have most of its features the same as any other such app in the market. The challenge is to stand out despite the similarities with your contenders.
However, it is not always about adding new things but also about implementing the foundational features rightly.
Below are the features you can implement for the Admin who manages the taxi business.
Driver Management
Passenger Management
Complaint Management
Access to Ride Records
Driver Tracking
Revenue Management
Send Notifications
Analytics and Reports
Complete Technology Stack For Taxi Booking App Development
For developing a fully-fledged taxi booking app for Android and iOS platforms, you may need a tech stack comprising technologies dedicated to each application segment.
The application is a combination of different APIs that run behind the user interface. We are here to elaborate on the tech stack of the taxi booking app for iOS and Android.
| | |
| --- | --- |
| Programming Languages | Python, JavaScript, Node.js, Go, Swift, Objective-C |
| Payment System | Stripe & Braintree (split fare option), PayPal's Card.io |
| GPS | Core Location Framework (for iOS) / Google Location API (for Android) |
| Database | Hadoop, MySQL, PostgreSQL, SQL Server |
| Push Notifications | Google Cloud Messaging (for Android) / ADNS (for iOS) |
| SMS Services | Twilio, Nexmo, Plivo, etc. |
How to Create a Taxi Booking App in 2023?
Now that you know your requirements, tech stack, and ideas for creating the taxi booking app, we can discuss the process. The process begins with understanding the needs, complexities, and real-time application structure to be developed.
A taxi booking app is not used by those who commute but also by the drivers and business administrators utilizing the application to administer different processes. It means when we develop a taxi booking app, it includes a different interface of the same application used by various authorities.
Watch this short video to take a demo of a taxi booking application developed by SparxIT, a leading app development company.
Uncover the secrets behind the groundbreaking taxi booking app on the case study of Ezi Ride.
Let us now focus on discussing the steps of the taxi app development process.
Design
Before we get into creating the fundamental structure of the application, we need to design the application before development. App designers comprehend the client's needs and frame them into the design. It will help the clients and the taxi booking company to visualize what their application would look like.
An interactive UI is the face of a rich-featured taxi booking application. When you are planning to create a sustainable application, it is considered a good practice to overlook elements of an appealing app UI initially. Missing out the user expectations or client needs may lead to skipping major UI components.
Back-end Development
In back-end development, we integrate the functionalities of your mobile application with the database. A back-end is a centralized tool that packages your taxi booking application with the server, middleware, and database.
In the earlier section, we discussed the technology stack. In the application part, technologies like Java, Python, and Swift are used to create the back-end of your taxi booking application.
You can select suitable technologies depending on the platform you want to develop the application.
We use Agile methodologies to streamline the business logic to the back-end in native taxi booking apps built across Android and iOS platforms.
API Integration
API complements the back-end of an application. It provides your users a direct medium to integrate and interact with different functionalities framed in the application's architecture.
Many APIs are used to develop taxi booking apps, including Google Maps API in geolocation features, Twilio API in the notification, and PayPal API for payment integration. API integration has a prominent role to play in the development of a fully-fledged taxi booking application.
The utilization of back-end APIs powers the complete efficiency of a mobile application. A taxi booking app development company can either purchase or create APIs from scratch.
Testing
After development, a taxi booking application needs to be tested over several parameters with a crucial role in its functioning. Quality analysts create test cases and check the taxi booking application's functionality, usability, efficiency, and effectiveness. The ultimate is to make the application pass the user acceptance test that analyzes the real-time functioning of the application.
Launch
After crossing the testing stage, the taxi booking app is considered ready to deliver to the clients. Clients can launch the application through third-party app distribution platforms like App Store or Google Play.
Top Examples of Taxi Booking Apps in 2023
For any aspiring business leader, five taxi booking apps can be idealized. From features and functionalities to business growth, we considered plenty of factors before we pointed out these five taxi booking apps among many available in the market.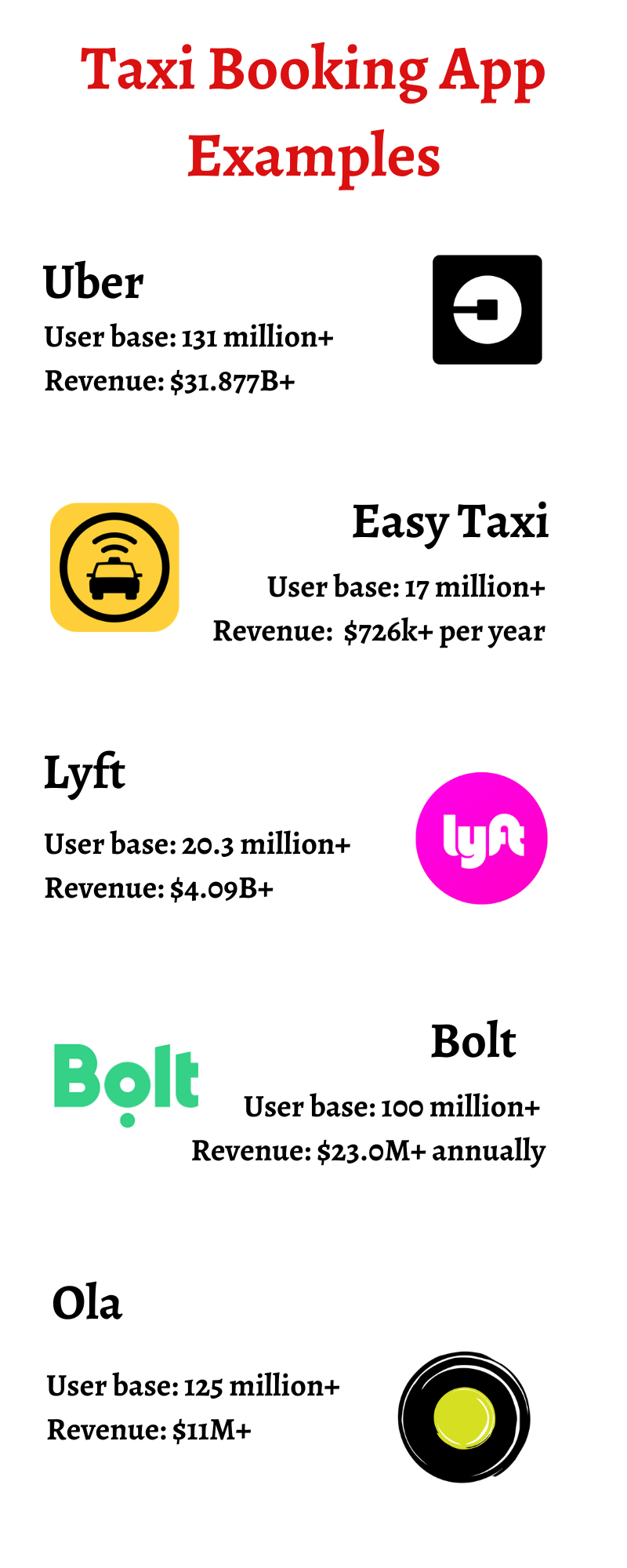 Uber
Uber is a US-based company providing transportation and food delivery app services to millions of customers worldwide. It is one of the earliest taxi booking apps on the market. The company has dramatically increased its revenues and expanded its business across many more domains in recent years.
Features
Real-time sharing & tracking the ride details
Fare splitting
Add extra stoppages
Schedule rides
Sync your meetings
Easy Taxi
Founded in 2011, Brazil-based Easy Taxi is operational in more than 30 countries. The taxi booking app has been a notable success, with millions of users using it across the world. It has a wide range of features, making it a contending taxi booking app in contemporary times.
Features
Real-time tracking
Automated fare calculator
Digital rate card
Multiple currency support
Versatile payment options
Lyft
Lyft is a well-known transportation mobile app company based in the US. It is operational in 644 cities in the US and 12 cities in Canada. Despite only operating in two countries, it is the second most-used and successful taxi-booking app in the US after Uber, with a staggering market share of 30%. The company has also invested in developing autonomous vehicles by partnering with companies like Ford and General Motors.
Features
Track busy zones in real-time
Highly-secured
Sharing trip details
Hide your personal details
Emergency assistance
Bolt
Operational in 200 cities in 40 countries, Bolt is an Estonia-based transportation company formerly known as Taxify and mTakso. They have about 50 million customers across the globe with more than 1 million drivers. It was the first transportation app to enable mobile carrier billing for payments. The company offers 100% carbon-neutral rides in Europe.
Features
Automated price calculator
Travel with your pets (Regional feature)
Add multiple drop locations
Luggage services
Promo codes
Ola Cabs
Ola Cabs is India's most extensive ride-sharing service provider application. The availability, security, and accessibility of the application have made this app so popular in India.
Features
Ola Play
Hassle-free Billing
By-the-hour Pricing
Wide Range of Vehicles
Accessibility
An aspiring taxi booking app development company can idealize all five apps listed here. It will help you to develop a competitive application that can give a close fight to all the contenders in the market.
How Much Does it Cost to Build a Taxi App?
A range of factors drives a rich-featured taxi booking mobile app development cost. Technological, business, and geographical factors count while building the cost breakdown of a taxi booking app.
Some of the defining cost-driving factors of taxi booking app development are as follows;
Features
Features make your taxi booking app be called basic or advanced. The more advanced features we include in the application, the more efficient it becomes. Since modern-age mobile app development also relies upon including APIs to include more features, it eventually increases the overall costs of development.
Technology Stack
Technologies used by mobile app development play a crucial role in defining the project's costs. From designing to creating the front-end and back-end of the application, it is recommended to choose efficient, advanced, and budget-friendly technologies.
Development & Design Efforts
From design to development, a fully-fledged taxi booking app is the result of efforts that are compensated accordingly. The more complex your application and project demands are, the more steps need to be put in. Subsequently, it increases the taxi booking app development cost.
Geographical Location of Service Providers
The geographical location of the app development companies hired by the clients also is a significant factor. The service costs of companies located in the USA, Australia, the UK, etc., may be higher than the service providers located in Asian countries like India, Bangladesh, the Philippines, Indonesia, or Japan.
Updates
Revision of requirements and any post-development changes in the application will increase the overall cost of developing the taxi booking app. It is recommended to list all the project's possible needs when prototyping the application. Even after prototype creation, you must utilize meetings between the service providers and the clients for such changes.
Tips for Creating a Taxi App Successfully
Since the online taxi booking app market is highly competitive, standing apart from your competitors is essential. A unique mobile app development idea and features are necessary to attract customers, but is it enough to retain them?
A new application enters this market daily and occupies the customer base. Hence, you need to follow specific parameters to make your app successful.
Here are the tips you can follow to create a taxi app that will help you succeed in the market.
Develop an MVP to validate your app idea.
Keep the UI element minimalistic and easy to use.
Have a unique element in your app that sets you apart.
Find your niche and stick to it. It will help you in branding as well.
Find a suitable monetization model carefully.
Select and spend your budget wisely.
Why Choose SparxIT for your Taxi App Development?
SparxIT is a NASSCOM-recognized app development company that has received many recognitions from platforms such as Clutch, Goodfirms, and Appfutura. With more than a decade of experience, SparxIT has offered successful solutions for Startups to leading brands.
So, if you want to transform your taxi booking app idea into a successful business, choosing SparxIT as your technology partner can be the right choice.
For a better understanding of our business, you can review one of our projects on taxi booking app development, where we develop a 360-degree application Ezi Ride. The application includes every single feature and interface we talked about here.
Now that we conclude this blog, we hope you comprehend all of your queries on taxi booking app development. Moreover, you can consult us to know more.
FAQs
How much time does it take to create a taxi booking app?
We follow Agile methodologies to create taxi apps, in which we understand your project requirements and offer tailored solutions. Hence, your project complexity and scope influence the total app development time. However, it can take anywhere between 2 to 4 months.
How much can an Uber-like taxi app development project cost?
As mentioned earlier in this blog, a taxi booking mobile app development cost depends on multiple factors, including features, tech stack, design elements, API cost, etc. Developing a taxi booking app like Uber can cost anywhere between $50,000 to $150,000. Contact us to know the price quote for your taxi booking app project.
How can I profit from taxi app development?
The revenue model of the taxi booking application is the best part. There are many monetization techniques to select and implement. You can charge commissions from the drivers for each ride, offer paid advertisements on your app, and impose a penalty for canceling an order. You can read our travel app development guide to learn more about the revenue model of taxi apps.
Why should we hire SparxIT for taxi booking app development?
You can hire app developers from SparxIT who are skilled in tools and technologies used to build taxi apps. SparxIT is a high-rated software development company with 15+ years of experience in the latest technologies like AR/VR, Blockchain, Metaverse, and AI. We have worked with over 2500 clients and delivered 100+ apps. Hence, it gives us the credibility and suitable knowledge to develop a scalable taxi booking app.
Useful articles, updates, offers and guide boon from SparxIT Team
Categories
Let's discuss your project idea.
Featured In