The rapid growth of mobile app technology has shrunk down many of our daily tasks depending on smartphones. Whether there is a need to book a cab or it is about getting a hotel room or you need to book a table in any restaurant prior to your visit, there is an app for every possible requirement today. Among all these applications, taxi booking apps are becoming more popular because of the increased demand from the users.
The popularity of taxi booking app development is on the increase to cater to the ongoing demand. The idea about the popularity of these taxi app development can easily be drawn to the fact that all these taxi app development techniques are making their presence count in the industry.
There are taxi booking apps that have emerged as leading business giants in the global market. For instance, Uber started as a taxi booking application has expanded itself to multiple domains including technology and food delivery. If someone argues what the margin for growth with these apps is, the one-word answer is 'massive'.
This blog post shall walk you through the complete elements that you might need to know about before you get started developing your own taxi booking application.
The outline of this blog consists of;
Let us read it out.
Statistics Proving Success Through Taxi Booking Apps More Evident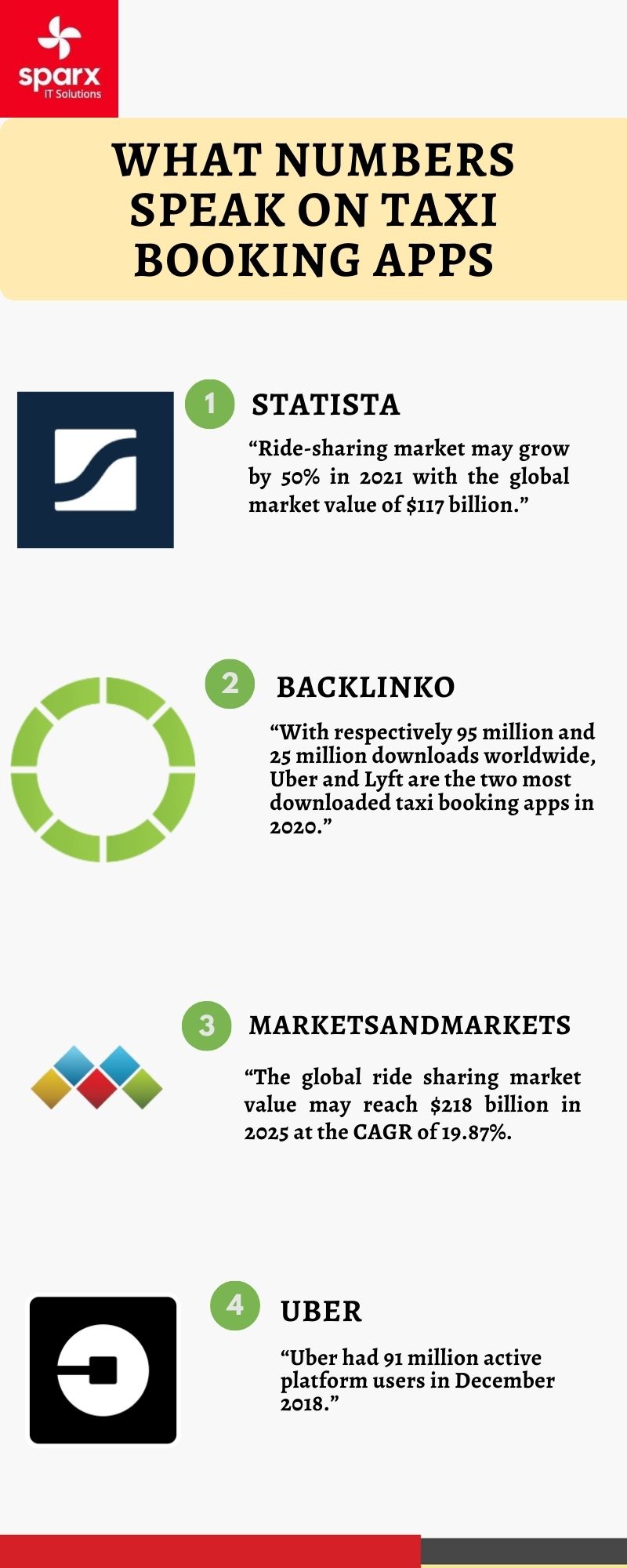 If you are thinking over a plan to create a taxi booking app, you must know the possibilities. There are positive and negative insights in every market. The COVID-19 pandemic affected the scope of taxi booking apps in many terms but it could still not sweep it away.
We are starting out this blog with some statistics indicating the drift in the taxi booking app market through the years. These statistics are focused on the growth in revenue and the user-base of the taxi booking apps.
Let us have a look;
1. The ride-sharing market is projected to grow by half from 2020 to the global market value of $117 billion in 2021. (Statista)
2. Uber and Lyft are the two most popular taxi booking apps. In 2020, where the Uber app was downloaded 95 million times, Lyft was downloaded 25 million times by users across the globe. (Backlinko)
3. With a CAGR of 19.87%, the global ride-sharing market is expected to grow from $61.3 billion in 2018 to $218 billion in 2025. (MarketsAndMarkets)
4. In December 2018, there were 91 million monthly active platform consumers. (Uber)
5. Lyft earned revenue of 1 billion US Dollars in the year 2017 and 2.2 Billion US Dollars in 2018. (Statista)
6. Grab does have a driver employee base of 2.8 million as of 2019. (Statista)
The taxi booking app market is versatile and may exhibit crucial variations in insights over geographical changes. The fundamental growth factor in the market is the number of users using these apps. If the number is increasing, the growth is evident.
Five Reasons Why Developing a Taxi Booking Is Crucial For Businesses
In any megacity, you might see many taxis running. With the arrival of enterprise mobility to this ever-growing domain of business, it has gone more powerful than ever before. If you are a business enthusiast and have a plan of building your taxi booking app so you can be a part of it, you must know the reasons why it is recommended to have such an app developed.
There are five primary factors or reasons that can make aspiring businesses choose to develop a taxi booking app.
Here we go;
Scope
Even when there were no such apps in the market, taxi drivers were earning a good amount of money. However, these apps have provided both drivers and commuters a more open, transparent, rich-featured, and credible medium to drive and commute. The popularity of these apps is quite evident and you may find every contender in the market doing a satisfactory job in terms of attaining more customers, revenues, or overall growth.
Technological Advantage
If we talk about the fundamentals of the technological structure of a taxi booking app, it might not be very different from one to another. Thus, if you plan to develop a taxi booking app, you might not need to do wonders in technology. You would need to follow the basic application plan that any taxi booking app would need to implement. It is the reason why developing a taxi booking app may be budget-friendly. A strategic plan is key to leveraging the technological advantages of building such apps.
Direct Benefits
While running a taxi booking application, the only medium to earn your revenues is through rides. The more your drivers use the app to drive the customers, the more your revenues increase. We can categorically say that the taxi drivers using the app drive both the commuters and the business of the company. They get the technological response and support from the application and use it to make their earnings. There are direct benefits for the drivers as they can rely upon the application to get more earnings. Customers can earn cashback and even normal rides at affordable prices.
Easy Operations
A taxi booking app acts as a technological resource being used to digitize commutation. The core objective of creating apps booking cabs was to simplify the operations and they have been able to accomplish so to a large extent. The overall process structure of the taxi booking apps is automated and exhibits simplistic control of resources over varied operations. For anyone having ideas related to enterprise mobility, it is simpler to operate on a taxi booking app than any other niche as there are different responsible resources at each end and the tasks are process-oriented rather than being reliant on mutual peers.
Growth & Recognition
If adopted the right marketing strategies, your taxi booking app can fly high with growth. Commuters are always looking for alternatives with reduced fares or more facilities. If you comprehend their needs right, you can not earn their faith but also boost yourself as a thriving business institution.
Uber is a leader in this market but it is not the only application many of its customers would rely upon. If the fares on Uber seem higher, it is very probable that the users might also try other options which means you would surely get the chance to prove yourself to the customers even if your competition is with one of the world's largest business giants.
Implementation of strategy resolving the issues customers will always lead you to success. The same goes for a taxi application as well.
Which Are the Must-Have Features for a Taxi Booking App?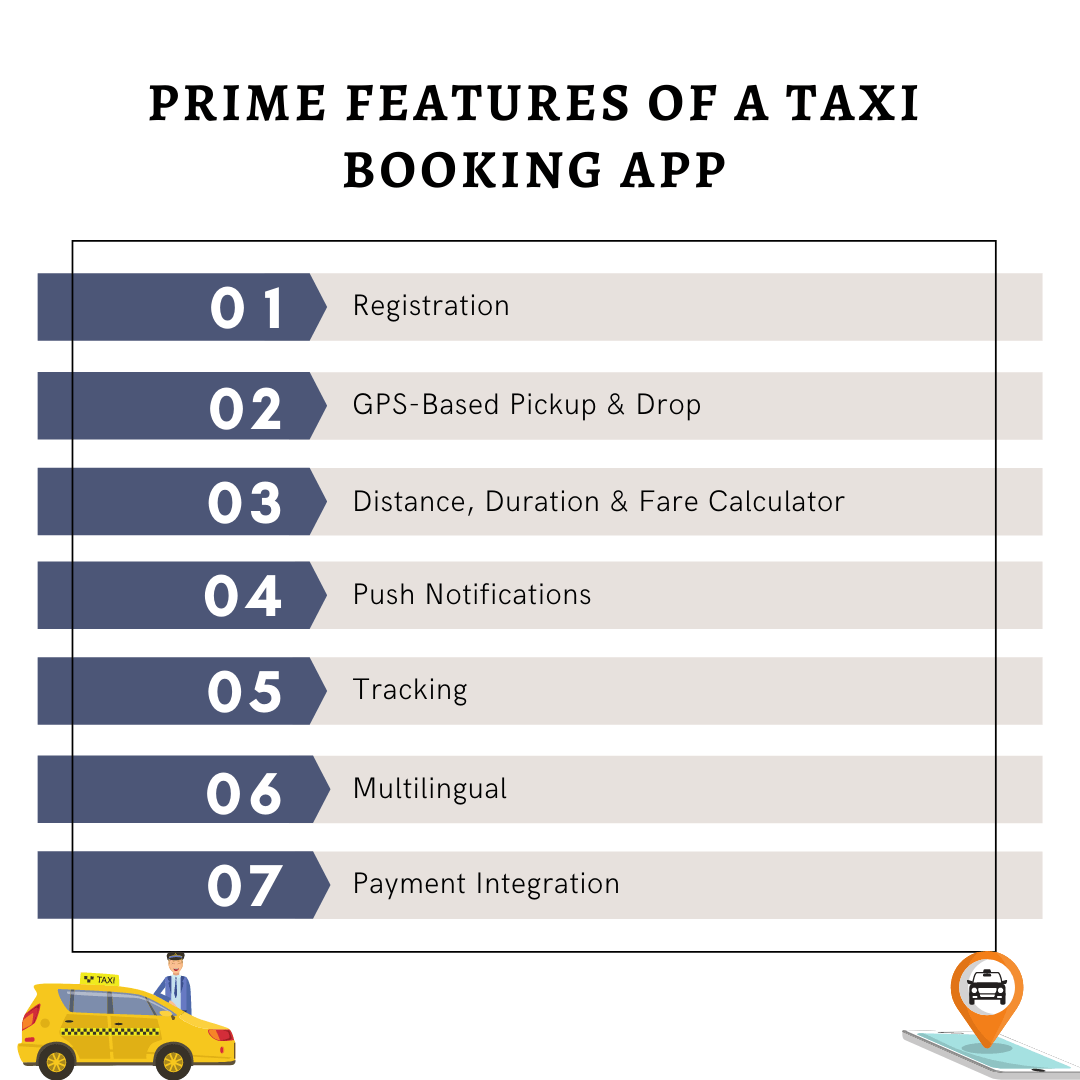 We just discussed the reasons why choosing to develop a taxi booking app can be your key to growing your business. Once you made the choice or understood what is your reason to step ahead in this direction, it is time to decide how you are going to make it.
Features play a crucial role in the success of any mobile application. Taxi booking app development is 20% about the process and 80% about the features. Every single taxi booking app might have most of its features function the same as any other such app in the market. So, the challenge is to make yourself stand out despite the similarities with your contenders. However, it is not always about adding new things but also about implementing the older or foundational features rightly.
Let us see the features that you must consider if you are ready to develop your taxi booking application. The main headline of this section will always be about the features that you can not miss out on.
Registration
Account creation is a common feature that you might see in many taxi booking applications. It is significant to engage in a rich user experience through the signup page of your application. It is the first page to which your app users would interact with and it needs to be lightweight, responsive, and easy. Utilizing social media integration or OTP-based registration are the simplest ways you can get your users registered on your application. However, you can keep the manual registration as an option therein as well.
Exact Pickup & Drop Location
Your application can use the device GPS to fetch your current location. It can enable the application to provide drivers with the exact parameters of your location. It escapes the manual insertion of your location. However, there might be accuracy issues at times with maps so it is always to keep the manual insertion of data in the pickup location field available. Users can also simply pin their pickup location on the map. Drop location can be either pinned or added manually by the users. There are voice assistants used to enable entering data through voice inputs in the application which again simplifies the job of textual insertion of data.
Distance, Duration & Fare Calculator
Once you have entered your location, the app system estimates the distance, trip duration, and fare. It provides all this information on the screen of the customer's device. If the customer is fine with the fare, they can further validate the trip by tapping the confirmation button. The system searches for drivers in nearby locations. A popup opens up on the screen of the driver to which they can respond if available for a trip. After receiving the confirmation from the driver, users are provided with an OTP for confirmation when the trip initiates.
Push Notifications
Push notifications are a crucial feature that simplifies the availability of information. The app system utilizes push notifications to update users on the latest deals and offers, trip details, and other important information entities. Both customers and drivers can leverage single-click confirmation on the taxi booking application with push notifications. Such a feature makes a taxi application's interface more simplistic, easy to use, and fast.
Tracking
Since a large part of the process that a taxi application follows is physical in real-time, there is a significant need for efficient tracking features that provides the customers' information about waiting time for their taxi and the total time it may take to reach their destination. Moreover, the tracking phenomena can be utilized to engage in compatible handling of data over complications.
Multilingual
By making a multilingual application, you make your application outreach a larger audience that might prefer using a taxi booking application in their native language. It also showcases how versatile your application is. Such a feature can play a crucial role in building a defining relationship between native language speakers and your application which can bring business through your application in the long run.
Payment Integration
Initially, the taxi booking application would accept cash payments. As the time went by, integration of UPI payments and digital wallets came in use at larger levels. Developers have integrated simplistic payment APIs to indulge in easy and fast payment through different modes. Payment integration needs to be flexible and full of options so it does not create detrimental impacts on the overall user-experience of the application.
Booking History
To keep the track of all the recent trips that were accomplished or failed, developers can use data trackers to provide users with a centralized space where they can get all this information in a readable format. Even drivers can view all of their trips and collection from their interface. Such an approach provides a managed and systematic collection and viewing of data stored in the application.
Reviews & Ratings
To analyze the experiences of both customers and drivers, a taxi app development company can include options to allow the app users to add respective reviews and ratings after a ride is finished. These reviews and ratings help the operating company to judge the overall performance of the application. It can be a significant medium to hear the feedback of commuters or even drivers.
It is significant for a taxi booking app development company to ensure including all the discussed features to engage in maximum efficiency of the application. These features can be the prime identity of an application so it is not to compromise on implementing either of them.
Complete Technology Stack For Taxi Booking App Development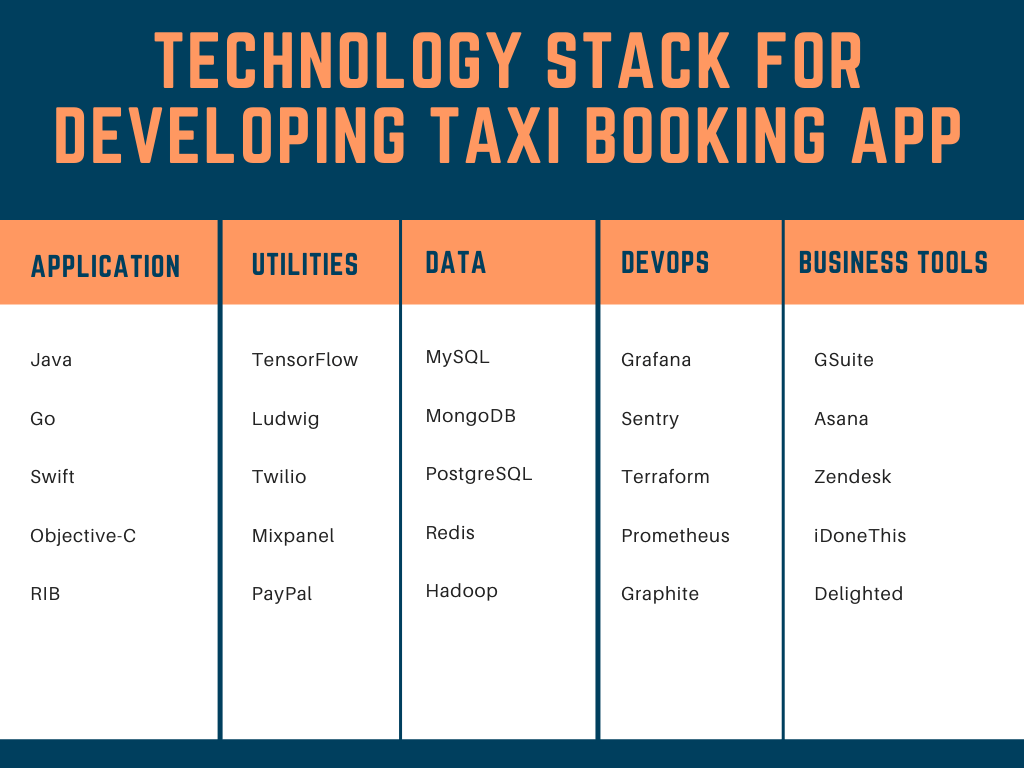 For developing a fully-fledged taxi booking app for the Android and iOS platforms, you may need a tech stack comprising technologies dedicated for each application segment. The application itself is a part of different mini-applications that run behind the user interface. We are here elaborating the tech stack of the taxi booking app for iOS and Android app combined.
Application
Java
Go
Swift
Objective-C
RIB (Router, Interactor and Builder)
Data
MySQL
MongoDB
PostgreSQL
Redis
Hadoop
Utilities
TensorFlow
Ludwig
Twilio
Mixpanel
Elasticsearch
PayPal
DevOps
Grafana
Sentry
Terraform
Prometheus
Graphite
Nagios
Jaeger
Business Tools
GSuite
Asana
Zendesk
iDoneThis
Delighted
The technology stack mentioned here will allow a taxi booking app development company to create an advanced, sustainable and rich-featured application in a fast and efficient way.
How Do We Develop a Taxi Booking App in 2022?
Now that you know your requirements, tech-stack, and ideas for creating the taxi booking app, we can discuss the process. The process begins from understanding the needs, complexities and real-time structure of the application to be developed. A taxi booking app is not used by those who commute but also by the drivers and business administrators using the application to administer different processes. It means when we say a taxi booking app, it includes a different interface of the same application used by different authorities.
Now the question is, what are these different interfaces of a taxi booking app?
Customer Panel
The features and elements of the customer panel are integrated considering the needs and expectations of the customers. It will include a registration & login page for entering into the application, ride-booking UI, booking history, payment portal, and reviews and ratings for the drivers.
Driver Panel
The driver panel in the application will focus on the operations of a taxi driver using the application. It will include login and registration pages where they can fill in their details to log into the application. It will include a homepage that would have a map in the background. Whenever there is a ride request from the customer, a popup shows up to which they can respond by confirming or denying the ride. After completing the ride, the driver can give the confirmation of payment processed by the customers. Moreover, there are many other features that exist in the driver panel i.e. ride management and payment collection wallet.
Admin Panel
Admin panel and driver panel can be combined by any taxi booking app development as per their requirements. However, when developed separately, the main objective of the taxi booking app is to streamline business operations. A CRM can be integrated into the admin panel for administering most of the information in a smooth and fast pace of delivery.
You can watch out this short video explaining different interfaces of a taxi booking app, Ezi Ride.
Let us now focus on discussing the steps of the taxi app development process.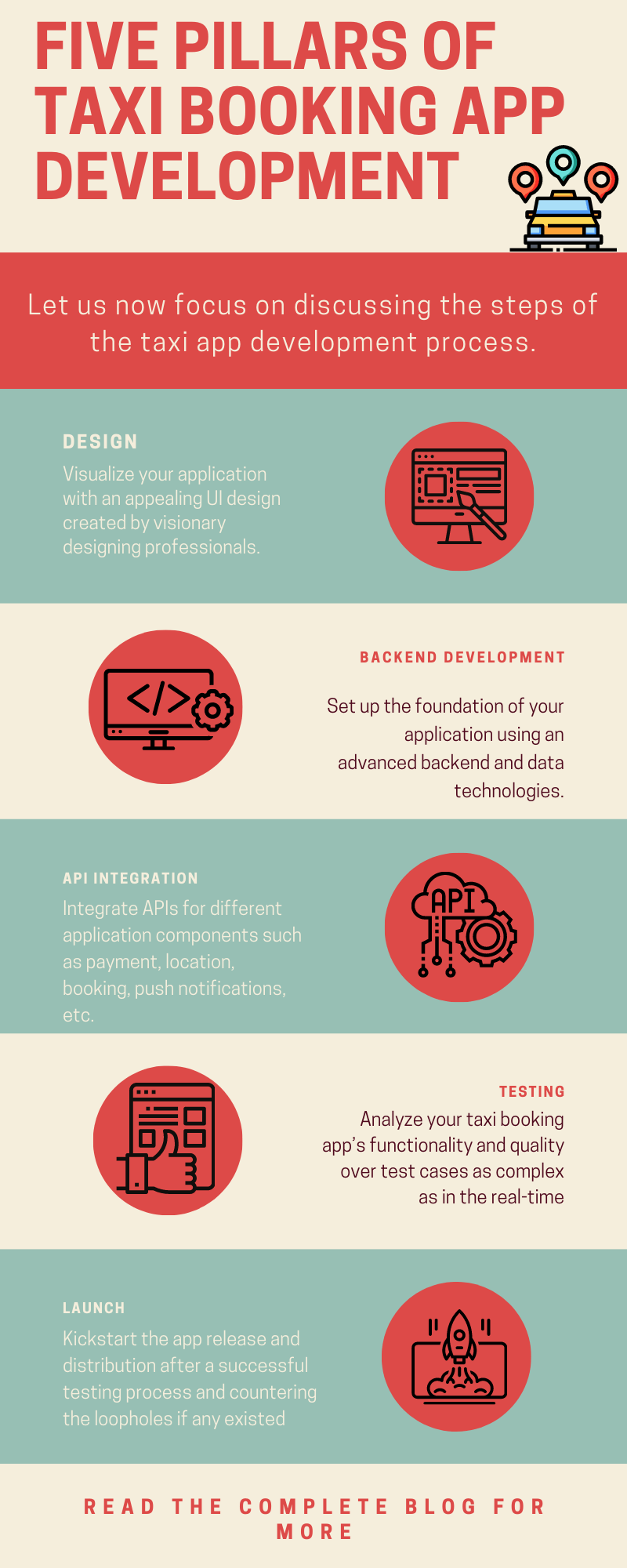 Design
Before we get into creating the real structure of the application, we need to design the application prior to development. It will help the clients and the taxi booking company to visualize what their real application would look like. App designers comprehend the needs of the client and frame them into the design.
An interactive UI is the face of a rich-featured taxi booking application. Missing out the user expectations or client needs may lead to skipping major UI components. When you are planning to create a sustainable application, it is considered a good practice to overlook elements of an appealing app UI initially.
Backend Development
The simplest definition to explain the backend is, it is the BTS of a mobile application. It integrates the functionalities of your mobile application with the database. A backend is a centralized tool that packages your taxi booking application with the server, middleware, and database.
In the earlier section, we discussed the technology stack. In the application part, technologies like Java, Python, Go, and Swift is used to creating the backend of your taxi booking application depending upon the platform you want to develop the application for. RIBs or router, interactor, and builder are used to streamline the business logic to the backend in native taxi booking apps built across Android and iOS platforms.
API Integration
API complements the backend of an application. It provides your users a direct medium to integrate and interact with different functionalities framed in the architecture of the application. From using Google Maps Android APIs in geolocation features, Twilio API in the notification, PayPal API for payment integration, API integration has a large role to play in the development of a fully-fledged taxi booking application.
Utilization of backend APIs power the complete efficiency of a mobile application. A taxi booking app development company can either purchase or create APIs from scratch.
Testing
After the formation of its structure, a taxi booking application needs to be tested over a number of parameters that have a crucial role to play in its functioning. Quality analysts create test cases and check the functionality, usability, efficiency, and effectiveness of the taxi booking application. The ultimate is to make the application pass the user acceptance test that analyzes the real-time functioning of the application.
Launch
After crossing the testing stage, the taxi booking app is considered ready to deliver to the clients. The application can be launched by the clients through third-party app distribution platforms like App Store or Google Play. Also, it can be launched through newsletters or social media platforms.
Five Best Examples of Taxi Booking Apps in 2022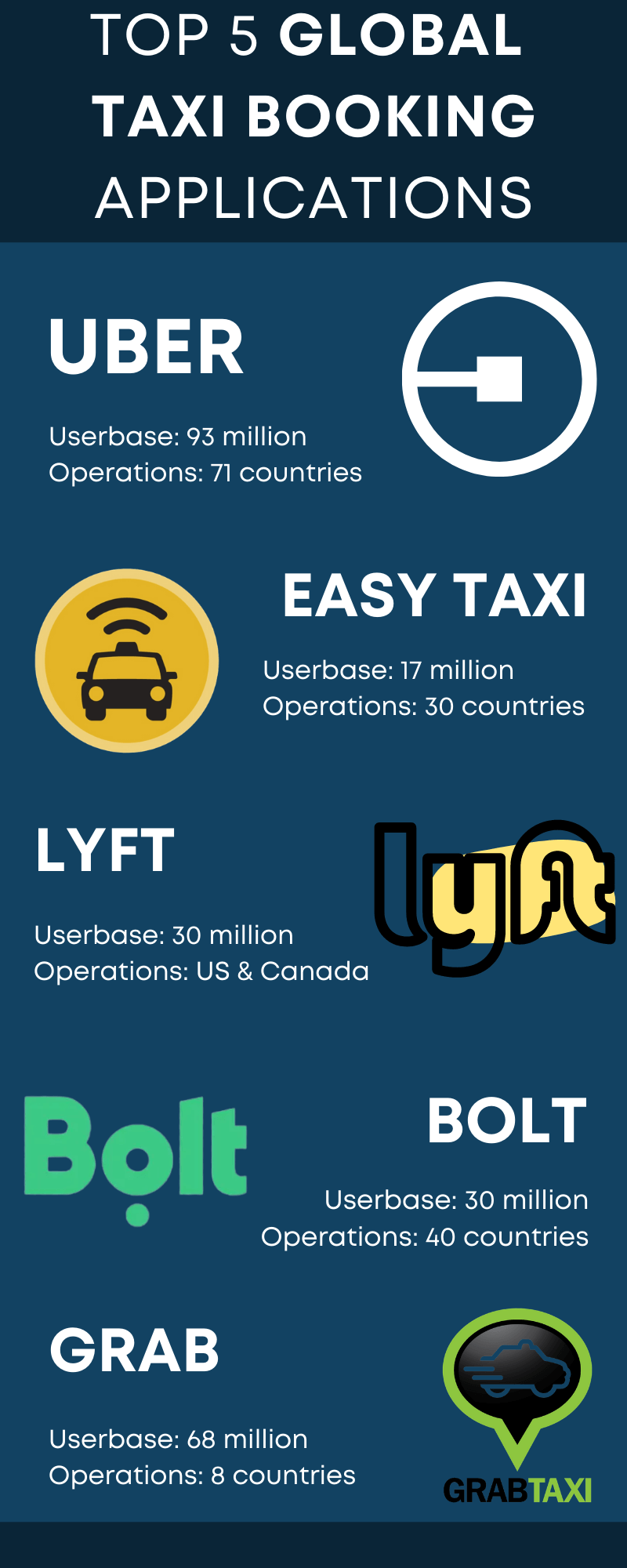 For any aspiring business leader, there are five taxi booking apps that can be idealized. From features and functionalities to business growth, we considered plenty of factors before we pointed out these five taxi booking apps among many available in the market.
Uber
Uber is a US-based company providing transportation and food delivery app services to millions of customers across the world. It is one of the earliest taxi booking apps in the market. In recent years, the company has made a dramatic increase in its revenues and has also expanded its business across many more domains.
Features
Real-time sharing & tracking the ride details
Fare splitting
Add extra stoppages
Schedule rides
Sync your meetings
Easy Taxi
Founded in 2011, Brazil-based Easy Taxi is operational in more than 30 countries. The taxi booking app has been notable success with millions of users using it across the world. It has a wide range of features that make it a contending taxi booking app in contemporary times.
Features
Real-time tracking
Automated fare calculator
Digital rate card
Multiple currency support
Versatile payment options
Lyft
Lyft is a well-known transportation mobile app company based in the US. It is operational in 644 cities of the US and 12 cities of Canada. Despite being only operating in two countries, it is the second most-used and successful taxi booking app in the US after Uber with a staggering market share of 30%. The company has also invested in developing autonomous vehicles through its partnership with companies like Ford and General Motors.
Features
Track busy zones in real-time
Highly-secured
Sharing trip details
Hide your personal details
Emergency assistance
Bolt
Operational in 200 cities of 40 countries, Bolt is an Estonia-based transportation company formerly known as Taxify and mTakso. They have about 50 million customers across the globe with more than 1 million drivers. It was the first transportation app to enable mobile carrier billing for payments. The company offers 100% carbon-neutral rides in Europe.
Features
Automated price calculator
Travel with your pets (Regional feature)
Add multiple drop locations
Luggage services
Promo codes
Grab
Founded in 2012, Grab is a Singaporean multinational transportation company. Formerly known as MyTeksi and GrabTaxi, the company is operational in 351 cities in 8 countries. They are one of the earliest taxi booking apps to enable digital payments and food delivery through their mobile in the southeast Asian region. With 1.2 million downloads in May 2014, it set up a new record. They are also engaged in the research and development of futuristic hospitality services.
Features
Registration through social media
Track driver location in real-time
In-app payments
Push notifications
Price calculator
All the five taxi booking apps listed here can be idealized by an aspiring taxi booking app development company. It will help you to develop a competitive application that can give a close fight to all the contenders in the market.
Cost-Driving Factors to Develop a Taxi Booking App
The cost of developing a rich-featured taxi booking is driven by a range of factors. There are technological, business, and geographical factors that count while building the cost breakdown of a taxi booking app.
Some of the defining cost-driving factors of taxi booking app development are as follows;
Features
Features make your taxi booking app be called basic or advanced. The more advanced features we include in the application, the more efficient it becomes. Since the modern-age mobile app development also relies upon the inclusion of APIs to include more features, it eventually increases the overall costs of development.
Techstack
Technologies used by mobile app development play a crucial role in defining the costs of the project. From designing to creating the frontend and backend of the application, it is recommended to choose efficient, advanced, and budget-friendly technologies.
Development & Design Efforts
The more complex your application and project demands are, the more efforts need to be put in. Subsequently, it results in increased costs of the taxi booking app being developed. From design to development, a fully-fledged taxi booking app is the result of efforts that are compensated accordingly.
Geographical Location of Service Providers
The geographical location of the app development companies hired by the clients also is a significant factor. The service costs of companies located in the USA, Australia, the UK, etc. may be higher than the service providers located in Asian countries like India, Bangladesh, the Philippines, Indonesia or Japan.
Updations
Revision of requirements and any post-development changes in the application will increase the overall cost of developing the taxi booking app. It is recommended to list down all possible needs of the project at the time of prototyping the application. Even after prototype creation, there are meetings held between the service providers and the clients which need to be utilized for such changes.
Over to You
Now that we conclude this blog, I hope you could comprehend all of your queries on taxi booking app development. For a better understanding, you can review one of our projects on taxi booking app creation where we develop a 360-degree application Ezi Ride. The application includes every single feature and interface we talked about here. Moreover, you can consult us with your project details.
Useful articles, updates, offers and guide boon from SparxIT Team
NEWSLETTER
Categories
Let's discuss your project idea.
Featured In