Dating apps have become extremely popular recently. Millions of people use them to find love, companionship, and friendship. However, developing a successful dating app is challenging, and the cost is one of the crucial considerations for any business.
To ensure that your dating app is both operational and profitable, it is critical to understand the mobile app development cost clearly.
This blog post is dedicated to estimating dating app development costs by discussing the factors that affect it and must-have features to include in your dating app.
If you have been thinking about developing a dating application, this is the perfect time to put your idea into action.
Do you know why? Let's look at the dating app market size below.
Overview of Dating App Market Size
It is clear from Grand View Research that the market potential of dating apps is high. The worldwide market for online dating apps was valued at $7.5 billion in 2021 and is forecasted to grow at a CAGR of 5.5% from 2022 to 2030.
The dating app market size may reach $11.03 billion by 2028 at a CAGR of 5.6% (2021-2028), as per PR Newswire.
These stats showcase that online dating is becoming a trend among millennials. With its popularity comes a vibrant scope of opportunities for mobile app creators.
Every business enthusiasts expect a smart implementation of their mobile app ideas at an adequate cost.
The cost of making a dating app depends on various factors. We will closely examine the different components of dating app development.
Factors Affecting Dating App Development Cost
1. App Platform
One of the first decisions to make when calculating dating app cost is which platform to develop it for. The two most popular platforms for dating apps are iOS and Android. Both platforms have pros and cons, and the decision will depend on your target audience and budget.
iOS: Creating an app for iOS typically costs more than creating one for Android. It is because iOS has a smaller market share but a more profitable one. iOS users are more likely to pay for in-app purchases and subscriptions, which can help monetize your app.
Android: On the other hand, building for Android is typically cheaper than building for iOS. Android has a larger market share, and there is a greater variety of devices and screen sizes to consider.
You can consult a mobile app development agency to discuss your dating app idea.
2. Features
The features of your dating app will significantly affect the cost of app development. Some features are essential for any dating app, while others are more advanced and may not be necessary for your particular app.
Basic features:
User registration and login
Profile creation and management
Search and matchmaking functionality
Messaging functionality
Flexibility to log in via social media accounts
Push notifications
In-app purchases and subscriptions
Advanced features:
Video and audio calls
Multiple language support
Geolocation and real-time tracking
ML and AI-powered matchmaking
Image and video editing
Advanced security and privacy features
3. App Design
The design of your dating app is also a significant factor to consider in knowing how much does it cost to develop a dating app. The design can impact the user experience and, ultimately, the success of your app.
Basic design: A basic design will include standard UI elements and layouts and will generally be less expensive.
Custom design: A custom design will be more expensive to build, requiring more time and effort from the developers. This design will be unique to your app and help it stand out in the crowded dating app market.
4. Technology Stack
Programming languages
Android – Java, Kotlin
iOS – Swift
Utilities
Google maps, Google analytics
Payment gateways
Database
Cloud storage
Web server
5. Third-Party Integration
Third-party integration costs in dating apps refer to the expenses incurred when integrating external services or technologies into the app. Some examples of third-party integrations that may be used in a dating app include:
Payment gateways
Analytics
Push notifications
Google Maps
The cost of integrating these third-party services can vary depending on the service being used and the developer's experience and expertise with it.
It is imperative to consider these costs as part of the overall budget when determining how much does it cost to make a dating app. You can have a comprehensive understanding of the mobile app development process.
It's substantial to keep in mind that these integrations can greatly improve user experience, engagement, and conversion rates.
6. Timeframe
Another critical factor to consider is the time frame of your dating app development project. The longer the project timeline, the more it will cost.
Simple App: A dating app with basic features can be built in as little as 3 to 6 months.
Advanced App: A more advanced dating app with additional features can take up to 6 to 12 months or more to develop.
7. Developers Location
The developer's location will also affect the cost of developing dating software.
| | |
| --- | --- |
| Location | Approximate Cost (Per Hour Basis) |
| United States (USA) | $30-$150 |
| United Kingdom | $40-$150 |
| Eastern Europe | $25-$100 |
| Western Europe | $40-$120 |
| India | $20-$50 |
| Australia & New Zealand | $35-$150 |
8. Maintenance and Updates
Maintenance and updates costs are also vital to keep the app running smoothly and securely after it has been launched. These costs may include fixing bugs and issues, implementing security measures, and adding new features or enhancements.
You should plan for these costs in advance and budget accordingly to ensure that the app remains functional and competitive in the long term.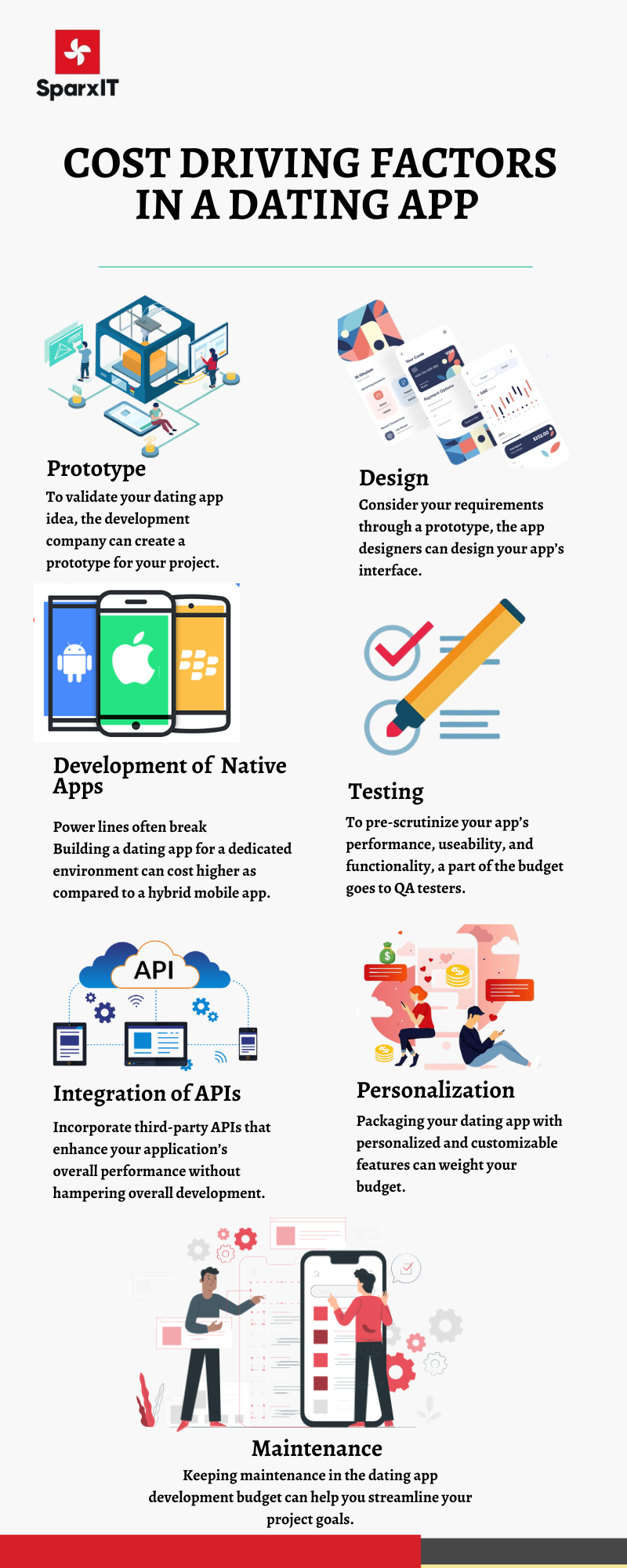 Also Read: A comprehensive App Development Guide
How Much Does it Cost to Build a Dating App?
The cost of developing a dating app can range from $15,000 to $100,000, depending on the project's complexity.
Simple dating app development: $15,000 – $30,000
Medium complexity dating app development: $30,000 – $60,000
Complex dating app development: $60,000 – $100,000
You will also need to budget for ongoing expenses such as server costs, marketing, and customer support.
Partner With SparxIT To Build an Engaging Dating App
Don't let the cost of dating app development hold you back from creating the next big thing in online dating. With our easy-to-use tool, you can input your desired features and platform to make your dating app.
We are a leading social media app development company with experience in developing dating apps, and we will be happy to help you. We also provide a free consultation and explain the process from ideation to final product.
We can help you create the perfect app that fits your needs, budget, and deadline. From design to launch and beyond, we'll ensure your app exceeds your expectations and reaches your target audience.
So what are you waiting for? Contact us to schedule your free consultation now.
Frequently Asked Questions (FAQs)
Why creating a dating app can be a good idea?
The exponentially developing market in terms of revenues and userbase can be a significant reason to hire a dating app development company and build your own product.
Is it good to have an app prototype pre-development?
The better clarity of your requirements a service provider would have, the better they can implement your ideas. So, it is necessary but a good practice to have at least a well-framed list of requirements and project objectives whether in the form of a document, wireframe, or a raw prototype.
What are the primary features to have in your dating app?
The primary features of a dating app can include the followings;
Social Login
OTP-Based Login
User Profile
Push Notifications
Compatibility Quiz
Discovery Setting
Match by Mutual Swipe
Private Chat
Live Chat
Report
Geolocation, etc.
How long would it take to validate, design, and develop a dating app?
The duration of the dating app development process depends upon the project complexity. So, it is the best practice to consult a team of dating app developers or business experts for a precise understanding.
Which technology should you use to build your dating app?
Choosing a technology is a crucial part of the process. You might have your choices and priorities which you can discuss with the team of dating app developers you would hire. They can then consider your requirements and provide an intuitive response.
Useful articles, updates, offers and guide boon from SparxIT Team
Categories
Want to build a dating app?
Featured In