Global digitization and the arrival of enterprise mobility have transformed the way people would interact with each other. Social media came over as a versatile option that allowed its users to use the internet for personal messaging. Soon after the success of social media platforms, technology leaders released dedicated applications for dating. The prime purpose of such apps was to create a separate space for users looking for casual or long-term relationships.
The dating apps industry has showcased dramatic growth over years. Online dating apps have enjoyed a large and loyal user base by providing their users all facilities and technological backings for connecting with the people of their interests.
For any aspiring business leader planning for dating app development and leverage ceaseless growth, the first question that arises in their minds is, how to make a dating app from scratch?
Top 5 Mobile Dating Apps Examples Worth Knowing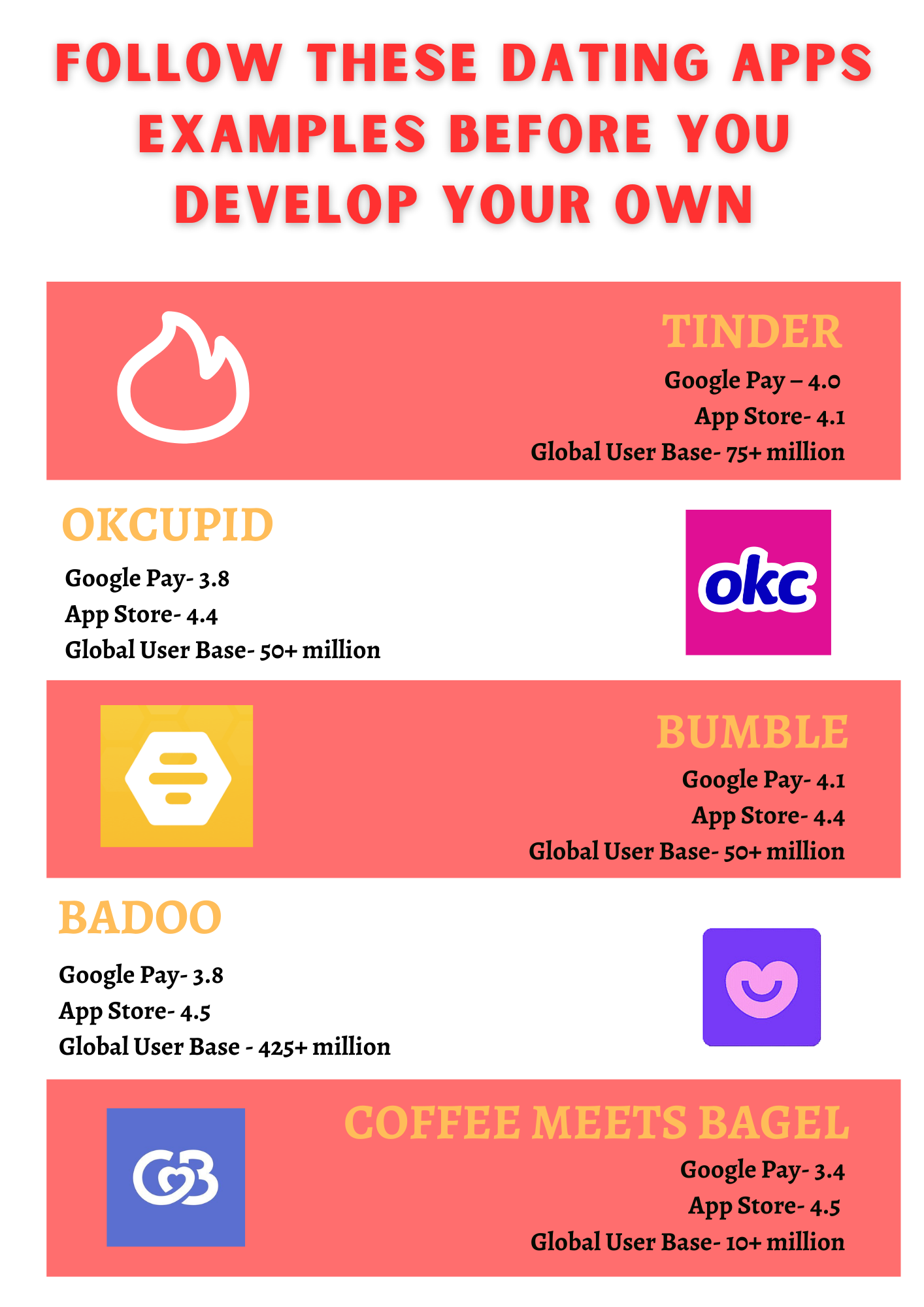 During our research, we found five online dating applications doing an exceptional job in the market. These applications have gained popularity among millions of users. We can rate these dating applications based on the parameters such as revenues, features, customer feedback, platform ratings, and grow-rate in terms of the user base.
Businesses can consider these five applications to ideate 360-degree mobile app development services that cover the personalization, privacy, security, and business needs of users and managing organizations.
So, let us check out the top five examples you can consider for building a dating app.
1. Tinder
Founded in 2012, Tinder has been one of the most popular online dating apps with 75 million subscribers all across the globe. It has grown ceaselessly through the years with a dramatic increase in its user base. The product was incubated under Hatch Labs, a business incubator company. The fundamental idea of creating a dating app like Tinder was to allow strangers to connect with each other. 
Social media platforms like Facebook were also being used for dating people but most of its search and connections filter would allow this someway might know each other already. Tinder follows the freemium model of business where it provides a restricted set of features to its users. Users need to pay to access advanced features.
Features
Push notifications 

Interactive UX 

Profile boost options 

Location-oriented search
2. OkCupid
Run and managed by Match Group, OkCupid has been listed in Time's list of top 10 dating websites. Its application has been no less wondrous as it currently has a user base of 1.79 million in the US market. 
Users creating an account on OkCupid are asked a number of questions to provide them with the list of users having matched interests. Users can see the match percentage while viewing the profile of the next users on their screens.
Features
No external ads 

Versatile gender options 

Shows profiles globally & locally 

Advanced search algorithms
3. Bumble
Being the second most popular dating application, Bumble has a global user base of 50 million active users as of the last quarter of 2022. Though it is a dating application developed considering the requirements of female users in particular, its features are as advanced as any other of its contenders in the market.
From social logins to Spotify playlist integration, Bumble is an adequately feature-packaged dating application. Female users using this application can only make the first move. Bumble is the first of its kind application to introduce such a feature. You can hire an iPhone app development company to build an interactive dating app.

Features
Verified profiles 

SuperSwipe 

Advanced filters 

First, move for female users
4. Badoo
Used by more than 500 million users across 190 countries in 47 different languages, Badoo is one of the biggest names in the online dating applications market with the largest network. It was founded by a Russian entrepreneur in 2006. The application is available for iOS, Android, and web platforms.
The application follows the freemium business model where its basic features can be utilized free of cost by the users. Badoo has remained the most downloaded dating application in 2016.
Features
Connect with people in nearby 

Search users living in other parts of the world 

Swipe features to send your interest 

Video calling
5. Coffee Meets Bagel
Founded in 2012, CoffeeMeetsBagel was founded in New York City. The application has a user base of approximately 10 million users. The users using the application can show their interest by commenting and tapping the heart button on other user profiles. The company says the adding a comment could increase the possibility of being replied by 25 percent.
The application has made crucial transformations in its interface through the year and has also received a positive response from its users. It has utilized advanced technologies to enable smart user search and security on the platform. Business leaders can build an app like Coffee meets bagel by hiring an experienced iPhone or Android app developer.

Features
Video dating 

Interactive information view 

Read receipts 

Match search & suggestions
The best way to start building a dating app is to analyze leading examples, their scope, features and popularity in the global market. A constructive competitive analysis provides you an understanding of the basic structure, trends, and insights that are helpful for you, particularly when you are taking the baby steps in the direction.
Benefits of Creating a Dating App For Businesses
There can be wide-ranging benefits of dating app development that would lead it to earn significant revenues and recognition. Most of the best dating apps have a common story where these apps were developed and managed by entrepreneurs who leveraged satisfactory growth.
I shall bring your attention to three foundational advantages to build your own dating app.
The dating apps market is growing exponentially which eventually engages in a hyped demand for online dating applications. As per reports, the gross user penetration may reach up from 4.9% in 2021 to 5.7% in 2024. We may witness a dramatic increase of 44.2 million users in 2020 to 53.3 million in 2025.
These dating applications are used by people of different age groups, gender orientations, interests, locations, and ethnicity which makes the target approach versatile. A large number of users across the world show their interest in using these applications to meet their relationship partners coming from different backgrounds. Thus, the only approach to create an app like Tinder is to consider what users seeking virtual data expect from the digital resources in terms of features and revenue.
A dating application provides its developers with different ways to earn from. From advertising to subscriptions, there are plenty of resources that create income for the managing companies. There is no primary source in essence as they can earn any amounts of money from either of the sources. It is the reason this industry is growing with a dramatic speed and sustainability.
In the upcoming section, we shall discuss the business models that bring revenues to the companies managing online dating applications with more significant parameters and information entities.
How Do Enterprises Earn From Dating App Development?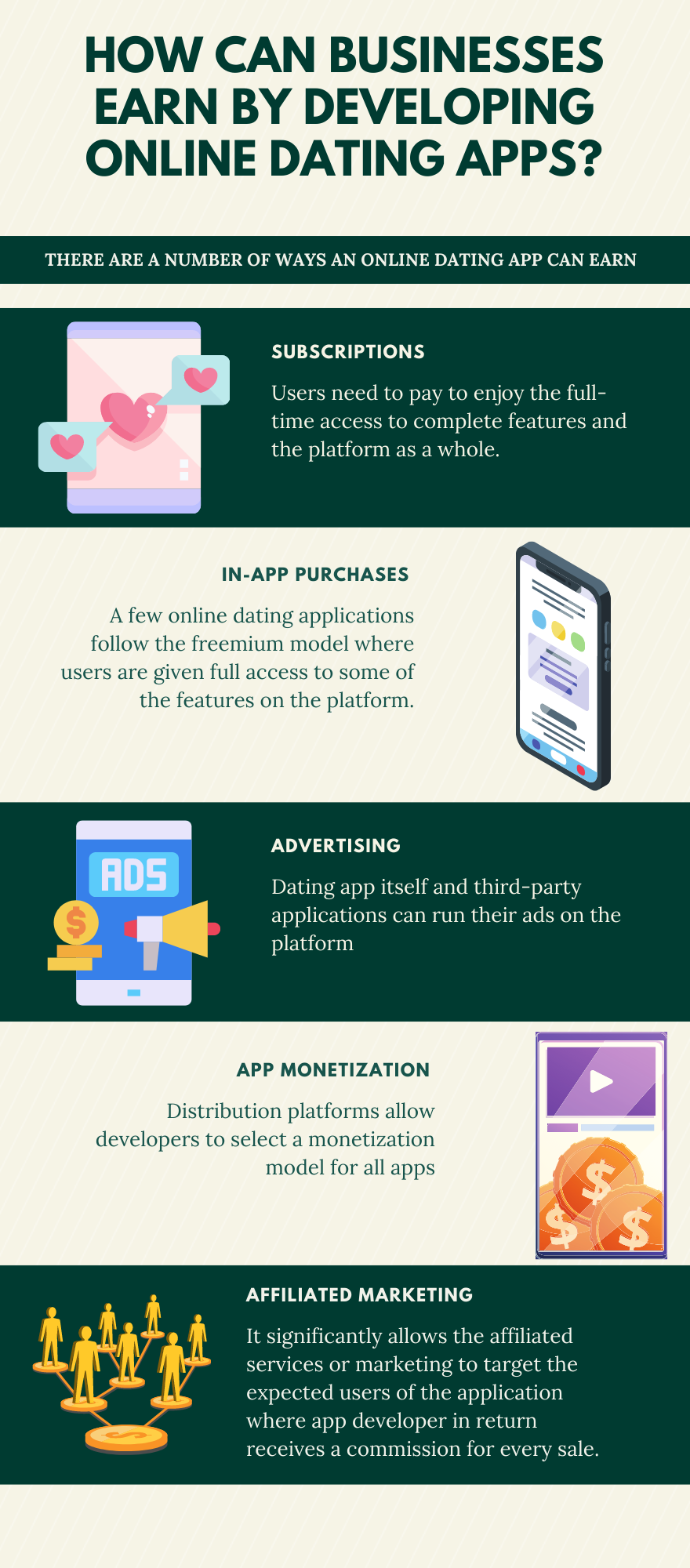 There are a number of ways an online dating app can earn its income. These ways include both implicit and explicit tools that provide financial resources to a dating application.
1. Subscription
Users may need to pay subscription fees in order to avail the services of the application. A few applications provide complete or partial access to the complete for a certain period of time. Thereafter, users need to pay to enjoy full-time access to complete features and the platform as a whole.
2. In-App Purchases
A few online dating applications follow the freemium model where users are given full access to some of the features on the platform. It requires the app users to pay money or subscribe to more advanced features in order to avail complete access to all features.
3. Advertising
Though it may hassle the user experience of the platform, some dating applications allow internal and external advertisements on the platform. However, most of the dating applications prefer running an internal promotion that does not provide them any direct income. They are run to increase the interests of existing users with the platforms' maximum features e.g. Tinder Gold, Super like, Bumble Bizz, etc.
These apps provide corporations or other members of the platform to sponsor their profiles. Through such kinds of advertising, dating apps get their direct income.
By enabling Google AdSense, these apps can display external ads based upon user behavior and interest and generate more revenues.
4. App Monetization
The app distribution platforms require developers to pay a normal fee for uploading apps. App owners can choose their applications to be free to install or can also attach a purchase fee that will be credited to their wallets whenever a user pays for the uploaded applications.
Some of the dating applications are running their YouTube pages where they post their content related to the subject. There are thousands and millions of subscribers on their pages. Such sources create additional income and also bring more engagement to their business.
Essential Features to Include in Dating App Development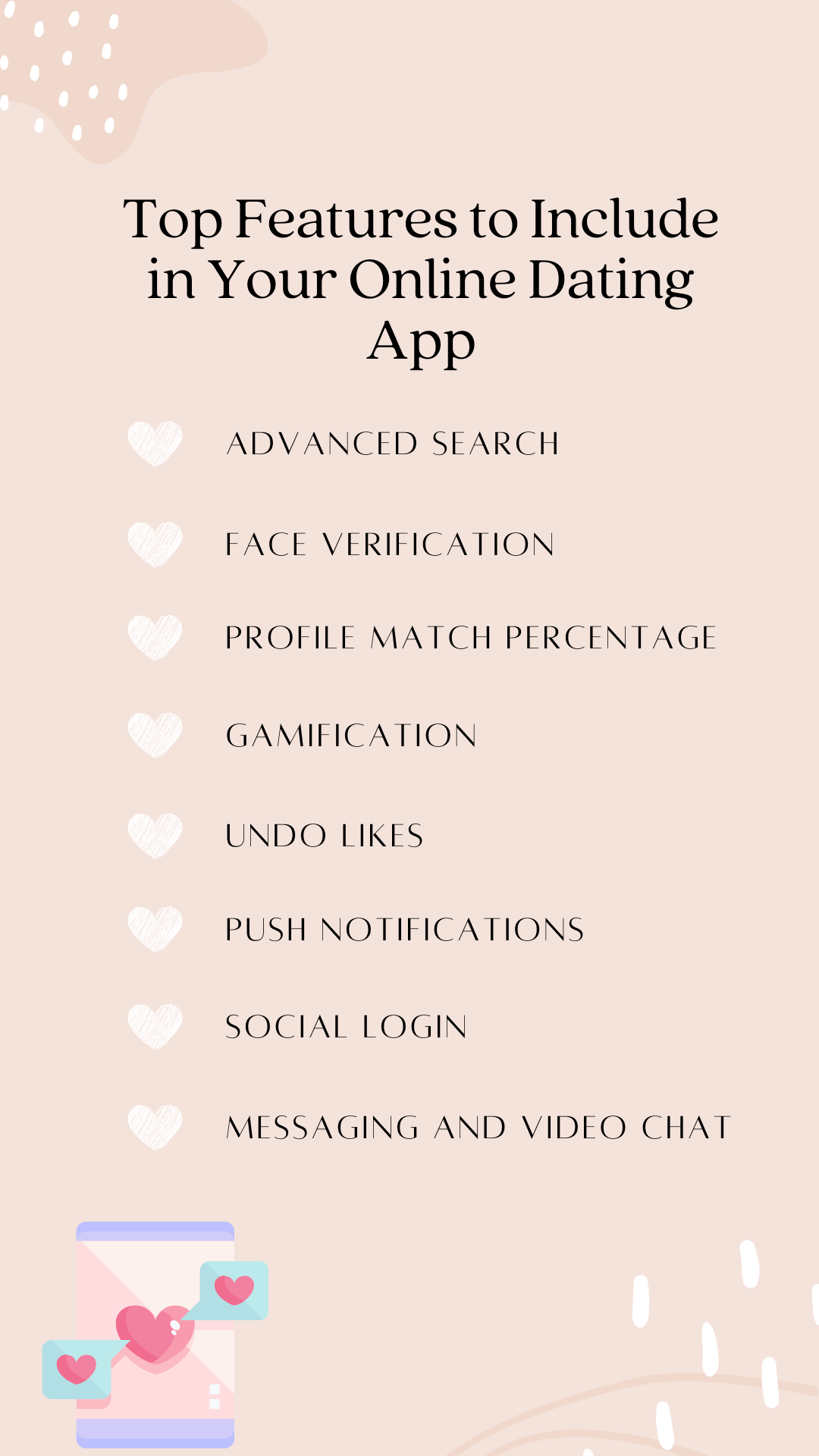 Users using online dating applications expect a simpler and faster response. It is significantly important for organizations to personalize the needs of their users and indulge in features that focus on their multilateral needs and expectations.
1. Advanced Search
No dating application supports direct search but provides you the users in your nearby or other locations using its app algorithms based on your profile's information. Different dating applications use different search algorithms as per their features and offerings.
2. Face Verification
In general scenarios, face recognition is used to secure your data by putting a face lock. In dating applications, face recognition is used to verify your profiles. Users are asked to record their facial movements as instructed by the application. The AI system matches your face with the pictures you have uploaded. Once your real face matches any of the pictures uploaded, your profile is tagged as approved with a blue tick i.e. on Tinder.
3. Profile Match Percentage
Once you log onto the application, the application provides you with a questionnaire where a number of questions are asked considering your interests and opinions on things. The same set of questions are asked to other users on the platform. Users can choose to skip questions without answering them. However, the application system recommends answering most of the questions as it would help them to provide you more relevant results. When you get onto the panel where you see other profiles on the platform, you can also their interests i.e. on Tinder and OkCupid. OkCupid also shows you the profile match in percentage.
4. Gamification
Using game elements in dating applications has simplified the process. It has transformed the complete app structure into an interactive model that connects users across the world to their partners through easy, lightweight, and enjoyable features. The profile match is available in the form of scores, points, and coins. To send and receive match requests, dating apps provide its users the options to swipe and wink. You can consult a reputed dating app development services provider to incorporate the gaming element into your dating app.

5. Undo Likes
Sending your interest to a person is just a game of swiping right or winking with a single tap. There can be times where you may send interest to someone mistakenly. In such a case, you can get it back or undo your likes. Some dating apps do not have this feature yet. In some applications, you can just shake to undo your request wherein a few applications, it is still done manually by tapping particular buttons.
6. Report
Since dating apps are used for varied interests. To sustain the real objectives of the applications, users can anytime report profiles that they do not find apt. The platform will instantly block the profile for your account and start investigating the case. You may see the status of your reports from the dedicated profile sections.
7. Push Notifications
Push notifications are an interactive way of delivering short notes of information through a simple interface in any mobile application. Dating applications use push notifications to pass on information when someone shows their interest in your profile or you get a match when they like you back. There are many different application parts where push notifications are used as a feature-packaged tool.
8. Social Login
Users can use their social media accounts to sign up on many online dating applications. Dating applications like Tinder allow you to integrate your Instagram account. These apps will show you posts on the integrated platforms. Integrating online music platforms like Spotify has been a common feature in almost every dating application where users can add their playlists or favorite songs to the dating app profile. An efficient social media app development company has the expertise to integrate social login seamlessly.
9. Direct Messaging
In every dating messaging app, direct messaging is a must-have feature that no dating application can overlook. Once two user profiles find a match, they can instantly move to the conversation through a direct messaging interface. There are a few dating apps that would require users to subscribe for premium versions and a few do not. It completely depends upon the business model any particular dating app follows.
10. Video Chat
Virtual dating has gone to another level when some applications launched video chat. However, video chat is still not available in many of the dating apps including some leading names. There can be any reasons for not including video chat on their platforms but the data records indicate that video chat has brought in growth for many apps for dating.
As the technology evolves, dating apps can come up with more personalized features. However, while including any sort of features in this application, security is indispensable that no one can overlook.
Technology Stack Required To Make a Dating App
A dating app is a versatile combination of features that are carved using conventional and advanced technologies. From utilities to the backend, a dating app needs to be more sustainable and secure. To fulfill these requirements, a mobile app developer would always consider a tech stack full of flexibility and advanced capabilities.
Below is the technology stacks to create native apps for Android and iOS platforms.
| | |
| --- | --- |
| Programming Languages | Kotlin, Java, Swift, Objective-C |
| Database | PostgreSQL, MySQL |
| IDE | Android Studio, Xcode 11 |
| SDK | Android SDK, iOS SDK, Cocoa Touch |
| Cloud | AWS and Salesforce |
| Utilities | G Suite, Google Analytics, Twilio, Google Maps, SendGrid |
We have summarized all the important technologies used to carve a fully-fledged dating application on native platforms. There can be upgrades in the aforementioned tech stack with time. However, the included entries in this tech stack are the latest and most advanced available options for developing such an app.
Understanding the Search & Matching Algorithms Followed By Dating Applications
To show profiles that users might take more interest in, the app development uses use advanced algorithms that engage in efficient and speedy extraction of data. These algorithms are the engine of a data-efficient search algorithm running a smart online dating app.
Key parameters used to define four different types of algorithms by online dating apps are;
Location-Oriented Algorithm
Dating apps use users' locations for providing them a list of profiles in their nearby location. It is the most common phenomenon of search and match algorithms in modern-age dating apps.
Using analytical tools, dating apps analyze the user behavior to provide more relevant results. The user behavior is recorded through the actions and activities performed by the users.
The dating applications use mathematical algorithms to show results on the basic profile reach. The higher a profile's reach is, the more popular a user profile is considered.
AI has transformed the ways enterprise mobility would interact to its users. It has utilized a humanoid nature to create more precise solutions. Dating apps use AI algorithms to show profiles that seem to be the same on many parameters. Since most of the dating apps feature verification of profiles by matching the real face pattern and uploaded pictures, AI is utilized thereon as well.
A single dating app can use all the aforementioned search and match algorithms to function its operations and meet the users' requirements more efficiently.
How to Create a Dating App? A Step-By-Step Process
How to develop a dating app? The dating app development process contains a number of elements that are in many ways foundational. A dynamic work plan for creating an online dating app consists of several steps that carve the business and technological structure of such apps.
Let us comprehend the process through the steps for creating an online dating app.
1. Market Research
To create a constructive dating app development strategy, professionals need to analyze different competitors, their growth, approaches, and downfalls. In-depth market research helps a Android app development company to avoid any process-related discrepancies and develop an application right to the needs.
2. Know Your Audience
Before moving any further to the process, professionals need to identify who their real audience is. Such an app helps in defining the features your gonna-be app users will take more interest in. The prime purpose of knowing the audience's pre-development is to enable maximum personalization of the product.
3. Create a USP
To stand out different from your contenders in the market, you should explore your product USP. For example, we know that Bumble is just another dating app and most of its features can be found in many of the other contending applications in the market. However, by allowing only female users to make the first move, it is often called "Feminist Tinder". It is not really an advanced feature but it does make Bumble different from its contenders this-how.
4. Design Your App
Planning your application's user interface and transforming it into a real product is a crucial task which requires a subtle sense of creativity to anticipate the expectations of your users. App designers would consider the complete app prototype for adding all screens in a systematic, delicate, and interactive way.
5. Develop App Architecture
Now that we have the app design ready, it is time to use our technology for creating the final app architecture. The development technologies will help the dating app developers to integrate databases and other functionalities to the application in this part of the process.
6. Integrate APIs
To simplify the development process and avoid building most of the functionalities of the dating application from scratch, APIs are the dynamic component that every aspiring team of app developers would need. APIs can be either developed from scratch or purchased online. From payment to the dashboard, developers can integrate different APIs for different functionalities available on the platform.
7. Testing
Once you have developed a fully-fledged, well-designed, API-integrated dating application, you ensure that there are no real-time discrepancies in any section of the application. Any of the testing frameworks can be used to scrutinize the usability, functionality, and overall quality of the application.
8. Launch & Distribute
Now that we have a complete application with no loopholes left after the testing process, we should be ready to launch it through all available ways.
Businesses may choose to market their applications before they make their application available to the users. The strategy can vary as per the needs of clients.
Crucial Factors To Consider While Building a Dating App
The cost of creating and launching a complete dating app will depend on several process-related, geographical, technological, and post-development factors.
Below-mentioned is the main factors that estimate the cost of a dating app development project.
Prototype
Design
Development of Native Apps
Testing
Integration of APIs
Distribution
Maintenance
The dating app development cost can vary from project to project. There can also be geographical changes as it may cost less to hire a dating app development company from south Asian countries like India rather than choosing a service provider from countries like the USA, UK, and Australia.
Integration of APIs will always increase the costs of your project but will also save your time and make your app more efficient.
Distribution and maintenance are two post-development factors and both are very crucial. No client should miss considering either of the processes while planning the social media app development cost.
Partner With SparxIT To Build an Innovative Dating App
Partnering with SparxIT to build a dating app can lead to a successful outcome. Define your vision and goals, conduct market research, and collaborate closely with SparxIT's design team to create an intuitive UI/UX. Select the right technology stack, establish a transparent development process, and track progress effectively. With years of experience in mobile app development, we can help you develop a feature-rich dating app that stands out in a Dating App Successfully the competitive market. Regular communication and milestones will ensure a successful partnership, resulting in a well-designed and functional dating app.
Frequently Asked Questions
Q1: How much does it cost to develop a dating app?
A: The dating app prices might vary depending on features, complexity, platform, and the rates of the development team. But often, it falls between $25,000 and $150,000.
Q2: What is the estimated timeline for creating dating applications?
A: Depending on the project's size and complexity, a dating app's estimated development time may vary. App with basic functionality typically takes between 4 and 8 months to complete, although more complex capabilities could take longer.
Q3: How can I make sure the security and privacy of user data in my dating app?
A: Implementing measures like data encryption, secure authentication procedures, frequent security audits, and compliance with data protection laws like GDPR and CCPA are all necessary to make sure user data security and privacy in dating applications.
Q4: What are the challenges and considerations in starting a dating app?
A: The challenges and factors involved in creating your own dating app include:
Market research.
Developing a distinctive value proposition.
Designing an intuitive user interface.
Putting good matching algorithms into practice.
Building a user base.
Q5: Are there any legal and regulatory aspects to consider in dating app development?
A: Yes, while developing dating apps, legal and regulatory considerations must be considered. It entails, among other things, observing anti-spam rules, terms of service and user agreements, age verification, content moderation, and compliance with privacy laws. It is advised to get legal advice from qualified individuals.
Useful articles, updates, offers and guide boon from SparxIT Team
Categories
Want to build a dating app?
Featured In