You will see a lot of advertisements for daily fantasy apps these days. It may seem to be a new trend in the market to you. But, is it? No, it is not.
Fantasy sports have been popular among sports enthusiasts for decades. The evolution of the internet simplified the process by introducing digital elements to fantasy gaming.
In recent years, we witnessed a surge in the usage of mobile applications. Daily fantasy sports app development is one of the most popular examples of enterprise mobility.
The market for fantasy sports was worth $18.6 billion in 2019 and is projected to grow to $48.6 billion by 2027, with a CAGR of 13.9% between 2021 and 2027.
There is a large pool of opportunities for business leaders considering investing in the DFS app market. But, there might be several questions you might want to know as a decision-maker.
This guide will cover everything you need about fantasy sports app development.
Background of Fantasy Sports
The fundamental concept of fantasy sports allows participants to create teams of players participating in a real game. They would earn points respective to each player's score as per the game's rules.
Fantasy sports started being practiced after the end of the second world war. Golf was one of the earlier games fantasy sports competitions were played on, followed by Football and Baseball.
The rules' simplicity made participants participate and profit from such games.
With the advent of digital applications, businesses digitized the concept of fantasy sports and transformed them into a big industry.
Today, we have fantasy sports applications that support multiple games.
Moreover, with a drastic increase in the popularity of franchise-based leagues such as the National Basketball Association (NBA), Australian Football League (Aussie rules) and National Rugby League (rugby league), and Indian Premier League (IPL).
The fantasy sports development market has expanded further with the inclusion of dedicated game lobbies for these tournaments.
Fantasy Sports App Development – Market Overview
Fantasy sports app development is a growing market with immense growth potential. Here are some interesting facts and market overviews regarding daily fantasy sports platforms & apps:
The Fantasy Sports & Gaming Association estimates that the fantasy sports industry generates around $7 billion in annual revenue in the United States alone.
According to a report by Newzoo, the number of fantasy sports players in the United States increased by 9.3% during the pandemic.
In the USA, 48% of fantasy players are between 18-34, and 69% make more than $40,000.
The fantasy sports market is not limited to traditional sports such as football, baseball, and basketball. The latest fantasy app for cricket, esports, and horse racing is gaining popularity.
Why Should You Invest in the Fantasy Sports App?
Investing in a fantasy app development can be a lucrative business opportunity. Here are some key reasons to invest in a fantasy sports app:
1. Growing Market
The fantasy sports market is increasing. The industry is expected to continue its growth trajectory due to increased user engagement and technological advancements.
2. High User Engagement
Apps for fantasy sports have high user engagement rates. Players spend significant time researching and creating teams on the app, tracking performance, and competing with other players.
3. Diverse Monetization Model
There are various ways to monetize fantasy sports applications, including entry fees, advertising, sponsorships, and in-app purchases.
4. Cross-promotion Opportunities
The fantasy sport app can cross-promote other sports-related products or services, such as tickets to live sports events, merchandise, or online streaming services, further boosting revenue opportunities.
5. Global Appeal
Fantasy sports apps have a global appeal, potentially attracting users worldwide. It provides an opportunity to expand the business globally and generate revenue from multiple markets.
Note: Conducting thorough market research and due diligence before investing in any business venture is essential.
Also Read: OTT App Development Guide
How Does a Fantasy Sports App Make Money?
Creating, launching, and managing a fantasy sports app can be costly. The expanded market has increased competition. Even if you hire fantasy sports app development company, you would need to market it properly to get the right exposure for the product.
It means you would need a product that gives you a high return on investment when released for the customers. So, can a fantasy sports app do it for you? The answer is yes, it can.
But how does a daily fantasy sports application earn its revenues?
Let's explore how a DFS application earns its revenues.
1. Subscription Fee
One of the most common ways DFS applications earn revenue is through subscription fees. Many apps offer a basic, free version with limited features and functionality.
However, they also provide a premium version that users can subscribe to for a monthly or annual fee. Premium subscribers typically receive additional benefits such as access to advanced analytics, expert advice, and exclusive contests.
2. Premium Features
A daily fantasy sports platform & app earn revenue through premium features. These may include customized lineup suggestions, detailed player and team statistics, and real-time scoring updates.
By offering these premium features, fantasy sports developers provide users with more in-depth information and analysis. It helps users make informed decisions and improve their chances of winning.
3. Participation Fee
Another way DFS apps earn revenue is through participation fees. While many contests are free to enter, some higher-profile contests require an entry fee.
These fees can range from just a few dollars to several hundred dollars or more, depending on the size and complexity of the contest. This revenue stream is a significant source of income for many fantasy sports software.
4. Paid Contests
Fantasy sports software development can generate revenue through paid contests. These contests typically offer larger prizes than the free contests and require users to pay an entry fee to participate.
The app takes a percentage of the entry fees as revenue, and the winners pay the rest. These contests are often highly competitive, with thousands of users competing for the top prize, and can generate significant revenue.
5. In-App Ads
Since the audience of fantasy sports apps is vast, they are considered an ideal choice for showing ads. You can integrate Google AdMob to show ads on your sports fantasy app.
6. Partnering With Third-Party Portals
You can partner with third-party service providers and affiliate their products or services through your applications. Such an approach can make your app more personalized and create additional revenue.
You can partner with a reliable mobile app development services provider to create your own fantasy sports website or app.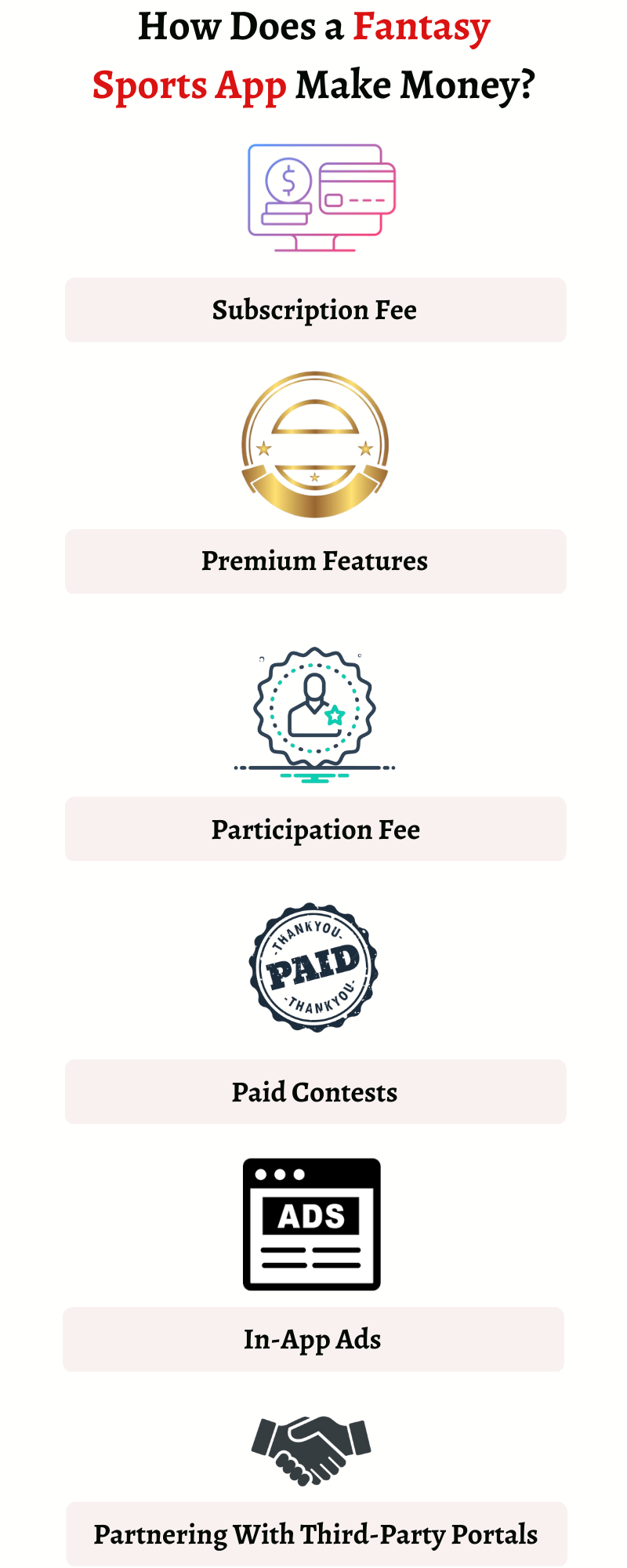 Six Most Popular Fantasy App Examples
You can consolidate the strengths of the top fantasy apps to make a complete, user-oriented, and revenue-generating app for your business.
Considering the parameters like user interface, user experience, revenues, personalization, and popularity, we have listed six best-performing fantasy apps.
You can get inspiration from the DFS apps below and get a clearer image of your dream product.
CBS Sports is a digital sports platform that provides news and fantasy leagues. Using the CBS fantasy sports platform, you can play different fantasy games, including football, baseball, basketball, and hockey. The platform is widely popular in the American region. Startups and business owners can go for fantasy baseball app development to cater to the US audience.
ESPN is an American sports channel with a global audience. The sports network has its own fantasy sports app on app distribution platforms. Users of this application can create fantasy leagues of different games, including football, basketball, baseball, or hockey. The app has several user-oriented features, such as drafting fantasy teams, real-time matches, and pro game scoring.
FanDuel is among the most prominent fantasy sports platforms in the United States. Users can create fantasy teams for different leagues, i.e., NFL, NBA, PGA, NCAA, MLB, NHL, Premier League Soccer, and Champions League Soccer. It would be an excellent idea for enterprises to go for fantasy football app development. You can choose a contest, draft your team, watch the real-time score, and win. The platform has become a popular and credible choice for its regional audience. .
Yahoo is a popular name worldwide. Its fantasy app has also been popular for its rich-featured and interactive performance. Users have played private and public leagues based on daily leagues and tournaments.
Founded in 2012, DraftKings is also a widely popular daily fantasy and sports betting app company based in the United States. Their application offers many fantasy league options at affordable packages. Users can play head-to-head, 50/50, and three-person leagues using DraftKings. The platform has multi-game fantasy leagues, including basketball, golf, baseball, soccer, football, hockey, and even Nascar, MMA, and the CFL.
Founded in 2008, Dream11 is an Indian fantasy sports app. The application also features multi-sports fantasy leagues. The market growth of the company has been spectacular. Their interactive user interface and marketing approach has led to the first gaming platform being a unicorn. It is also regarded as the best fantasy cricket app for sports enthusiasts.
Also Read: Dating App Development Cost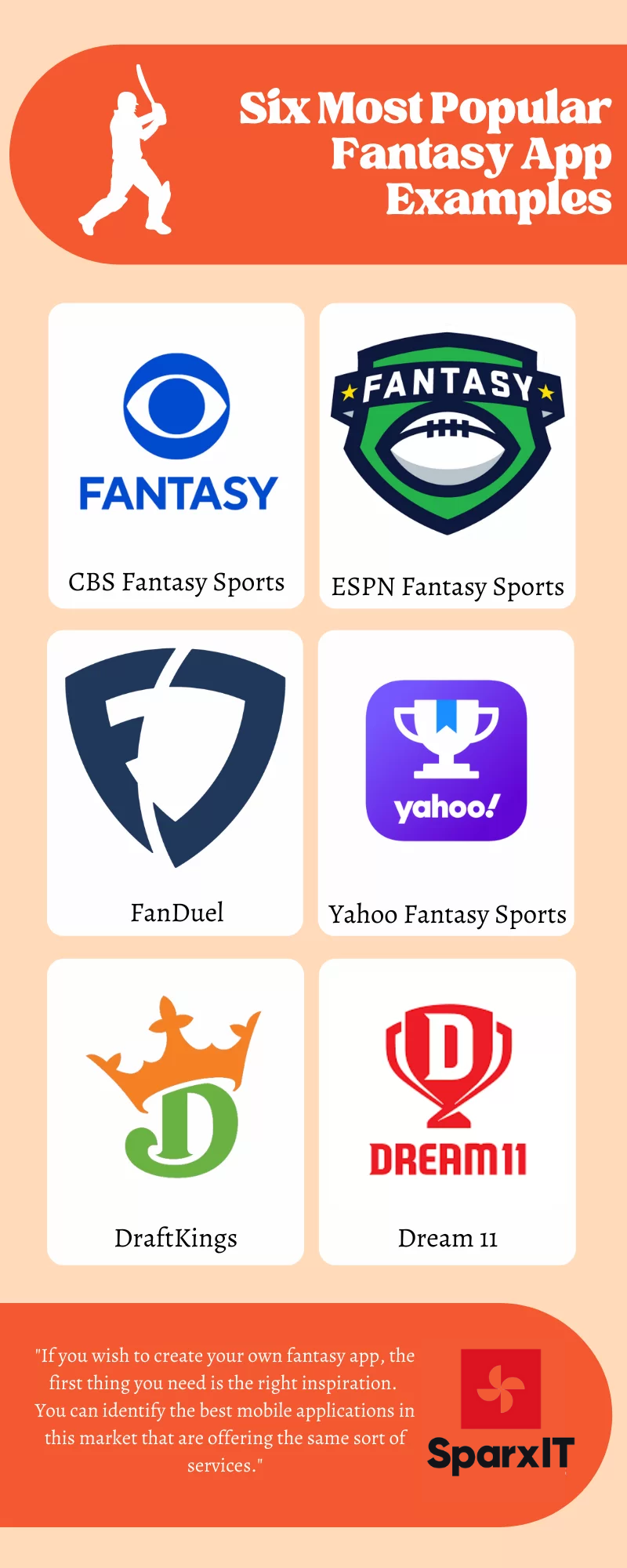 Must-Have Features to Include in Fantasy League App Development
Among so many contenders in the market, how would you make your app stand out from others? There are two ways to keep your app highly personalized by including adequate user-oriented features and implementing an effective product marketing strategy.
Features for the Participants
User Registration
Profile Settings
Landing Page
Contest Details
Join Contest
Features for the Admin
Dashboard
User Account Manager
Manage Contests
Report Management
View Earnings
Other Essential Features
Most of the applications these days, including fantasy games, allow users to use the platform using their existing social media or email accounts. Such a feature enables fast, simplified, and authenticated user login.
Since we are talking about a fantasy gaming platform where many users would be participating in public contests, it becomes obvious and necessary to feature an interactive and informative leaderboard where names and scores of top scorers will be shown.
Players statistics are crucial to fantasy sports app development. These statistics allow users to make informed decisions when selecting players for their fantasy teams and can greatly enhance the overall user experience.
You can invite multiple players to their game lobby. Such a feature would create a mutually competitive space on the platform within a particular range of users.
Manual & Integrated Data Feeds
Users can add their teams, account details, and more using the same platform. So, who manages this data? Integrating advanced data features such as feeds and manual input makes fantasy sports apps more personalized and user-oriented.
Your fantasy sports app can have an ad space from where admins can manage their affiliate marketing campaigns or other third-party ads.
The referral policy is not something new. It is a well-known network marketing strategy to expand the user base. Fantasy sports apps are utilizing this user expansion policy on a large scale.
Multiple Payment Gateways
Many applications lose the opportunity to convert customers when they fail to provide adequate payment alternatives. For fantasy sports apps, multiple payment gateways become a must-have feature.
Cryptocurrency is a futuristic payment option. You can enable your customers to pay or earn cryptocurrencies on your DFS app. A cryptocurrency trading app can be integrated or partnered with to make this happen.
More features can be added with a more focused competitive analysis as the market of fantasy sports apps is still evolving, and new features are being introduced.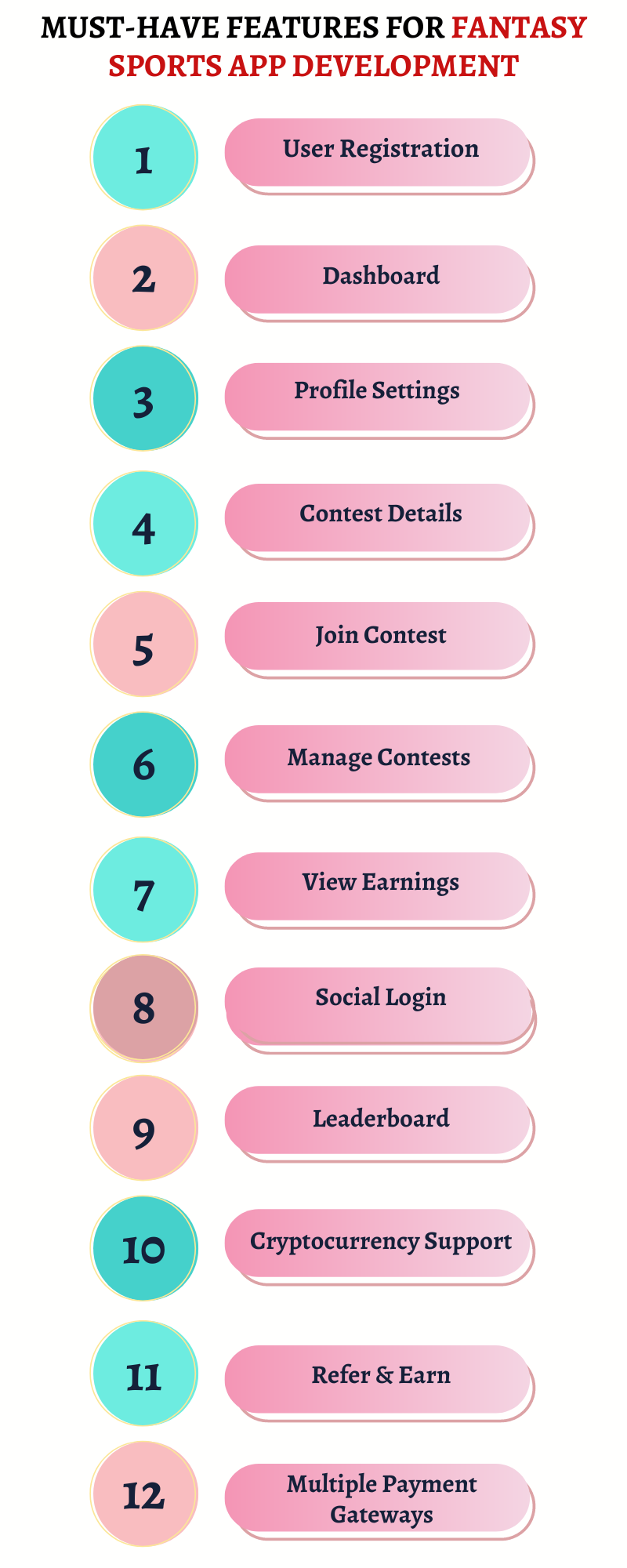 Technology Stack for Building a Fantasy Sports App
Which technologies can you use for daily fantasy sports app development? Technology stack can play a crucial role in defining your budget estimates.
Even if you are not a techie, you can have a little understanding of what technologies an app developers might use to create your app.
Let us explore this table.
| | |
| --- | --- |
| Front-end Development | CSS, HTML, JavaScript |
| Back-end Development | Java, PHP, Ruby |
| Frameworks | AngularJS, Bootstrap, jQuery, Vue.JS |
| Native mobile app development | Kotlin (Android), Swift (iOS) |
| Cross-platform app development | Flutter, React.js + React Native |
| Web servers | Apache, Linux  |
| Cloud servers | Amazon Web Service, Azure, Google Cloud |
| Database management | MongoDB, MySQL, PostgreSQL, Cassandra |
| Payments integration | PayPal, Braintree, Stripe |
| Push notifications | Twilio, Apple push notifications |
How Much Does It Cost to Develop a Fantasy Sports App?
Before we answer the cost to create a fantasy sports app like Dream 11, FanDuel, or DraftKings, we should know that there can be variations in such cost estimations. The reason for the varying costs of daily fantasy sports is the number of elements that play a crucial role in driving the estimation.
The foundational process to develop a mobile app does not differ from any other app, but there can be features that would need to be implemented with a different approach.
From project complexity, product design, technology stack, the number of professionals being deployed on the project, development hours, and geographical location of the service provider to the development platform, there can be a lot to consider to build a fantasy sports app.
So, how much does it cost exactly to make a fantasy sports app? 'Exactly?' Well, there is nothing to be precise about it. But we can certainly provide you with an idea about the costs.
If we consider that you are hiring a dedicated team of developers from the UK or US-based app development company, it may cost you anywhere between $50 to $300 per hour. In comparison, the complete development of the product can range between $20,000 to $50,000.
Steps For Creating Daily Fantasy Sports Platform & App
Making a daily fantasy sports platform and app can be challenging but rewarding. Here are the key steps you need to follow to bring your mobile app ideas to life:
1. Research the Market and Define Your Target Audience
Before starting the development process, it's crucial to understand the existing market and identify the needs of your target audience. Conduct market research and surveys to gain insights into user behavior, preferences, and expectations.
2. Choose a Reliable App Development Company
Building a daily fantasy sports app requires a team of experienced developers specializing in creating sports-related apps. Choose a team with expertise in mobile app development, backend development, and user experience design.
3. Define the Features and Functionality of Your App
Based on your research and user feedback, define the features and functionality you want to include in your app. It could include player selection, game management, live scoring, and payment processing.
4. Design and Develop Your App
Once you clearly understand what you want to build, it's time to start designing and developing your app. Work with your mobile application development team to create an intuitive user interface, attractive design, and seamless functionality.
5. Test and Launch Your App
Once it is ready, it's time to test it rigorously to ensure it works flawlessly. Conduct user testing, fix bugs or issues, and then launch your app publicly.
6. Promote and Market Your App
Once your app is live, promoting and marketing it effectively to reach your target audience is crucial. Use social media, email marketing, and paid advertising to promote your app and attract users.
7. Provide Ongoing Support and Maintenance
After your app is launched, it's essential to provide ongoing support and maintenance to ensure it remains up-to-date and responsive to user needs. It could include fixing bugs, adding new features, and providing customer support.
You can hire app developers to create an app that engages and delights your users.
The Burning Question: Are Fantasy Sports Apps Legal?
In the United States and India, most states allow fantasy sports apps with legal status. In both countries, regional lawful agencies argued that fantasy sports apps are games of knowledge and skills which is not the case with online gambling or casino apps that are games of chance.
There are a few states in both US and India where these apps are still seeking legal status
So, what do we think about it? Our answer to this question would not matter as it is completely up to the law-making agencies to decide whether fantasy sports apps are to be legal in their respective countries or regions.
NITI Aayog cited KPMG India's report indicating that the user base of fantasy sports apps in India has grown at a staggering CAGR of 212%, from 2 million users in June 2016 to 90 million users in December 2019. The report released by the think tank of the Indian government particularly consisted of the guiding principles for regulating all online fantasy sports apps in India.
There are two options for governments or legal bodies; either they can simply ban the usage of such apps or regulate them under certain conditions. We have witnessed some examples where governments make such apps highly taxable, like alcohol or tobacco.
Latest Trends to Make Your Fantasy Sports Application Better
Fantasy app development continues to evolve, and several emerging trends can help developers create more engaging apps for their users.
By adding game-like elements to the app, such as badges, points, and leaderboards, developers can create a more interactive and competitive experience that keeps users engaged.
Personalization with Artificial Intelligence
Using AI algorithms to analyze user data, android app development services providers can create personalized content. It will be personalized to each user's unique preferences and behaviors.
AR/VR to Create a Life-Like Environment
It is another exciting trend that can help developers create a more immersive and lifelike environment for their users. By using augmented or virtual reality technology, users can feel like they are actually in the game, interacting with players.
Blockchain to Secure Payment
By leveraging blockchain technology, developers can create a more secure and transparent payment system that protects user data and transactions.
You can build chatbots to handle common user inquiries, such as contest rules or account management. Fantasy sports website development can free up resources and improve the user experience.
Future of Fantasy Sports Software Development
Seeing the rate at which the fantasy sports industry is growing, it is highly probable that the industry will have a bright future in the years to come. With more technological tools, these apps will attract more users.
Fantasy sports were there, but they came into the extreme limelight when launched as mobile applications.
Before we conclude this blog, we are leaving with statistics that will help you understand the scope of creating a fantasy app even further.
Market Size of the Fantasy Sports Sector in the United States.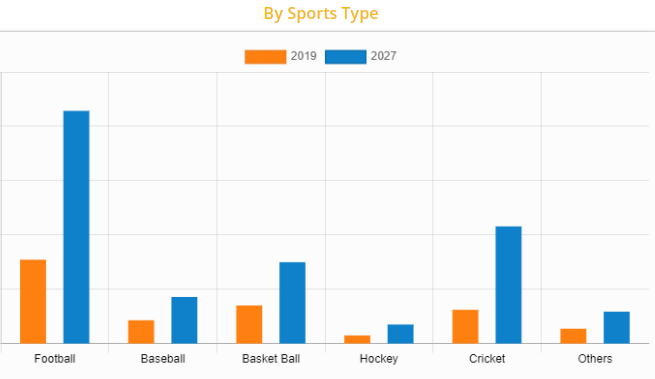 Source: Allied Market Research
How Can We Help You Build Daily Fantasy Sports Apps?
If you want to create a fantasy sports app, we can help you utilize our expertise in developing such an app. With 15+ years of experience and extensive industry exposure, we have created result-oriented mobile applications of different niches for our customers across the globe.
We are a top-rated mobile app development company providing affordable app design and development packages that make our dynamic services more accessible to more customers.
Conclusion
The fantasy sports market is expanding, which means it is also becoming more competitive. If you are a business leader, you have to keep your plan business and technology-oriented. No one can guarantee you success for your fantasy app until you do not implement your plans correctly.
The key to going well in this direction is to consult a leading iOS app development company and business experts with experience and examples. When it comes to investment, you have to be both realistic and practical about things.
Frequently Asked Questions
How long will it take to develop my fantasy sports app?
The development timeline can vary depending on the complexity of the app and the features you want to include. We work closely with our clients to understand their needs and provide a realistic timeline for development.
Can you create a custom design for my fantasy sports app development?
Absolutely! We understand the importance of branding and creating a unique user experience. We create custom designs that reflect your brand and increase user engagement.
How can I ensure that my app for sports is secure?
As a leading mobile app development agency, we take security very seriously. We use the latest technology and industry best practices to protect your app and users' data. We also conduct thorough testing and quality assurance to ensure your app is secure and reliable.
Can I update and add features to my app after it's launched?
Yes, we provide ongoing support and maintenance for your app. We work to ensure that your app remains up-to-date and responsive to user needs and feedback. Being a top-rated fantasy sports developer, we will help you add features as needed.
How will my daily fantasy sports application stands out in a crowded market?
Creating a unique value proposition that sets your app apart from the rest in a competitive market is essential. It could involve offering innovative features, creating a seamless user experience, or focusing on a specific niche or target audience.
Useful articles, updates, offers and guide boon from SparxIT Team
Categories
Want to Create an Exciting Fantasy Sports App?
Featured In