IoT is a smart technology which describes smart and well-connected devices. These are basically the devices that operate flawlessly and allow things to interact & exchange data. Whenever any technology initiated, it impacts all the facets of tech development. Similarly, IoT has impacted all of the sectors. Whether it is web design, development or mobile app building, all of these get impacted with the trending technology and of course the way of web design and development.
Internet of things has become the need of every sector and even every product. From refrigerators, automobiles, industrial machines, environmental sensors, surveillance cameras to baby monitors, all of these are completely connected to the internet these days. The technology has introduced to facilitate people with continuous on-demand information. The concept of IoT is simple that these have to be connected, accessed, manipulated and configured appropriately from the associated sources like laptop, mobile or any other smart devices. This simply generates the need of new web design and development of solutions.
The point is what do we need to consider while developing a new web design with the integration of  IoT. Here are some of the best design techniques and considerations one should keep in mind to build interactive solutions having IoT interactions.
When it comes to building an intuitive web-based UI for an IoT application, the first which comes in mind is the fast, clean and interactive layout. Apart from this, a designer should work on the latest web design best practices. But, make sure that the design inclusions are meaningful and support logical workflow. Also, the major thing is that the new IoT based design should be mobile compatible so that smart users can reap the benefits of it.
Communication between users and IoT devices should be clear and be achieved by establishing a strong backend design architecture. Every device has various capabilities, commands and data that operate exactly as per the users' inclinations. A fine backend receives & transmits data and helps users communicate with the device in seamless manners.
When we talk about IoT devices, an obvious fact strikes to mind i.e., wireless operations and battery-powered instruments. This requires full-fledged power management for them. It is common that when heavy programmes run in the backend drain massive battery which causes less user communication. So, the new layout should be designed to minimize the excess power usage.
There is a drawback of IoT or associated solutions that these provide opportunities to hackers. If a person could be able to crack the web-connected pattern, there are chances that anyone else can also crack it without trouble. For maintaining security, designers should adopt the strict practices of design. It is a web designer's responsibility to integrate security features to keep an IoT based application or website secure.
In the case of a traditional website, all the requests parse through a web server. But, connecting the fact with the IoT that changed the entire scenario as the data gets transmitted to the cloud and connected devices allow users to communicate efficiently.
Other Opportunities Can Be Availed Through IoT
Today, the Internet has impacted each sphere of human lives. Almost everyone is dependent on the web to get information or accomplish day to day chores. Businesses are utilizing the internet for establishing their online presence and powerful communication for customers. This helps them extend geographical reach. Besides, the organizations are passionate to utilize the active stats of trending technologies. They adopted the newness and integrate their business with sensor-enabled devices to automate their operations. There are other industries like healthcare, automotive, energy, manufacturing and transportation that are getting benefited by Internet of Things.
Strong Impact Of IoT On Web Design & Development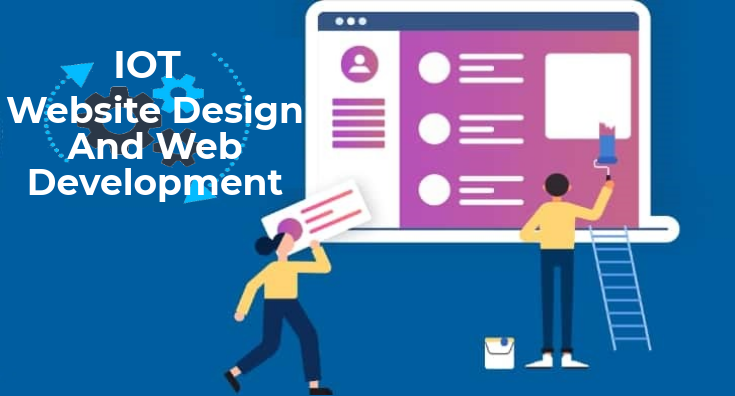 Initially, we have discussed the influence of IoT on web design and development realm. To get complete advantages of IoT for web designs, one should consider the following aspects.
Have a glance:
Web designers should have knowledge of creating well-managed and sophisticated web designs that are able to respond to users personalized data and can easily be integrated with web-enabled devices.
As per the growing demands, business websites should be like a pro and possess the potential to interact better with IoT devices. For example, if we take the example of today's online purchases, you will find a huge surge in the search ratio. And, ultimately it is affecting the associated machine's activity for both the product manufacturers and distributors. Here, IoT is impacting the purchase criteria by updating a message for the new product availability. This automatically leads to the favorable promotion of distributor website.
The major aspect of making a website worth for IoT integration is to design the clean and simple user interface. It's imperative from almost every aspect and ultimately is the key to excellent user interaction. The next things is that the interface should be good in looks and get easily accessed on screens of different sizes. Basically, IoT demands different other aspects to be included in a website or the information displayed by it. Users mostly expect a lot from the websites and the information conveyed through it on different devices. They want the content to be showcased well on each screen they use to access the information.
Further, they also want minimal text and icons are placed appropriately and should engage users wherever they visit the website. This was all about a website integration with IoT. There can be an increased need of advanced dashboards that are integrated with business apps and let the people manage their operations using different devices.
Final Thought:
Web development with IoT integration is complex and requires a deep understanding of working on front-end technologies. The reason is, users often use front-end interface to connect and communicate with other IoT like cameras, sensors and a variety of smart devices. After this long discussion, the fact we have is web designers and developers need to be aware of the Internet of Things in detail and create experiences that complement your business in exceptional ways.
Useful articles, updates, offers and guide boon from SparxIT Team
Categories
Let's discuss your project idea.
Featured In