If I land on your website, would I be awed or convinced to bounce in less than 5 seconds? Well, it depends on your website's design.
Do you know you must ask this question after every few months? Why? Because technology and trends change constantly. What worked last year may not be the right fit in the current market scenario. What was grabbing people's attention yesterday may not be working anymore. Entrepreneurs are advised to stay aligned with the ever-changing tech innovation.
Since every business operation is taking place over the online realm, it is compelling to incorporate the latest web design trends. If we talk about last year, it brought a surprising change for all of us. We all have witnessed drastic changes in every sphere of life, and digital platforms are no exception. COVID-19 has forced everyone to adopt a new lifestyle.
Similarly, you need to follow the latest website design trends to prevent your online store from degrading and losing the customer's attention. Read the below points to know why web design services are essential and why you need it?
75% of users judge a company's credibility according to their website's visual design.
While talking about healthcare websites, 94% of users' first impressions were design-related.
You only have 50 milliseconds to leave the first impression of your site.
Approximately 38% of users will stop engaging with your website if it fails to deliver an engaging and quality layout.
Also, multiple reasons prove that a great web design is imperative for your business growth. Before we proceed, why not have a short discussion about why having an aesthetically pleasing website design is a must:
It sets the first impression
It aids your SEO strategy
It builds trust and enhances customer engagement
Your competitors are doing it
It creates consistency
It is the best way for customer service
The stay indoor and social distancing new-normal has increased the demand for online services. The significant challenge for businesses is to make everything available online. Every business domain was required to hold a strong online presence to meet the customer's requirements. Companies were forced to renovate their online store and follow the new way of business operations.
In this blog post, we will highlight the latest visual and functional website design trends. These innovative website design trends are a must-have for your next website development project.
Earlier we posted a web design guide which also included a section where we mentioned some of the trends but here we are going a step ahead and exploring the know-how of the latest developments in the process.
Not in the current scenario, but the highlighted trends will be the biggest hit in the next couple of years. So without wasting time anymore, let's come straight to the points.
Keep Your Eyes On The Upcoming Web Design Trends for 2022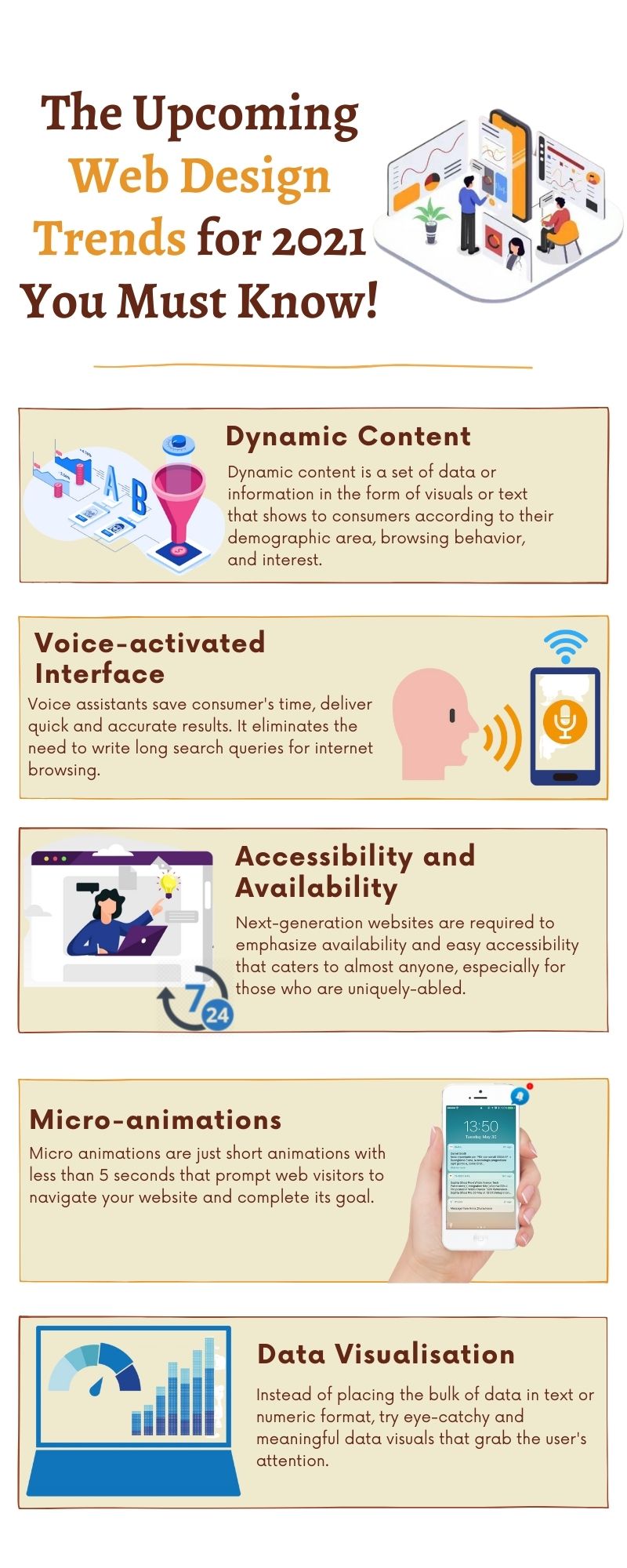 Dynamic Content
Think like a consumer! As end-users, we wish for relevant and accurate information for the products and services we are looking for. A website that can potentially deliver dynamic content has the maximum chances to experience great customer engagements and high conversion rates. But, what do you understand about dynamic content exactly? It is a set of data or information in the form of visuals or text that shows to consumers according to their demographic area, browsing behavior, and area of interest.
Voice-activated Interface
Oh, how can we forget! Voice recognition has gained a complete spotlight. Instead of typing long search queries, people are more likely to use voice assistants for internet browsing. Why not? After all, it saves their time and delivers quick and accurate results. Ensure that your website can talk to the consumers and help them to what they are looking for in no time.
Accessibility and Availability
It is the 21st century, a highly developed era. Today, people are not ready to wait or waste a single second of their lives. Providing easy accessibility is a must for user's convenience. If we talk about uniquely-abled people, making it effortless for online information browsing becomes imperative. Next-generation websites are required to put the main emphasis on availability and easy accessibility that caters to almost anyone.
Micro-animations
In the past few years, videos have taken center stage in the website design process. No, please don't get me wrong; videos are still the best way to make your website interactive. But, why should you avoid adding big-size videos? Because it slows down your website. It can impact your website load time that will ultimately maximize the bounce rate.
So, in the coming years, we will see micro animation on the frontline. Micro animations are just short animations with less than 5 seconds of motion visuals. Want to know the most prominent micro animation example? GIFs are already here for you. Micro animation not only keeps your website engaging but prompts web visitors to navigate and complete the goal.
Data Visualisation
Data visualization is a proven approach to display your content. A large portion of the human population pays strong attention to appealing visuals as compared to text. Also, many of them believe in statistics based on the latest market survey. Try an eye-catchy and meaningful visual that grabs the user's attention instead of placing the bulk of data in text or numeric format.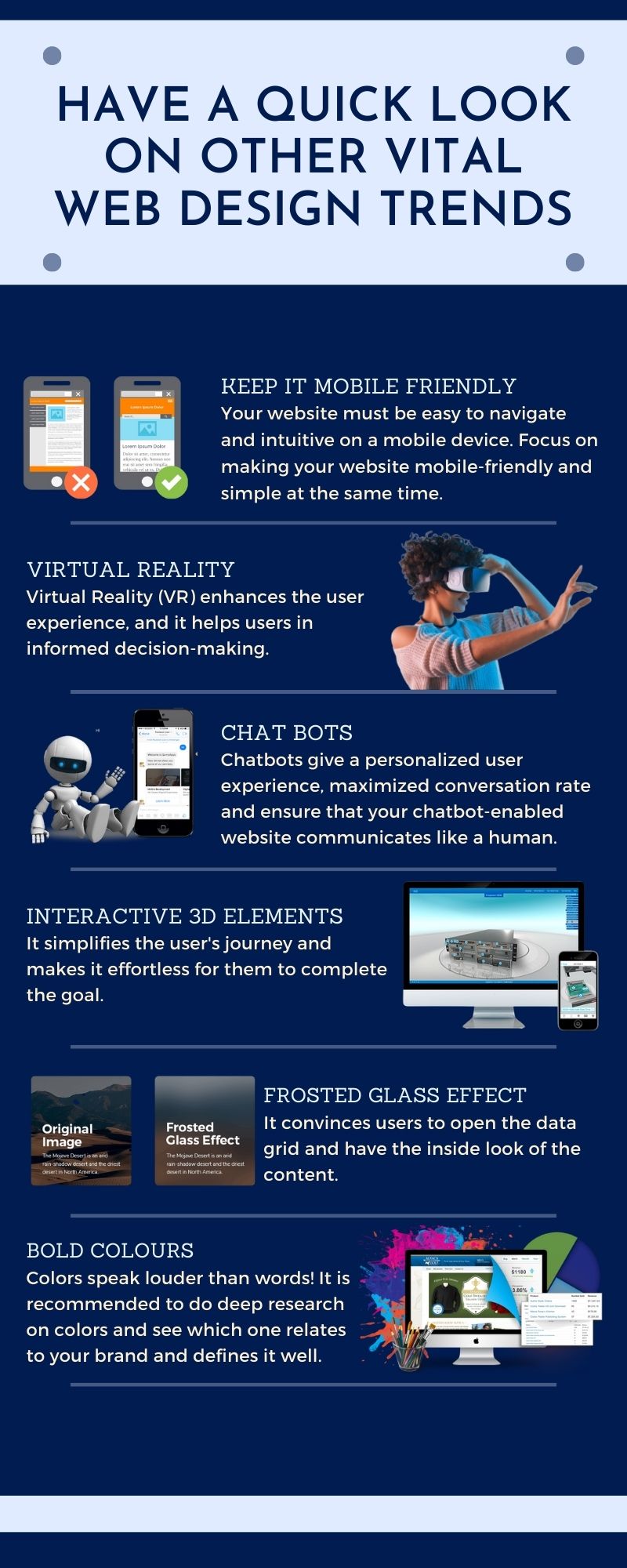 Keep it Mobile Friendly
It is not surprising that smart mobile phones have become the go-to device of every individual. Since the inception of smartphones, the use of large computers has decreased. The majority of online users use their mobile phones to access online products and services. Your website must be intuitive and easy to navigate. Simply understand, you need to focus on making your website mobile-friendly and simple altogether.
Virtual Reality
Virtual Reality is slowly becoming a crucial part of realists website design. It takes the users on a virtual tour without moving anywhere physically. It brings an impressive user experience to the table. A tool like 360-degree videos enhances user engagement on the web. Moreover, the combination of AR and VR brings a closer look at real-life objects.
Chatbots
Chatbots have gained massive attention from both tech experts and users. Let's accept that chatbots are going to stay for a very long time. To remain competitive, you need to ensure that your chatbot-enabled website communicates like a human. Don't make the user feel like they are talking to a machine. Give them a personalized experience, enhanced conversation, and make them feel connected with your website.
Interactive 3D Elements
Close to micro-animations, 3D elements help users to navigate your website and find their desired information. It simplifies the user's journey and makes it effortless for them to complete the goal.
Emotive Typography
The term "Emotive Typography" refers to the typing style and design. Ensure that you use words in your web content that relates to the background images and theme. Make the best choice of words and focus on connecting with emotional responses to users.
Scrolling Effects
Apart from parallax effects and horizontal scrolling, web designers are experimenting with new scrolling types, which are as follows:
Long scrolling
This is often utilized for a single-page website.
Fixed long scrolling
Combines multiple sections on one page
Scrolling cards
It utilizes a layout that gives the website a look of swiping cards, whether horizontally or vertically.
Frosted Glass Effect
Grids are one of the best website design elements. It brings a great structure to your website and systemizes the web content. In the past few years, flip grids and blocks were the hottest trends in the market. With the growing market trends, we are moving towards the frosted glass effect on the block or inactive grids. It convinces users to open the grid and have a look at the inside face of the content.
Bold Colours
Colors speak louder than words and also have the potential to spread positive vibes. Proper color selection is one of the vital and sensitive parts of a perfect website design. Bold and bright colors are dominating the web design trends. Every color delivers a hidden message and has a specific meaning. It is recommended to do deep research on colors and see which one relates to your brand and defines it well.
How Much Will it Cost for a Perfect Website Design?
Your website is not only an online store where you sell your products and services but a sales and marketing tool for your business. It's a hub where you can explore more business opportunities. Now, when entrepreneurs are understanding the value of having a scalable and robust website, the overall market for the business website is getting better.
The demand for professional website designers has increased to satisfy various business needs. This also raises a general question: "how much will it cost for a perfect website design?" Well, there is no precise answer to this question as the cost of a website design is calculated by multiple factors. Still, we have tried to answer this.
So let's know the factors that affect the web design cost:
Design
Say No to boring our outdated templates! It can be pretty complex to find unique and quality templates that reflect your brand and services. It is advisable to create a custom web design as per your project requirements. Opt for website design services to create a customized design plan for your website.
Search Engine Optimization (SEO)
To be on the top of search engine search, optimize your website. You can hire a professional developer who can optimize your website for the targeted keywords. Ensure that your website can perform as per the search engine algorithm. Websites that meet the SEO guidelines can get a competitive advantage.
Content List
All the functional features and web pages fall under this list. If you don't have the list until now, you will have to hire web designers who can do all the research and create a content list for your website. The reputed website design company will analyze your target audiences, demographic region, and other stats to create a content list.
Usability & Navigation
It is a process of organizing pages and website architecture. Also, it includes clear navigation, formal testing like A/B testing, usability testing, and setting labels for links. The more time a web designer will take to finish these tasks, the easier the website will navigate but, it will also add to the cost.
Mobile Website
These days, web functionality is everything! Today, people are more likely to use a smartphone than desktops. Invest in making your website easy to access on smart devices. Customers should be able to access information smoothly via using different devices. Invest in responsive website design so that it can be easily formatted to different screen resolutions.
Functionality
The website's technical components like message boards, webforms, and photo galleries ask for a higher cost. You must understand that a website's features and functionality leave a high impact on overall website design cost.
Cost of Hiring a Web Designer
You can hire a corporate web design company to create a business-oriented website. Hiring a professional and experienced website designer will simplify your website development process and can potentially complete your project on the estimated deadline.
Conclusion
These web design trends are useless if you don't have a proper design plan for your website. It is advisable to make a thought and create a complete web design plan in your mind. You can follow and implement the latest trends to convert your website design idea into reality.
You can also make a combination of your thoughts and trendy web design ideas to create innovation. Sparx IT Solutions provide remarkable corporate website design services on a global scale. We expect to see a slew of eye-catching and clean websites that enhance user experience.
Our professionally trained web designers help brands to generate more revenue with fantastic website development services. We are always ready to shape your web design ideas into a high-functioning and quality product.
Useful articles, updates, offers and guide boon from SparxIT Team
Categories
Let's discuss your project idea.
Featured In