With rising eCommerce opportunities, many business owners & aspiring entrepreneurs want to establish online stores. However, your online business's success depends on the hassle-free shopping experience of your eCommerce store.
As per Statista, retail eCommerce sales are projected to reach about $7.4 trillion by 2025.
Think of multi-vendor online eCommerce marketplaces like Amazon, Etsy, where you bring multiple sellers and buyers under one roof. It provides a space and tools for multiple vendors and consumers to trade.
This blog will expand the multi-vendor eCommerce, its types, working, critical features to integrate for users, admin, vendors, and the development cost.
What is Multi-Vendor eCommerce?
A multi-vendor marketplace is an online eCommerce portal where different vendors sell their products to the target audience. This marketplace offers a vast product catalog to the customers and vender with a large customer base.
The difference between a single-vendor and multi-vendor eCommerce marketplace is, the single-vendor does not acquire or manage multiple sellers, but a multi-vendor does.
In a multi-vendor eCommerce marketplace, a vendor owns a seller account to manage the inventory and receive orders by paying a commission to the owner. In return, these marketplaces help sellers to meet their curated customer base and grow sales.
Types of Multi-Vendor Marketplaces
Peer-to-Peer
This multi-vendor eCommerce marketplace allows a person to sell a product or service to another person.
Examples: Craigslist, eBay
Business-to-Business
B2B eCommerce website development includes multi-vendor marketplaces where a business sells its products or services to another company.
Examples: Grainger, Chocomize
Business-to-Customer
In this multi-vendor marketplace, sellers directly sell the product or service to the customer.
Examples: Amazon, Flipkart
Vertical and Horizontal
In vertical marketplaces, sellers sell products from different sources, but the product category remains the same based on industry, trade, or profession.
However, a horizontal marketplace facilitates the need to reach a wider audience with a wide range of products from different categories.
How Does a Multi-Vendor Business Model Work?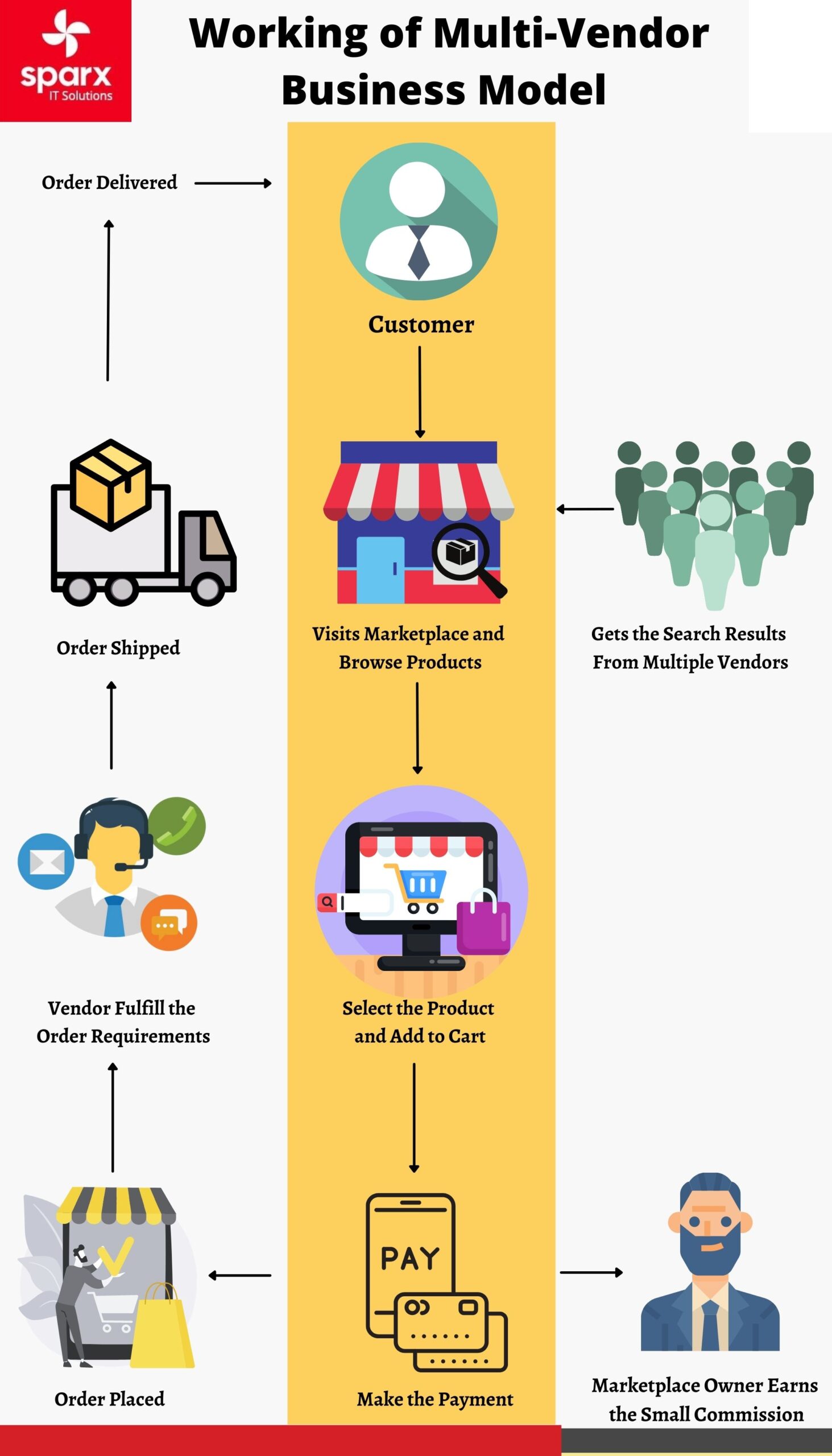 The working of a multi-vendor eCommerce marketplace begins when a user browses certain products. The multi-vendor marketplace draws several results from multiple vendors, from which the customer can select a product and place an order.
The placed order is transferred to the seller of the product, and they fulfill the order requirements from their end and process the shipping. The vendors and customers can track the order status and be notified when the order is successfully delivered.
The function of a vendor is different from the user. The marketplace provides a space to set up shops and communicate with customers. Working on the vendors' side includes the following steps.
The vendor registers with the multi-vendor marketplace after the complete authentication.
The vendor lists the products and manages the dashboard.
On receiving an order, the vendor processes the payment and ships the order.
Marketplace owners keep a small fraction of the payment as commission.
Features of Multi-Vendor eCommerce Marketplace
Admin Features
The admin will collect the necessary information and documents of the agency to onboard them as vendors on the eCommerce website. After successful onboarding, agencies can begin conducting online business.
Admin can customize the dashboard of the multi-vendor eCommerce website, including product/vendor category, product view, offers listed, etc.
Admin will be able to track the real-time inventory status to manage operations efficiently. It allows them to keep track of supplies and optimize delivery schedules to ensure inventory never runs out of supplies.
Data is a valuable aspect of a multi-vendor eCommerce website. Integrate reporting and analytics to analyze sales reports or predict demand to ensure inventory can meet that demand.
Since a multi-vendor marketplace contains numerous vendors and products, streamlining orders from a vendor to the customer is necessary. It is helpful to categorize the orders product-wise and vendor-wise and facilitate order tracking and return or refund.
Admin can create and manage new storefronts for your multi-vendor eCommerce website based on language choice, currency, vendors, and products. Also, there are existing storefronts for nations, sellers, and product categories that you can select based on your requirements.
An admin can establish the product's reputation and promote brand value among customers by managing the reviews. Admin can list their high-value items and the reviews at the top that can assist them in converting more sales.
A robust payment system that supports multiple payment options like COD, eWallet, and Credit Cards is necessary for your multi-vendor eCommerce. The admin can choose from automated or manual vendor payments. Major payment gateway systems that can be integrated are Stripe, PayPal, etc.
Vendor Features
Registration and Personalized Dashboard
A vendor gets registered on your marketplace by providing their details and establishing their shop. Later, vendors can log in to their shop dashboard, manage products, and facilitate orders.
Your multi-vendor marketplace should include the various payment as well as delivery services to manage seamless product shipment. Some of the popular delivery services are Shadowfax, FedEx, etc.
Since the tax rates may change as per the location or the product; therefore, add a tax management feature to estimate specific taxes. They use the information to calculate the tax as per the region.
A vendor should be able to establish their online store as per their preference. Therefore, eCommerce development services should provide store personalization features to vendors. Allow sellers to modify fonts, colors, and templates to provide a better customer experience.
Real-Time Inventory Updates
A vendor should be provided with real-time updates on inventory status to keep track of product availability at delivery time.
This feature allows the vendor to list their products on the online store and add the product details like pricing, material, size, etc.
A vendor can create new offers, discounts to help vendors reach more users using specific promotional activities, ads & banners and track the campaign activities.
User Features
An easy sign-up process should be delivered to the user. Also, the user account includes various sensitive information like eWallet, personal details, etc., which needs protection via two-factor authentication.
Easy User Interface and Checkout
The UI of your eCommerce marketplace should be easy to navigate and provide the ability to locate the products and make the purchase quickly. Effortless product browsing is a prominent customer-driven factor and helps them in decision-making; therefore, you should invest in it.
Since the customer views multiple products, they might be required to buy different products. Therefore, they should have the ability to combine numerous products from various vendors in a single order.
Order tracking feature improves the customer experience and builds trust. Thus, your multi-vendor eCommerce marketplace should integrate GPS tracking ability to effortlessly track their order's live location and status.
Your users should be provided with various offers, discounts, and reward cashback, which can make your customers visit your marketplace repeatedly. Also, you can integrate the feature where users can bid on the product within the price range.
Revenue Structure of Multi-Vendor eCommerce Marketplace Owners
Earn Commissions
The marketplace owner receives a commission for executing a successful transaction for each store in the multi-vendor marketplace. Your commission charges can also include a tax component.
Advertisement Fee
A multi-vendor eCommerce website development company can integrate the feature of running an ad campaign for vendors. They can charge them for creating an ad, sponsoring items based on the marketplace's advertisement policy.
Subscription/Membership
The owner can charge customers for buying a subscription or membership to provide additional benefits like free shipping, fast delivery, etc.
Selling Fee
Multi-vendor marketplace charges the vendor as per their selling plans, including monthly charges or depending upon the number of items.
Logistics Services
The owner can charge for the product shipment as per the distance and weight of the shipped goods.
Top 5 Multi-Vendor eCommerce Marketplaces
Amazon
Amazon is a well-known example of a multi-vendor marketplace, providing a rich platform for merchants to sell their products with massive traffic. In return, they take a cut of the profit. Developing an app like Amazon requires many steps and work, for which you can hire eCommerce app development services.
Etsy.com
Another excellent example of an eCommerce marketplace is Etsy.com. This marketplace connects sellers with handmade or vintage items and craft supplies. Etsy offers a limited product category segment, such as the product listed here should be older than 20 years.
eBay
eBay is an excellent example of a C2C multi-vendor marketplace. Customers widely use this marketplace to sell used products like furniture, jewelry, camera, mobile phone, etc. The target audience is also people looking for affordable second-hand goods.
Our eCommerce web development guide provides the complete development process and tech stack for building a marketplace like eBay or Etsy.
Flipkart
Flipkart is a popular eCommerce platform whose parent organization is Walmart, which sells a wide range of products, from electronic devices to clothes. Apart from being a website and mobile app, Flipkart provides a lightweight and fast-loading progressive web app.
Alibaba
Alibaba has a unique business model to mostly offer its services to small enterprises and individuals. It provides more diversified product choices for consumers and makes it a one-stop shopping destination by integrating logistics, manufacturing companies, banks, and trading services.
Cost of Developing a Multi-Vendor eCommerce Marketplace
The development of multi-vendor eCommerce depends on multiple factors. Also, each business and vendor has different demands, impacting the eCommerce website development cost. Many development stages can also be associated with varying prices. Therefore, you must consider multiple factors to estimate the average development cost.
Size and complexity of the eCommerce marketplace.
Hiring cost of the eCommerce app or website development company.
UX/UI design features.
Integration with third-party services like shipments or payments.
Choice of technology.
Unique feature requirements.
Depending on the store size, complexity, and various factors mentioned above, the cost of developing a multi-vendor eCommerce marketplace can be anywhere from $10,000 to $80,000 (or more). This cost might vary if you integrate more features.
Conclusion
As innovations come into play in the ever-evolving eCommerce industry, business owners need to be aware of trends, consumer behavior, and technology to meet customers' expectations. Therefore, considering core features ruling the multi-vendor eCommerce market is necessary for building a thriving online marketplace.
Sparx IT Solutions offers multi-vendor eCommerce web development services for your sales needs and to fulfill development goals. Our eCommerce solutions consist of various advanced functions and technologies with responsive design.
The right development company can take your online business to a new level of success.
Useful articles, updates, offers and guide boon from SparxIT Team
Categories
Let's discuss your project idea.
Featured In