Undoubtedly, online shopping is gaining traction in today's tech-savvy world. That's the reason the number of multi-vendor marketplaces is quickly increasing. In fact, 24% of retail purchases are expected to take place online. Moreover, by 2026, the e-commerce market is expected to reach an astonishing $8.1 trillion. It demonstrates the enormous development and potential of the multi-vendor ecommerce marketplace.
Customers will likely continue to turn to the Internet each time they need to make a retail purchase. It's evident that turning your business into a multi-vendor marketplace platform is more than just a fad. It's a long-term investment, especially if you want to scale.
In addition, creating a multi-vendor marketplace became more accessible with the help of an eCommerce development solutions provider. However, multi-vendor websites can have quite complicated structures and difficult procedures. Therefore, you will need an experienced eCommerce development company to create multi-vendor ecommerce platform.
What is a Multi-Vendor Marketplace?
A multi-vendor marketplace is an online eCommerce portal where different vendors sell their products to the target audience. This marketplace offers a vast product catalog to customers and vendors with a large customer base.
The difference between a single-vendor and multi-vendor eCommerce marketplace is the single-vendor marketplace does not acquire or manage multiple sellers, but a multi-vendor marketplace does.
In a multi-vendor marketplace, a vendor owns a seller account to manage the inventory and receive orders by paying a commission to the owner. In return, these eCommerce marketplaces help sellers to meet their curated customer base and grow sales.
How Does a Multi-Vendor Ecommerce Platform Work?
The working of a multi-vendor eCommerce marketplace begins when a user browses certain products. The multi-vendor marketplace draws several results from multiple vendors, from which the customer can select a product and place an order.
The placed order is transferred to the seller of the product, and they fulfill the order requirements from their end and process the shipping. The vendors and customers can track the order status and be notified when the order is successfully delivered.
The function of a vendor is different from the user. The marketplace provides a space to set up shops and communicate with customers. Working on the vendors' side includes the following steps.
The vendor registers with the multi-vendor marketplace after the complete authentication.
The vendor lists the products and manages the dashboard.
On receiving an order, the vendor processes the payment and ships the order.
Marketplace owners keep a small fraction of the payment as a commission.
What are the Benefits of a Multi-Vendor Marketplace Platform?
The popularity of marketplaces is high among both buyers and sellers. Why? What advantages do visitors get with the multi-vendor app? We'll examine some of the most important advantages of multi-vendor marketplaces. We shall outline the advantages for vendors, customers, and marketplace startups.
A. Benefits For Vendors
There are several advantages to letting vendors interact with a large user base. Here are a few key benefits that can help you draw vendors to your platform by building a multi-vendor marketplace.
Seamless creation of online stores
Access to a diverse customer base
Secure environment for conducting business
B. Benefits For Buyers
Marketplaces with multi vendors are appealing substitutes for traditional e-commerce websites. They provide customers with an exceptional and convenient purchasing experience that is unparalleled by other online merchants. These are the main advantages consumers get.
The holistic view of seller ratings
A vast array of curated products
Uninterrupted access to discounts
C. Benefits For Marketplace Startups
Multi-vendor marketplace websites are a very appealing business extension for startups. They offer an integrated client network that enables them to expand their operations. Let's examine the key advantages business owners experience when migrating to a multi-vendor marketplace.
Dynamic and rapid initiation
Harness the power of network effects
Generating revenue options
Types of Multi-Vendor Marketplaces
It's crucial to identify your target market. Finding and attracting your distinctive clients early on while concentrating on their preferences will be more fruitful. You can increase the service and product offering as the eCommerce platform grows and reach additional consumer segments.
1. Based on Vendor Offerings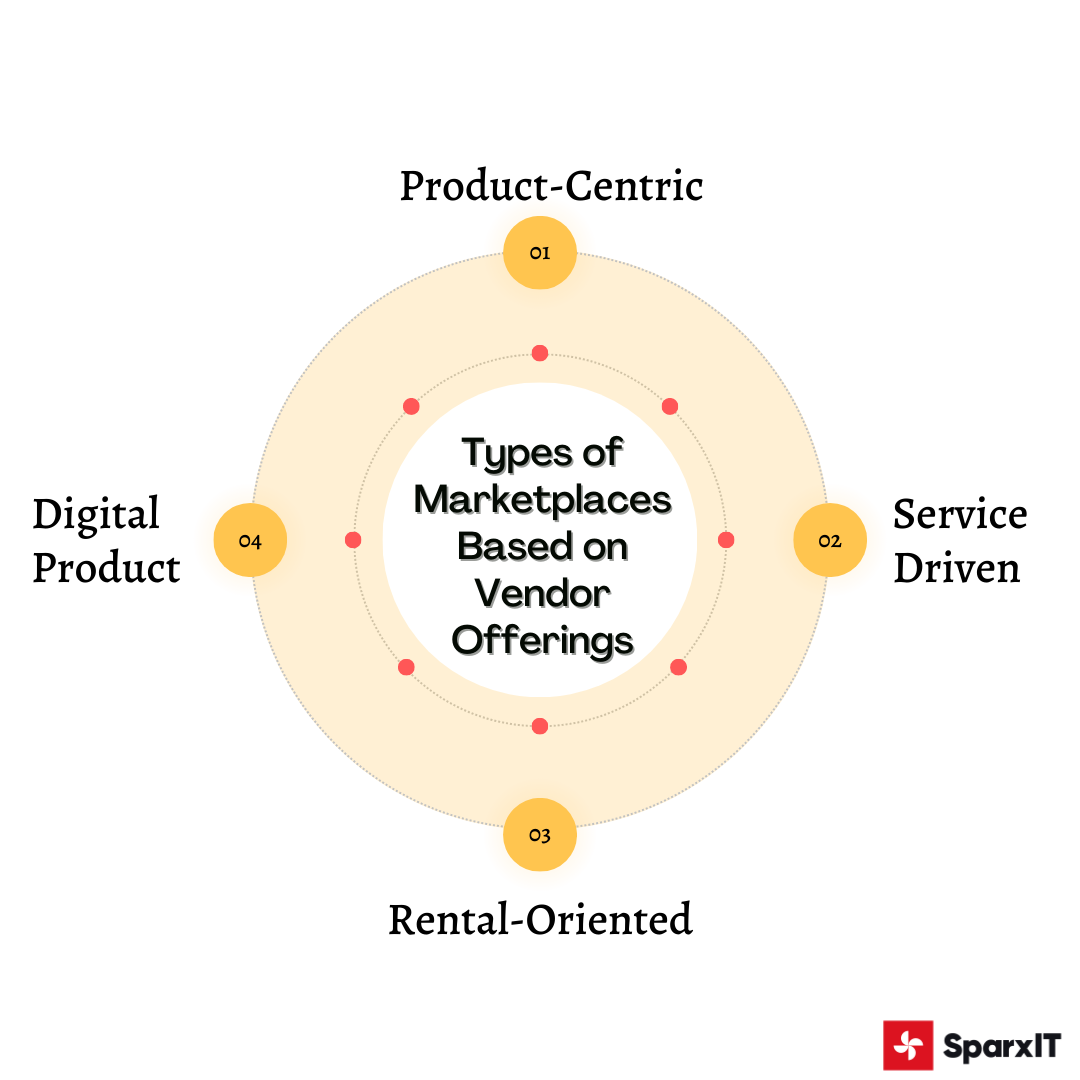 Multi-vendor marketplaces can easily be divided into different categories based on the vendors' products. According to the offers, some typical varieties include
Product-Centric Marketplaces
These platforms focus on physical goods, like Amazon, where sellers offer various products for customers to buy.
Service-Driven Marketplaces
Think of platforms like Upwork, where freelancers offer services, and businesses or individuals can hire them for tasks.
Rental-Oriented Marketplaces
Platforms like Airbnb enable people to rent out their properties or find accommodations for short stays, creating a rental-focused community.
Digital Product Marketplaces
Websites like Etsy provide a space for creators to sell digital products such as art, eBooks, or software, offering virtual goods to customers.
2. Based on Audience Segments
Significant audience preferences specify how your multi-vendor ecommerce mobile app must accommodate them. There are four main categories of audiences.
Business To Business (B2B) Marketplaces
B2B eCommerce website development includes multi-vendor marketplaces where a business sells its products or services to another company.
Examples: Grainger, Chocomize
Business To Customer (B2C) Marketplaces
In this multi-vendor marketplace, sellers directly sell the product or service to the customer.
Examples: Amazon, Flipkart
Peer-to-Peer Marketplaces
This multi-vendor eCommerce marketplace allows a person to sell a product or service to another person.
Examples: Craigslist, eBay
Vertical and Horizontal Marketplaces
In vertical marketplaces, sellers sell products from different sources, but the product category remains the same based on industry, trade, or profession.
However, a horizontal marketplace facilitates the need to reach a wider audience with a wide range of products from different categories.
3. Based on the Marketplace flow
The way you communicate with your vendors and customers always affects how things move in your multi-vendor marketplace development. According to the flow, let's list the top five marketplace categories. Keep in mind that they might overlap.
An online hub where various sellers offer their products directly to customers, creating a diverse shopping environment with a wide range of choices.
A platform where sellers list items and buyers place bids to win, creating an interactive and competitive buying experience.
A thoughtfully organized space where selected products from trusted sellers are presented, ensuring quality and uniqueness.
A recurring service where customers subscribe to receive products regularly, simplifying shopping and offering convenience.
Shoppers come together to make bulk purchases, unlocking discounts and savings through collective buying power.
How to Create a Multi-Vendor Marketplace Website?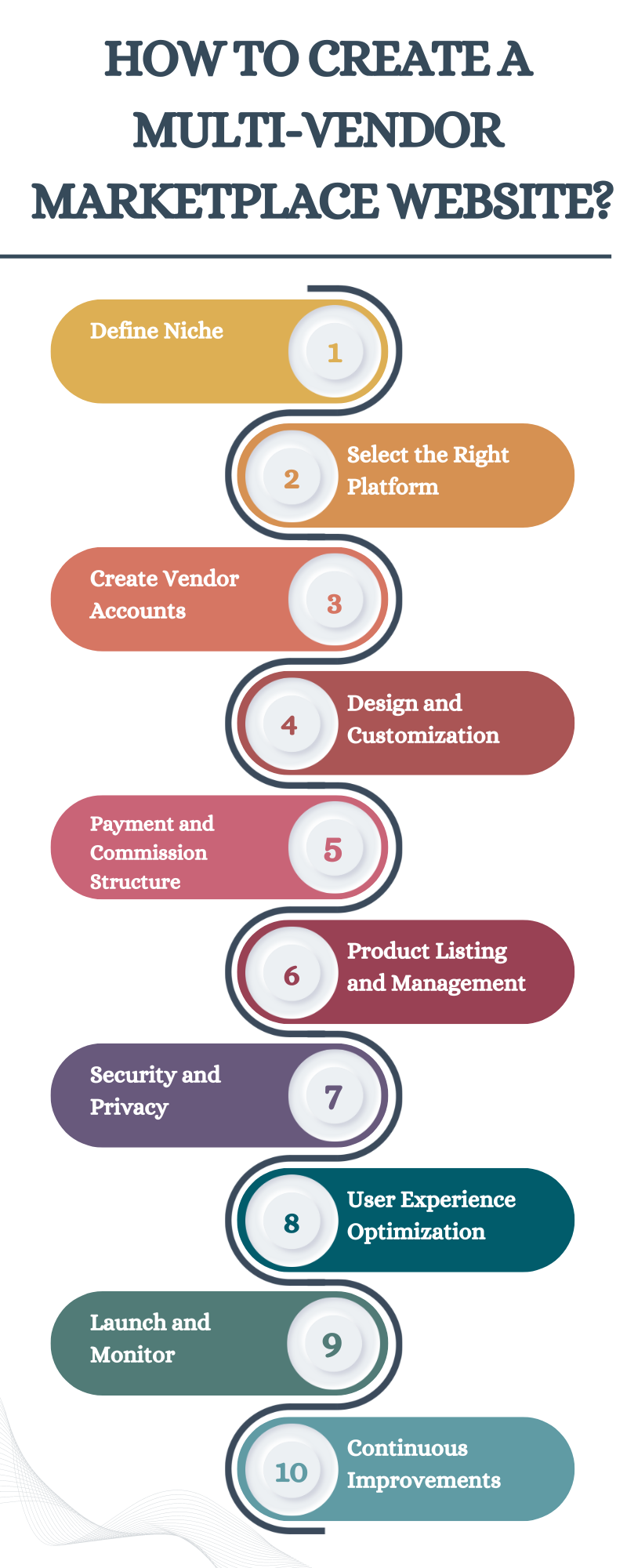 A multi-vendor marketplace is a strong tool for bringing customers and sellers together on a single online platform in the modern digital age. Let's look at the process of building a multi-vendor marketplace website if you're keen to enter this dynamic world.
1. Define Your Niche And Business Model
Determine the industry or niche you wish to concentrate on first. Will it be goods, fashion, or electronics? Choose your business plan next; will you charge vendors a commission, a subscription, or a listing fee?
2. Select the Right Platform
Decide on a platform that meets your needs and is appropriate. WooCommerce, Shopify, or Magento are popular options that each provides customized options for multi-vendor capability.
3. Create Vendor Accounts
Give vendors the ability to set up profiles and accounts. Please give them access to a dashboard where they can manage their orders, payments, and products.
4. Design and Customization
Pick a visually appealing theme that fits the identity of your marketplace. To guarantee a flawless user experience and highlight your distinctive branding, customize it.
5. Payment and Commission Structure
Establish a safe and practical payment mechanism. Choose how you'll collect suppliers' commissions for successful sales. Integrate payment gateways such as Stripe, PayPal, and others. For integrating the payment systems, you can take the assistance of a reliable B2B eCommerce company.
6. Product Listing and Management
Suppliers can list their goods along with thorough descriptions, images, and costs. Create a review mechanism to increase transparency and confidence.
7. Security and Privacy
We provide SSL certificates for transaction security and user data protection. Our developers put in place strong security measures to stop fraud and protect your sensitive information.
8. User Experience Optimization
Our eCommerce App Development team makes sure that clients have a flawless browsing experience by providing easy navigation, search features, and mobile-friendly design.
9. Launch and Monitor
Our experts thoroughly test your platform for bugs or issues before the big launch. Once everything is ready, we launch your multi-vendor marketplace app and carefully monitor usage statistics and performance.
10. Continuous Improvements
We pay attention to user input and modify it. Update and improve your platform frequently based on customer preferences, emerging trends, and technological advancements.
Develop and Launch a Multi-Vendor E-Commerce Marketplace MVP first
It is strategically essential to build a multi-vendor marketplace MVP to manage the turbulent world of e-commerce. Prioritizing the introduction of a Minimal Viable Product (MVP) allows you to start the process of iterative improvement quickly. Using this strategy, you may polish functionality, collect insightful user feedback, and validate concepts.
The MVP acts as a launching pad, giving you a sneak peek at the potential of your market while using fewer resources. In this crucial phase, you lay the groundwork for a strong, customer-focused multi-vendor ecommerce app development that evolves in practical findings, creating the conditions for long-term success in the cutthroat e-commerce environment.
Features of Multi-Vendor Marketplace eCommerce Platform
The most crucial factor is functionality. The ideal user experience will provide your clients with the necessary convenience and simplicity, keeping them on your multi-vendor marketplace website. We advise you to think about the following list of characteristics for multi-vendor marketplaces.
A. Admin Features
The admin will collect the necessary information and documents of the agency to onboard them as vendors on the eCommerce website. After successful onboarding, agencies can begin conducting online business.
Admin can customize the dashboard of the multi-vendor eCommerce website, including product/vendor category, product view, offers listed, etc.
Admin will be able to track the real-time inventory status to manage operations efficiently. It allows them to keep track of supplies and optimize delivery schedules to ensure inventory never runs out of supplies.
Data is a valuable aspect of a multi-vendor eCommerce website. Integrate reporting and analytics to analyze sales reports or predict demand to ensure inventory can meet that demand.
Since a multi-vendor marketplace contains numerous vendors and products, streamlining orders from a vendor to the customer is necessary. It is helpful to categorize the orders product-wise and vendor-wise and facilitate order tracking and return or refund.
Admin can create and manage new storefronts for your multi-vendor eCommerce website based on language choice, currency, vendors, and products. Also, there are existing storefronts for nations, sellers, and product categories that you can select based on your requirements.
By managing the reviews, an admin can establish the product's reputation and promote brand value among customers. Admin can list their high-value items and the reviews at the top that can assist them in converting more sales.
A robust payment system that supports multiple payment options like COD, eWallet, and Credit Cards is necessary for your multi-vendor eCommerce. The admin can choose from automated or manual vendor payments. Stripe, PayPal, etc., are major payment gateway systems that can be integrated.
B. Vendor Features
Registration and Personalized Dashboard
A vendor gets registered on your marketplace by providing their details and establishing their shop. Later, vendors can log in to their shop dashboard, manage products, and facilitate orders.
Your multi-vendor marketplace should include various payment and delivery services to manage seamless product shipment. Some popular delivery services are Shadowfax, FedEx, etc.
Since the tax rates may change as per the location or the product; therefore, add a tax management feature to estimate specific taxes. They use the information to calculate the tax as per the region.
A vendor should be able to establish their online store as per their preference. Therefore, eCommerce development services should provide store personalization features to vendors. Allow sellers to modify fonts, colors, and templates to provide a better customer experience.
Real-Time Inventory Updates
A vendor should be provided with real-time updates on inventory status to keep track of product availability at delivery time.
This feature allows the vendor to list their products on the online store and add the product details like pricing, material, size, etc.
A vendor can create new offers and discounts to help vendors reach more users using specific promotional activities, ads & banners and track the campaign activities.
C. User Features
An easy sign-up process should be delivered to the user. Also, the user account includes various sensitive information like eWallet, personal details, etc., which needs protection via two-factor authentication.
Easy User Interface and Checkout
The UI of your eCommerce marketplace should be easy to navigate and provide the ability to locate the products and make the purchase quickly. Effortless product browsing is a prominent customer-driven factor and helps them in decision-making; therefore, you should invest in it.
Since the customer views multiple products, they might be required to buy different products. Therefore, they should have the ability to combine numerous products from various vendors in a single order.
Order tracking feature improves the customer experience and builds trust. Thus, your multi-vendor eCommerce marketplace should integrate GPS tracking ability to track their order's live location and status effortlessly.
Your users should be given various offers, discounts, and reward cashback, which can make your customers repeatedly visit your marketplace. Also, you can integrate the feature where users can bid on the product within the price range.
Revenue Structure of Multi-Vendor eCommerce Marketplace Owners
How you make money from Multi-Vendor eCommerce marketplace development is referred to as a monetization strategy. Therefore, you must establish a revenue strategy to provide the desired profit while also not scaring away potential vendors.
1. Earn Commissions
The marketplace owner receives a commission for executing a successful transaction for each store in the multi-vendor marketplace. Your commission charges can also include a tax component.
2. Advertisement Fee
A multi-vendor eCommerce website development company can integrate the feature of running an ad campaign for vendors. They can charge them for creating an ad, sponsoring items based on the marketplace's advertisement policy.
3. Subscription/Membership
The owner can charge customers for buying a subscription or membership to provide additional benefits like free shipping, fast delivery, etc.
4. Selling Fee
Multi-vendor marketplace charges the vendor as per their selling plans, including monthly charges or depending upon the number of items.
5. Logistics Services
The owner can charge for the product shipment as per the distance and weight of the shipped goods.
Best Software Solutions For Multi-Vendor eCommerce Marketplace Development
Although creating a multi-vendor marketplace can be difficult, using the correct software or solution can make it much simpler. Finding the ideal multi-vendor marketplace solution can be challenging with so many options available. Therefore, we have listed the best Multi-Vendor eCommerce Marketplace Development solutions below:
Multi-Vendor Open-Source Solutions
Leverage the power of open-source platforms to create a flexible and customizable multi-vendor marketplace, tapping into a community-driven ecosystem of features and enhancements.
Multi-Vendor Marketplace On WordPress Theme Or Plugin
Seamlessly integrate multi-vendor functionality into your WordPress website, expanding its capabilities to accommodate numerous sellers within a user-friendly interface.
Build A Multi-Vendor Marketplace Based On Medusajs
Build ecommerce over Medusajs for a high-performance multi-vendor platform, benefiting from its robust architecture and cutting-edge development features.
Using Ecommerce Building Blocks And Dynamic Extensions
Assemble your multi-vendor marketplace using versatile ecommerce building blocks and dynamic extensions, tailoring your platform with precision to meet evolving market demands.
How Much Does It Cost To Build a Multi-Vendor Marketplace?
The multi-vendor ecommerce marketplace development cost varies based on factors like features, customization, and scalability. A simple platform might start around $10,000, while more complex ones can range from $50,000 to $200,000 or more. Customizations, design, integrations, and ongoing maintenance contribute to the overall cost. Collaborating with marketplace ecommerce platform service providers who understand your unique requirements and can provide an accurate eCommerce website development cost.
A strategic investment in a well-crafted multi-vendor e-commerce marketplace can yield substantial returns, offering a lucrative business growth and profitability avenue.
Features
Estimated Cost
Design

UX Development

$2,700

UI Development

$3,100

Architecture

Project setup

$700

DB structure

$1,600

Main Features

Admin panel

$6,200

Buyer panel

$6,000

Vendor panel

$6,600

User profile

$2,100

Home page

$4,200

Product page

$4,800

Search and filters

$4,800

Authorization and security

$3,600

Inventory management

$2,100

Shopping cart

$2,400

Notifications

$1,600

Shipping and delivery

$3,200

Product comparison

$4,800

Reviews & ratings

$2,400

Integrations

Payment

$3,200

Shipment

$1,600

Non-development activity

Project management

$3,200

Quality assurance

$4,000

Code review

$2,400

Total
$77,400
NOTE: All the cost mentioned above for multi-vendor ecommerce site are approximate. Connect with the multi-vendor ecommerce marketplace solution team to get tailored estimation.
Factors That Influence Multi-Vendor eCommerce Marketplace Development Cost
Developing a multi-vendor eCommerce marketplace involves various cost elements. These include what you need, the technology used, how you plan, and the design. Let's explore how these factors shape the overall expense of creating your marketplace.
1. Distinctive Requirements
Diverse requirements of a multi-vendor marketplace impact the overall costs multi-vendor marketplace. The complex features demand more resources for seamless user experiences.
2. Essential Technology Stack
Choosing the right tech components for robust performance directly influences development expenses and platform scalability.
Tech Stack Required For Multi-Vendor eCommerce Marketplace Development
Layer
Website Development

Front-End

React.js, Angular, Vue.js (For Website)

React Native, Flutter (For App)

Back-End

Node.js, Django, Ruby on Rails

Database

MySQL, PostgreSQL, MongoDB

Server

Nginx, Apache

Hosting

AWS, Azure, Google Cloud

Payment Integration

Stripe, PayPal

Security

HTTPS, SSL certificates

Messaging/Notifications

Twilio, Firebase Cloud Messaging

Analytics

Google Analytics
Please note that the actual tech stack can vary based on specific project requirements, scalability needs, and technology preferences.
3. The Business Blueprint
Your marketplace concept and scope shape costs, as intricate functionalities or integrations elevate development complexities.
4. Allocation of Initial Investment or Phases
Deciding between upfront investment or phased development influences budget distribution, affecting overall project expenses.
5. Strategic Development Methodology
Opting for agile, iterative approaches can balance costs by focusing on core functionalities before expanding features.
6. UI/UX Design
Investing in user-centric design enhances engagement, influencing app development costs based on the depth of user experience enhancements.
7. Chosen Partner for E-Commerce Web Development
Collaborating with a skilled web development partner impacts costs, as expertise ensures efficient, high-quality execution.
8. Back-End and Front-End Development
Costs fluctuate based on intricacies in developing the backbone and user interfaces tailored to optimal performance and usability.
Most Popular Multi-Vendor eCommerce Platforms You Can Leverage
An eCommerce store is not easy to convert into a marketplace. Let's look at the top, best, and most powerful eCommerce marketplace platforms you should use in 2023.
Shopify, a top eCommerce platform, can assist you in transforming your online store into a Shopify multi-vendor marketplace. You can use Shopify web development services to streamline this change and improve the features of your Shopify multi-vendor store.
Your online business can become a fully functional Magento multi-vendor marketplace development services. You may, count on Magento developers to create a feature-rich and adaptable eCommerce solutions.
It's a popular WordPress plugin that is simple to use and has excellent features. A reputable WooCommerce development company can quickly grow your online store from a modest to a large-sized enterprise. Consequently, you can alter the appearance of your shop on WooCommerce multi-vendor and sell everything there.
Why Choose SparxIT As Your Multi-Vendor Ecommerce Development Company?
SparxIT is a prominent multi-vendor e-commerce development company that can elevate your vision. We provide unparalleled website development services with a history of creating vibrant digital markets.
Our partnership with Bazaar (read case study) allowed us to turn their idea into a flourishing multi-vendor marketplace. Our solution helped them scale, resulting in a rise in vendor registrations and increased user engagement.
What makes us unique? A successful combination of cutting-edge technology, smooth user experience, and unrelenting dedication. SparxIT is your go-to partner for everything from scalable architecture that ensures maximum performance to strong security that protects every transaction.
By selecting SparxIT, you can start a transformational path toward a thriving multi-vendor ecommerce environment. Contact us now to discuss your project.
Frequently Asked Questions
Q. 1 What specific expertise and experience does SparxIT possess in Multi-Vendor eCommerce Marketplace Development?
A- We have experience creating scalable and feature-rich platforms enabling several vendors to sell their products or services. Our expertise includes knowledge of e-commerce frameworks, payment gateways, inventory management, user profiles, ratings and reviews, etc.
Q. 2 How long does building a custom multi-vendor ecommerce platform take?
A- The time required to develop a custom multi-vendor eCommerce platform can vary significantly depending on factors like the complexity, features and integrations, design intricacies, development team size, and more. Building a comprehensive multi-vendor eCommerce platform takes several months to a year.
Q. 3 How does SparxIT ensure the scalability, performance, and security of the marketplace ecommerce platform?
A- We utilize cloud infrastructure for scalability, optimizing code for speed and conducting load testing to handle high traffic. Our eCommerce developers implement security measures like data encryption, regular security audits, and compliance, e.g., PCI DSS for payment data.
Q. 4 What integrations and features can your website development service provide to enhance the user experience?
A- The integrations and features include smooth payment gateway integration, intuitive product search and navigation, personalized user accounts, responsive design for mobile users, social sharing features, etc.
Q. 5 What ongoing support, maintenance, and updates do a multi-vendor ecommerce development company offer post-launch?
A- It involves addressing technical issues, optimizing performance, and adding new features based on user feedback. Developers must also keep the platform up-to-date with the latest security patches.
Useful articles, updates, offers and guide boon from SparxIT Team
Categories
Want to build a multi-vendor marketplace platform?
Featured In