Developing a mobile app is not a choice, but it's significant!
In this consistently growing IT domain, knowledge, and skills in all the most recent technologies are valuable. Since there is a huge appeal for mobile applications among clients, their development won't stop any time soon. As per reports by Statista, worldwide mobile application incomes will increase by more than $365 billion in the year 2023. Well, that is just a clue of something larger!
As the count of clients in the Apple Store and Play store is developing at a fast pace, an ever-increasing number of organizations need to shift their focus on launching a revolutionary product that will take the market by storm. Do you have an amazing mobile application thought for your business? However, you don't have the idea which platform is better to pick?
In this article, we will compare the two renowned platforms for a mobile app that are – Native v/s Hybrid. Keep reading to find out which fits your business better.
Before we conclude choosing the most appropriate platform between Native and Hybrid – let's put a light on the benefits of developing a feature-rich mobile application:
Improves Efficiency
Offers High Scalability
Secures Your confidential Data
Integrates With Existing Software
Easy to Maintain
Improves Customer Relationship
Facilitates New Client Data Retrieval
Provides Real-time Project Access
Ease in Project Management
Record Digital Files for Accountability
Build Customer Loyalty
Increases Brand Awareness
Better Analytics
Best Marketing Tool
Better Customer Service
Increased profitability
A mobile application has become the entryway for every business and that is always open to attract new consumers and generate more sales. Now, when you understand why the mobile application is vital for your business, you are all set to explore the untouched area of the digital era and mobile app development.
Also, the advantages and significance of mobile application development for organizations are unstoppable and can be stretched out by many. Especially in the year 2020, there's room for online eCommerce business development platforms.
Organizations have consistently been a piece of our lives. In this period of innovation, the most achievable and compelling approach for any business is the development of inspiring applications, encouraging client interaction and engagements, and generating more leads that would transform into potential clients.
Simultaneously, applications like the games are created as a business to generate more income. The notable thing is that – the platform for mobile app development.
Hybrid v/s Native Apps: Which is a better investment option?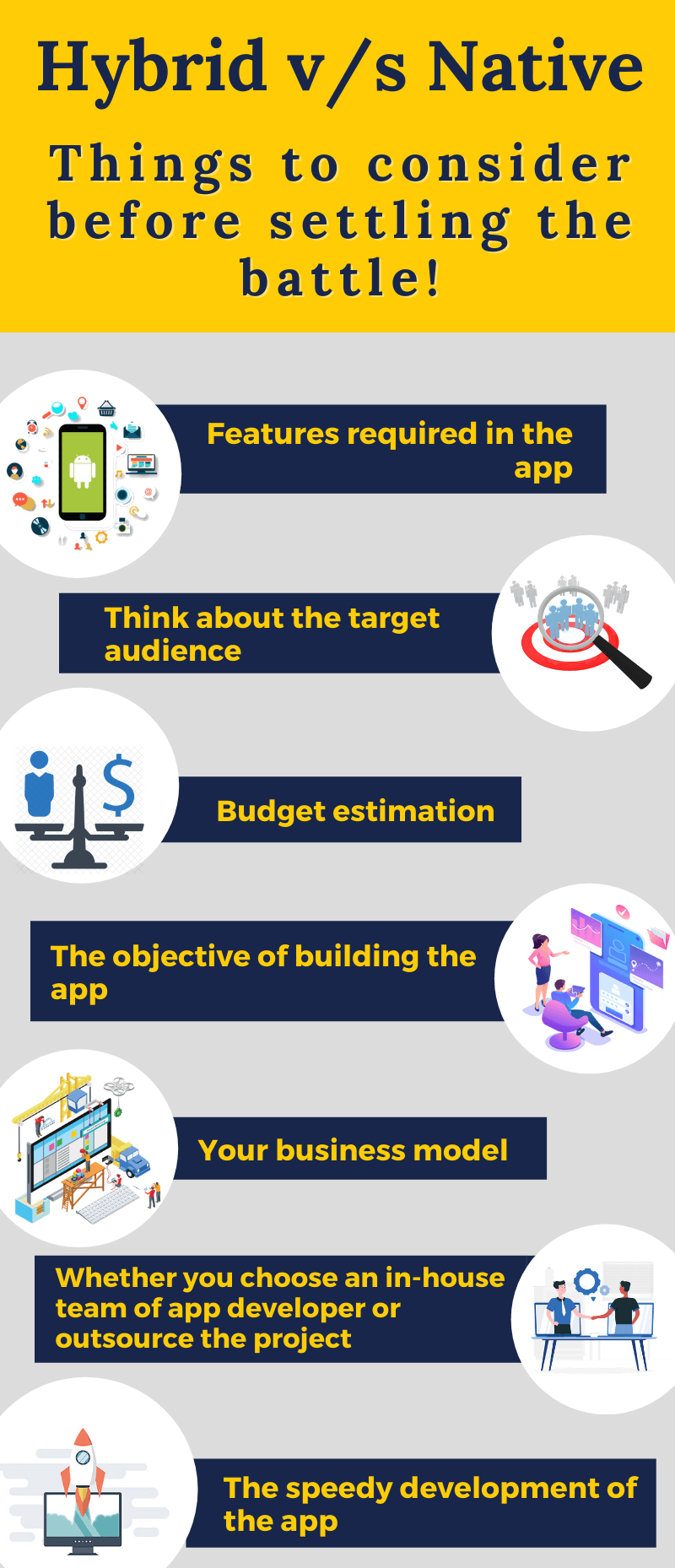 What should we develop – Native or Hybrid application? This is the biggest challenge for entrepreneurs especially for those who are new to the mobile app development industry. Startup companies find it complex to choose the most suitable option.
Here are some factors that can help entrepreneurs to choose the appropriate options as per their business model:
Features required in the app
The speedy development of the app
The objective of building the app
Budget estimation
Whether the organization choose an in-house development team or outsource the project
To select between a Native and Hybrid app development platform first, you need to have a familiarity with both the tech innovations. Because both the platforms have gained great popularity for their ultimate feature offerings. Let me brief you about these two versatile platforms.
Although both Native and Hybrid are well-known for creating business-oriented mobile apps. Investors usually find it complex to decide which platform is better to invest in for developing a custom-made application. Well, both platforms have their pros and cons. Let's move ahead and come to know about both these platforms in detail.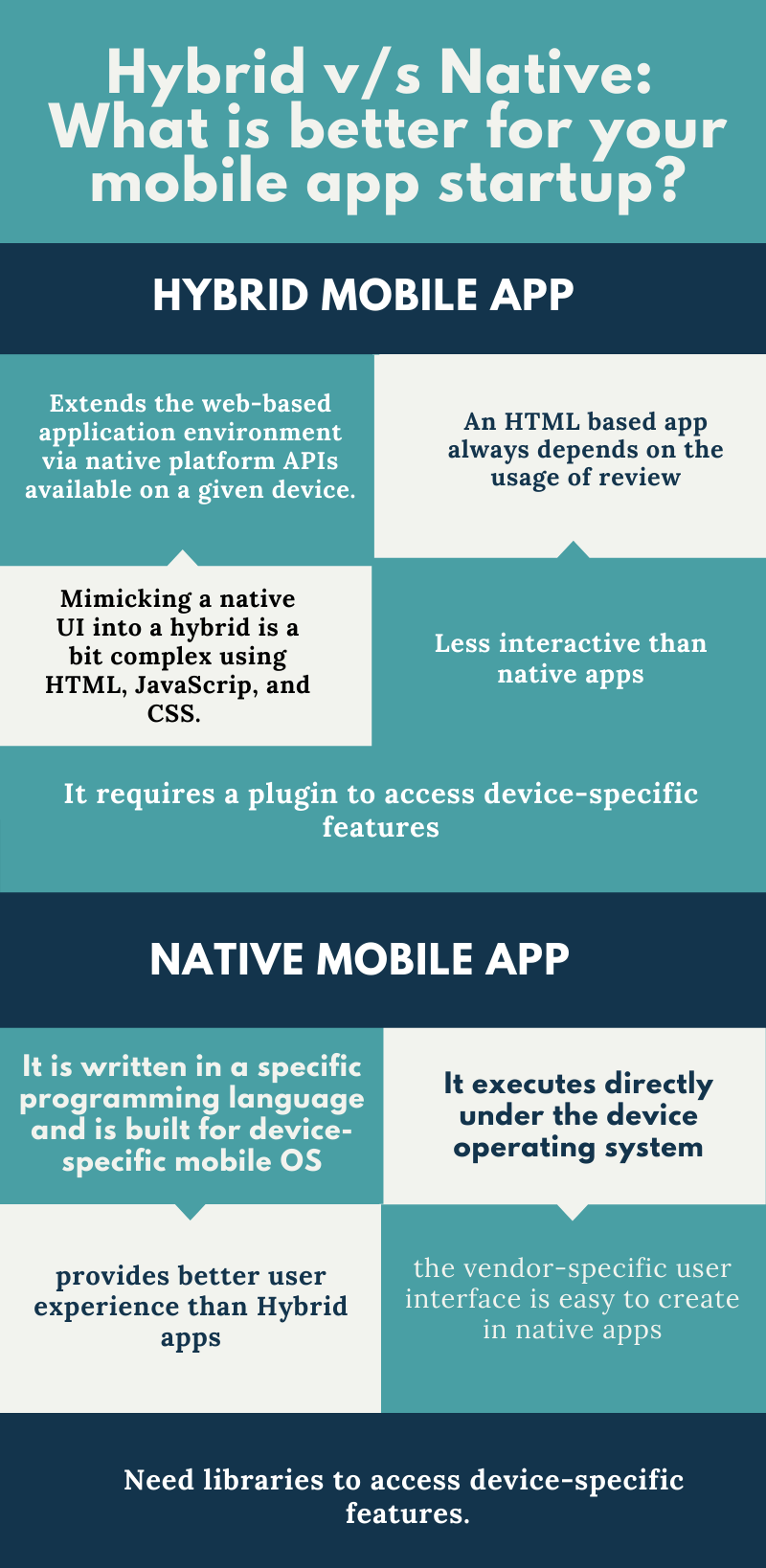 What are Native Mobile Apps?
Native mobile apps are developed to perform on a particular mobile operating system (like Java for Android & Objective-C or Swift for iOS). These apps offer perfect usability, a mobile app experience, and user-friendly features. Also, it offers unique features that are hard to find on any other platform.
Here are the key features offered by Native applications:
Simple but Fast Performance and better user experience
Built-in Components: Camera, geolocation, the address book, and all other features can be easily integrated into Native apps.
Multi-Touch: Compound user interface gestures like double-tap, pinch spread, etc.
A high degree of reliability
Convenient to use: its user-friendly features and functionality make it convenient to use.
Native features can best be exploited
Fluid animation: It is related to fast graphics API
Supports both online & offline transactions
Fast Graphics API: It offers fast graphics that help in dealing with huge data and rapid refresh.
IDE (Integrated Improvement Environment) is used to create Native applications. IDE offers tools for version control, project management, building debugging, and numerous tools that mobile app development experts require while developing an app. At present where Android and iOS have gained the trust of many users, these apps are created using different languages and IDEs.
On the other hand, there are a lot of similarities between the frameworks for developing an app. Native mobile apps bring great opportunities for entrepreneurs like connecting with a wider audience, more revenue generation, and maximizing sales. It also offers easy accessibility to users to search for their required products and services.
What can a user expect from Native applications?
Fast performance
It tells you when the app requires an update
When starting the app, it fires up immediately
Consistent platform look
You will find it in the store
Apart from this Native applications offer remarkable benefits like:
Interacts with device utilities
Best user experience
Can receive push notifications
Interactive and intuitive
High functionality, reliability, and performance
Easiest integration of the advanced features
Runs inside the operating system
Fine-tuned to run on a specific platform
What are Hybrid Mobile Apps?
Hybrid mobile applications are partially native and half HTML 5. Such apps are also categorized as web applications that are on a very optimized level assembled using JavaScript, HTML5. It is then covered in a Native container due to which it delivers an experience like Native applications. Most of the hybrid mobile apps are developed on React Native platforms. Let's have a quick look on the list of brands that used React Native App Development Services for their business solutions.
Market-leading brands that preferred React Native:
Facebook
Instagram
eBay
CapitalOne
Google
Square
BMW
Bloomberg
Airbnb
UberEATS
2048
Wix
Tesla
Skype
Due to the proven benefits, entrepreneurs look for a professional Hybrid App Development Company that can turn their business ideas into a custom Hybrid Application. Like any other platform, the Hybrid application has its pros and cons. It fulfills the needs of both businesses and end-users. Let's put a light on some key benefits offered by Hybrid mobile apps.
Benefits Of Hybrid App Development Services
High-speed performance
Hybrid apps have access to a device's internal APIs
Attractive UI/UX designs
Only one codebase is needed for hybrid apps
Low cost with ease of development
Multi-platform support
Native experience with simple backend
Hybrid apps don't need a web browser like web apps
Creative ideas meet the target audience
Offline Support: most rewarding benefits for the end-users who have:
                   1. Connections that often get interrupted
                   2. Live in a rural or underdeveloped area
                   3. Limited data consumption plans
Hassle-free integration with other apps
Qualified for online marketplace
Hybrid mobile apps prevent developers from writing an individual set of codes for different platforms. It allows developers to use the same set of code for numerous mobile operating systems. This helps in saving a lot of time and money. It also integrates the core functionality and is backed on Native applications. A hybrid app is a master combo of both Native and Hybrid. A business that wishes to stay ahead in the digital realm can choose a Hybrid app for constant growth
Mobile app developers prefer hybrid apps, as it avails them the benefit of using the same code for different platforms. It also offers Native like experience to the consumers with less time and effort.
The hybrid mobile application offers the following key features:
Integrate with a device file system
Less expensive app development and cost-effective maintenance
Faster app development
Simple and easy to maintain
Cross-platform UI
Single code management for multiple mobile platforms
It will not be wrong to say that Hybrid apps are the best choice for developing feature-rich applications. If you're new to the industry then choosing Hybrid apps can be a smart business move. Entrepreneurs who wish to create Hybrid apps got stuck at the point "Which is the right mobile app development framework to build Hybrid apps? ". Well, there are numerous versatile platforms available in the market, you can choose the one that fits well in your requirements. Just to narrow your search, here are some top Hybrid app development frameworks listed below:
Top App Development Frameworks For Hybrid Mobile App:
Flutter
It helps in developing engaging, easy to navigate cross-platform mobile applications. Many companies have already taken advantage of this amazing platform. It mainly has two key components.
The two major components are:
SDK (Software development kit):
A UI library that is equipped with reusable UI elements
Why Should You Choose Flutter?
Provides own widgets
Compatible with Fuchsia
Smooth UI designs with unorthodox design elements
The absolute choice for MVP
Dart choice for cross-platform development
Fast development
Hot reload feature- Allow app developers to see the changes in the app right away.
Dynamic code writing
React Native
It helps in creating native and cross-platform mobile applications. It not only supports Android and iOS but also performs on other platforms like Apple, Microsoft Universal Window Platform (UWP), tvOS, and so on.
Benefits of React Native
Native code rendering
Node.Js supported
Expense saving with max code reuse
Easy identification of bugs
Live reload with two screens
Less development time
Node Packet Manager (NPM) installation makes it easy to use.
Lots of plugins to enable compatibility with hardware components
If you wish to create a React Native app for your business, then it is recommended to hire React Native App Development Company. Only a professional and skilled app developer can develop an app based on the latest technologies.
Looking for Hybrid App Development Services
Contact Us
Xamarin
Introduced by software giant Microsoft, Xamarin is the most popular framework for developing Hybrid apps. It maintains a balance between budget and product quality. One can expect a satisfactory and quality product under the justified cost.
Why do developers rely on Xamarin?
Native UI features
Apps connect amazingly with hardware using plugins without affecting the performance of the device
With Xamarin Studio, Xamarin SDKs, Xamarin Test Cloud, and Xamarin Insights, It provides a full-fledged ecosystem
Wider learning opportunities
Continuous performance without being unstable
Easy API integration
Spot on for cross-platform development
Fast GUI prototyping
Excellent code sharing and maintenance
Conclusion:
As per the above discussion, the verdict of Native vs Hybrid app for mobile app development startups is clear: If you have time and budget limitations and want to develop minimum viable products then a Hybrid app is the right choice for you. Whereas Native applications are best for those who want to deliver a unique experience, speedy performance, fully customized features.
For professionally built mobile apps you can hire Mobile App Development Company equipped with experienced app developers. A skilled developer can connect with your vision and get you the desired product.
Making a decision is a fundamental life skill. Expecting to make the right decision always is unreasonable. But you can put effort into avoiding the option that leads to bad outcomes. Follow the right approach to get the best possible results for the choices you make.
Useful articles, updates, offers and guide boon from SparxIT Team
Categories
Let's discuss your project idea.
Featured In