On-demand courier delivery services were among the earliest applications of using enterprise mobility to automate the manual system of courier management. The expanded market of on-demand mobile applications has enhanced the interests of business leaders in creating such applications and earning high revenues.
The development of on-demand courier delivery applications has been revolutionary by enabling the participation of customers in structuring a strong automated package delivery system.
Maximum security and speed are two main attributes of on-demand courier delivery applications.
The most fundamental reason behind any business or process's success or failure depends on the extent of benefits being tendered to the consumers.
It is the reason why happy consumers of the digitized and connected courier delivery system have rewarded the industry with increased popularity and revenues.
Even if you are living in a far remote area, you can avail the services of these applications. However, there is still a lack of alternatives or available options in some areas creating the scope for increasing the reach of the applications.
In this blog post, we shall unlock the discussions on the development of on-demand courier applications.
Defining On-Demand Courier Delivery Application
The process of a mobile-based courier delivery system enables senders to send packages from their comfort places. The process model of these applications emulates the mechanism of a conventional courier system to some extent. What makes it more empowered and connected is the inclusion and utilization of digital resources in accomplishing the process.
Senders will add a new package, mention the details of the package i.e. recipient's name, address, landmark, integrate map location, contact number, alternate contact number, and any special remarks on the package.
Many courier delivery applications have teamed with eCommerce platforms, food delivery apps, and other institutions to become their primary courier partner.
How Does it Work?
Senders can use the mobile application to enter the package delivery details and create their accounts.
After logging into the application, the senders enter the details of the recipient.
After calculating the tentative parameters of the package, an estimated cost and possible delivery time and date are presented to the user.
Once users complete the process of filling in essential information, they are transferred to the payments page.
On receiving the request, a courier professional will be assigned and sent to the sender's location to fetch the package.
While the package will be reaching the destination, both sender and receiver can check the status. Once the package is received at the receiver's end, an acknowledgment will be sent to both.
Such applications are also designed to register and address grievances, complaints, or feedback.
How Does an On-Demand Delivery Application Generate Revenue?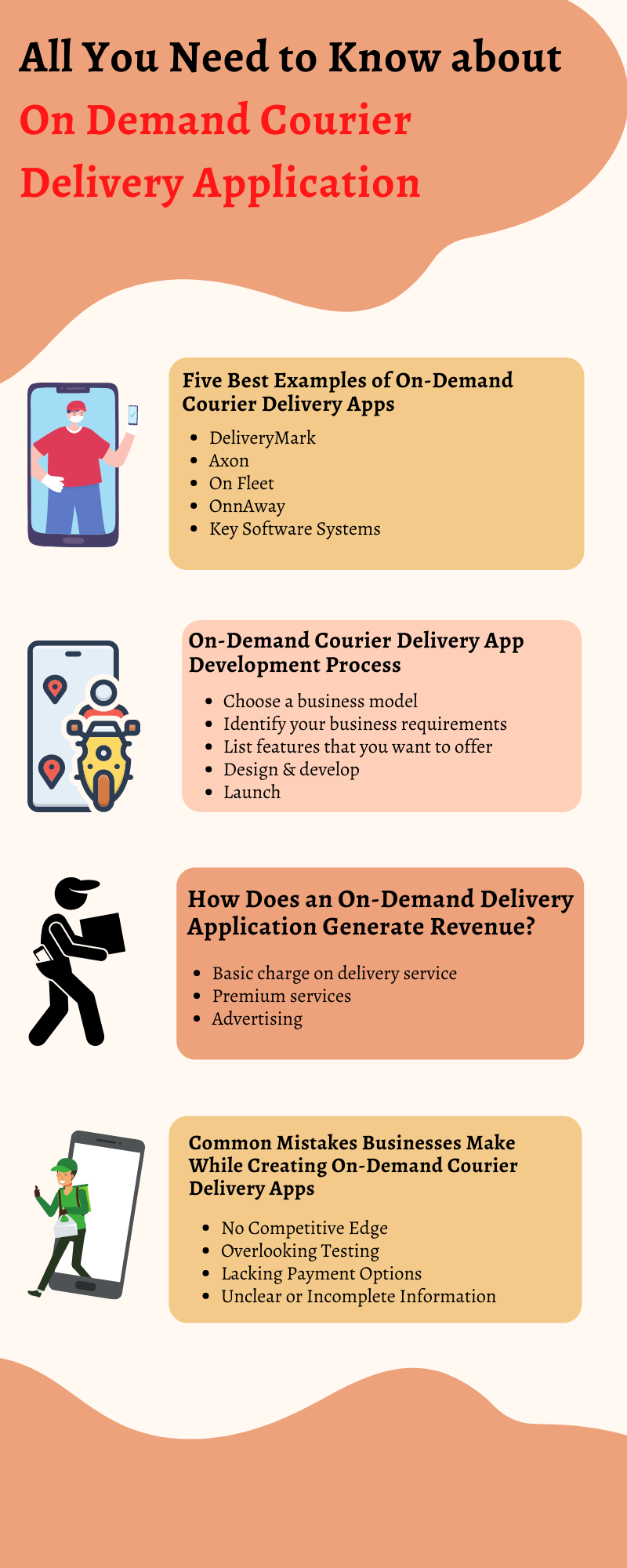 The ultimate objective of creating and onboarding a new courier delivery app is to meet the business demands. So, how can you make money from an on-demand courier delivery application?
Well, there can be multiple ways you can do it. You can earn your revenues from internal and external resources.
Let us discuss what these ways are.
Basic Charge on Delivery Service
The primary source of income or revenue comes from the basic offerings of the application such as the charges on delivery services. The courier charges may vary on the different magnitude of weights. The process would work like the public postal services but you can set the charges as per the qualitative factors added to your services.
The best thing about sending couriers using an online application is that you can customize the way you present it. Of course, companies charge additional amounts for such special services. You can add a gift card or any special message with the box using these applications.
Different courier companies provide you faster courier services where your package can be delivered the very next day. For availing of such premium courier services, they add an additional option to their revenue-generating policies.
Mobile applications are among the best options to advertise. It is also a way to enhance the revenues. In on-demand applications where services are offered through offline resources at the customers' end, there can be possibilities for both online and offline advertising.
You can partner with a third-party company and allow them to showcase their products or services through your application.
Five Best Examples of On-Demand Courier Delivery Apps
The market of on-demand courier delivery applications is more competitive than ever. There are so many alternatives for customers. If you are an aspiring business leader willing to create a successful courier app, you can take inspiration from some of the most popular on-demand courier delivery apps.
Favor is a multiscale courier delivery application. The product has gained popularity for its vibrant availability in the region. Its tech-savvy approach for executing its operations has led it to become an advanced and feature-packaged option for its customers. Customers can send listed products.
Axon is an integrated trucking application. The application comes with a wide range of features such as online vehicle tracking, dispatch notifications, automated billing, staff management, and a lot more. This product has a sophisticated user interface that lets its peers perform tasks with no big effort. Thousands of users are using Axon for fast and safe delivery of their goods and material.
With its route optimization features, On Fleet has been able to increase productivity by 50%. The application has been designed to address the challenges both customers and riders face while sending packages from one place to another. It has feedback collection and SMS notification features. The implementation of this application has improved ETAs by significant margins.
OnnAway is another strong contender that has emerged in the courier delivery app market. The application is packaged with real-time driver tracking and notification features that allow users to remain updated about every package's location and delivery status.
Key Software Systems is an online courier application that is easy-to-install, user-friendly, and rich-featured. The application is available in different interfaces such as web and mobile. Users and application operators can view important package information over a centralized space.
The aforementioned applications seem to gain wide recognition and have been proven successful in terms of revenue, customer base, and business development. You can consider these applications as ideal inspirations for carving the roadmap for developing your own products.
What other apps do you think should be mentioned in the article?
Common Mistakes Businesses Make While Creating On-Demand Courier Delivery Apps
On-demand courier delivery app development is a crucial process and requires a 360-degree product development strategy. There can be a few things that many companies often overlook and face significant downfall in the later stages of product delivery and launch.
Let us draw your attention to the most common mistakes courier app creators make while building such applications.
Competitive analysis and the right inspiration are the core parameters that every business leader should consider before creating an app. If your application misses out on these factors, you will end up falling behind your competitors in one way or another.
Such an approach helps you to understand what is currently being provided to the customers in the market and what better you can do in the field.
Looking For On-Demand Delivery App Development
Contact Us
Many applications exhibit unprecedented functionality errors and changes in the user interface. Such things happen particularly when an app development company overlooks the testing process which results in lacking adequate focus on creating dynamic app elements.
You can test your courier app on regular basis to ensure maximum transformation of ideas into the real structure of the application.
If you do not provide your customers with maximum alternatives for paying for the services, it can result in a major drawback. This is an age where a large number of customers would expect their service providers to accept digital payments, that too from their favorite payment portal. Thus, you need to be more attentive when it comes to integrating payment options while developing a courier app.
Unclear or Incomplete Information
App users prefer using data-efficient applications these days. If your application lacks interactive data delivery options, your customers, vendors, partners, or delivery professionals may not be receiving the maximum advantage of getting a mobile application onboard.
Making mistakes or overlooking things can restrict you to get an adequate return on investment. The on-demand delivery apps market is evolving every day so you can not afford to lose the competition after making a legitimate start.
On-Demand Courier Delivery App Development Process
So, how can you build a courier app for your business? What are the steps? It is time to unfold the most fundamental steps for beginning to create a fully-fledged on-demand courier delivery app.
1. Choose a Business Model
Before you make a move, it is essential to know what business model you want to follow on your online courier app. It will decide your revenue model, marketing strategy, sales strategy, and budget. You can create a local courier app that will be used in a restricted location or you can create it as a complete marketplace.
2. Identify Your Project Requirements
Once you understand your business model, you can be more clear and ambitious about your project requirements. With a clear understanding of your requirements, you outreach an app development company with a clear mindset and budget goals. You would also know the technical or financial limitations of the project.
3. List Features That You Want to Offer
To visualize your product, the service provider will provide you with an app prototype consisting of different screens. You can interact with the prototype and suggest your inputs on the design. The prototype is created considering the client's requirements. You must tell the service provider about your expectations from the product in terms of features, design, development, and delivery.
Some of the basic features of an on-demand courier delivery application are;
Social login
Barcode scanner
User accounts and dashboard
Payment and billing system
Location tracking
Map integration
Cart
Reviews & ratings
Push notifications
Support

4. Design & Develop
Since you and the team at the on-demand app development company you hired would already have visualized the product, all it takes is to onboard some competent app developers to carve it into reality. You may choose to develop the native, hybrid, or cross-platform application as per your requirements.
For Android app development, you may need Android and Kotlin in the technology stack.
For iOS app development, you may need Swift, C++, or Objective C in the technology stack.
Cross-platform apps can be developed using frameworks like Flutter, Xamarin, and React Native.
Once the product is designed, developed, and tested, we are all set for a product launch. The application can be distributed directly or publicly to the customers.
On-Demand Courier Delivery Application Market and Growth
With the increasing market base of on-demand apps, there is an immense opportunity for business enthusiasts to invest their resources in creating package delivery apps.
As per Package Pending, 74% of the customers prefer online shopping because of online package delivery.
PR Newswire projects that the on-demand courier delivery application market size will cross $24.6 billion by 2027, growing at a CAGR of 13.5%.
However, there are also trends that indicate how much yet has to be done in this market. Online courier delivery apps have a market but they need to showcase themselves better which seems to be an undone task.
As per Statista, 66% of the overall survey respondents said they were using home delivery as a preferred delivery option. 9% of the respondents were handed over the package directly from the representative of the e-retailer company in their local shop.
Conclusion
The objective of this blog was to elaborate on the scope of opportunities and current trends of the online package delivery apps market. It is evident that it is still evolving and app creators and business owners have a shiny opportunity to try their hands on it. It is about working with the right team of strategists and technologists, understand what you can, where do you see your audience, and plan your marketing strategy.
Sparx IT Solutions, a mobile app development company, with long experience in the industry, has worked with leading companies in creating on-demand apps. You can consult with our experts on discussing your courier app idea because the roadmap to a successful business app begins with a productive project discussion.
Useful articles, updates, offers and guide boon from SparxIT Team
Categories
Let's discuss your project idea.
Featured In