Today, on-demand delivery apps are reshaping our world that provides instant access to users to what they want. By using an on-demand delivery application, a user can request products or services that are delivered to their doorsteps. These apps have become the new face of the market and are being used widely for accessing numerous services. They are a real lifesaver for the people who have a very busy life.
Glovo app has become a popular on-demand delivery mobile app that is catering to customers in different parts of the world. The app has gained immense popularity in diverse markets due to its ability to let users order anything from a single interface. Users can order a plethora of products like food items, groceries, flowers, and a lot more. This app works like a magic wand that anyone can use to get any product delivered to his/her doorstep.
What Is Glovo App?
Glovo is an on-demand delivery app that has raised $513M funding from 28+ investors and holds 4 acquisitions. The app is revolutionizing the way consumers access local goods and courier services. It offers an easy way for residents of a city to order anything be it food items, groceries, medicines, alcohol, or anything else. Glovo boasts to deliver its customers any items from nearby restaurants or stores in the city within an hour.
As a popular Spanish on-demand delivery service, the Glovo app has acquired a 3000+ courier fleet spread around the world. They offer to pick and drop and other delivery services worldwide and it has become a huge collaboration.
Glovo doorstep delivery service app offers a wide range of excellent features such as order anything, discover local stores, real-time track and follow delivery, notifications, create favorites, real-time updates, and much more.
Let's Take A Look At Each Key Feature Of Glovo App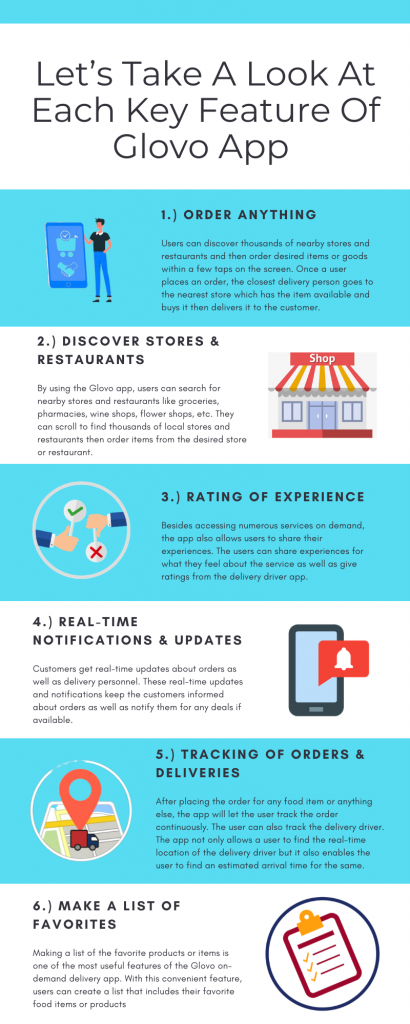 Order anything
Users can discover thousands of nearby stores and restaurants and then order desired items or goods within a few taps on the screen. Once a user places an order, the closest delivery person goes to the nearest store which has the item available and buys it then delivers it to the customer.
Discover Stores & Restaurants
By using the Glovo app, users can search for nearby stores and restaurants like groceries, pharmacies, wine shops, flower shops, etc. They can scroll to find thousands of local stores and restaurants then order items from the desired store or restaurant.
Rating of experience
Besides accessing numerous services on demand, the app also allows users to share their experiences. The users can share experiences for what they feel about the service as well as give ratings from the delivery driver app. Through rating and sharing experiences, they can let others know whether they like or dislike the desired service.
Real-time notifications & updates
Customers get real-time updates about orders as well as delivery personnel. These real-time updates and notifications keep the customers informed about orders as well as notify them for any deals if available.
Tracking of orders & deliveries
After placing the order for any food item or anything else, the app will let the user track the order continuously. The user can also track the delivery driver. The app not only allows a user to find the real-time location of the delivery driver but it also enables the user to find an estimated arrival time for the same.
Make a list of favorites
Making a list of the favorite products or items is one of the most useful features of the Glovo on-demand delivery app. With this convenient feature, users can create a list that includes their favorite food items or products. By creating their favorites list, users don't need to go through the whole ordering process from the beginning, they can simply choose the item(s) from the list order anytime easily.
What Are The Main Challenges In Developing On-Demand Delivery Apps Like Glovo?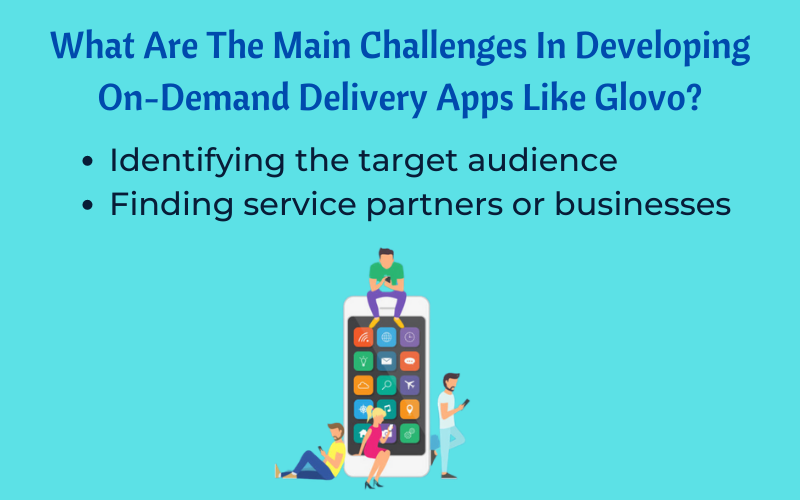 Undoubtedly, on-demand delivery apps are becoming very popular, since they provide convenient means for ordering food items, groceries, medicines, and so on. If you want to develop an on-demand delivery app like Glovo, it is not easy and requires professional support from a reliable mobile app development company. There are many challenges to be faced in developing such an app. The following are the main challenges that you may face in on-demand delivery app development.
Identifying the target audience
Starting an on-demand delivery business under the assumption that everyone needs the service you are going to offer is an easy and grave mistake. But that situation is rare. So, your first challenge is to find the right target audience that is likely to utilize the service you will be offering. You will have to conduct market research and find the people who have a common interest.
Finding service partners or businesses
On-demand delivery services heavily depend on businesses or service partners such as stores, shopkeepers, restaurants, etc. These third-party service partners are the providers of goods and items that are delivered to customers. You have to look for people to build fruitful relationships. After making partnerships with varied businesses, you can create your on-delivery app like Glovo to start delivering and earn money.
How To Create A Glovo App Clone?
After all the planning and identifying your target audience, you need to find the right on-demand app development company to turn your idea into reality. Meanwhile, you will have to make several choices like for what platforms you want to build the app. You can for native app development to create distinct applications for both Android and iOS platforms. Alternatively, you can choose to create a hybrid or cross-platform mobile application that will work on both Android and iOS devices.
You will have to start with a mobile app design service, then back-end development. The main processes that involve in on-demand app development are UI/UX design, MVP, prototyping, app development, back-end development, testing, and deployment. You can hire mobile developers (full-stack) to get all these processes completed. You have to consider all these factors to create an on-demand delivery app.
Numerous technologies work under the hood to power an app like Glovo. It requires a server, database, Java, Swift/Objective-C, Android Studio, Xcode, third-party APIs, payment gateways, and more.
What Is The Cost To Build On-Demand Delivery App Like Glovo?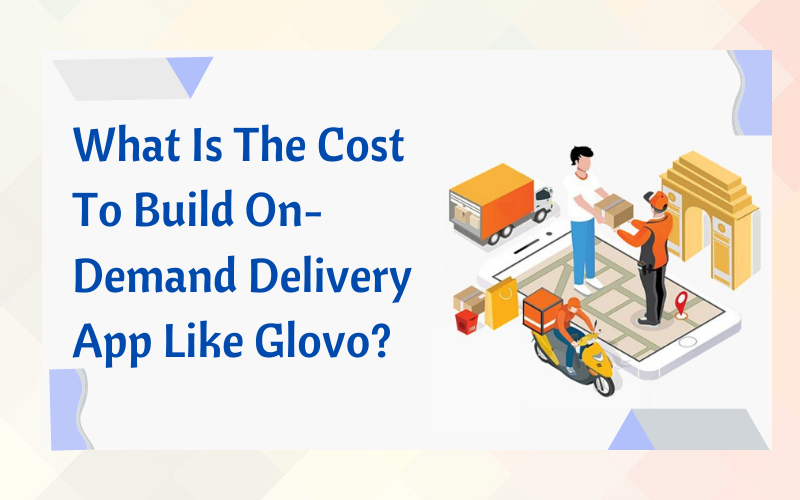 When it comes to developing an on-demand delivery app like Glovo, it depends on several factors. The level of complexity involved and the number of features are the primary factors for determining the cost of developing such mobile applications. There are different costs associated with such apps like the cost for UI/UX design, front-end development, back-end development, and testing. The hourly rate could be $50 – $200. You can contact us for further details on the cost of developing this kind of app.
Wrapping up
Sooner or later the world is going to witness a substantial shift in the marketplaces from being physically established to virtual existence. And, this is possible due to the increasing dominance of on-demand delivery applications like Glovo. Without stepping out of your home, you can get everything that you want within a few taps using these apps.
If you are looking to develop your own on-demand delivery just like Glovo, then this is the right time to do this. As the world is transforming in the new way of shopping with more digitized platforms making their place in the market, bringing a robust on-demand delivery solution can be very fruitful.
You can partner with Sparx IT Solutions to build an advanced and feature-rich on-demand delivery application. We are a prominent mobile app development company that has served worldwide clients by creating the most successful apps. Our mobile app developers are highly proficient and apprised of the latest app development trends. We are completely for creating great mobile apps for varied businesses.
Useful articles, updates, offers and guide boon from SparxIT Team
Categories
Let's discuss your project idea.
Featured In